Who said you must avoid desserts because you are following a keto diet? Here is a list of the best 50 keto desserts recipes perfect for satisfying any sweet craving without worrying about extra carbs.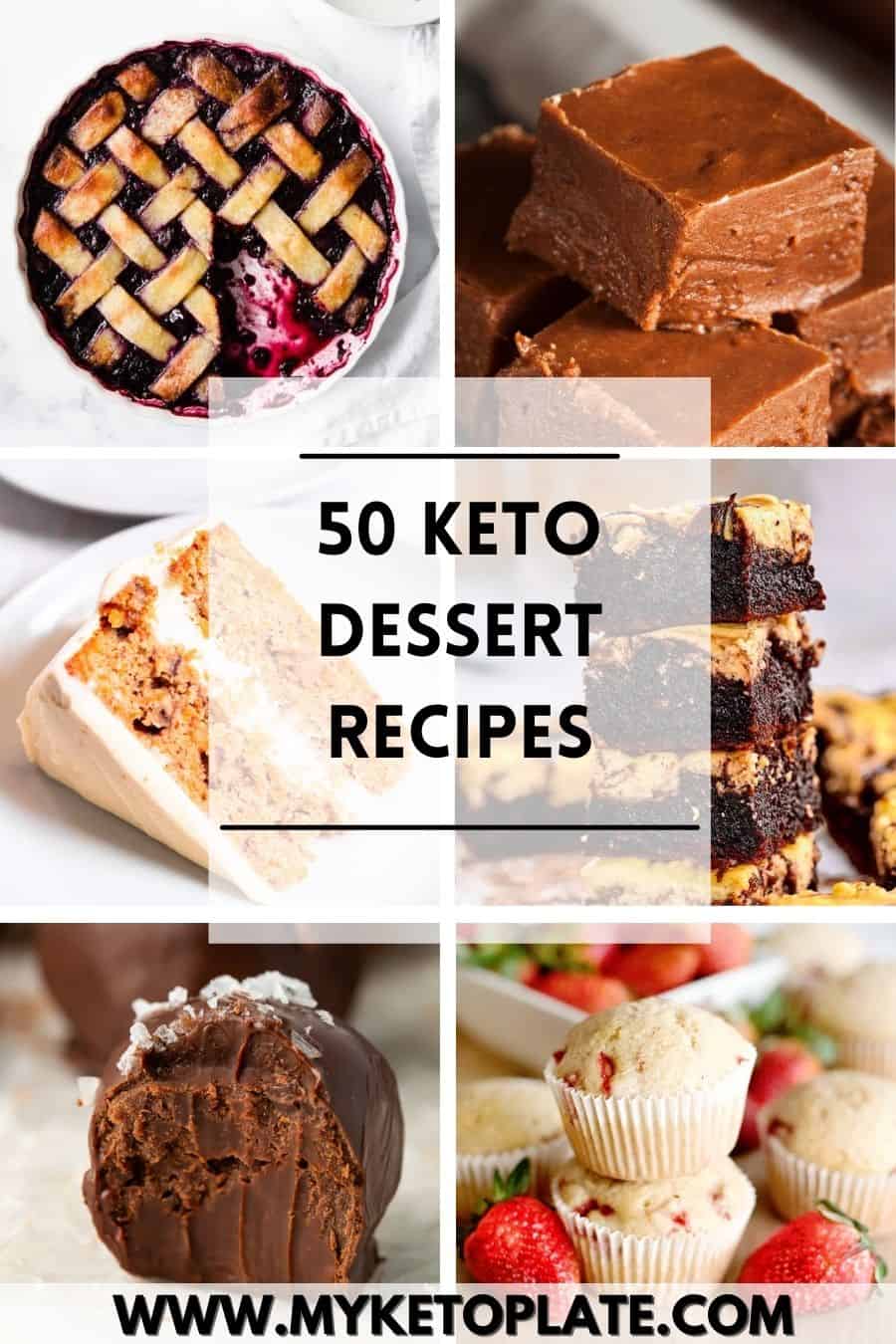 Everyone on a keto diet knows how challenging it can be to find desserts that are low in carbs and sugar. Fortunately, with these delicious sugar-free and gluten-free recipes, you won't have to sacrifice taste for health.
From fudgy brownies to creamy pudding and festive cakes, these desserts are not only keto-friendly but also incredibly delicious and super easy to make.
As someone who follows the Keto diet, I know how hard it can be to find desserts that fit within the guidelines. So I'm excited to share these 50+ quick and easy keto desserts recipes for any occasion with you. They're delicious and help me stay on track with my diet. Plus, they are loved by all my friends and family.
What Is A Keto Diet?
A Keto diet is a low-carb, high-fat diet that helps you lose weight and improves certain health conditions. By limiting your carb intake, your body enters a state of ketosis, burning fat for fuel instead of glucose.
One of the challenges of the keto diet is finding desserts that are low in carbs and sugar but don't worry, we've got you covered with these 50 Keto dessert recipes.
Can We Have Dessert On A Keto Diet?
Although finding desserts that are low in carbs and sugar can be a challenge on a keto diet, especially if you have a sweet tooth, you still enjoy some delicious desserts without any problems.
There are many keto-friendly desserts and versions of regular ones found in stores that are made with ingredients low in carbs and sugar, such as almond flour, coconut flour, and natural sweeteners like stevia and erythritol.
Common Ingredients In Keto Desserts
Keto desserts are made with ingredients low in carbs, sugar and high in healthy fats and fiber. Here is one of the most common ingredients that you will need to create many delicious keto desserts:
Low-Carb Flours: Coconut flour, almond flour, Ground Flax Meal, and Psyllium Husk are one of the best low-carb flour substitutes perfect for keto desserts. They are high in healthy fats and low in carbs and gluten, making them a great alternative to traditional wheat flour.
Natural Sweeteners – Regular sweeteners like sugar and honey are not allowed on the Keto diet. Many keto dessert recipes are often made with natural sweeteners like stevia, erythritol, and monk fruit. These sweeteners are low in calories and carbs and don't cause spikes in blood sugar levels.
Dairy-Free Products: Almond milk, coconut milk, and macadamia milk are among the best replacements for regular milk.
Nut butters: These can be used in place of regular butter or oil in recipes to add flavor and healthy fats.
Low-carb fruits: Berries such as strawberries, raspberries, and blueberries are the best for keto desserts.
What Are The Best Sweeteners to Use?
Stevia – Derived from the stevia plant leaves, stevia has zero calories and zero carbs. It's much sweeter than sugar, so a little goes a long way. Stevia is great for keto desserts because it doesn't affect blood sugar levels.
Erythritol – This sugar alcohol is also a zero-calorie, zero-carb sweetener with a similar taste and texture to sugar, making it a great choice for Keto desserts.
Monk Fruit – This natural sweetener is derived from monk fruit and has zero calories and carbs.
Allulose – This low-carb sweetener has a similar taste and texture to sugar. It's perfect for Keto desserts since it doesn't affect blood sugar levels and is safe for people with diabetes.
Tools and Equipment You'll Need to Make Keto Desserts
Making keto desserts requires some basic kitchen tools and equipment. Here are some of the essential items you'll need:
Mixing bowls: You'll need bowls of various sizes for mixing and blending ingredients.
Measuring cups and spoons: Precise measurements are important in keto baking, so make sure you have a set of measuring cups and spoons.
Whisk: A whisk is useful for blending ingredients together and creating fluffy batters.
Electric mixer: An electric mixer is helpful for beating eggs and whipping cream.
Baking pans: You'll need various sizes of baking pans, including round cake pans, 8×8-in ch square baking dishes for brownies, and muffin tins.
Parchment paper: This will prevent your keto desserts from sticking to the baking pans.
Food processor or blender: A food processor or blender makes nut flours or quickly combines all the ingredients.
Cooling rack: This will help your keto desserts cool evenly and prevent them from becoming soggy.
Silicone baking mats: These are reusable and can be used instead of parchment paper.
Rubber spatula: A rubber spatula is useful for scraping down the sides of mixing bowls and spreading the batter evenly.