These easy avocado brownies are incredibly moist, decadent, and loaded with chocolate flavor. Made only with gluten-free ingredients, these healthy avocado brownies are keto-friendly and have only 2 grams of net carbs per square.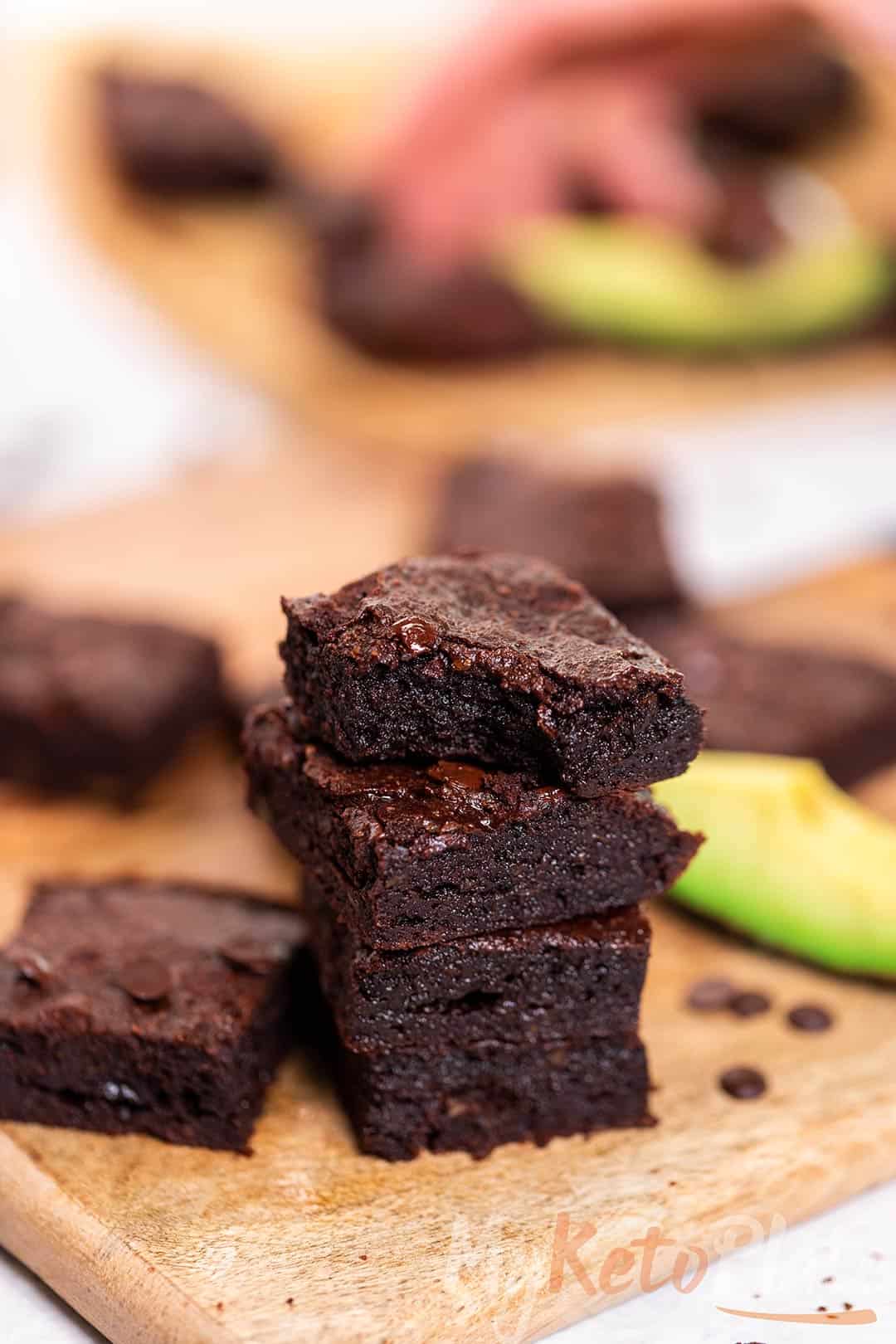 This brownie recipe is the perfect gluten-free dessert if you're looking for a healthy alternative that's easy to make but loaded with fiber and nutrients.
I just love avocado, and I try to incorporate it into healthy desserts such as my chocolate avocado pudding or a refreshing avocado smoothie.
I've wanted to share this avocado brownies recipe for such as long time since you loved my keto brownies recipe so much.
Since brownies make me super nostalgic and remind me of my grandma, who used to make the best brownies ever, I plan to share tons of healthy brownies recipes.
Some avocado brownies also require banana for sweetness, but we're trying to keep things low carb, so we'll use a keto-approved sweetener instead.
Why Are These the Best Avocado Brownies
Fudgy, delicious, and loaded with healthy from the avocado.
Extremely easy to make in just 30 minutes
Gluten-free, sugar-free, and naturally low carb.
No avocado taste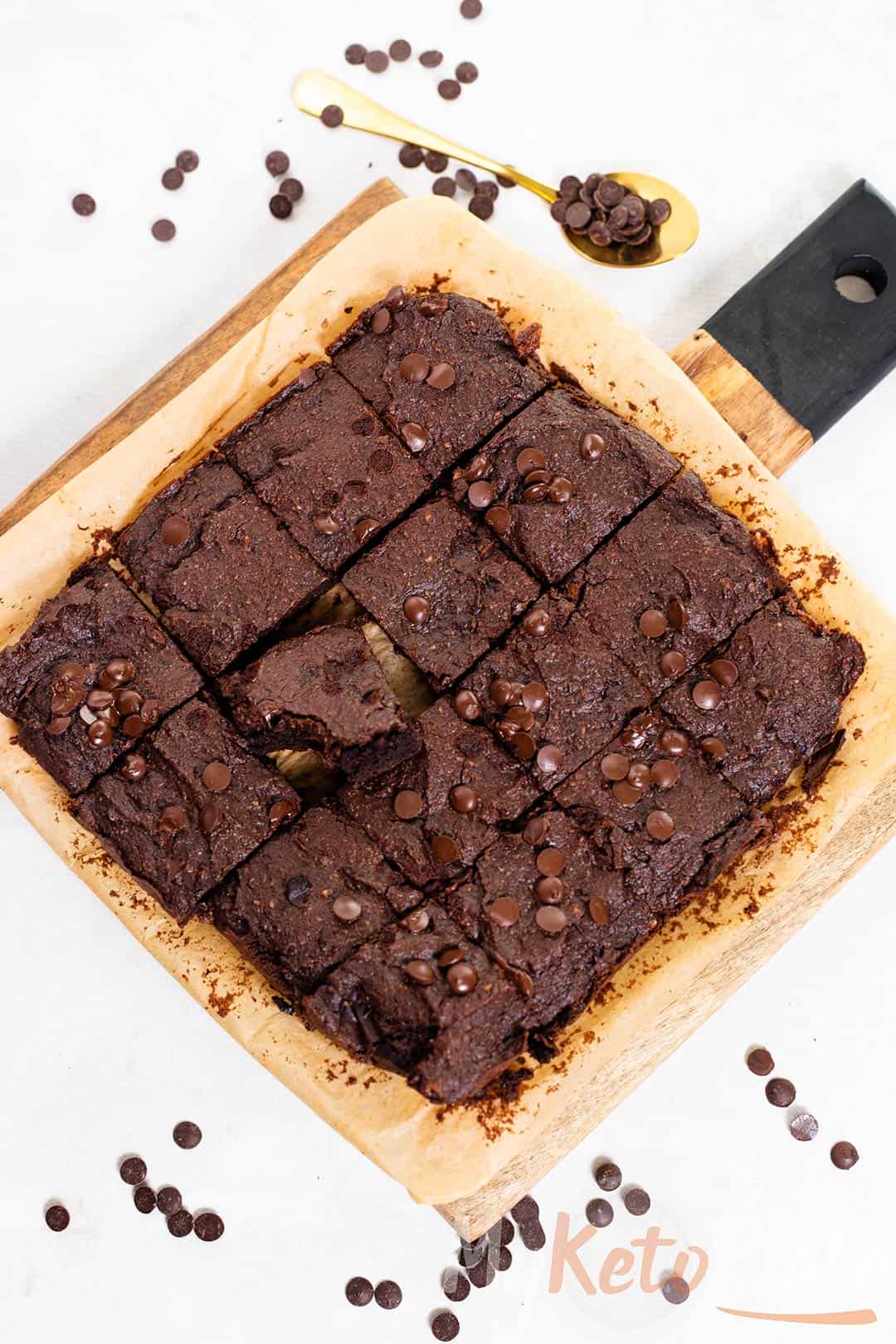 Is Avocado Keto?
Sure, avocado is keto-friendly, and a medium avocado is excellent to enjoy in a keto diet because it has 160 calories, 7 grams of fiber, and only 2 grams of net carbohydrates.
Avocado Brownies Ingredients
To make this super fudgy avocado brownie recipe, you'll need just a few ingredients that you probably already have in your pantry. Since avocado has a really mild taste, you can't taste it in the brownies, so it's fantastic for picky eaters.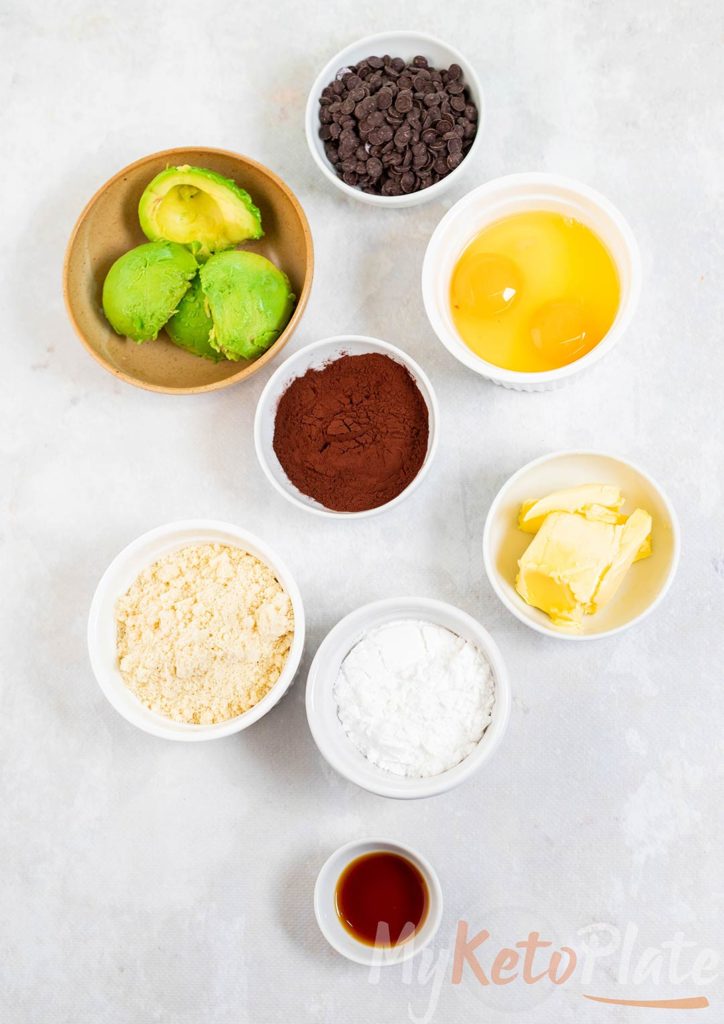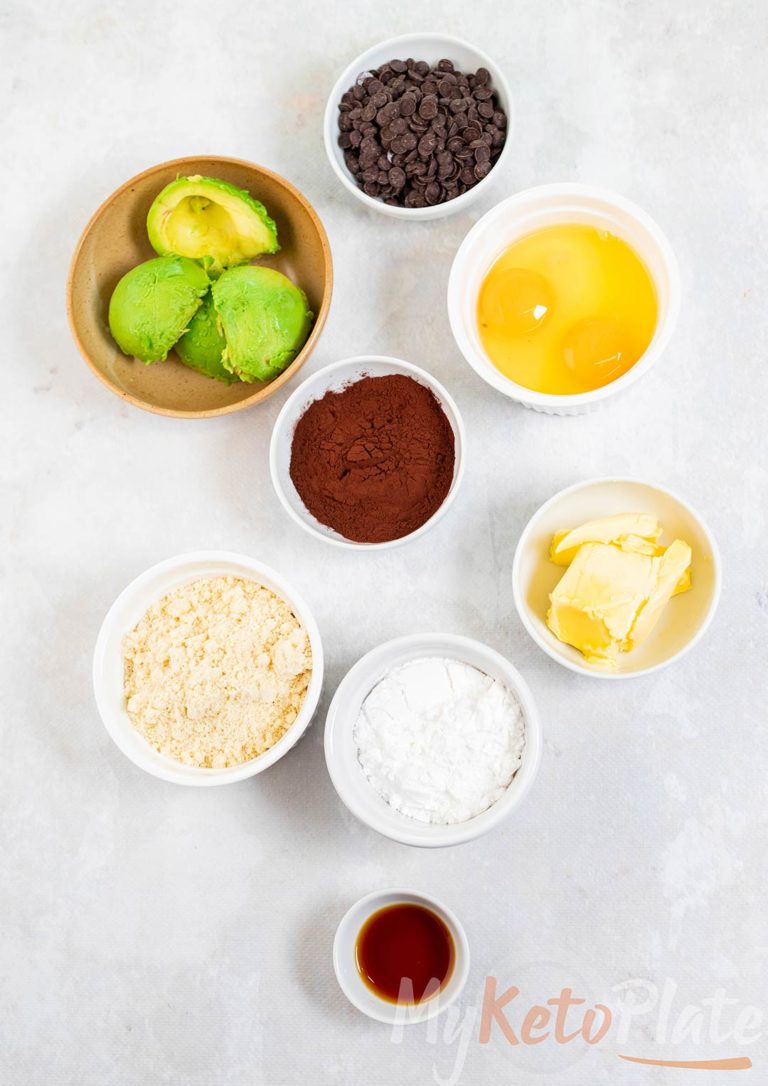 Butter – you can also use coconut oil if you want.
Sweetener – feel free to use your favorite sweeteners such as Erythritol, Monkfruit, or Allulose.
Almond Flour – make sure that you are using blanched superfine almond flour. If you want to replace the almond flour with another grain-free flour, you should know that the quantity differs because each flour has different properties.
Dark Chocolate – use a sugar-free brand that has over 85% cocoa percent or replace it with unsweetened chocolate chips.
Cocoa Powder – To make these brownies taste as rich as possible, you must use high-quality cocoa powder. My favorite is Hershey's Dark Dutch-processed cocoa powder. You can sift if it looks lumpy.
Avocado – using a ripe avocado is the key for this recipe; as ripe as avocado is, so creamy and delicious will be brownies.
Eggs – this ingredient helps to bind everything together.
Vanilla Extract – use a high-quality vanilla extract to give a pleasant vanilla taste to these brownies.
Baking Powder – to make the brownies super airy and fluffy.
These are all the ingredients needed to make these easy avocado brownies.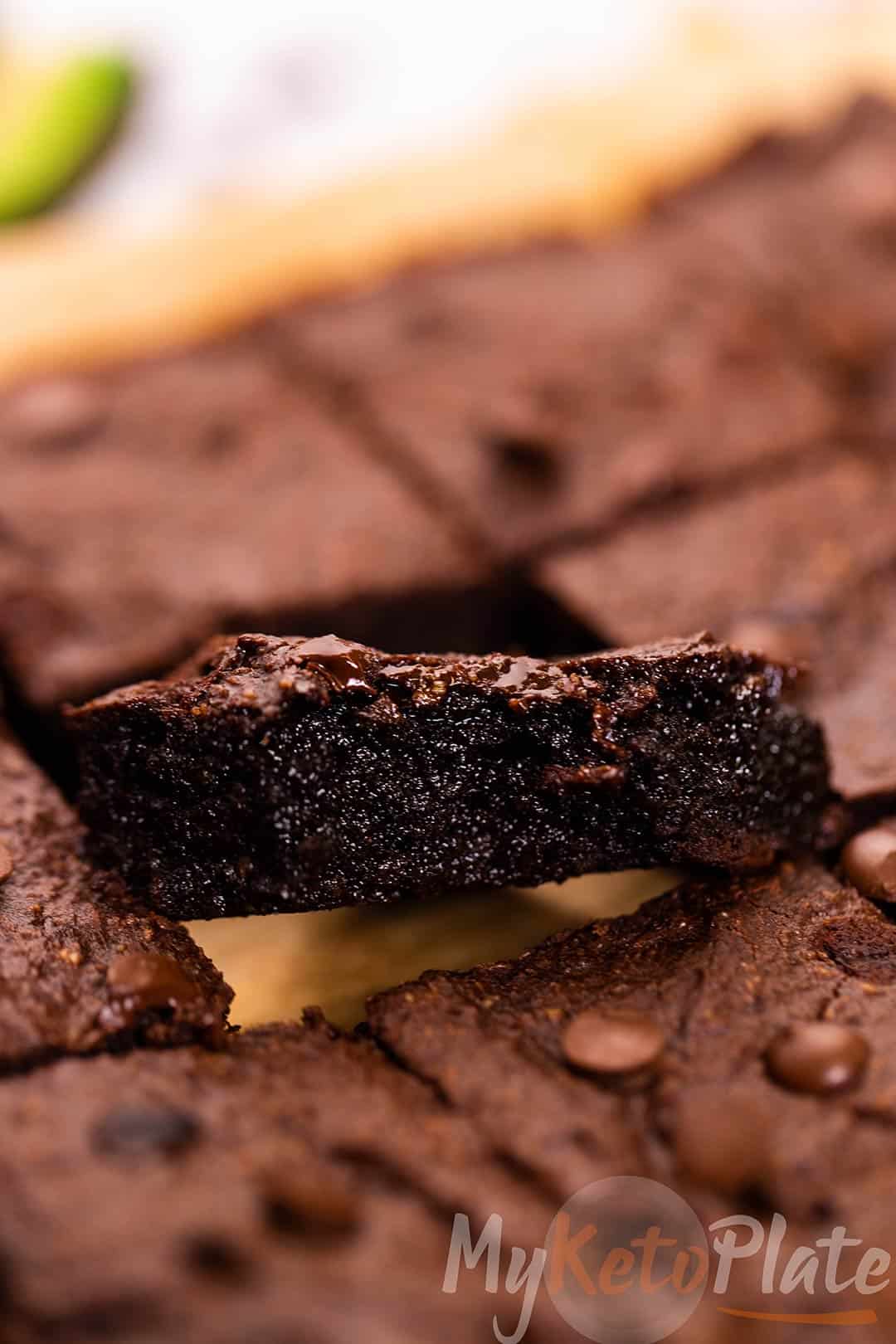 How To Make Avocado Brownies
Making a delicious and healthy dessert has never been easier. Here is everything you need to do to make the best brownies from scratch:
Start by preheating your oven to 180 degrees F and line an 8×8 inch baking tray with baking paper.
Melt chocolate and butter. Add chocolate and butter to a microwave-safe bowl and melt until creamy.
Combine wet ingredients. Add the avocado, eggs, melted chocolate, butter, and vanilla extract.
Combine dry ingredients. Add the dry ingredients to the chocolate mixture.
Combine the dry and wet ingredients. Process until you get a smooth brownies batter.
Transfer the chocolate avocado batter onto a baking sheet lined with parchment paper. If desired, top with sugar-free chocolate chips and chopped walnuts.
Bake. Bake the brownies for 25-30 minutes in the preheated oven until the top looks set.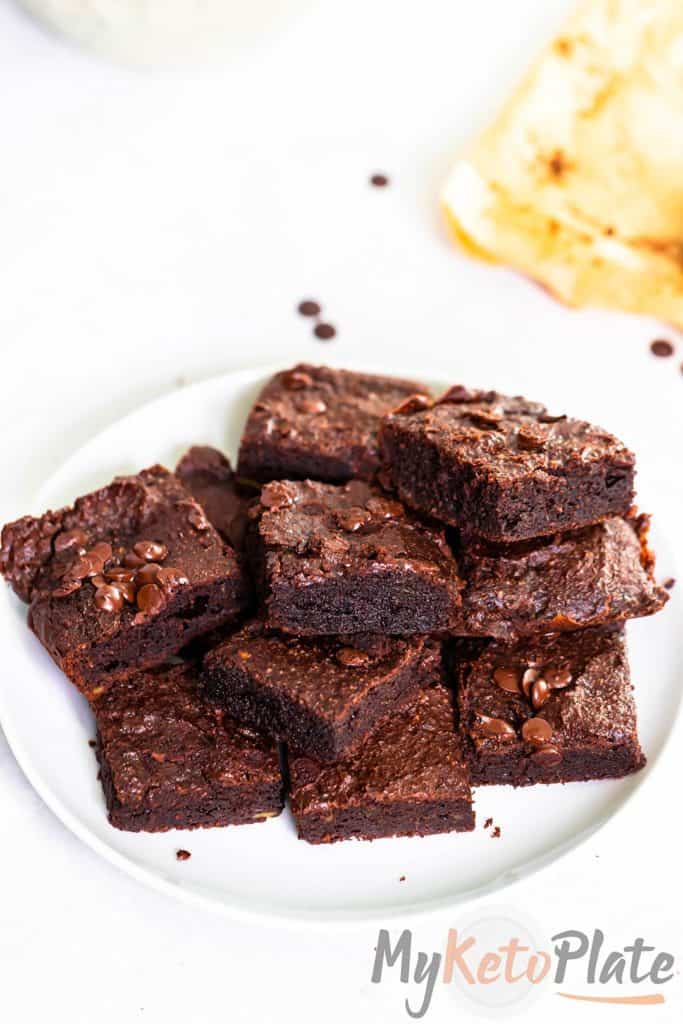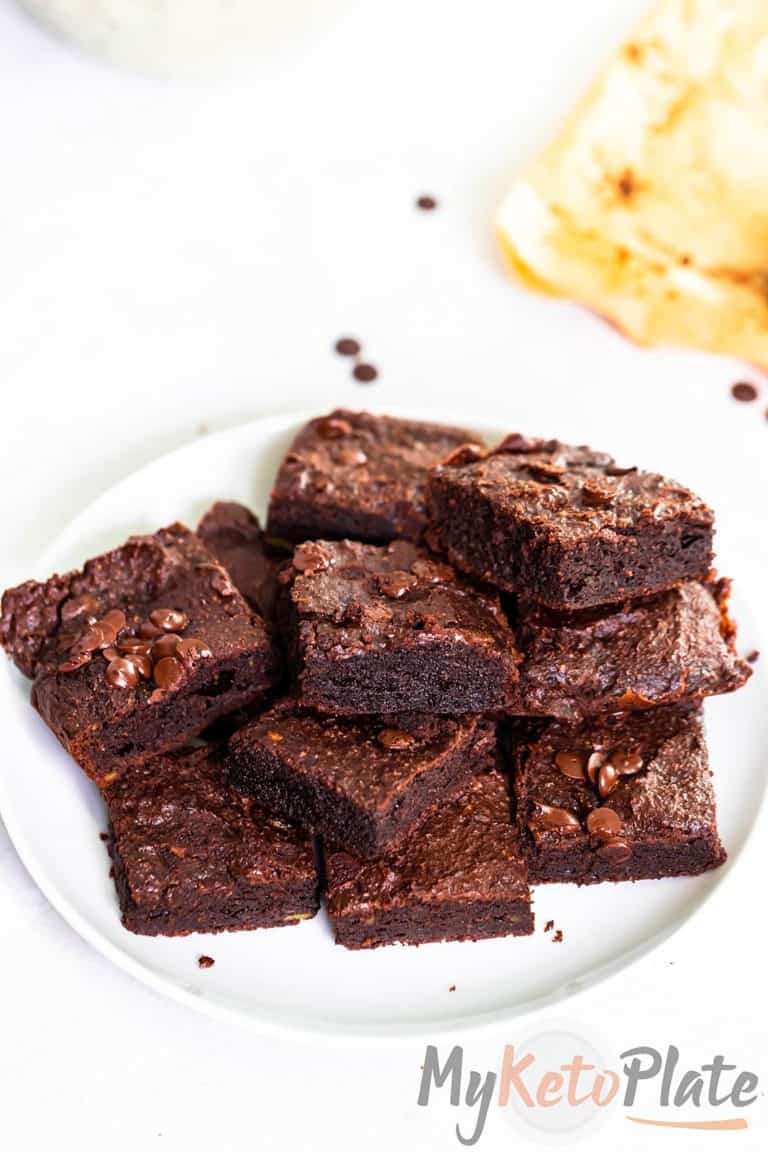 Tips and Variations
The consistency of the avocado brownie batter should be thicker than ordinary brownie batter.
If you have any avocados with brown spots, this recipe is a great method to use them up.
Make sure that you don't overmix the batter.
You can also add some chocolate chips to the batter.
Don't overbake the avocado brownies because they become super dry. They continue firming up after removing from the oven.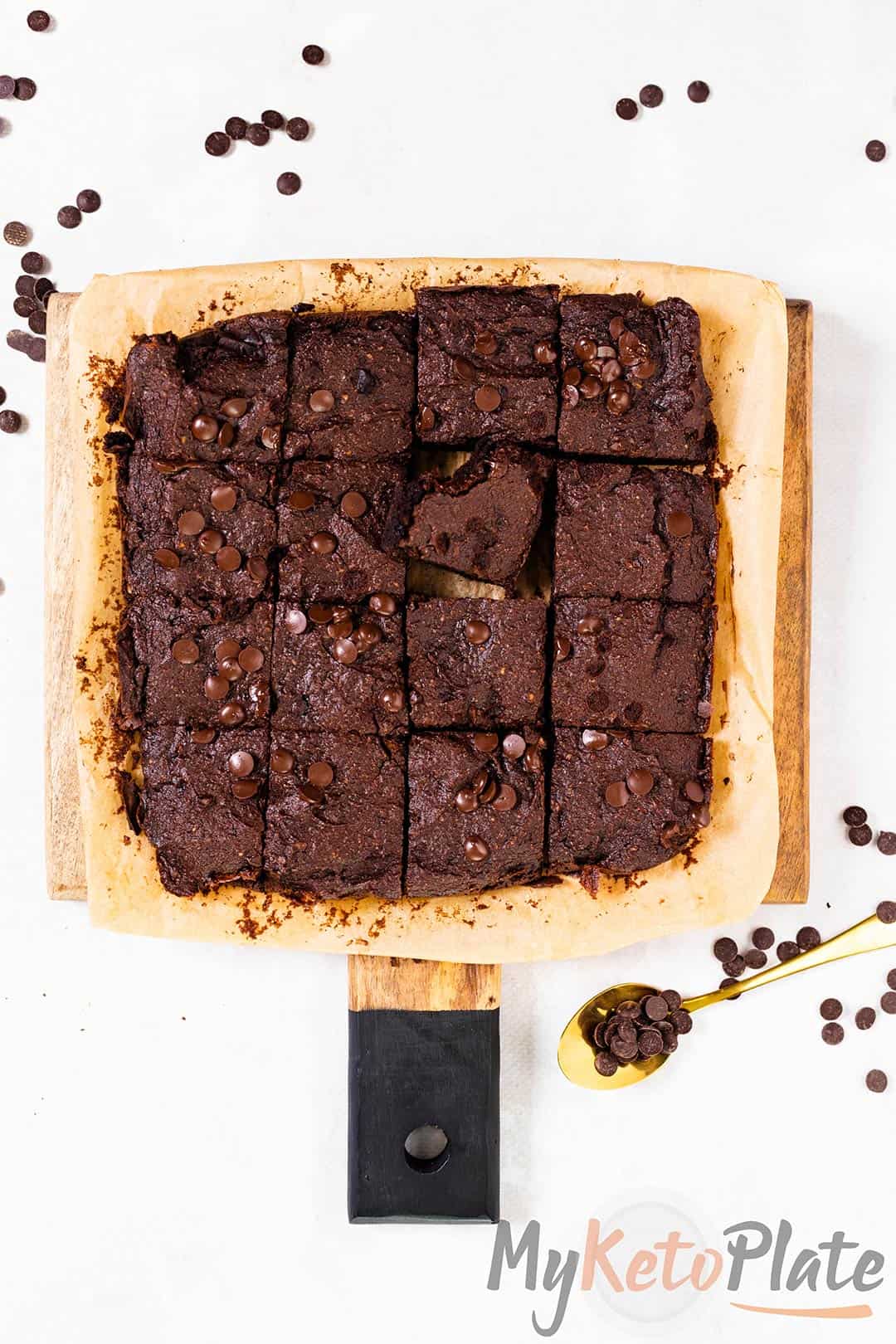 Storing Ideas
Room temperature – These avocado brownies can be stored in an airtight container in a dark place on the counter for up to five days.
Can I Make Them Ahead Of Time?
Sure, these brownies are perfect for making ahead of time and storing in the fridge to satisfy the sweet craving whenever you want.
Can I Freeze Avocado Brownies?
Yes, you can also freeze these avocado brownies. Allow them to cool completely before wrapping each one in parchment paper to prevent them from sticking together. They can be stored in the freezer for up to three months.
Equipment Needed To Make
A knife and a spoon to peel your avocado.
A blender.
A baking tray and parchment paper.
A microwave-safe fowl.
Frequently Asked Questions
Can you Taste the Avocado in these Brownies?
Avocado has a mild and light aroma and fits perfectly in baked desserts. However, it easily loses its taste in combination with almond flour, butter, and melted chocolate. My nephew said he couldn't taste avocado at all in this recipe.
Can I Make Vegan Avocado Brownies?
Sure, if you want to make these brownies in a vegan version, you have to replace the eggs with flax eggs and the butter with coconut oil.
Are these Avocado Brownies Healthy?
Yes, these avocado brownies are definitely healthy. Since these brownies are made with natural sugar replacement, almond flour, and avocado, which is a good source of monounsaturated fatty acids and help to lower total cholesterol levels, we can say that besides the fact that they taste wonderful, they are also healthy.
How to Peel The Avocado?
I think that peeling avocado is one of the easiest things to do. Here is how you should do it:
Cut the avocado fruit in half so that the pit remains intact in one of the two parts.
Carefully remove the pit using a spoon.
Use a spoon to remove the avocado flesh.
More Healthy Chocolate Desserts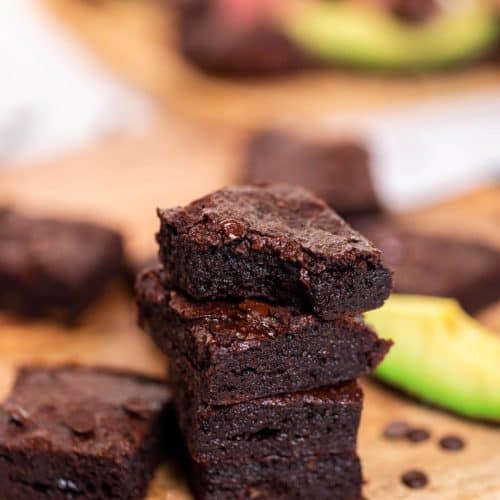 Description
These easy avocado brownies are incredibly moist, decadent, and loaded with chocolate flavor. Made only with gluten-free ingredients, these healthy avocado brownies are keto-friendly and have only 3 grams of net carbs per square.
Instructions
Preheat your oven to 350 degrees F/ 176 degrees C. Line an 8×8-inch baking pan with parchment paper to cover the sides. Lightly grease with nonstick spray.

In a microwave-safe bowl, add the chocolate and butter. Microwave for about 30-45 seconds or until completely melted. Stir well, and be careful not to burn the mixture. You can also use a double boiler.

In the bowl of a food processor, add the pitted avocado, eggs, sweetener, chocolate mixture, and vanilla extract. Pulse until smooth and creamy. Scrape down the edges and process again.

Add in the almond flour, cocoa powder, and baking powder. Process until smooth and creamy.

Pour the brownie batter into the prepared pan and smooth the tops using a rubber spatula.

Bake for 25-30 minutes or until the top looks set, but it's still soft to touch. Remove from the oven and allow to cool completely.

Slice and enjoy!
Notes
I don't have a food processor – You can definitely make these avocado brownies using just a fork and a large bowl. Start by mashing the avocado until super smooth, then incorporate it with the other ingredients. You can use an electric mixer for the best results.
Nutrition Facts
Amount per serving.
How do we calculate the nutrition info?
These nutrition facts listed are determined using nutrition information from the USDA Food Database. Our nutrition facts are accurate, but if you are using different products, please make your calculations. Net carb count is calculated by subtracting both fiber and sugar alcohols because they don't raise blood sugar.