Are you looking for some new salad recipes that are extremely delicious and healthy at the same time? Well, look no further. We've created a list with 20+ keto salad recipes that are filling, nutritious, packed with proteins, and super refreshing.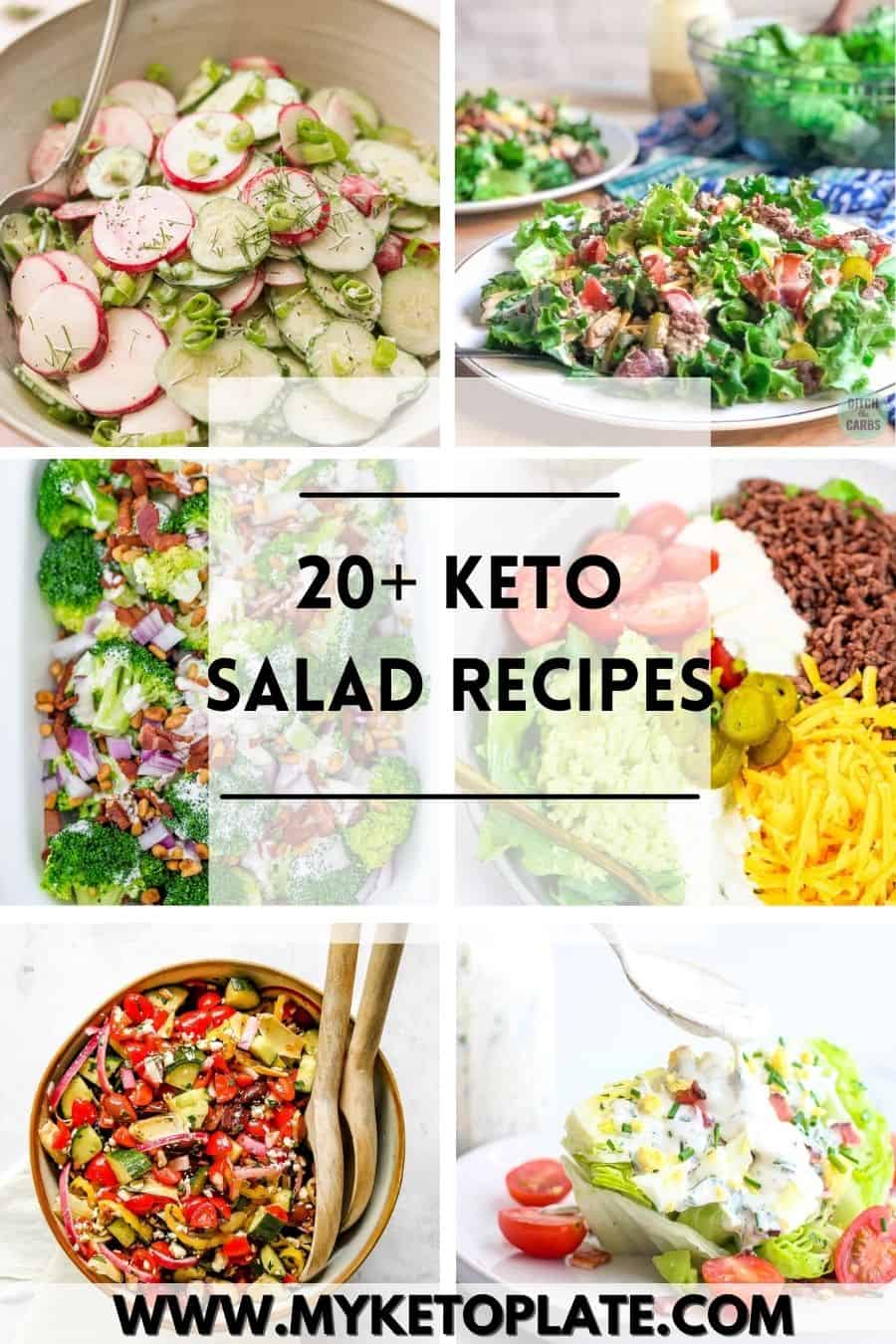 So get ready to surprise your taste buds with these 20+ delicious keto salad recipes! Whether you're looking for a refreshing lunch or a hearty dinner, these salads are packed with flavor, healthy fats, and plenty of protein to keep you feeling satisfied all day long.
Starting from classic simple salad recipes to creative protein-packed options, this list has something for everyone. Also, these recipes are low in carbs and high in nutrients, making them the perfect addition to any keto meal plan.
Are Salads Keto-Friendly?
The answer to this question depends very much on the ingredients used to create the salad. For example, a salad with high-sugar dressing, croutons, or high in-carb vegetables may kick you out of ketosis.
But fortunately, there are many salad recipes that are great for a keto diet since they are made with naturally low-carb ingredients, healthy fats, and high-fat dressing.
So if you are on a keto diet and want to make a salad, it's important to avoid high-carb ingredients like croutons and sweetened dressings and to pay attention to the carb count of each ingredient to stay within the limits of the ketogenic diet.
Common Ingredients In Keto Salad Recipes
Leafy greens: spinach, arugula, kale, or mixed greens
Vegetables: such as broccoli, cauliflower, zucchini, bell peppers, or cucumbers
High-fat proteins: chicken, turkey, beef, salmon, or eggs
Nuts and seeds: almonds, walnuts, sunflower seeds, or chia seeds
Avocado
Cheese: feta, blue cheese, or goat cheese
High-fat dressings: made from ingredients like olive oil, avocado oil, or full-fat dairy
Steps For Making A Keto Salad
Choose your base: Start with a base of leafy greens such as spinach, arugula, or mixed greens.
Prepare your favorite low-carb vegetables: cucumbers, tomatoes, or bell peppers.
Add protein: grilled chicken, steak, or salmon. Alternatively, you can add boiled eggs, bacon, or tofu for a vegetarian option.
Add healthy fats: avocado chunks, nuts, or seeds.
Dress it up: Top your salad with a keto-friendly dressing such as olive oil and vinegar, avocado oil, or ranch made with full-fat dairy.
Mix it up: Mix everything to distribute the ingredients and flavors evenly.
Garnish and serve: Add some cheese, keto croutons, herbs, or extra toppings for a finishing touch, and enjoy your delicious and satisfying keto salad.