Look no further if you're following a keto diet and need some meal prep inspiration. We've created a list with 30 keto meal prep ideas that are super easy to make and perfect for those days when you don't have so much time for cooking.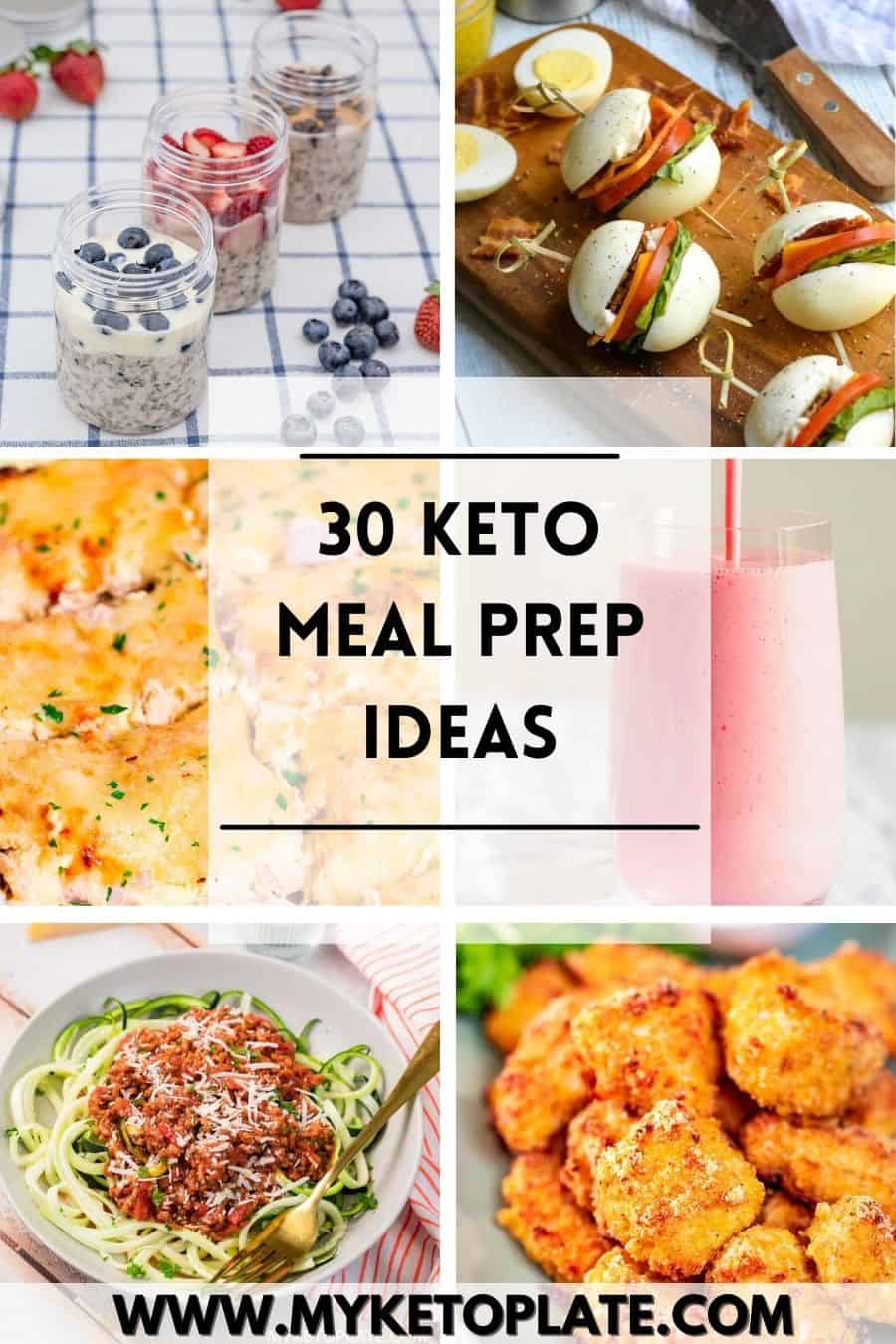 We all know that it can be difficult to come up with new and exciting ideas when it comes to meal prep. That's why we've compiled this list with mouthwatering keto-friendly meal prep ideas to keep you satisfied and on track during the day.
Starting from quick and delicious breakfasts to satisfying lunches and dinners, these keto recipes will impress everyone, even if they are not following a keto diet.
What Type Of Foods Can I Include In Keto Meal Prep?
When it comes to keto meal prep, you can include a wide variety of foods that are low in carbohydrates and high in healthy fats. Here are some food categories and specific examples of foods you can include:
Protein:

Chicken breast
Turkey breast
Beef (such as steak or ground beef)
Pork (such as tenderloin or chops)
Fish (such as salmon, tuna, or cod)

Healthy Fats:

Avocado
Coconut oil
Olive oil
Nuts (such as almonds, walnuts, or macadamia nuts)
Seeds (such as chia seeds, flaxseeds, or pumpkin seeds)

Non-Starchy Vegetables:

Leafy greens (such as spinach, kale, or lettuce)
Cruciferous vegetables (such as broccoli, cauliflower, or Brussels sprouts)
Bell peppers
Zucchini
Asparagus

Low-Carb Grains and Seeds:

Quinoa
Chia seeds
Flaxseeds
Hemp seeds

Dairy and Dairy Alternatives:

Cheese (such as cheddar, mozzarella, or feta)
Greek yogurt (choose plain and unsweetened options)

Eggs and Egg Products:

Whole eggs
Egg whites
Hard-boiled eggs

Healthy Snacks:

Olives
Pork rinds
Nut butter (such as almond or peanut butter)
Keto-friendly protein bars or shakes

Herbs, Spices, and Flavorings:

Garlic
Ginger
Cumin
Turmeric
Lemon juice
Vinegar (such as apple cider or balsamic)
Tips For Making Keto Meal Prep Easier And Efficient
Invest in meal prep containers of the best quality.
Read the instructions carefully since some dishes may need to be cooked and then stored in the freezer, and others only assembled and then frozen without cooking.
Use multi-purpose ingredients. Try choosing ingredients that can be used in multiple meals. For example, you can cook chicken breast and then use it in salads, stir-fries, and wraps.
Use a slow cooker or instant pot since they are great tools for keto meal prep. Add your ingredients, set the timer, and let the appliance work for you.
Don't forget to label your freezer meals. Write on the containers the date, name, and cooking directions.
Is Meal Prep Good On A Keto Diet?
Sure, meal prep is a great option for those following a keto diet, and not only since it helps you plan your meal in advance and ensure that you are receiving the proper ratio of macronutrients.
Also, by meal prepping, you can save time and money by preparing your meals in advance and avoiding unhealthy fast food options when you are starving and in a hurry.
Main Steps For Meal Prep
Plan your meals: Decide on the meals you want to prepare for the week, including breakfast, lunch, dinner, and snacks. Take into consideration your dietary goals, taste preferences, and the nutritional requirements of a ketogenic diet.
Make a grocery list: Based on your meal plan, create a shopping list of all the ingredients you'll need to make the keto recipes.
Prep the ingredients. Wash, chop, and prepare all of your ingredients ahead of time to make everything easier.
Cook your recipes. Follow recipe instructions and cook your meals as needed.
Portion your meals. Portion each meal into individual containers or bags, then label them with the dish's name and the date it was prepared.
Store them properly. Store each meal in the fridge or freezer, depending on when you eat them.