These keto brownies are super moist, fudgy, perfectly rich, and chocolatey. Make the world's best brownie recipe and enjoy an incredibly sugar-free dessert with only 1g net carb per serving, ready in less than 30 minutes!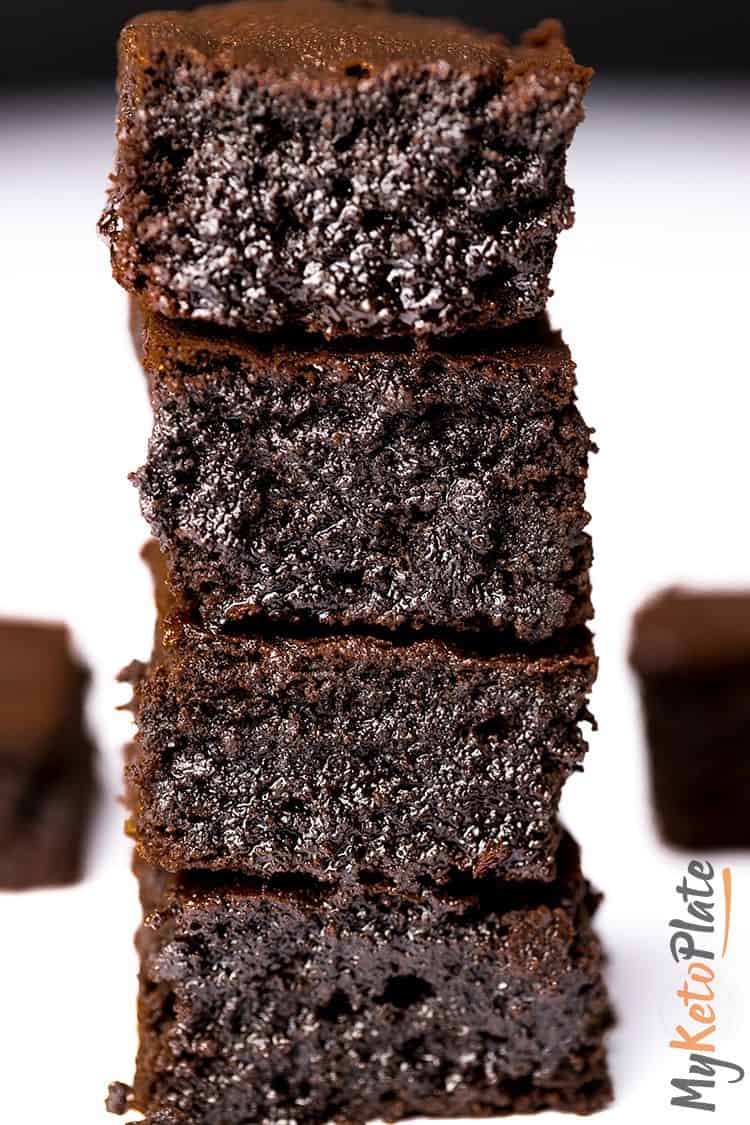 I'm not afraid to call these the world's best keto brownies because they indeed are my family's favorite dessert – and they aren't even on a keto diet.
Finding the best recipe was a long road of trial and error. However, I am proud to share with you these insanely fudgy and moist low carb brownies that have a crispy top. On top of that, these melt-in-your-mouth brownies are entirely grain-free and sugar-free. I can honestly say that I would choose the keto version over the "regular" brownies at any time.
Oh my, look at these fudgy keto brownies, they're so perfectly tender with such a wonderful texture, they are a winner. And they are low-carb and grain-free too.
When it comes to brownies, I love experimenting with different flavor variations. In addition to the classic chocolate brownie, and I'm sure you'll also love keto peanut butter brownies or these keto cheesecake brownies that are super decadent and perfect for any occasion.
Watch the recipe video below to see exactly how to make the best keto brownies.
Are Brownies Keto?
No, regular brownies are not keto-friendly as they are usually made with flour and sugar, making them high in carbs. You can quickly exceed your carb limit on a keto diet.
Fortunately, you don't have to give up on this delicious dessert – with some simple substitutions, you can make tasty low-carb brownies that will fit into your meal plan.
Keto brownies are made with almond flour instead of regular wheat flour and a low carb sweetener instead of sugar, making them gluten-free and lower in carbs than traditional recipes.
Why Are These the Best Keto Brownies?
tastes like the real thing but is completely grain-free and sugar-free
made from scratch in less than 30 minutes
better than the classic brownies
delicious served warm, but incredibly fudgy the next day
only 2g net carbs each
Should I stop talking about how amazingly fudgy and chocolatey these keto brownies are and start sharing the recipe with you? Well, I just finished shooting the brownies, and I hope the pictures express their deliciousness well enough. Needless to say, I'm eating one right now as I write this blog post, and my keyboard is full of chocolate goodness– the kind of mess I love.
Ready to give keto brownies a try? Keep reading to find out how to make these delicious low carb brownies in just minutes! From tips on selecting the right ingredients to instructions for baking perfect brownies every time, this guide has everything you need.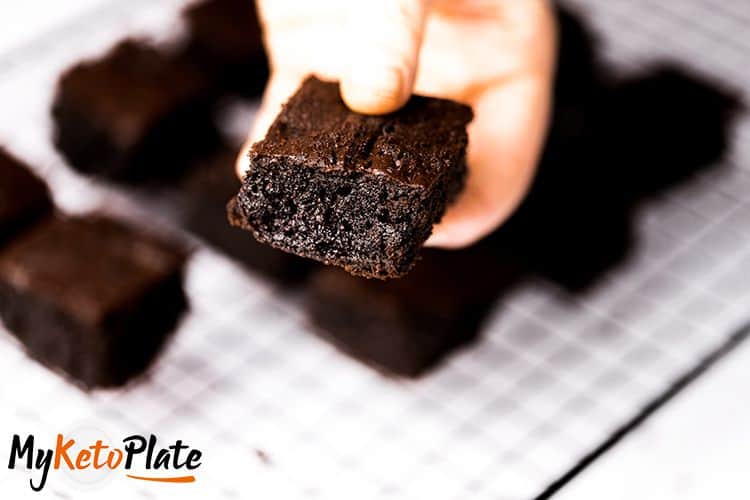 Keto Brownies Ingredients
Hopefully, you'll try these keto brownies, friends, because they are my absolute favorite dessert, and I could eat them every day. The ingredients needed are super easy to find and common in keto baking. I suggest following the reci[e as written and don't try to replace the ingredients unless stated in the recipe card below.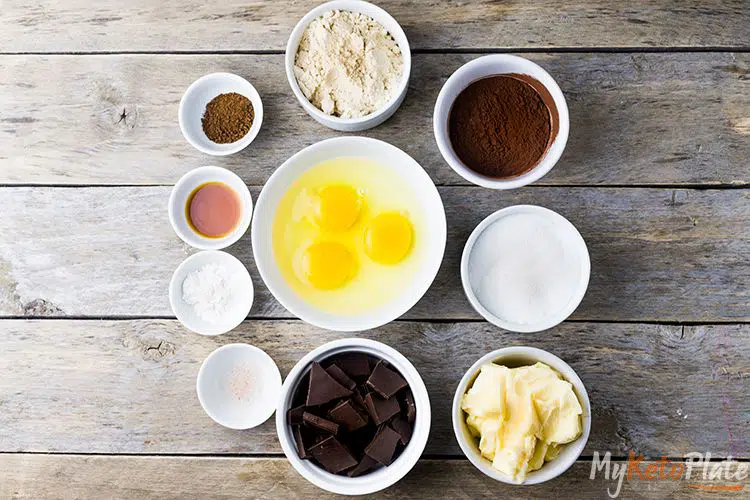 To transform the "regular" brownies into a keto version we have to ditch the sugar, the wheat flour, and milk chocolate (suuuuper high in sugar).
Almond flour – one of my favorite keto flours I often use in keto baking. I always choose a superfine blanched almond flour and sift it to get rid of the bigger clumps.
Sweetener – An erythritol blend is the best sweetener to use in this recipe as it has no funky aftertaste. For paleo brownies, you can use coconut sugar. These are both natural sweeteners that won't raise your blood sugar levels as regular table sugar does. However, don't use liquid sweeteners to make keto brownies.
Eggs – an essential ingredient that helps everything blend together. Use room-temperature eggs to reduce the eggy taste.
Butter – Unsalted butter is needed to make these brownies unbelievably fudgy.
Cocoa powder – Dutch-process or regular unsweetened cocoa powder to make the brownies taste heavenly chocolatey.
Dark chocolate – or unsweetened chocolate chips. It must be high quality. Add some chocolate chunks to the batter to make the brownies even more decadent. Lily's Sugar Free chocolate chips are one of the best options.
Baking powder – helps the brownies become super fluffy.
Espresso powder – you can't feel the coffee taste, but it greatly enhances the chocolate flavors.
Vanilla extract – use a high-quality vanilla extract for the best flavors.
How to Make Keto Brownies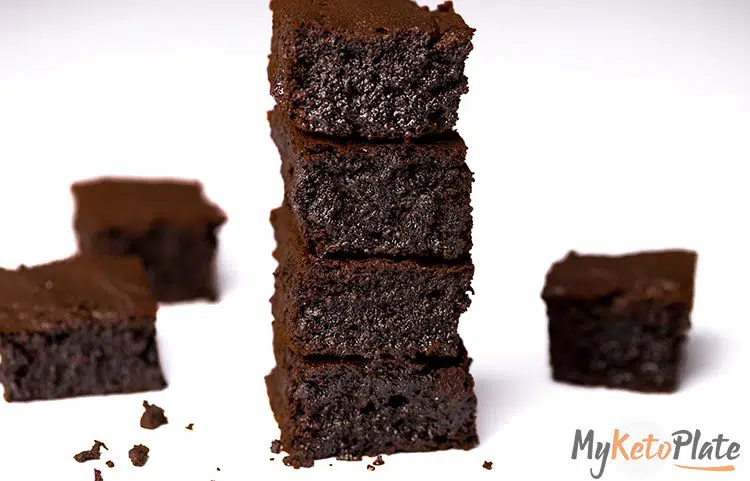 This keto brownie with almond flour recipe is super simple to make by just following the steps in the recipe card. Here's what you need to do:
Preparing The Batter
Once you've gathered your ingredients, it's time to start prepping the brownie batter.
In a large bowl, add the unsalted butter and chocolate. Melt together and mix well.
Combine the dry ingredients: almond flour, cocoa powder, erythritol, espresso powder, and baking powder.
Using an electric mixer, beat the eggs for 30 seconds. Pour the melted chocolate mixer, and continue mixing.
Combine the dry and wet ingredients until well incorporated. The batter is slightly thick, but pourable, so make sure to check the video on top for visual instructions. Try not to overmix the batter to get the fudgiest brownie in the entire world.
Pour the keto brownies batter into a 9×9-inch pan lined with parchment paper and spread evenly with the back of a spatula.
Baking The Brownies
Bake these keto brownies at 375°F/190°C for about 18-20 minutes or until the tops look set and a toothpick inserted in the middle comes out mostly clean. Enjoy!
BONUS TIP: Make sure you don't overbake the sugar-free brownie batter because it will be cakey and not fudgy.
Easy keto chocolate brownies with a creamy molten center, made with almond flour, cocoa powder, and coconut oil.
If you're looking for an even more indulgent dessert, add some chopped nuts or sugar-free chocolate chips into the batter before baking. You could use walnuts, almonds, pecans, or any other type of nuts that you prefer
Tips for Making the Best Keto Brownies
The quality of the ingredients is crucial for the best keto brownies. I'll share with you some of the tips I think truly make a difference in this recipe.
Choose high-quality chocolate. Use the highest cocoa percentage you can find – not 100% necessary to use 100% dark chocolate because it's very expensive. Any chocolate with a percentage of 85-99% is perfect. My favorite brands are Lindt, Baker's Chocolate, and Lilys's Chocolate Chips (completely sugar-free).
Use super fine almond flour. The almond flour combined with cocoa powder helps a lot with the texture. If you want to use coconut flour, reduce the quantity of almond flour to about 2 tablespoons and adjust if necessary.
The sweeteners I recommend and don't give that cooling effect (no aftertaste) are Lakanto Monkfruit (1:1 sugar substitute) and the powdered Monk Fruit Erythritol Blend. My second favorite brands are Swerve, Erythritol, and Xylitol. Using a powdered sweetener keeps the brownies moist (at least, that's what I've noticed). Stevia isn't a favorite of mine in baked goods as it tends to get bitter and overpowers the chocolate goodness.
Depending on your oven and altitude, baking times may vary significantly so keep an eye on them after about 15 minutes, so they don't overcook. Ovens can also have hot spots which can cook food faster in certain areas, so try rotating them halfway through baking time for even baking.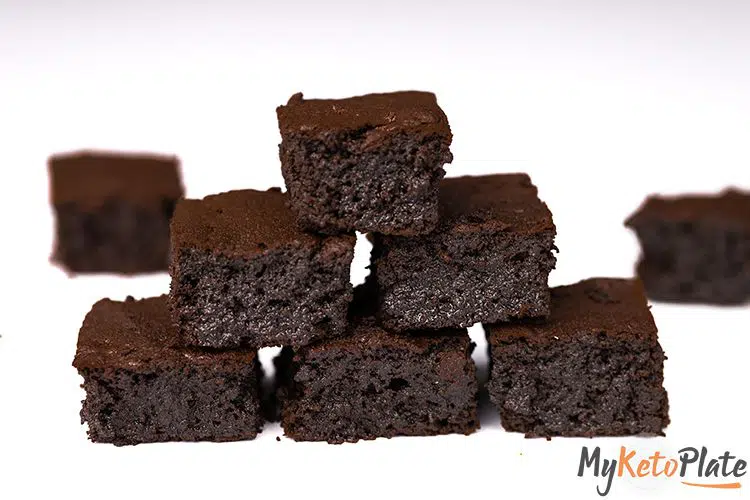 How To Serve
If you want to add some extra flavor and texture to your keto brownies, consider adding toppings like whipped cream, chopped nuts, or sugar-free chocolate chips.
Serve with fresh berries or a scoop of keto vanilla ice cream to enjoy a decadent dessert.
Drizzle some peanut butter or homemade keto caramel for the ultimate indulgence.
Keto Almond Flour Brownies Macros
The macros for these keto brownies are incredible. Compared to classic brownies loaded with sugar, these keto brownies have less than 2g net carbs (vs. 12g in regular brownies) and are loaded with essential fats in a well-balanced ketogenic diet.
Calories: 135
Total Carbs: 2g
Net Carbs: 1g
Protein: 2g
Fat: 12g
Fiber: 1g
How To Cut Almond Flour Brownies
Cutting keto fudge brownies can be a bit trickier than cutting traditional brownies, as they tend to be more fragile. Here are some tips on how to cut keto fudge brownies:
Allow the brownies to cool
Let the keto fudge brownies cool completely before cutting them. This will allow them to set and will make them easier to handle.
Once the brownies are cooled, use the parchment paper to lift them out of the pan and onto a cutting board. This will make them easier to handle and cut.
For even cleaner cuts, you can chill the brownies in the fridge or freezer for 30 minutes to an hour before cutting.
Use a sharp knife
A sharp knife will make it easier to cut through the dense fudge layer. A serrated knife is recommended, as it will help prevent the brownies from crumbling.
Clean the knife between cuts
Clean the knife with a damp cloth or paper towel between cuts to prevent the brownie layer from sticking to the knife and getting messy.
How to Store Keto Brownies
This recipe makes 16 keto brownies squares, so you'll have a sugar-free dessert ready for the whole week.
To store keto brownies, first let them cool to room temperature before transferring them to an airtight container.These are the best storing options:
Fridge: Store the keto brownies in an airtight container, in the refrigerator, for up to 10 days. Allow them to sit for a few minutes on the counter before eating. Keto brownies tend to harden in the fridge.
Room Temperature: Store on the counter covered for up to 4 days. Usually, desserts made without sugar tend to go bad faster.
Can I Store Keto Brownies in the Freezer
Yes, you can store keto fudgy brownies in the freezer! Wrap the uncut keto brownies in foil or parchment paper for up to 4 months.
Storing pre-cut brownies is also possible. Just make sure to individually wrap each serving, then put them in a freezer bag.
When you're ready to eat them, let them thaw at room temperature for a few hours or overnight in the refrigerator.
Just keep in mind that the texture and taste of the brownies may change slightly after being frozen and thawed, but they should still be delicious!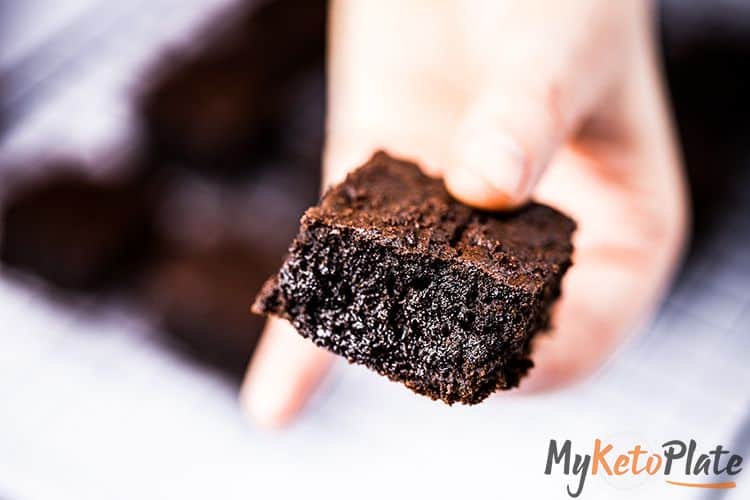 Tools to Make Keto Brownies
9×9 inch square pan
Electric Mixer
Rubber Spatula
Mixing Bowls
Measuring Cups
A sharp knife to cut the brownies
More Keto Dessert Recipes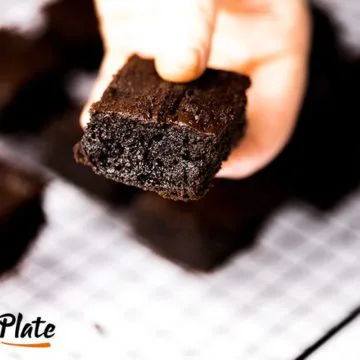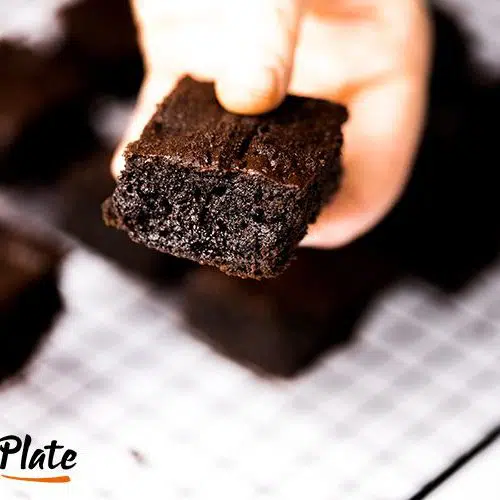 The Best Fudgy Keto Brownies Recipe (Only 1 Net Carb!)
---
Yelds
16
keto brownie square
Description
These keto brownies are super moist, fudgy, perfectly rich, and chocolatey. Make the world's best brownie recipe and enjoy an incredibly sugar-free dessert with only 1g net carb per serving, ready in less than 30 minutes!
Instructions
Preheat oven to 375°F/190°C. Line a 9×9-inch square baking pan with parchment paper or grease it with butter. Set aside.

In a microwave-safe bowl, add the softened butter and chocolate. Melt in 30 seconds rounds and stir until they are well incorporated.

In a different large bowl, combine the dry ingredients: almond flour, cocoa powder, sweetener, espresso powder, and baking powder.

Using an electric mixer, beat the eggs for 30 seconds. Pour in the melted chocolate and butter mixture. Continue mixing.

Add the dry ingredients and mix until well incorporated. Try not to over mix the batter, to get the fudgiest brownie in the entire world.

Pour the keto brownies batter into the pan and spread evenly with the back of a spatula

Bake for about 18-20 minutes or until a crispy thin layer forms and the brownie is moist in the middle. Let it cool for a few minutes then cut it into 16 square. Enjoy! 
Notes
Depending on the desired sweetness use more or less sweetener. I find that 3/4 cup sweetener is more than enough. 
Nutrition Facts
Amount per serving.
How do we calculate the nutrition info?
These nutrition facts listed are determined using nutrition information from the USDA Food Database. Our nutrition facts are accurate, but if you are using different products, please make your calculations. Net carb count is calculated by subtracting both fiber and sugar alcohols because they don't raise blood sugar.