These keto chocolate muffins are super rich and incredibly fluffy. Loaded with chocolate chips, these coconut flour muffins are easy to make, perfectly moist, and pair perfectly with a cup of coffee in the morning!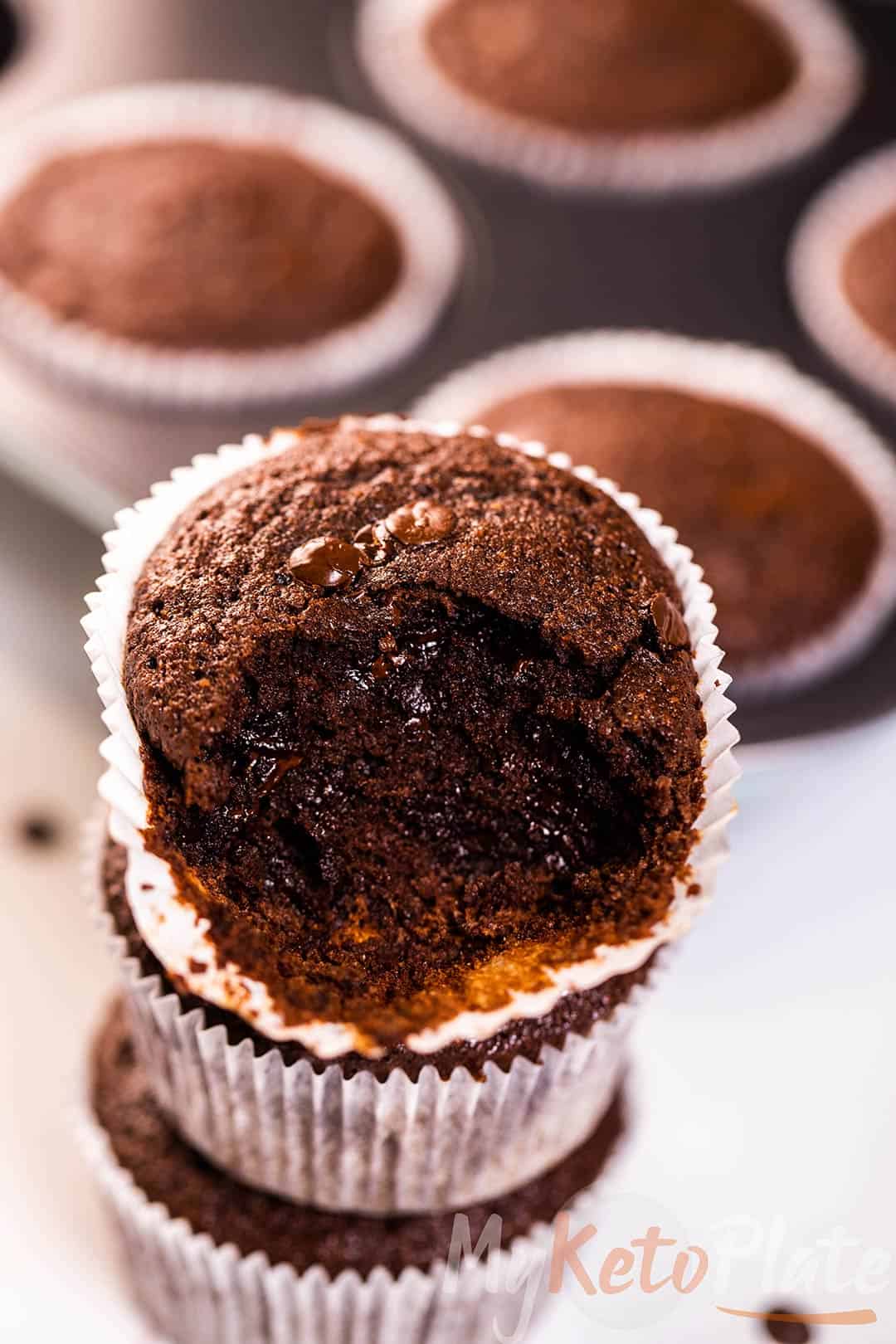 If you love muffins, you'll love this recipe! These keto muffins have an intense chocolate flavor and are ready in less than 30 minutes from start to finish.
I've tried tons of keto muffins before and tested this recipe until I've got the right ratios of ingredients. Muffins are my to-go snack whenever I'm feeling snacky! As a chocolate lover, I could eat these keto muffins for every meal of the day.
If you're a chocolate lover on a keto diet, just like my coconut flour chocolate cake or chocolate mug cake, this is the perfect low carb dessert for you!
They taste incredibly indulgent and are the best for satisfying sugar cravings. Serve with a cup of bulletproof coffee for a filling afternoon snack.
The best part? These keto muffins are made with coconut flour, and stay moist for a few days at room temperature!
Bonus, these muffins are completely glute-free, dairy-free, and paleo approved!
Are Chocolate Muffins Keto?
No, classic muffins are not keto friendly. They are usually made using high carb ingredients such as white flour, sugar, and milk. A chocolate muffin has over 60 grams of carbs and that's for sure going to kick you out of ketosis.
Therefore, chocolate muffins are not suitable for a keto diet. No worries, you can make keto muffins using just some low carb ingredients such as coconut flour and sweeteners in less than 30 minutes.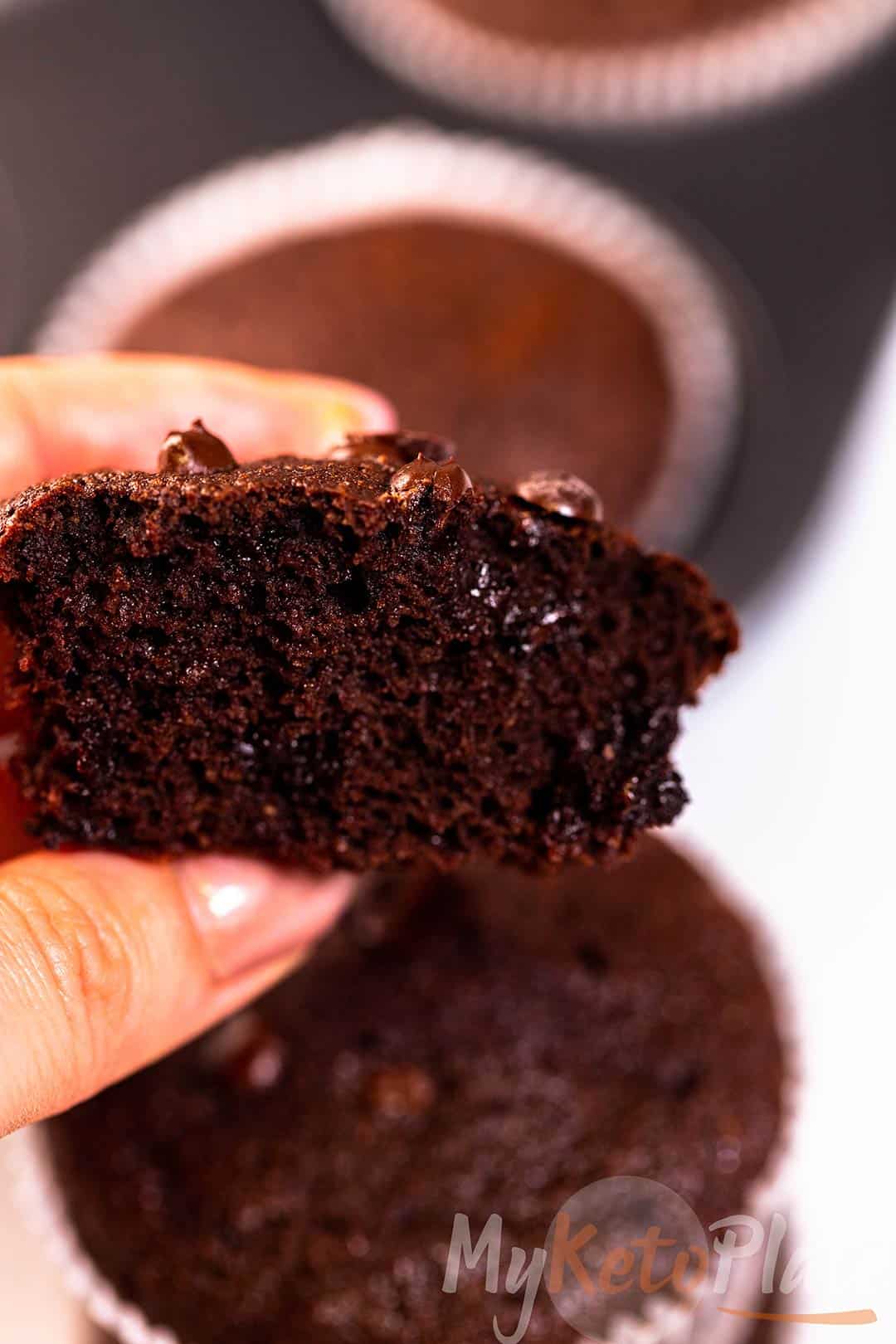 Why Are These The Best Keto Chocolate Muffins
Extremely easy and quick to make
A healthy muffin recipe that's gluten-free, sugar-free, and low carb!
Perfect for portion control
No wheat flour is needed!
Watch this quick video to see how to make the best keto chocolate muffins.
Keto Chocolate Muffins Ingredients
For these ultra-moist almond flour chocolate muffins, you'll need only a few simple ingredients that you probably already have in your pantry.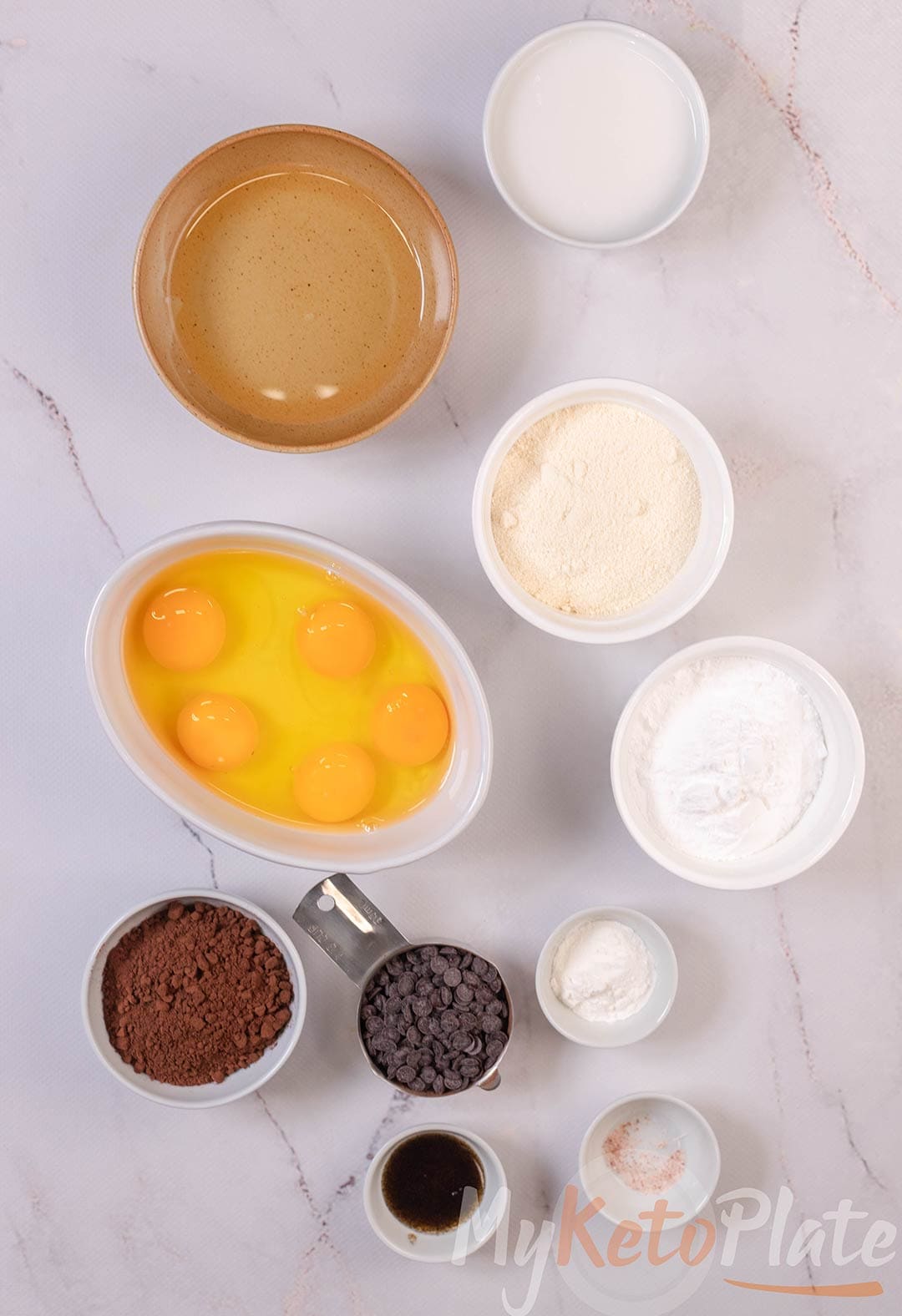 Eggs – always at room temperature. They keep these muffins extra moist and help bind all the ingredients.
Coconut Flour – this is one of my best keto flour for baking. The coconut flour absorbs well the wet ingredients and creates a delicious batter.
Unsweetened Cocoa Powder – make sure that you use one of the best quality you can find because this ingredient adds chocolate flavor.
Sweetener – use your favorite sweetener, but make sure it is powdered to mix well in the batter.
Coconut Oil – using coconut oil, the muffins will be extremely moist. You can also use unsalted melted butter or avocado oil.
Baking Powder – this ingredient helps the muffins rise and become super fluffy.
Vanilla Extract – the best quality you can find, this ingredient pairs perfectly with the chocolate flavor.
Salt – Salt enhances the chocolate flavors.
Almond Milk – Use unsweetened almond milk to make the keto chocolate muffins batter.
Chocolate Chips – If you can't find chocolate chips, chop an unsweetened chocolate bar and use chocolate chunks instead – they're delicious!
How To Make Keto Chocolate Muffins
You won't believe how easy it is to make a quick and delicious low-carb dessert by following a few easy steps. Here is everything you have to do:
Make the Muffins Batter
Add all the wet ingredients to a large mixing bowl and mix them for two minutes until they become airy using an electric mixer.
Combine all the dry ingredients with the egg mixture and mix until well incorporated.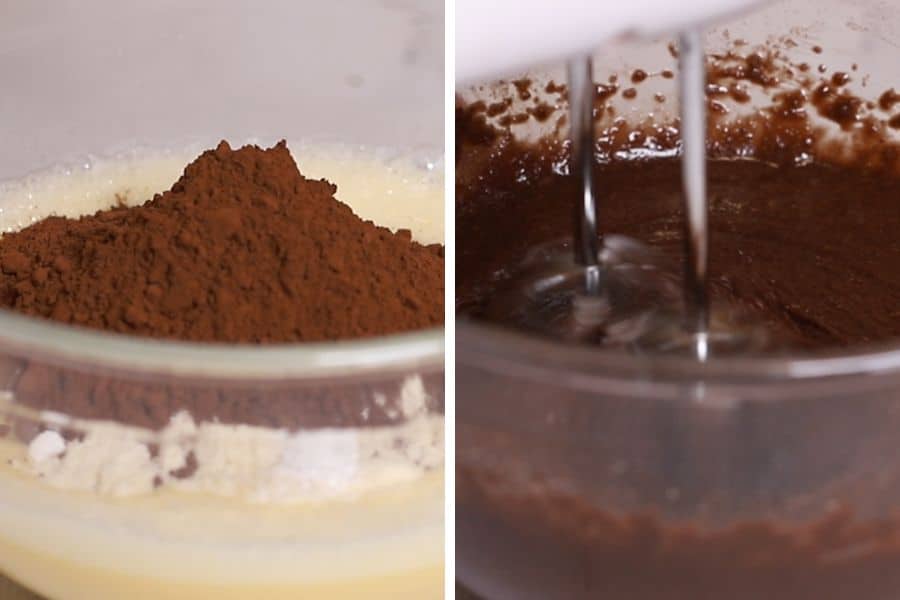 Add the chocolate chips and mix well.
Preheat the oven and line a muffin tin with muffin papers or grease well using a non-stick cooking spray.
Fill each muffin cup with about 1/4 cup of the batter. I love using a large ice cream scoop because it's easier to portion the right amount of batter for each muffin.
Sprinkle some Lily's chocolate chips on top and place the tray in the middle of the preheated oven.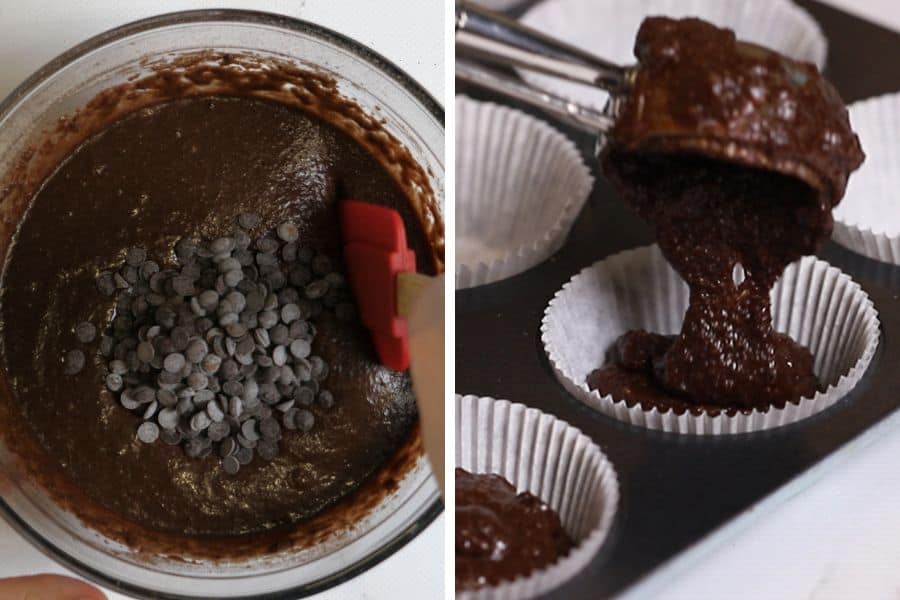 Bake Almond Flour Chocolate Muffins
Bake the keto chocolate chip muffins for 25-30 minutes or until a toothpick inserted in the middle comes out clean.
Let the muffins cool in the pan for 5-10 minutes, then place them on a cooling rack to cool completely.
TIP: Serve these low carb chocolate muffins warm straight out of the oven!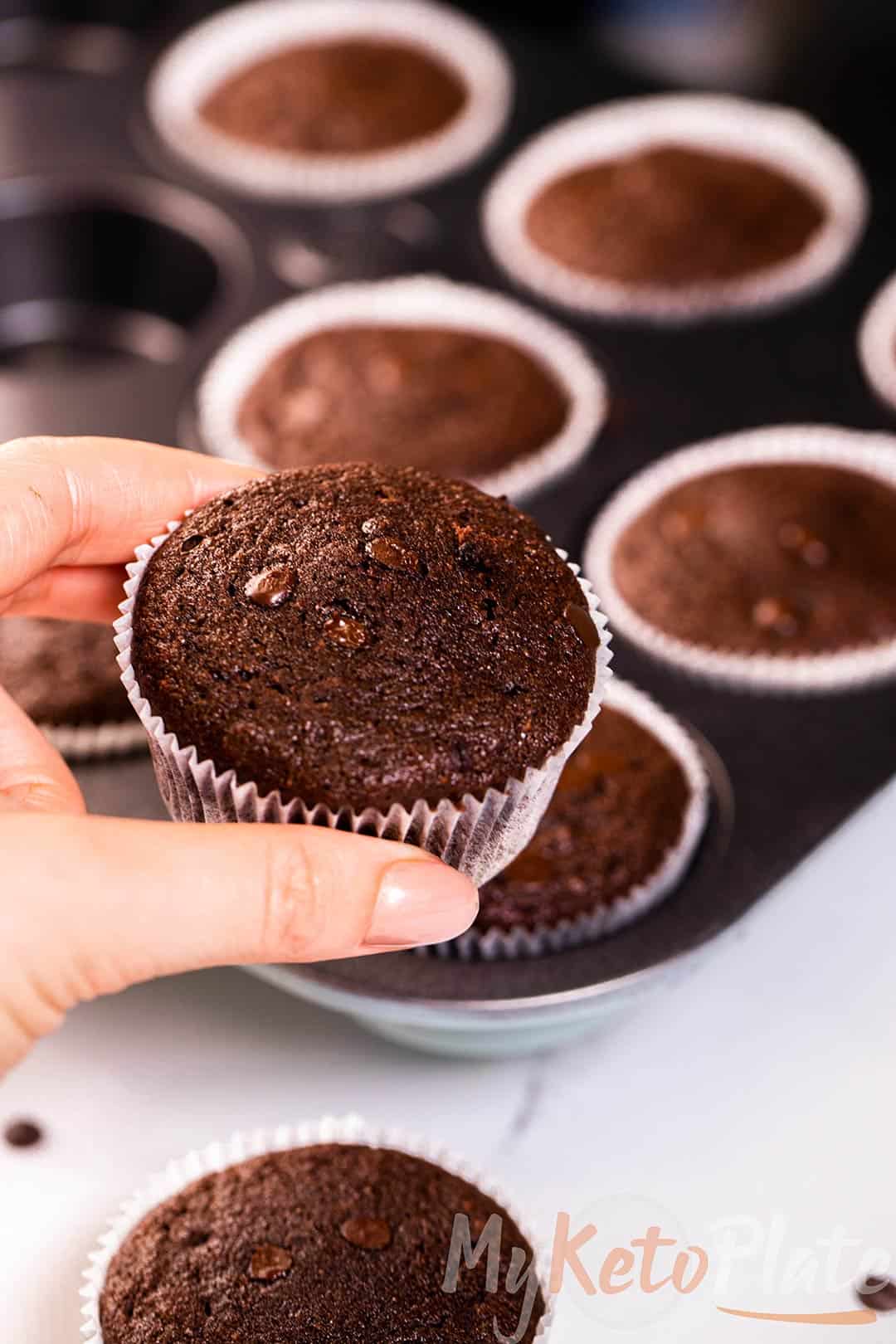 How To Serve
These keto chocolate muffins have just 2 grams net carbohydrates each, so there's plenty of room for your favorite toppings. I love eating them plain, but here are some toppings that pair perfectly:
Drizzle with almond butter or peanut butter.
Recipe Variations
You can add some espresso powder to the batter for an extra boost of chocolate flavor.
If you don't want to add chocolate chips to the batter, you can add some fresh raspberries or strawberries instead.
These are dairy-free keto muffins, but you can use butter instead of coconut oil.
Tips For Making The Best Keto Chocolate Muffins
Keep a few chocolate chips sprinkled on top. They will look great and will be crispy and delicious.
Don't overbake your muffins because they will get firm and crumbly. If they are firm and pass the toothpick test, it means they are ready.
Avoid overmixing the batter so the muffins don't become too dense and spongy.
The muffins tend to firm up as they cool down, so you can warm them in the microwave for a few seconds before eating.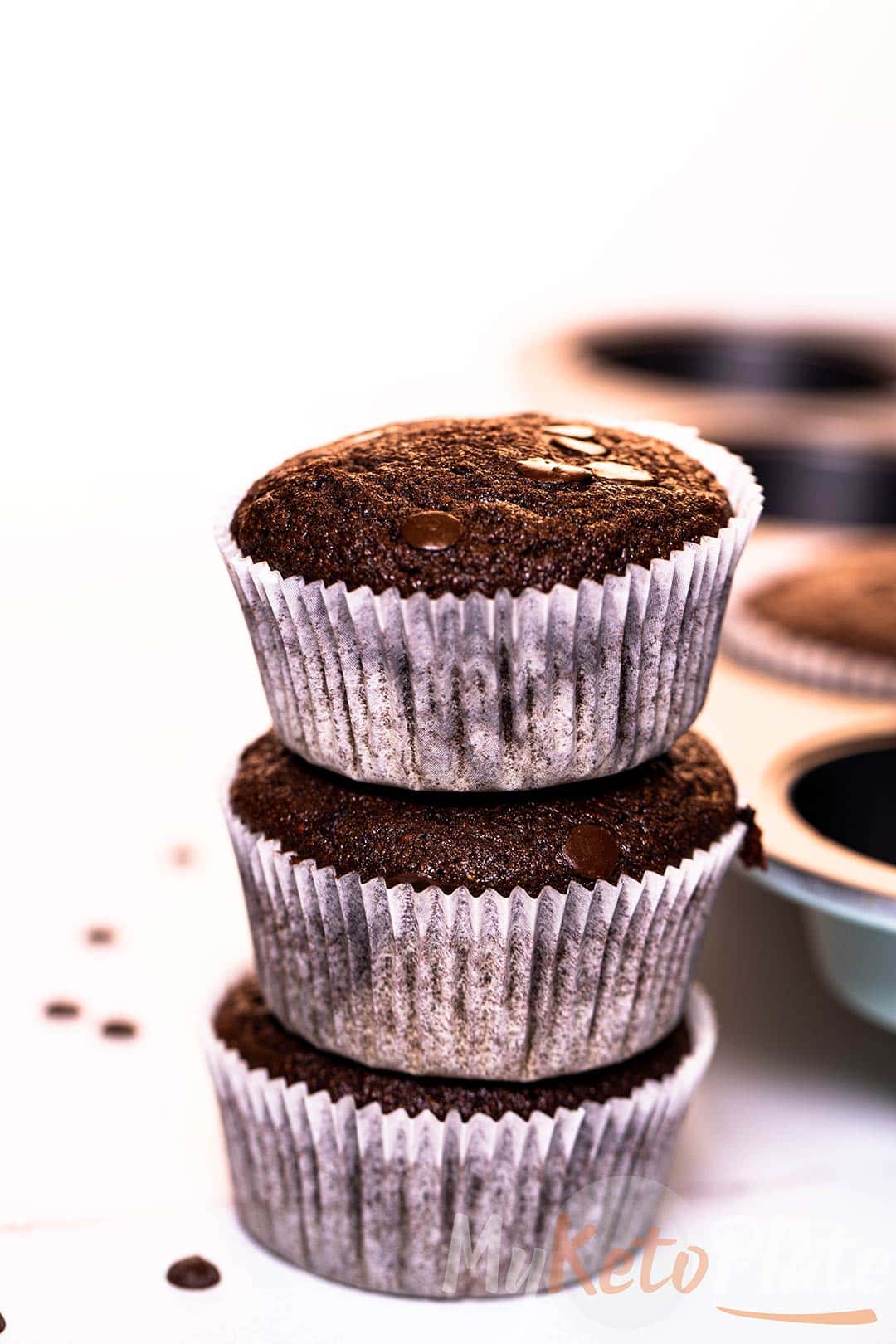 How to Store Keto Double Chocolate Muffins
Fridge: Allow muffins to cool completely before storing them in an airtight container in the fridge for up to five days.
Freezer: Put the muffins in baking paper, freeze them, transfer them to a freezer bag, and store them in the freezer for up to three months. When ready to enjoy, thaw at room temperature overnight.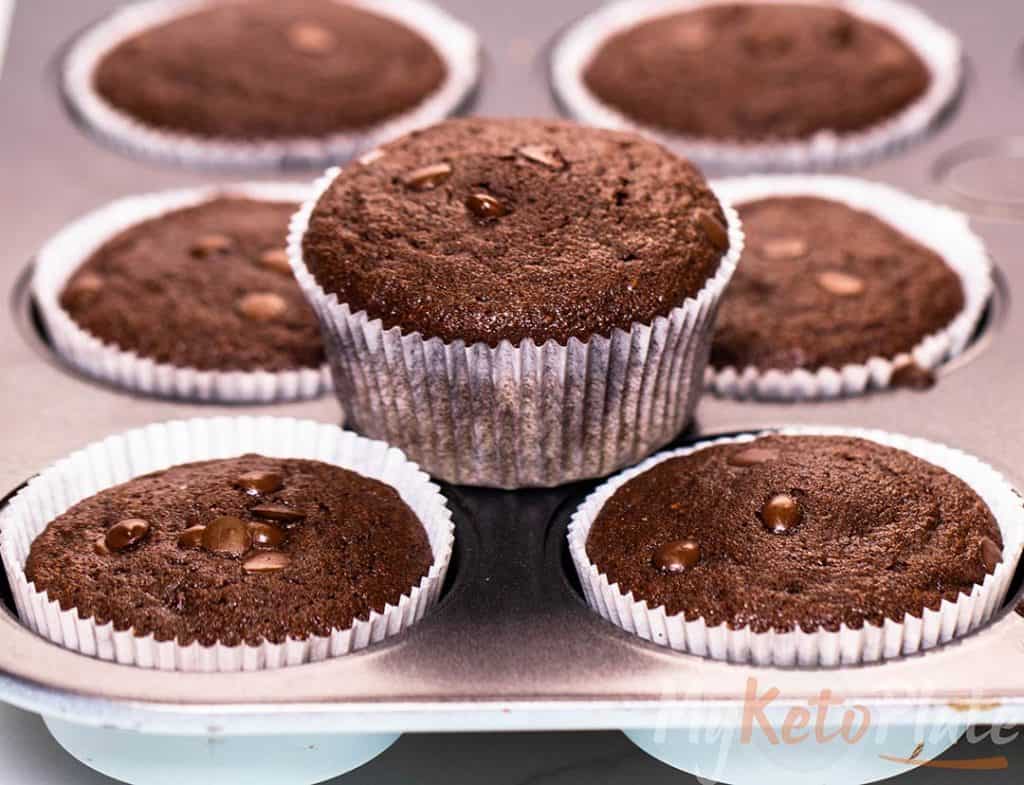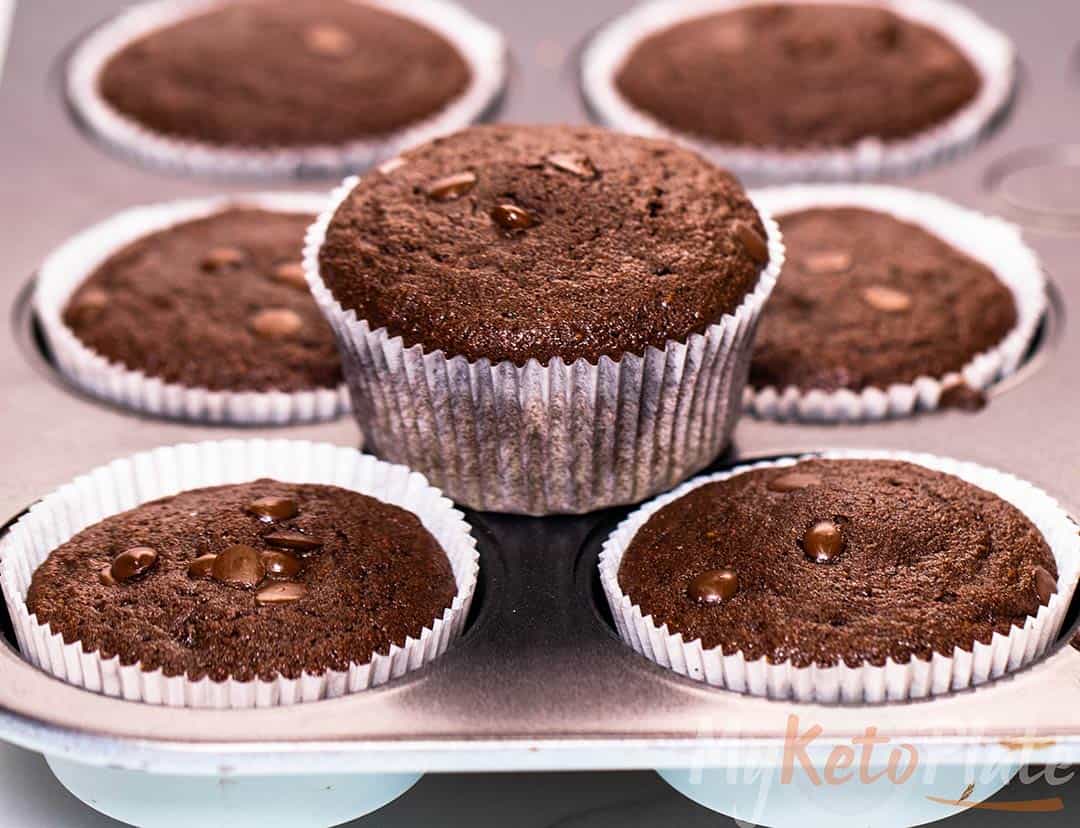 More Keto Desserts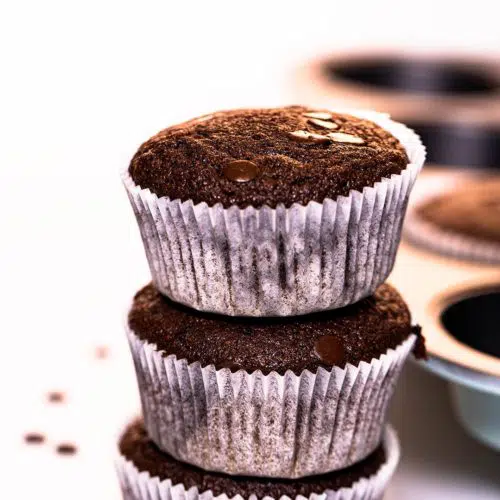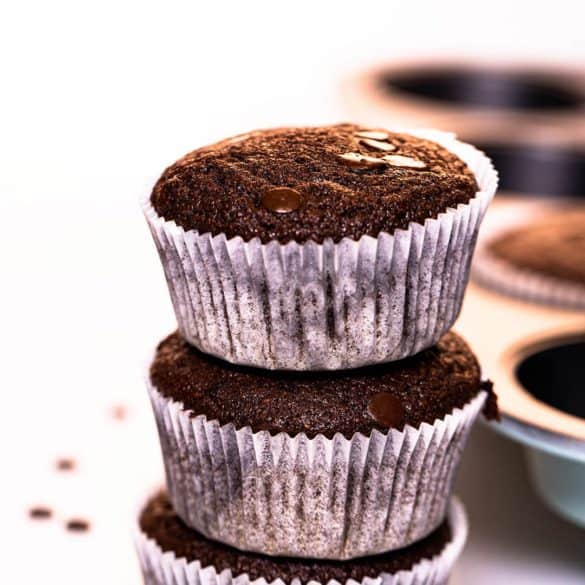 Keto Chocolate Muffins
---
Yelds
12
keto chocolate muffins
Description
These keto chocolate muffins are super rich and incredibly fluffy. Loaded with chocolate chips, these coconut flour muffins are easy to make, perfectly moist, and pair perfectly with a cup of coffee in the morning!
Instructions
Preheat the oven to 350°F/180°C. Line a 12-cup muffin pan with paper liners and spray with non-stick cooking spray.

In a large bowl, add the melted coconut oil, unsweetened almond milk, eggs, and vanilla extract. Use an electric mixer to mix for 2 minutes until frothy.

Add the coconut flour, sweetener, baking powder, cocoa powder, and a pinch of salt. Mix until all the ingredients are well incorporated and the batter is smooth.

Evenly fill 12 muffin cups and top with chocolate chips.

Bake in the preheated oven for 20-22 minutes or until a skewer inserted in the center comes out clean.
Nutrition Facts
Amount per serving.
How do we calculate the nutrition info?
These nutrition facts listed are determined using nutrition information from the USDA Food Database. Our nutrition facts are accurate, but if you are using different products, please make your calculations. Net carb count is calculated by subtracting both fiber and sugar alcohols because they don't raise blood sugar.