These keto peanut butter brownies are moist, ultra fudgy, and decadent. Learn how to make the best almond flour brownies loaded with creamy peanut butter that are ready in just 30 minutes.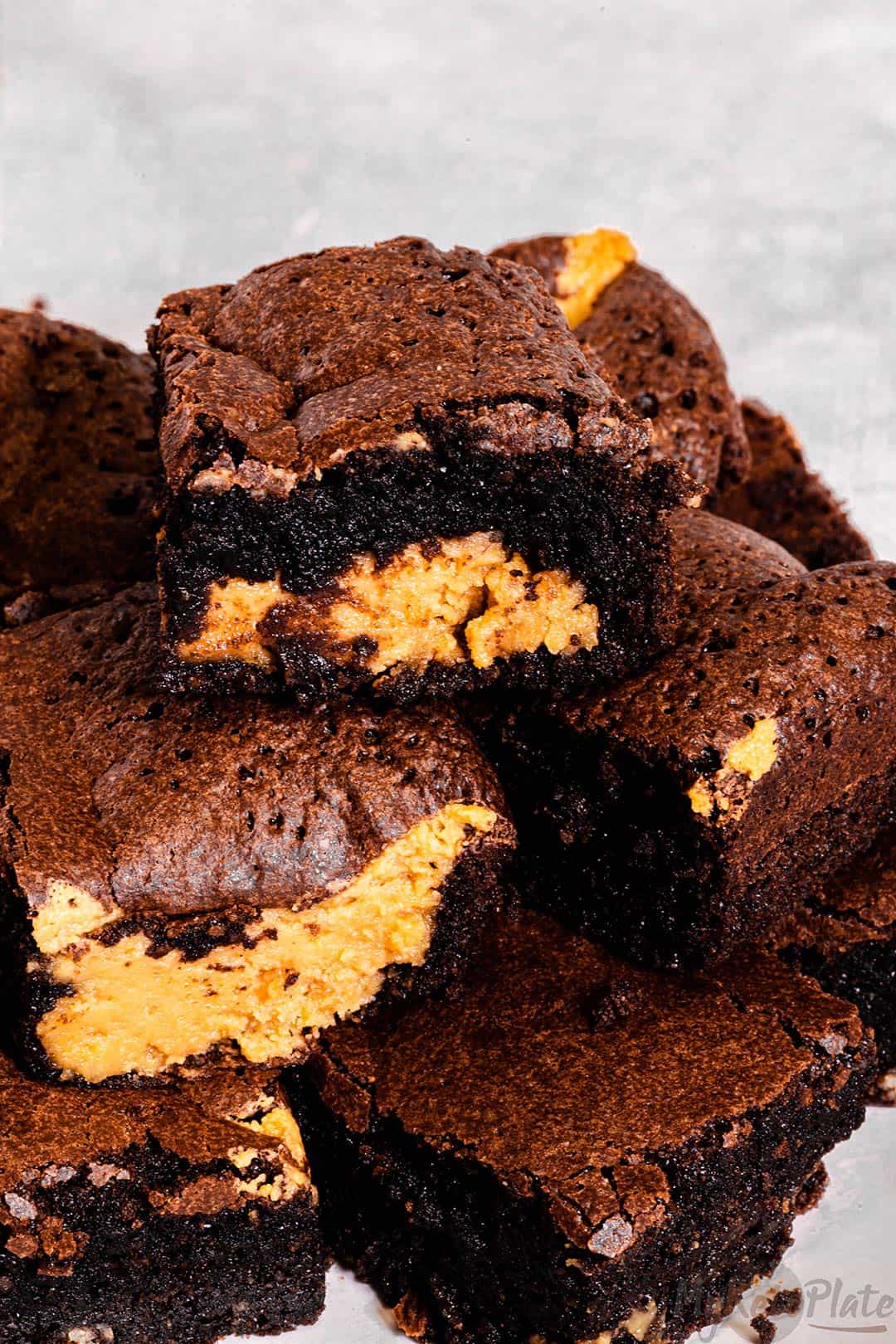 I'm a huge chocolate and peanut butter fan, and I'm always making my keto peanut butter smoothie, peanut butter bars, flourless chocolate chip cookies, and these keto peanut butter brownies.
The classic keto brownies are one of my most popular recipes on the blog, and for a good reason – they're super easy to make from scratch using just a few basic ingredients.
So, I decided to share the ultimate dessert for peanut butter lovers. Enjoy soft, chocolatey almond flour brownies with a creamy peanut butter filling.
Are Brownies Keto-Friendly?
Traditionally brownies made with regular ingredients like sugar and wheat flour are not keto-friendly. In addition, homemade brownies are incredibly high in carbs (15g of net carbohydrates in a square) and may quickly knock you out of ketosis.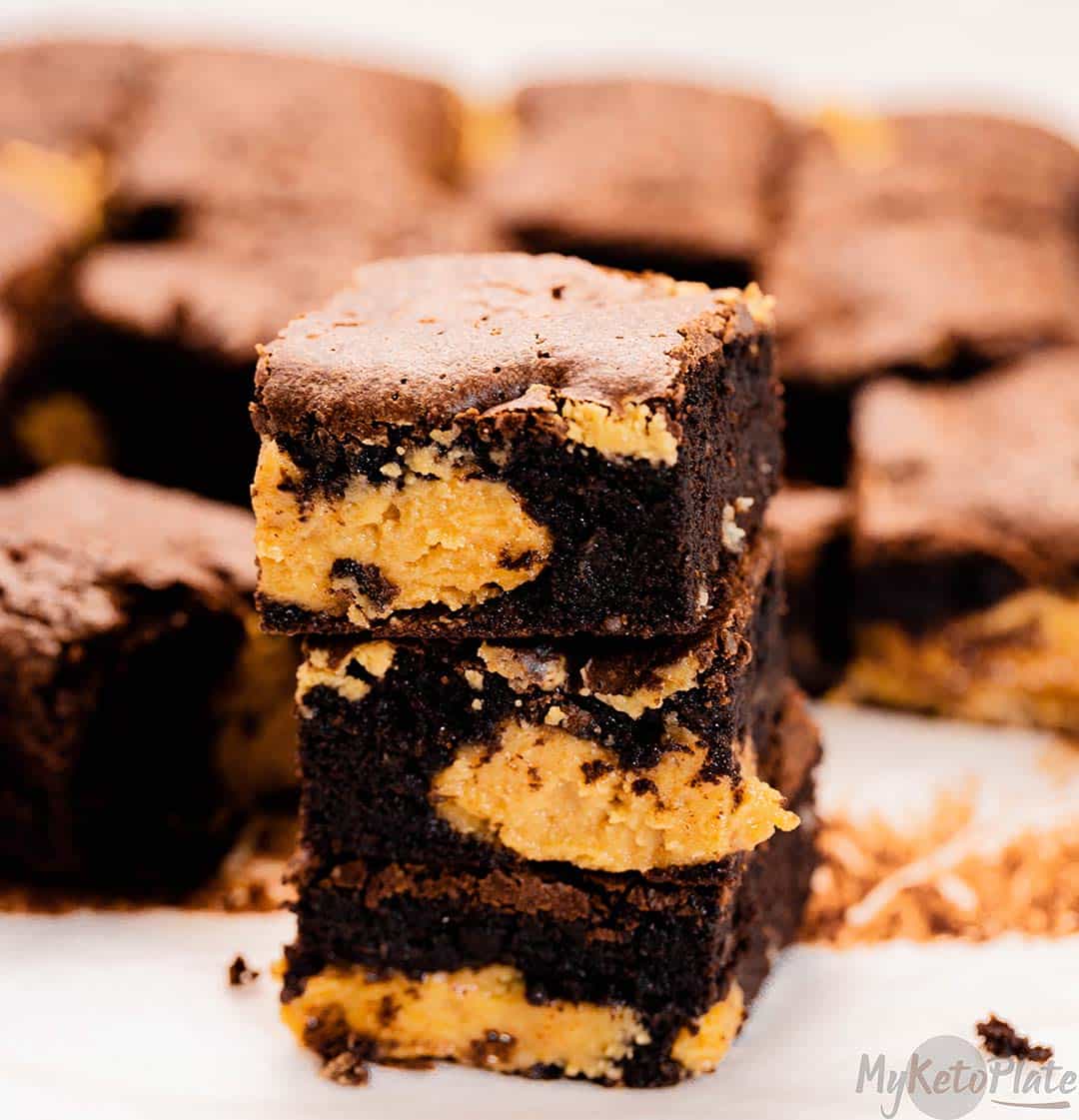 Is Peanut Butter Keto-Friendly?
Peanut butter is a keto-friendly product that can be used in many recipes. But you need to know that not all peanut butter brands are great for someone following a keto diet because they contain additives and extra sugars, which might increase the amount of net carbohydrates.
Why Are You Going To Love This Keto Peanut Butter Brownies Recipe
Crazy rich, gooey, and loaded with peanut butter
Tastes like Reese's peanut butter cup
Easy to make in just 30 minutes
The perfect cure for your sweet tooth
An indulgent treat for peanut butter lovers
Ingredients For These Keto Peanut Butter Brownies
To make these peanut butter brownies, you'll need just some simple ingredients that are super easy to find. Here is a note on the ingredients
For The Brownies Base
Almond Flour – Use superfine, balanced almond flour for the best texture.
Eggs – use room temperature eggs to avoid that eggy taste.
Butter – use unsalted butter. You can also replace it with the same amount of coconut oil.
Cocoa Powder – use unsweetened, high-quality cocoa powder for a great chocolate flavor.
Dark Chocolate – always use unsweetened chocolate for a more intense chocolate flavor.
Sweetener – you can use your favorite powdered sweeteners like monk fruit or erythritol.
Baking Powder – used to help the brownies become super fluffy.
For The Peanut Butter Filling
Peanut Butter – use natural creamy peanut butter.
Sweetener – use powdered sweetener to mix well into the peanut butter mixture.
Vanilla Extract – use the best quality of vanilla extract for an intense flavor.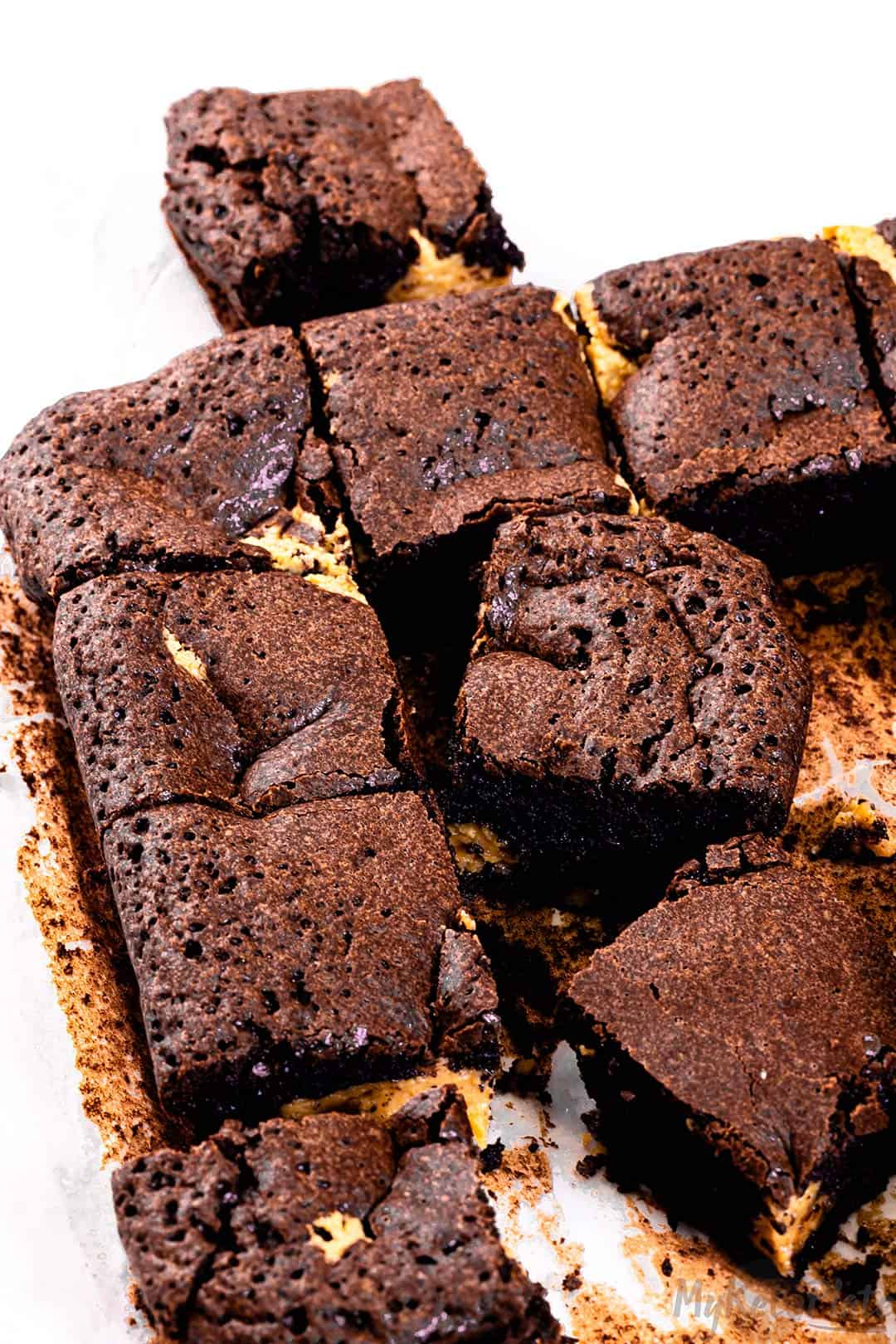 How To Make Keto Peanut Butter Brownies
It's extremely easy to make these sugar-free peanut butter brownies just by following the next instructions. Here is everything you have to do:
Preheat the oven to 350Fdegrees and line a square pan with parchment paper.
Make the keto brownies base. Melt the chocolate and butter until smooth and creamy.
In a large bowl, mix the eggs until frothy, then add the melted chocolate mixture and mix for 1 minute.
Add the dry ingredients and mix until the batter is smooth.
Pour the batter into the prepared pan.
Make the peanut butter filling. Add all the ingredients into a bowl and mix until combined.
Assemble. Add dollops of the peanut butter on top of the brownie batter and make swirls using a skewer.
Bake your brownies for about 30 minutes or until set to touch.
Remove the pan from the oven, and let the brownies cool for about 20 minutes before cutting them.
Tips and Variations For Making The Best Keto Peanut Butter Brownies
To make dairy-free peanut butter brownies, replace the butter with coconut oil.
Make sure you don't overmix the batter, or it may become tough and dry.
You can warm your peanut butter in the microwave for about 20 seconds to ensure good mixing.
You can add some chocolate chips into the batter or on top of the brownies.
You can also add some chopped nuts for a crunchy texture.
Replace the peanut butter with almond butter or cashew butter.
To make beautiful and clean cuts, wipe your knife with a damp cloth between cuts.
Sift the ingredients to help aerate the dry ingredients while removing any lumps.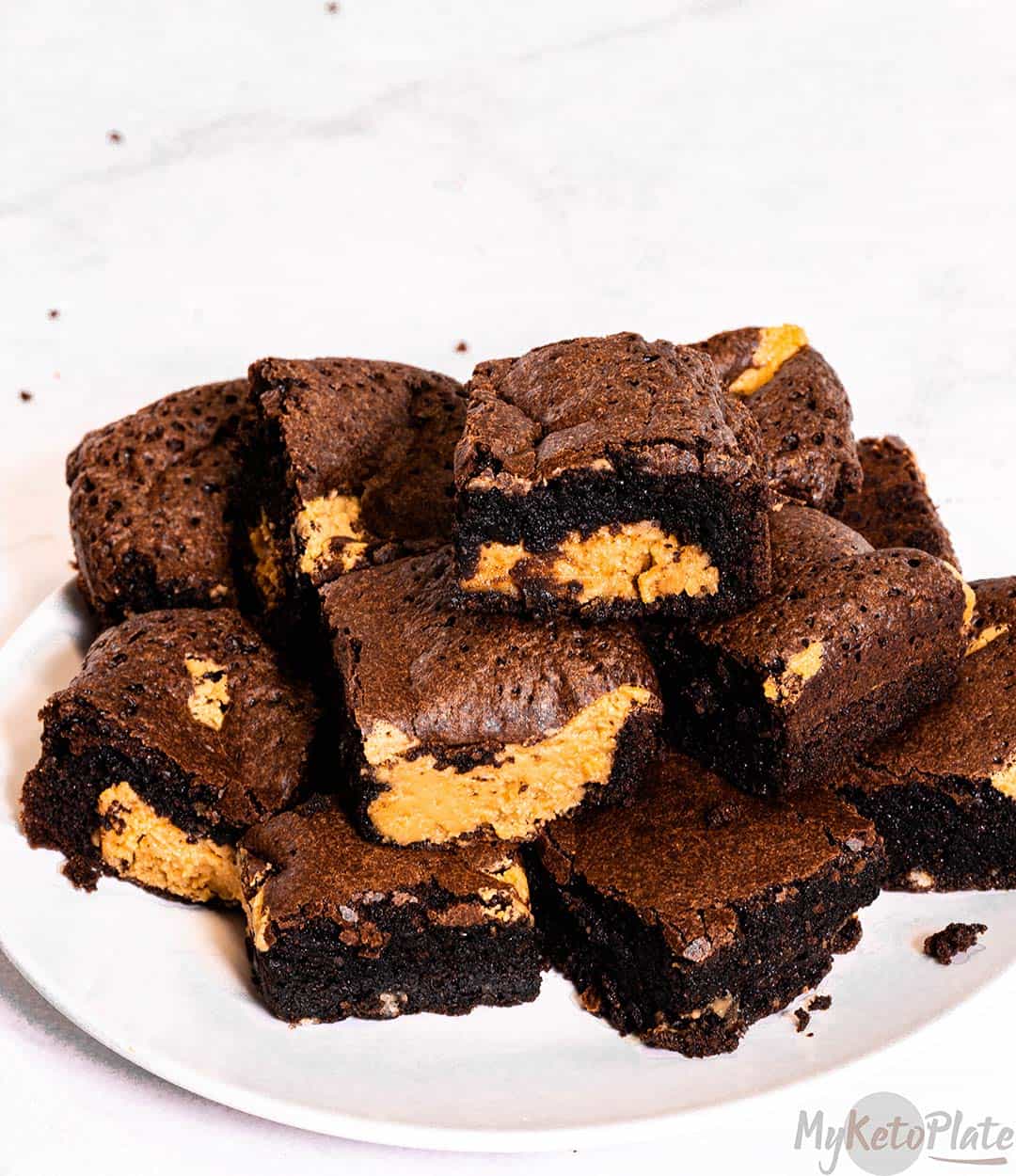 Storing Ideas
Room temperature – Store in an airtight container for up to 3 days.
Fridge – You can store these keto peanut butter brownies in an airtight container in the fridge for up to one week.
Freezer – Store the leftovers in the freezer in a ziplock freezer bag for up to one month. Then, thaw them for a few hours before serving.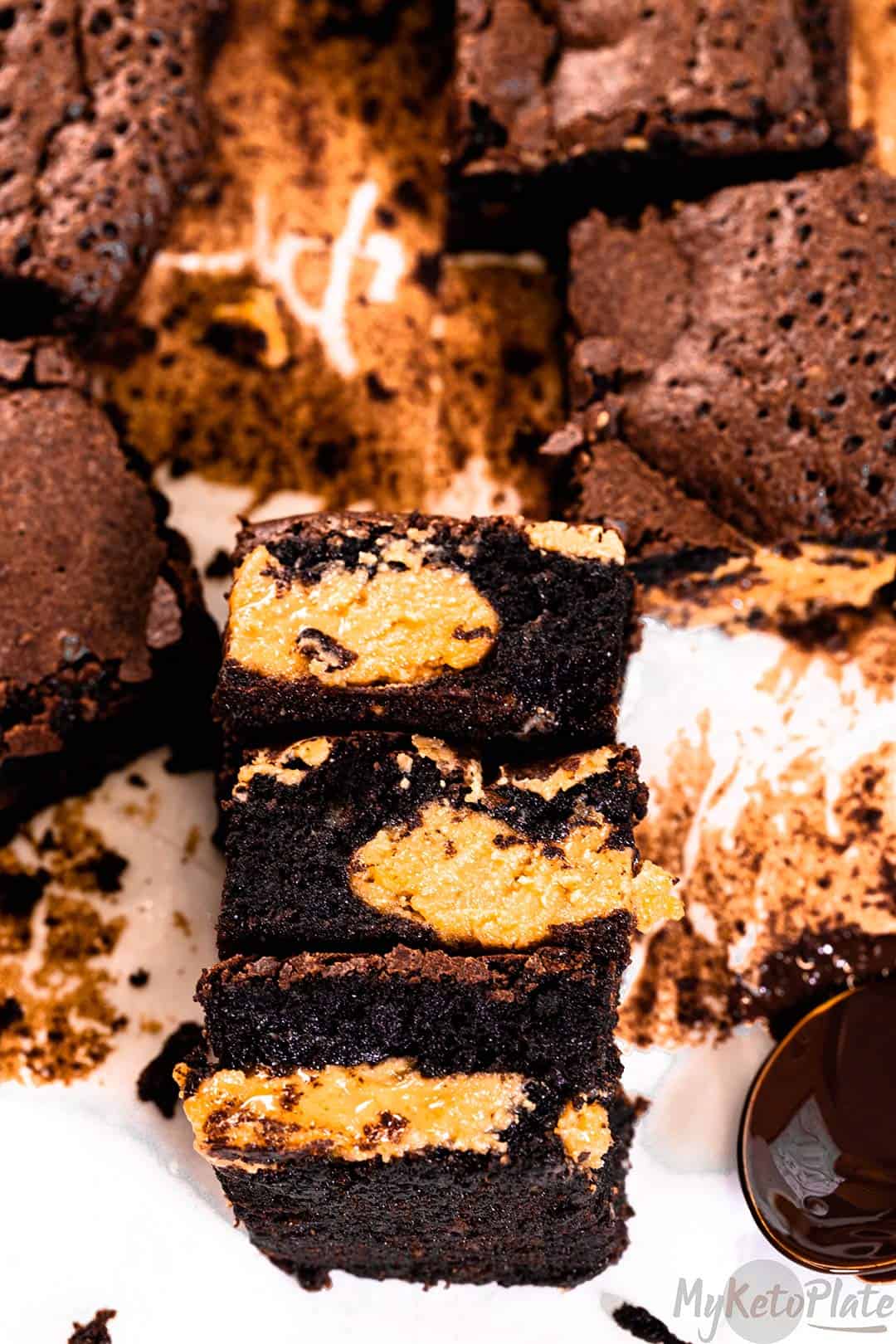 Serving Suggestions
While these brownies are delicious on their own, you can always turn them into a complex, decadent dessert. Here are some of my favorite way to enjoy them:
Sugar free vanilla ice cream
More Keto Desserts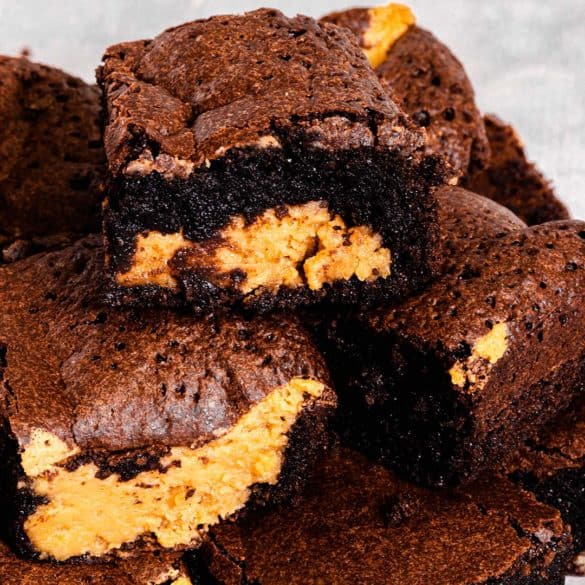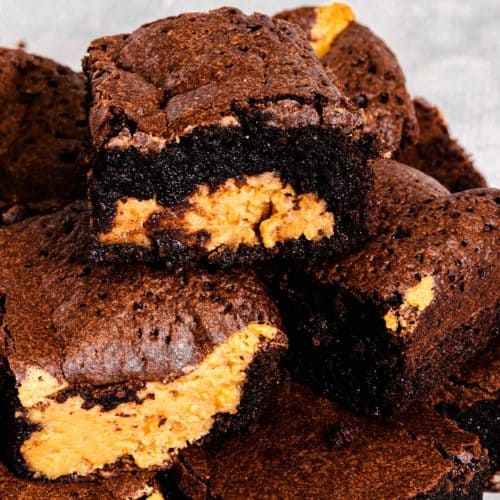 Keto Peanut Butter Brownies
---
Description
These keto peanut butter brownies are moist, ultra fudgy, and decadent. Learn how to make the best brownies loaded with creamy peanut butter that's ready in just 30 minutes.
Ingredients
For the Keto Brownies Base
For the Peanut Butter Filling
Instructions
Preheat your oven to 350°F/ 175°C and line a metal 8×8-inch square pan with parchment paper. Set aside.

Make the brownies: In a microwave-safe bowl, add the chocolate and butter. Melt in 30 seconds intervals until smooth and creamy.

In a large bowl, add the eggs, and using an electric mixer, mix until frothy. Pour the chocolate mixture and mix again.

Add the almond flour, cocoa powder, sweetener, and baking powder. Mix until just combined and there are no visible lumps. The batter is slightly thick but pourable and smooth.

Transfer the brownies batter to the prepared pan and set it aside.

Make the peanut butter filling: In a medium bowl, add the peanut butter, melted butter, powdered sweetener, and vanilla extract. Stir to combine.

Assemble: Place dollops of peanut butter mixture over the batter, and swirl with a toothpick.

Bake in the preheated oven for 25-30 minutes or until the center is set to touch.

Allow the brownies to cool for at least 20 minutes.
Nutrition Facts
Amount per serving.
How do we calculate the nutrition info?
These nutrition facts listed are determined using nutrition information from the USDA Food Database. Our nutrition facts are accurate, but if you are using different products, please make your calculations. Net carb count is calculated by subtracting both fiber and sugar alcohols because they don't raise blood sugar.