This keto oreo cheesecake features a delicious combination of a sugar-free oreo crust and creamy cream cheese with a distinct vanilla flavor. Loaded with crispy homemade oreos, it's the ultimate cookies and cream dessert that requires no baking.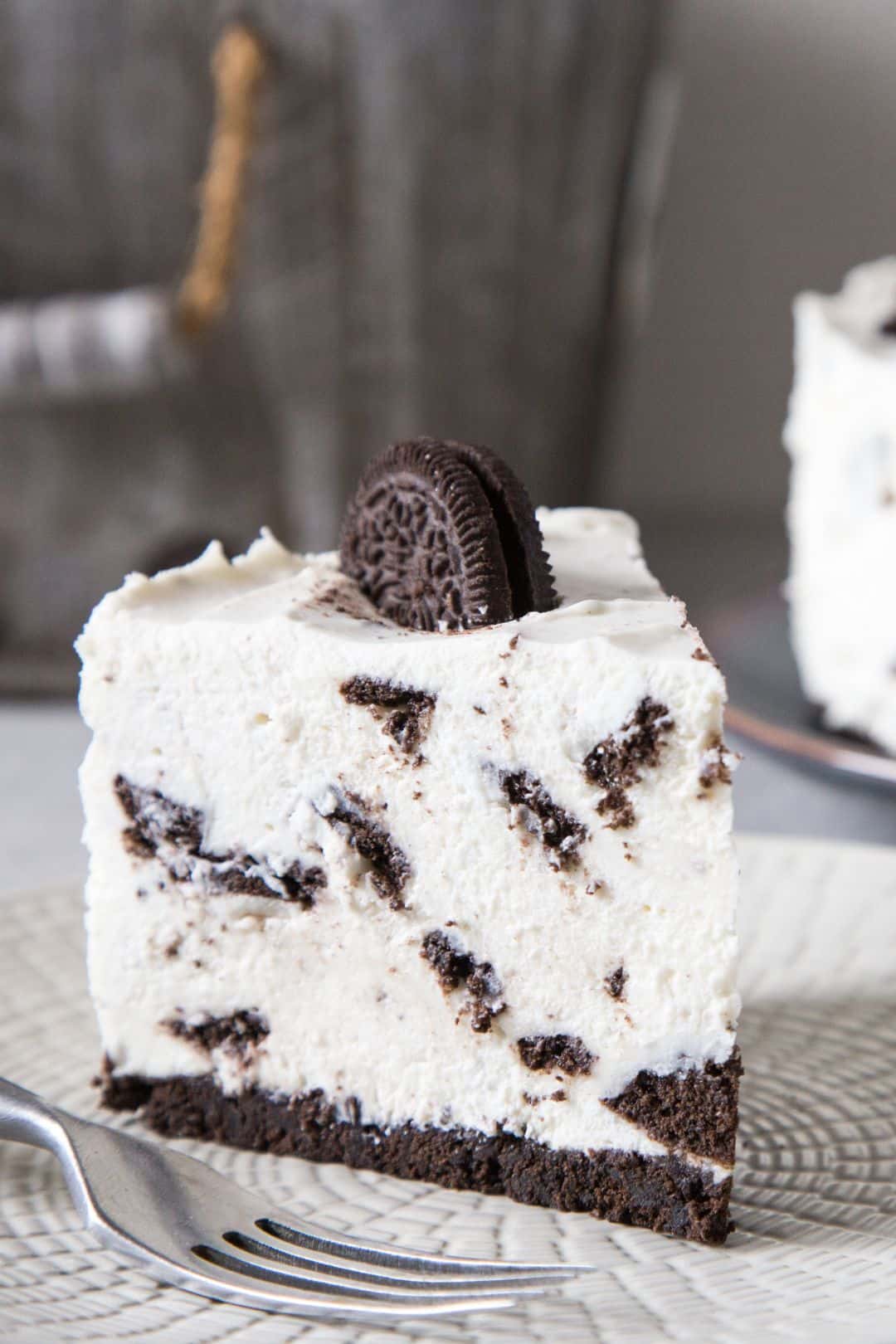 Who doesn't love oreo cookies? But what about an oreo cheesecake?
Just think about a creamy and delicious keto oreo cheesecake loaded with oreo cookie flavors that is extremely easy to make using a few easy ingredients and only 7g net carbs per slice.
You won't believe that this luxurious and delicious sugar-free keto oreo cheesecake doesn't require any baking. Yes, you read it right; this gluten-free cheesecake is the perfect solution for that moment when you are craving something sweet, and you don't have time for baking.
My family loves cheesecake, and they are crazy about the famous Oreo cookies. And since they contain too much sugar and carbohydrates, I decided to prepare this recipe, which is extremely simple and can be made for any occasion.
Why Are You Going To Love This Recipe
A simple no bake keto dessert that's perfect for any special occasion
Perfect for cookies and cream fanatics
Extra creamy and crunchy
No gelatine is required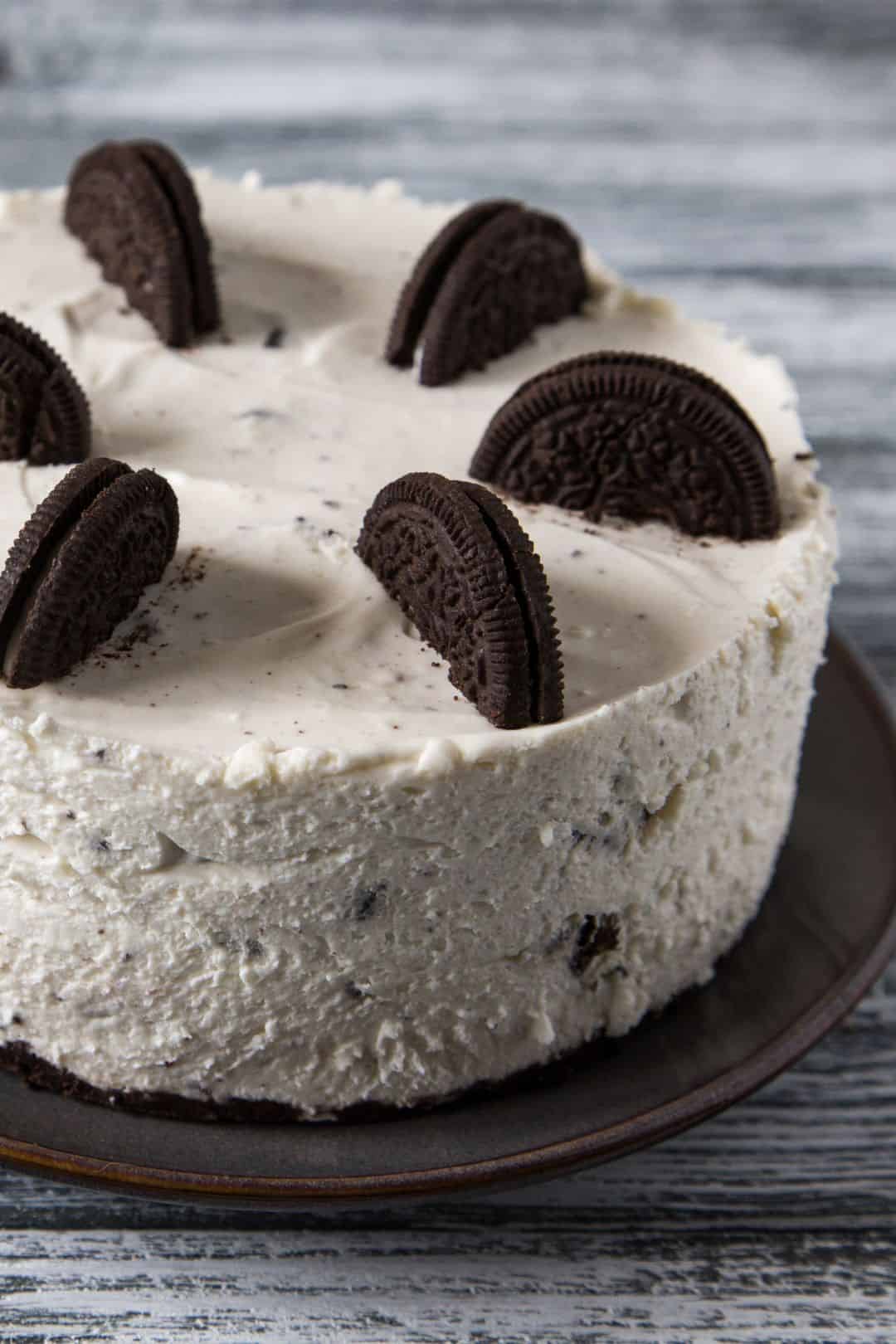 Is Cheesecake Keto-Friendly?
When you think of cheesecake, you probably imagine the graham cracker crust, which is definitely not keto. So, cheesecake is not suitable for keto.
However, this is no longer a problem since practically any dessert can be turned into a keto dessert.
Is Oreo Cheesecake Keto-Friendly?
Regular oreo cheesecake is not keto-friendly because it's made with sugar, and a high-carb oreo crust.
But fortunately, you can make oreo cheesecake keto by replacing only a few easy ingredients.
Keto Oreo Cheesecake Ingredients
This is a super easy no bake low carb oreo cheesecake that requires just a few ingredients. I'm sure you already have most of the ingredients in your kitchen. Here's a note on the ingredients you'll need:
For The Crust
Coconut oil – melted coconut oil helps all the ingredients bind together.
Almond flour – is used instead of regular flour to make a delicious low carb crust for this cheesecake.
Cocoa powder – use dark chocolate flavor to get the specific oreo cookies flavor.
Powdered sweetener – adds a little hint of sweetness to the crust.
For The Filling
Heavy Cream – helps the cream cheese filling to be extra fluffy. Make sure to use cold heavy cream to whip it easier.
Cream Cheese – use room temperature and full-fat cream cheese to ensure good mixing, avoiding creating lumps.
Sweetener – you can use any powdered sweetener you like.
Keto Oreo Cookies – use my recipe for keto oreo cookies. You will only need the cocoa cookies without the frosting.
Vanilla Extract – pure vanilla extract for the best flavor.
How To Make This Delicious Keto Oreo Cheesecake
You will love that even this keto oreo cheesecake looks so impressive and complicated it's actually easy to make! Trust me when I say that you will make it over and over again once you try it. Here is everything you have to do:
Start by making the crust. Add all the ingredients into a food processor and blend until the cookie crust dough looks crumbly.
Press the crust firmly and evenly into the bottom of a cheesecake pan and refrigerate it while you make the cheesecake filling.
Make the filling. Mix the cream cheese, powdered sweetener, and vanilla extract until smooth.
In a different large bowl, beat the heavy cream until stiff peaks form.
Incorporate the whipped cream into the cream cheese mixture using a rubber spatula. Fold in the crumbled cookies.
Refrigerate. Transfer the cheesecake filling over the crust and refrigerate for 3-4 hours.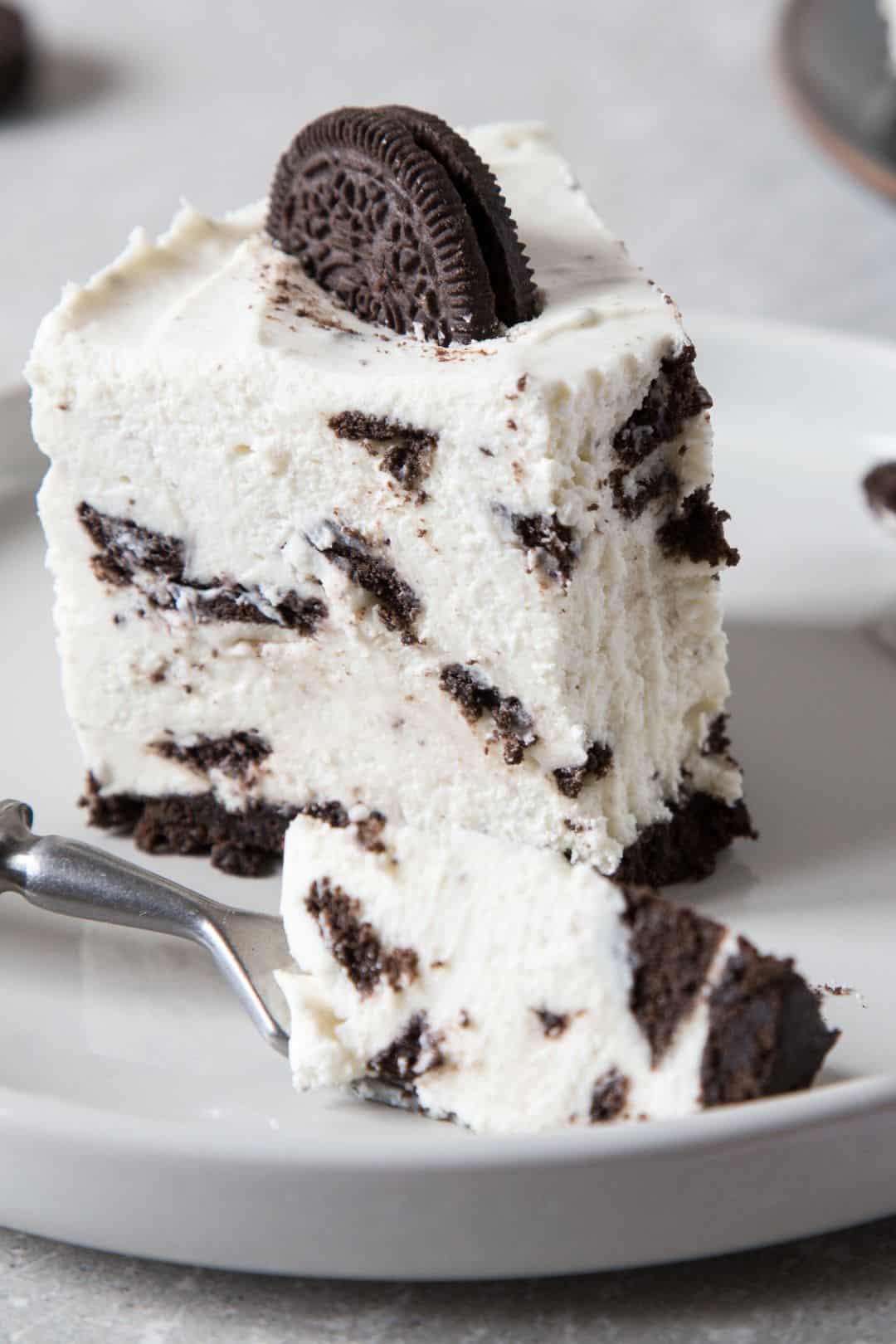 Tips For Making The Best Keto Oreo Cheesecake
Use room temperature cream cheese because it will mix better with the other ingredients and become creamier when mixed.
Sift the powdered sweetener before adding it to the cream cheese filling. If you don't sift, your cheesecake can end up with clumps.
Make sure that you give enough time to set before serving it. Four hours are fine, but you can also let it in the fridge overnight.
If you don't have a springform, use a pie plate or a disposable foil pan. This recipe makes quite a bit of filling, so you'll probably have to divide the mixture between two smaller pans.
Topping Ideas
This keto oreo cheesecake is delicious on its own, but you can also serve it with your favorite toppings. Here are some great ideas:
Fresh berries
Chocolate Ganache
Chocolate Chunks
Chopped nuts
Sugar-Free Chocolate Sauce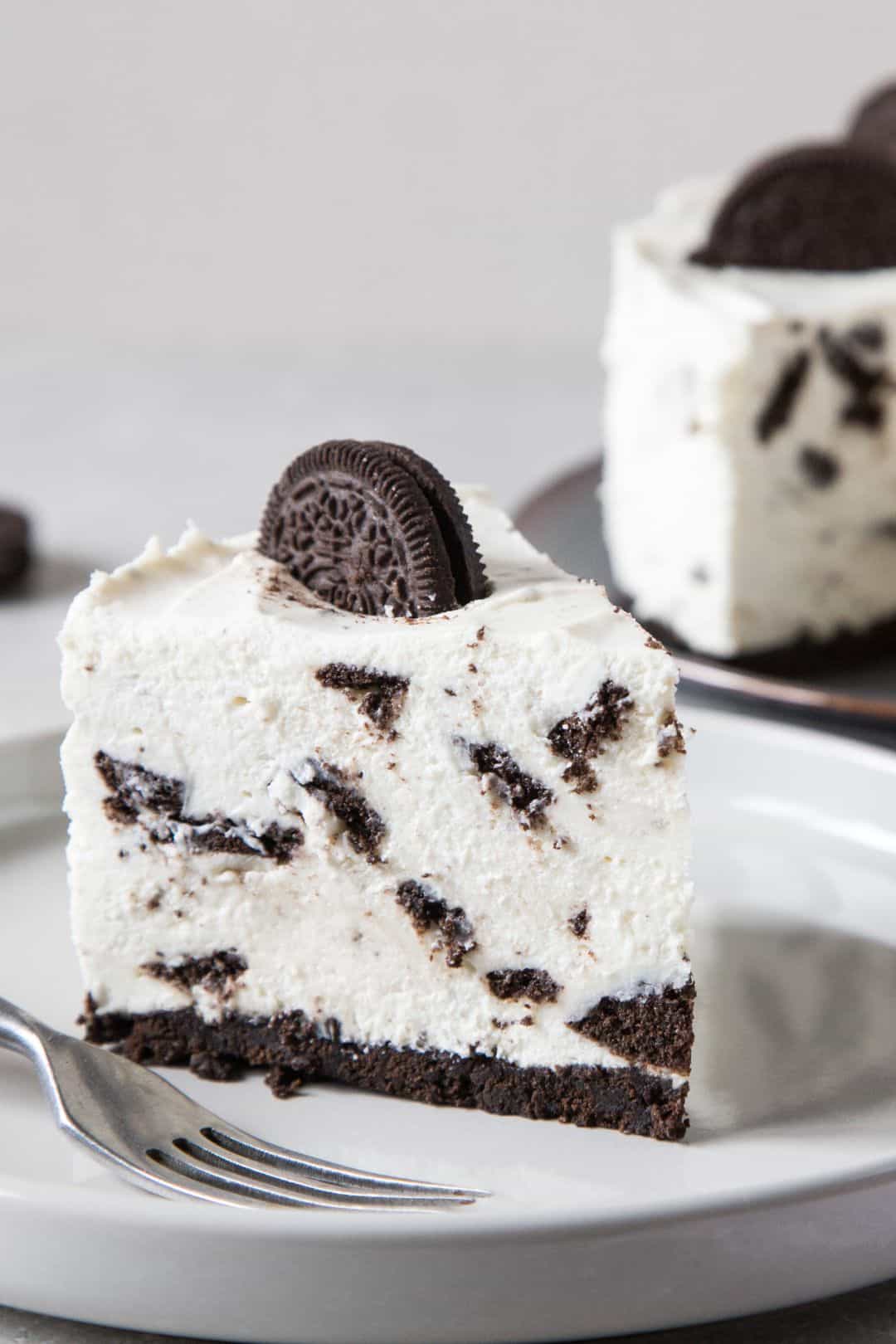 Storing Ideas
Fridge – You can store this keto oreo cheesecake wrapped in plastic foil in the fridge for up to five days.
Freezer – You can freeze the entire cheesecake or individual slices of it. Wrap in plastic wrap, and freeze for up to a month. When you want to enjoy it, thaw the cheesecake in the refrigerator overnight.
More Keto Desserts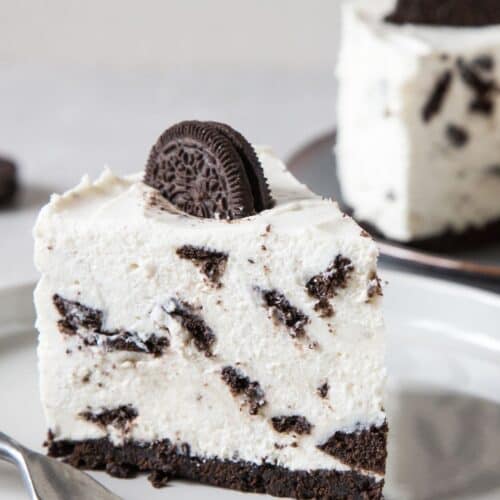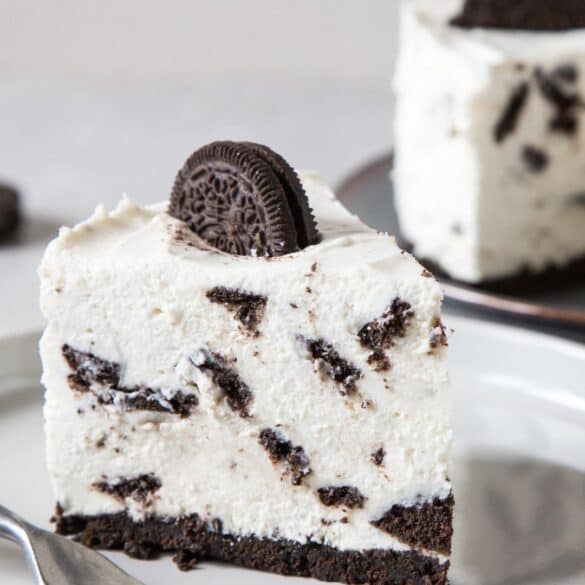 Description
This keto oreo cheesecake features a delicious combination of a sugar-free oreo crust and creamy cream cheese with a distinct vanilla flavor. Loaded with crispy homemade oreos, it's the ultimate cookies and cream dessert that requires no baking.
Instructions
Line the bottom of a 9-inch spring form pan with parchment paper.

Add all the ingredients for the crust to a food processor and process until well combined. The dough should come together, but it's still a little crumbly.

Transfer the dough to the prepared pie dish and press it into an even layer. Refrigerate while you make the oreo cheesecake filling.

Make the Oreo Cheesecake Filling

Add the softened cream cheese to a large mixing bowl, and using an electric mixer, beat until smooth. Add the powdered sweetener and vanilla extract and continue mixing.

In a separate mixing bowl, beat the heavy cream until stiff peaks form.

Gently fold the whipped heavy cream into the cream cheese mixture until well incorporated.

Stir in the crushed keto Oreos Oreos until combined.

Pour the Oreo cheesecake batter onto the chocolate crust. Use a spatula to smooth the top.

Top with more chopped cookies and refrigerate for at least 4-5 hours, best overnight.
Nutrition Facts
Amount per serving.
How do we calculate the nutrition info?
These nutrition facts listed are determined using nutrition information from the USDA Food Database. Our nutrition facts are accurate, but if you are using different products, please make your calculations. Net carb count is calculated by subtracting both fiber and sugar alcohols because they don't raise blood sugar.