Discover the secret to juicy, zesty, and mouthwateringly delicious Greek Lemon Chicken Skewers. The chicken skewers are your 30-minute passport to a Greek culinary experience!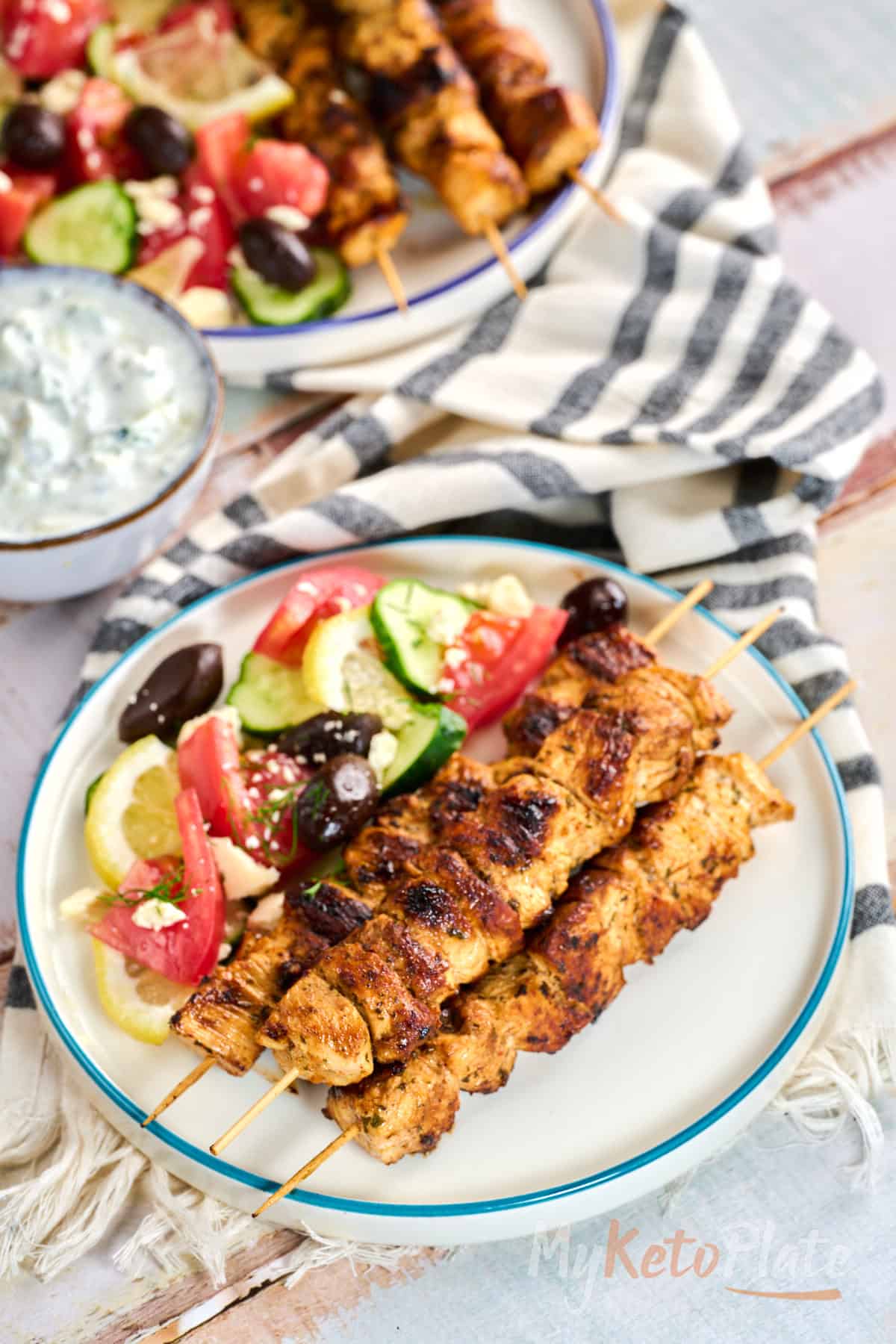 Ever felt the urge to take a sun-kissed trip to a charming Greek island? You know, where the air carries the tantalizing scent of juicy grilled delicacies, and every bite bursts with a symphony of flavors?
Oh, I have just the thing for us today! Dive into my all-time favorite: the Greek Lemon Chicken Skewers.
These skewers aren't just food; they're an experience. Think succulent chicken, marinated to perfection, oozing with zesty lemon and aromatic herbs, grilled to a golden hue, and dripping with juicy deliciousness.
Pair that with the creaminess of a homemade tzatziki, and it's like a flavor party in your mouth.
Hungry yet? Let's whisk our taste buds away to Greece, all in just 30 minutes. So, roll up those sleeves, and let's embark on this drool-worthy culinary adventure together!
Reasons This Recipe Works
Easy: They're a breeze to make in under 30 minutes. Perfect for those impromptu dinners or when you're just too hungry to wait.
Prep Ahead: Got a busy week? No problem! Make them ahead of time and relish the flavors when you're ready.
Authentic Flavors: Every bite is loaded with classic Greek flavors, transporting you straight to a Mediterranean beachside café.
Low-Carb Delight: With just 1g net carbs per serving, it's a treat for both your taste buds and waistline.
Your Skewers, Your Rules: Super customizable! Want to toss in some bell peppers or sprinkle your favorite seasoning? Go for it.
No Fancy Ingredients: Everything you need is probably in your pantry or just a grocery aisle away.
Summer's Best Friend: These skewers scream summer. Perfect for BBQs, pool parties, or a simple sunlit dinner on the patio.
Ingredients Needed
The ingredients needed to make these grilled chicken skewers are staples in any kitchen, and I bet you already have them in your pantry. Here's a list of everything you'll need: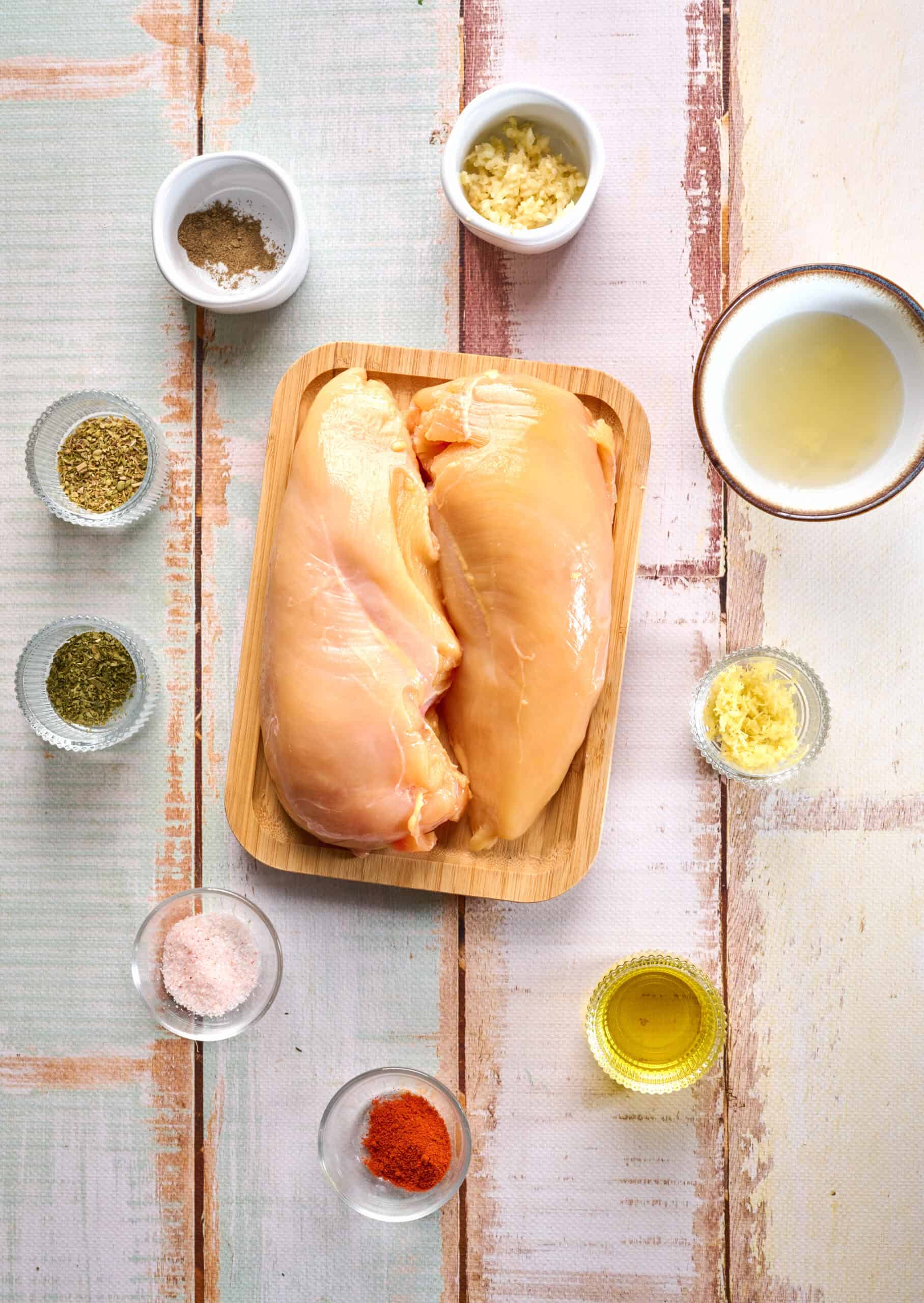 Lemon Juice – Tangy lemon juice infuses the chicken with a burst of citrusy brightness and keeps it super moist and juicy.
Lemon Zest – Adds a delicious, vibrant citrusy note to the chicken that perfectly completes the rest of the ingredients.
Chicken Breast – You can also make this recipe with boneless and skinless chicken thighs.
Olive Oil – Used to add richness and help seal the moisture in these skewers, creating a juicy and succulent chicken.
Garlic – use fresh minced garlic for an intense, delicious flavor.
Dried Oregano – gives a deliciously savory and aromatic flavor to the skewers.
Dried Parsley – gives a delicious subtle herbal note to these chicken skewers.
Paprika – is used to add a touch of color and extra flavor.
Salt & Pepper – to taste. Used to enhance all the flavors in this recipe.
How To Make
One of the best things that I love about these lemon chicken kabobs is how easy and quick they are to make without needing any cooking skills. Here is everything you need to do to enjoy the best Greek lemon chicken skewers:
Whip Up the Marinade
Mix it Up: In a big bowl, toss in the olive oil, lemon zest, lemon juice, paprika, dried oregano, dried parsley, and minced garlic. Add some salt and pepper for taste. Now give it a good whisk until everything blends nicely.
Get That Chicken Marinated
Prep the Chicken: Using a sharp knife, cut the chicken breasts into 1-inch pieces. This step not only ensures even cooking but also facilitates the absorption of the rich marinade flavors.
Chicken Dive: Put the chicken pieces into the marinade, making sure each one gets coated well. Stir it up good!
Chill Time: Cover the bowl with some plastic wrap and put it in the fridge. Let the chicken chill and soak in all those flavors for about 30 minutes. If you're short on time, it's okay to move to the next step sooner.
Grill Time
Heat Things Up: Get your grill warmed up to medium-high heat.
On the Skewers: Slide the marinated chicken pieces onto wooden skewers. They're about to get grilled!
Sizzle and Flip: Place the skewers on the grill. Let them cook for around 4 minutes on each side. You want them to have a nice color and be cooked all the way through.
Final Touch: Once the grilled chicken skewers are done, sprinkle some freshly chopped parsley on top. Now, they're ready to serve and enjoy!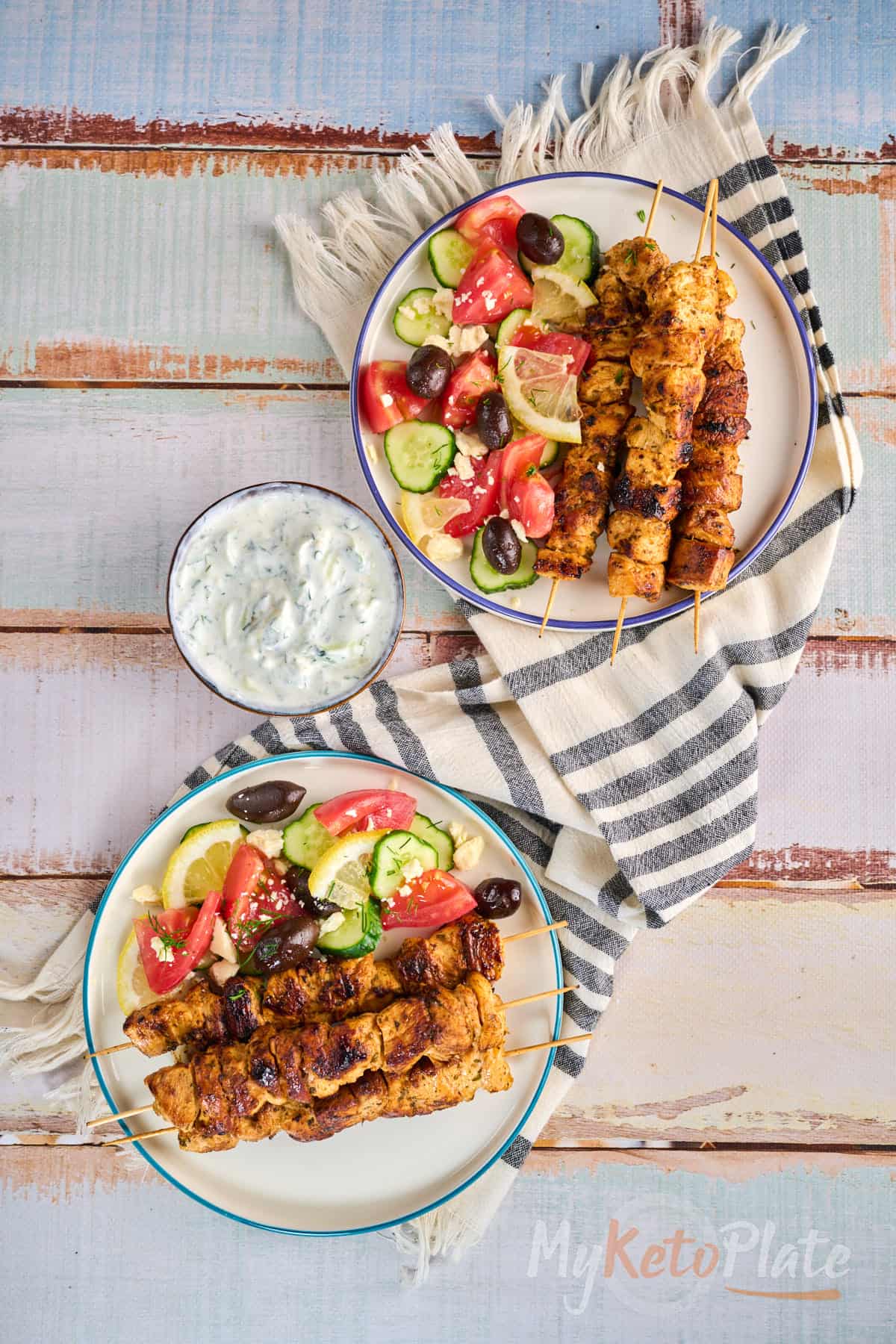 Tips For Making The Best Greek Lemon Chicken Skewers
Try cutting the chicken breast into the same size to ensure they cook evenly and at the same time.
Use high-quality ingredients such as fresh lemon juice, extra virgin olive oil, and aromatic herbs to enhance the overall taste and authenticity of the dish.
If you use wooden skewers, soak them in the water for about 20-30 minutes before threading the chicken to prevent them from burning on the grill.
Don't overcrowd the skewers since this can lead to uneven cooking and may prevent the chicken from properly grilling.
Allow the chicken skewers to rest before serving them to allow the juices to redistribute, resulting in juicier and more flavorful chicken.
Recipe Variations
Even if these chicken skewers are delicious on their own, you can also add various ingredients to customize and enhance the overall flavor profile. Here are some great ideas:
Feel free to add thinly sliced red onion onto the skewers and the chicken.
You can also add some of your favorite vegetables, like bell peppers, cherry tomatoes, and zucchini.
Feel free to replace the dried herbs with fresh ones for a more intense flavor.
Add pitted Kalamata olives to the skewers for a salty and savory flavor.
Add some crumbled feta cheese over the cooked chicken skewers.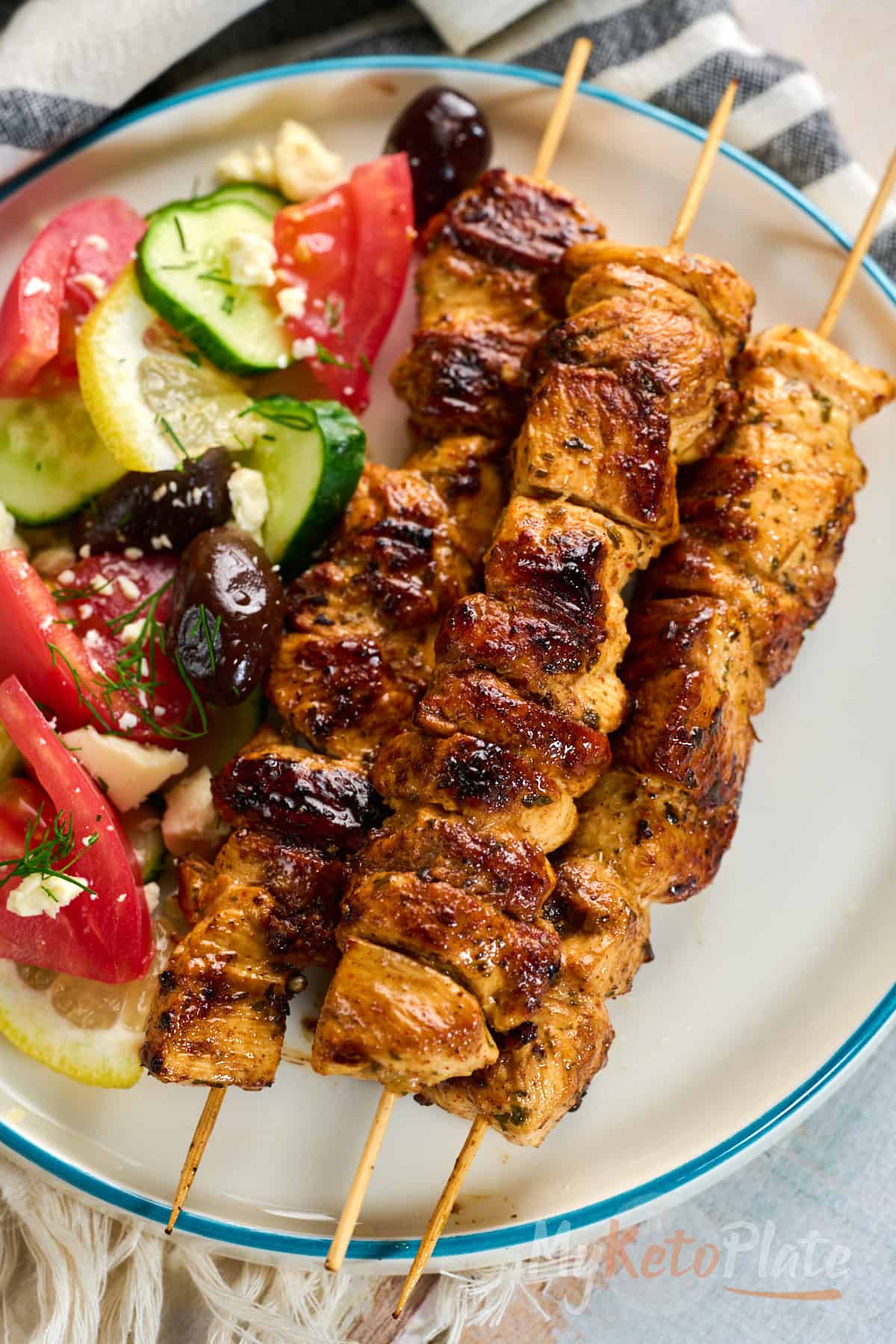 How To Store
Fridge: Once they are cooled completely, transfer the cooked chicken skewers to an airtight container and store them in the fridge for up to 5 days.
Freezer: Place any leftovers in a freezer-safe container and store them in the freezer for up to 3 months.
How to Serve
Even if they are great on their own, you can create a complete meal by pairing these Greek Skewers with many side dishes. Here are some interesting ideas:
Frequently Asked Questions
Can I Use Chicken Thighs For This Recipe?
Sure, you can use boneless and skinless chicken thighs for these Greek Lemon Chicken Skewers. Both cuts will work well, but remember that chicken thighs tend to be juicier and more flavorful.
Can I Grill The Skewers On An Indoor Grill Pan Or In The Oven?
Sure! If you don't have access to an outdoor grill, you can still enjoy these delicious skewers by baking them in the oven or using a grill pan.
What Skewers to Use?
Feel free to use reusable metal skewers or wooden skewers. But if you use wooden ones, it's essential to soak them in cold water for at least 30 minutes to keep them from burning or catching on fire.
More Chicken Recipes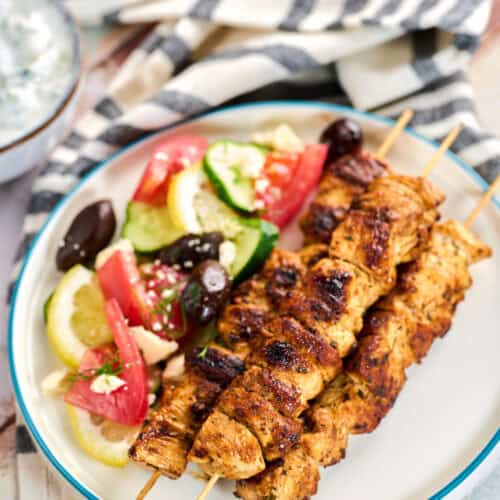 Greek Lemon Chicken Skewers
---
Description
Discover the secret to juicy, zesty, and mouthwateringly delicious Greek Lemon Chicken Skewers. The chicken skewers are your 30-minute passport to a Greek culinary experience!
Ingredients
3

tbsp

fresh lemon juice

1

tbsp

lemon zest

2

tbsp

extra virgin olive oil

2

cloves

of garlic

2

tsp

dried oregano

1/2

tsp

dried parsley

2

tsp

paprika

Salt and black pepper to taste

1 1/2

pounds

boneless skinless chicken breasts
Instructions
Prep the Chicken: Begin by cutting the chicken breasts into 1-inch bite-sized pieces.

Marinate the Chicken: In a large mixing bowl, combine the lemon juice, lemon zest, olive oil, minced garlic, dried oregano, dried parsley, paprika, salt, and pepper. Whisk until the ingredients meld together. Add the chicken pieces to the marinade, ensuring each piece is well-coated. Cover the bowl with plastic wrap and let it marinate in the fridge for at least 30 minutes.

Grill the Skewers: Preheat your grill to medium-high heat. While it's heating up, thread the marinated chicken pieces onto wooden skewers. Once the grill is ready, place the skewers on it and grill for about 4 minutes on each side or until the chicken is fully cooked and has a nice char.

Prepare the Tzatziki Sauce: While the chicken is grilling, whip up your homemade tzatziki sauce. Store in the fridge until ready to serve.

Serve & Enjoy: Once the chicken skewers are grilled to perfection, plate them and drizzle or serve with the tzatziki sauce on the side. For an added touch of freshness, garnish with freshly chopped parsley.
Nutrition Facts
Amount per serving.
How do we calculate the nutrition info?
These nutrition facts listed are determined using nutrition information from the USDA Food Database. Our nutrition facts are accurate, but if you are using different products, please make your calculations. Net carb count is calculated by subtracting both fiber and sugar alcohols because they don't raise blood sugar.