This Keto Lava Cake is super rich, chocolaty, and easy to make in just 15 minutes. You'll need only 7 simple ingredients for this keto dessert filled with perfectly gooey and creamy chocolate lava. Only 3g Carbs!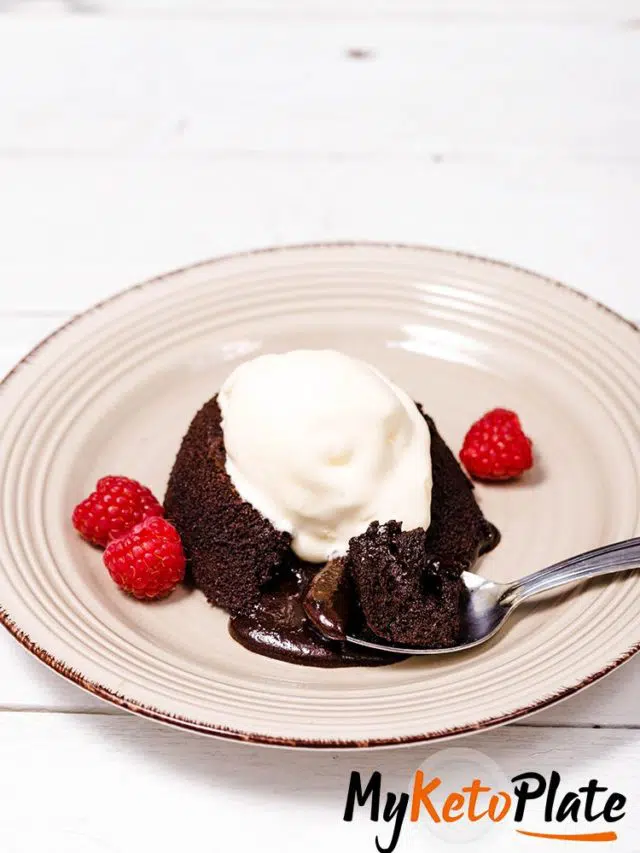 Surprisingly simple and decadent, this keto lava cake is perfect for any special occasion. You can enjoy them for Valentine's Day, New's Year Eve, and birthday parties.
Or… Who am I trying to fool? You can enjoy them whenever you want a moist and tender chocolate grain-free cake that is filled with gooey molten lava. It's like Heaven on Earth! I'd eat it every day!
Why is keto lava cake my favorite dessert?
I love it because it's decadent, tasty, and looks like a dessert form a super fancy restaurant.
Chocolate recipes are always a huge hit in our house, and they're even better if made keto at home.
Just like our keto chocolate cake, chocolate coconut flour cake, or chocolate mug cake, I'm sure you'll love this single-serving flourless lava cake.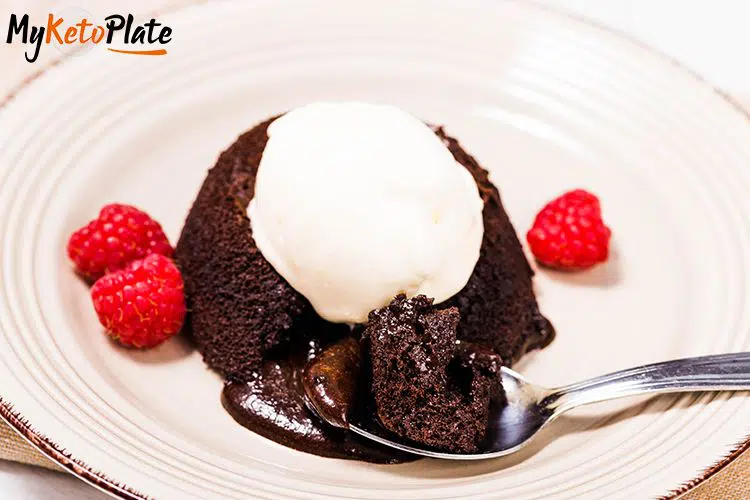 I still remember the first time I ordered a chocolate lava cake at a restaurant. It was topped with a scoop of vanilla ice cream, and that was the moment when this became my all-time favorite dessert.
It's time to make a sugar-free grain-free lava cake!
Whether you're looking for a dessert to impress your dinner guests or just want to treat yourself to something special, this recipe is sure to hit the spot.
Just give it a try, and you'll be hooked by its oozing lava. You'll want to make it over and over again.
Keto Lava Cake Video
I created a special video showing you exactly how to make the perfect keto lava cake, and you can watch it below!
Reasons You'll Love This Keto Lava Cake Recipe
Super indulgent and molten in the middle
Only 3g net carbs
No flour is needed, so it's perfect for you
Ready in just 15 minutes from scratch
Is Lava Cake Keto?
Regular lava cake recipes are not keto-friendly, as they usually contain high-carb ingredients such as wheat flour, sugar, and chocolate. However, this keto lava cake recipe is a delicious low-carb alternative, with only 3g net carbs per serving.
Made with almond flour and natural sweetener, this lava cake is both delicious and healthy.
Ingredients for Keto Lava Cake
To make my favorite keto lava cake, you'll need just 7 ingredients. Despite looking so intimidating and complicated to make, these delicious chocolatey treats are so quick and easy!
Here are all the ingredients you'll need for this super-rich keto lava: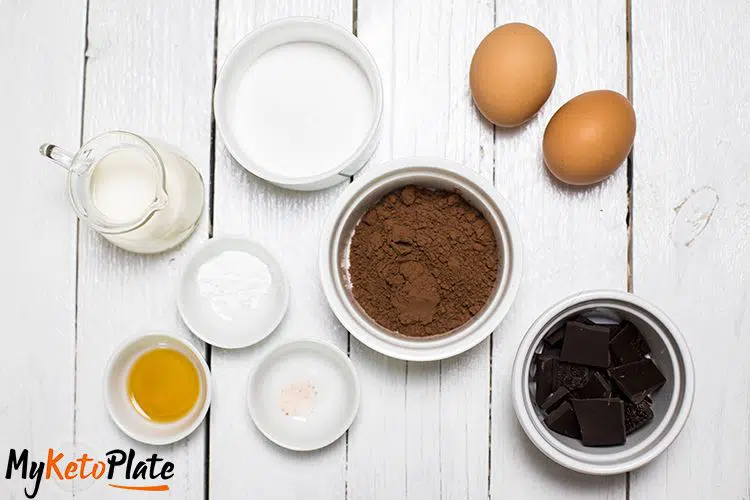 Cocoa Powder – Use the highest quality you can find. It's used instead of almond flour and helps this cake become super fluffy.
Dark chocolate – You can use unsweetened dark chocolate chips too. I used 90% chocolate, but you can also use Lily's sugar-free chocolate chips.
Eggs – use room temperature large eggs to reduce the eggy taste.
Heavy cream – for some extra creaminess.
Powdered sweetener – I used my favorite monk fruit blend with zero carbs and no aftertaste! Stevia drops are not an option in this recipe.
Vanilla extract – Just a little bit for a tint of vanilla flavor.
Baking powder – To make it extra fluffy.
A pinch of sea salt: To highlight the chocolate flavors
How to Make Keto Lava Cake?
It's extremely simple to make the best lava cake that is completely sugar-free, flourless, low in carbs, and tastes incredibly delicious. Here's all you have to do:
Preparing The Ramekins
Preheat the oven to 350°F and grease 3 4 oz ramekins. Look for ramekins that have a non-stick coating to make it easier to remove the cake from the ramekin.
Making The Batter
Combine the dry ingredients (almond flour, cocoa powder, baking powder, and salt) in a medium bowl.
In another bowl, combine the wet ingredients (eggs, erythritol, vanilla extract) with the melted chocolate. You can use an electric mixer and mix until bubbles form.
Combine all the ingredients together, whisking thoroughly until a smooth chocolate batter forms.
Divide the batter among the prepared ramekins and place them in the preheated oven.
Baking The Keto Lava Cake
Bake for about 10-12 minutes or until the keto lava cake looks set, but it's still jiggly in the middle. Be careful not to overbake, or you'll lose the gooey lava center.
Once done, remove the ramekins from the oven and let them cool for a few minutes.
To serve, run a knife around the edges of the ramekins to loosen the cakes. Invert them onto a plate and serve with your favorite keto-friendly toppings.
Remember, baking time may vary depending on your oven, so keep an eye on the cakes to avoid overbaking.
With a little practice and the right ingredients, you can enjoy a decadent keto lava cake that satisfies your sweet cravings without compromising your health goals.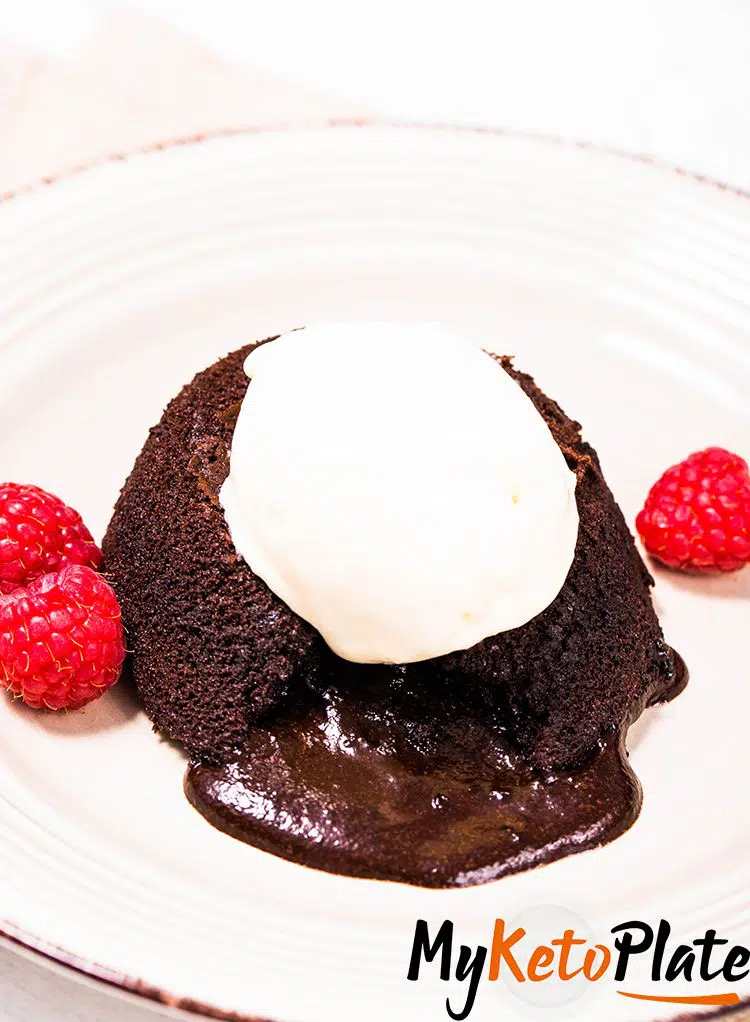 Pro Tips For Making The Best Lava Cake
To make the best keto lava cake, here are some tips to follow:
Use room temperature eggs: This helps to reduce the eggy taste and allows the eggs to mix into the batter completely without overmixing.
Don't overbake the cakes: The center should still be super jiggly when you take them out of the oven. Overbaking will result in a dry, crumbly cake without a gooey lava center.
Preheat your oven completely: Make sure your oven is completely preheated before placing the ramekins inside. This way, the cake cooks on the outside while the inside remains super moist.
Use high-quality ingredients: Using high-quality ingredients like almond flour, cocoa powder, and sugar-free chocolate chips will ensure a rich, decadent flavor.
Experiment with flavors: Try adding different flavors like mint extract, orange zest, or cinnamon to the batter for a unique twist on the classic chocolate lava cake.
Serve with keto-friendly toppings: Top your keto lava cake with a generous scoop of keto vanilla ice cream, a dollop of keto whipped cream, or drizzle with keto Nutella for an extra indulgent treat.
Flavor Variations
Peanut Butter: add a dollop of natural peanut butter to the center of the cake batter before baking. The peanut butter will melt and create a delicious, creamy lava.
Raspberry: Add a spoonful of sugar-free raspberry jam to the center of the cake batter before baking.
Salted Caramel: Drizzle a sugar-free caramel sauce over the baked lava cake and top with flaked salt.
Mint Chocolate: Add a drop of peppermint extract and sugar-free chocolate chips to the batter.
Orange Chocolate: Add some orange zest to the cake batter.
How To Store
Fridge – Store covered in the refrigerator for up to 3 days. Reheat in the oven at 350F for 5-7 minutes or until warm.
Freezer – Remove the cakes from the ramekins and allow to cool completely. Place them on a baking tray and freeze until solid. Transfer them to a freezer-safe bag and store for up to 3 months. When ready to enjoy, thaw in the fridge overnight and reheat in the oven.
Other Keto Desserts You Might Like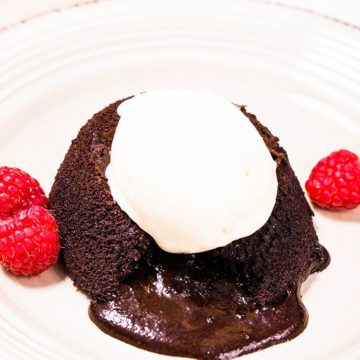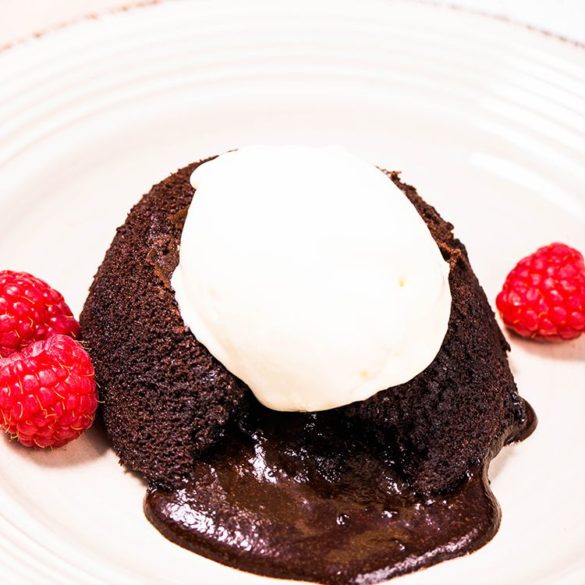 The Best Chocolate Keto Lava Cake
---
Description
This Keto Lava Cake is super rich, chocolaty, and easy to make in just 15 minutes. You'll need only 7 simple ingredients for this keto dessert filled with perfectly gooey and creamy chocolate lava. Only 3g Carbs!
Instructions
Preheat the oven to 350°F/ 180°C and grease 3 4 oz ramekins with butter or spray them with coconut oil.

In a medium bowl combine the dry ingredients: cocoa powder, sweetener, and baking powder.

Melt the chocolate in the microwave for about 30 seconds.

In a separate bowl add the eggs, heavy cream, melted chocolate, and vanilla extract. Vigorously whisk until well incorporated.

Combine the dry ingredients and wet ingredients until a smooth batter forms.

Divide the batter among the 3 ramekins.

Bake for 10-12 minutes or until the edges are firm and the center is runny.

Serve it hot with ice cream or fresh berries. You can serve it straight from the ramekin or invert onto dessert plates.
Nutrition Facts
Amount per serving.
How do we calculate the nutrition info?
These nutrition facts listed are determined using nutrition information from the USDA Food Database. Our nutrition facts are accurate, but if you are using different products, please make your calculations. Net carb count is calculated by subtracting both fiber and sugar alcohols because they don't raise blood sugar.