This keto blueberry mug cake is super fluffy, easy to make, loaded with juicy blueberries and lemon flavor. Ready in just 2 minutes, enjoy this easy microwave keto cake that's the perfect fix for your dessert cravings.
Mug cakes are probably one of the easiest cakes you can make. Single-serving desserts are fantastic for portion control and fix your cravings for cake instantly. You can serve it for breakfast with a cup of tea or coffee or as a snack during the day.
Whether you love keto chocolate mug cake, vanilla mug cake, or this keto blueberry mug cake, there is a low carb mug cake recipe for everyone.
So, if you don't want to spend hours in the kitchen, just try this keto blueberry mug cake recipe that's the perfect treat for summer.
What is Keto Mug Cake?
A keto mug cake is a low-carb, high-fat dessert that's super popular among people on a keto diet as it's cooked in the microwave in just 90 seconds. It's a delicious way to satisfy a sweet tooth while keeping the carbs minimal.
The common ingredients for a keto mug cake include almond flour, coconut flour, eggs, baking powder, butter, and a low-carb sweetener like erythritol or monk fruit.
The low carb mug cake is cooked in a mug for just 2 minutes and can be made with various flavors like vanilla, chocolate, or lemon.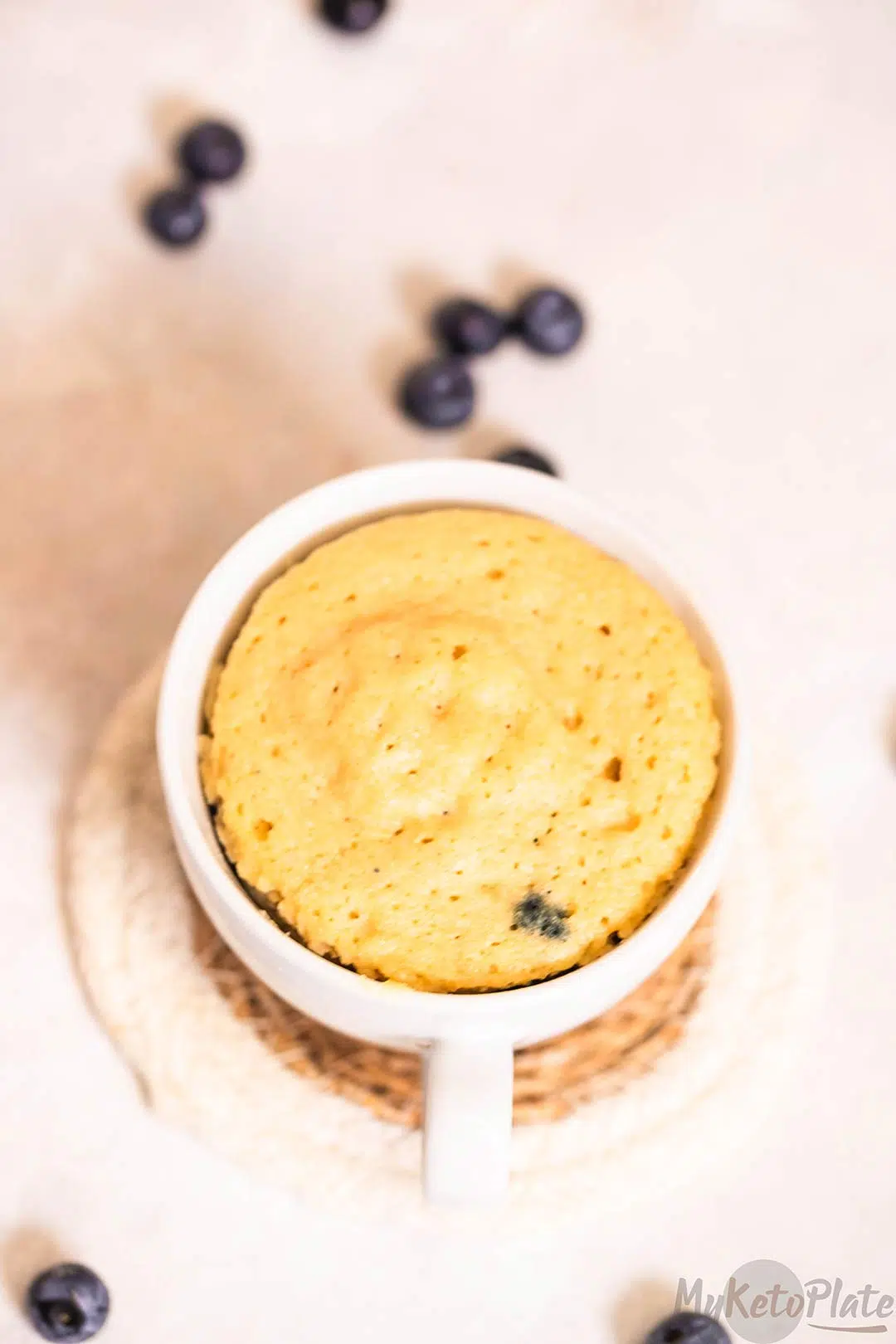 Are Blueberries Keto-Friendly?
Berries have the lowest sugar content of any fruit, including blueberries, strawberries, and raspberries.
Blueberries are perfect for a ketogenic diet if consumed in moderation. So you can incorporate them into your daily macros.
1/2 cup of fresh blueberries contains about 9 grams of net carbs, which is a significant amount of the daily carb limit for someone following a strict ketogenic diet.
They are also low in calories and have a relatively low glycemic index, which means they won't spike blood sugar levels as much as some other fruits.
If you want to include blueberries in your keto meal plan, it's best to eat them in small quantities and balance them out with other low-carb foods.
One way to incorporate blueberries into a ketogenic diet is to use them as an ingredient in keto-friendly desserts, such as low-carb muffins, cakes, or cheesecakes.
This can help manage portion sizes and overall carb intake while still enjoying the flavor and health benefits of blueberries. However, it's important to note that even in desserts, blueberries should be consumed in moderation to avoid exceeding your daily carb limit.
Why Is This The Best Keto Blueberry Mug Cake Recipe
Made with only 7 naturally low-carb ingredients.
Super light, moist, and fluffy
Tastes similar to a bakery style muffin minus the carbs
Only 5g net carbs per serving.
Super versatile – you can use your favorite berries such as raspberries, strawberries, or blackberries,
Mug cakes are a perfect way to indulge in a sweet treat while keeping it low in calories. The recipe makes just enough for one serving, which helps prevent overeating and keeps you within your daily carb limit.
Ingredients You'll Need
You'll need just a few easy-to-find ingredients to make this delicious mug cake. Here is a note on the ingredients.
Coconut Flour and Almond flour – I'm a huge fan of using both flours to get that perfect texture that resembles a regular fluffy muffin.
Blueberries – I used fresh blueberries; you can also use frozen ones; make sure to coat them in coconut flour so the cake doesn't become mushy due to the extra moisture.
Sweetener – I used granulated Erythritol, but you can also use Monk Fruit sweetener or Allulose.
Eggs – use large eggs at room temperature; otherwise, the mug cake may have an eggy taste.
Baking Powder – helps the cake rise.
Lemon – I used lemon extract and lemon juice to get the best lemon flavor. Feel free to replace it with vanilla extract.
How To Make Keto Blueberry Mug Cake
Another great thing about this recipe is that it is extremely easy to make using just a tall mug. Here is everything you have to do:
Mix all the ingredients into a microwave-safe mug that's large enough. Once the batter looks smooth, fold in the blueberries.
Microwave and cook for 90 seconds. If the center is still moist to touch, keep cooking at 10 seconds intervals until ready.
Remove the mug from the microwave and let it cool for a few minutes.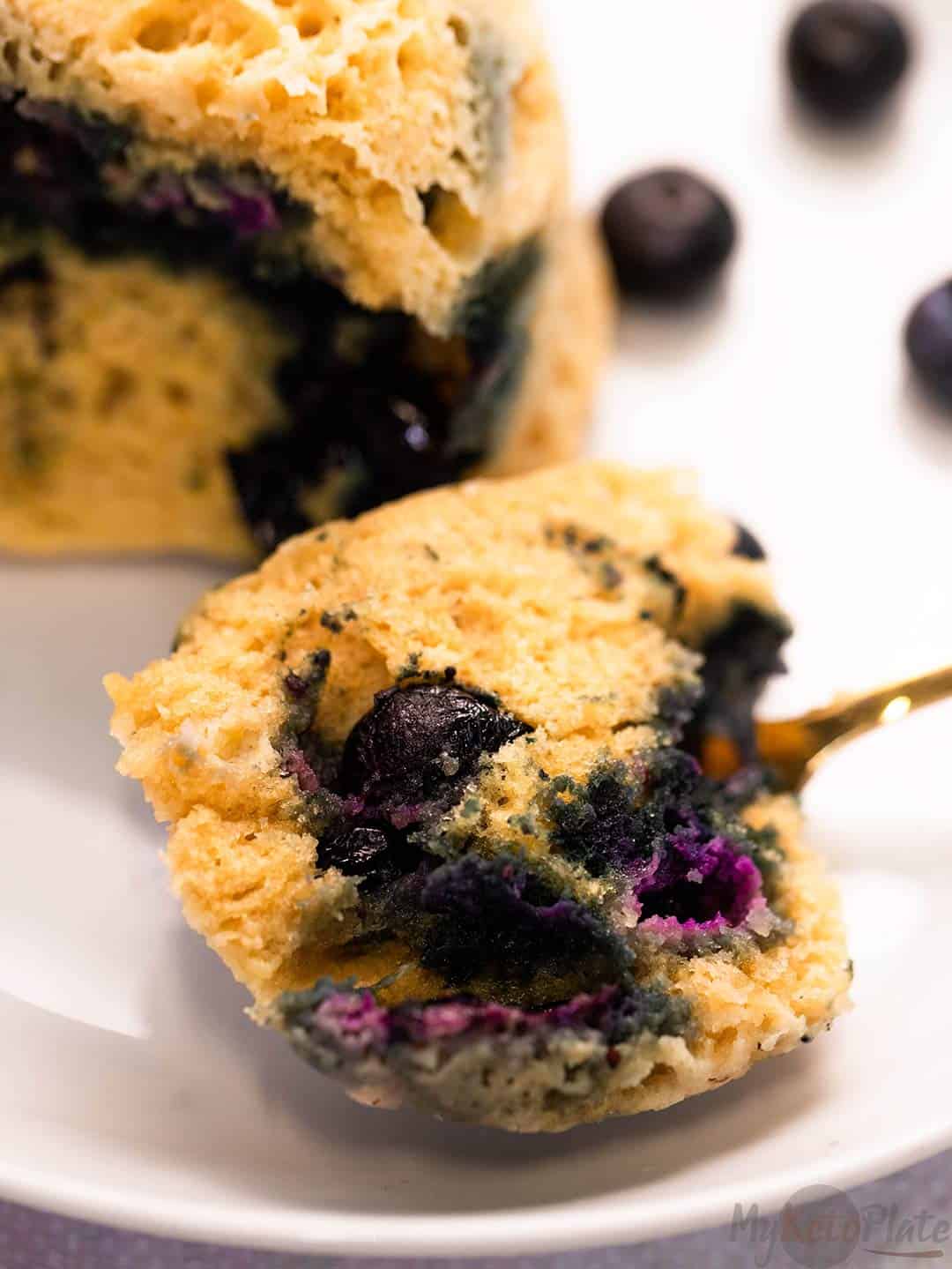 How to Serve Blueberry Mug Cake
This easy grain-free mug cake is delicious served directly from the mug, but I prepare mine topped with:
Almond Butter
Coconut Flakes
Melted Sugar-Free Chocolate
Tips for Making the Best Keto Mug Cake
Add chocolate chips or chopped nuts to the batter.
Make sure to use a tall 8 oz mug.
Dust the blueberries in coconut flour to prevent them from sinking to the bottom of the cake.
Variations
Chocolate Blueberry Mug Cake: Add 1 tablespoon of cocoa powder and 1 tablespoon of sugar-free chocolate chips to the basic recipe for a chocolatey twist.
Coconut Blueberry Mug Cake: Replace the almond milk with coconut milk and add 1 tablespoon of unsweetened shredded coconut to the basic recipe for a tropical twist.
Mixed Berry Mug Cake: Use a mixture of fresh or frozen blueberries, raspberries, and strawberries to add variety and color to your mug cake.
Storage Ideas
Fridge – Wrap the cooked mug cake in plastic wrap and store it in an airtight container for up to 2 days. Reheat in the microwave before serving.
Freezer – This keto blueberry mug cake is freezer friendly and can be stored in the freezer for up to 1 month.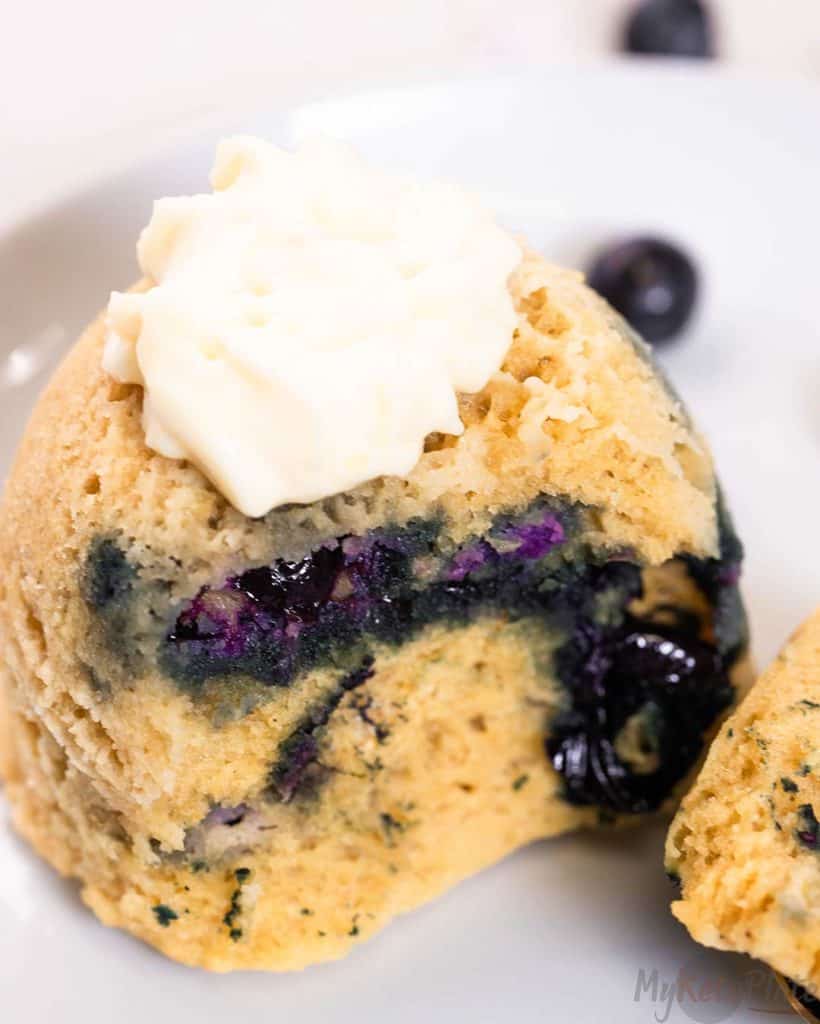 Frequently Asked Questions
Can I Bake this Keto Mug Cake Recipe?
Yes, you can bake this mug cake at 350F for 15-20 minutes or until a toothpick inserted in the middle comes out clean. Make sure to use ramekins greased with coconut oil or butter.
Can I Make This Recipe Using Other Types Of Fruits?
Sure, feel free to choose your favorite fruits instead of blueberries, as long as they are keto-friendly. Some great ideas include raspberries, blackberries, cranberries, or strawberries.
How Long Should I Cook My Mug Cake?
Mug cakes will cook in your microwave in 1-3 minutes, depending on the microwave's power. As soon as they are cooked, they are ready to eat. 
Why My Blueberries Sink To The Bottom of The Mug?
This happens because the batter is a liquid mixture, and the added ingredients have more weight and density, which causes them to sink to the bottom. To prevent this from happening, you can try tossing the berries or other solid ingredients in a small amount of coconut flour or almond flour before adding them to the batter.
More Keto Desserts Recipes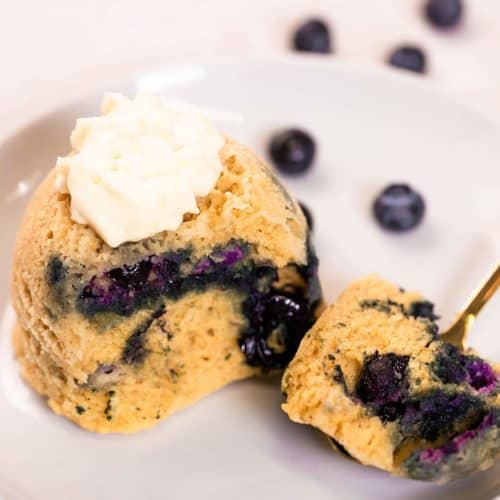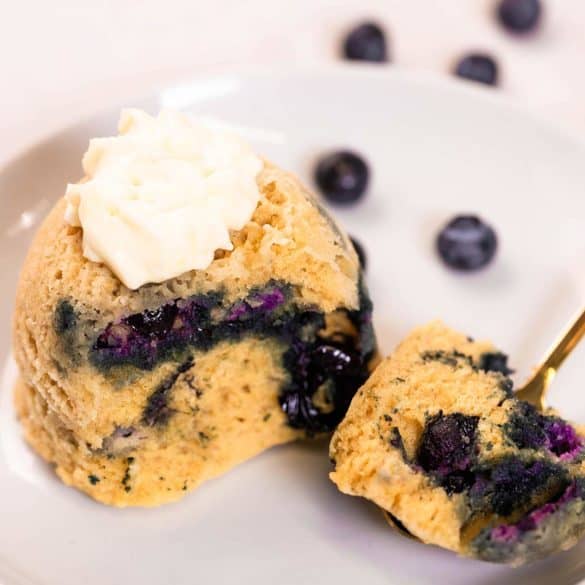 Description
This keto blueberry mug cake is super fluffy, easy to make, loaded with juicy blueberries and lemon flavor. Ready in just 2 minutes, enjoy this easy microwave keto cake that's the perfect fix for your dessert cravings.
Instructions
In a microwave-safe mug, combine the egg, coconut oil, granulated sweetener, almond flour, coconut flour, baking powder, lemon extract, and lemon zest. Whisk until the batter looks smooth.

Fold in the blueberries.

Microwave for about 90 seconds or until the top looks set and a toothpick inserted in the middle comes out clean.

Remove from the microwave and enjoy.
Notes
For an eggless blueberry mug cake that's vegan and paleo, replace the eggs with chia or flax eggs.
Nutrition Facts
Amount per serving.
How do we calculate the nutrition info?
These nutrition facts listed are determined using nutrition information from the USDA Food Database. Our nutrition facts are accurate, but if you are using different products, please make your calculations. Net carb count is calculated by subtracting both fiber and sugar alcohols because they don't raise blood sugar.