This keto pecan pie is loaded with a buttery, gooey pecan filling and a flaky grain-free crust. Learn how to make the best low carb pecan pie with just a few ingredients; the perfect dessert for Thanksgiving and Christmas.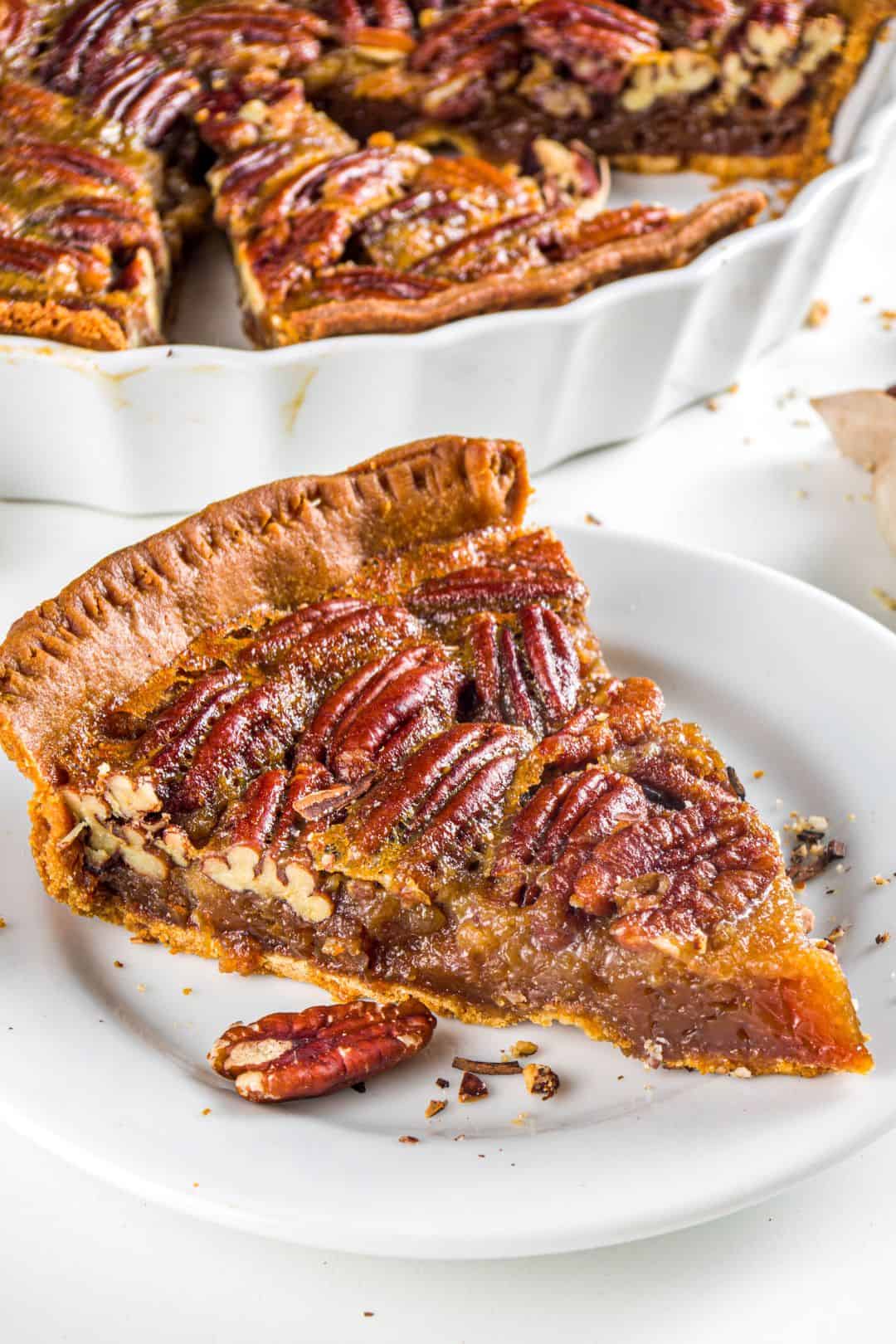 Pecan Pie has a special place on our holiday table. I'm so happy to share this keto pecan pie recipe that's grain-free and perfect even for your diabetic friends.
This perfect keto pie has a buttery crust and delicious pecan pie topping, making it the best treat for your holiday party and not only.
Nobody can tell this pie is keto-friendly, so serve homemade keto pecan pie at Thanksgiving, Christmas, or any holidays where family and friends are gathering to celebrate.
When it comes to holiday desserts, I love making my keto pumpkin pie, keto cranberry muffins, low carb apple pie, chocolate cake, and this keto pecan pie.
Why Are You Going To Love This Low Carb Keto Pecan Pie Recipe
Loaded with all the flavors of regular pecan pie but with fewer carbs.
An ooey gooey sugar-free pecan pie filling
Made with simple low-carb ingredients
Perfectly sweet and tender
No special tools are needed to make this dessert
Make this pecan pie ahead of time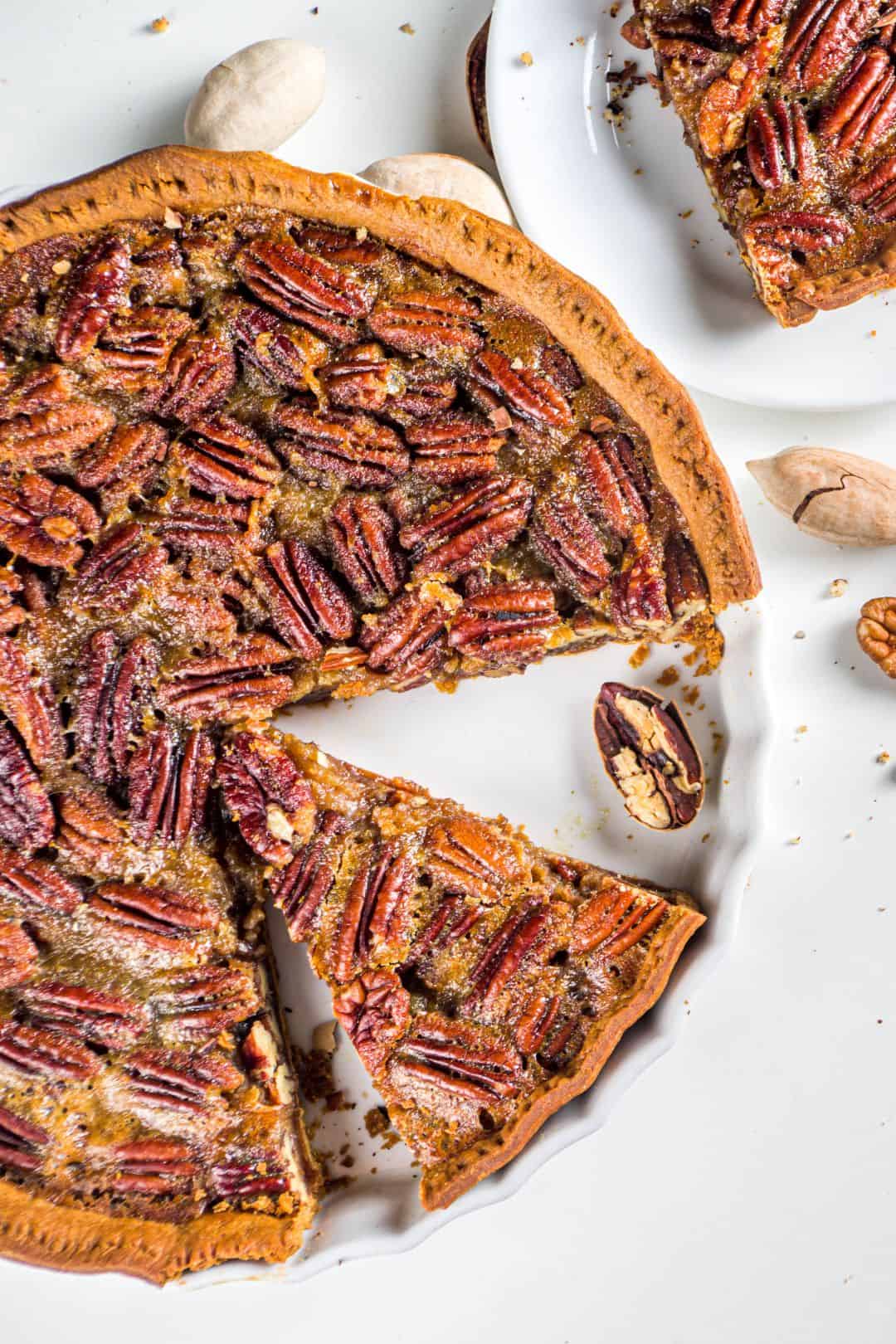 Is Pecan Pie Keto-Friendly?
The traditional pecan pie is an American dessert not missing from holiday meals. Regular pecan pie is made with a gluten crust and a pecan filling containing brown sugar and sweet corn syrup. Therefore, regular pecan pie is not keto-friendly.
A slice of the classic pecan pie has over 60 grams or net carbs, while a slice of my recipe has just 7g net carbs crust included.
But you can enjoy the best sugar-free pecan pie tastes even better than the regular one and is made from naturally low-carb ingredients.
Are Pecans Keto?
Sure, with only 14g net carbs per 100g, nuts are a great ingredient for those following a keto diet. They can be added to many keto recipes, or you can simply enjoy them as a snack.
Since I embarked on this low-carb journey, I adapted many staple holiday recipes to fit into my daily carbs allowance. So far, I have created low carb versions of cornbread, stuffing, pumpkin spice latte, or green bean casserole.
Keto Pecan Pie Ingredients
This keto pecan pie is perfect for you if you want to make a dessert that will surprise everyone. Here are the ingredients you'll need:
Almond Flour Crust
You can also use a store-bought keto pie crust to save some time.
Almond Flour – these are one of the best keto flour replacements you can use in baking goods and not only.
Sweetener – you can use your favorite low-carb sweeteners like erythritol or monk fruit.
Butter – use room temperature unsalted butter to ensure good mixing.
Egg – one large egg at room temperature to bind all the ingredients.
For The Sugar-free Pecan Pie Filling
Butter – use unsalted butter to give this pie a delicious buttery flavor.
Sweetener – use sifted powdered sweetener to mix well and avoid any lumps.
Heavy Cream
Pecans – no pecan pie without the pecans, right?
Eggs – use large room temperature eggs to avoid that eggy taste and smell.
Vanilla Extract – use the best quality of vanilla extract to complete all the flavors from this keto pecan pie.
Salt – just a pinch to enhance the flavors.
Find the complete list of ingredients and instructions in the recipe card below.
How To Make Keto Pecan Pie
This sugar-free pecan pie has become one of my family's favorites because it's extremely delicious and doesn't require any cooking skills. Here is everything you have to do: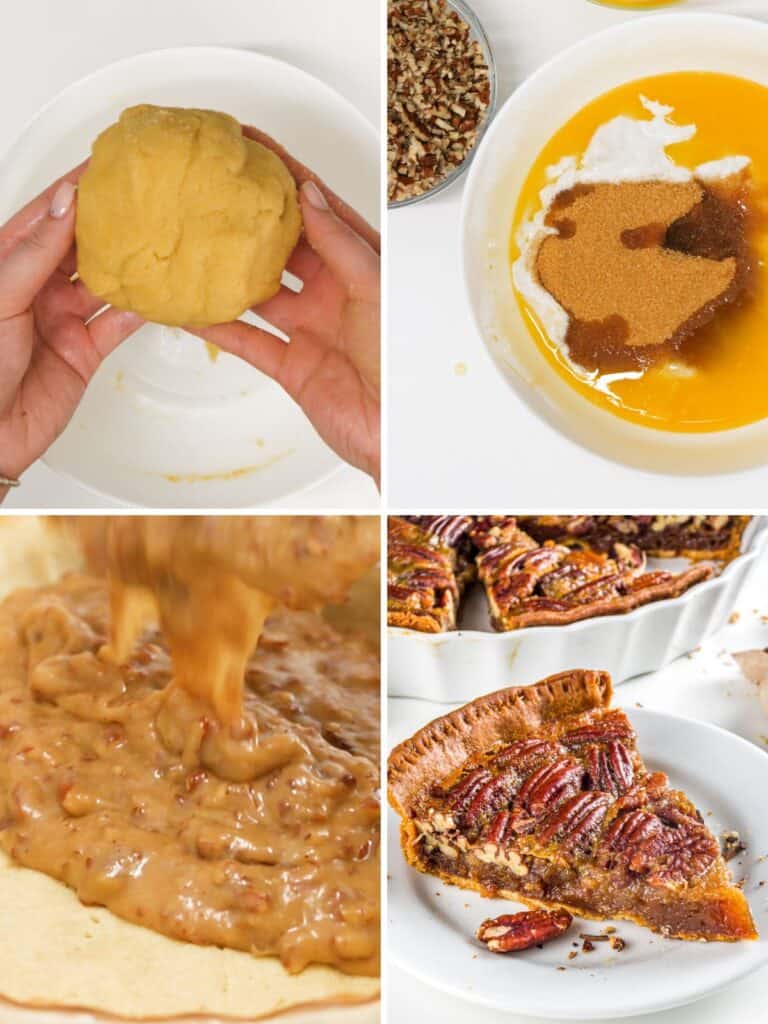 Make The Crust. Add all the crust ingredients to a mixing bowl and mix them using a spatula until everything is well combined.
Use your hands to press the pie dough into the pan and poke some holes using a fork.
Bake the pie crust in the oven at 180°C for 10 minutes until golden brown.
Make The Filling. Combine all the ingredients for the pecan pie filling in a large bowl.
Bake The Pie. Pour the filling mixture into the pie crust and bake for about 40 minutes in the preheated oven.
Remove the pie from the oven, and let it cool before slicing it.
Tips For Making The Best Keto Pecan Pie
If you want to prevent the edges of the crust from turning brown, you can cover the pie with foil while baking.
Before baking, leave your eggs on the counter for an hour or place them for 15 minutes in a dish of warm water.
Make sure you don't overbake your pie; otherwise, it will turn out dry and crumbly.
To get those clean slices, slice your pie using a sharp knife, cleaning it with warm water and paper towels.
Remove the pie from the oven when it's almost set. The pie continues cooking while cooling down.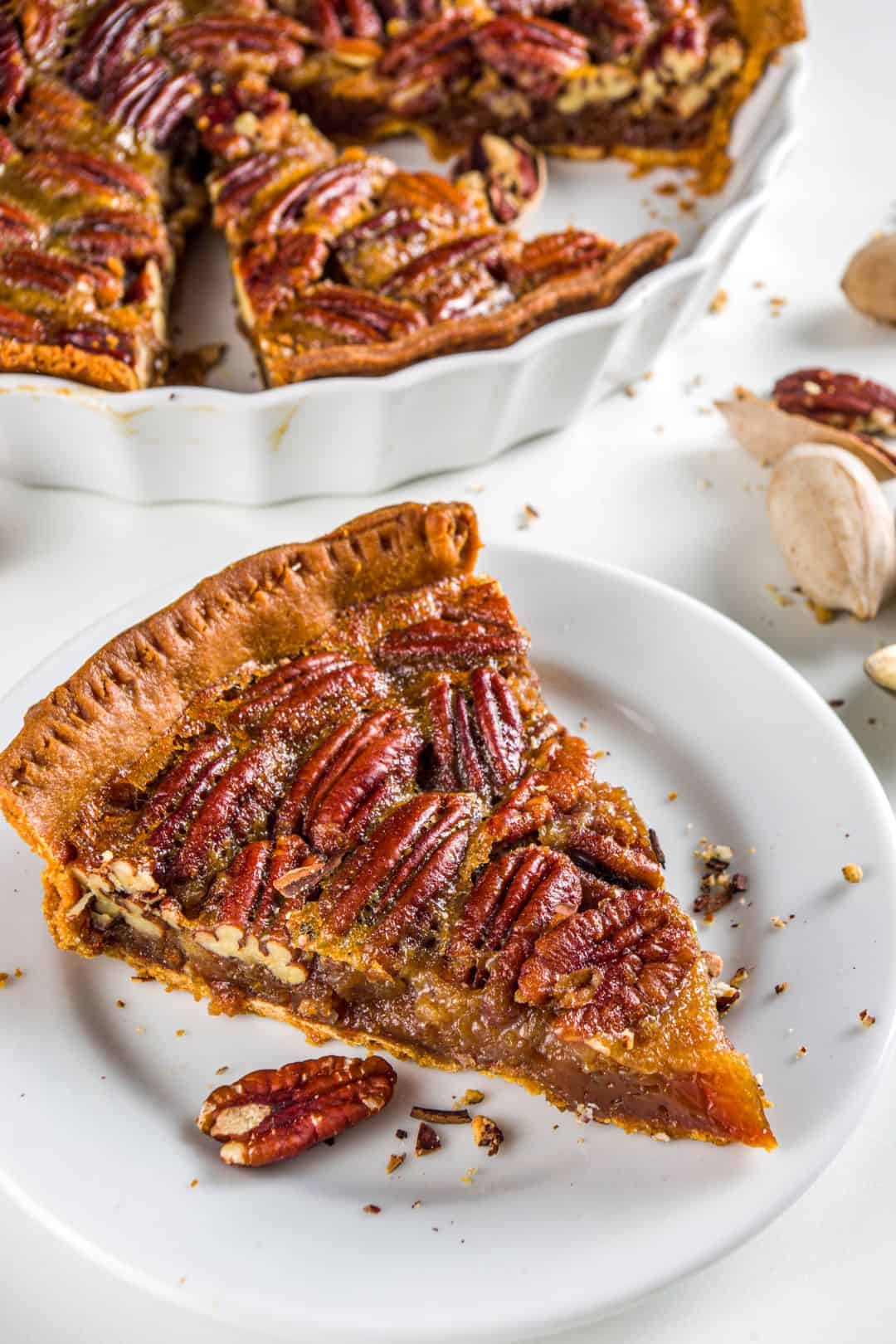 Serving Ideas
Here are some great ideas for serving this delicious keto pecan pie
Storing Ideas
Fridge – You can store any pie leftovers in an airtight container in the fridge for up to 7 days.
Freezer – To store the leftover low carb pecan pie in the freezer, wrap each slice in wrap or foil and freeze them for up to one month. Before eating, let the frozen pecan pie thaw overnight in the fridge.
Can I Make Keto Pecan Pie Ahead?
Yes, this recipe for low carb keto pecan pie is perfect for making ahead as it needs time to chill and firm up. You can either make the almond flour crust ahead, add the filling, then bake it, or make both the filling and the crust ahead and bake them the day before serving.
More Keto Desserts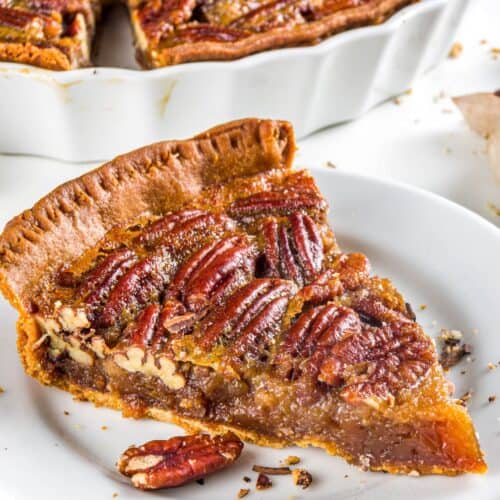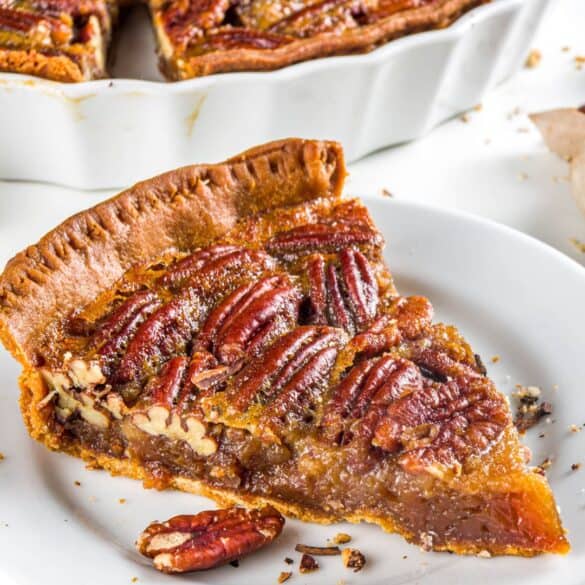 Description
This keto pecan pie is loaded with a buttery, gooey pecan filling and a flaky grain-free crust. Learn how to make the best low carb pecan pie with just a few ingredients; the perfect dessert for Thanksgiving and Christmas.
Instructions
Preheat the oven to 350F/ 180C.

Make the Filling: In a large mixing bowl, add the eggs, melted butter, heavy cream, sweetener, vanilla extract, maple extract, and sea salt. Whisk well to combine. Stir in the finely chopped pecans.

Pour the filling over the baked crust. Arrange pecan halves on top.

Cover with aluminum foil and bake for 30 minutes. Uncover and continue baking for 10-15 minutes or until the filling looks set in the center.

Remove from the oven and place on a wire rack, and allow the pie to cool down for at least 2 hours before slicing.

Serve the low carb pecan pie with keto whipped cream on top.
Nutrition Facts
Amount per serving.
How do we calculate the nutrition info?
These nutrition facts listed are determined using nutrition information from the USDA Food Database. Our nutrition facts are accurate, but if you are using different products, please make your calculations. Net carb count is calculated by subtracting both fiber and sugar alcohols because they don't raise blood sugar.