These keto Oreo cookies are crunchy, chewy, and super easy to make at home from scratch. I'm sure you'll love the best melt-in-your-mouth gluten-free Oreo cookies, crunchy and crumbly with a smooth, sugar-free vanilla filling and intense cocoa flavor.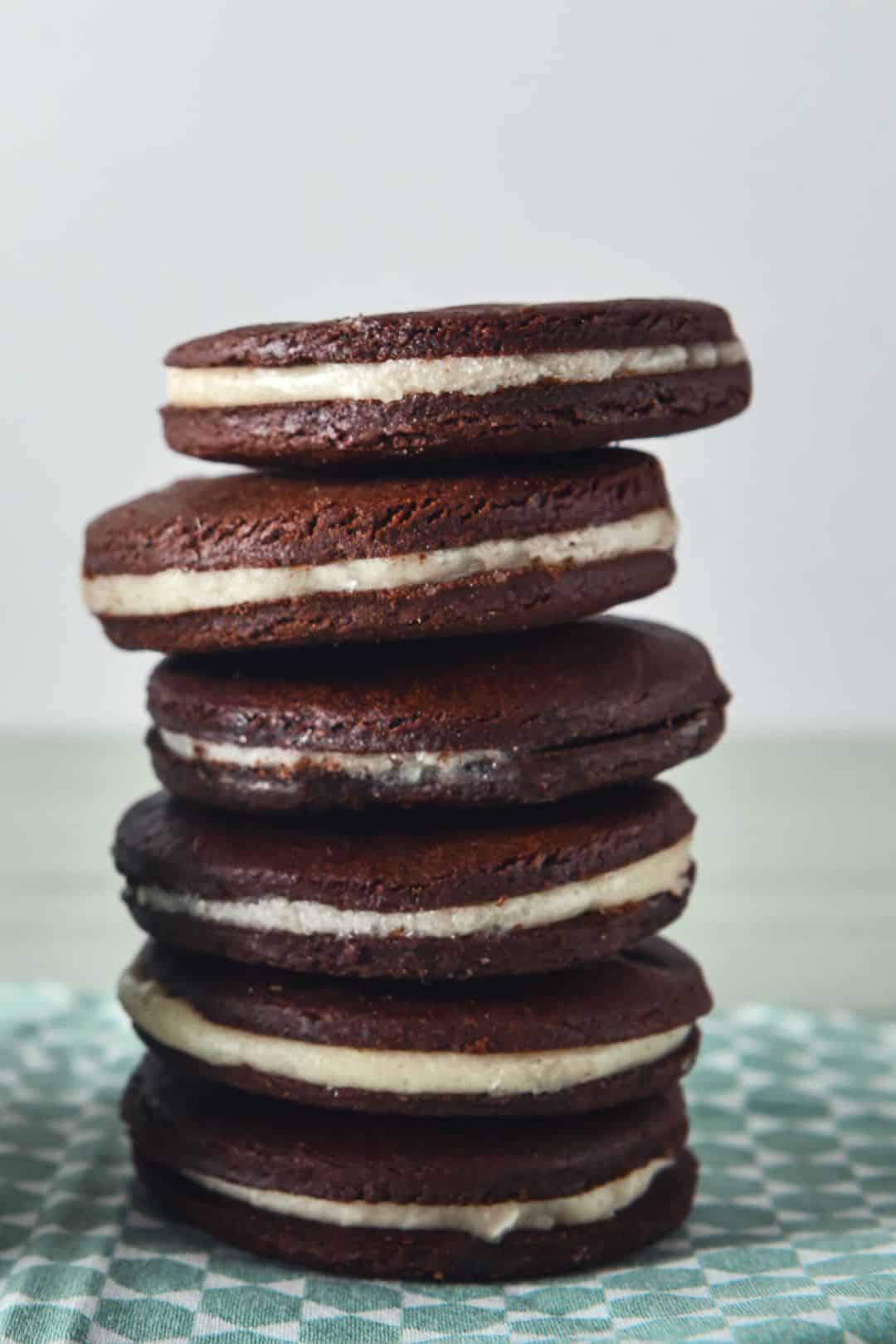 They taste just like the real deal and can be the perfect snack for special occasions like anniversaries or Christmas morning paired with a cup of coffee or tea.
Learn how to make the best gluten-free low carb oreo cookies with just 8 ingredients and 30 minutes of prep. They are incredibly easy to make without any white sugar or flour.
The Best Part? Keto oreo cookies have just 3 grams of net carbs per sandwich.
Who doesn't love a delicious sugar-free and gluten-free cookie? These keto Oreo cookies are the perfect cure for your sweet tooth, and you can make them with the kids because they are so much fun.
Are Oreo Cookies Keto-Friendly?
No, regular oreo cookies are not keto-friendly because they are made with flour and sugar.
One regular Oreo cookie (11 grams) contains around 12 grams of total carbohydrates, including 1 gram of dietary fiber and 6 grams of sugar. However, it's important to note that the serving size for Oreos is typically two cookies.
But if you are craving an oreo cookie on a keto diet, make this recipe and enjoy the best low carb oreo recipe that tastes like those from the store.
Why Are You Going To Love These Keto Friendly Oreos
Super quick and easy to make with just 8 ingredients
Taste like regular Oreos minus the carbs
A fun treat to make ahead
Gluten-free, grain-free, low carb oreo cookies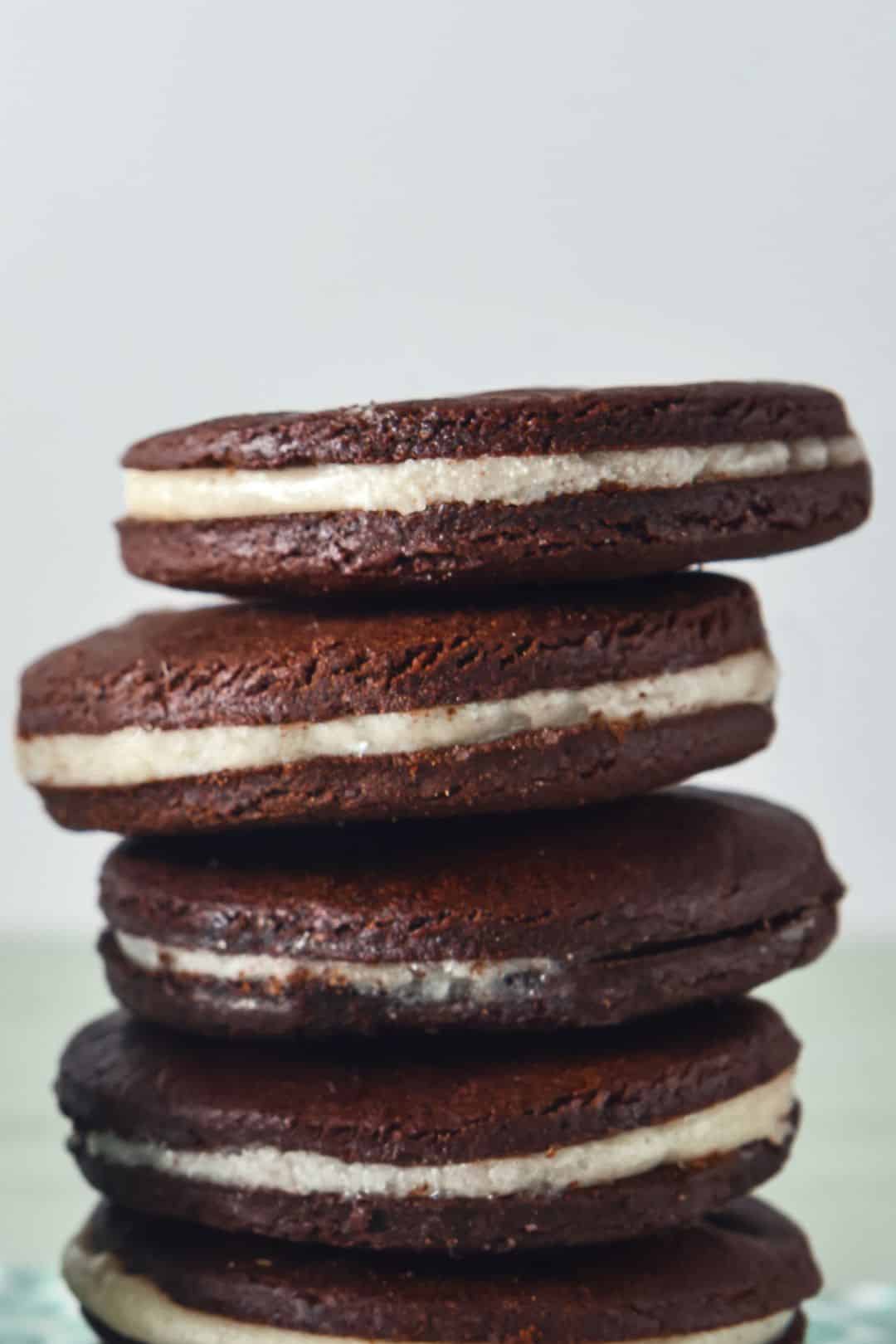 Ingredients For These Keto Oreo Cookies
Even if it seems like a lot of work, you will love how easy it is to make these keto oreo sandwiches. However, they require a few simple ingredients you probably already have in your kitchen. Here is everything you will need:
For the Low Carb Oreo Cookies
Almond Flour – this is one of my favorite low-carb flour substitutes. Choose a super fine blanched almond flour for the best texture. Almond meal is not the best option for this recipe.
Butter – make sure it's unsalted softened butter. You can also use coconut oil instead of butter.
Sweetener – you can use any sugar-free sweetener you prefer that's great for baking, such as monk fruit or erythritol.
Eggs – use room temperature eggs to help everything bind together.
Cacao Powder – use the best quality cocoa powder that you can find. Regular Oreos are made with dark dutch processed cocoa, which gives them their signature color.
Vanilla Extract – no keto dessert without vanilla, right? Use high-quality vanilla.
Xanthan Gum – acts like gluten and keeps the cookies from spreading too much while baking.
Salt – to enhance all the flavors.
For The Filling
Cream cheese – use full-fat softened cream cheese.
Butter – room temperature
Sweetener – use powdered sweetener to ensure good mixing.
How To Make Keto Oreo Cookies
Follow the next steps to enjoy the best soft and crisp keto oreo cookies that are extremely easy to make. Here is everything you have to do: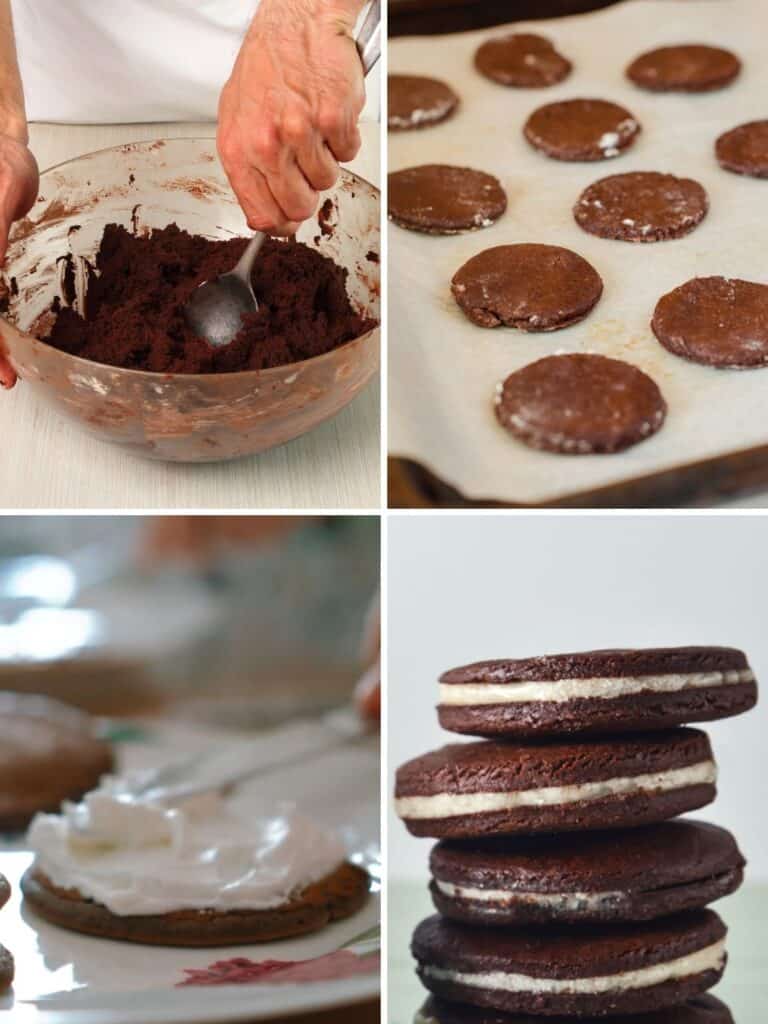 Make the Oreo Cookies 
Add the butter into a large mixing bowl and mix it with the sweetener, eggs, and vanilla extract, and mix until well combined.
Add all the dry ingredients and stir until the dough is formed.
Wrap the dough in plastic foil and refrigerate for 30 minutes.
Roll the dough between two sheets of parchment paper until 1/4 inch thick. Cut the cookies using a 2″ round cookie cutter. Transfer them to the lined baking sheet.
Baking the Cookies
Bake the almond flour chocolate cookies in the preheated oven for 8-10 minutes.
Make the Filling
In a large bowl, cream the cream cheese, butter, sweetener, and vanilla extract until smooth and creamy. Refrigerate for at least 30 minutes. 
Once the cookies are cooled, spread 1 tablespoon of the filling per cookie using a knife and place another cookie on top. Repeat with all of the cookies.
Tips & Variations
Before rolling out the dough, ensure it is refrigerated for at least 30 minutes.
Don't worry if the dough begins to stick to the counter as you roll it out. You might have to chill the dough for 15 to 20 minutes.
Ensure that your cookies are completely cool before frosting because the frosting may melt and turn into a watery filling.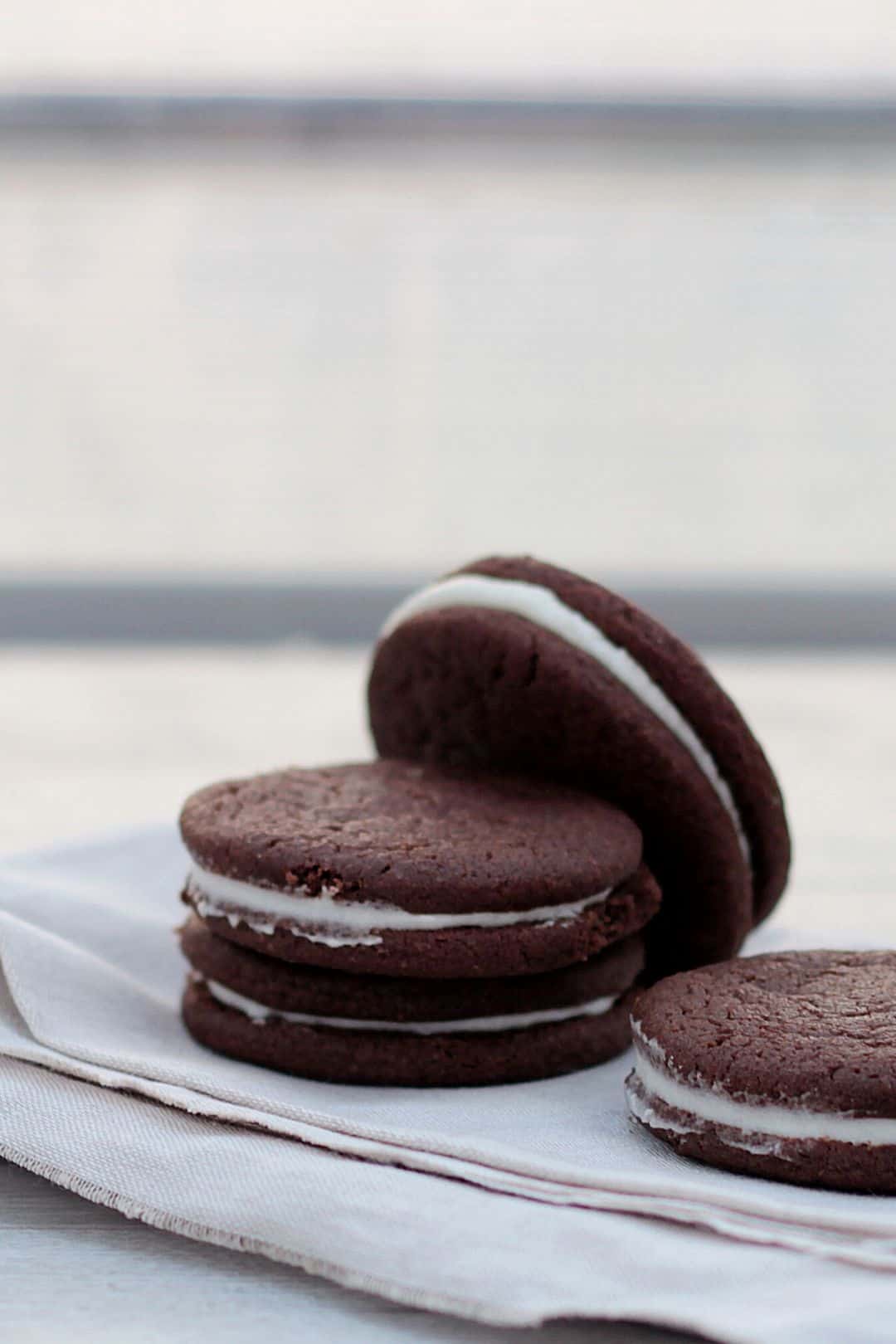 Troubleshooting Keto Oreo Cookies Recipe
Here are some common issues that people may face when making keto oreo cookies and how to troubleshoot them:
The dough is too dry and crumbly: Add a little more melted butter to the mixture. You can also add a little water or almond milk to help bind the dough together.
The cookies are too soft or fall apart easily: Make sure you bake the cookies for the recommended time and temperature. Allow them to cool completely before handling. If they still come out too soft, try baking them for a few more minutes.
The oreo cookies are burnt: If the cookies are burnt, reduce the baking time or temperature. Check on the cookies regularly while they bake to avoid burning them.
The filling is too thick or too thin: If the filling is too thick, add a little more heavy cream to thin it out. If the filling is too thin, add more powdered sweetener or cocoa powder to thicken it up.
The cookies don't taste like traditional Oreos: Keep in mind that keto Oreos will have a slightly different taste and texture than traditional Oreos due to the use of alternative ingredients. Adjust the recipe to your taste preferences by adding more cocoa powder or sweetener if needed.
Can I Make These Keto Oreo Cookies With Coconut Flour?
Since coconut flour and almond flour have different properties, you cannot replace them one with another because you will have to change the amount of the rest of the ingredients.
Storing Ideas
Room Temperature – Store these keto oreo cookies in an airtight container on the counter at room temperature for up to 2 days.
Fridge – These cookies can be stored in the fridge in an airtight container for up to 7 days.
Freezer – You can also store these cookies in the freezer in a ziplock bag for up to 2 months.
More Keto Cookies Recipes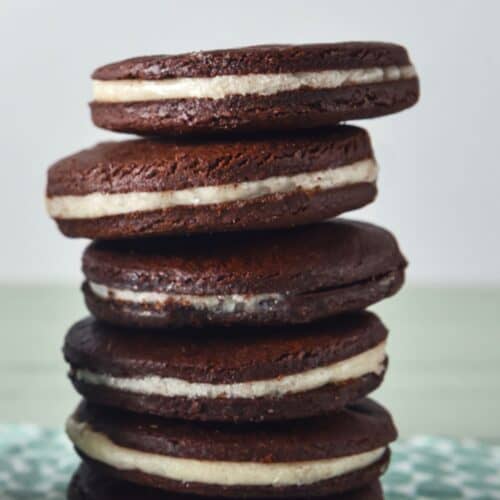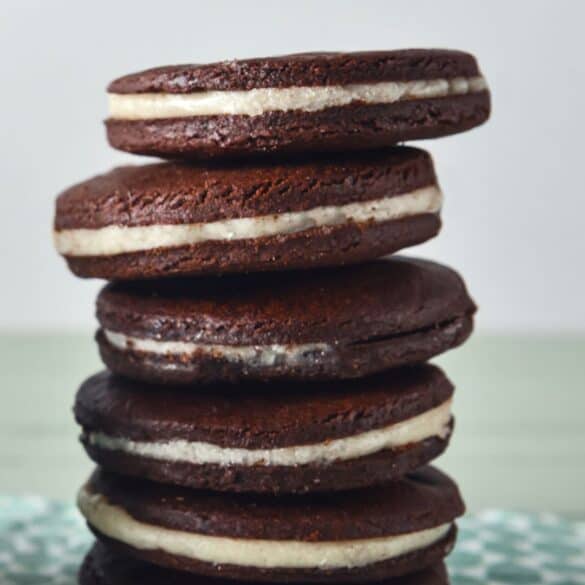 Keto Oreo Cookies Recipe (2g net carbs)
---
Description
These keto Oreo cookies are crunchy, chewy, and super easy to make at home from scratch. I'm sure you'll love the best melt-in-your-mouth gluten-free Oreo cookies, crunchy and crumbly with a smooth, sugar-free vanilla filling and intense cocoa flavor.
Instructions
In a large bowl, add almond flour, cocoa powder, sweetener, salt, baking soda, espresso powder, and xanthan gum.

Add the softened butter, the beaten egg, and vanilla extract and stir until the mixture comes together into a dough.

Shape the cookie dough into a flat loaf, wrap in plastic wrap and refrigerate for at least 30 minutes.

Preheat the oven to 350°F/180°C and line a large baking sheet with parchment paper.

Roll out the dough between two pieces of parchment paper until 1/4″ thick. Dust with cocoa powder and cut out oreo Cookies with a 2″ round cookie cutter.

Transfer cookies onto the prepared baking tray and bake for 8-10 minutes until firm to the touch. Remove from the oven and allow them to cool down completely.

Make the vanilla cream cheese filling: In a large bowl, cream the cream cheese, butter, sweetener, and vanilla extract until smooth and creamy. Refrigerate for at least 30 minutes.

Spread about one tablespoon of filling on one side of the chocolate cookies and top with another cookie.

Refrigerate the cookies for at least 30 minutes before serving.
Nutrition Facts
Amount per serving.
How do we calculate the nutrition info?
These nutrition facts listed are determined using nutrition information from the USDA Food Database. Our nutrition facts are accurate, but if you are using different products, please make your calculations. Net carb count is calculated by subtracting both fiber and sugar alcohols because they don't raise blood sugar.