These Keto Waffles with almond flour are crisp on the outside and fluffy on the inside. So, if you're missing waffles on keto, make this low-carb, sugar-free recipe with natural ingredients. You'll love this keto Belgian breakfast treat that's only 2g net carbs.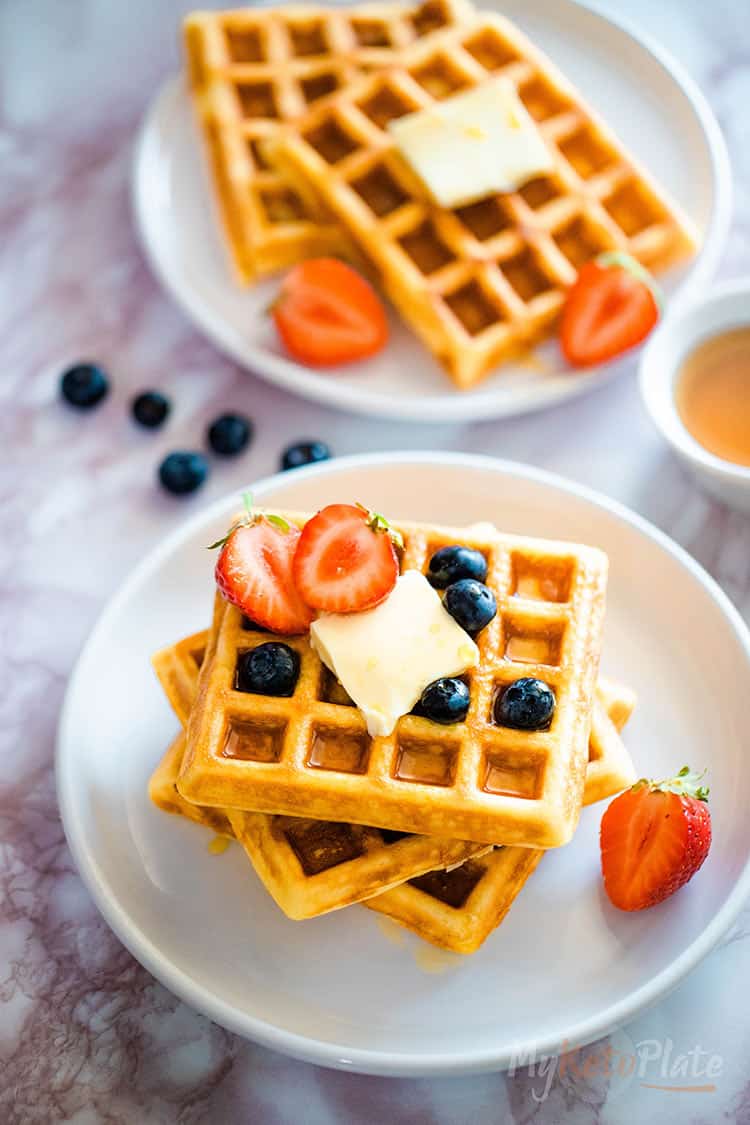 In our house, weekends are for baking and making keto pancakes and waffles. I love sweet and savory waffles, which are a staple for weekend breakfast.
One of the best things about these gluten-free keto waffles is that they are super crispy and golden on the outside while being super airy and delicious.
Learn how to make the best keto waffles without all the carbs in less than 20 minutes. Trust me, these paleo waffles are better than regular waffles, especially if drowned in tons of zero-sugar maple syrup, low-carb berries, or crispy bacon and avocado.
Watch the short video below to see how easy it is to make these perfect keto waffles every time.
Why Are You Going To Love This Recipe
Has only 4g grams of net carbs per serving.
Made using a few low-carb ingredients.
Super easy to make in just a few minutes.
Super fluffy and loaded with delicious flavors.
It can be made ahead of time.
How To Make Crispy Keto Waffles
Ingredients You'll Need
I got my waffle maker for my birthday a few years back and didn't use it for a while as I couldn't imagine that there was a way to make gluten-free keto waffles with no flour.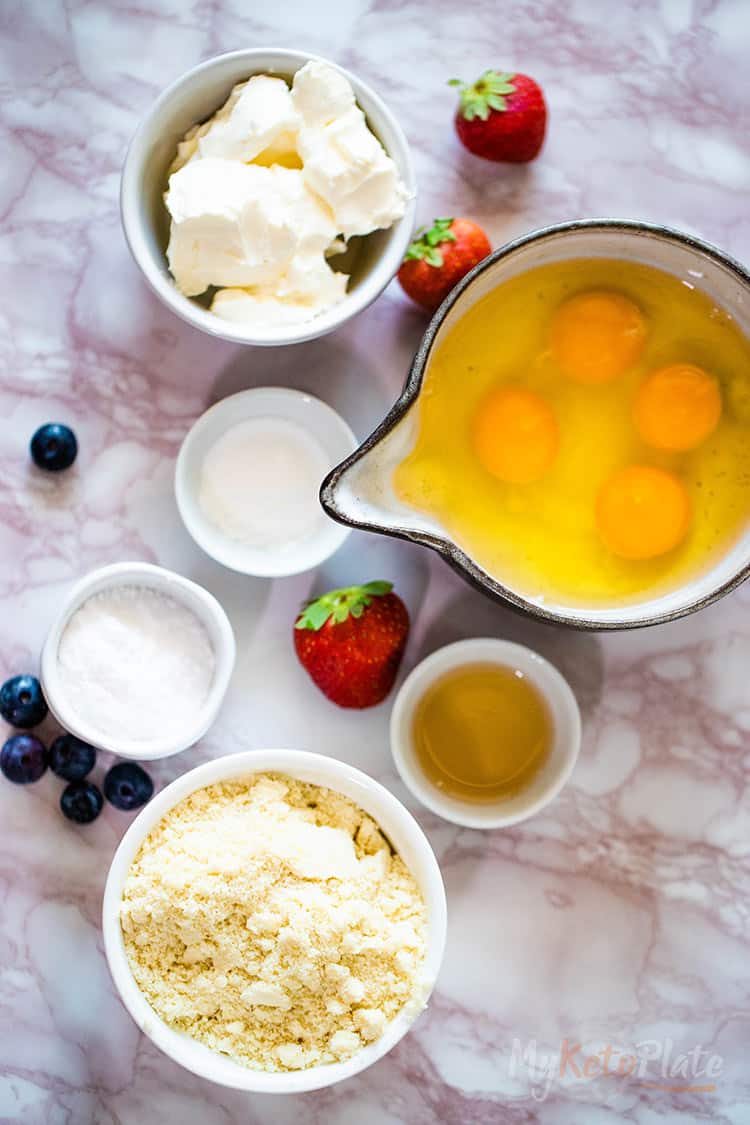 Here are the simple ingredients you'll need for delicious waffles:
Eggs – you will need room-temperature eggs to avoid an eggy smell and flavor.
Cream Cheese – use softened cream cheese to avoid creating any lumps.
Almond Flour – this is one of my best low-carb flour alternatives that I use for many dessert recipes. You can sift it before adding it to the batter to obtain a smoother texture.
Butter – use unsalted butter.
Sweetener – you can use your favorite low-carb sweetener such as Erythritol, Swerve, Monk Fruit, or coconut sugar if paleo.
Vanilla extract – Use plenty as it adds a nice flavor.
Baking Powder – helps the waffles become super fluffy.
These sugar-free waffles will become your favorite breakfast option once you see how easy they are to prepare. Here is everything you need to do:
Make The Keto Waffles Batter
In a large mixing bowl, add 4 large eggs and vanilla extract. Mix using and electric mixer until frothy for about 1-2 minutes.
Incorporate the cream cheese and continue mixing.
Add the dry ingredients and mix until you get a smooth waffle batter. Let it rest for a few minutes.
Cooking the Waffles
Meanwhile, heat your waffle iron and grease it well.
Pour enough batter and cook according to your waffle maker instructions, for 1-2 minutes or until golden brown. I use about 1/4 cup of the prepared batter for each keto waffle.
Cook until golden brown on the edges and repeat until you have no batter left.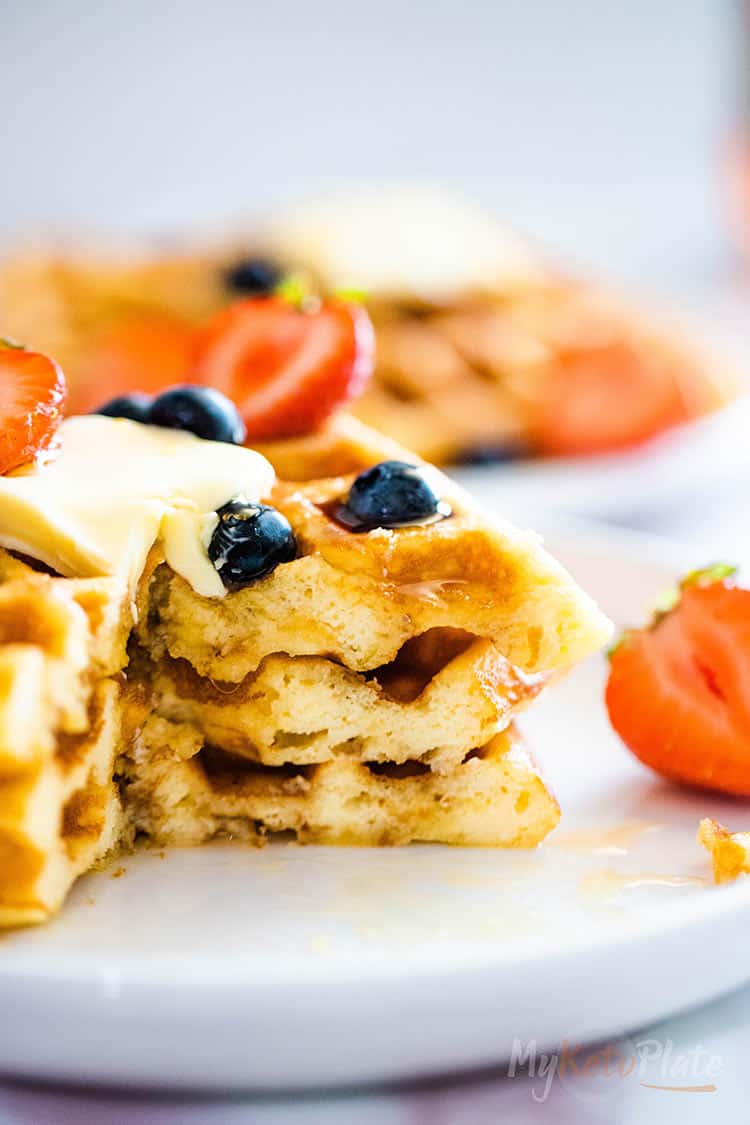 Serving
It's time to serve these keto almond flour waffles. Generously top with your favorite toppings, such as maple syrup, fresh berries, or sugar-free whipped cream.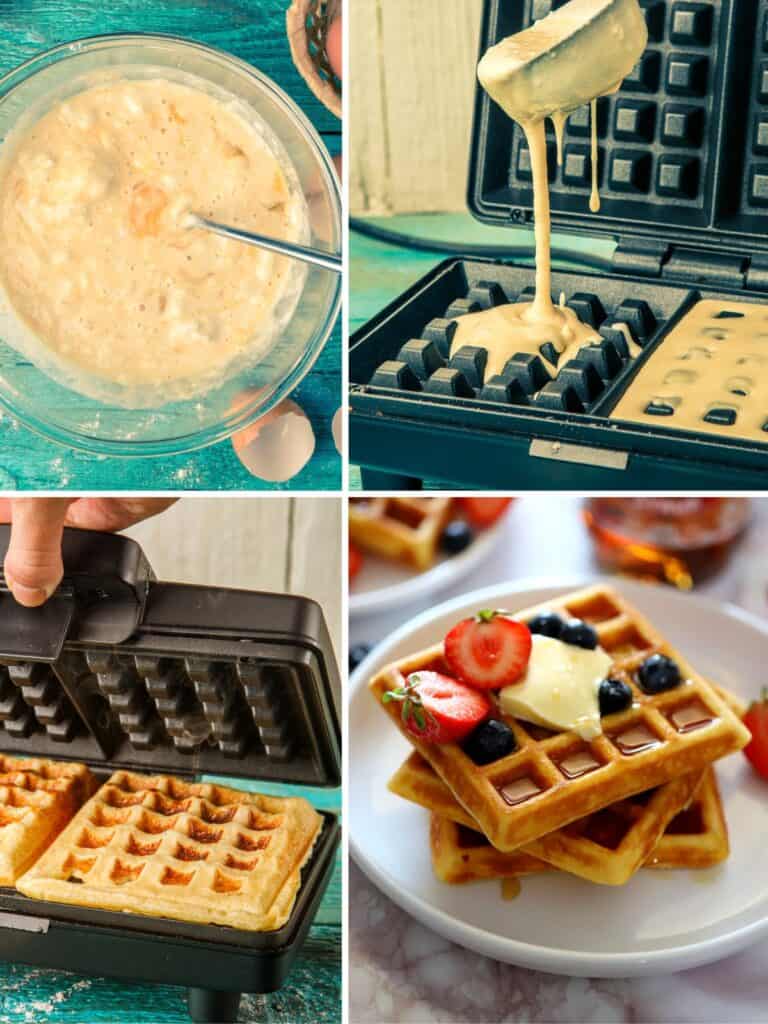 Variations For These Waffles with Almond Flour
This recipe is a classic one that can be customized in many ways. Here are some great ideas:
Sugar-free chocolate chips – are one of my favorite add-in ideas.
Blueberry keto waffles – perfect for summer.
Toasted walnuts or almonds – for a crunchy texture.
Lemon zest
Chocolate powder – for chocolate lovers and not only.
Coffee
Cinnamon – perfect for the holiday season.
Pumpkin puree – great for a Thanksgiving breakfast.
Allergy Swaps and Substitutions
The best part of these waffles is they're super easy to customize for your custom dietary needs with ingredients you have in your pantry.
Make egg-free keto waffles. Use your favorite egg substitutes such as chia egg or flax egg.
Make it dairy-free. Replace the cream cheese and butter with coconut cream and coconut oil, or use vegan replacements.
Can't have almond flour? Use 1/4 coconut flour instead!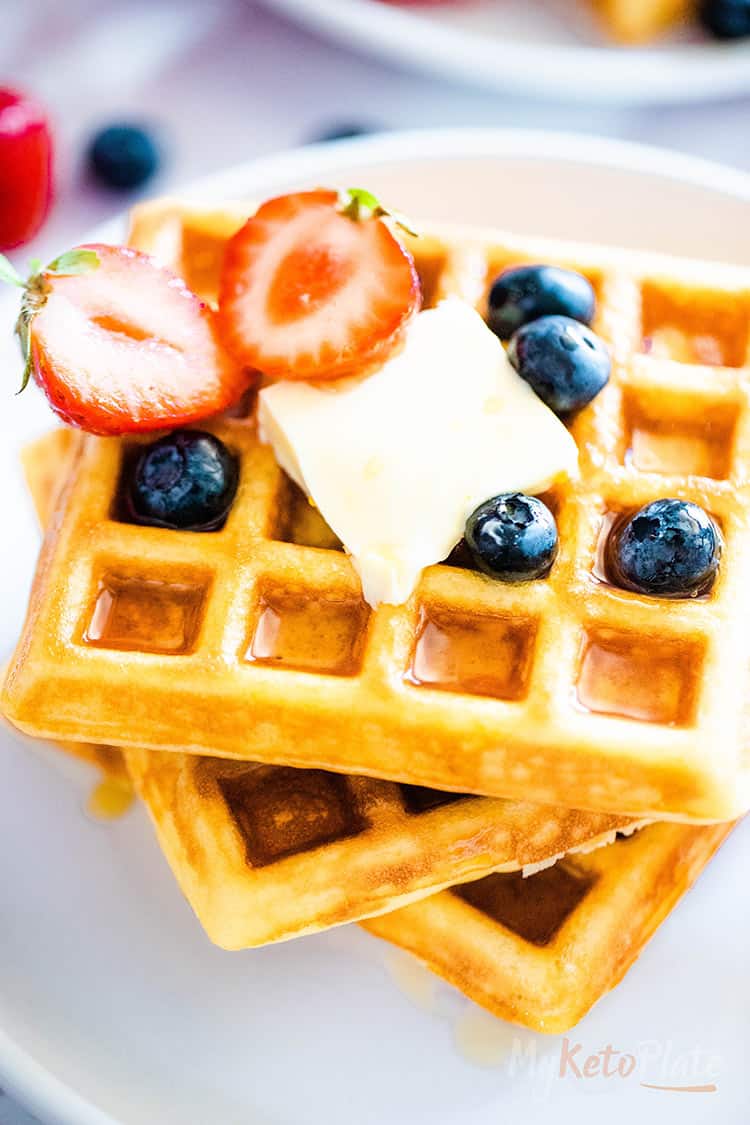 Storing Ideas
This low-carb waffle recipe makes about 6 waffles that are perfect to have on hand during the week. You can double or triple the ingredients if you prefer to make more and store them.
Fridge: let the waffles cool and store them in the fridge in an airtight container for up to one week.
Freezer: They also freeze well, and I was surprised to see that they freezer-friendly. So I pop them back into the waffle maker to get the best crispy keto waffles.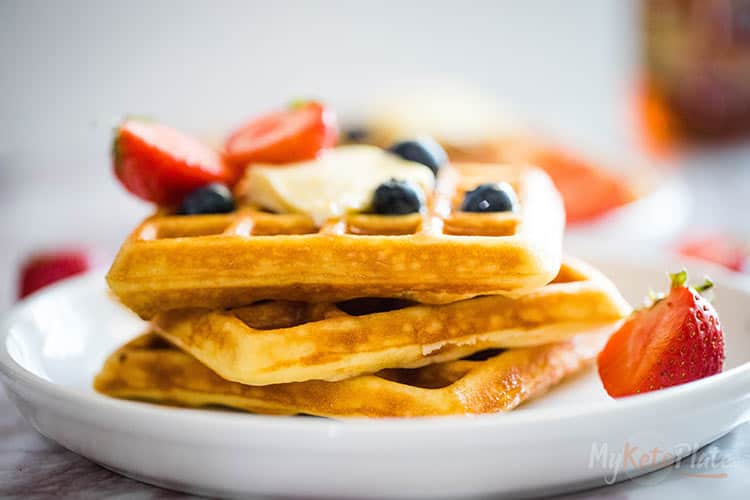 Frequently Asked Questions
Can I Make Coconut Flour Keto Waffles?
If you're wondering how to make nut-free keto waffles with coconut flour instead of almond flour, learn it's possible.
In this recipe, the ratio of 1:4 (almond flour to coconut flour) works perfectly. This means you can replace almond flour with 1/4 cup of coconut flour. The instructions remain the same, and I recommend you let the batter rest for at least 5 minutes to allow the batter to thicken as the coconut flour soaks in the liquids.
Do I Need To Grease The Waffle Maker?
This step is unnecessary, but if you are worried about this, spray the waffles iron with coconut oil before cooking them.
Other Keto Breakfast Recipes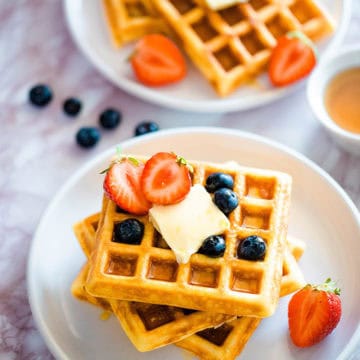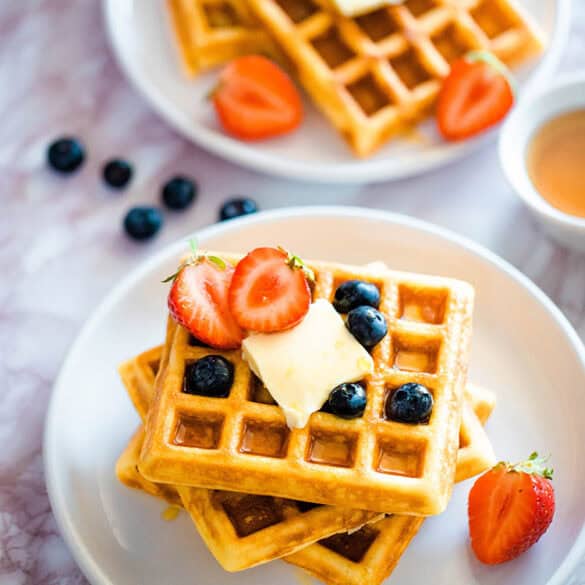 Perfect Homemade Keto Waffles with Almond Flour
---
Description
These Keto Waffles with almond flour are crisp on the outside and fluffy on the inside. If you're missing waffles on keto, there are low carb, sugar-free made with natural ingredients. You'll love this keto breakfast treat that's only 2g net carbs.
Instructions
In a large bowl crack the eggs and mix with an electric mixer for about 2 minutes until frothy

Add the softened cream cheese or coconut cream, melted butter, vanilla extract, and continue mixing.

Mix in the dry ingredients: almond flour, sweetener, baking powder until you get a smooth waffle batter.

Preheat your waffle iron and grease it with butter or cooking spray.

Pour up to 1/3 cup of the batter into the waffle iron and cook until golden brown and crispy.

Serve immediately with butter, berries, or sugar-free maple syrup.
Nutrition Facts
Amount per serving.
How do we calculate the nutrition info?
These nutrition facts listed are determined using nutrition information from the USDA Food Database. Our nutrition facts are accurate, but if you are using different products, please make your calculations. Net carb count is calculated by subtracting both fiber and sugar alcohols because they don't raise blood sugar.