This keto cheesecake recipe with almond flour crust is ultra creamy, smooth, and decadent. Learn how to make the best low carb cheesecake with just 7 ingredients and 10 minutes of prep time.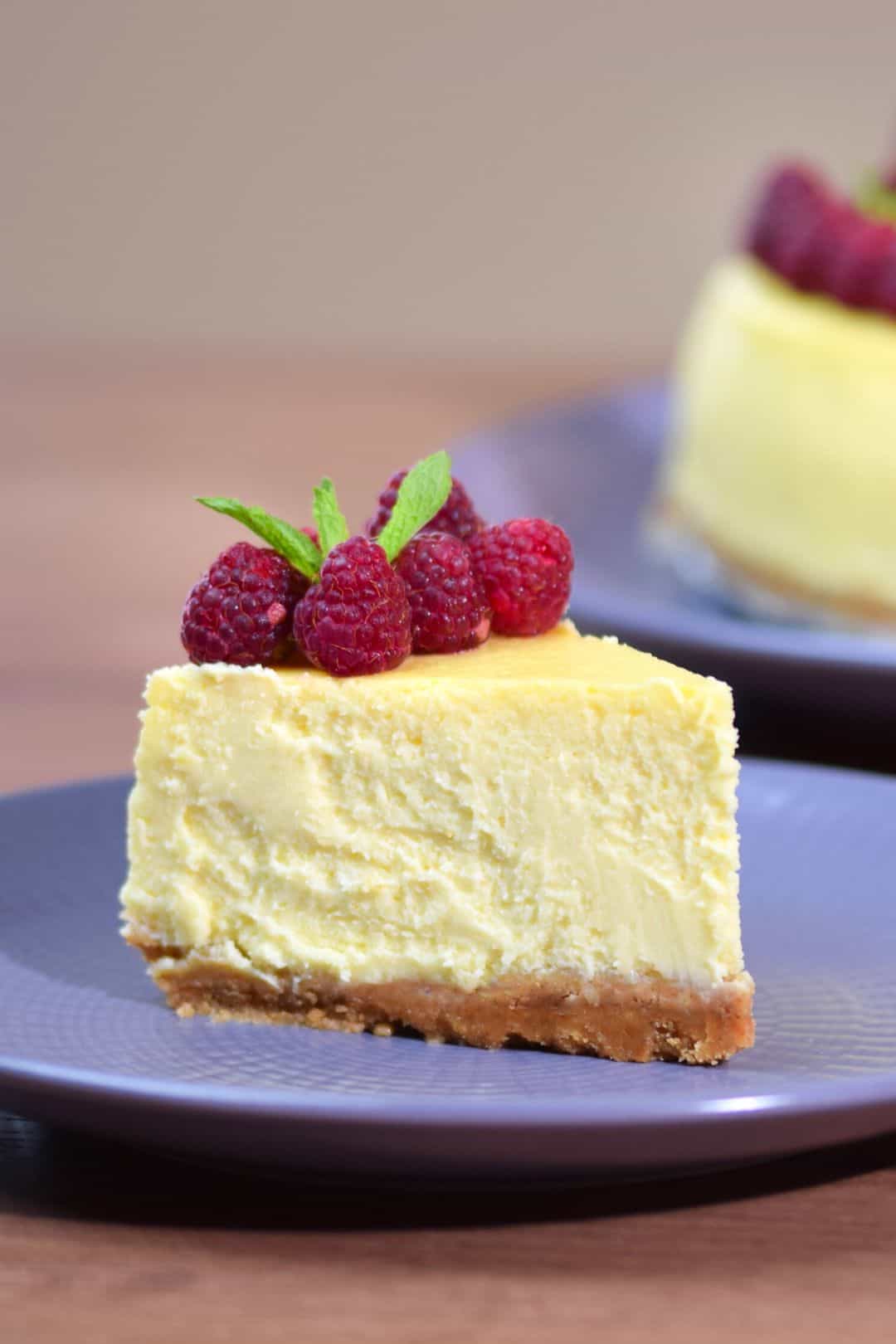 It's no secret that I love keto desserts that are super easy to make and taste just like regular ones minus the carbs. I love brownies, ice cream, cookies, cakes, and of course, this sugar-free cheesecake.
The best part? This keto cheesecake melts in your mouth, it's extremely easy to make and tastes just like the real thing.
A cheesecake is usually made with just a few ingredients, but most of us think it is too complicated. Just mix all the ingredients, cook at a low temperature and read my tips and tricks to get a perfect creamy cheesecake without a water bath.
Some of my preferred and perfected recipes include keto pound cake, carrot cake, or coconut flour cake.
Why Are You Going To Love This Keto Cheesecake Recipe
Only 7 low carb ingredients are needed
Incredibly rich, smooth, and creamy.
Tastes just like a regular cheesecake, minus the carbs
Easy to make with just 10 minutes of active prep time
Only 6 grams net carbs per serving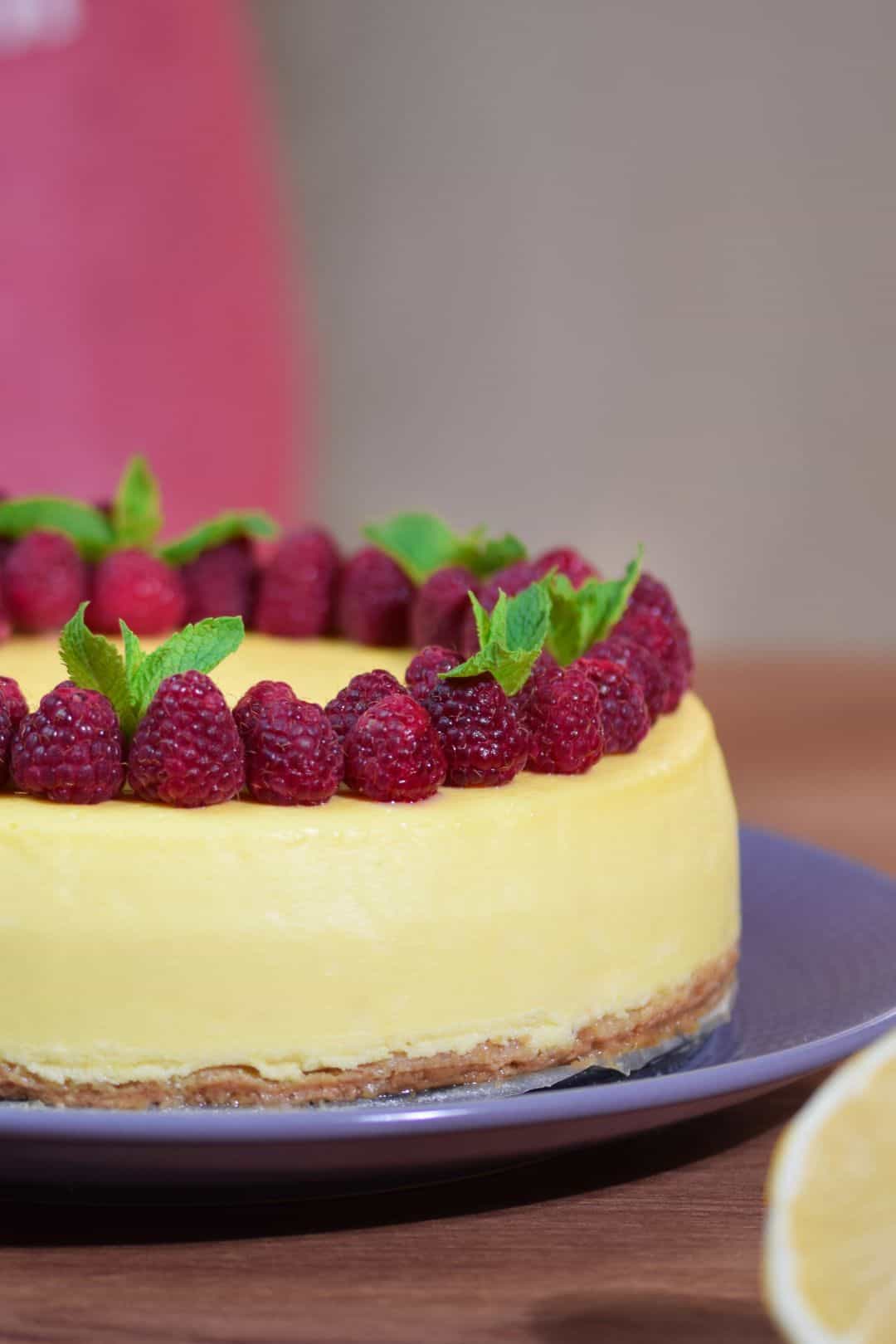 Video Tutorial
Is Cheesecake Keto-Friendly?
No, traditional cheesecake recipes are not keto since they use sugar, graham cracker crumbs, or cookie crumbs in the preparation. But thankfully, you can still enjoy a delicious cheesecake while following a ketogenic diet by making a few simple changes.
Ingredients For This Keto Cheesecake
Another great thing about this keto cheesecake recipe is that it doesn't require fancy ingredients. You may have some of them already in your pantry. Here is everything you will need:
For The Almond Flour Cheesecake Crust
Almond Flour – use a super fine blanched almond flour to make a delicious crust for the cheesecake that's crispy. You can skip the crust and make a keto crustless cheesecake.
Butter – adds a delicious buttery taste and helps the crust hold its shape. Use unsalted melted butter.
Sweetener – I love using granulated sweetener for the crust, and allulose is my favorite because it has no cooling effect or aftertaste. Erythritol blends or Xylitol are some other great options, but I'd stay away from pure stevia, which makes things bitter.
Vanilla extract – for some extra flavor.
For The Low Carb Cheesecake Filling
Cream Cheese – Use quality full-fat cream cheese because this is the key component of our keto cheesecake. Don't use cream cheese spread or reduced fat versions.
Sour Cream – an essential ingredient for a New York style low carb cheesecake that's rich and creamy.
Eggs – 4 large eggs at room temperature are needed. Make sure to add the eggs last, one at a time, until they are just incorporated. Try not to overmix the batter, which may cause cracks in the cheesecake.
Sweetener – make sure that you are using powdered sweetener to combine well.
Vanilla Extract – use the quality of vanilla extract that you can find to ensure a great flavor. Lemon juice is also a great flavor.
How To Make Keto Cheesecake
Make sure all your cheesecake ingredients are at room temperature, so the mixture is smooth, creamy, and ready to be baked. The method is similar to a traditional cheesecake.
Start by making the crust
Grease the sides of a 9-inch springform pan, line it with parchment paper, and preheat the oven.
Add all the crust ingredients into a bowl and mix them well.
Then evenly press the crumbly dough into the pan and bake it for 10-12 minutes or until slightly golden.
Make The Cream Cheese Filling
Add the softened cream cheese and sweetener into a bowl, then mix them.
Stir in the sour cream and vanilla extract.
Gradually add the eggs one at a time, mixing until each egg is just incorporated.
Pour the filling over the crust and bake the cheesecake in the oven for 60 minutes or until almost set in the middle.
Remove from the oven and let it cool for about an hour at room temperature before putting it in the refrigerator to firm completely.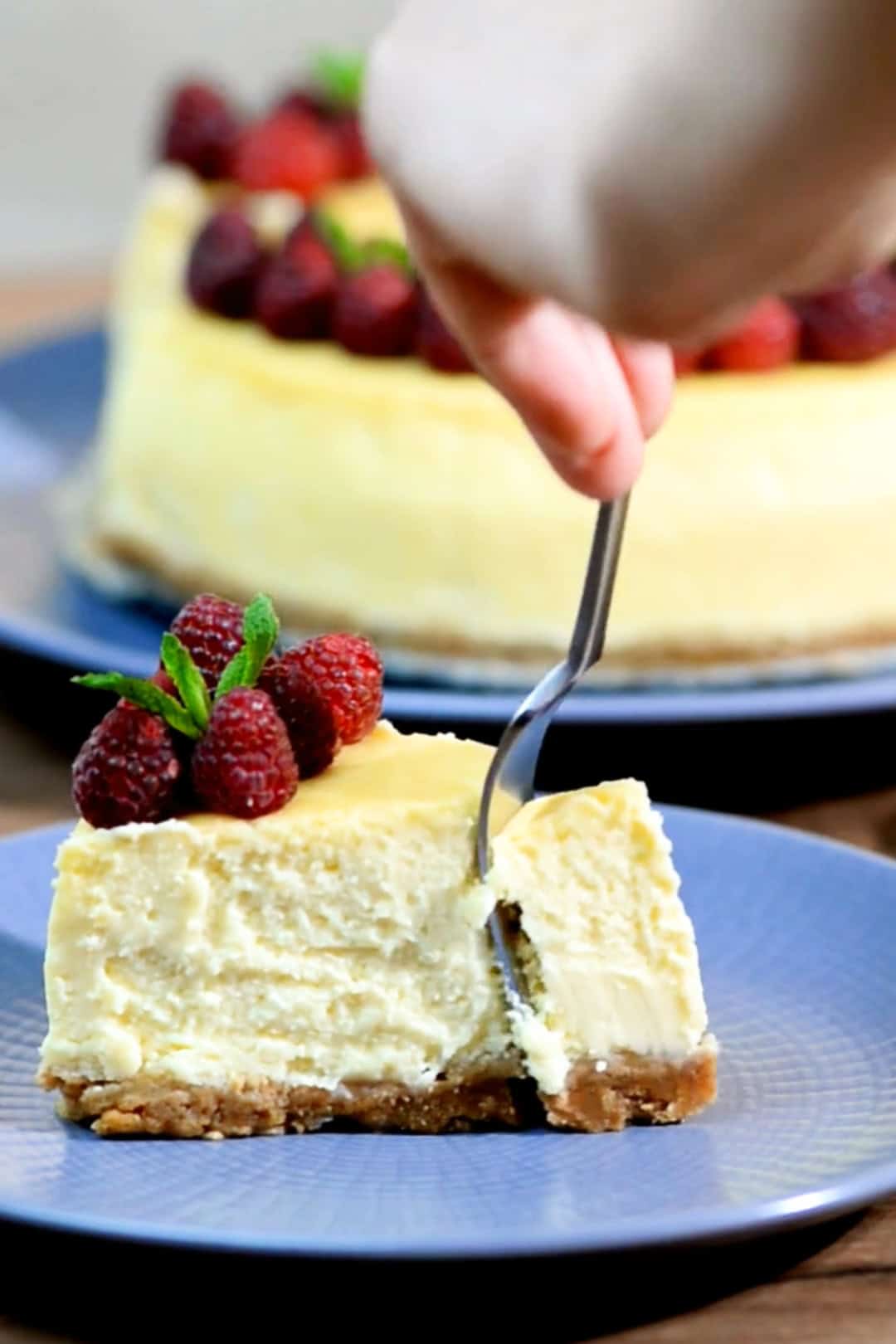 Tips For Making The Best Keto Cheesecake
Use room temperature ingredients to prevent any lumps into the cheesecake mixture. This way, the ingredients mix together into a smooth and creamy texture.
Don't overbeat the mixture. You can lightly beat the eggs before incorporating them into the batter. Stir until just combined with your mixer on low speed.
Do not open the oven until the cheesecake is finished baking because it may crack.
Bake cheesecake at a low temperature
Sift the sweetener before mixing to remove any lumps. After sifting, it becomes a fine, smooth powder, which mixes quickly with the cream cheese batter.
Cool at room temperature before chilling in the refrigerator. It may take an hour or two to chill completely. You can also cool inside of the turned-off oven for one hour to prevent cracks.
Not a fan of the baking and cooling process? Try my no bake keto cheesecake instead.
Low Carb Cheesecake Toppings Ideas
This classic cheesecake is incredibly rich and delicious with a selection of low-carb toppings. Keep it simple or get creative – this dessert is going to impress!
Here are some of my favorite sugar-free cheesecake toppings:
Fresh berries
Raspberry sauce
Coconut Flakes
Chopped nuts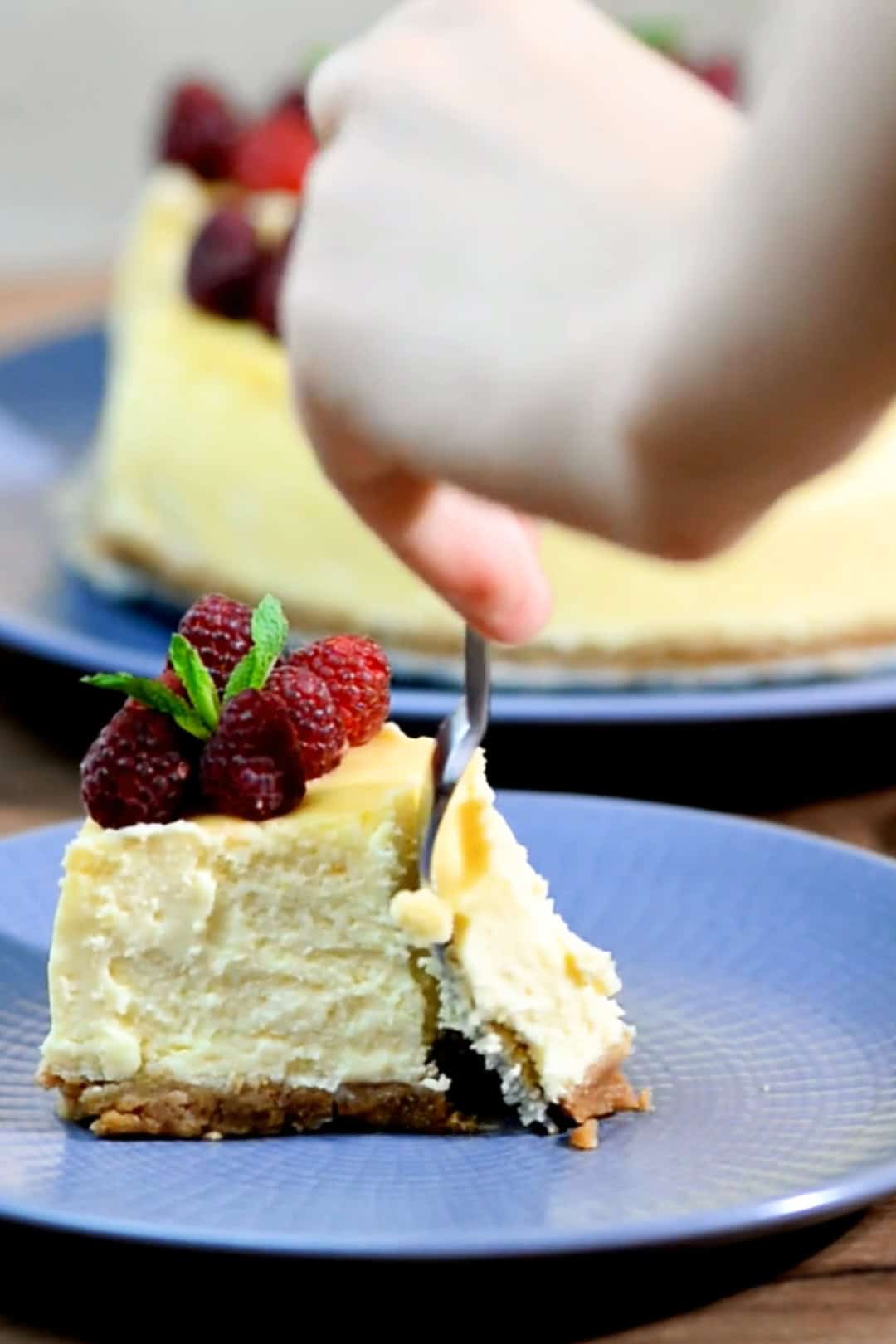 Keto Cheesecake Variations
Here are some keto cheesecake variations you can try:
Chocolate Cheesecake: Add 1/4 cup cocoa powder to the cheesecake filling and use unsweetened chocolate for the crust.
Berry Cheesecake: Top your cheesecake with a berry sauce or chia jam made with like strawberries, raspberries, or blueberries.
Pumpkin Cheesecake: Add 1/2 cup pumpkin puree and 1 teaspoon pumpkin pie spice to the cheesecake filling.
Salted Caramel Cheesecake: Drizzle sugar-free caramel sauce and sprinkle sea salt over the top of your cheesecake.
Lemon Cheesecake: Add 2 tablespoons of lemon juice and 1 teaspoon of lemon zest to the cheesecake filling.
Turtle Cheesecake: Top your cheesecake with sugar-free chocolate chips, chopped pecans, and sugar-free caramel sauce.
Matcha Cheesecake: Add 2 teaspoons of matcha powder to the cheesecake filling.
Almond Joy Cheesecake: Add 1/4 cup unsweetened shredded coconut and 1/4 cup chopped almonds to the cheesecake filling.
Remember to adjust the sweetener and flavors to your liking, and to always check the net carbs of the ingredients you use to ensure they fit within your daily limit.
How To Store Keto Cheesecake?
Always store cheesecake in the refrigerator. I usually cover the top with foil and store it for up to 5 days.
Don't let cheesecake sit at room temperature for more than 4 hours.
Can I Freeze Keto Cheesecake?
Yes, you can also freeze this cheesecake for up to one month and grab a slice from the freezer anytime you crave a delicious cheesecake. To freeze, wrap cheesecake slices in plastic wrap, then in foil. Store in the freezer for a few months.
When ready to serve, transfer to the fridge and allow to thaw overnight.
More Keto Desserts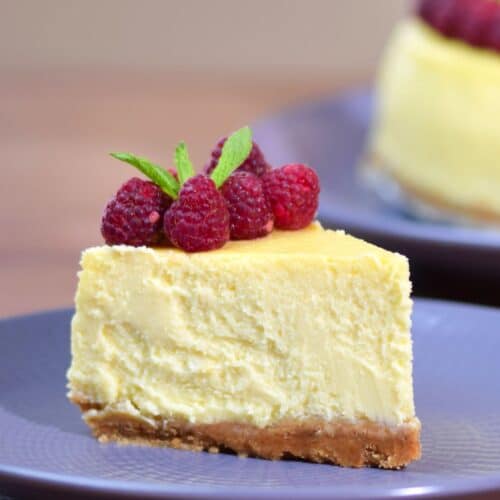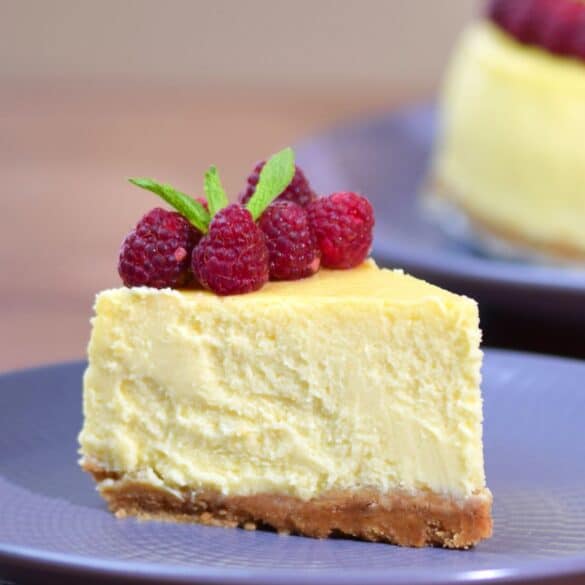 The Best Keto Cheesecake Recipe
---
Description
This keto cheesecake with almond flour crust is ultra creamy, smooth, and decadent. Learn how to make the best low carb cheesecake with just 7 ingredients and 10 minutes of prep time.
Ingredients
Almond Flour Cheesecake Crust
Instructions
Make the keto cheesecake crust
Preheat the oven to 325°F / 160°C and line a 9-inch spring form pan with parchment paper. Grease the sides and set aside.

In a large bowl, add the almond flour, powdered sweetener, melted butter, and vanilla extract. Stir using a spatula until well incorporated.

Press the crust mixture into the prepared springform pan and press firmly into the bottom and halfway up the sides. Bake for 10 minutes or until slightly golden.
Keto Cheesecake Filling
Add the softened cream cheese, and using a hand mixer, stir until smooth and creamy.

Add the powdered sweetener and mix again until smooth.

Incorporate the sour cream, vanilla extract, and a pinch of salt.

Gradually add the eggs one at a time, mixing until each egg is just incorporated. Use a spatula to scrape the sides and bottom of the bowl. Avoid overmixing to prevent the cheesecake from cracking.

Pour the keto cheesecake batter over the baked crust.

Bake in the center rack of your oven for 55-60 minutes until the center is almost set. If the cheesecake starts to brown, cover with aluminum foil halfway through baking time.

Remove from the oven and allow to cool completely. Cover and refrigerate for at least 6 hours or overnight.

Serve cheesecake with your favorite toppings. Store leftovers covered in the refrigerator for up to 5 days.
Nutrition Facts
Amount per serving.
How do we calculate the nutrition info?
These nutrition facts listed are determined using nutrition information from the USDA Food Database. Our nutrition facts are accurate, but if you are using different products, please make your calculations. Net carb count is calculated by subtracting both fiber and sugar alcohols because they don't raise blood sugar.