This Keto Fudge is wonderfully rich, creamy, and delicious. Made with 4 ingredients, enjoy a low-carb dessert that takes only 5 minutes to prepare. With only 2 grams net gram of carbohydrates per serving, this keto chocolate fudge recipe is the perfect cure for your sweet tooth.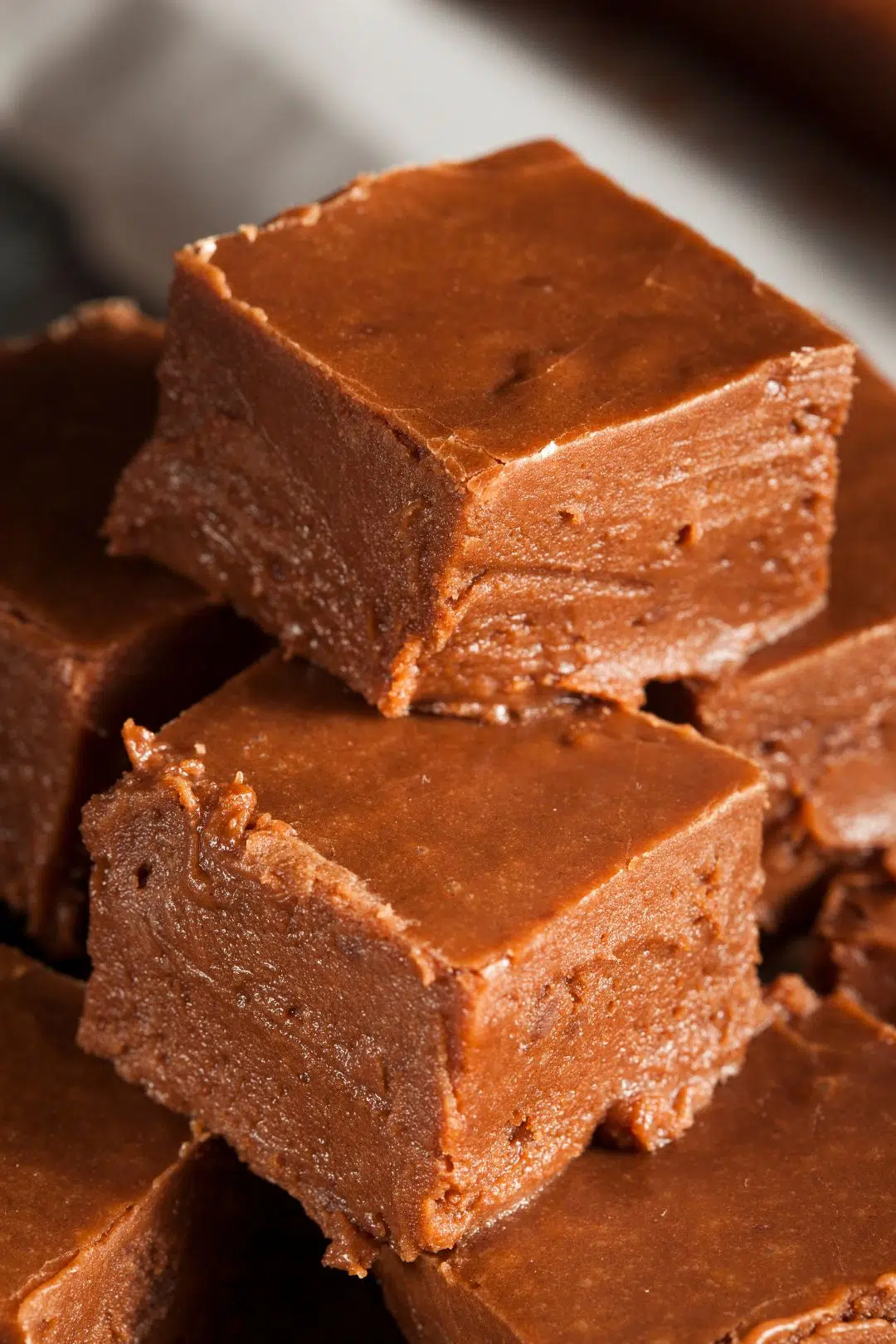 This easy keto fudge recipe requires less than 5 minutes of prep, and it's truly decadent and creamy. Four ingredients and five minutes sound too good to be true, right?
With a caramel-like texture, this chocolate fudge is often served for the holidays or as a sweet treat for any occasion. In addition, it can be prepared with children, being a fun activity for the whole family.
I'm a huge chocolate lover, and I'm always craving my keto chocolate cake, this keto coconut flour cake or a delicious mug cake, keto chocolate mousse, and this keto fudge.
So, if you crave sweets often, make sure to have a batch of these keto fudge ready in the refrigerator.
Why Are You Going To Love This East Keto Fudge Recipe
Perfect sweet tooth cure made without sugar.
Only 4 ingredients and 5 minutes of prep
Just 2g net carb per serving
Loaded with chocolate flavor minus the carbs
Is Fudge Keto-Friendly?
No, the traditional fudge recipe is not keto-friendly since it's made with milk, sugar, and condensed milk, making fudge super high in carbohydrates.
But fortunately, by making a few changes to the ingredients, you can make a delicious keto fudge that contains fewer carbs than regular and taste exactly the same.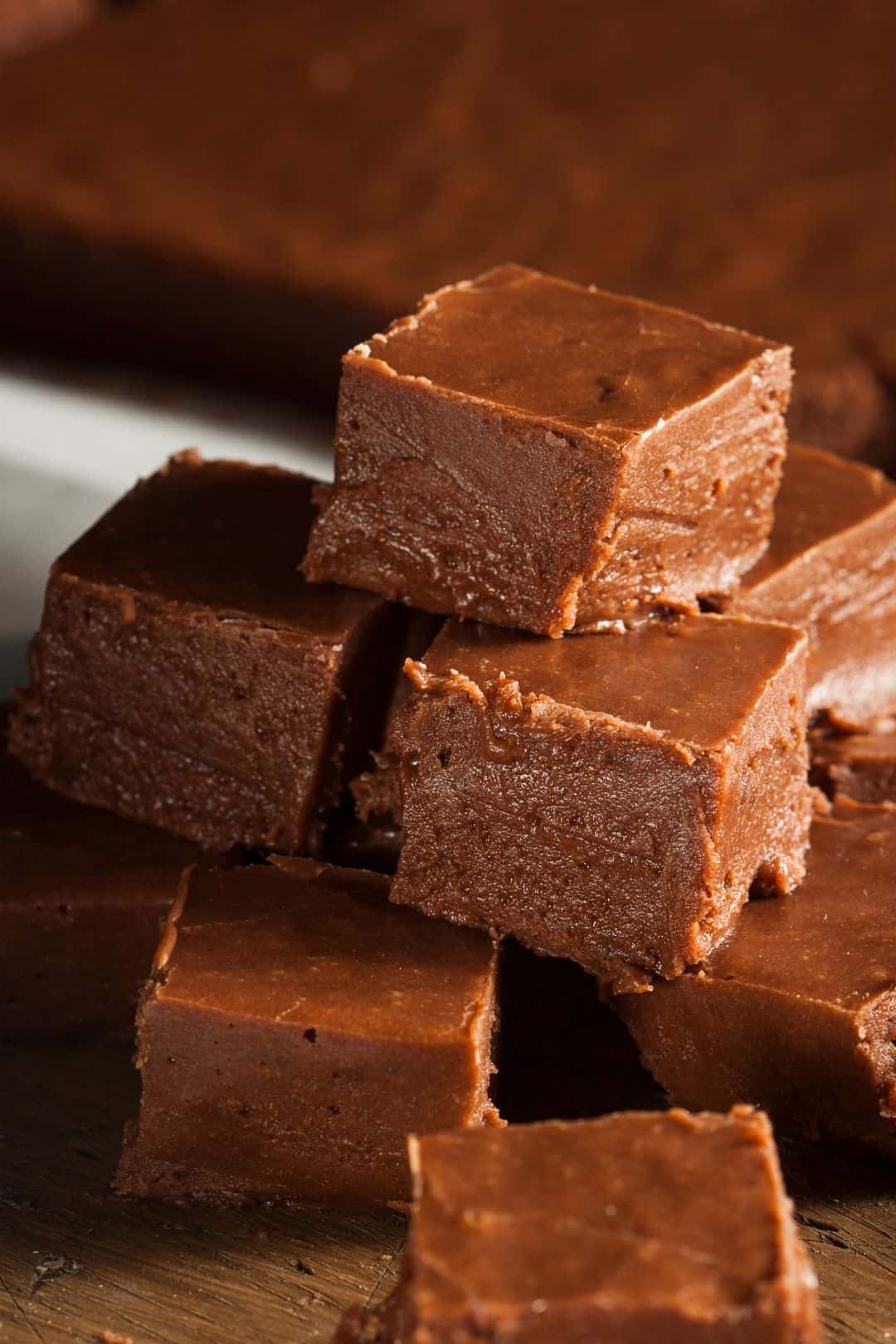 Keto Fudge Ingredients
You will need only 4 ingredients that you probably have already in your kitchen to make this easy keto fudge recipe. Here is everything you will need:
Butter – use unsalted butter at room temperature so it will melt quicker. You can also use salted butter to complement the richness of this chocolate dessert.
Sweetener – make sure to use powdered sweetener to combine well into the mixture. My favorite keto sweeteners are Monk Fruit, Erythritol, or Allulose. Stevia is not a great option here.
Dark Chocolate Chips – use unsweetened dark chocolate chips or just chop an 85% chocolate bar. Lily's chocolate chips are almost zero net carbs, and I use them super often in keto desserts.
Almond Milk
How To Make Keto Fudge?
Melt the butter and chocolate until smooth and creamy.
Once the chocolate and butter are melted, add the sweetener and milk and mix until well combined.
Pour the mixture into a small loaf pan lined with parchment paper and refrigerate it for at least one hour.
Once the keto fudge is set, cut it into squares and store it in the fridge.
Tips and Variations
Making your keto fudge at home is fun and easy, and you can customize the recipe in many ways. For example, you can use this basic keto fudge recipe for the fudge and add a handful of favorite nuts, fruits, or coconut flakes.
Mix in 1/2 cup of your favorite chopped nuts for some extra crunch.
Cut the fudge into cubes and wrap each in baking paper. Twist the ends, and you have delicious homemade candies!
Check the chocolate while it is melting in the microwave and stir from time to time to prevent burning.
Mint extract is a great addition.
Sprinkle some sea salt flakes that pair perfectly with this chocolate dessert.
Storing Ideas
Fridge: These keto fudge squares can be stored for roughly four weeks in the fridge in a sealed container.
Freezer: You can also freeze the keto fudge. Wrap the squares in plastic wrap, place them into a freezer bag, and freeze for up to two months. Once ready to eat them, thaw the fudge squares on the counter to room temperature.
Frequently Asked Questions
Should I Cover My Keto Fudge While It Sets?
Covering the keto fudge while it sets in the fridge is unnecessary, but once it is hardened and cut into squares, ensure that you wrap it in plastic foil, so the flavor and texture don't change.
Can I Make This Recipe Dairy-Free?
You can make dairy-free keto fudge by replacing the butter with coconut oil.
More Keto Chocolate Desserts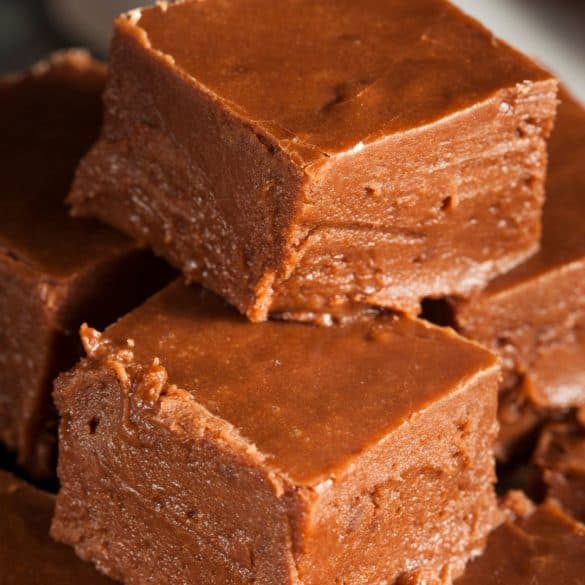 Description
This Keto Fudge is made with just 4 ingredients and is wonderfully rich, creamy, and delicious. Enjoy a low-carb dessert that takes only 5 minutes to prepare. With only one net gram of carbohydrates per serving, this keto chocolate fudge recipe is the perfect cure for your sweet tooth.
Instructions
Line a small loaf pan or square pan with plastic wrap or parchment paper. Leave some foil hanging over the sides to remove the fudge easier from the pan.

Chop the butter into small pieces and place it in a small saucepan over medium heat. Add the chocolate chips and stir until completely melted. You can also melt them in the microwave in 30-second intervals, constantly stirring until smooth.

Stir in sifted powdered sweetener and almond milk until well incorporated.

Pour the chocolate mixture into the prepared pan. Smooth the top using a rubber spatula.

Refrigerate for at least 1 hour or until the chocolate fudge is fully set.

Cut the fudge into small pieces. Serve or store the leftovers in the refrigerator for up to 4 weeks.
Nutrition Facts
Amount per serving.
How do we calculate the nutrition info?
These nutrition facts listed are determined using nutrition information from the USDA Food Database. Our nutrition facts are accurate, but if you are using different products, please make your calculations. Net carb count is calculated by subtracting both fiber and sugar alcohols because they don't raise blood sugar.