This keto chocolate cake with fluffy cake layers and a velvety chocolate cream cheese sugar-free frosting is super rich and decadent. Enjoy a coconut flour cake that has less 5g net carbs. Perfect if you're a chocolate lover on a keto diet!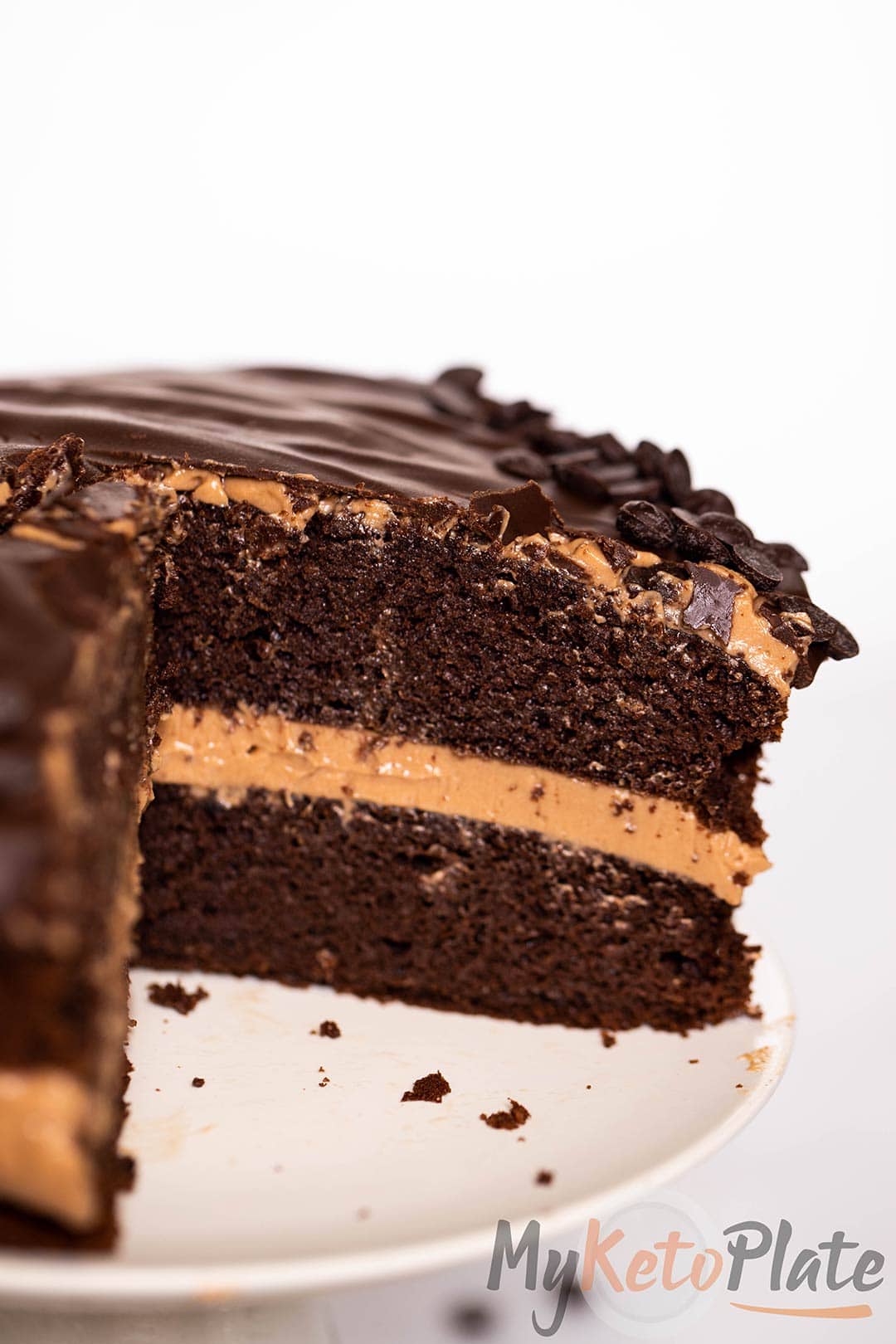 Calling out all the chocolate lovers out there!
If you love chocolate, this keto cake is incredibly chocolaty, rich, and easy to make. Perfect to curb all your sweet cravings.
I actually made this cake for my husband's birthday at the begging of this month, and to be honest, no one noticed it was keto until I told them.
Not only does it look great, but it tastes just like a regular chocolate cake! Imagine two fluffy chocolate layers made with coconut flour, generously frosted with the best sugar-free chocolate cream frosting, and finished with delicious melted chocolate.
It's a keto chocolate cake perfect both for holidays and special occasions but also for the moments when you want to treat yourself to the best sugar-free chocolate dessert.
This quick and easy keto chocolate cake has been with me over the years, and it's a family favorite. It's such a versatile recipe that can be used as a base for cupcakes or other cake recipes.
Keto Chocolate Cake
Why Is This The Best Keto Chocolate Cake
This keto cake stays moist for about 4 days.
Extra rich and tender
Loaded with chocolate flavor
Only 5g net carbs per slice
Easy to make in less than 30 minutes
Keto Chocolate Cake Ingredients
The ingredients in this keto chocolate cake are simple and easy to find. I'm sure you already have most of them in your pantry. Make sure to follow the recipe as written, as each ingredient is important.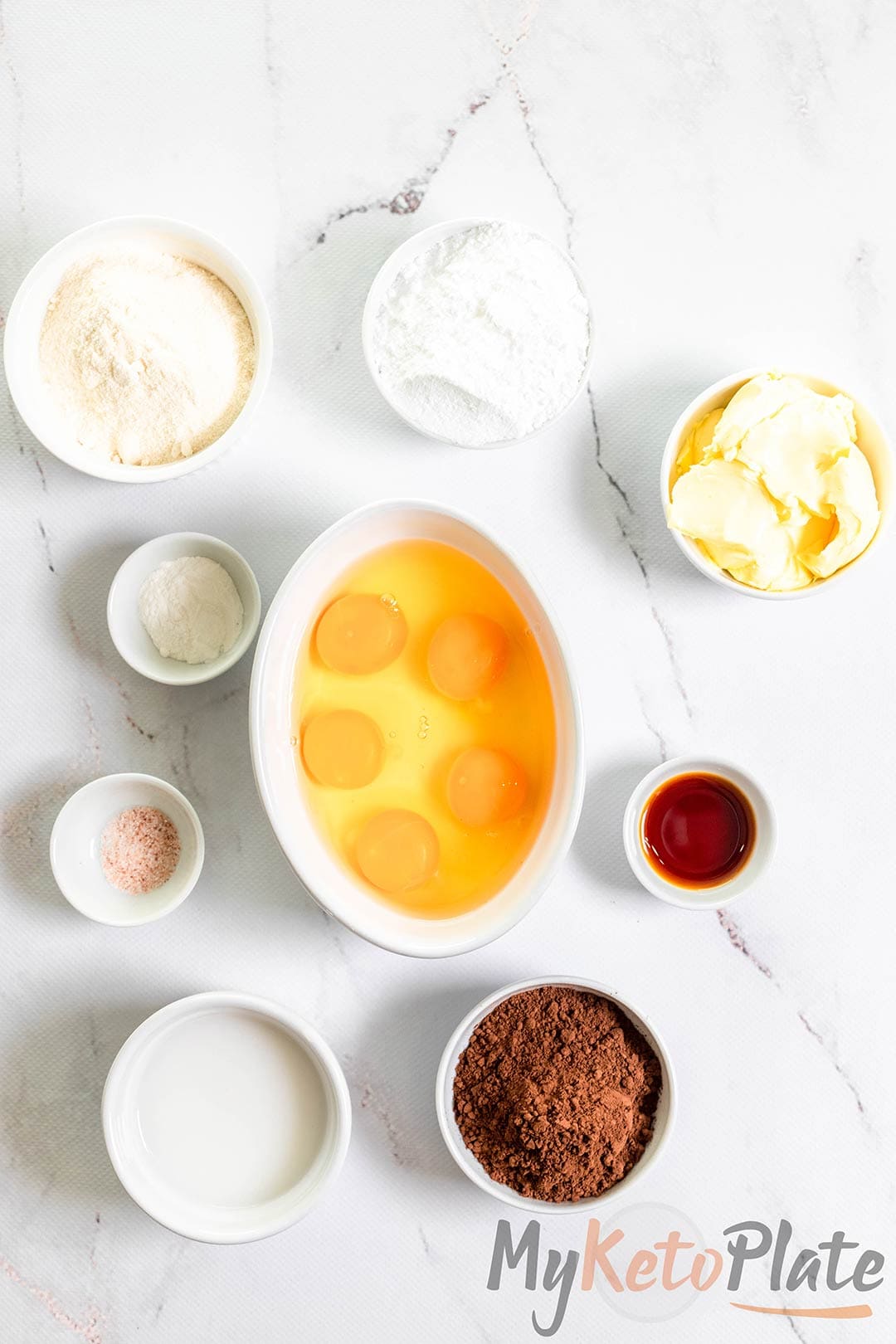 Eggs– They give the cake a luscious, fudgy texture. For a smooth batter, make sure your eggs are at room temperature. You can place the eggs in warm water for about 10 minutes before making this recipe.
Coconut Flour– Coconut flour is used to give the cake structure. Don't substitute with almond flour, as the texture won't be the same.
Cocoa Powder– I recommend using unsweetened cocoa powder of better quality.
Sweetener– I used powdered erythritol blend, but you could also use Monk Fruit Sweetener or Allulose. Because they have no aftertaste and taste like sugar, they are my go-to keto sweeteners.
Butter– gives your cake a lovely buttery and rich flavor.
Baking Powder– This ingredient will help the cake to rise properly.
Vanilla Extract– It gives the cake just the right amount of taste. Make sure that you use the best quality you can find.
Unsweetened Almond Milk– It's ideal for dairy-free baking and adds moisture.
Salt– It gives the cake taste and helps to balance out the sweetness and bring out all the flavors.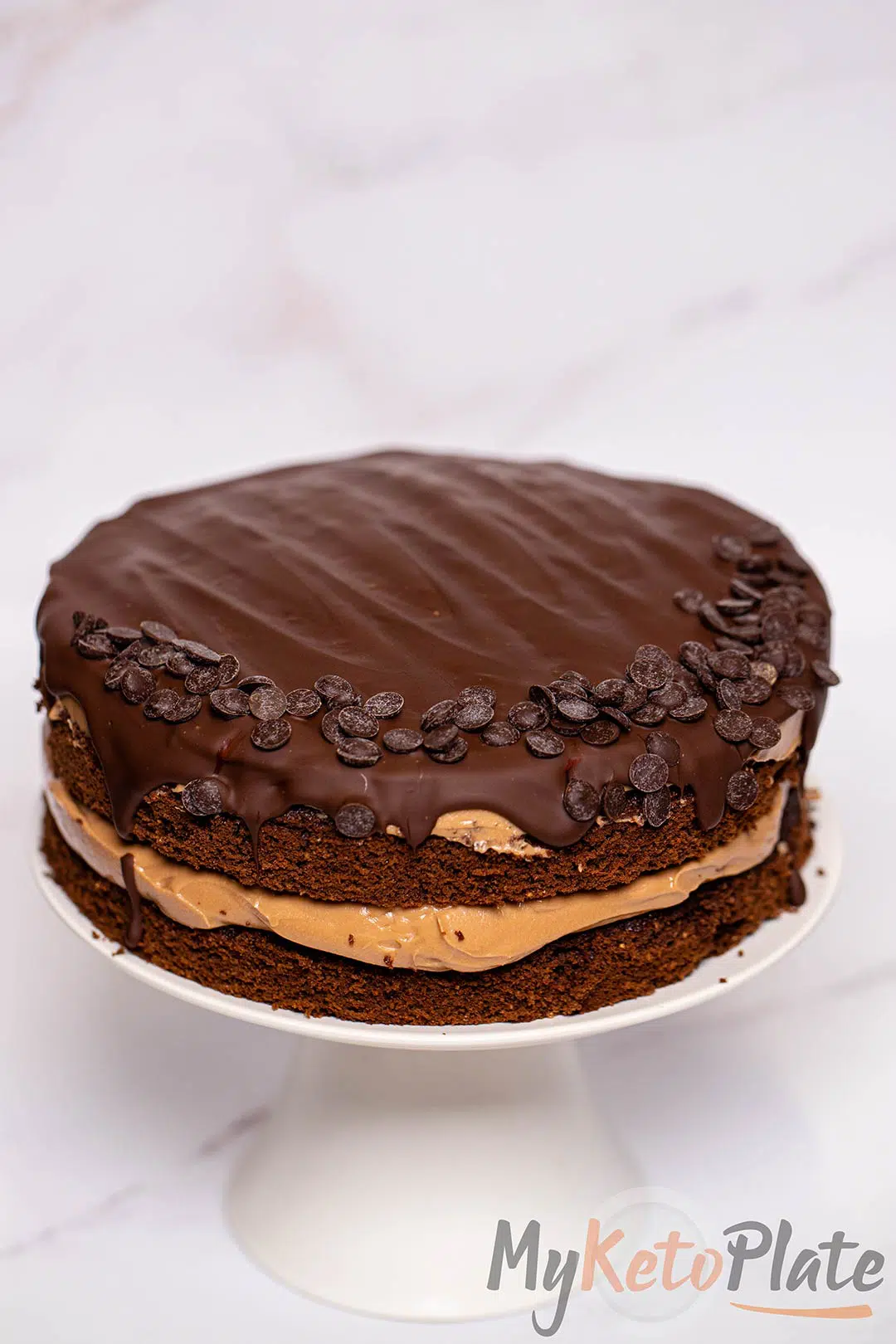 How To Make Keto Chocolate Cake
I've never seen a keto cake recipe that's so easy to make. To make sure your batter consistency is right, watch my quick step-by-step video showing you exactly how to make the best keto cake.
Make the coconut flour chocolate cake. Sift all the dry ingredients into a bowl to remove any clumps. This step is not essential but helps a lot with the final texture and makes the cake super fluffy.
Beat the wet ingredients with an electric mixer until the egg mixture looks frothy.
Combine the wet and dry ingredients and mix until a smooth batter forms.
Divide the batter between two 8 inch cake pans lined with parchment paper. Bake in the preheated oven until the top looks firm.
Remove the cakes from the oven and allow them to cool completely.
Frost the cake with my keto chocolate frosting.
Decorate and enjoy!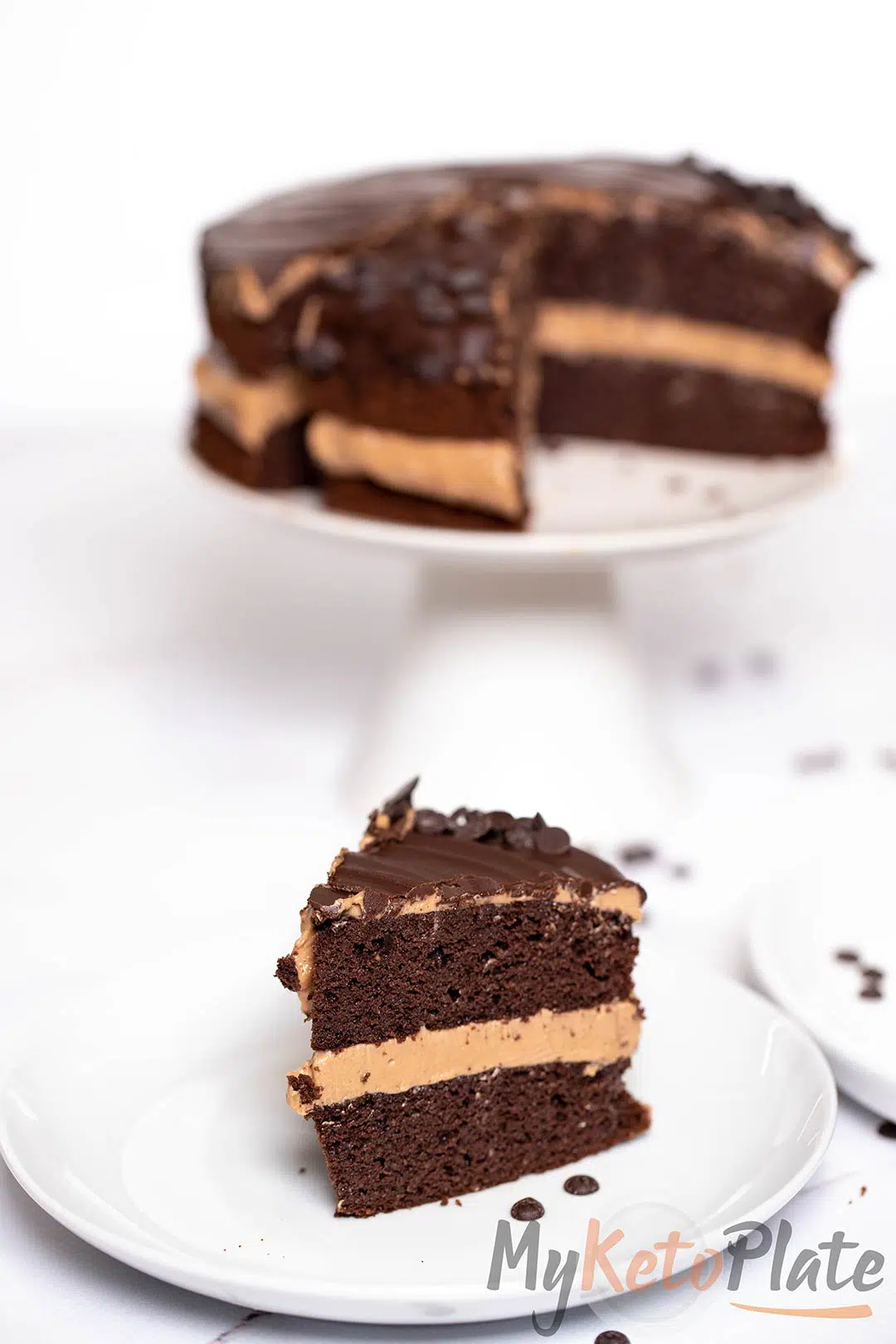 Tips For Making The Best Keto Chocolate Cake
Make sure the cakes are completely cooled. Otherwise, the cream cheese frosting will melt in contact with the heat.
To make removing the cakes from the pans easier, spray them with nonstick cooking spray and line them with parchment paper.
Please ensure that your cakes are not overbaked. Once a toothpick inserted into the center comes out mostly clean, you can safely take them out of the oven.
Add some espresso powder to the batter to enhance the chocolate flavor.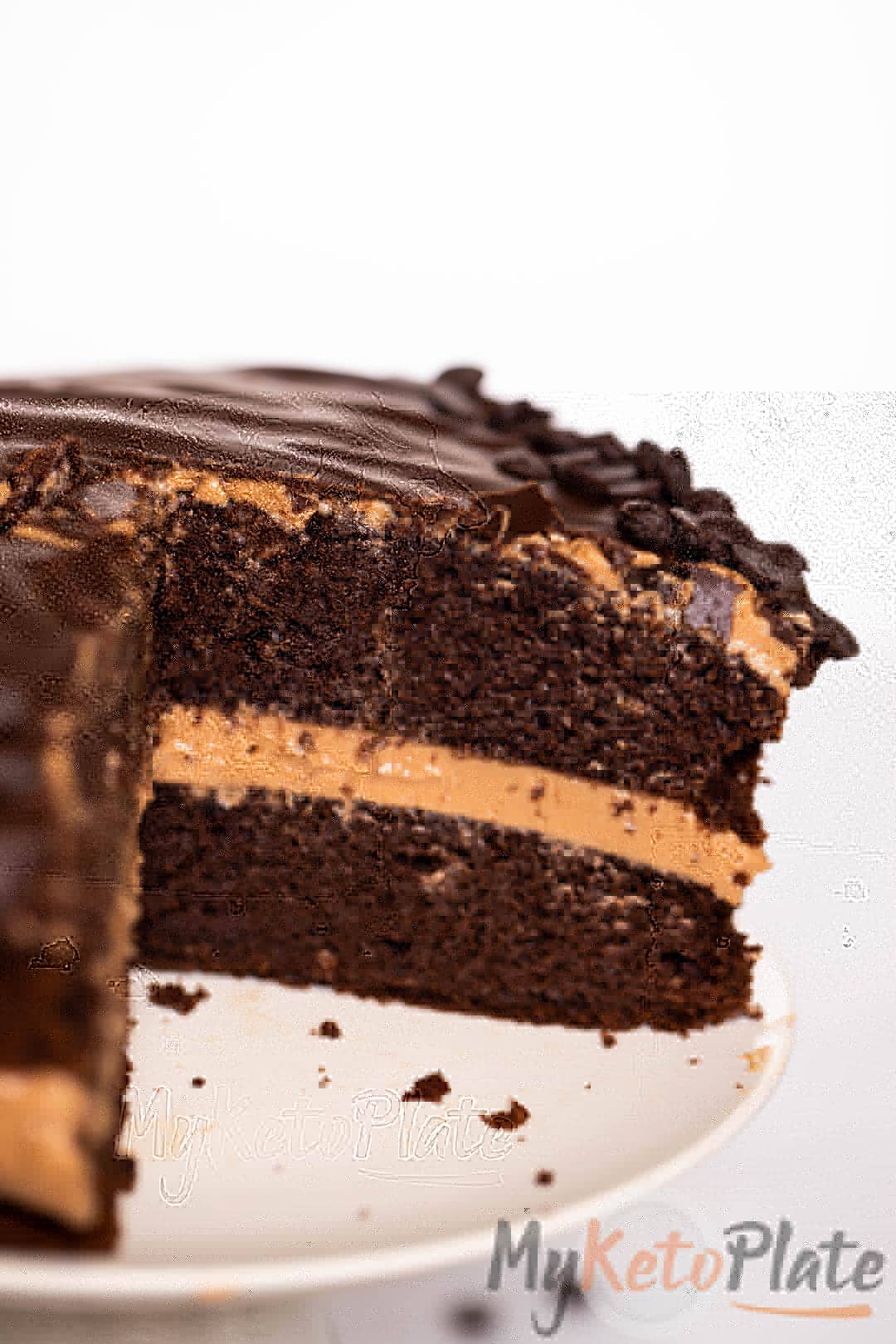 Is It Possible To Turn Into Keto Cupcakes?
Sure, actually, this is a great idea. First, follow the cake directions to make the batter, then proceed as follows:
Fill a cupcake pan with 12 cupcake liners.
Fill the cupcake liners 3/4 full with the batter and bake for 15-20 minutes at 375F.
Then top them with the frosting once they've cooled completely.
Variations
Add a cup of hot coffee to the batter to enhance the chocolate flavor and create a silky texture!
You can use fresh berries or chopped nuts to garnish your low carb chocolate cake.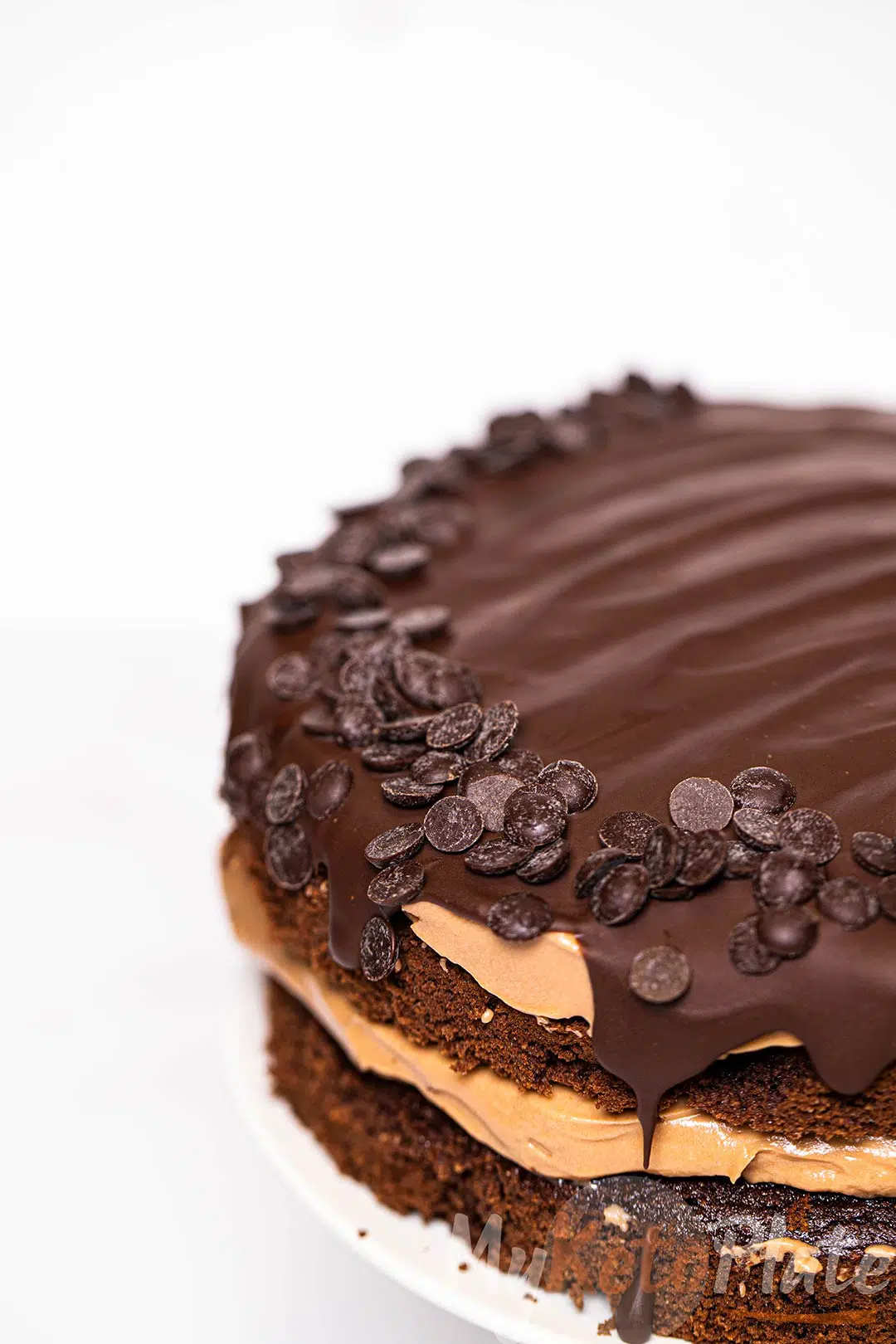 How To Store This Delicious Keto Chocolate Cake
Fridge: Store the cake in the fridge in an airtight container for up to 5 days.
Freezer: The cake layers and frosting will keep for up to 3 months in the freezer. When ready to enjoy, thaw the cake layers and frosting overnight in the refrigerator. Bring the frosting to room temperature, and mix well. The frosted cake can also be frozen for three months, then thawed overnight in the fridge.
More Keto Desserts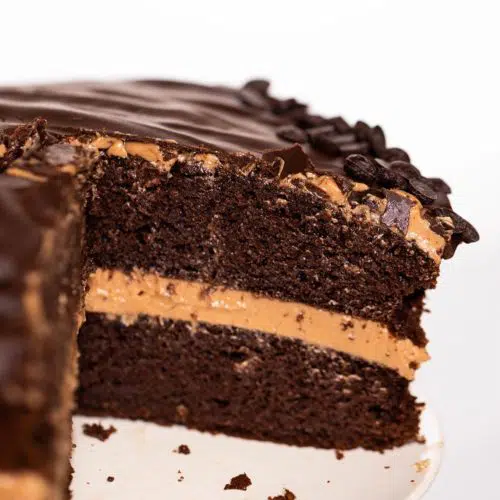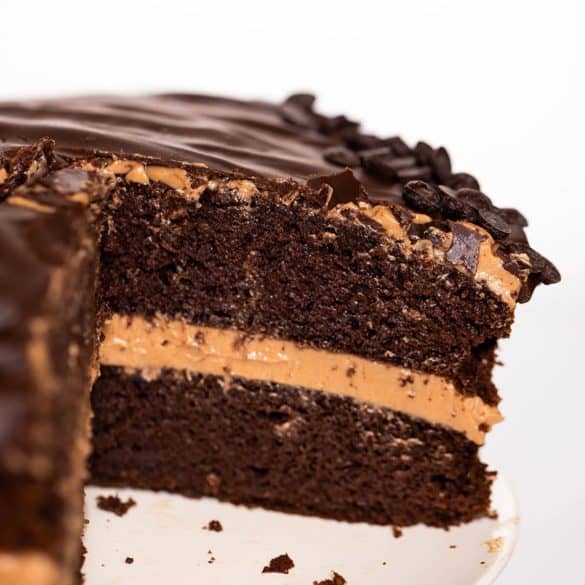 Description
This keto chocolate cake with fluffy cake layers and a velvety chocolate cream cheese sugar-free frosting is super rich and decadent. Enjoy a coconut flour cake that has less 5g net carbs. Perfect if you're a chocolate lover on a keto diet!
Ingredients
Drip Glaze
3

tbsp

heavy whipping cream
Instructions
Preheat the oven to 350°F/180°C. Grease two 8-inch round cake pans and line with parchment paper.

Make the keto chocolate cake: Combine the melted butter, almond milk, eggs, and vanilla extract in a large bowl. Mix for 2 minutes until frothy.

In a large bowl, add the coconut flour, sweetener, cocoa powder, baking powder, and a pinch of salt. Stir well to break any lumps.

Combine the dry and wet ingredients. Mix until the batter is smooth(as shown in the video). Allow the batter to sit for 5 minutes. If the batter looks too thick, add a few almond milk tablespoons until it thins out.

Pour the batter between the prepared cake pans. Bake for 20-22 minutes in the preheated oven until firm to touch. Remove from the oven and allow to cool completely.

Assemble the keto chocolate cake: Place one cake layer on your serving plate, and cover with half of the chocolate frosting. Top with the second layer and evenly spread the rest of the frosting.

Chocolate Drip Glaze: Melt together the sugar-free chocolate chips and heavy cream. Whisk until smooth. Cool completely, then pour the glaze over the cake.

Refrigerate the cake for at least 2 hours before slicing.

Tightly cover the cake and store it in the refrigerator for up to 5 days.
Nutrition Facts
Amount per serving.
How do we calculate the nutrition info?
These nutrition facts listed are determined using nutrition information from the USDA Food Database. Our nutrition facts are accurate, but if you are using different products, please make your calculations. Net carb count is calculated by subtracting both fiber and sugar alcohols because they don't raise blood sugar.