This keto chocolate mousse is ultra creamy, fluffy, and extra chocolaty. Learn how to make the best low carb chocolate mousse that's sugar-free, thick, and ready in just 5 minutes.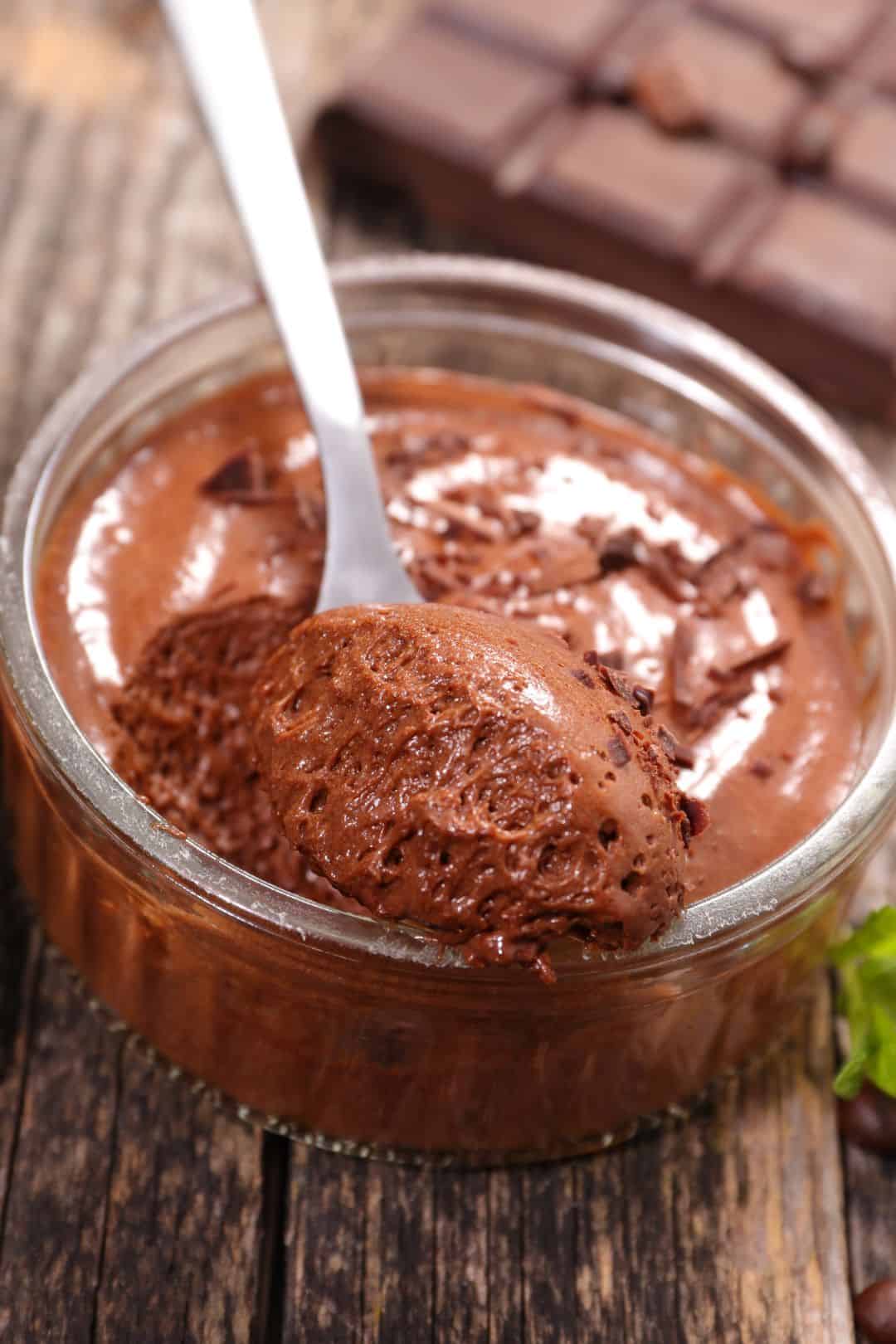 This keto chocolate mousse is so delicious that no one will suspect it's actually sugar-free and keto-friendly. It's made with real dark chocolate, heavy cream, and keto sweeteners to create a rich and indulgent dessert.
This is the perfect keto dessert for chocolate lovers, just like my chocolate truffles, chocolate cake, or brownies recipe.
Not to mention that a serving of this low carb chocolate mousse has less than 3g net carbs, and each bite is super rich.
Why Is This The Best Keto Chocolate Mousse Recipe
Ready in just 5 minutes with a few easy ingredients
Uses real chocolate and cocoa powder, which makes it super chocolaty
No eggs or gelatin are required to make chocolate mousse
The best make-ahead dessert for parties or guests
Naturally sugar-free, grain-free, and gluten-free
Just 3g net carbs per serving
A no-bake keto dessert that's perfect for any occasion
Is Chocolate Mousse Keto?
Regular chocolate mousse may be keto-friendly, depending on the ingredients used. The traditional recipe is slightly more complicated than my version, and it requires whipping egg whites, then tempering them, and incorporating them into the chocolate mixture.
A serving of chocolate mousse has over 30 grams of net carbs, which is too high and may kick you out of ketosis.
However, it is possible to make a keto friendly chocolate mousse by substituting the sugar with a low-carbohydrate sweetener and using high-fat ingredients such as heavy cream and unsweetened chocolate.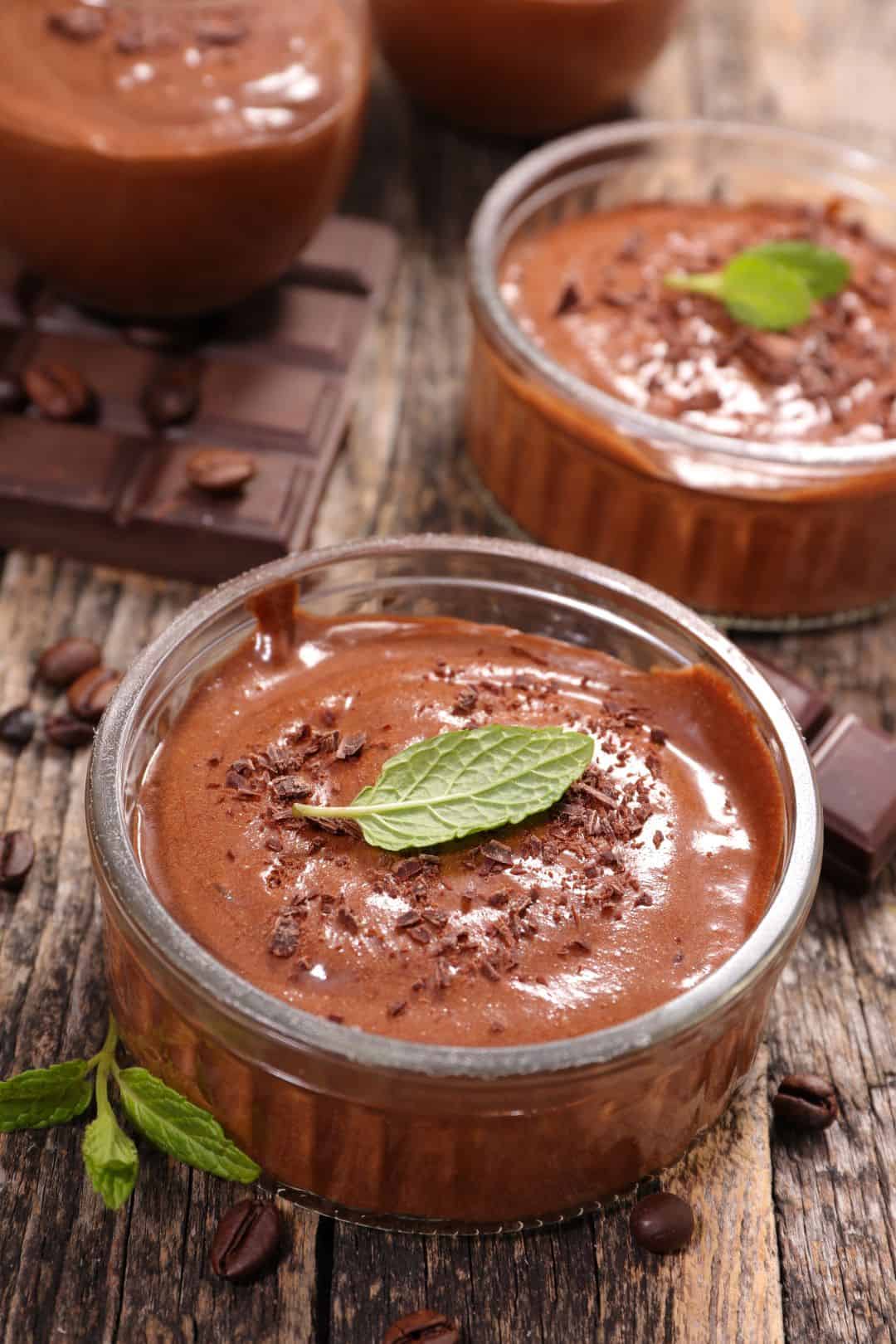 Keto Chocolate Mousse Ingredients
Cream cheese – make sure to take the cream cheese out from the fridge for at least 30 minutes before using it to make sure it's softened. Replace with mascarpone cheese for a more buttery texture and flavor.
Dark chocolate – I used 90% Lindt dark chocolate and chopped it into small pieces to melt easier. You can use Lily's chocolate chips or semi-sweet chocolate. Choose high-quality chocolate because the taste of the mousse depends on the chocolate flavor.
Heavy cream – Use high-fat heavy cream with more than 30% fat content because it whips up quicker.
Sweetener – I recommend using a keto powdered sweetener for this quick keto chocolate mousse as it incorporates easier with the other ingredients. Erythritol or monk fruit sweetener is perfect for this recipe.
Cocoa powder – use unsweetened cocoa powder.
How To Make Keto Chocolate Mousse
If you're looking to make a delicious dessert without having to spend too much time or effort, then homemade chocolate mousse is the way to go! The great news is that it doesn't require any fancy kitchen gadgets or equipment, making it even easier to whip up.
Melt the Chocolate
To start making this keto chocolate mousse, you must melt your chocolate. While there are different methods to do this, using a microwave is a quick and easy option. After 30 seconds, carefully remove the bowl from the microwave and stir the chocolate. If the chocolate is not completely smooth, microwave it for another 10-15 seconds and stir again. Repeat until the chocolate is completely melted and smooth, being careful not to burn it.
Whipping The Heavy Cream
Begin by whipping the heavy cream using a hand mixer. Start on low speed and gradually increase it to high until soft peaks start to form. This will take about 2-3 minutes. Be careful not to over-whip the cream, as it can quickly turn into butter.
In a separate bowl, combine the softened cream cheese, melted dark chocolate, sweetener, and cocoa powder using an electric mixer. Mix the ingredients on low speed at first, then increase the speed to medium-high until everything is well combined and the mixture is smooth.
Once the chocolate mixture is smooth, it's time to incorporate the whipped cream. Using a spatula, gently fold the whipped cream into the chocolate mixture. It's important to be gentle to avoid deflating the whipped cream and to achieve a light and fluffy texture.
Continue folding until the mixture is fully combined and has a consistent texture.
Chilling The Mousse
Spoon the mixture into individual serving dishes and refrigerate for at least an hour before serving. This allows the mousse to set and become even more delicious. And the best part? You can easily customize the recipe to your liking by adding your favorite keto-friendly toppings, such as chopped nuts or fresh berries.
Tips For Making The Best Keto Mousse
Do not overbeat the heavy cream; otherwise, it may curdle and turn into butter.
Make sure to incorporate the whipped cream slowly to keep as much air as possible.
To prevent the chocolate from burning in the microwave, you can use a double boiler to melt the chocolate.
Add a teaspoon of instant coffee to the mixture to intensify the chocolate flavor.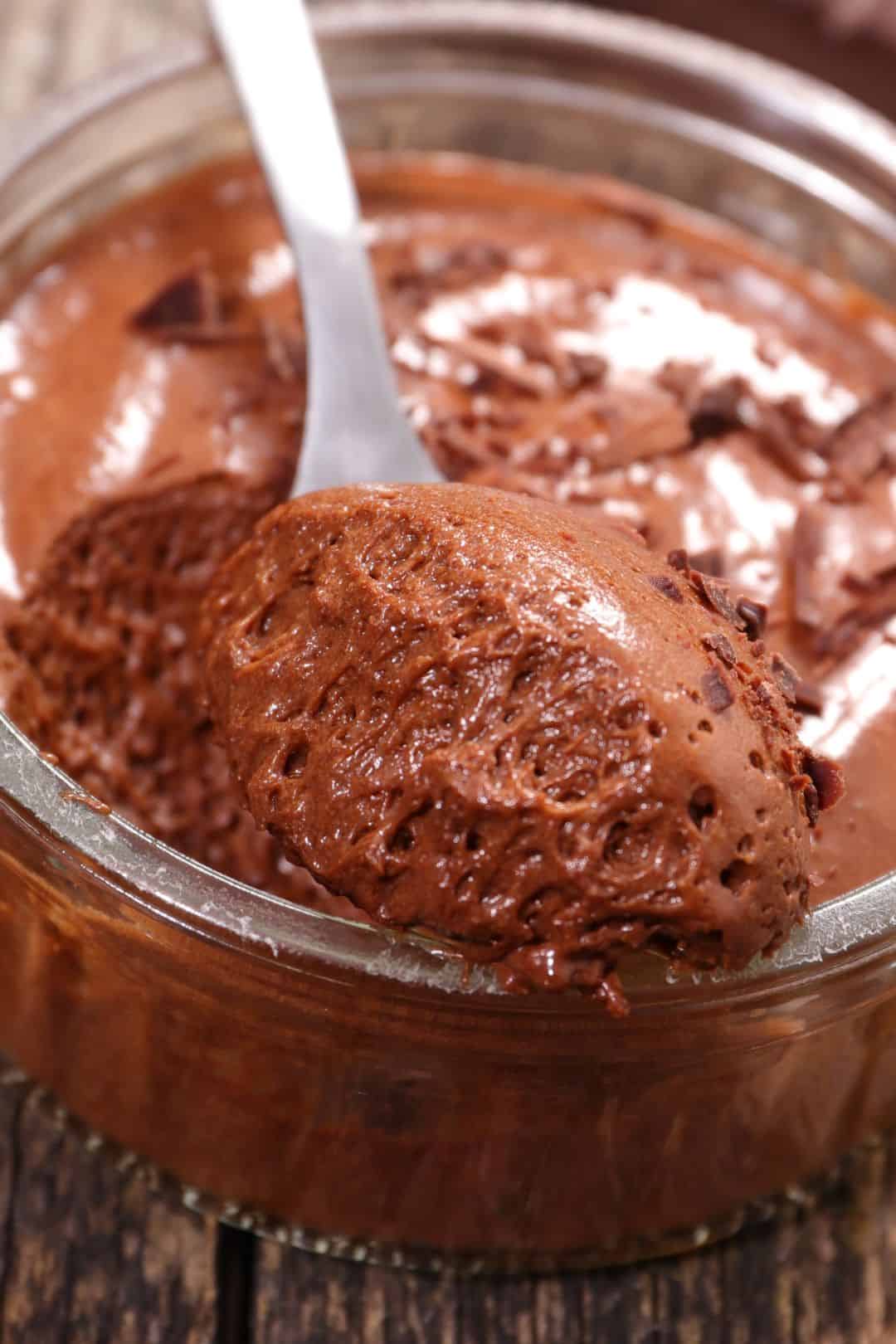 Flavor Variations
Raspberry: Add some fresh raspberries to your mousse and blend them in with the other ingredients for a fruity twist.
Mint: Add a few drops of mint extract to give it a refreshing and cool flavor.
Peanut Butter: Add some natural peanut butter for a nutty and creamy flavor.
Salted Caramel: Mix in some sugar-free caramel syrup or sauce and sprinkle a pinch of sea salt on top.
Orange: Add a bit of orange extract for a citrusy flavor that pairs perfectly with chocolate.
Hazelnut: Mix in some sugar-free hazelnut syrup or keto Nutella for a rich and nutty flavor.
Coconut: Serve with whipped coconut cream or top with shredded coconut for a tropical twist.
How To Store
It's best to serve eggless chocolate mousse chilled for a few hours.
Fridge: Store leftover mousse refrigerated for 4-5 days. Cover each serving glass with plastic wrap to keep the mouse fresh.
Freezer: The texture changes drastically when defrosting because it contains dairy. But this recipe for quick keto chocolate mousse is quick to make the day before.
Toppings For Chocolate Mousse
These are some of my favorite toppings for this low carb chocolate mousse:
A dollop of keto whipped cream
Chocolate Shavings
Almonds Flakes
Fresh berries: strawberries, raspberries, blueberries, or blackberries.
Shredded Coconut
Fresh mint
Sugar-free sprinkles
More Keto Chocolate Desserts Recipes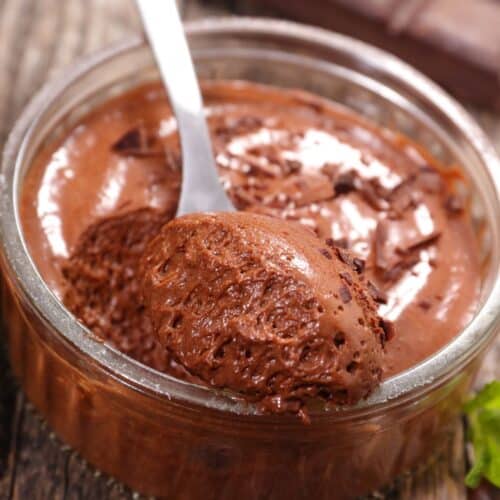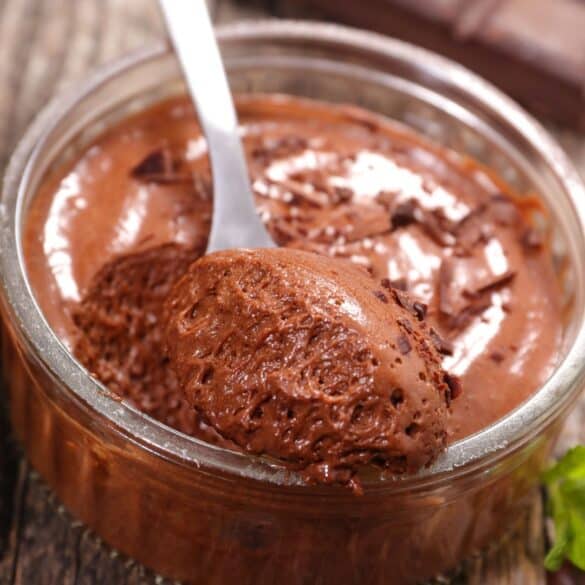 Description
This keto chocolate mousse is ultra creamy, fluffy, and extra chocolaty. Learn how to make the best low carb chocolate mousse that's sugar-free, thick, and ready in just 5 minutes.
Instructions
In a large mixing bowl, add the cream cheese, melted dark chocolate, sweetener, and cocoa powder. Mix using an electric mixer until well incorporated. Set aside.

In a different bowl, beat the heavy cream until soft peaks form, about 4-5 minutes.

Gently incorporate the whipped cream into the chocolate mixture using a rubber spatula.

Transfer the mousse to serving glasses and refrigerate for at least 2 hours before serving.

Serve with a dollop of sugar-free whipped cream, mint leaves, and chocolate shavings.
Nutrition Facts
Amount per serving.
How do we calculate the nutrition info?
These nutrition facts listed are determined using nutrition information from the USDA Food Database. Our nutrition facts are accurate, but if you are using different products, please make your calculations. Net carb count is calculated by subtracting both fiber and sugar alcohols because they don't raise blood sugar.