Learn how to make these keto peanut butter cups with just 5 simple ingredients – dark chocolate, peanut, butter, sweetener, coconut oil, and a pinch of salt.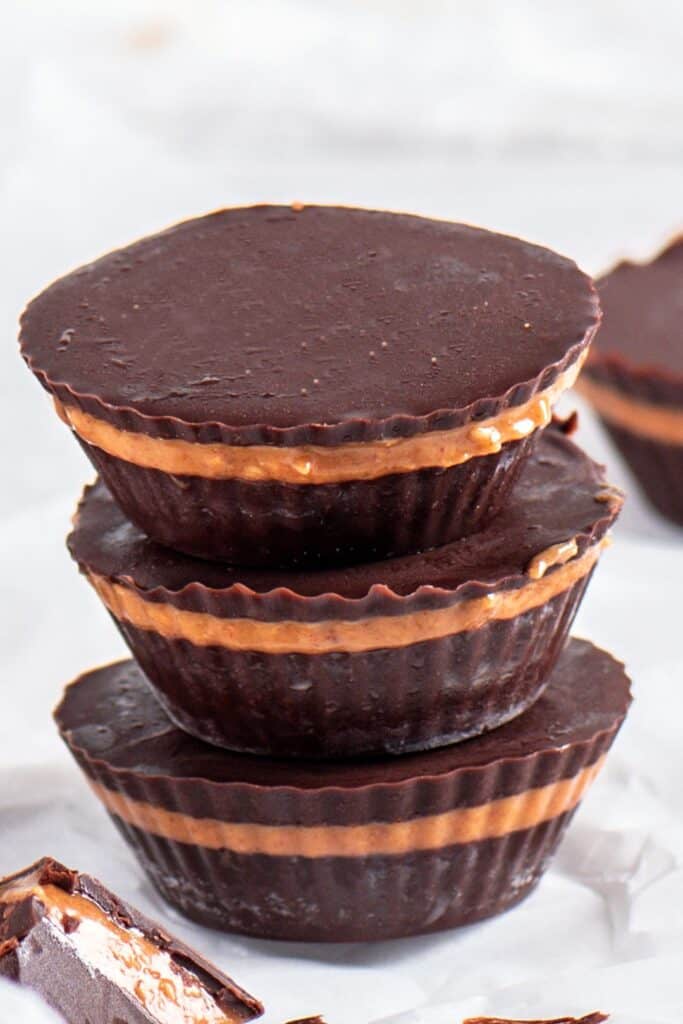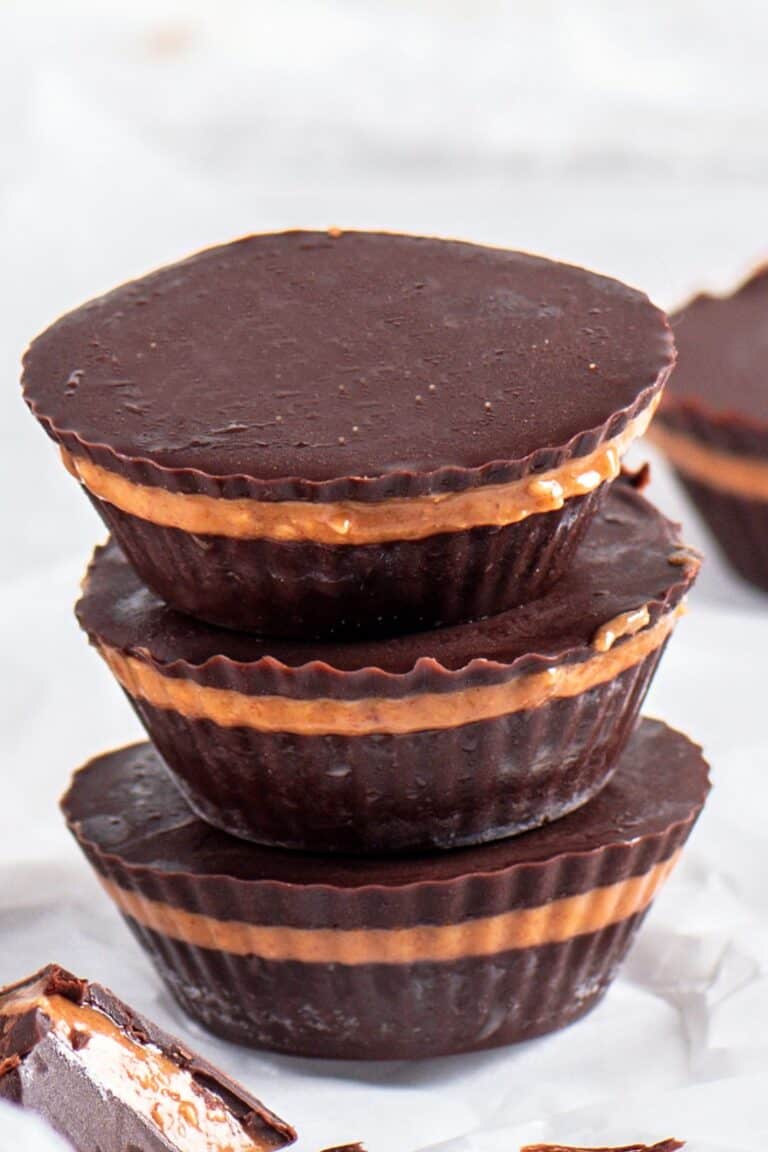 These keto peanut butter cups are the perfect sweet treat for anyone since they are packed with healthy fats and taste incredibly delicious.
I love these delicious keto peanut butter cups because you can make them the night before, store them in the fridge overnight, and enjoy a sweet and creamy treat in the morning or as a snack for the next few days.
I love the combo of peanut butter and chocolate, and I love to make recipes that include these two ingredients. So, if you are a fan of this combo, you must try my keto peanut butter brownies, peanut butter bars, keto peanut butter chocolate chip cookies, and peanut butter smoothie.
What Are Peanut Butter Cups?
Peanut Butter Cups are a famous candy that can be found in stores with Reese's name. They consist of a chocolate cup filled with peanut butter that tastes incredibly delicious.
Are Peanut Butter Cups Keto-Friendly?
If we are talking about store-bought peanut butter cups that are made with sugar and contain a high amount of carbs, we all should know that they are not good for a keto diet.
But you don't have to worry because, with this easy recipe, you can still enjoy sugar-free keto peanut butter cups that are as delicious as the regular ones but with fewer carbs.
Why Are You Going To Love This Low Carb Peanut Butter Cups Recipe
They are super easy to make.
You can make them ahead of time.
Taste just like Reese's Peanut Butter Cups
Contain only 3g net carbs per serving.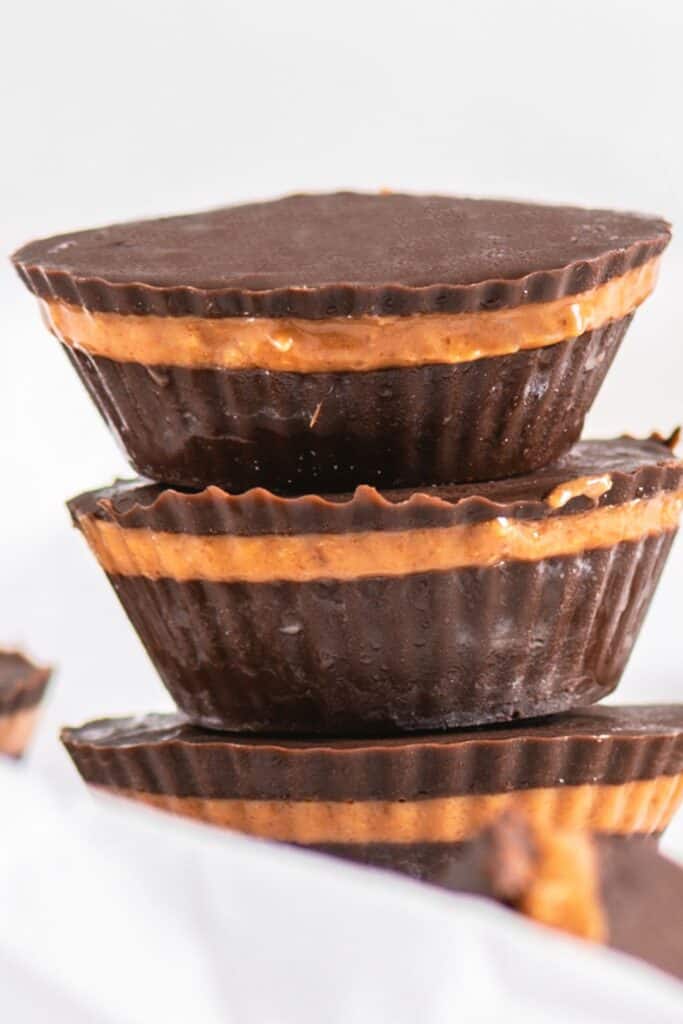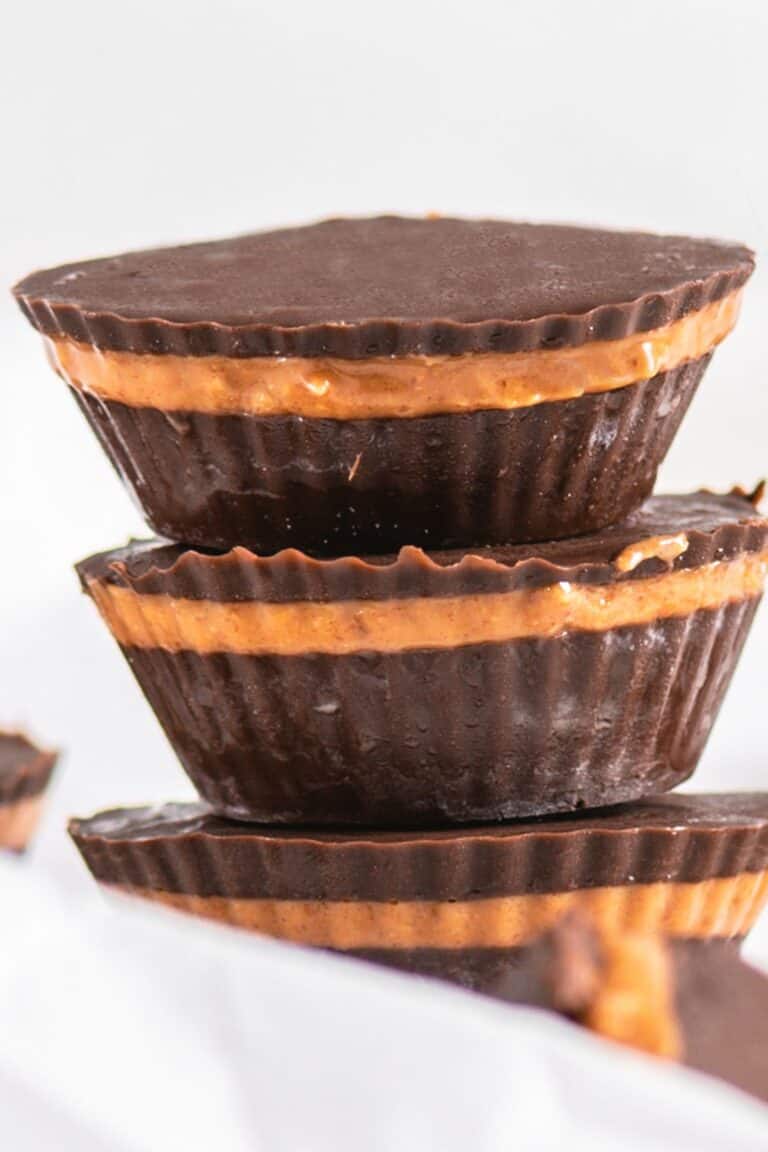 Ingredients For Keto Peanut Butter Cups
You will need only a few easy ingredients that you probably have already in your kitchen to make this delicious low carb peanut butter cup recipe. Here is a list with everything you will need:
For The Chocolate Layer
Dark Chocolate – use unsweetened dark chocolate of the best quality you can find for a great result.
Coconut Oil – increases the fat content, giving that shine to the chocolate.
Vanilla Extract – always use the best quality vanilla extract that you can find for a great flavor.
For The Peanut Butter Layer
Peanut Butter – use room peanut butter to ensure good mixing.
Coconut Oil – helps the peanut butter layer become extra creamy and rich.
Sweetener – feel free to use any powdered sweetener that you like.
Vanilla Extract
Salt -to enhance all the flavors.
How To Make These Keto Peanut Butter Cups
These keto peanut butter cups are so easy to make that I prepare them in advance to ensure that I always have a sweet treat to enjoy when I have a sweet craving. So here is everything you have to do to enjoy them:
Prepare a muffin pan and line it with parchment paper liners.
Make the bottom chocolate layer. Fill each muffin cup with 2 tsp of the chocolate mixture. Transfer the pan to the freezer and freeze until firm.
Meanwhile, make the peanut butter layer. Mix the peanut butter with the melted coconut oil, sweetener, and vanilla extract.
Remove the pan from the freezer and add a tsp of peanut butter mixture over the chocolate in the middle of each cup. Freeze again.
Once the peanut butter is firm, pour the remaining chocolate and return it to the freezer until firm.
When they are ready, you can store them in the fridge.
Storing Ideas
Fridge: These keto peanut butter cups can be stored in the fridge in an airtight container for up to 2 weeks.
Freezer: You can also freeze these peanut butter cups in the freezer in a freezer-safe bag or an airtight container for up to 2 months.
Make sure you remove them from the freezer for 5-10 minutes before enjoying them.
Frequently Asked Questions
What Type Of Peanut Butter Should I Use?
When it comes to peanut butter, you can choose to use a creamy one for a fine and creamy texture, or you can also use a crunchy one if you want your fat bombs to have a crispy texture.
Is Peanut Butter Keto-Friendly?
Peanut butter is a great keto-friendly ingredient that can be used in many interesting keto recipes. However, if you are a fan of peanut butter, you need to know that it is better to check the label before buying it to ensure that it doesn't have any added sugar or additives that increase the number of net carbs.
More Keto Peanut Butter Desserts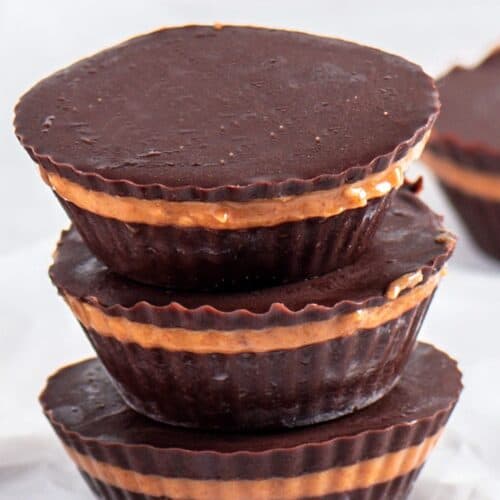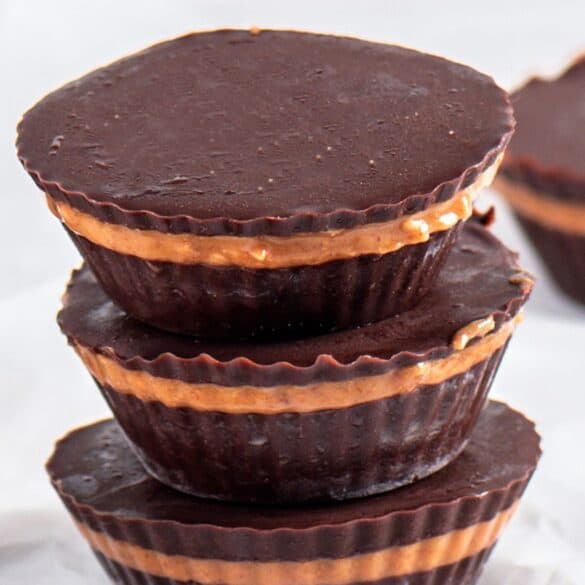 Description
Made with only 6 ingredients, these keto peanut butter cups are a sugar-free and keto sweet treat that requires only 20 minutes of your time to prepare them. Then all you have to do is to wait a couple of minutes to chill in the fridge and enjoy them. It sounds great, right?
Instructions
Line a mini cupcake tin with parchment paper liners.

Add chopped dar chocolate (or sugar-free chocoalte chips) and coconut oil to a microwve safe bowl. Melt until the mixture is pourable. Stir the vanilla extarcy.

Pour about 1/2 tbsp of melted chocolate into the bottom of each cupcake liner. Freeze for 5-10 minutes or until it starts to harden.

Meanwhile, make the peanut butter layer. Mix the creamy peanut butter, powdered sweetener, salt, and vanilla extract. If the mixture looks too thick stir in a tablespoon of melted coconut oil.

Spoon a teaspoon of peanut butter mixture onto the center of each cup over the chocolate layer. Freeze for another 10 minutes until slightly firm.

Pour the remaining chocolate into the cups over the peanut butter layer.

Return to the freezer for at least 20-30 minutes until completely firm. Enjoy at room temperature.
Nutrition Facts
Amount per serving.
How do we calculate the nutrition info?
These nutrition facts listed are determined using nutrition information from the USDA Food Database. Our nutrition facts are accurate, but if you are using different products, please make your calculations. Net carb count is calculated by subtracting both fiber and sugar alcohols because they don't raise blood sugar.