This sugar-free keto whipped cream is easy to make with 3 simple ingredients, creamy, perfect for decorating keto cakes, pies, and cupcakes, or use it as a topping for your hot chocolate.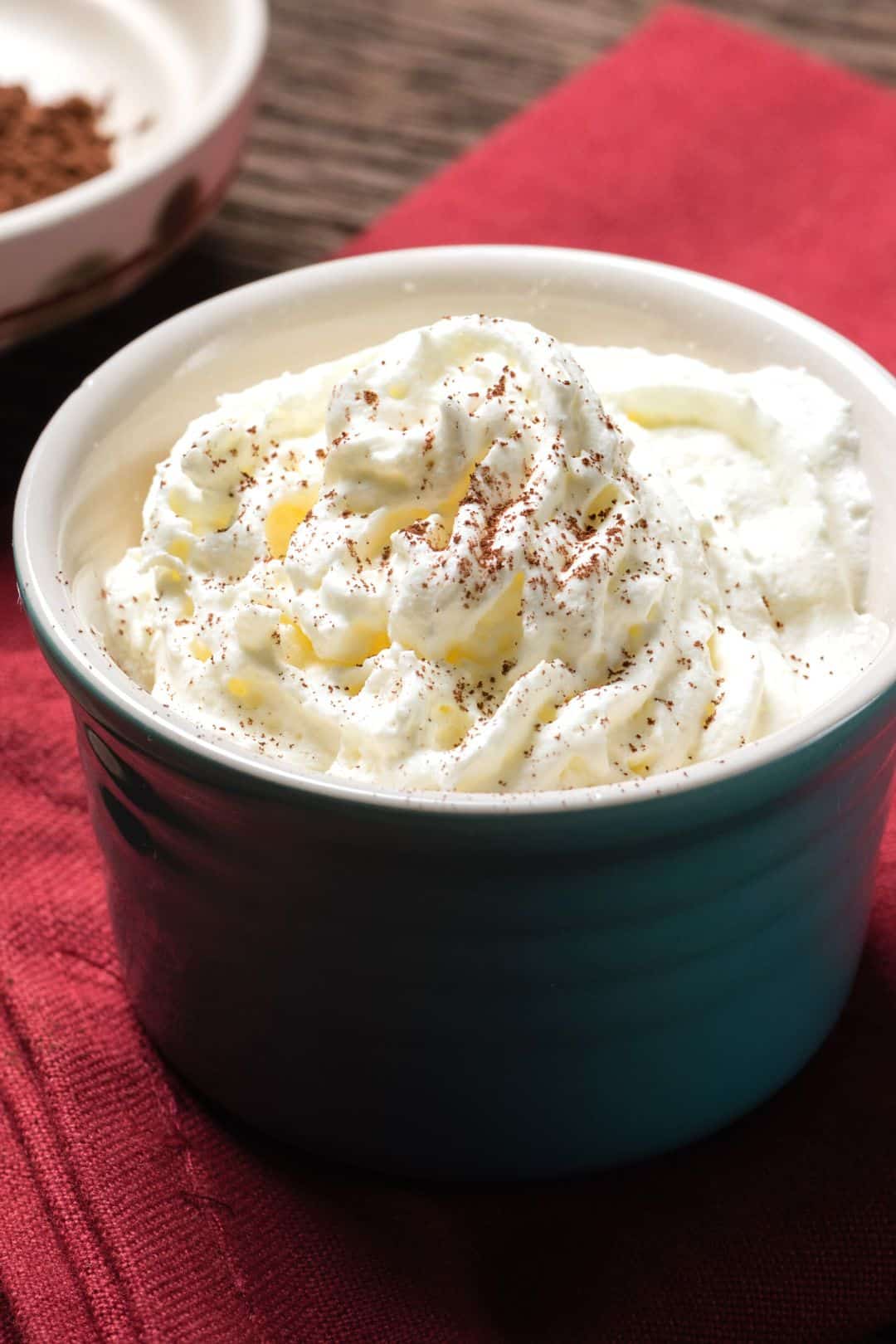 If you want to impress your guests with the most delicious keto desserts or to spoil your loved ones with something sweet, make this foolproof keto whipped cream without sugar.
Pairs perfectly with berries and mug cakes, this homemade whipped cream tastes similar to regular and has the same flavor. Plus, it's super light, creamy, and delicious.
When you think about whipped cream, just imagine a creamy, velvety texture, not very sweet, which pairs perfectly with any dessert.
Although it seems complicated to make keto whipped cream, it comes together in just a few minutes. You will need a few ingredients and a little patience to enjoy homemade whipped cream that is absolutely perfect.
Whether you add a dollop of whipped cream to your keto brownies or top your keto hot chocolate, I'm sure you'll love this easy whipped cream that has just 1g net carb per serving.
Why Are You Going To Love This Keto Whipped Cream Recipe
No sugars added
Only 1g net carbs per serving.
Easy to make in just 2 minutes
Tastes just as delicious as the regular one, with fewer carbs.
Pairs perfectly with many keto desserts.
Is Whipped Cream Keto-Friendly?
No, store-bought whipped cream is not keto because it's high in carbs since it is made with a lot of sugar and stabilizers.
But fortunately, there is a keto version of whipped cream that is made with naturally low-carb sweetener and tastes even better than those stores brought versions. Just 3 ingredients are needed, and 2 minutes of prep time.
Carbs in Heavy Cream
Both heavy cream and heavy whipping cream as low in carbs and perfect to use as a coffee creamer or to make keto desserts.
Heavy cream – for a 1/4 cup (60ml) serving, there are 1.69 grams of carbs.
Whipped cream – for 1/4 cup (40g) of keto whipped cream, there is 1 gram of carbs.
Depending on the brand, both of them may contain added sugar, so make sure to read the labels and check the nutrition facts.
Keto Whipped Cream Ingredients
You will need only three ingredients to make this creamy keto whipped cream. Here is everything you will need:
Heavy Cream – For this keto whipped cream recipe, you can use either heavy cream or whipping cream. It's also called double cream or thickened cream. Use cold cream; the colder, the better. 
Sweetener – for this recipe, you will need a powdered sweetener to ensure good mixing.
Vanilla Extract – gives the whipped cream its unique flavor and a touch of sweetness. Use the best quality vanilla extract that you can find.
How To Make Keto Whipped Cream
Once you see how easy to make sugar-free whipped cream, you will never want to buy it from the store. So, here is everything you will need: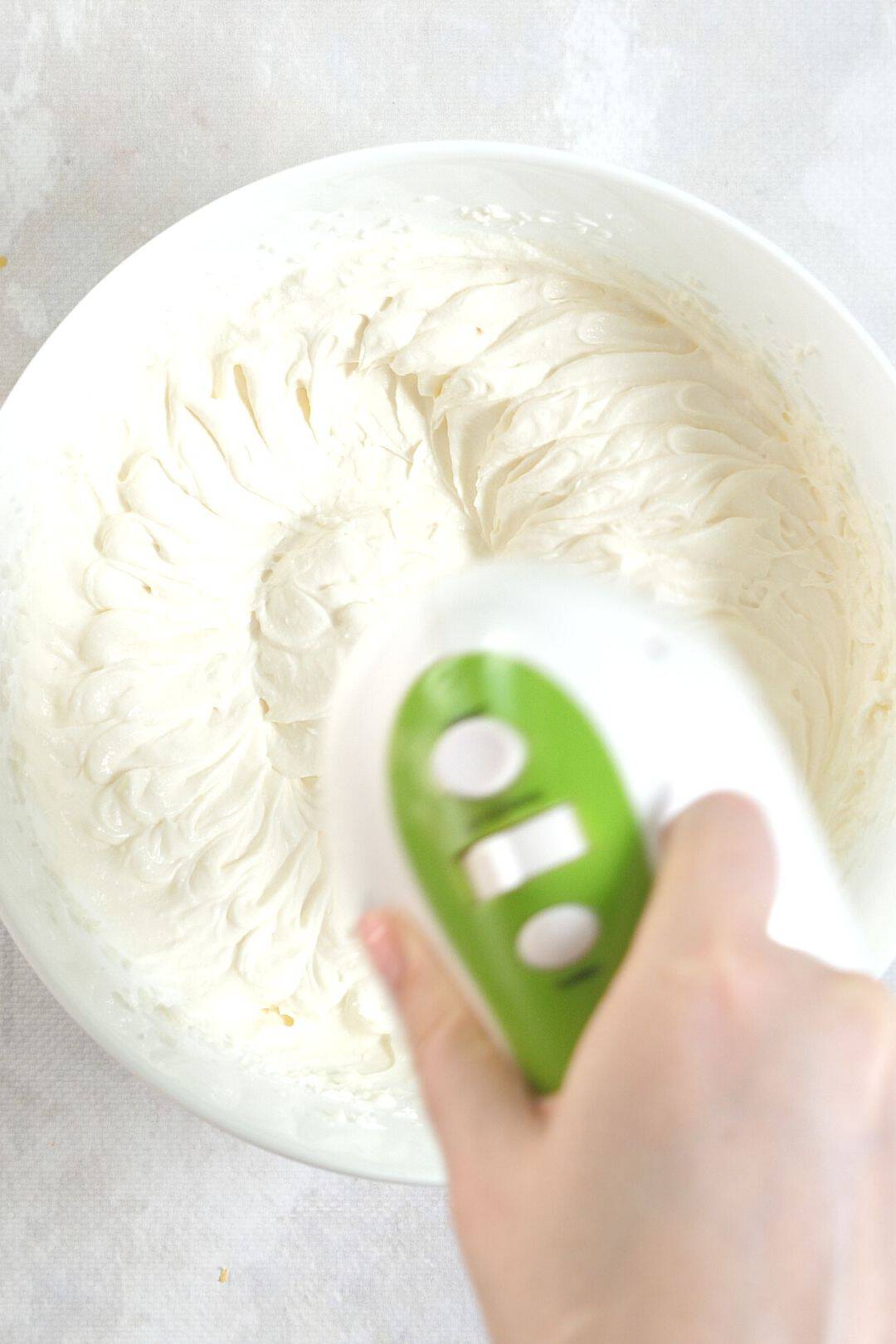 It's essential to start with cold heavy cream that makes that smooth whipped cream. You can also chill the mixing bowl in the refrigerator for about 30 minutes.
Whip the heavy cream, powdered sweetener, and vanilla extract. Use a hand mixer and beat the cold cream until medium peaks form. Incorporating air at a medium speed will create the best-whipped cream.
Serve immediately on your drinks or desserts or store for 2-3 hours before using.
Tips For Making The Best Keto Whipped Cream
Make sure you use cold heavy cream. You can also chill the mixing bowl in the freezer for 20 minutes.
Avoid granular sweeteners and use keto powdered sugar because it dissolves faster.
Recipe Variations
You can always add more flavoring to your whipped cream. You can use any extract, like vanilla, coconut, almond, mint, lemon, or keto maple syrup.
Add 1-2 tablespoons of cocoa powder to make chocolate whipped cream.
Incorporate your favorite spices, such as pumpkin spice seasoning or cinnamon.
Before whipping the cream, add two teaspoons of cocoa powder to add a chocolate flavor.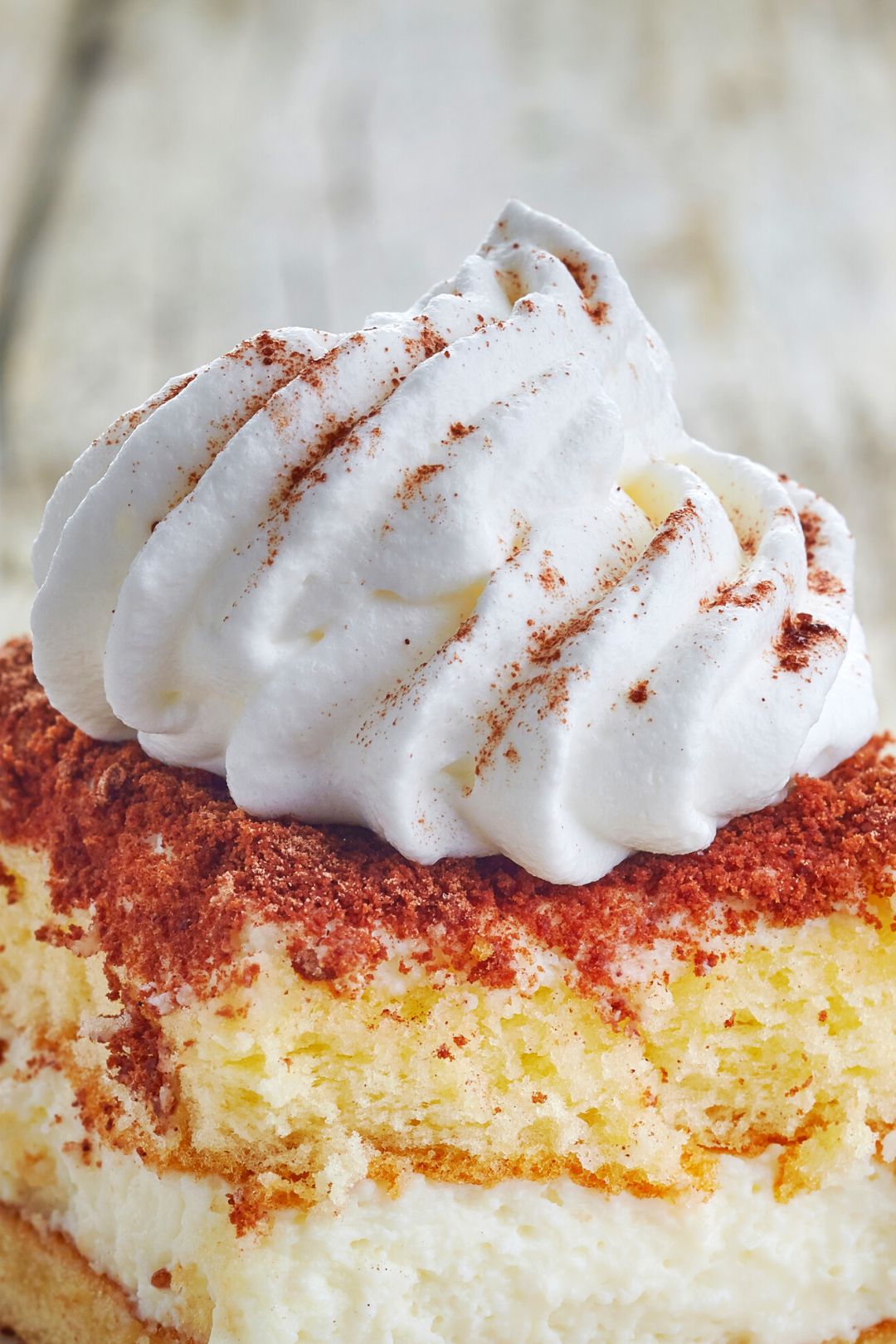 Storing Ideas
Fridge – It will last in the refrigerator for approximately three days when wrapped in plastic wrap, but it tastes best when fresh.
Freezer – It's not recommended to freeze whipped cream because it loses the creamy texture and may curdle when defrosting.
Frequently Asked Questions
What is Whipped Cream?
Whipped cream is one of the most used creams, especially for making cakes and desserts, and it is the fat from pasteurized milk collected from its surface. Due to the separation, the whipped cream is obtained with the help of the mixer until the fat is homogenized and evenly distributed to acquire that unique taste and specific texture.
Can I Add Additional Flavors To The Whipped Cream?
You can definitely change the whipped cream's flavor by adding extracts or spice powder like cinnamon or orange extract.
Can I Make Dairy-Free Whipped cream?
You can whip cold, full-fat coconut milk as a fantastic heavy cream substitute if you need a dairy-free option. Although it doesn't taste the same, it has the same wonderful texture and works well as a replacement.
Whipping Cream Vs. Heavy Whipping Cream 
The amount of fat in these two makes a difference! Due to its larger fat content, heavy whipping cream whips up a little bit stiffer.
Can I Make Keto Whipped Cream Without A Mixer?
Yes, you can do it by using a whisk! You need to know that it will take longer if you are using a whisk.
What to Serve with Keto Whipped Cream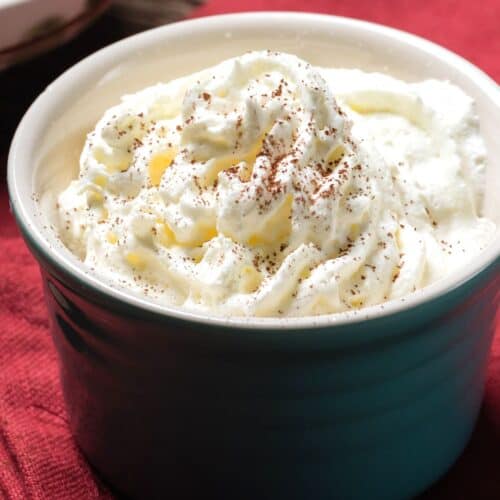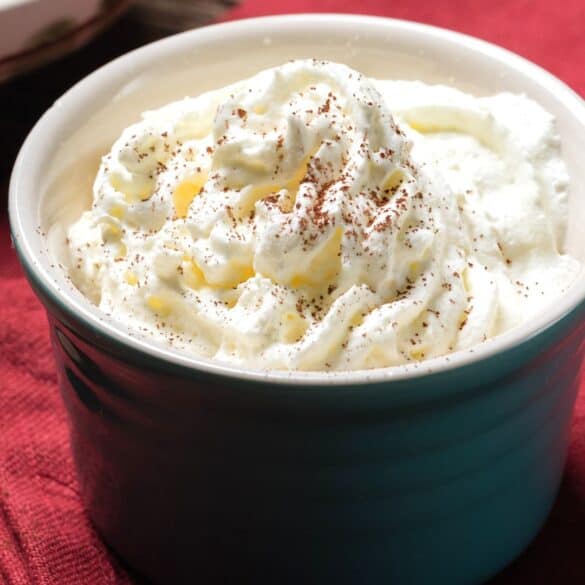 Description
This sugar-free keto whipped cream is easy to make with 3 simple ingredients, creamy, perfect for decorating keto cakes, pies, and cupcakes, or use it as a topping for your hot chocolate.
Instructions
Add all the ingredients to a large mixing bowl.

Whip the heavy cream, sweetener, and vanilla at medium-high for 3-4 minutes or until medium peaks form.

Serve immediately or store covered in the refrigerator for up to 3 days.
Nutrition Facts
Amount per serving.
How do we calculate the nutrition info?
These nutrition facts listed are determined using nutrition information from the USDA Food Database. Our nutrition facts are accurate, but if you are using different products, please make your calculations. Net carb count is calculated by subtracting both fiber and sugar alcohols because they don't raise blood sugar.