This cauliflower pizza crust is easy, light, low in calories, and carbs. Make the best gluten-free pizza crust with just 5 ingredients and 10 minutes of prep.
Learn how to make a cauliflower pizza crust that's loaded with flavor and holds its shape. Not only this keto pizza crust is a healthier alternative, but it's also packed with tons of fiber and protein.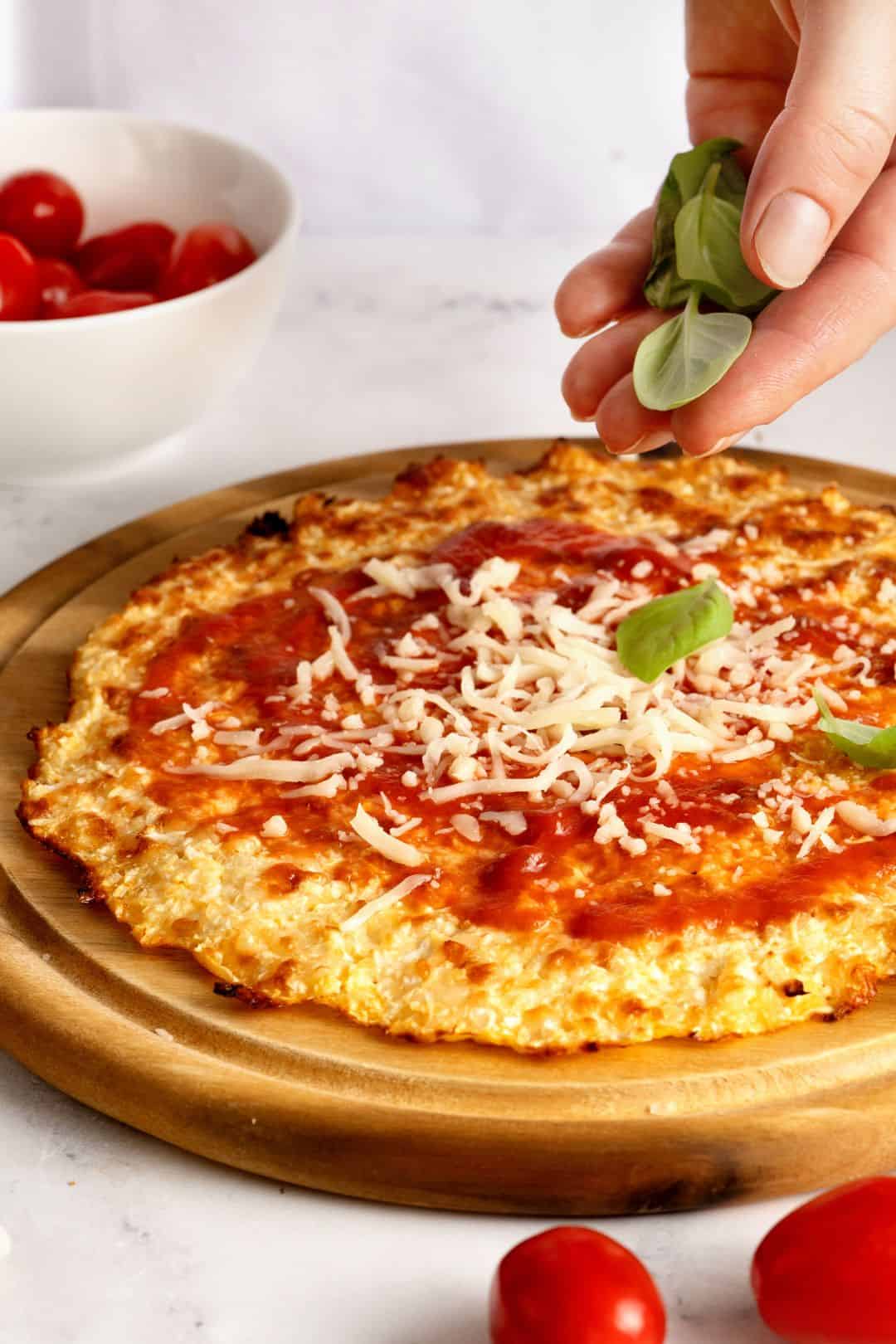 When it comes to eating pizza on a keto diet, I'm always making my keto pizza with fathead dough, crustless pizza, or this super versatile cauliflower pizza.
This cauliflower crust is incredible, and it's one of the best ways to eat more vegetables. No one can believe there's cauliflower in this pizza dough as it resembles so much in texture and flavor to traditional pizza crust.
Why Are You Going To Love This Cauliflower Pizza Crust Recipe
A fun way to enjoy cauliflower
Crispy around the edges, just like regular pizza
Easy to make with only 6 ingredients
Easy to customize so you may add your favorite toppings.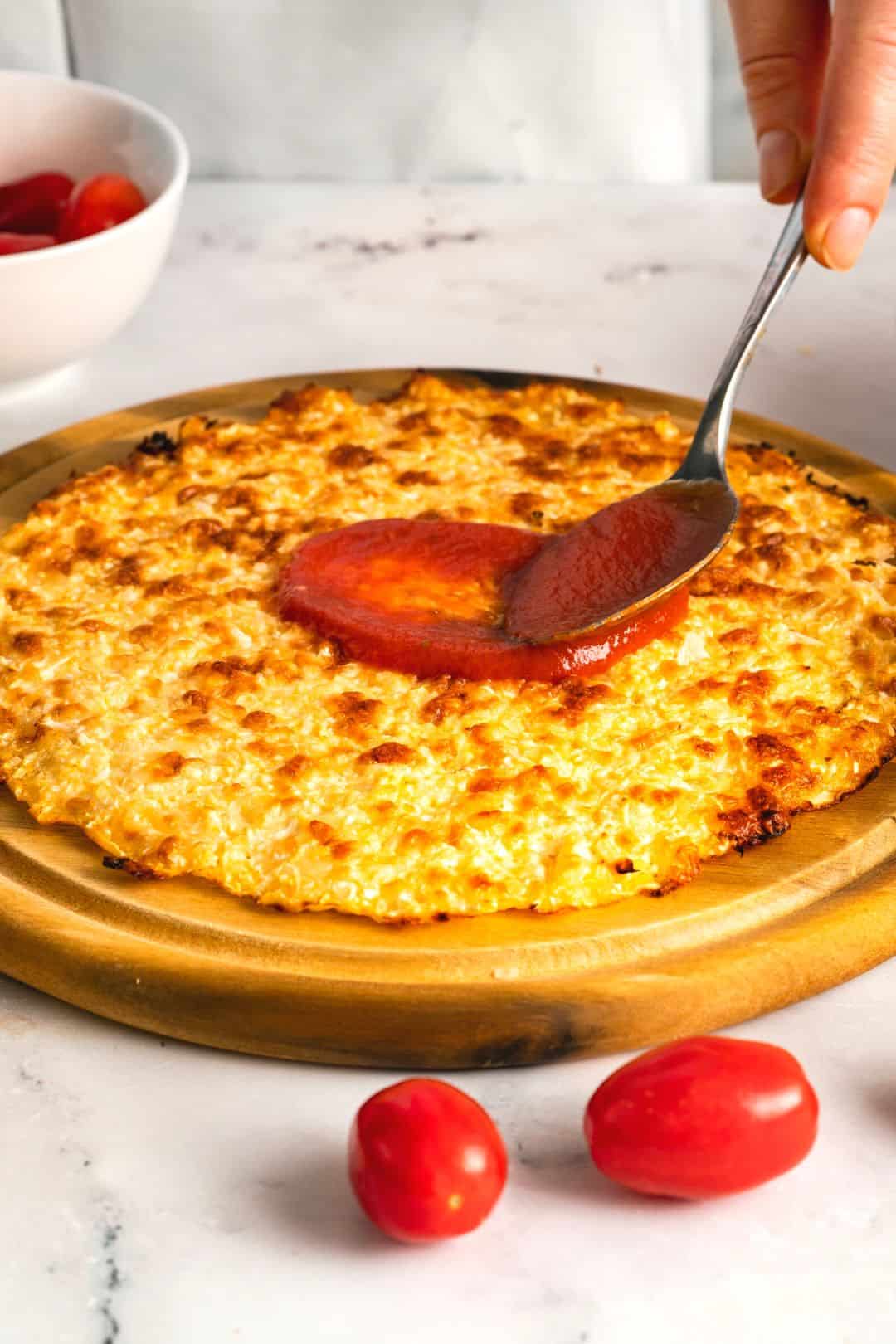 What You Need For This Cauliflower Pizza
You will love this cauliflower pizza recipe once you see how few and easy ingredients you will need. So here is everything you will need: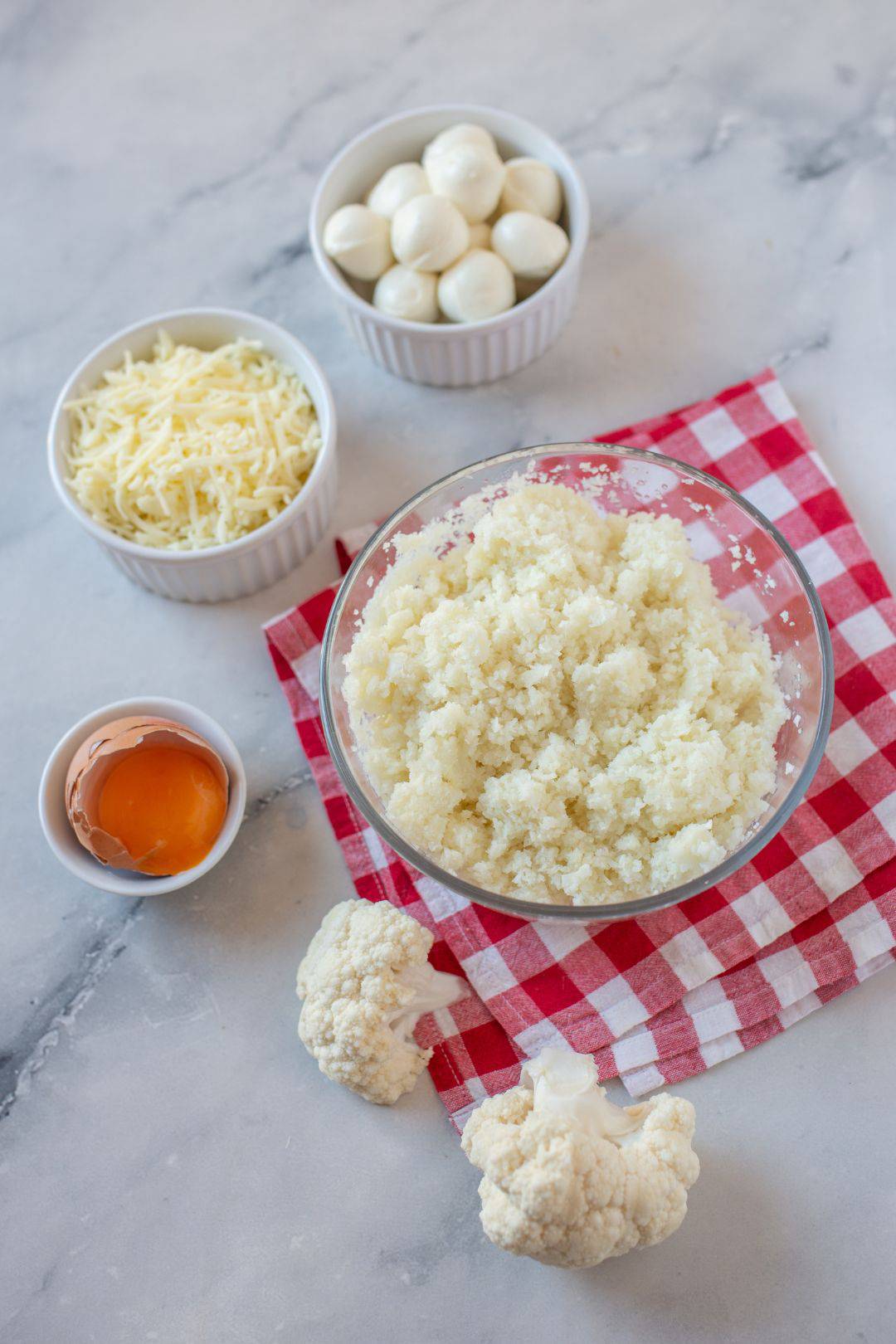 Cauliflower – you will need one medium head of cauliflower or about 1 lb of riced cauliflower. It's easy to turn cauliflower into rice by simply using your food processor. Out of convenience, you can use pre-riced cauliflower. If you're using frozen cauliflower, defrost it first to remove excess moisture.
Garlic – fresh garlic is the best, but garlic powder is amazing too.
Italian Seasoning – my favorite pizza crust seasoning, but you can also use dried basil or oregano.
Mozzarella & Parmesan Cheese – I recommend using freshly grated cheese.
Eggs – helps to bind together all the ingredients.
How To Make Cauliflower Pizza Crust
Following just some simple steps, you will end up with one of the most delicious keto cauliflower pizza crusts you will ever try.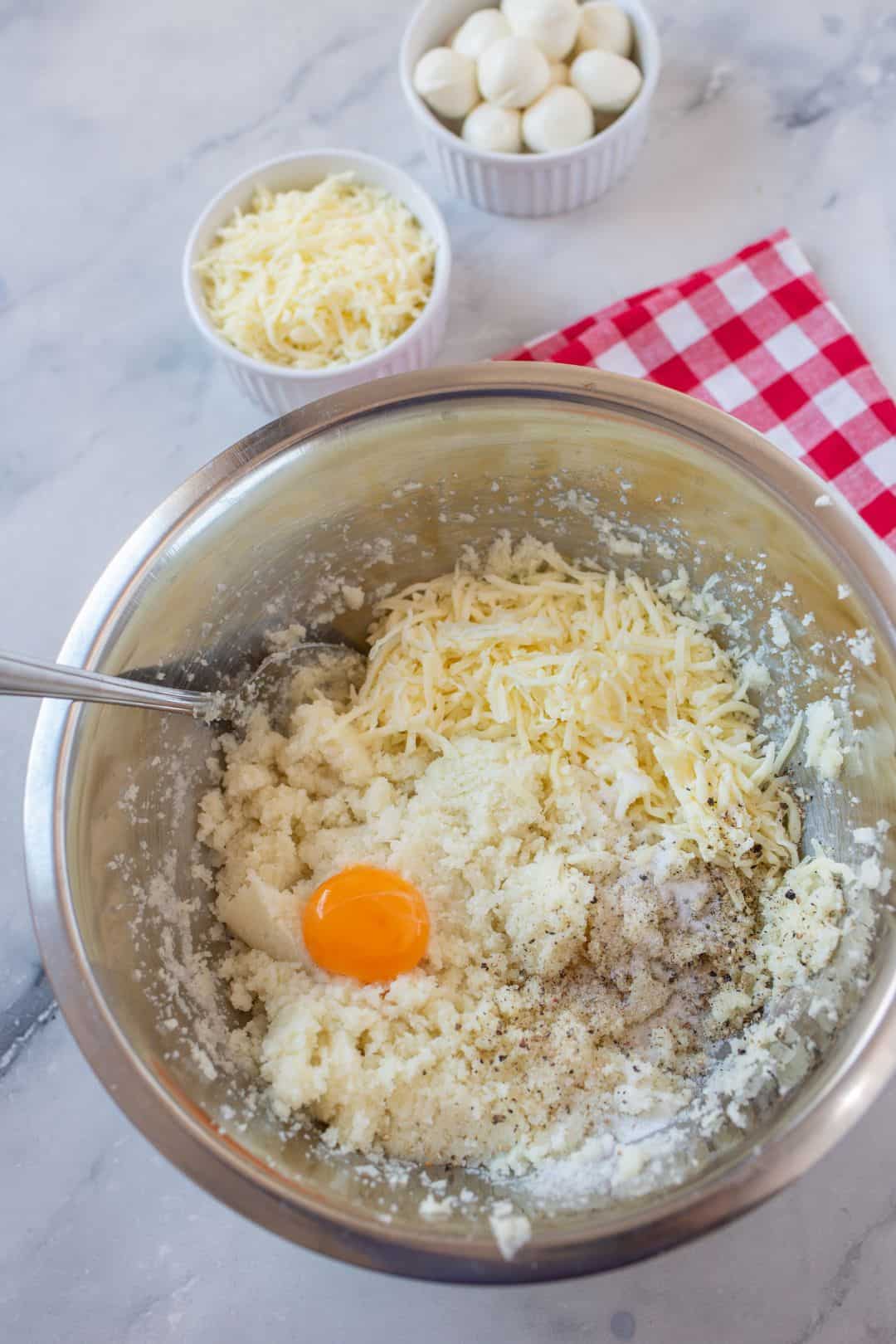 Preheat the oven to 400F and line your baking sheet with parchment paper. Lightly grease the parchment paper using a cooking spray or regular olive oil.
Prepare cauliflower: Remove the stems and leaves, and chop into florets. Add to a food processor and pulse until the cauliflower is finely ground. If you don't have a food processor use a box grater to make cauliflower rice or chop it into small pieces. Or my favorite, just get cauliflower rice from the store.
Cook the riced cauliflower: Sautee the cauliflower rice over medium heat for a few minutes until soft to remove as much moisture as possible. You can also microwave for 6-8 minutes or until translucent.
Make the cauliflower crust dough: In a large bowl, add the sauteed cauliflower, eggs, cheese, and seasonings. Mix to combine.
Spread the cauliflower dough into a circle and bake for 12 to 15 minutes, or until it is just beginning to brown on the edges.
Add your favorite toppings and bake until the cheese melts.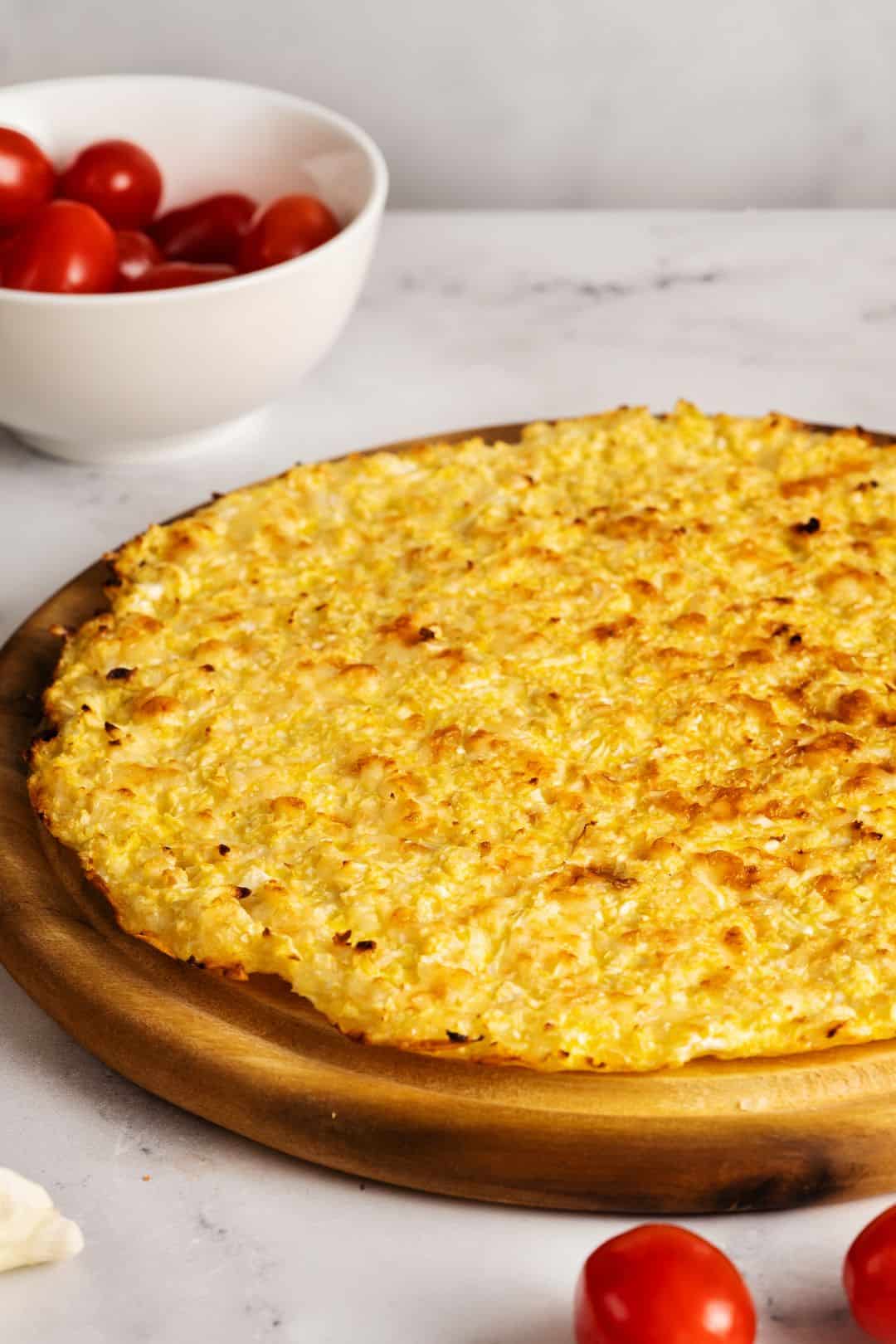 Pizza Toppings Ideas
Start by adding your favorite sugar-free tomato sauce.
Then choose your favorite cheese between mozzarella, parmesan, or cheddar cheese. I like to use a mix of all three.
Then add some meat like pepperoni, bacon, ham, beef mince, and ham.
You can make it spicier with spicy salami, jalapenos, onions, or hot sauce.
Olives, feta, red peppers, cherry tomatoes, and basil.
Tips For Making The Best Cauliflower Pizza
To ensure that the crust doesn't fall apart, make sure that you remove as much moisture as possible.
If you don't have a food processor, cauliflower can be grated using a box grater or purchased as cauliflower rice.
Storing Ideas
Store the leftovers in an airtight container for up to 3 days.
Simply, reheat in the oven or microwave until warmed through.
Freezing Cauliflower Pizza Crust
You can freeze this keto cauliflower pizza crust without the toppings. Once it's baked, let it cool completely and wrap well in plastic. Freeze for up to 3 months.
There's no need to thaw when ready to serve. Just place the crust onto a baking sheet lined with parchment paper or pizza stone. Top with your desired toppings and bake at 400 degrees F for 15 minutes.
Can I Make This Recipe Ahead Of Time?
Sure, you can prepare the crust and store it in the fridge, and then all you have to do is to assemble the pizza and bake it for 10 or 15 minutes.
Is Cauliflower Keto?
Yes, cauliflower is one of the best low-carb vegetables to enjoy on a keto diet, and it is frequently used as a substitute for potatoes in many recipes. Compared to broccoli or radishes, cauliflower has a milder flavor and fewer calories and carbohydrates.
Can I use Store Bought Cauliflower Rice?
Yes, and I highly recommend it if you're short on time. You'll need 2 16 oz packages.
Can I make a Vegan Cauliflower Crust?
To make vegan cauliflower rice, you have to replace the cheese and eggs with vegan alternatives. Chia eggs or flax eggs are great.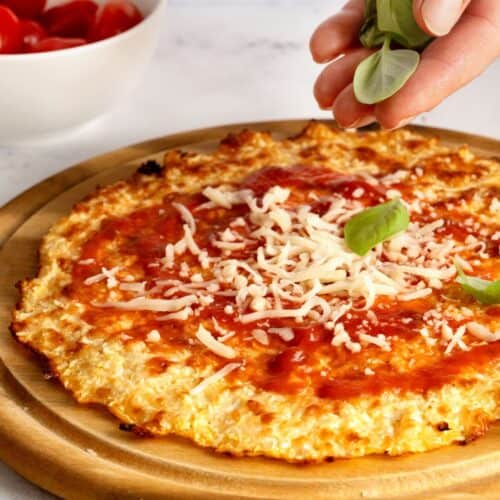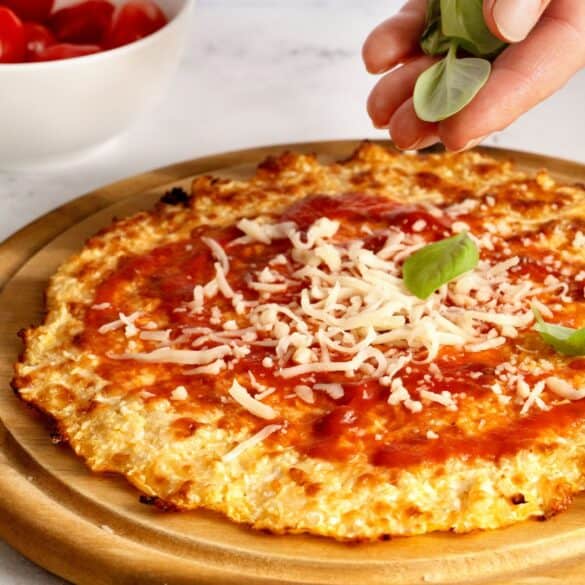 Cauliflower Pizza Crust Recipe
---
Description
This cauliflower pizza crust is easy, light, low in calories, and carbs. Make the best gluten-free pizza crust with just 5 ingredients and 10 minutes of prep.
Ingredients
1 ½

lb

cauliflower florets

1 ½

cups

mozzarella cheese

shredded

½

cup

parmesan cheese

grated

2

large eggs

1

tsp

garlic powder

½

tbsp

Italian seasoning
For the topping
½

cup

keto pizza sauce

½

cup

mozzarella cheese

shredded

8

pepperoni slices
Instructions
Preheat the oven to 400°F/205°C. Line a baking sheet with parchment paper and set it aside.

Place the cauliflower florets into the bowl of your food processor. Pulse until it looks like rice for about 30 seconds. Transfer to a large bowl and repeat if needed.

Place a pan on medium heat and sautee the cauliflower for 8-10 minutes or until soft and translucent. Remove from the heat and allow to cool.

In a large bowl, combine the cauliflower rice, eggs, parmesan cheese, mozzarella cheese, garlic powder, and Italian Seasoning.

Spread the cauliflower dough using your hands to about 1/4-1/3 inch thick. You can make a 12-inch pizza or two smaller ones.

Bake the cauliflower crust for 12-15 minutes until it is golden and crispy on the edges.

Remove the crust from the oven and add your desired toppings. Return to the oven for 5-10 minutes or until the cheese melts.

Remove the pizza from the oven, allow it to cool for a few minutes, cut using a pizza cutter, and serve with freshly chopped basil.
Nutrition Facts
Amount per serving.
How do we calculate the nutrition info?
These nutrition facts listed are determined using nutrition information from the USDA Food Database. Our nutrition facts are accurate, but if you are using different products, please make your calculations. Net carb count is calculated by subtracting both fiber and sugar alcohols because they don't raise blood sugar.