This easy keto blueberry bread is super soft, moist, and fluffy. Enjoy a low carb blueberry bread that's gluten-free, easy to make, filled with juicy blueberries, and topped with a delicious sugar-free lemon cheesecake glaze.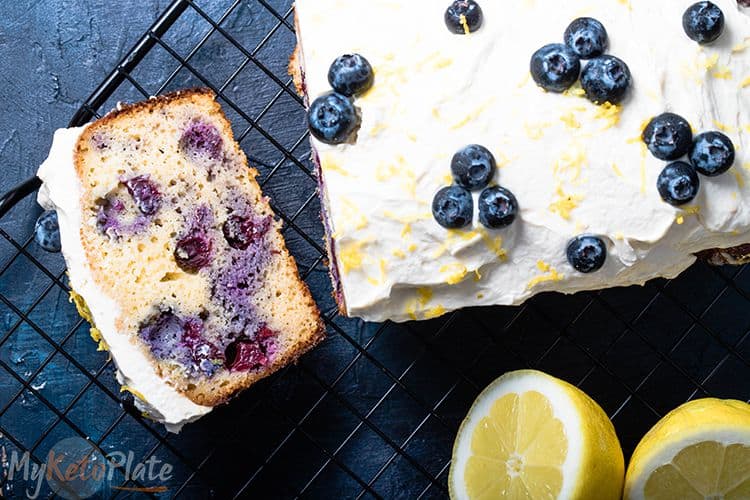 When I think of summer, blueberries and lemon are always on my mind. These two ingredients are either part of my daily lemonade or combined to make this fantastic low carb blueberry bread.
I know you loved my egg-free keto bread, and it's a top-rated recipe on this blog. I decided to create another keto bread that doesn't taste eggy and is perfect as a keto dessert or low carb bread.
When I meal prep, I'm always making a dessert for the week. It's either this keto blueberry bread, delicious keto brownies, a batch of the softest keto chocolate chip cookies, keto lemon pound cake, or this quick keto blueberry dump cake.
The truth is I love my sweets and try to find the best sugar-free and gluten-free recipes. There's no better way to start the morning than with a slice or two of this low carb blueberry bread and a serving of keto yogurt or with a mug of warm Bulletproof Coffee. So Delicious and Filling!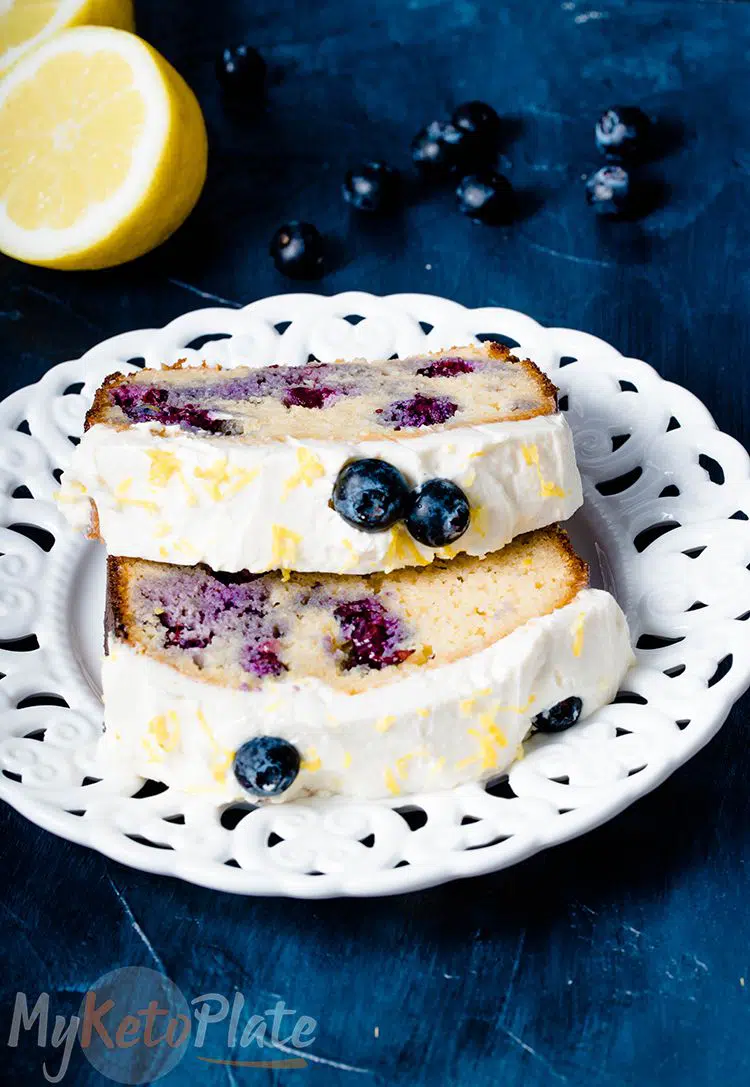 Keto Blueberry Bread Ingredients
This almond flour blueberry bread needs only a few low carb ingredients, a small loaf pan, and an oven to bake it. These are all the ingredients you'll need:
Eggs – It's best to use large eggs at room temperature.
Almond Flour & Coconut Flour – We are using a combo of these two low carb flours to get the perfect bread texture. I recommend using both flours in this specific recipe.
Blueberries – My favorite low carb fruit to use in this keto pound cake. You can use strawberries, and raspberries. Fresh or Frozen? Both are perfect!
Sweetener – Erythritol is the best sweetener because it's cheap, low in carbs, and doesn't impact blood sugar. Monk Fruit sweetener it's also great in this recipe, and it has no aftertaste.
Heavy Cream or Coconut Cream – For a dairy-free gluten-free blueberry bread, use coconut cream (the canned one). It's as creamy as heavy cream, and you'll make a delicious paleo blueberry bread.
Vanilla Extract & Baking Powder – 2 ingredients that never miss from my keto baked goods. One adds tons of flavor, and the other one is a leavening agent that makes the bread super airy and delicious.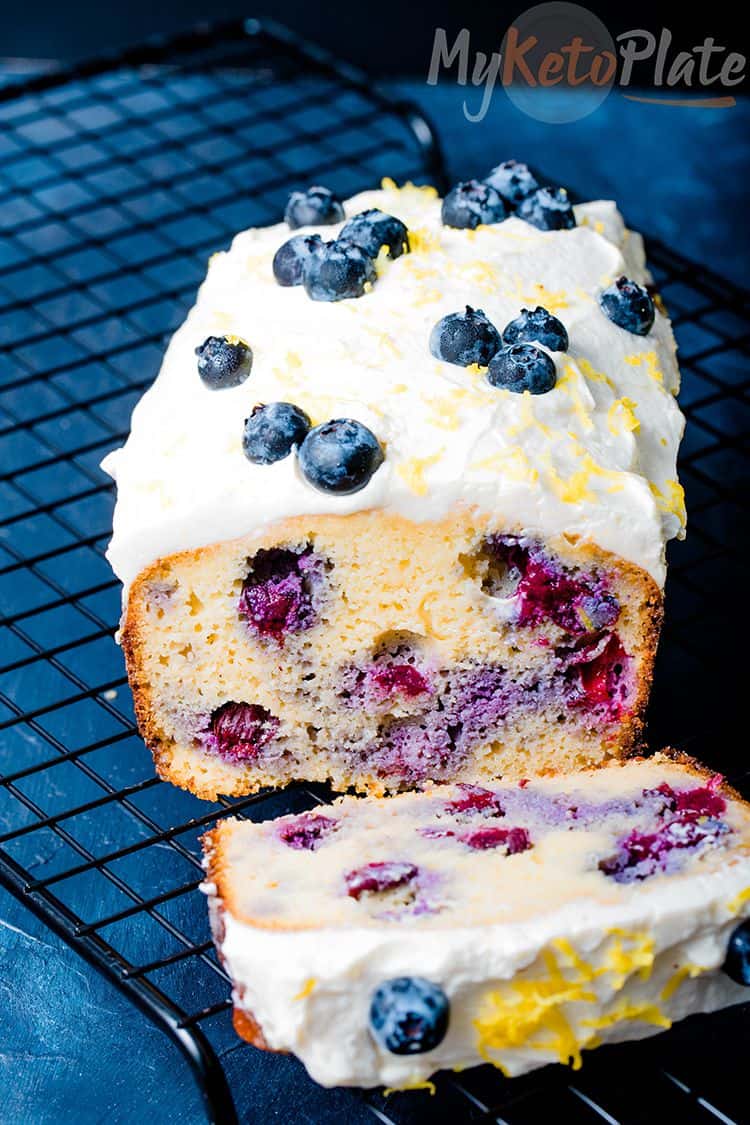 How to Make Keto Blueberry Bread
It's super easy to make homemade keto blueberry bread once you gather all the ingredients. I'm pretty sure you have most of them already.
Start by combining the eggs in a large bowl with the sweetener, heavy cream, melted butter, and vanilla extract. Mix for a few minutes until frothy.
Combine the low carb flours, and baking powder. Mix in the egg mixture and stir using a spatula until smooth.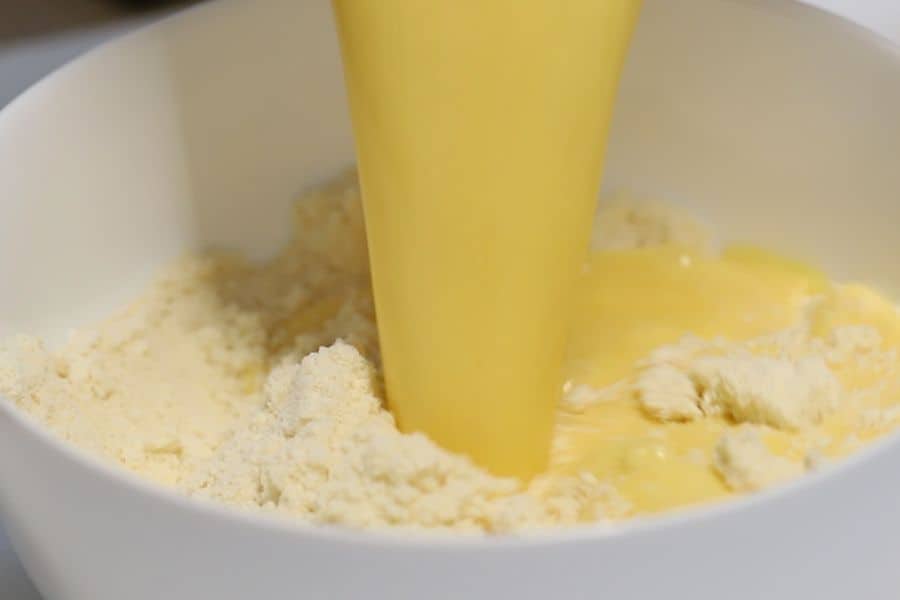 Incorporate the juicy blueberries. You can add more blueberries or substitute them with fresh raspberries.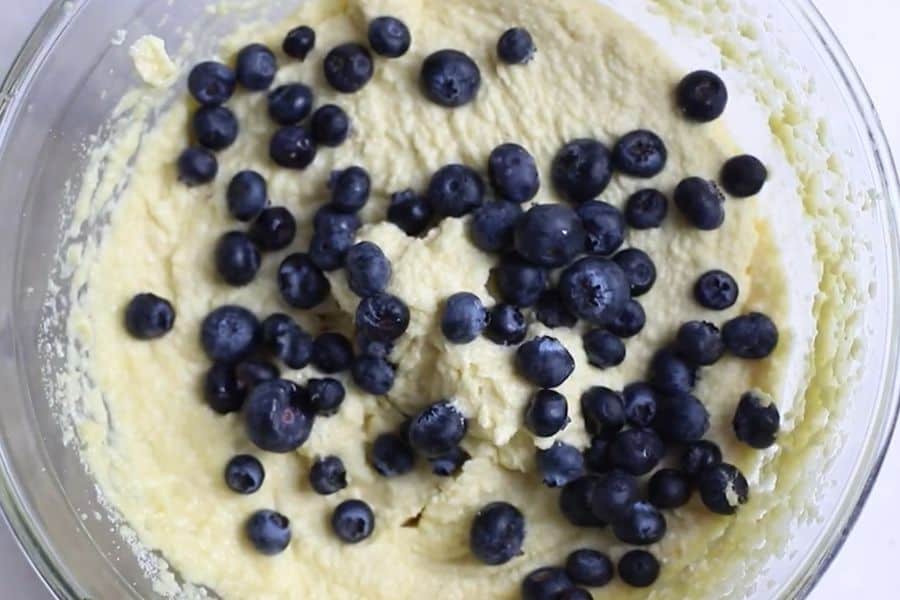 Transfer the batter to a greased small loaf pan and bake in the preheated oven for about 50 minutes or until a skewer inserted in the middle comes out clean. Allow to cool for a few minutes before slicing.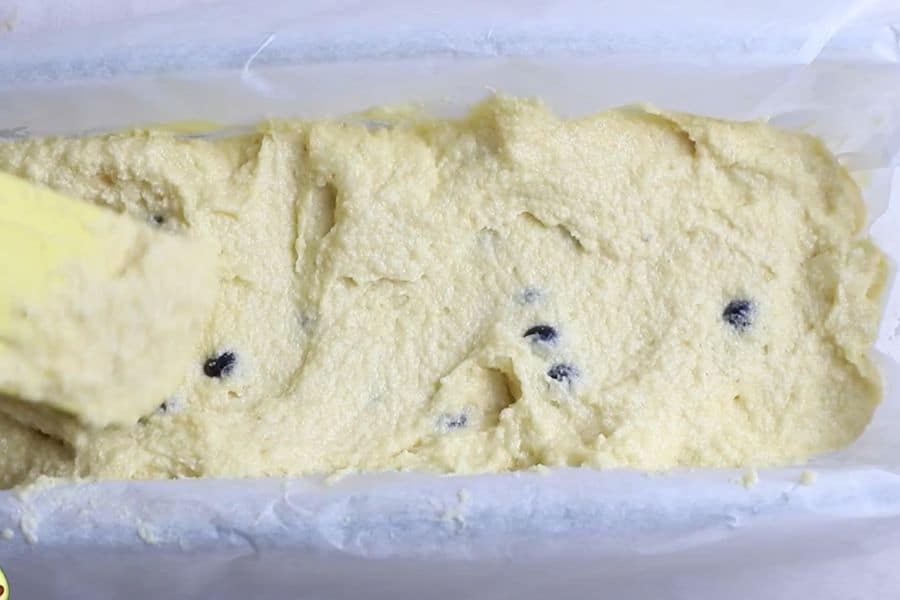 Keto Cream Cheese Lemon Frosting
To make a delicious lemon frosting for this blueberry pound cake, you'll need 6 ingredients. It's so easy and delicious. Here are the ingredients:
4 oz Cream cheese, softened
2 tbsp butter, room temperature
1/2 cup Powdered Erythritol
1 tsp Vanilla Extract
1 tbsp Heavy cream
2 tbsp lemon juice + 1 tbsp lemon zest
In a big bowl, cream together the cream cheese and butter. This should take about 1-2 minutes.
Turn the mixer off and add the powdered sweetener, vanilla, lemon juice, lemon zest, and heavy cream. Continue mixing until well incorporated. For a thicker keto cream cheese frosting, add more cream cheese.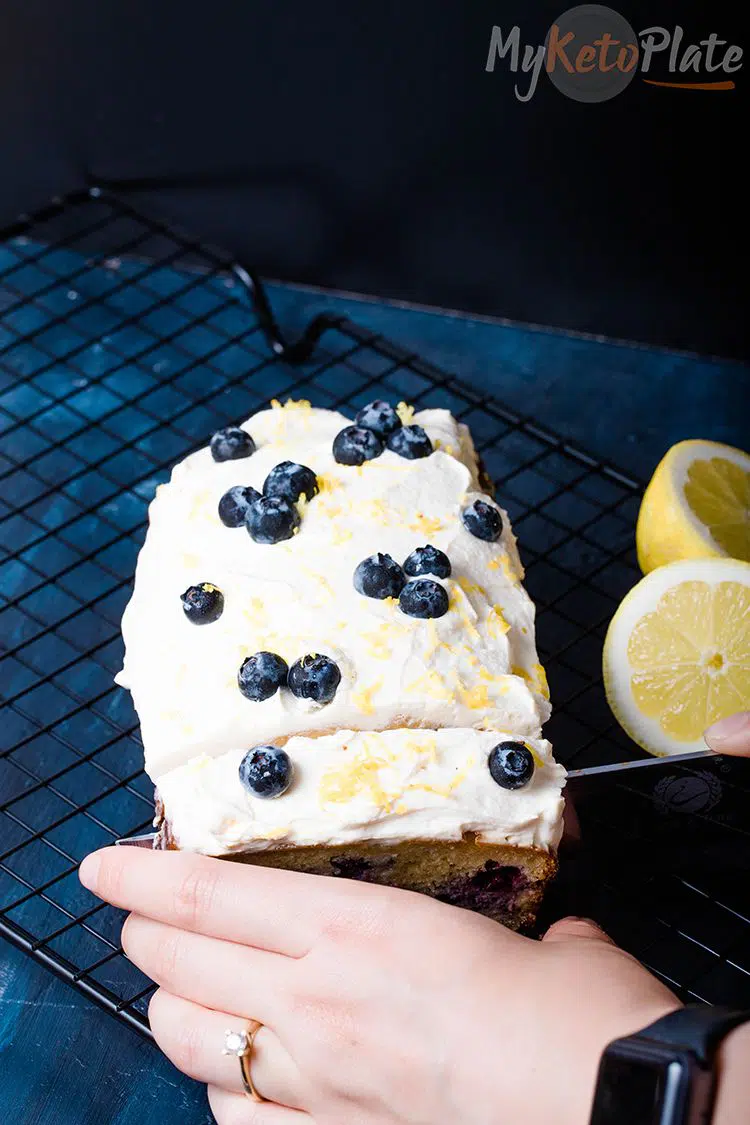 Tips and Variations To Make The Best Almond Blueberry Bread
Allow the bread to cool before frosting, otherwise it's going to melt in contact with the warm surface.
Try not to overbake the almond flour lemon blueberry bread because it continues to cook as it cools down. Overcooked keto blueberry bread is often dry and has an eggy taste.
Turn the batter into keto blueberry muffins if you prefer making muffins.
To keep the blueberries from sinking to the bottom of the pan, coat them in coconut flour before mixing them into the batter.
The batter is slightly thick, and that's normal. So, use a spatula to smooth out the tops.
Troubleshooting Common Problems
While making keto blueberry bread, you may encounter a few common problems. Here are some troubleshooting tips to help you overcome them:
Bread is too dry: If your keto blueberry bread turns out too dry, it could be due to overbaking or the quantity of the liquid used was too low.
Bread is too moist: If your keto blueberry bread turns out too moist or dense, adjust the baking time.
Bread doesn't rise: If your keto blueberry bread doesn't rise properly, it could be because the baking powder is old or expired. Make sure to use fresh baking powder and mix it thoroughly into the batter.
Bread is too brown on the outside: If your keto blueberry bread is browning too quickly on the outside, but still not cooked through in the middle, reduce the temperature and cover it with aluminum foil.
Bread doesn't hold together: If your keto blueberry bread falls apart or crumbles easily, it could be because it needs to cool completely before slicing.
How To Store Keto Lemon Blueberry Loaf?
Fridge – Allow the bread to cool down completely, then store it in a sealed container for up to 7 days.
Freezer – Slice the bread and place slices in freezer-safe bags. Freeze almond flour blueberry bread for up to 6 months.
Reheating – To reheat, let thaw in the fridge or on the counter, then reheat in the microwave.
How Many Carbs Are In Keto Blueberry Bread?
This keto blueberry bread is super low in carbs and delicious. Each slice has:
7g carbs
3g fiber
4g net carbs
Are Blueberries Keto?
Blueberries are best to consume in moderation in keto. According to the USDA website, 1/4 cup of blueberries provides 16 calories, 4g carbs, and 0.6g fiber.
Can I Use Frozen Blueberries?
Yes, frozen blueberries are perfect for this bread. Don't thaw blueberries because it makes the bread too soggy.
Is Keto Blueberry Bread Gluten-free?
Yes, my keto blueberry bread is gluten-free as it is made with almond flour or coconut flour instead of all-purpose flour.
Can I Make Keto Blueberry Bread Without a Loaf Pan?
Yes, you can make keto blueberry bread without a loaf pan by using a muffin tin or a square 8×8-inch baking pan. You'll have to reduce the baking time to about 25-30 minutes but check for doneness using a toothpick. When it comes out clean, the lemon blueberry loaf is ready.
Other Keto Desserts You'll Love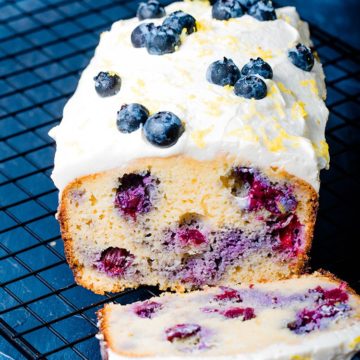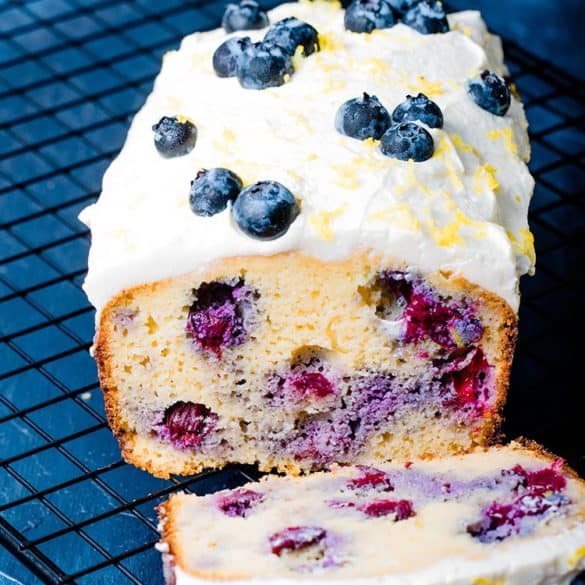 Description
This easy keto blueberry pound bread is super soft, moist and fluffy. Enjoy a gluten-free, low carb blueberry bread that's easy to make, filled with juicy blueberries and topped with a delicious sugar-free lemon cheesecake glaze.
Ingredients
Keto Cream Cheese Lemon Frosting
Instructions
Preheat the oven to 350°F (177°C). Grease a 9×5 inch loaf pan with butter or spray with nonstick spray. Set aside.

Whisk the almond flour, coconut flour, and baking powder.

In a large bowl add the eggs, sweetener, vanilla extract, melted butter and heavy cream. Using a hand mixer, mix for about 2 minutes until bubbles start to form. Combine the dry and wet ingredients until you get a smooth batter.

Using a spatula fold in the blueberries and transfer the batter into the prepared loaf pan.

Bake for about 45-50 minutes or until cooked through.

Remove the blueberry bread from the oven and allow it to completely cool before frosting.

To make the lemon frosting, add all the ingredients to a large bowl. Using an electric mixer, mix until well smooth and creamy for about 2 minutes.
Nutrition Facts
Amount per serving.
How do we calculate the nutrition info?
These nutrition facts listed are determined using nutrition information from the USDA Food Database. Our nutrition facts are accurate, but if you are using different products, please make your calculations. Net carb count is calculated by subtracting both fiber and sugar alcohols because they don't raise blood sugar.