These keto crepes are super light, fluffy, and flexible. Enjoy these low carb almond flour crepes that are not only delicious but also gluten-free, versatile, and can be filled with sweet or savory ingredients.
Pair them with a cup of bulletproof coffee for a satisfying and energizing breakfast.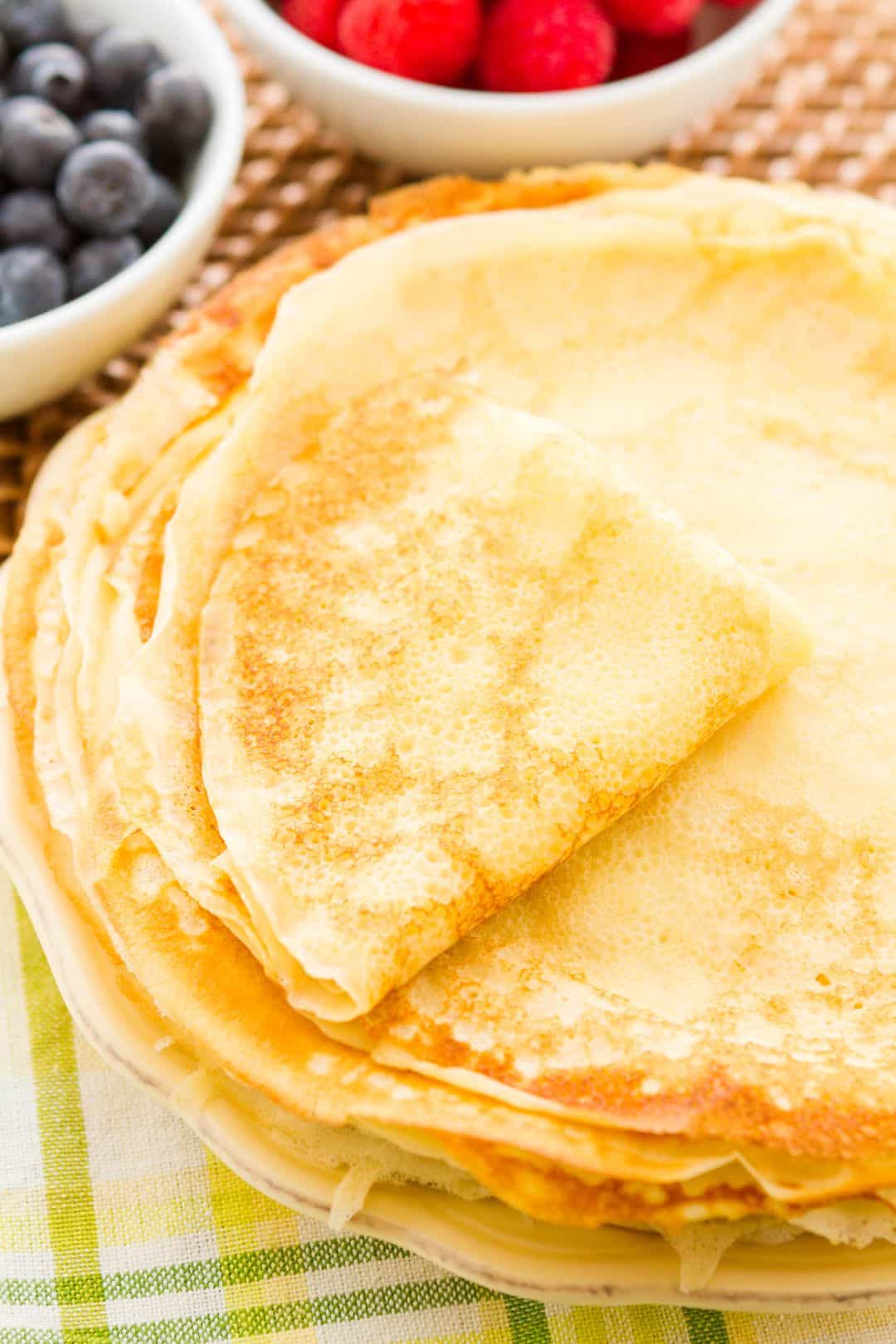 You can eat them sweet and salty, stuffed, rolled, folded, or packed with jam, whipped cream, fresh fruits, or chocolate. You can serve them for breakfast, lunch, or dinner. You can't go wrong with these smooth and tasty keto crepes.
These gluten-free and sugar-free crepes are rich in flavor and much easier to make than you probably think. You can make them with your kids and play with the toppings.
I remember those Sunday mornings from my childhood when my mother would wake me up with the smell of fresh crepes. And now, I am happy to tell you that you can still enjoy them even if you are following a keto diet.
Are Crepes Keto-Friendly?
Traditional crepes made with wheat flour are not keto-friendly, as they are high in carbs and may spike your blood sugar levels. However, you can make keto-friendly crepes by using low-carb flours such as almond flour or coconut flour, and sweeteners such as monk fruit or erythritol.
Keto crepes are a great alternative for those following a low-carb or ketogenic diet, as they provide a delicious and satisfying breakfast or dessert option that won't kick you out of ketosis. They are also a good source of healthy fats and protein, which can help keep you feeling full and satisfied throughout the day.
To make keto crepes, you can simply replace the wheat flour with a low-carb flour such as almond flour or coconut flour, and use a low-carb sweetener. You can also add other keto-friendly ingredients, such as unsweetened cocoa powder, cinnamon, or vanilla extract, to the batter for more flavor.
Overall, keto crepes are a great way to satisfy your cravings for a delicious and indulgent breakfast or dessert without compromising your low-carb or ketogenic diet. Just make sure to choose your ingredients wisely and monitor your portions to stay within your daily carb and calorie limits.
What are Keto Crepes?
Keto crepes are a low-carb and high-fat alternative to traditional crepes that are made using keto ingredients. There are many different recipes for keto crepes, but they typically involve mixing together low-carb flour, eggs, a liquid such as almond milk or coconut milk, and a sweetener.
Keto crepes can be filled with anything from sugar-free chocolate or fresh berries to scrambled eggs and bacon. They are a versatile and delicious option for anyone looking to enjoy the taste of crepes while sticking to a low-carb or ketogenic diet.
Why Are You Going To Love This Recipe
Super easy to make in almost 15 minutes.
You can make them ahead of time.
Made from naturally low-carb ingredients.
It's a versatile recipe; you can serve them in many ways.
Contain only 3g net carbs per serving.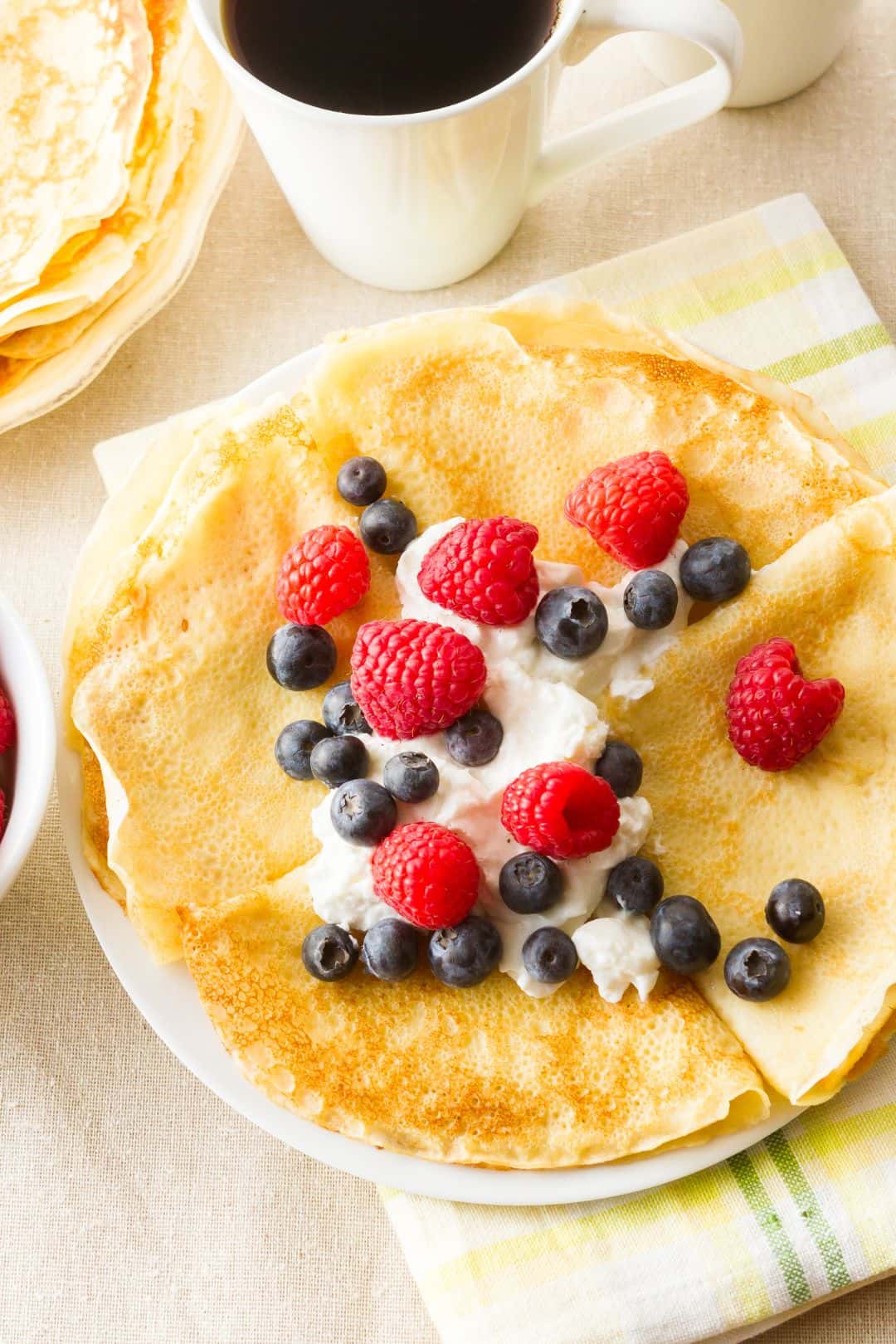 Ingredients For These Keto Crepes
These delicious keto crepes require only a few easy ingredients that you probably have already in your kitchen. So gather all the ingredients and make these delicious crepes. Here is everything you will need:
Cream Cheese – use room-temperature softened cream cheese to mix well.
Almond Flour – Choose blanched almond flour for the finest color and texture.
Eggs – always use room-temperature eggs to avoid that eggy smell and flavor.
Sweetener – use powdered sweetener to combine well into the batter. You can skip this ingredient if you want to make some savory ingredients.
Almond Milk – use unsweetened almond milk, or replace it with any plant-based milk.
Vanilla Extract – use the best quality vanilla extract that you can find for a great flavor.
Salt – to enhance all the flavors.
Butter – use unsalted butter, or replace it with a cooking oil spray.
How To Make These Delicious Keto Crepes
These sugar-free keto crepes are super easy to make by following simple steps. Down you will find the complete recipe, and here are the essential steps that will help you to make the best keto crepes:
Make the Crepe Batter
Start by mixing the cream cheese with the eggs until creamy.
Then add the rest of the ingredients (execting the butter) and mix until the crepes batter is formed.
Once the batter is ready, let it rest for 10 minutes.
Cooking the Crepes
Add the butter to the pan over medium heat.
Pour ¼ cup of crepes batter into the pan and rotate the pan to spread the batter evenly across the surface.
Cook the crepe for 2 minutes on each side.
Carefully flip the crepe to the other side with a spatula.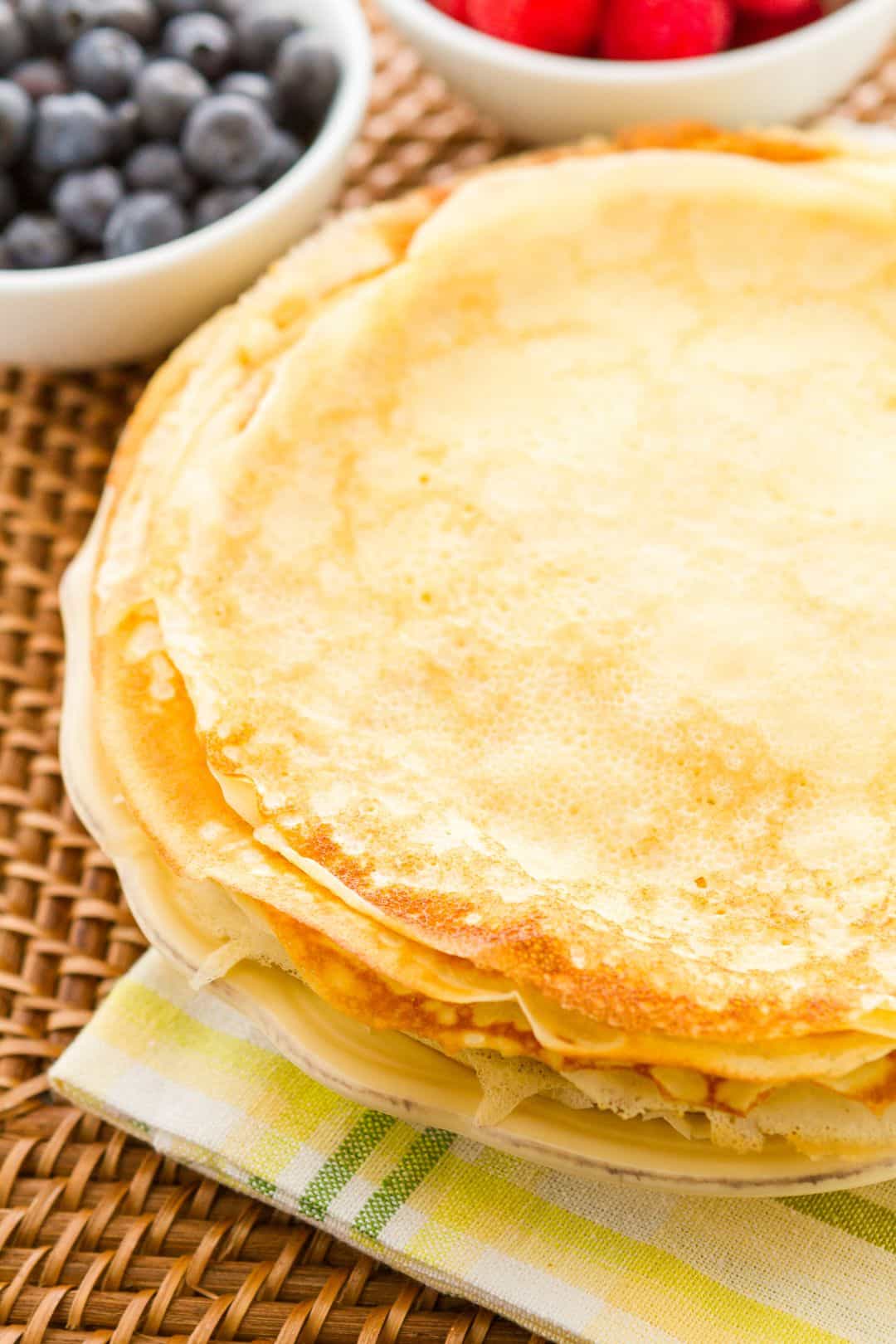 Tips For Making The Best Keto Crepes
Don't cook your crepes at high heat because they are thin and will burn quickly.
Use room temperature cream cheese to ensure good mixing, avoiding lumping.
Use a non-stick skillet: A non-stick skillet is essential for making crepes, as it helps to prevent sticking and ensures that the crepes cook evenly. If you don't have a non-stick skillet, make sure to grease your pan well with butter or cooking spray.
To flip the crepes easily, release the edges using a spatula.
Let the batter rest: After mixing the ingredients together, it's a good idea to let the batter rest for a few minutes. This allows the flour to absorb the liquid and creates a smoother, more cohesive batter.
Flip gently: When it's time to flip the crepes, use a spatula to gently lift the edges and flip the crepe over. Avoid using too much force or flipping too quickly, as this can cause the crepe to tear or fold over.
By following these tips, you'll be able to make delicious and fluffy keto crepes that are perfect for any breakfast or brunch occasion. Happy cooking!
Serving Ideas
Here are some great ideas for serving these delicious keto crepes:
You can serve them with your favorite jam.
You can make some homemade Nutella and fill the crepes with it.
Mix some cream cheese with sweetener and spread it on the insides of the crepes, top with some berries, and enjoy.
You can also serve them with homemade whipped cream and fresh berries.
Variations
Savory crepes: While crepes are often associated with sweet fillings, they can also be filled with savory ingredients. Try filling your crepes with cooked bacon or sausage, scrambled eggs, sliced avocado, and grated cheese for a delicious breakfast or brunch option.
Chocolate crepes: If you're craving something sweet, try adding a tablespoon of unsweetened cocoa powder to the batter for chocolate crepes. Serve them with sugar-free whipped cream and sliced strawberries for a decadent treat.
Cinnamon roll crepes: Mix 1 teaspoon of cinnamon and 1 tablespoon of sweetener into the batter for a cinnamon roll flavor. Serve with a cream cheese glaze made from softened cream cheese, heavy cream, and sweetener.
Lemon-blueberry crepes: Add fresh blueberries and a squeeze of lemon juice to the batter for a refreshing and fruity twist on classic crepes. Serve with sugar-free whipped cream or a dollop of lemon curd.
Peanut butter and jelly crepes: Spread natural peanut butter and sugar-free jelly onto your crepes for a delicious and satisfying snack or breakfast option.
Spinach and feta crepes: Sauté some spinach with garlic and olive oil, then mix in crumbled feta cheese. Spoon the mixture onto your crepes and fold them up for a savory and healthy breakfast or lunch option.
Smoked salmon and cream cheese crepes: Spread a mixture of cream cheese and herbs onto your crepes, then top with smoked salmon and fresh dill for a delicious and elegant brunch or appetizer option.
Pumpkin spice crepes: Mix some canned pumpkin puree, pumpkin pie spice, and sweetener into your crepe batter for a festive and flavorful fall breakfast or dessert option.
Storing Ideas
Fridge: These keto crepes can be stored in the fridge wrapped in plastic foil or an airtight container for up to 5 days.
Freezer: These sugar-free crepes are also freezer friendly. So if you want to store them in the freeze, place parchment sheets between them and wrap them in plastic foil, then store the crepes in the freezer for one month.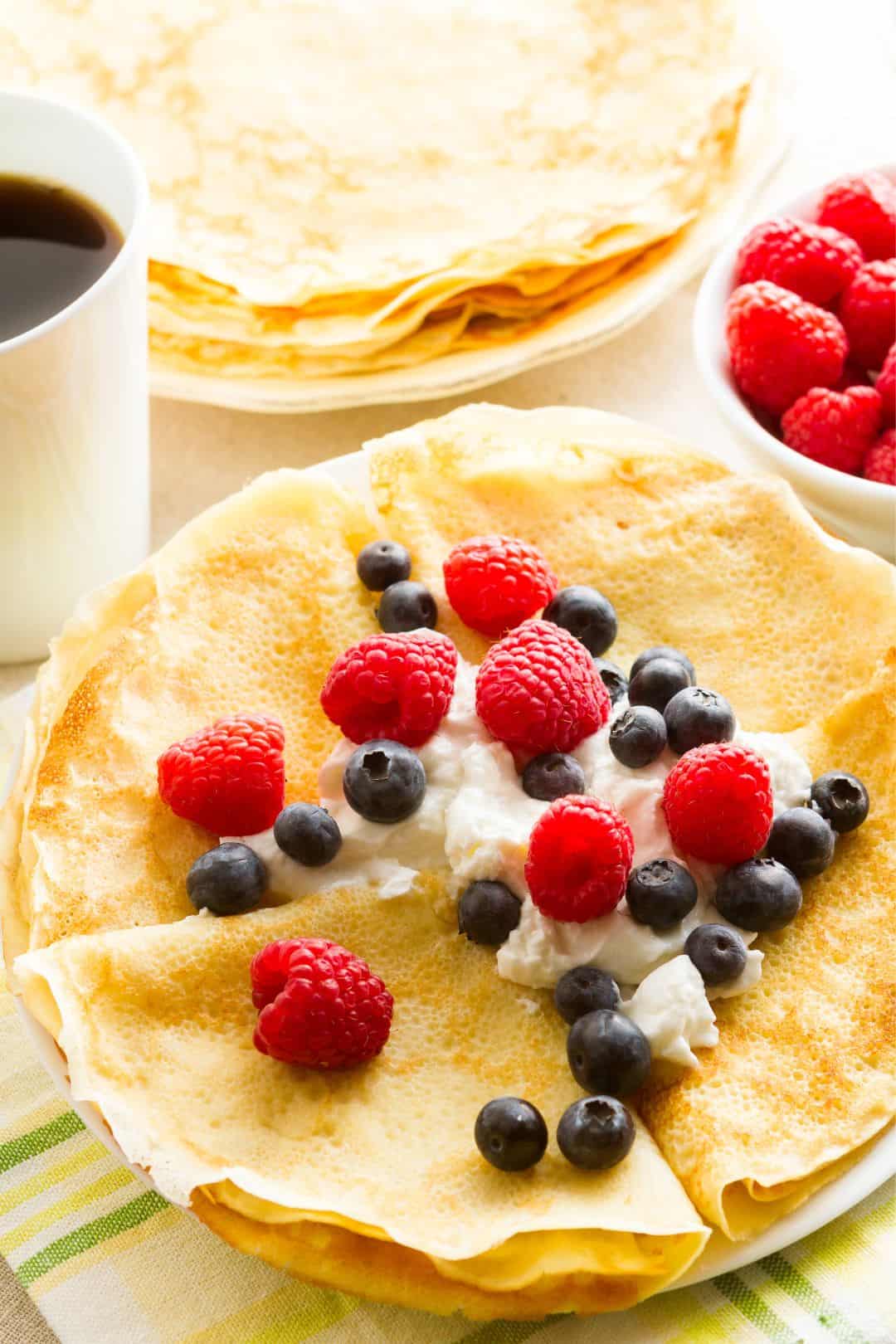 Frequently Asked Questions
How Long To Cook These Keto Crepes?
Once you put the pancake batter in the pan, it will take between 2 minutes and 2 and a half minutes until you turn it on the other side.
Why Do My Crepes Stick To The Pan?
Your crepes batter will stick to the pan because the pan isn't hot enough, so you have to be patient before pouring the batter into the pan.
How Do You Know You Have To Turn The Crepes?
Crepes must be turned after two minutes or when the crepe batter's shiny surface disappears, and the edges are slightly raised.
Can I Make These Crepes Using Coconut Flour?
No, this recipe calls for almond flour, and if you want to use coconut flour, you will have to change the amount of all the ingredients.
Crepes Vs. Pancakes
Pancakes and crepes are usually made with the same ingredients expecting the raising agent(baking power). Also, creeps are thinner than pancakes, which have a cake-like texture.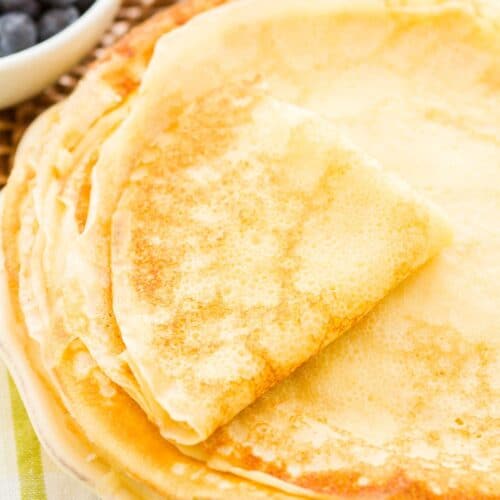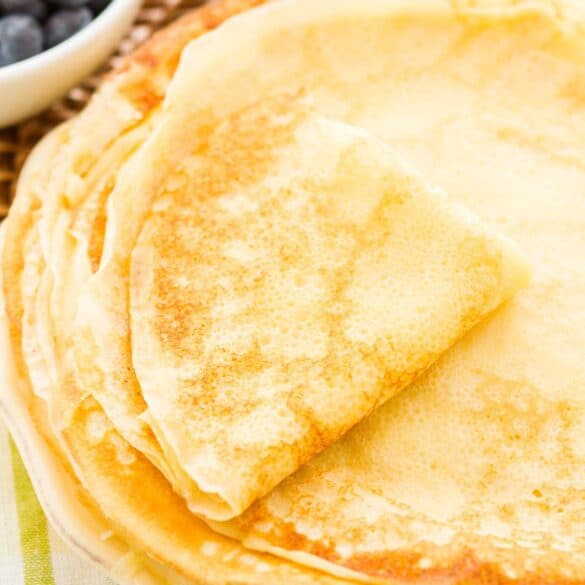 Description
These keto crepes are super light, fluffy, and flexible. Made with almond flour, these low carb almond flour crepes are not only delicious but also gluten-free, but a versatile option that can be filled with sweet or savory ingredients.
Instructions
Add the cream cheese and eggs to a large bowl and mix until fluffy.

Then add the sweetener, almond flour, vanilla extract, and salt. Mix until everything is well combined.

If the crepes batter is too thick, add the almond milk and mix for another minute.

Let the batter rest for 4 minutes until the bubbles formes are disappeared.

Grease a crepes skillet with butter or oil and set over medium heat. Once the skillet is hot, pour ¼ cup of batter into the center of the pan and tilt the pan until the batter is well distributed.

Cook for 2 minutes on each side, and carefully flip the crepe on the other side using a rubber spatula.

Cook for 1 more minute and transfer to a plate.

Repeat the process with the remaining batter.

Enjoy the crepes with your favorite filling.
Nutrition Facts
Amount per serving.
How do we calculate the nutrition info?
These nutrition facts listed are determined using nutrition information from the USDA Food Database. Our nutrition facts are accurate, but if you are using different products, please make your calculations. Net carb count is calculated by subtracting both fiber and sugar alcohols because they don't raise blood sugar.