This Keto Lemon Pound cake is a low-carb dessert that is easy to make with simple ingredients. Ready in only 60 minutes, it's the ultimate keto pound cake for lemon lovers. Enjoy an ultra moist, buttery, and rich almond flour pound cake that has just 3g net carbs per serving!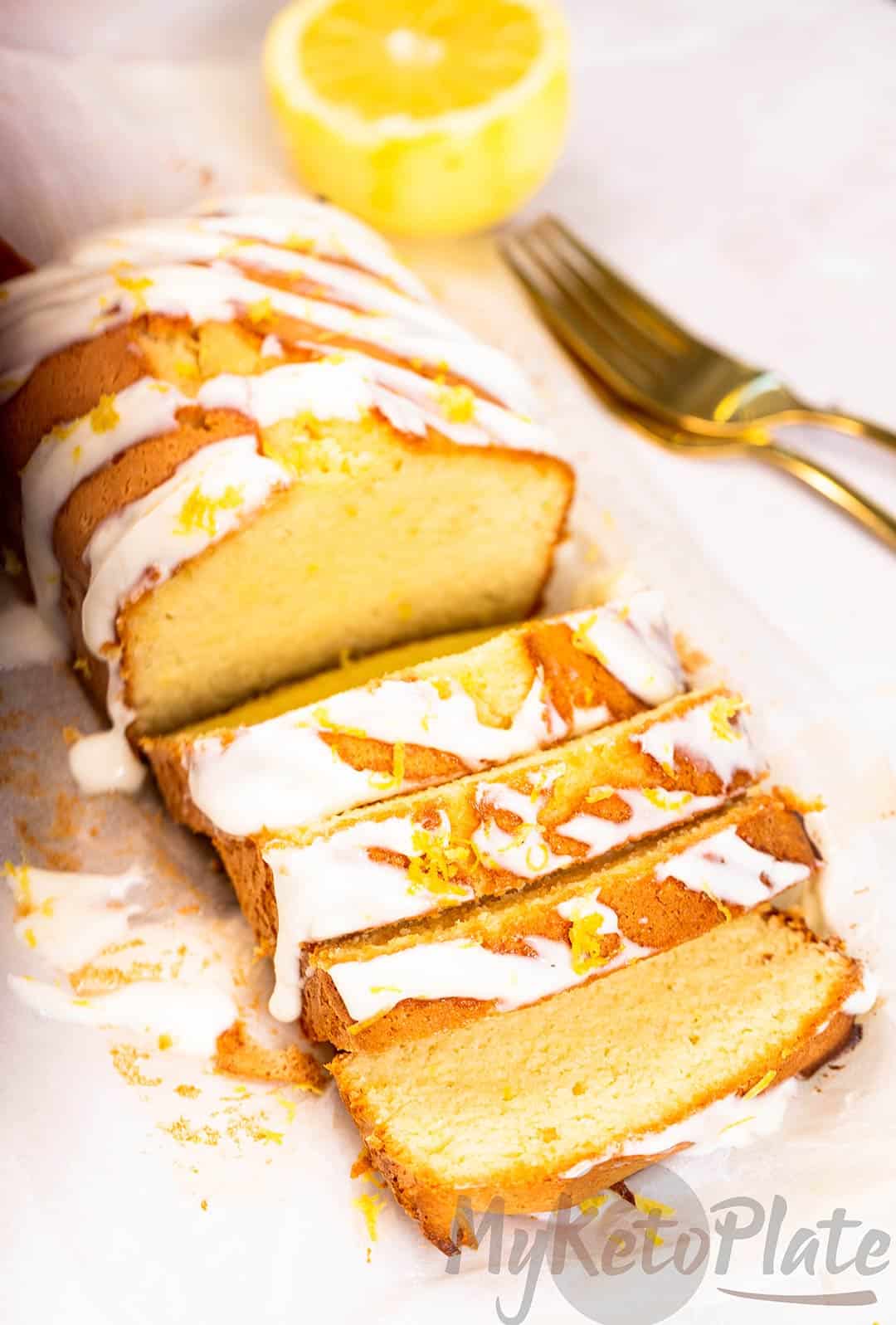 Are you craving a delicious lemon-flavored dessert and looking for the best dessert? Then, you have to try this keto pound cake topped with a creamy cheese lemon glaze that has the perfect amount of tanginess.
I'm sure you'll love these delicious keto lemon bars too!
Let's see how I can describe this easy low-carb pound cake recipe: incredibly fluffy, with an intense lemon taste, extremely delicious, and topped with the best lemon cream cheese glaze. In short: the perfect dessert that goes perfectly with a cup of tea or coffee in the morning.
An easy-to-prepare, delicious dessert that you can bring to any party, and no one can tell it's keto-friendly. This simple keto lemon pound cake recipe is loved by everyone, and it's surely going to impress your guests.
Make this lemon pound cake at home and enjoy one of the most delicious almond flour lemon cakes, which is also gluten-free, dairy-free, grain-free, and sugar-free, made with keto-friendly ingredients.
Watch this quick step-by-step video to see how easy it easy to make the best keto lemon pound cake!
Why Is This the Best Keto Lemon Pound Cake Recipe
Only 4g net carbs per serving
No grains or sugar are needed.
Super moist, fluffy, with a delicious creamy lemon glaze
An intense lemon flavor that's not overpowering
Delicious topped with keto whipped cream or keto ice cream.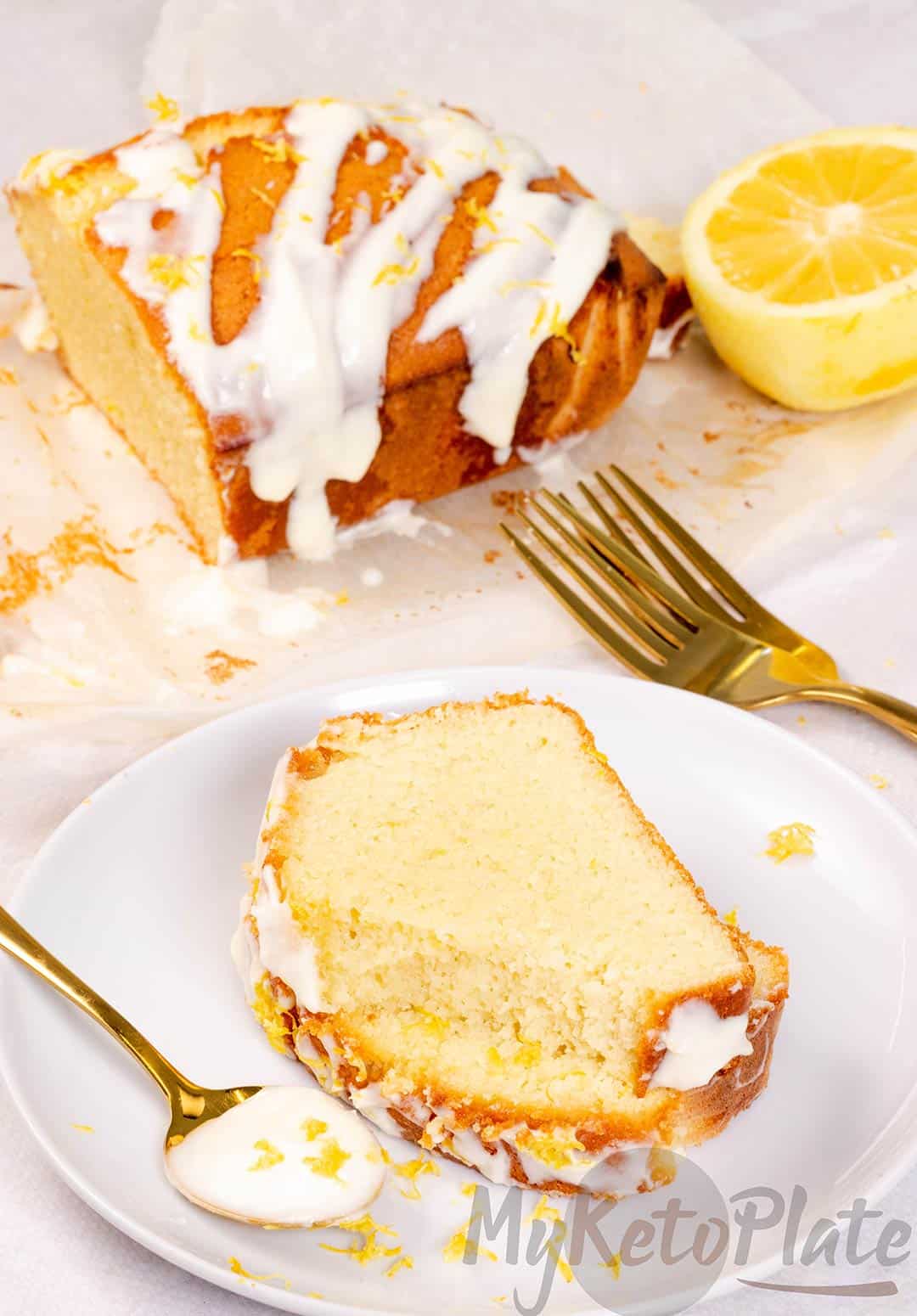 Low Carb Lemon Pound Cake Ingredients
This delicious lemon cake is super fluffy and flavorful. It is easy to make using a few ingredients you already have in your kitchen. Here is everything you need:
Eggs – Using room-temperature eggs reduces the eggy taste significantly.
Coconut Oil –You can easily replace coconut oil with unsalted butter.
Almond Milk – you can also replace it with unsweetened coconut milk.
Vanilla Extract – High quality is always essential.
Sweetener – Feel free to use your favorite sweetener; make sure it is keto-friendly to mix well into the batter. Monk fruit is my favorite because it has no aftertaste.
Almond Flour – Sift the flour to ensure there are no clumps in the batter. The cake's texture will be lighter as a result.
Baking Powder – helps the cake rise and become fluffy.
Lemon – you will need lemon juice and zest for this pound cake and lemon glaze.
Cream Cheese – this one is used for the lemon glaze; use room temperature to mix well.
Make the Keto Lemon Pound Cake
You can make this keto lemon pound cake following a few simple steps. So although it appears to be a lot of work, guess what? It isn't nearly as complicated as it appears. Here is everything you have to do:
Start by adding all the wet ingredients to a bowl and mix them for about 30 seconds or until frothy.
Then add the dry ingredients and mix until well combined and a smooth, pourable batter forms.
Transfer the batter to the prepared loaf pan and bake for 50 minutes, or until a toothpick inserted into the center comes out clean.
Let the lemon pound cake cool down and prepare the lemon glaze.
Sugar-Free Lemon Glaze
Add the lemon juice, powdered sweetener, and cream cheese into a bowl and combine until smooth and creamy.
Once the lemon pound cake cools, drizzle the lemon glaze and sprinkle some lemon zest.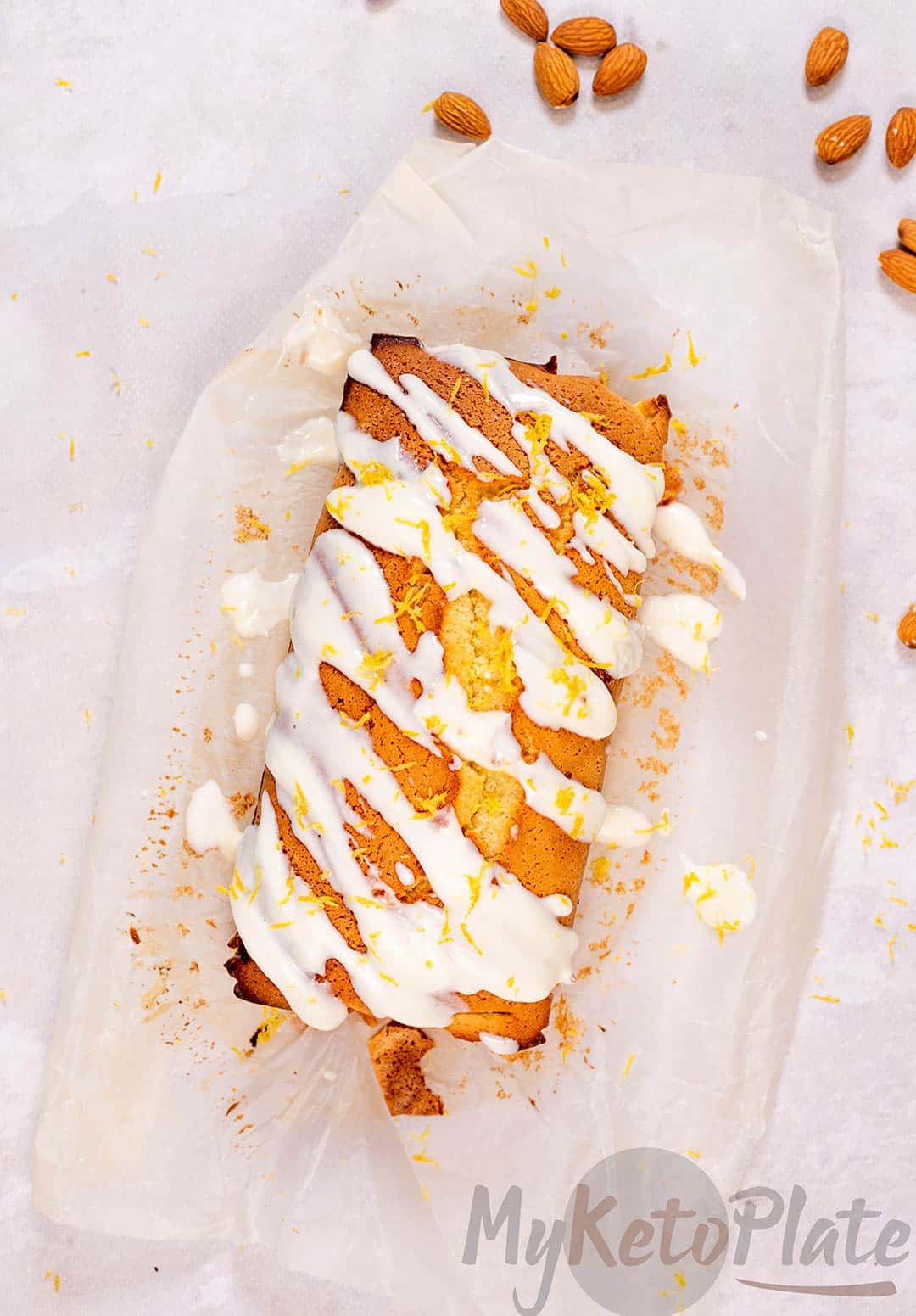 Tips and Variations
Sift the dry ingredients to remove any larger clumps, resulting in a light flour mixture.
You can add some fresh blueberries to the batter to make a dessert similar to my keto blueberry bread.
Before zesting your lemons, make sure they're clean. I normally wash fruits and vegetables in a water and vinegar bath.
For the best keto cake, use room-temperature ingredients.
Make sure the batter isn't over-mixed. The cake may become rough and dense as a result.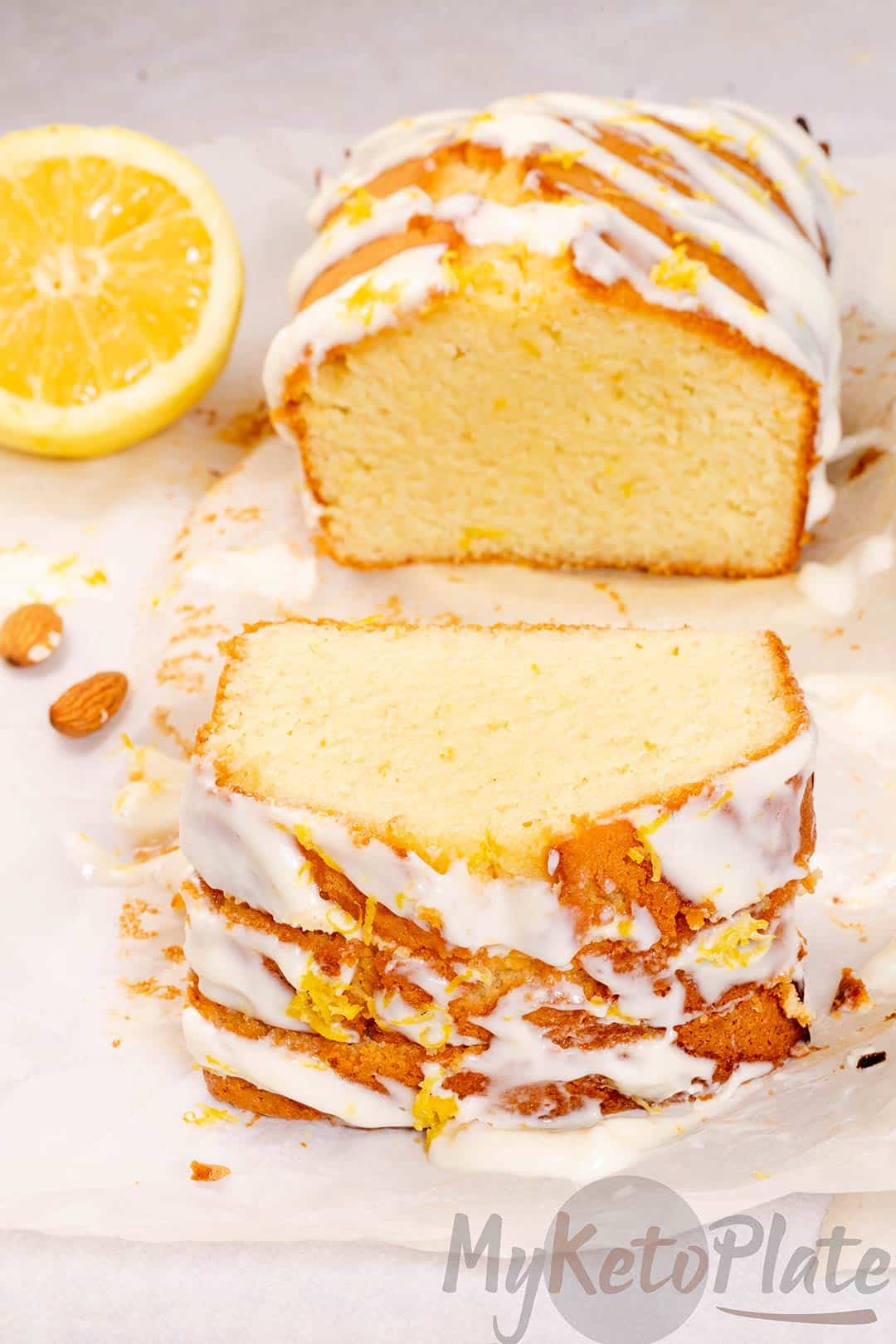 Storing Ideas
Room temperature – You can store this lemon pound cake in an airtight container in a dark place on the counter for five days.
Can I Freeze This Lemon Pound Cake?
Yes, you can also freeze this lemon pound cake. Allow it to cool completely before wrapping each slice in parchment paper to prevent them from sticking together. They'll keep for up to three months in the freezer.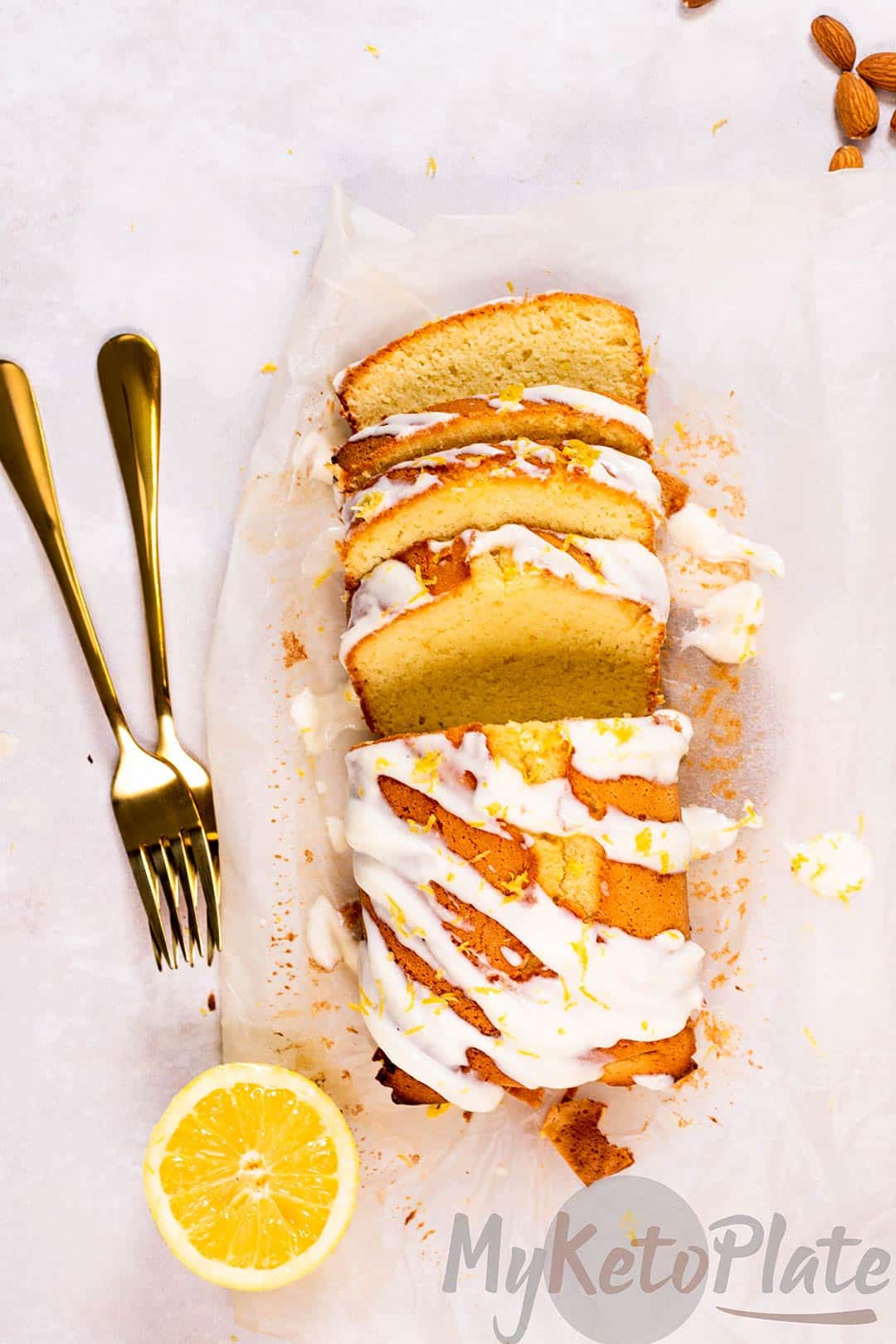 Frequently Asked Questions
Pound Cake Vs. Regular Cake
Compared with normal cakes, pound cakes are often mild in flavor due to their richness and are eaten plain or with delicious icing. Normally, they're baked in a loaf pan or a Bundt pant.
Can I Make This Keto Lemon Almond Flour Pound Cake Ahead Of Time? 
This keto lemon pound cake is perfect for making ahead of time and satisfying your sweet craving whenever you want.
Is Lemon Keto-Friendly?
A wedge of lemon (or lime) contains very little carbohydrates – less than half a gram. So yes, lemons are on the list of keto-approved fruits.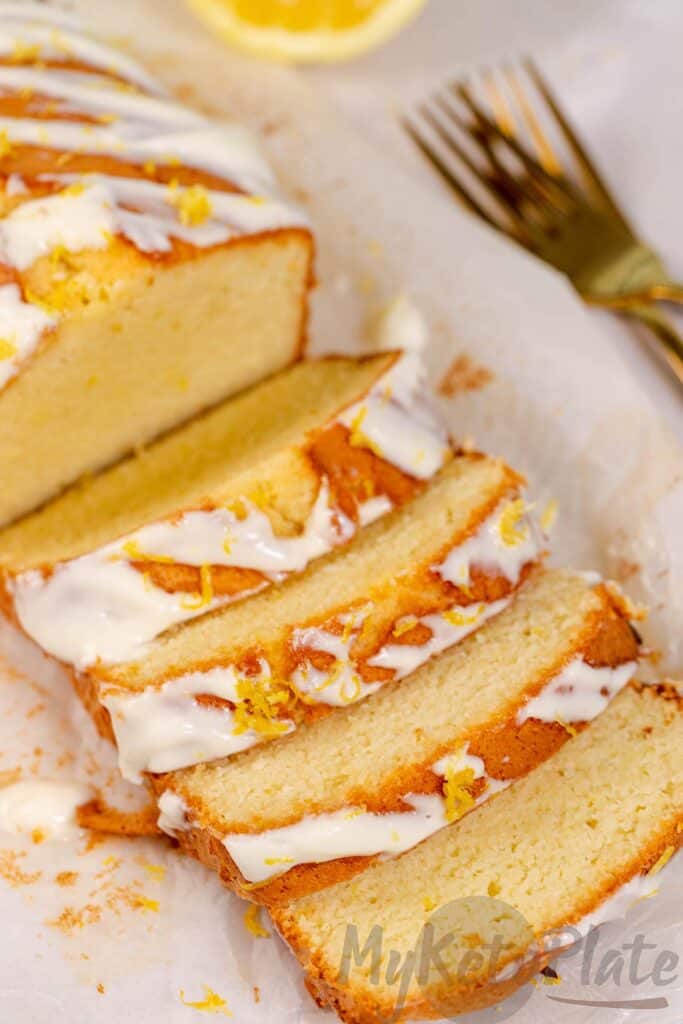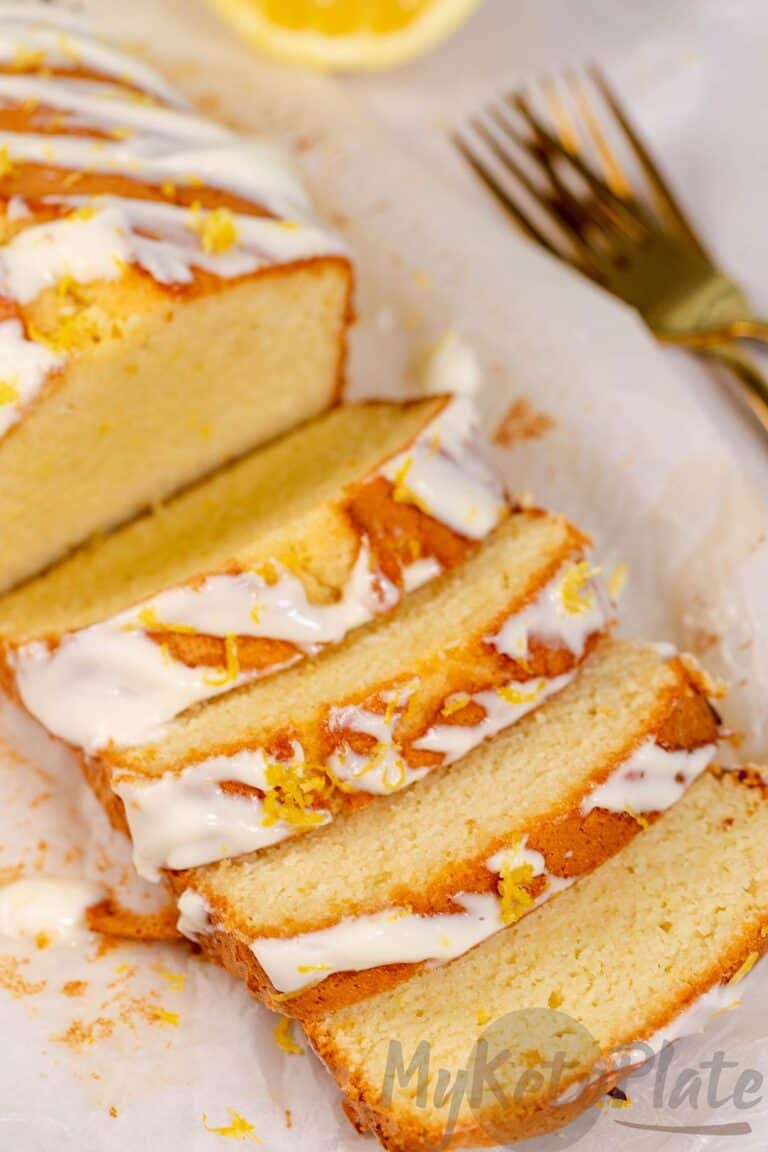 More Keto Cake Recipes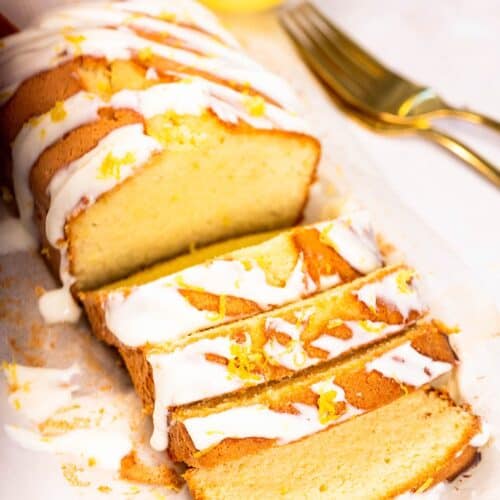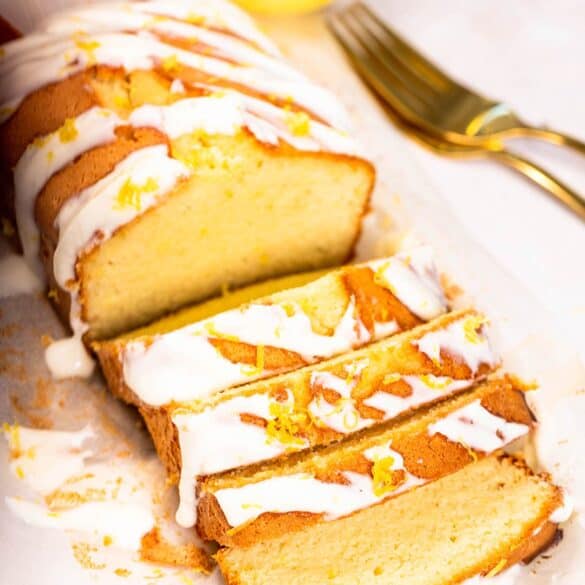 Description
This Keto Lemon Pound cake is a low-carb dessert that is easy to make with simple ingredients. Ready in only 60 minutes, it's the ultimate keto pound cake for lemon lovers. Enjoy an ultra moist, buttery, and rich almond flour pound cake that has just 3g net carbs per serving!
Ingredients
Lemon Glaze
2

oz

cream cheese

room temperature

1/4

cup

powdered sweetener

3

tbsp

fresh lemon juice

or more to thin out the glaze
Instructions
Preheat the oven to 350°F/ 180°C. Line a 9-inch x 5-inch loaf pan with parchment paper. Set aside.

In a large mixing bowl, add the eggs, sweetener, melted coconut oil, lemon juice, lemon zest, almond milk, and vanilla extract. Mix for 30 seconds until frothy using an electric mixer.

Add the almond flour and baking powder and mix until the batter looks smooth and slightly thick but pourable.

Transfer the batter to the prepared loaf pan and smooth the top using a spatula.

Bake in preheated oven at 350°F (180°C) for 50-55 minutes or until it looks golden brown on top and a toothpick inserted in the center comes out clean.

Cool for 10 minutes in the loaf pan, then transfers to a cooling rack to cool completely.
Lemon Glaze
Combine all the ingredients using an electric mixer until smooth and creamy. Add more liquid to thin the glaze until it reaches the desired consistency.

Generously drizzle the lemon glaze over the lemon pound cake. Enjoy!
Nutrition Facts
Amount per serving.
How do we calculate the nutrition info?
These nutrition facts listed are determined using nutrition information from the USDA Food Database. Our nutrition facts are accurate, but if you are using different products, please make your calculations. Net carb count is calculated by subtracting both fiber and sugar alcohols because they don't raise blood sugar.