This keto zucchini bread is a fluffy, tender, and easy to make bread that's super moist. Healthy zucchini bread made with almond flour is the perfect breakfast, dessert, snack, or even a delicious appetizer. It's really easy to make, delicious and only 3g net carbs!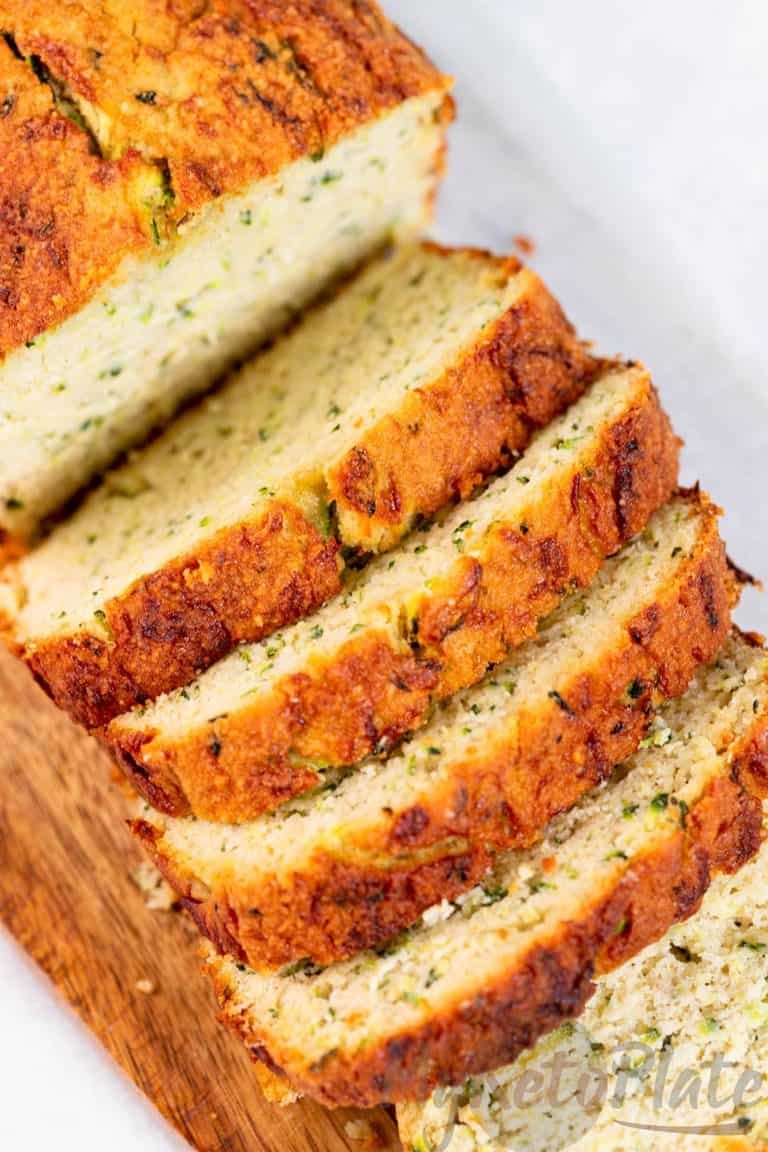 I'm a huge fan of keto baking, and I love to make brownies, cookies, keto blueberry bread, and this keto zucchini bread.
This zucchini bread is quite interesting due to the star ingredient, the zucchini, which does not have a neutral taste. It's such a fantastic way to include more vegetables into your diet.
It's often assumed that zucchini is used in savory recipes and is somehow unusual for keto desserts. But zucchini bread is actually quite a popular recipe because you can sneak in vegetables and customize it with your favorite add-ins.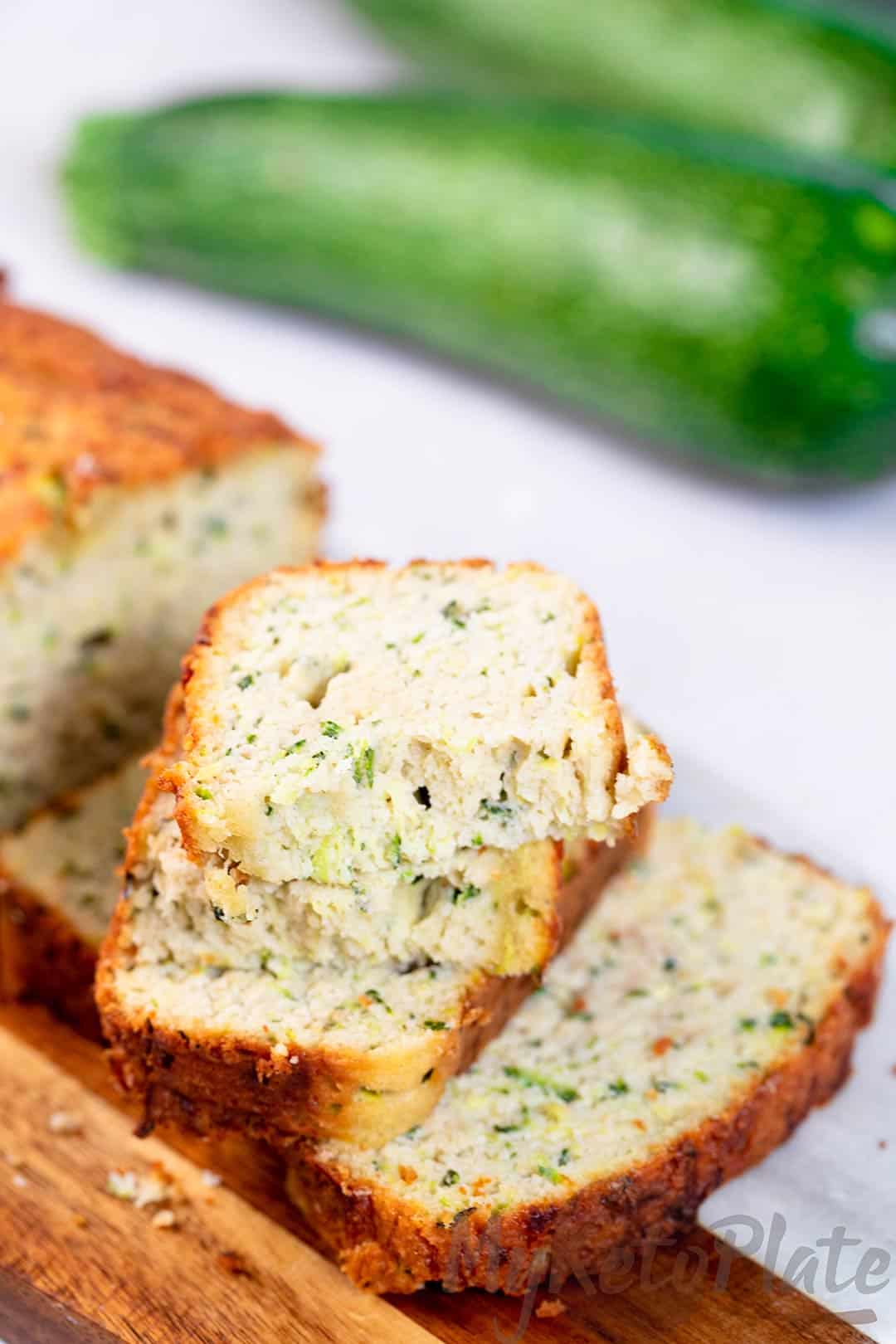 Why Is This the Best Keto Zucchini Bread Recipe
Sugar-free and gluten-free recipe.
Make the batter in less than 5 minutes
Super moist and loaded with flavor
Can be turned into delicious keto zucchini muffins
Made with naturally low-carb ingredients
Keto Zucchini Bread Ingredients
A great thing about this recipe is the fact that it requires only a few ingredients that are easy to find: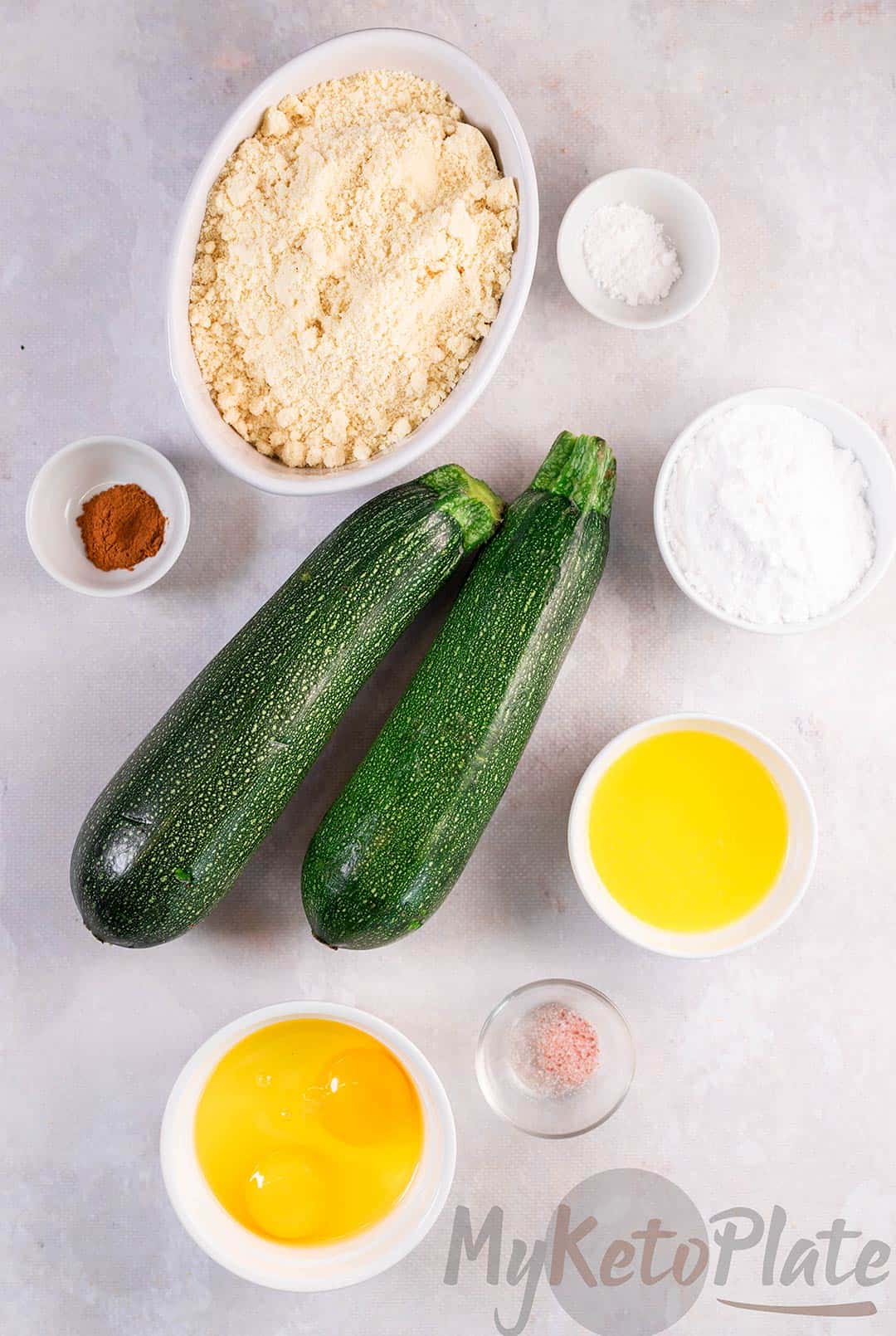 Almond Flour – use superfine, blanched almond flour for the best fluffy bread texture.
Eggs – large eggs at room temperature help all the ingredients bind together.
Zucchini – you'll need 1 1/2 cups of shredded zucchini that you don't have to feel.
Butter – Use unsalted butter since salted butter will overpower the sweetness. Replace with melted coconut oil or avocado oil for a dairy-free bread.
Sweetener – To prepare a paleo zucchini bread, use your favorite granular sweeteners, such as Erythritol, Monk fruit, or even coconut sugar.
Baking Powder – helps the bread rise beautifully.
Cinnamon – gives that perfect touch to this zucchini bread.
Salt – Brings out the sweetness of this dessert.
How To Make Zucchini Bread
This keto zucchini bread recipe is so easy to make that there's no way to go wrong. Here's what you'll need to do:
Grate the zucchini. Then use a kitchen towel to squeeze out as much liquid as possible.
Make the batter: In a large bowl, combine the dry ingredients. Add the eggs, melted butter, and zucchini over the dry ingredients. Stir until the batter is formed.
Transfer the batter mixture into a pan and smooth the top using a rubber spatula.
Bake in the preheated oven for 60 minutes or until a skewer comes out almost clean. Cool completely before slicing.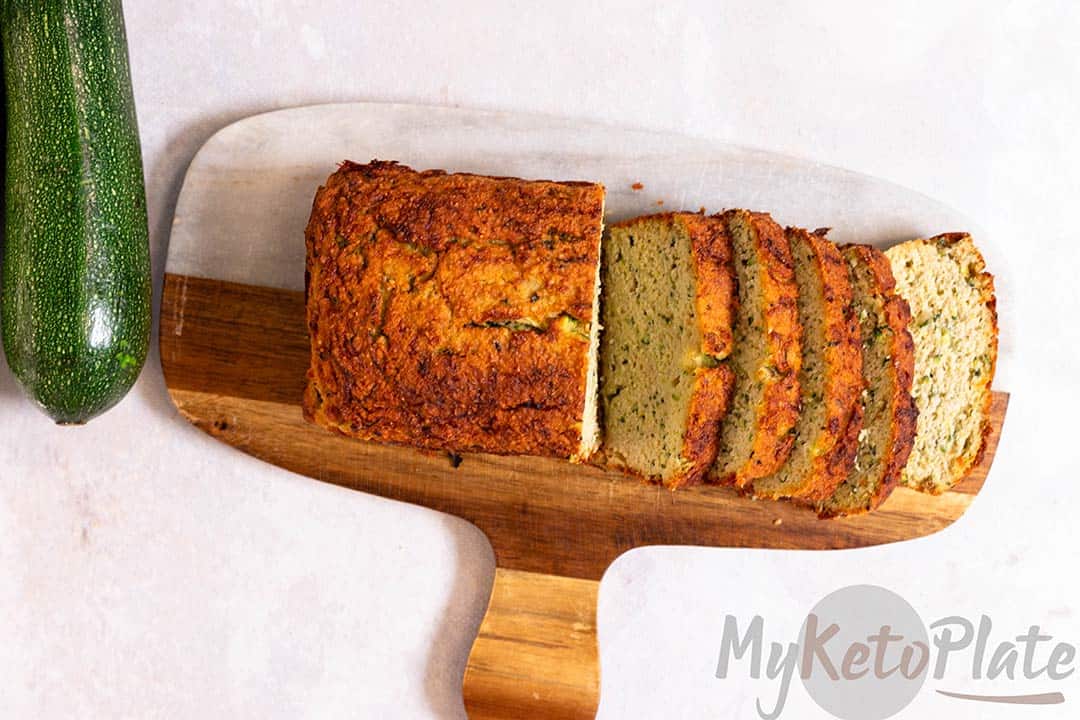 Tips for Making The Best Keto Zucchini Bread
This recipe can be made into zucchini muffins instead of a loaf.
To prevent the zucchini bread from sticking to the pan, line with parchment paper and spray with non-stick spray.
Cover the bread with tin foil to prevent the loaf from browning too much. 
Don't overmix: Overmixing the batter may cause the bread to become dense and tough. Mix the ingredients until they are just combined.
Let the zucchini bread cool before slicing: Let the bread cool completely before slicing to prevent it from falling apart.
Grate the zucchini using the smallest side of your grater and then squeeze out any excess moisture. This will prevent the bread from becoming too wet and soggy.
Variations
Chocolate: If you are a chocolate lover, you can add some unsweetened cocoa powder and chocolate chips to the batter.
Pumpkin Spice: add 1 1/2 tsp of pumpkin spice to the zucchini bread.
Blueberry and Lemon: Add some brightness to your zucchini bread with lemon zest and juicy blueberries.
Lemon: Add some tangy sweetness to your zucchini bread with a simple lemon glaze.
Peanut Butter: Add some protein to your zucchini bread with creamy peanut butter.
Apple Cinnamon: Incorporate a few apple slices and add cinnamon to taste.
Lime and Coconut: Add some tropical flavors to your zucchini bread with lime and coconut.
Savory Keto Zucchini Bread with Parmesan and Garlic: Switch up the classic sweet zucchini bread for a savory version with Parmesan cheese and garlic powder.
Storing Ideas
Room Temperature: You can slice this zucchini bread and store it in an airtight container for 3-4 days.
Fridge: Store in the refrigerator for up to 10 days in an airtight container.
Freezer: You can also freeze this zucchini bread. Allow it to cool completely before slicing it, and wrap it in parchment paper to prevent them from sticking together. Store in the freezer for up to 6 months.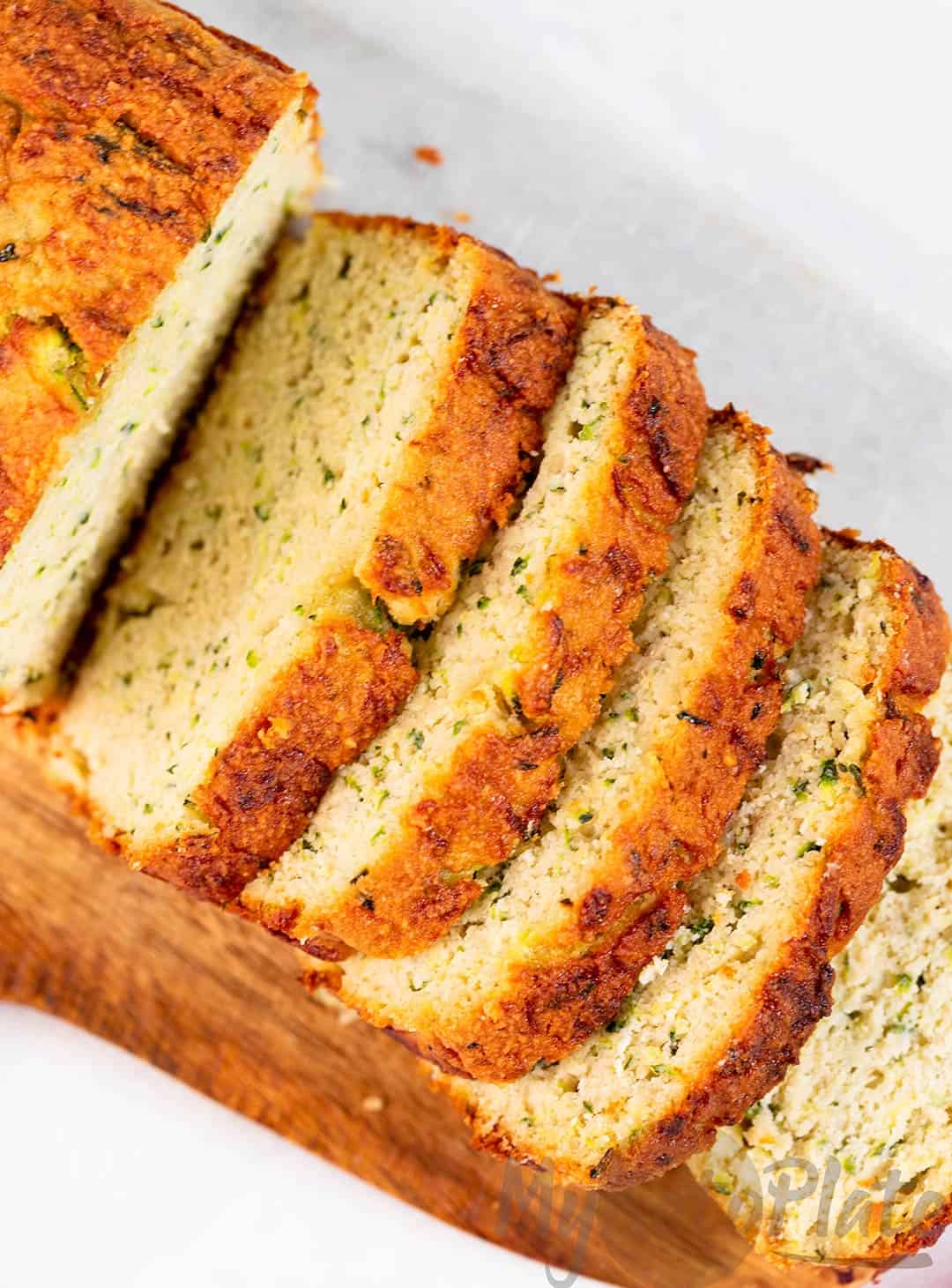 Equipment Needed To Make
Box grater
Large bowl
Silicone spatula
Loaf pan
Parchment paper
More Keto Bread Recipes to Try: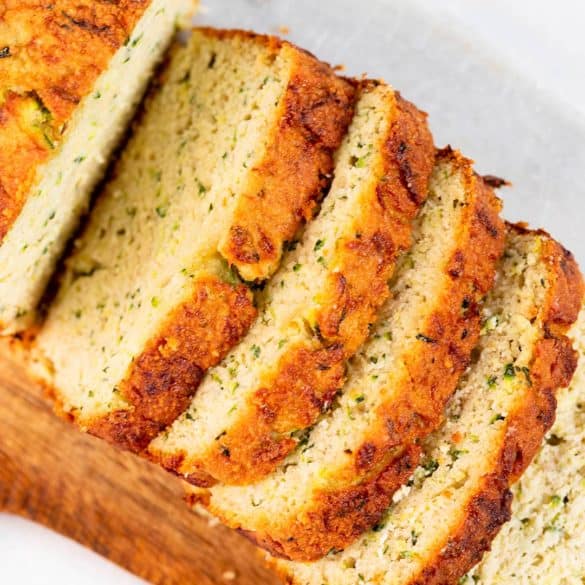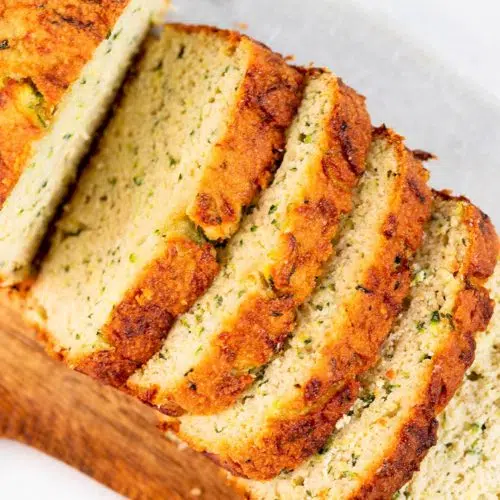 Description
This keto zucchini bread is a fluffy, tender, and easy to make bread that's super moist. Healthy zucchini bread made with low carb ingredients is the perfect breakfast, dessert, snack, or even a delicious appetizer.
Instructions
Preheat oven to 350F/180C. Line a 9×5 loaf pan with parchment paper. Set aside.

Place grated zucchini on a kitchen towel and squeeze out as much moisture as possible.

In a large bowl, add the almond flour, sweetener, salt, cinnamon, and baking powder. Whisk to combine.

Add the eggs, melted butter, and zucchini over the dry ingredients. Stir until the batter is formed.

Fold in walnuts, chocolate chips, or blueberries using a rubber spatula.

Transfer the batter to the prepared pan and bake for 60 minutes. The bread is done cooking when a toothpick inserted in the middle comes almost clean.

Remove from the oven and transfer to a wire rack to cool completely.
Notes
To make keto zucchini muffins: distribute the batter evenly among a 12-cup muffin tin.  Bake in the preheated oven at 350F oven for 20-22 minutes or until an inserted toothpick comes out clean.
Nutrition Facts
Amount per serving.
How do we calculate the nutrition info?
These nutrition facts listed are determined using nutrition information from the USDA Food Database. Our nutrition facts are accurate, but if you are using different products, please make your calculations. Net carb count is calculated by subtracting both fiber and sugar alcohols because they don't raise blood sugar.