This easy almond flour cake is fluffy, buttery, and super moist. Made with low-carb ingredients, no sugar, and no wheat flour, it's the perfect gluten-free cake for dessert or afternoon tea.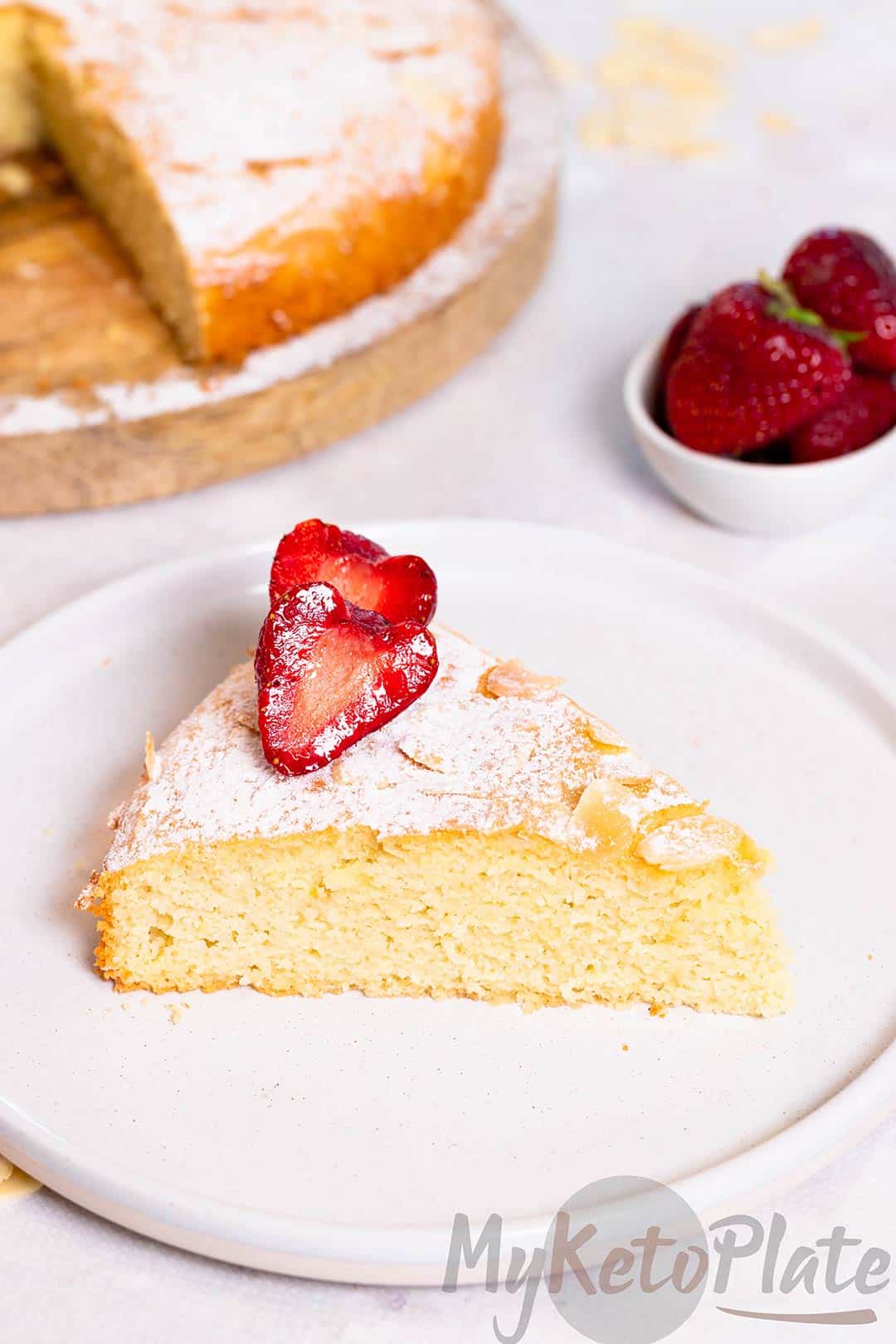 When it comes to baking, I love to experiment with different gluten-free flours. I love making a delicious chocolate cake, coconut flour cake, or almond flour brownies.
Plus, this gluten-free almond flour cake is also keto-friendly, and grain-free, so enjoy it as a snack or dessert.
You've come to the right place if you're looking for a quick keto dessert made with just a handful of wholesome ingredients. Surprisingly, almond flour makes this cake super fluffy and light.
Why Are You Going To Love This Almond Flour Cake Recipe
Extremely easy to make with just 8 ingredients
One bowl cake recipe for easy clean-up
It's a versatile recipe that can be easily customized
Fluffy and tender grain-free cake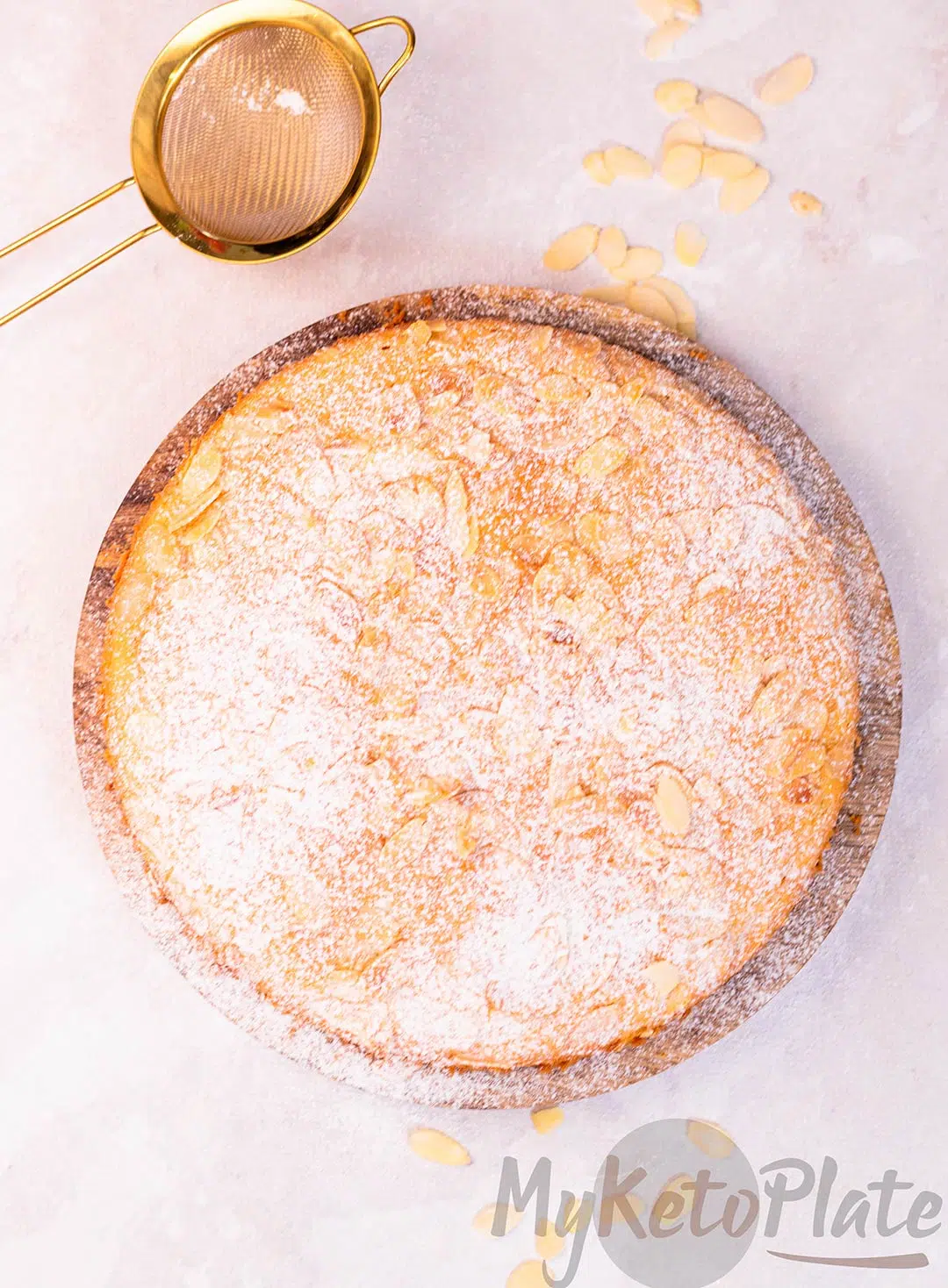 Almond Flour Cake Ingredients
I'm sure you already have all of the ingredients in your pantry. This lovely cake requires only eight 8 ingredients that are extremely easy to find. Here is everything you will need: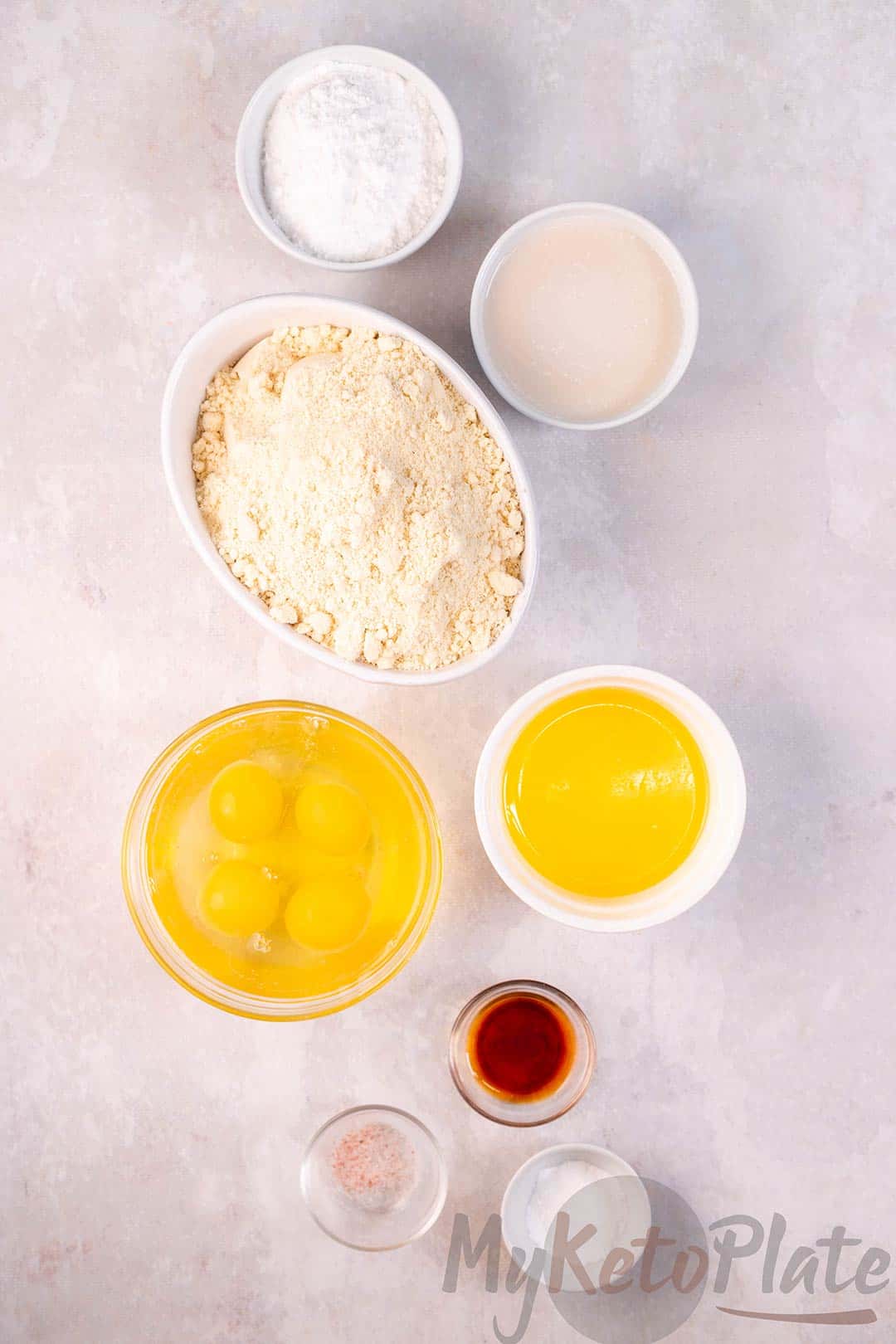 Eggs – use large room-temperature eggs for the best results and avoid that eggy taste and smell.
Almond Flour – The cake's texture comes from the almond flour, which must be superfine blanched almond flour and not an almond meal. Almond meal has a unique texture that makes the cake oily and dense.
Sweetener – You can use Erythritol, monk fruit, xylitol, or any other granulated sweetener you prefer.
Almond Milk – makes the cake super creamy and moist.
Baking Powder – is used to make a soft and airy texture.
Vanilla Extract – make sure you are using high-quality vanilla. You can also use almond extract or orange extract.
Butter – gives a buttery taste that makes this cake so delicious. To make a vegan almond flour cake, replace it with vegan butter or coconut oil.
Sliced Almonds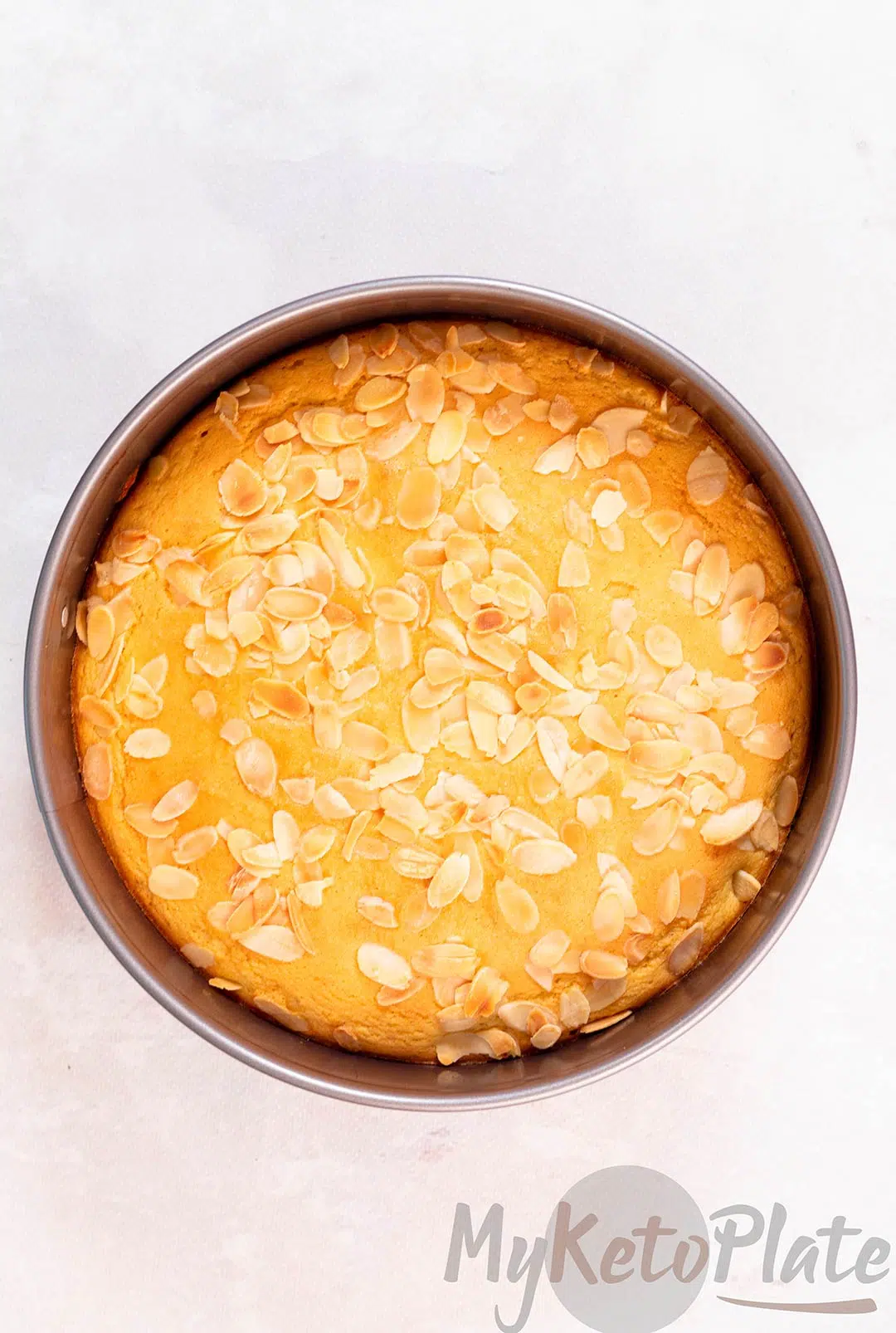 Make the Almond Flour Cake Recipe
This almond flour cake is not only extremely moist and delicious but also easy to make. Here is everything you have to do:
First, whisk together all wet ingredients in a large mixing bowl until frothy. You can do that using a whisk or an electric mixer.
Then add all the dry ingredients and mix until the batter forms and there are no lumps.
Pour the cake batter into a 9-inch round pan and sprinkle the sliced almonds over the top.
Bake your keto almond flour cake for 25-30 minutes on the center rack of your oven.
Let the cake cool for about a couple of hours and sprinkle with powdered sweetener. Enjoy!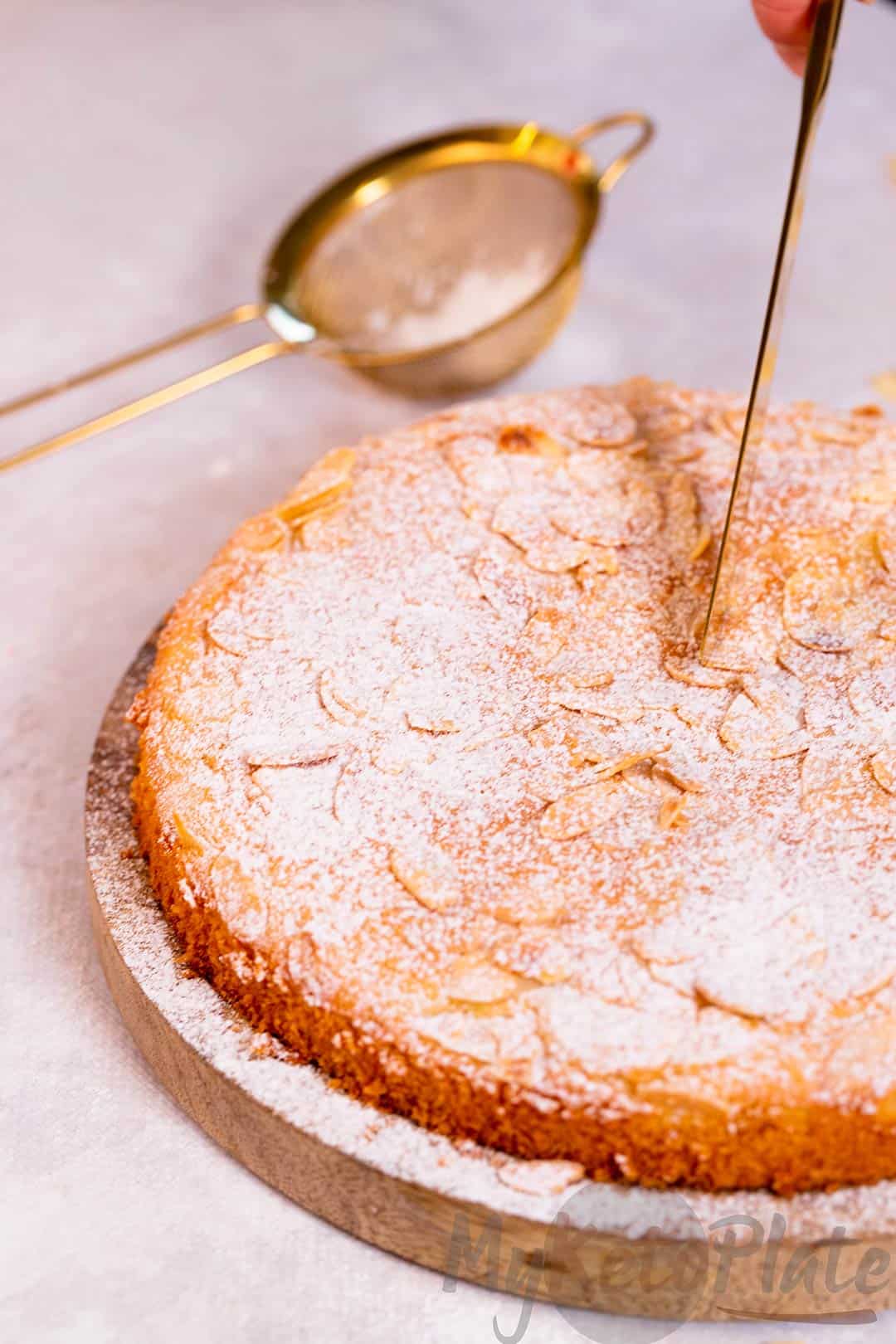 Tips For Making The Best Almond Cake
Make sure that you don't overbake it because you don't want to have a dry and crumbly cake.
You'll have to keep an eye on the cake because it's made with almond flour, which causes it to brown quickly.
After a few minutes, cover the cake with a large piece of foil to keep the cake's top from burning.
Sift the almond flour for the fluffiest texture.
Toppings
If you want to play with other topping combinations for this almond flour cake, here are a few suggestions: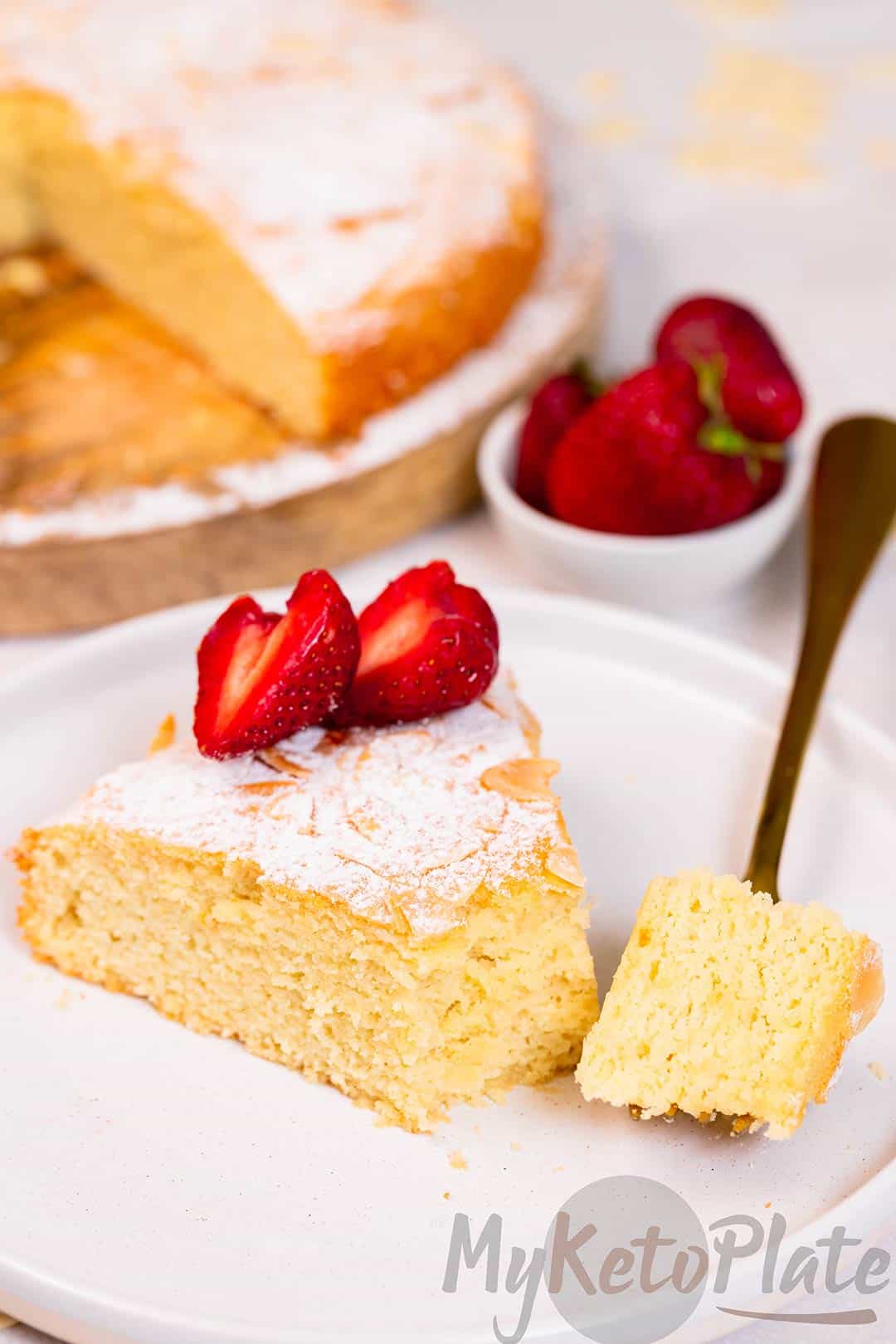 Storing Ideas
Room temperature – To keep this keto almond flour cake super moist, store it wrapped in plastic wrap at room temperature for up to 5 days.
Fridge: you can store the almond flour cake leftovers in an airtight container in the fridge for up to 7 days.
Freezer: this keto cake is also freezer-friendly, so you can slice it and freeze the slices wrapped individually in parchment paper. Freeze for up to 3 months. To reheat, thaw at room temperature, and then microwave until warm.
Frequently Asked Questions
Can I Make This Cake Using Coconut Flour?
Almond flour cannot be substituted with coconut flour in this cake recipe because its properties are completely different. However, for the best results, I highly recommend using almond flour. It's available in most grocery stores, or you can get a few bags online.
Can I Use Replace The Almond Flour With Almond Meal?
I don't recommend using almond meal because it has a different texture, and the result will be greasy rather than fluffy.
Is Almond Flour Healthy?
Sure, almond flour is a great substitute for wheat flour for people on a low-carb or gluten-free diet. Almond flour is made from ground almonds.
Can I Enjoy Almond Flour On A Keto Diet?
Because it's low in carbs, high in fiber, and has a neutral flavor, almond flour is a great ingredient for those following a keto diet. For a two tablespoons (28g) serving, there are only 2 grams of net carbohydrates.
More Cake Recipes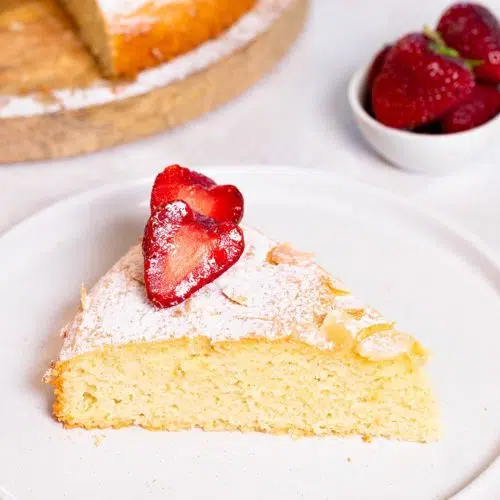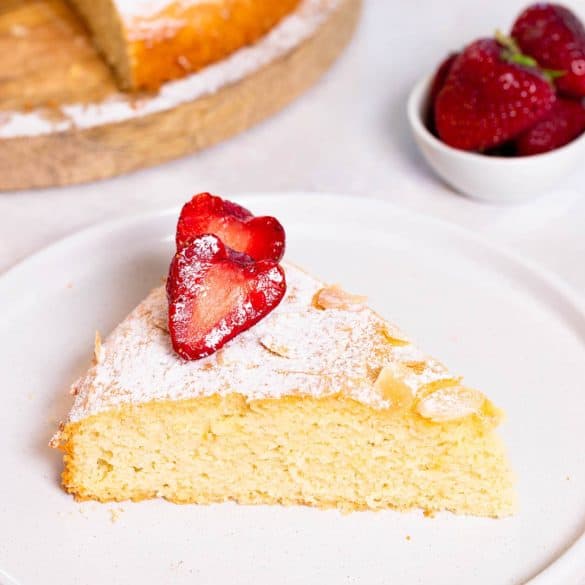 Description
This easy almond flour cake is fluffy, buttery, and super moist. Made with low-carb ingredients, no sugar, and no wheat flour, it's the perfect gluten-free cake for dessert or afternoon tea.
Instructions
Preheat the oven to 350°F/ 180°C. Line the bottom of a 9-inch spring form pan with parchment paper and grease the sides.

In a large bowl, add the eggs, sweetener, almond milk, vanilla extract, and melted butter. Using an electric mixer, mix for about 30 seconds or until frothy.

Add the almond flour, baking powder, and salt. Mix until a slightly thick batter forms.

Transfer the batter to the prepared pan and top with the sliced almonds.

Bake for 25-30 minutes or until the cake top looks golden and a skewer inserted in the middle comes out clean.

Remove the cake from the oven and let it cool for about 10 minutes in the pan until it is no longer hot. Use a knife to release the edges of the cake and place the cake on a wire rack to cool completely.

Sprinkle with powdered sweetener, and enjoy!
Nutrition Facts
Amount per serving.
How do we calculate the nutrition info?
These nutrition facts listed are determined using nutrition information from the USDA Food Database. Our nutrition facts are accurate, but if you are using different products, please make your calculations. Net carb count is calculated by subtracting both fiber and sugar alcohols because they don't raise blood sugar.