This coconut flour chocolate cake is ultra moist, rich, and topped with the best sugar-free chocolate frosting. It's a decadent chocolate cake made with coconut flour that's also grain-free and gluten-free.
If you are a chocolate lover, I am sure you will also love our keto chocolate muffins, keto chocolate cake, and chocolate mug cake.
This is the best coconut flour chocolate cake made in one bowl. So if you're craving a rich, perfectly moist cake topped with a luscious homemade chocolate frosting, you have to try this recipe.
This easy chocolate coconut flour cake is perfect for when you are craving something sweet that pairs well with your morning coffee or tea. It's such a crowd-pleasing recipe, and everyone keeps asking for more.
Lately, I've been baking with coconut flour only, and I couldn't miss making a cake that requires just a few ingredients.
Why Is This the Best Coconut Flour Cake Recipe
Easy to make following just simple and easy steps.
It's made with naturally low-carb and keto ingredients.
It is fluffy and moist inside.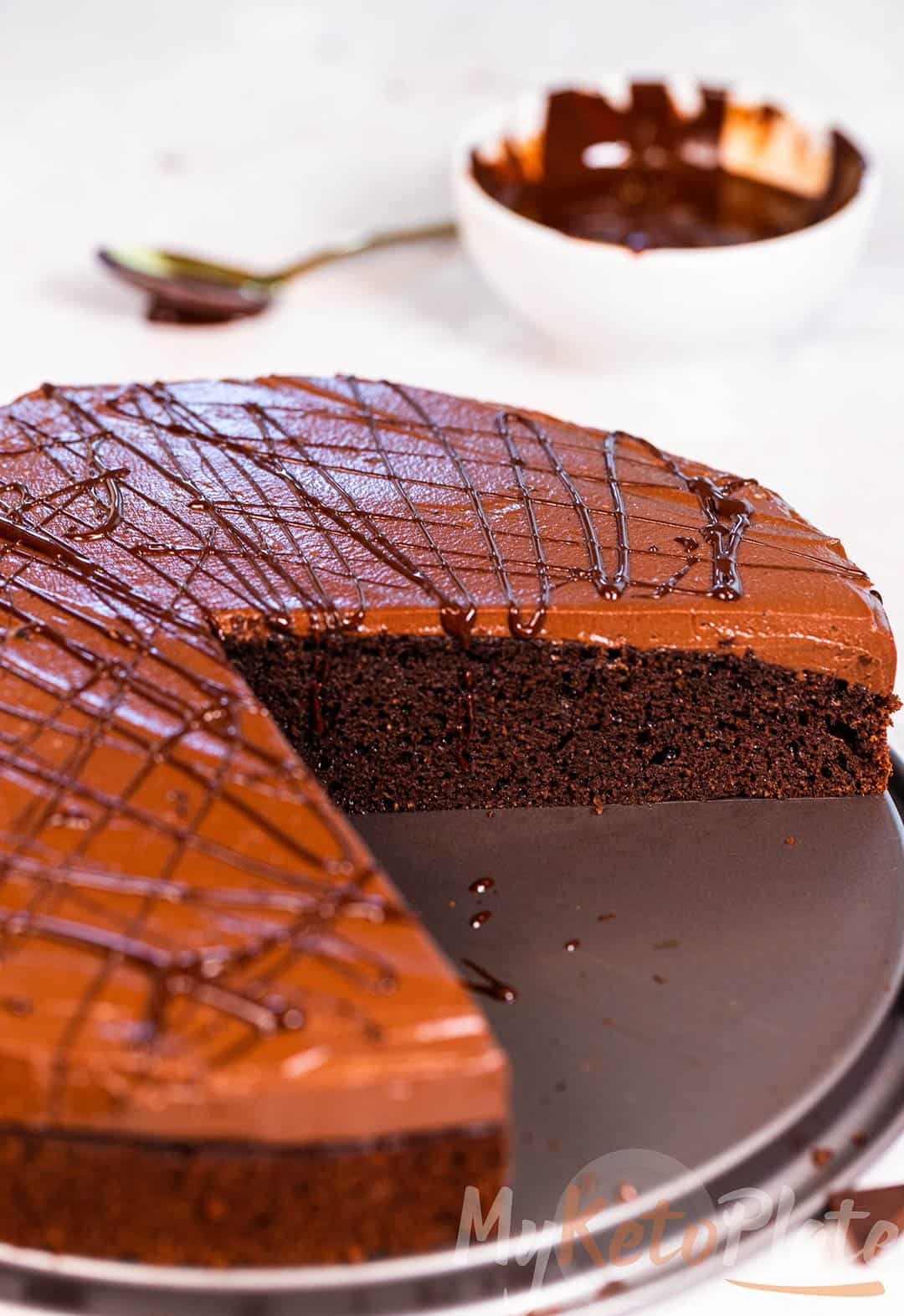 Baking with Coconut Flour
Coconut flour is made by grinding coconut into a fine powder used in so many gluten-free recipes. It's a grain-free alternative to replace wheat flour. It's a low carb flour that's super absorbent, so when baking with coconut flour, you have to add plenty of liquids.
I don't recommend substituting coconut flour with almond flour in recipes that were specifically developed for it. These two flours have different properties when it comes to baking, so it's essential to stick to the recipe for the best results.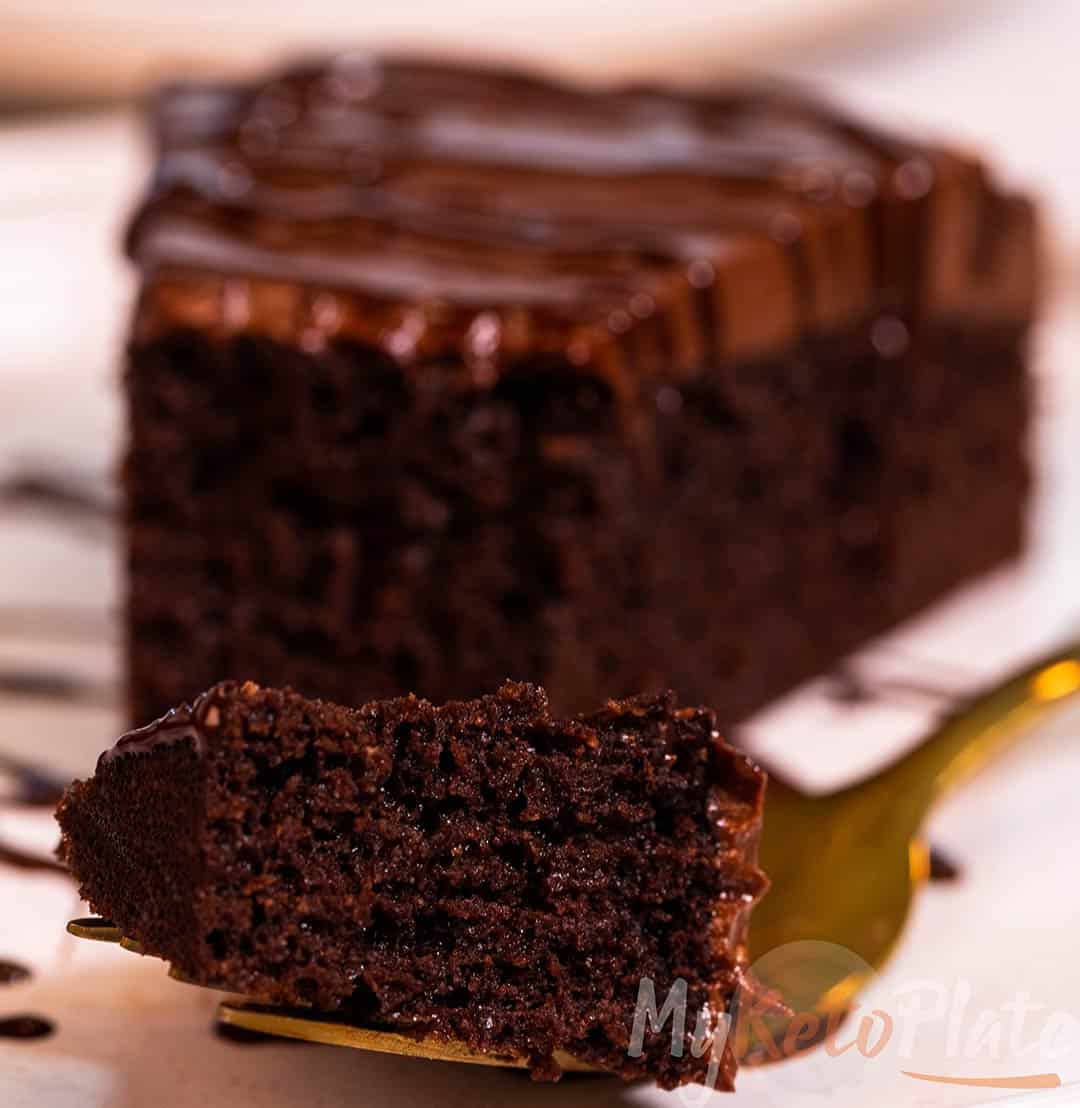 Is Chocolate Cake Keto-Friendly?
No, regular chocolate cake is not keto-friendly since it's made with wheat flour, added sugar, and other ingredients that are not good for a keto diet. Fortunately, a keto version of chocolate cake is as delicious as the original one, and it's also extremely easy to make.
Coconut Flour Chocolate Cake Ingredients
You won't need to go to the store for this coconut flour chocolate cake because it's created with only basic low-carb ingredients that I am sure you already have in your pantry. This cake is so delicious, believe me when I say that. It's ideal for a chocolate craving that strikes in the afternoon but in a healthier way. Here is everything you will need: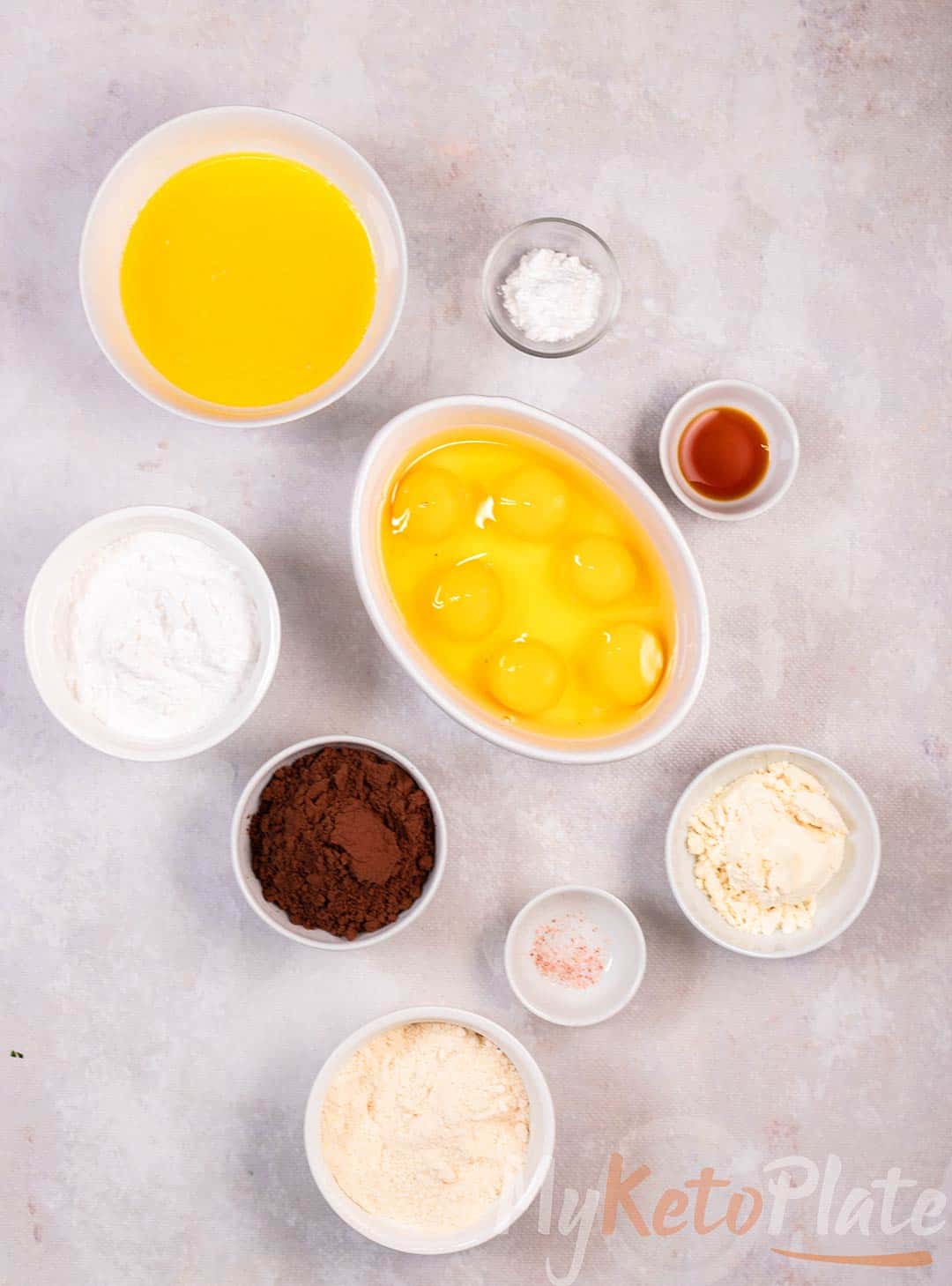 Eggs – Always use large room-temperature eggs. They keep the chocolate bread moist and help everything bind together.
Coconut Flour – This recipe is made using only coconut flour, and that's how this cake is suitable for people who are allergic to nuts.
Cocoa Powder – Make sure that you are using an unsweetened one and the best quality you can find for a great chocolate flavor. You can also use dark cocoa powder for a super rich taste.
Protein Powder – Use your favorite low-carb protein powder, but make sure it doesn't contain any sugar.
Sweetener – always powdered one to ensure that it mixes well into the batter.
Butter – Use unsalted butter that has been softened at room temperature. I don't recommend using coconut oil because it may overpower the chocolate taste.
Baking Powder – works as a leavener, lifting the cake and fluffing it up for the best texture.
Vanilla Extract – use the best quality you can find.
Chocolate Frosting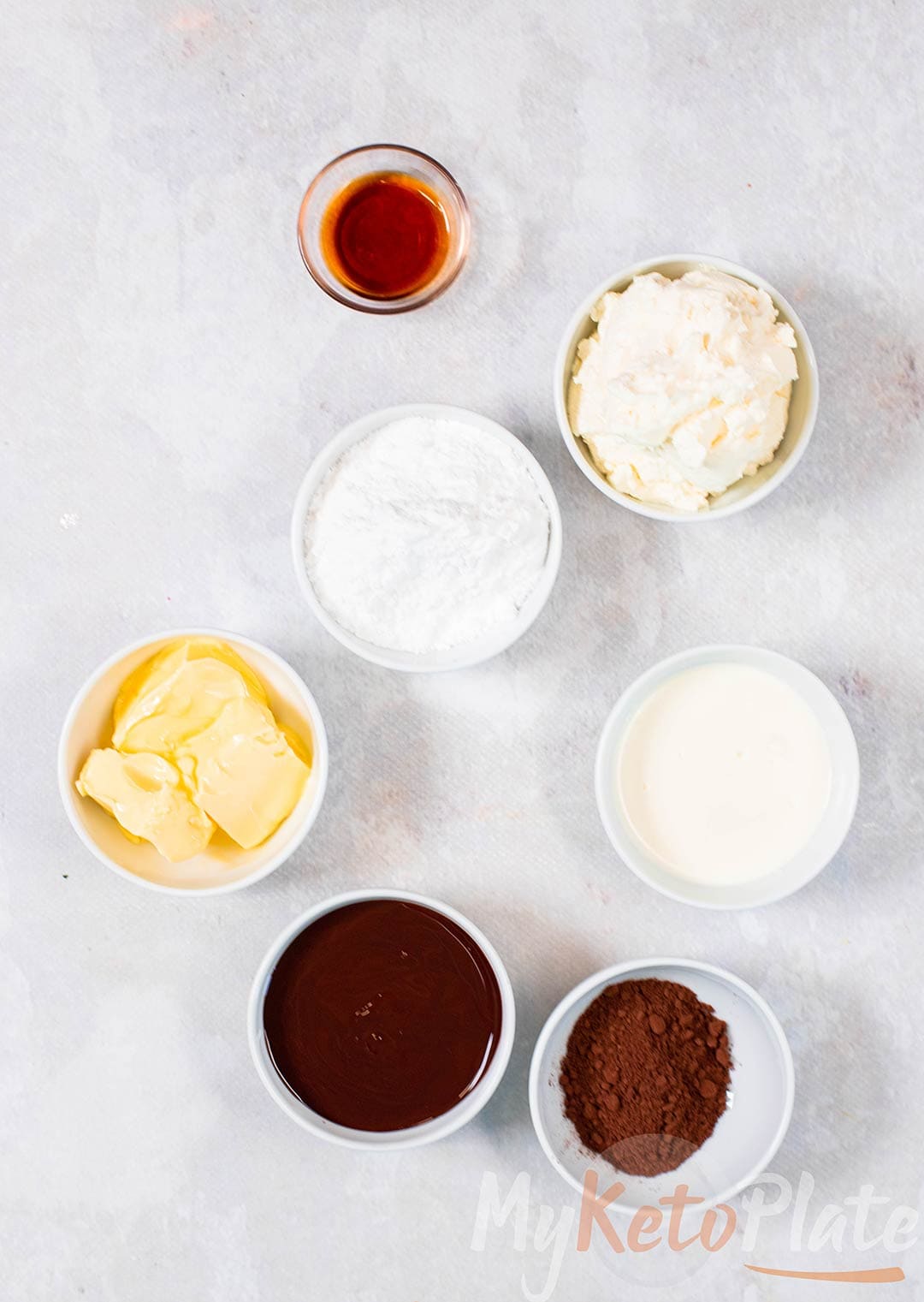 Chocolate – Use baking chocolate that hasn't been sweetened. I also used sugar-free dark chocolate chips once, and the results are fantastic.
Cream Cheese – use room temperature cream cheese to mix well, avoiding lumps.
Butter – softened unsalted butter to combine well into the frosting.
Sweetener – this one is used to make the frosting sweeter. To blend well, make sure you're using powdered sweeteners.
Heavy Whipping Cream – make sure that it is cold.
How To Make Coconut Flour Cake
If you follow the next easy steps, you will enjoy the most delicious coconut flour chocolate cake you have ever tried. Here is everything you have to do and trust me that you can't go wrong:
Make the batter: In a large mixing bowl, combine all dry ingredients, then stir in the wet ingredients until the batter is slightly thick but smooth, with no visible lumps.
Bake: Fill a cake pan halfway with batter and bake for 30 minutes, or until a toothpick inserted in the center comes out with a few crumbs. Allow the cake to cool completely before frosting.
Make the frosting by combining all the ingredients until smooth and fluffy.
Assemble the cake and enjoy: top the cake with chocolate frosting and refrigerate for at least one hour before serving it.
Tips and Variations
To make it easier to blend, use just room-temperature ingredients.
Allow the cake to cool completely before adding the keto chocolate frosting, or else the frosting might melt.
Make sure that you don't overbake your cake because it will get firm and crumbly.
Don't overmix the batter to keep the cake from becoming overly dense and spongy.
Try not to overbake the coconut flour cake, or it will become super dry.
I recommend using a 9-inch spring form pan.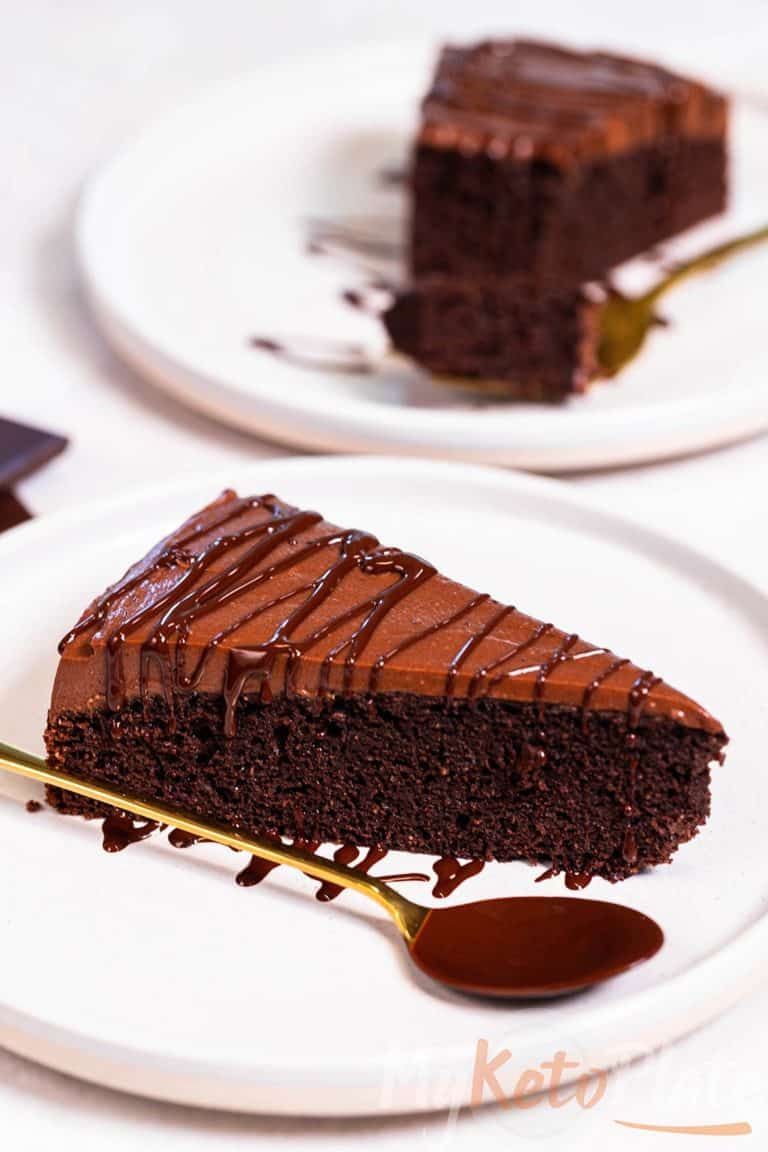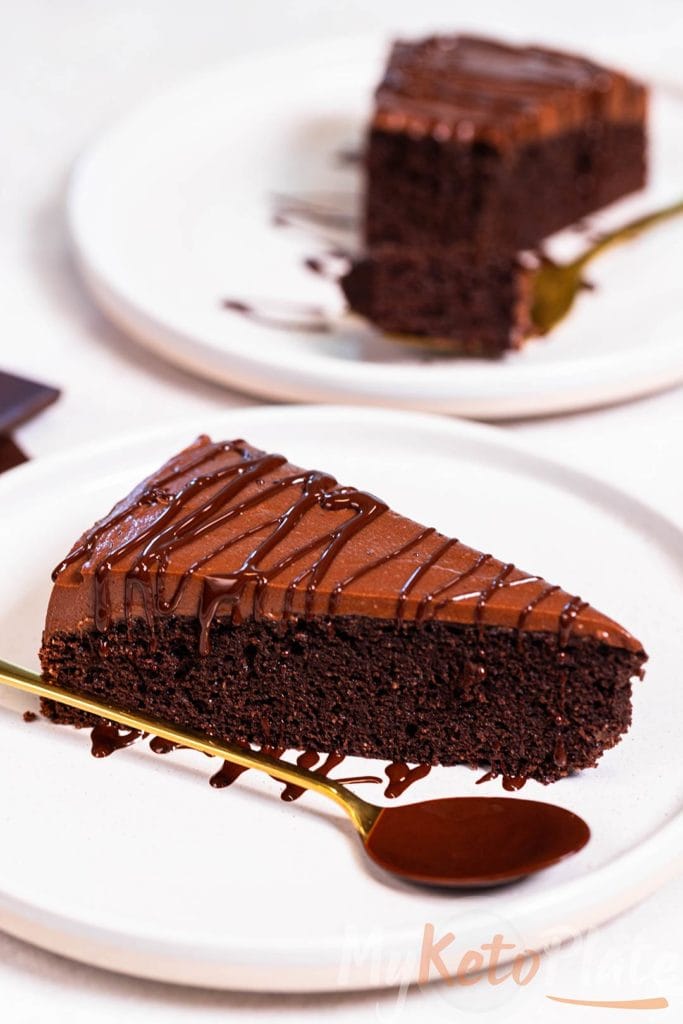 Storing Ideas
Fridge – You can store the leftovers in an airtight container in the fridge for up to one week.
Freezer – Since the cream cheese frosting can't be frozen, I recommend freezing the chocolate cake, and then, when you're ready to assemble, defrost the cake and top with chocolate frosting.
Equipment Needed To Make
A mixing bowl.
Hand mixer.
Silicone Spatula
Baking Pan
Frequently Asked Questions
Can I Use Almond Flour Instead Of Coconut One?
Almond flour isn't a good alternative because of the texture difference. In addition, because coconut flour absorbs so much liquid, it requires more liquid than other cake recipes.
Can I Turn This Recipe Into A Layer Cake?
Sure, you'll need to double the recipe and bake in two baking pans if you want to make a layer cake.
Can I Make It Ahead Of Time?
Sure, this chocolate cake is perfect for making ahead of time and storing in the fridge to satisfy the sweet craving whenever you want. Actually, I was surprised to discover that this coconut flour chocolate cake tasted even better after a few days in the fridge.
How Do I Know When The Cake Is Ready?
Check the cake halfway through the baking time, and if the edges appear to be getting dark, cover it with aluminum foil. When a toothpick put in the center of the cake comes out clean, it's done. 
Can I Make Coconut Flour Cupcakes?
Yes, in fact, this is a fantastic idea. First, you will have to follow the instructions to create the batter and frosting, then proceed as follows: 
Use 12 cupcake liners to fill a cupcake pan. 
Fill the cupcake liners 3/4 full with batter and bake at 375 degrees for 15-20 minutes. 
After they've cooled, top them with the frosting.
Do coconut flour cakes rise?
Yes, if you're using baking powder, coconut flour cake rises beautifully. Just make sure to use fresh baking powder that hasn't passed the expiration date.
More Keto Desserts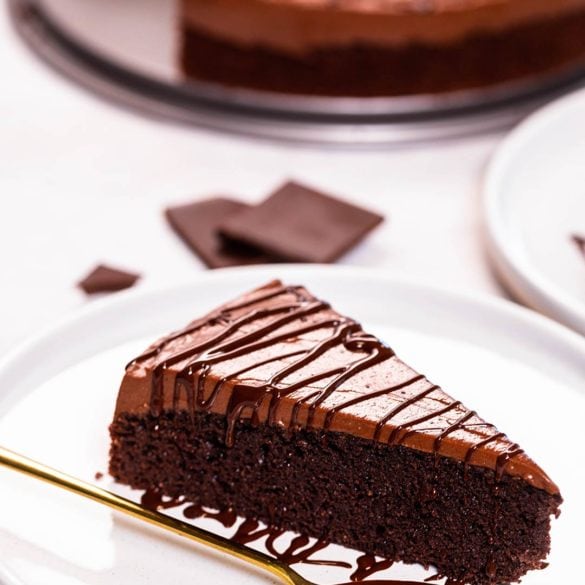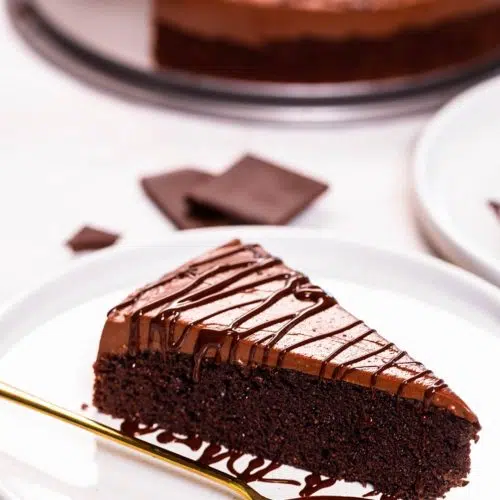 Coconut Flour Chocolate Cake
---
Description
This coconut flour chocolate cake is ultra moist, rich, and topped with the best sugar-free chocolate frosting. It's a decadent chocolate cake made with coconut flour that's also grain-free and gluten-free.
Instructions
Preheat the oven to 350°F/180°C and line a 9-inch spring form cake pan with parchment paper. Grease the sides and set them aside.

In a large bowl, add the eggs, melted butter, vanilla extract, and almond milk. Mix using an electric mixer until frothy for about 60 seconds.

Add the coconut flour, protein powder, sweetener, cocoa powder, baking powder, and a pinch of salt. Continue mixing until all the ingredients are well incorporated, and the batter looks smooth.

Transfer the batter to the prepared pan and bake for 20-22 minutes or until a skewer inserted in the middle comes out with only a few crumbs.

Remove the cake from the oven and allow to cool down completely.

Once the cake is cooled, top the coconut flour cake with the frostings. Refrigerate for at least 2 hours.
Nutrition Facts
Amount per serving.
How do we calculate the nutrition info?
These nutrition facts listed are determined using nutrition information from the USDA Food Database. Our nutrition facts are accurate, but if you are using different products, please make your calculations. Net carb count is calculated by subtracting both fiber and sugar alcohols because they don't raise blood sugar.