These keto pancakes made with coconut flour are extra fluffy, thick, and filling. So learn how to prepare the most delicious low-carb pancakes that are super easy to make and perfect for breakfast. Then, serve them with tons of butter and drown them in carb-free syrup!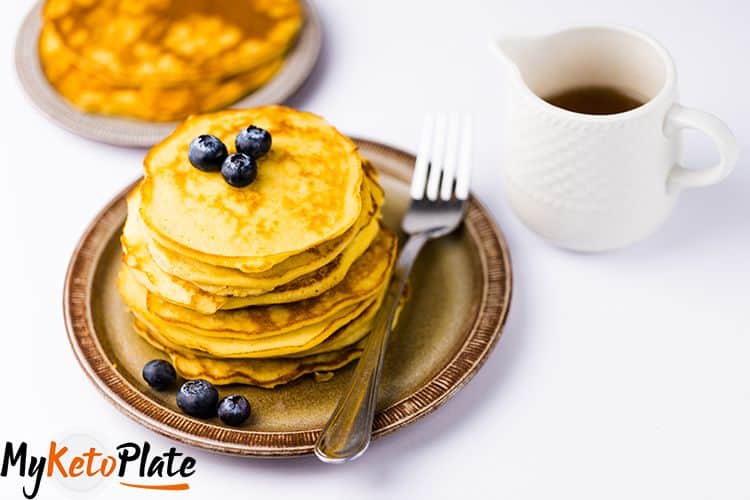 Are you bored with the classic keto breakfast? Well, the keto diet is more than bacon, eggs, and avocado, which I love.
These Keto Pancakes are the perfect breakfast for when you want something different but still filling and delicious. I created the only low-carb pancake recipe you'll ever need.
If you love breakfast as much as we do, you'll also love my keto granola, eggs benedict, and keto crepes!
These flourless pancakes got great feedback from all my family members, and it's 100% child-approved.
Why Are You Going To Love This Recipe
Super easy to make in just a few minutes.
You can make them ahead of time.
Made from naturally low-carb ingredients.
They are fluffy, buttery, and delicious.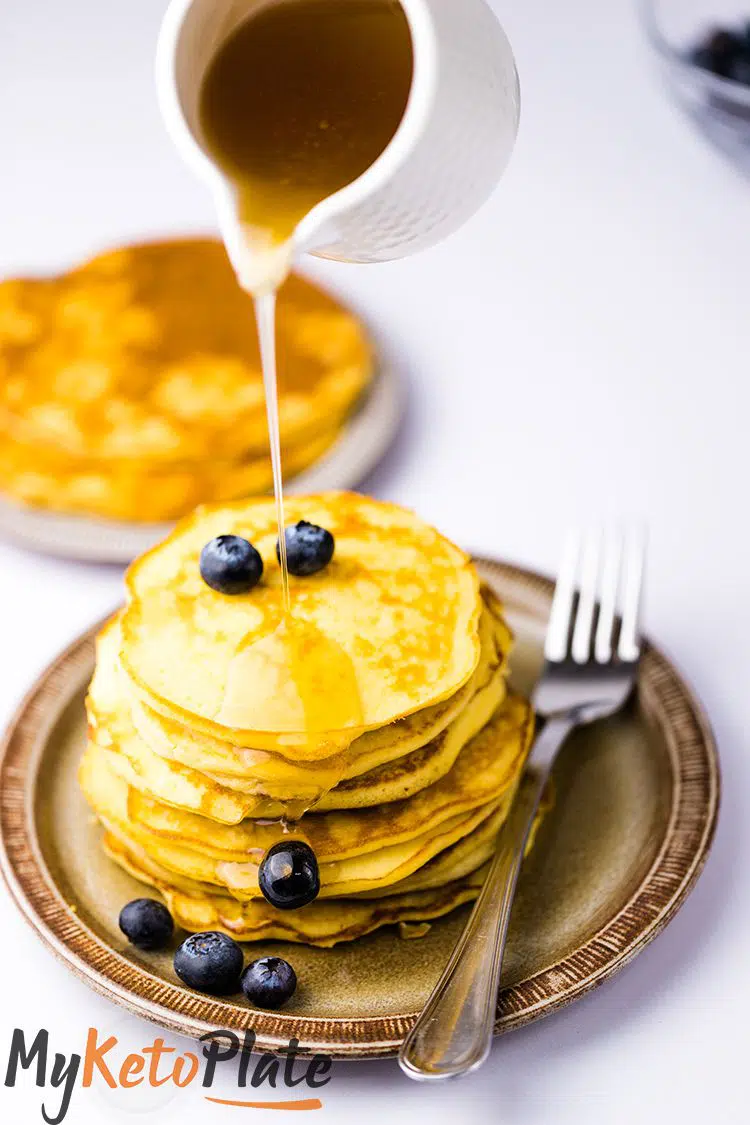 Coconut Flour Keto Pancakes Ingredients
I'm a huge fan of coconut flour since it's so low in carbs, it's packed with fiber and flavor, and it's cheaper than almond flour. I use coconut flour to reduce the carbs in keto desserts and baked goods drastically.
Here are all the necessary ingredients to create these delicious gluten-free pancakes:
Eggs – ensure that you use room-temperature eggs to avoid that eggy smell and flavor.
Coconut Flour – sift it to avoid lumps in the batter.
Heavy Whipping Cream – you can also replace it with canned coconut milk.
Butter – you will need unsalted butter. Adds moisture and a buttery flavor
Cream Cheese – you will need room-temperature cream cheese to ensure good mixing.
Vanilla Extract – use the best quality you can find for a more intense flavor.
Cinnamon – you can skip this ingredient if you want.
Sweetener – use any powdered sweetener you like, such as Erythritol, monk fruit, or allulose.
Baking Powder – helps these keto pancakes become super fluffy.
Lemon Zest – optional but very tasty.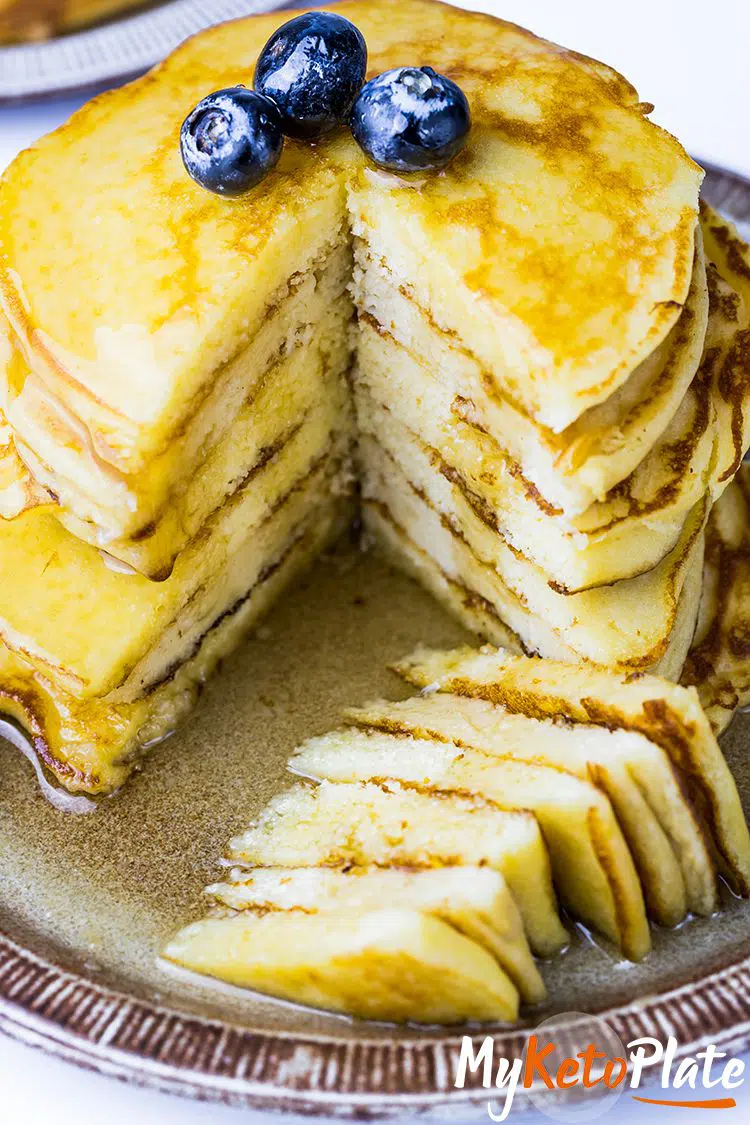 How to Make Coconut Flour Pancakes?
It's pretty easy to make these keto pancakes. If you have made classic pancakes in the past, you'll have no problem cooking these coconut flour beauties. One thing to remember is to stick with the measurements I give you.
Coconut flour is different than wheat flour since it's gluten-free and low in carbs.
To start making the pancakes, you'll need to combine the eggs and the wet ingredients in a medium bowl. Use a hand mixer to make the process easier. A whisk does the job too.
After a few minutes, add coconut flour, baking powder, and cinnamon, and keep mixing until you get a perfect coconut flour pancake batter.
Melt the butter in a non-stick pan over medium heat. Add 1/4 cup of pancake batter and cook on each side for about 2 minutes.
Continue until there's no pancake batter left.
Now that you've made coconut flour pancakes keto, it's time to devour them! Serve with plenty of berries and sugar-free maple syrup (my favorite!).
Serving Ideas
Another great thing about these pancakes is that you can serve them with many toppings. Here are some delicious ideas:
Chocolate Sauce
Peanut Butter
Whipped Cream & Fresh Berries
Yogurt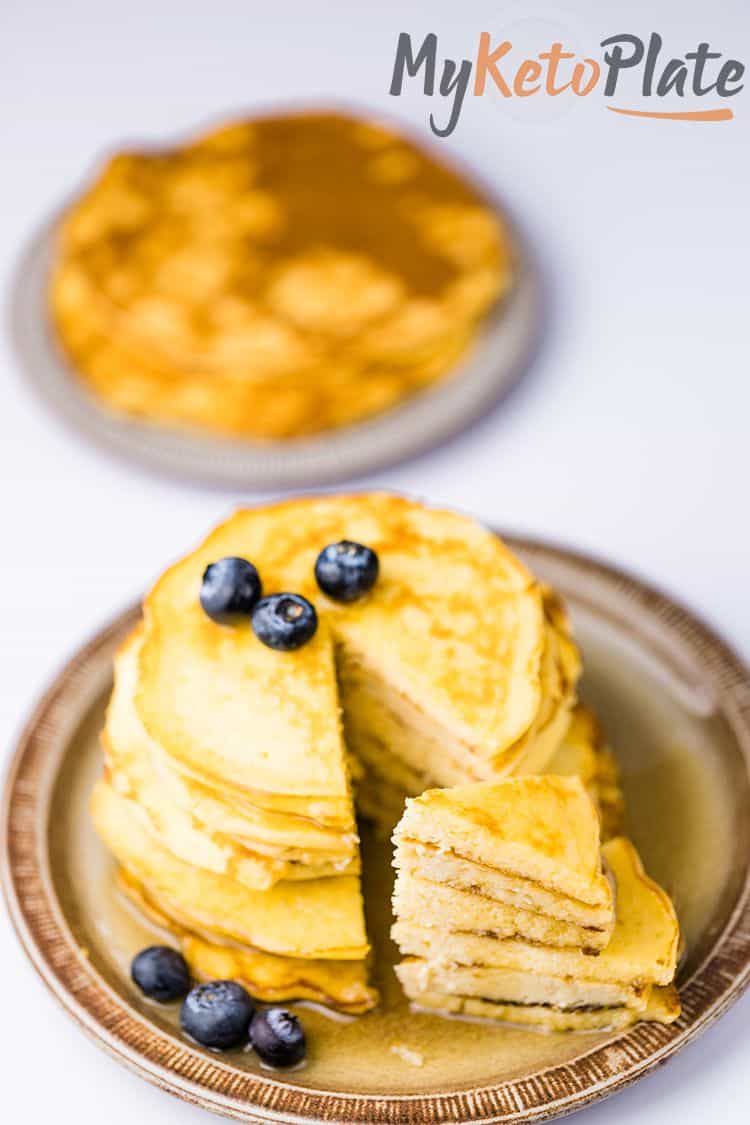 Storing Ideas
These low-carb pancakes are best served fresh, straight out of the stove. But if there are any leftovers, here are some instructions for how to store them:
Fridge – store them in an airtight container in the fridge for up to 7 days.
Freezer – these keto pancakes with coconut flour are freezer-friendly, so you can double or triple this recipe and make more pancakes. They freeze just like traditional pancakes and are great to have on hand.
Frequently Asked Questions
Can I Make These Pancakes Ahead Of Time?
Definitely! You can make a big bunch of these sugar-free pancakes on weekends when you have time. Then store half of them in single-serving containers and freeze them to enjoy on a busy day.
How Many Carbs Are In The Keto Pancakes?
This recipe makes 3 servings of 2 keto pancakes. Each serving has 5g net carbs.
Is Coconut Flour Keto Friendly?
Yes, coconut flour is perfect for a ketogenic diet, as it's very low in carbs and fiber. It's my favorite low-carb replacement for flour.
How many carbs are in coconut flour? Each tablespoon of coconut flour has 60 calories, 4g carbohydrates, and 3g dietary fiber, so that's a total of 1g net carbs.
NET CARBS = TOTAL CARBOHYDRATES – FIBER – SUGAR ALCOHOLS (ERYTHRITOL, XYLITOL)
Can I Make This Recipe Using Almond Flour?
In this particular recipe, replacing coconut flour with almond flour will make pancakes completely different in macros and texture.
However, you can use almond flour instead, but you'll have to add about 1 cup of almond flour.
Are These Paleo Pancakes?
The best thing about this recipe is that it is super low-carb, keto, and paleo-friendly, with only a few, switch ingredients.
All the ingredients are simple and low carb that are in my pantry almost every time. For the paleo pancakes version, substitute the dairy product with non-dairy alternatives such as coconut cream or coconut oil.
You can use coconut sugar or maple syrup instead of Erythritol if you aren't a fan of keto sweeteners.
Making gluten-free pancakes remains the same and takes only a few minutes.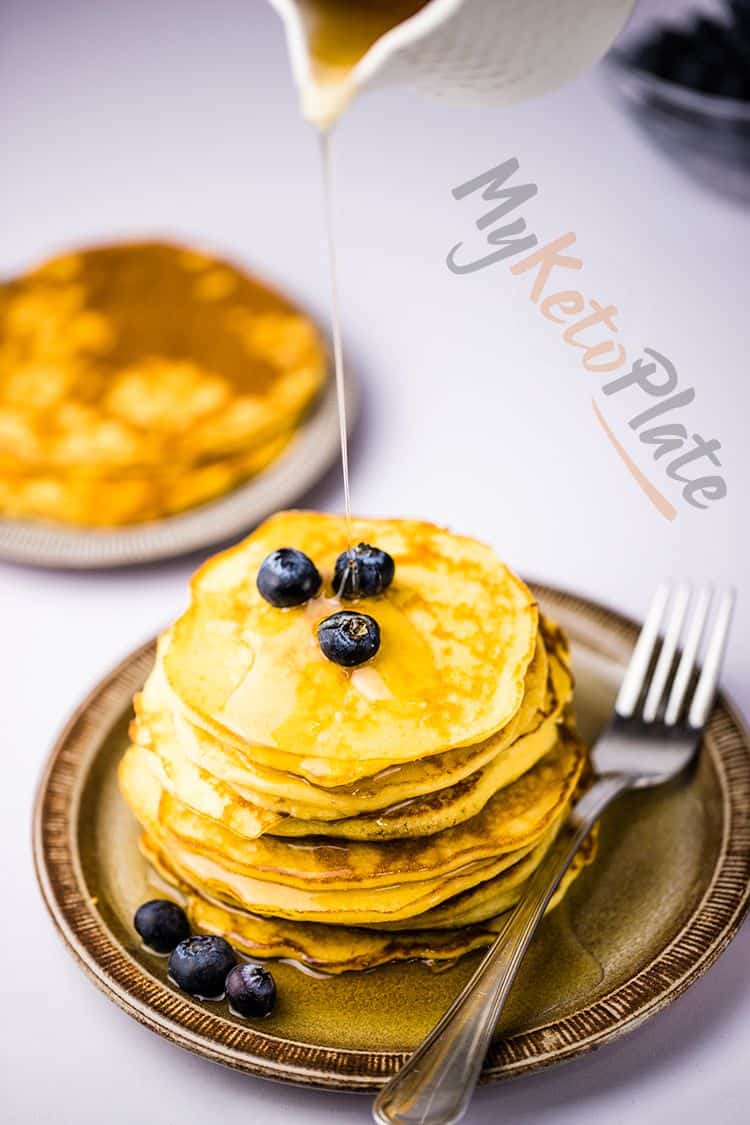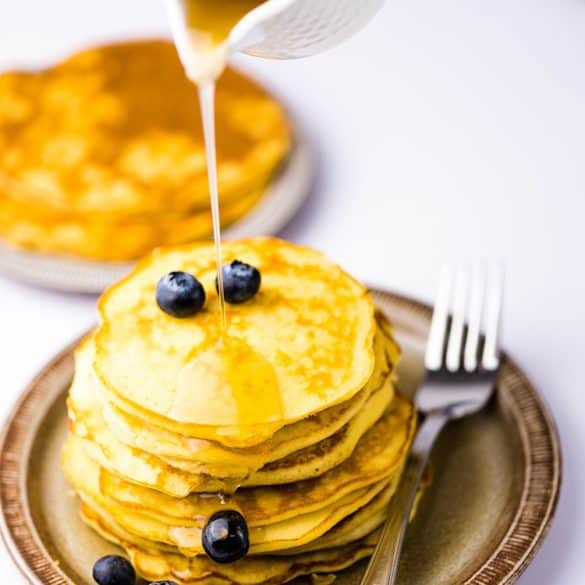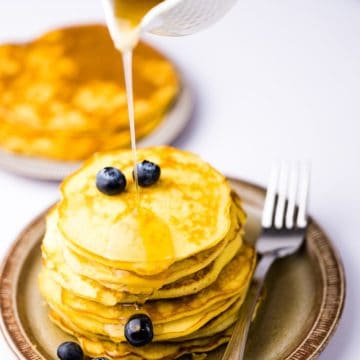 Foolproof Fluffy & Thick Keto Pancakes with Coconut Flour Recipe
---
Description
These keto pancakes are extra fluffy, thick and are made with coconut flour. Delicious low carb pancakes that are super easy to make and perfect for breakfast. Enjoy coconut flour cream cheese pancakes topped with tons of butter and drown them in carb-free syrup!
Instructions
In a large mixing bowl add the eggs, heavy cream, melted butter, softened cream cheese, erythritol and vanilla extract. Combine all the ingredients using a hand mixer. You can add all the ingredients in a blender and pulse until well combined.

Add coconut flour, baking powder, and cinnamon over the egg mixture. Continue mixing until all the ingredients are incorporated.

Let the pancake batter sit for about 4-5 minutes before cooking. The batter will slightly thicken as the coconut flour absorbs the liquid. If it's too thick add a splash of plant-based unsweetened milk.

Heat a non-stick pan over low-medium heat and melt a teaspoon of butter. Pour about 1/4 cup pancake batter onto the pan.

Cook the pancake for 2-3 minutes on each side or until bubbles start to form, and the edges are golden. You can cover the pan while the pancakes are cooking to ensure it's evenly cooked.
Nutrition Facts
Amount per serving.
How do we calculate the nutrition info?
These nutrition facts listed are determined using nutrition information from the USDA Food Database. Our nutrition facts are accurate, but if you are using different products, please make your calculations. Net carb count is calculated by subtracting both fiber and sugar alcohols because they don't raise blood sugar.