This keto pizza with fathead dough is super easy to make at home. The dough needs only four ingredients, and it tastes just like the real thing. It's crispy, chewy and delicious. Add all your favorite toppings, and you will enjoy a slice of heavenly delicious pizza with just four net carbs.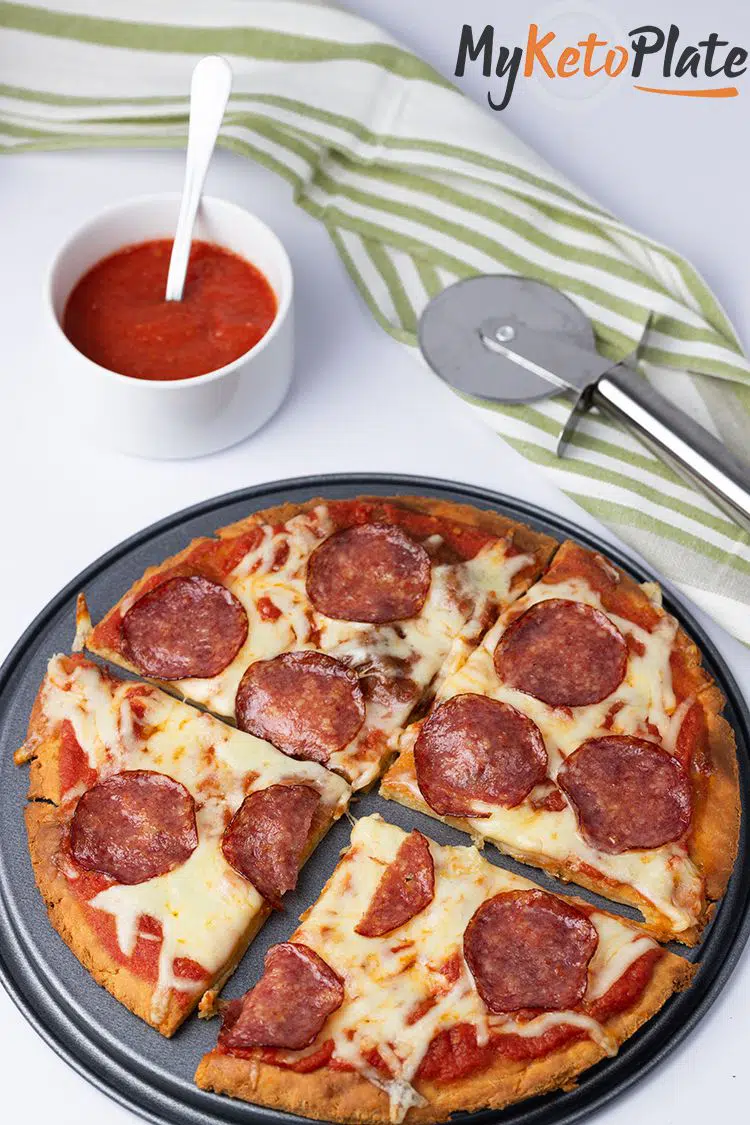 If you love pizza and think you can't have it on the keto diet, let me tell you that you are entirely wrong. WE CAN HAVE PIZZA, and you don't need to be a skilled baker to make it. All you need are a few low carb ingredients and 20-30 minutes.
When I first begin the keto diet and cut all the unhealthy carbs, I wish I knew about this fantastic fathead dough that's my current favorite.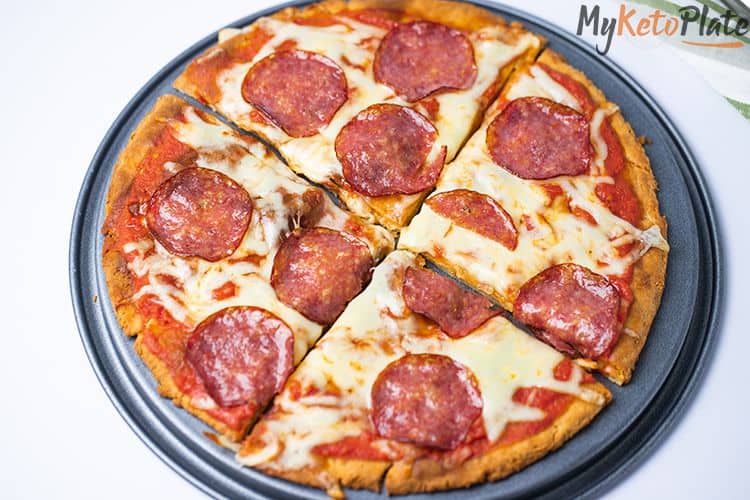 Keto Fathead Pizza Dough Ingredients
mozzarella, shredded
blanched almond flour
full-fat cream cheese, room temperature
egg
oregano or Italian seasoning (optional)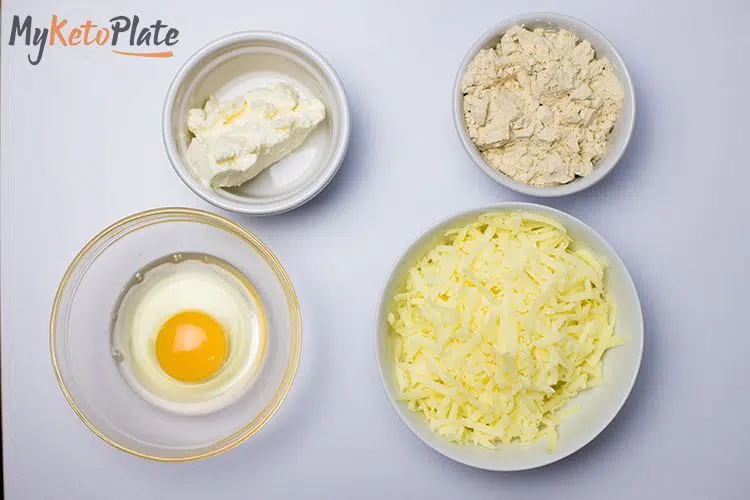 How to Make Keto Pizza Crust?
This fathead dough for the pizza crust is extremely easy to make, and you'll need very common ingredients such as almond flour or coconut flour, egg, mozzarella cheese, and cream cheese. All these ingredients mixed up together make a dough that's not very sticky (you can add some extra almond flour) and easy to handle.
You can use pre-shredded mozzarella because it's convenient and faster or you can shred it at home. Combine the shredded cheese, almond flour, cream cheese, and microwave for about 90 seconds stirring halfway through. The cheese should look slightly melted.
It's time to add the egg, herbs and baking powder (optional). Mix until all the ingredients are totally incorporated.
If the dough looks too sticky, add another tablespoon of almond flour or let the fathead chill for a few minutes.
The next step is to roll out the dough, and from my experience, it's best to oil your hands and roll it between to sheets parchment paper. Bake the dough for 6-8 minutes in the preheated oven. Meanwhile, prepare the toppings.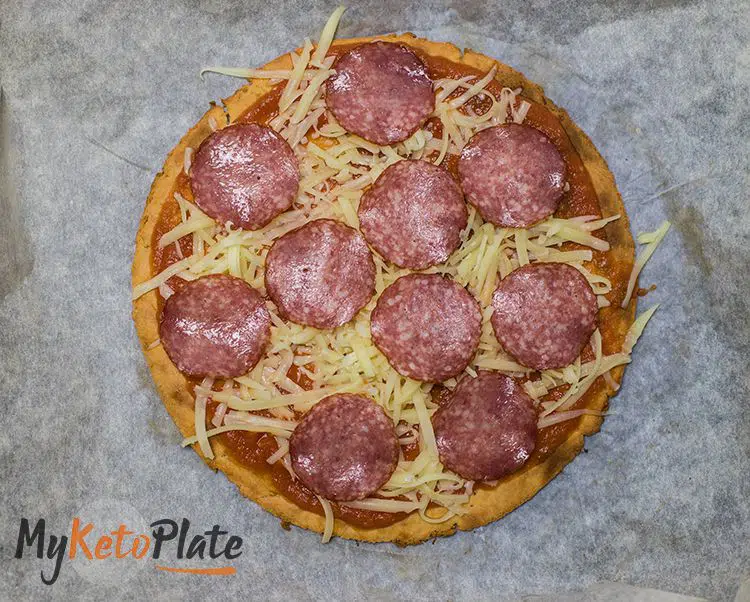 When it comes to adding toppings you can get creative and your favorite sauce and toppings. Return the keto pizza to the oven and bake for 4-5 minutes or until the cheese is melted and gooey.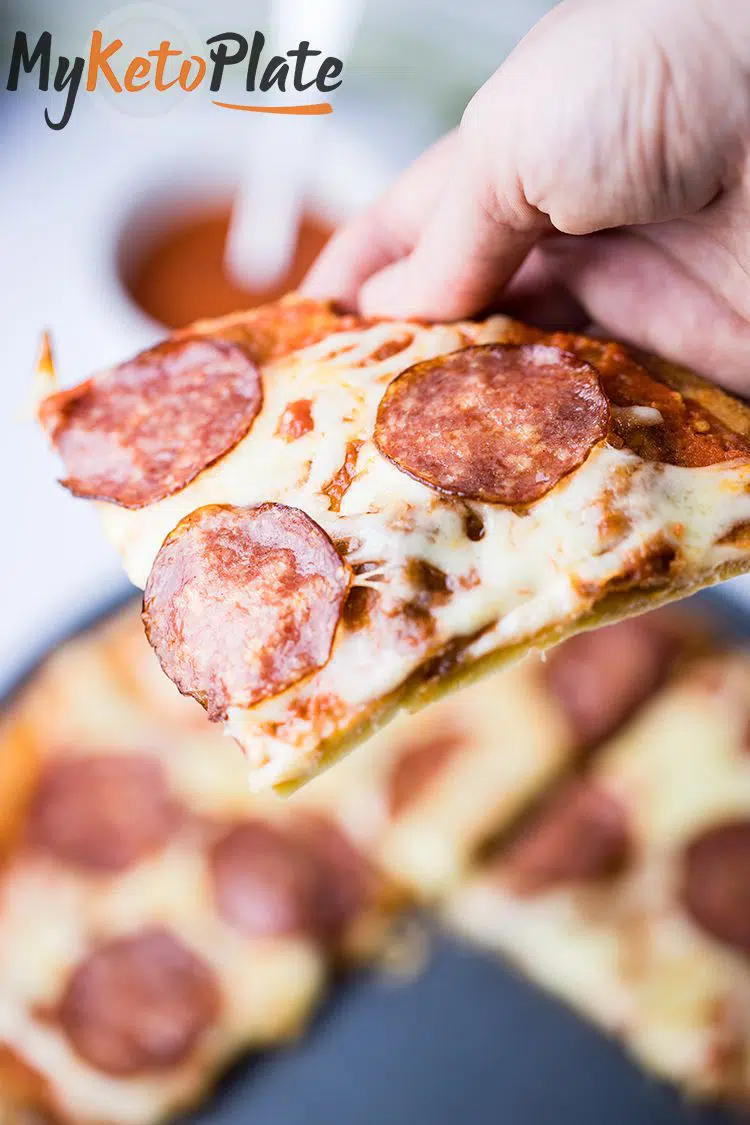 How can I store the fathead pizza crust?
You can store the fathead pizza crust both in the fridge and freezer. I usually store mine in the refrigerator for up to 7 days and in the freezer for one month. Sometimes I love to pre-bake the crust, freeze it and when it's time to eat thaw it, add the toppings and bake for a few minutes.
Other Recipes You Might Like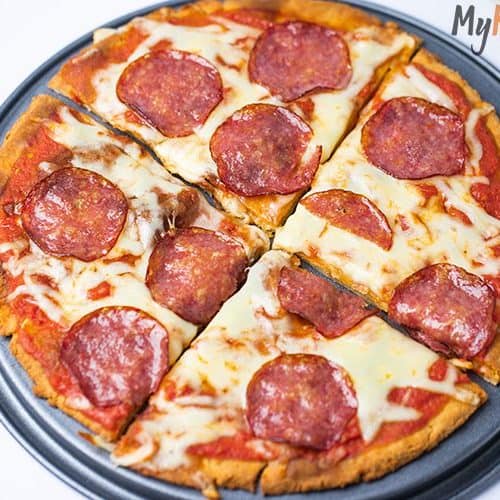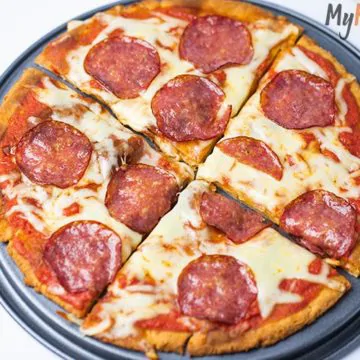 Low Carb Keto Pizza with Pepperoni and Fathead Dough
---
Description
This keto pizza with fathead dough is super easy to make at home. The dough needs only 4 ingredients, and it tastes just like the real thing. It's crispy, chewy and delicious. Add all your favorite toppings, and you will enjoy a slice of delicious, heavenly pizza with just 4 net carbs.
Ingredients
For the keto pizza fathead crust
1 1/2

cups

part skim mozzarella

shredded

3/4

cup

blanched almond flour

2

oz

full-fat cream cheese

room temperature

1

egg

beaten

1

tsp

oregano

optional
For the toppings
Cheese: 1/4 cup mozzarella cheese, fresh mozzarella, parmesan, feta, gouda, blue cheeses, etc..

Meats: Chose from12 slices pepperoni, chicken, beef, ham, turkey, bacon.

Sauce: 3 tbsp sugar-free tomato sauce, pesto, olive oil.

Vegetables: 1/4 chopped red pepper, mushrooms,

oregano to garnish
Instructions
Start by prepping all the ingredients. Shred the mozzarella cheese, sift the almond flour and crack the egg in a small bowl.

Preheat the oven to 425F / 220C.

In a microwave safe bowl add the shredded low moisture mozzarella cheese, almond flour, and cream cheese and stir until combined.

Microwave the cheese mixture for about 90-120 seconds, stirring halfway.

Remove from the microwave and stir in the beaten egg using a spatula or a wooden spoon.

Oil your hands and knead the fathead dough into a ball.

Roll the dough between two sheets of parchment paper to 1/4″ or 1/3″ thickness. Use a fork to poke holes through the pizza crust.

Bake for 6-8 minutes or until the crust looks golden.

Place the baking sheet on a cooling rack and add the desired toppings. I used marinara sauce, mozzarella cheese, and pepperoni slices.

10. Bake for a few more minutes until the cheese on top beautifully melts.

11. Cut the pizza into four or six slices and enjoy!
Notes
If you want to make fathead dough with coconut flour, replace the almond flour with 1/3 cup coconut flour and follow the same instructions.
To melt the cheese mixture without a microwave, use a double boiler stirring frequently.
Nutrition Facts
Amount per serving.
How do we calculate the nutrition info?
These nutrition facts listed are determined using nutrition information from the USDA Food Database. Our nutrition facts are accurate, but if you are using different products, please make your calculations. Net carb count is calculated by subtracting both fiber and sugar alcohols because they don't raise blood sugar.