This simple recipe makes the best meatballs that can be cooked in any way you like. So learn how to make these homemade keto meatballs that are flavorful, tender, and juicy. It's a classic recipe that's a breeze to whip up, perfect for a weeknight dinner, a quick snack, or an appetizer.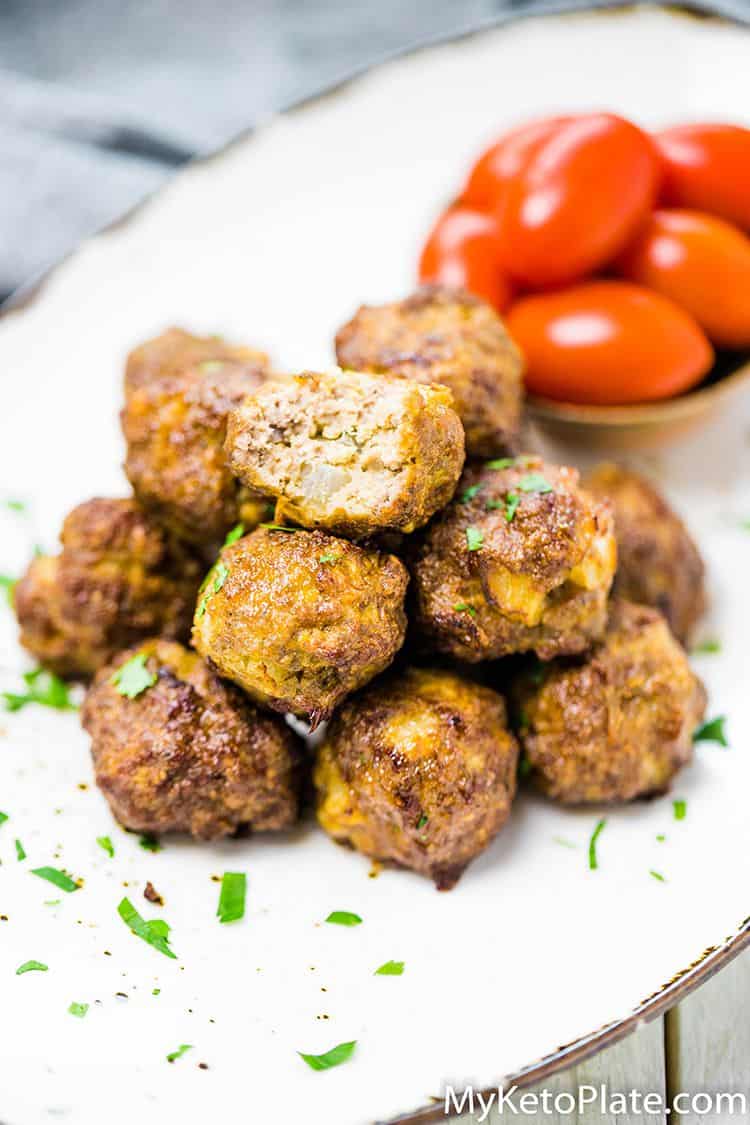 Friends, do you have a favorite recipe for homemade keto meatballs in your collection?
If not, save this one. It's seriously the best, and it includes 3 different methods of cooking meatballs.
Made without breadcrumbs, these meatballs hold up well and are great served over a steamy pile of zucchini noodles or with a side of cauliflower rice.
My grandmother makes tons of fried meatballs, and we would have them with bread (now I have them with my keto white bread) and mustard as a sandwich. My brother and I really love them, and this recipe is a classic I learned from her. I just substituted the bread crumbs with parmesan cheese. 
Grandma uses a mix of ground beef and pork and adds tons of garlic, fresh parsley, and Onion. It's a must to eat meatballs every time we visit her. It's like our little tradition!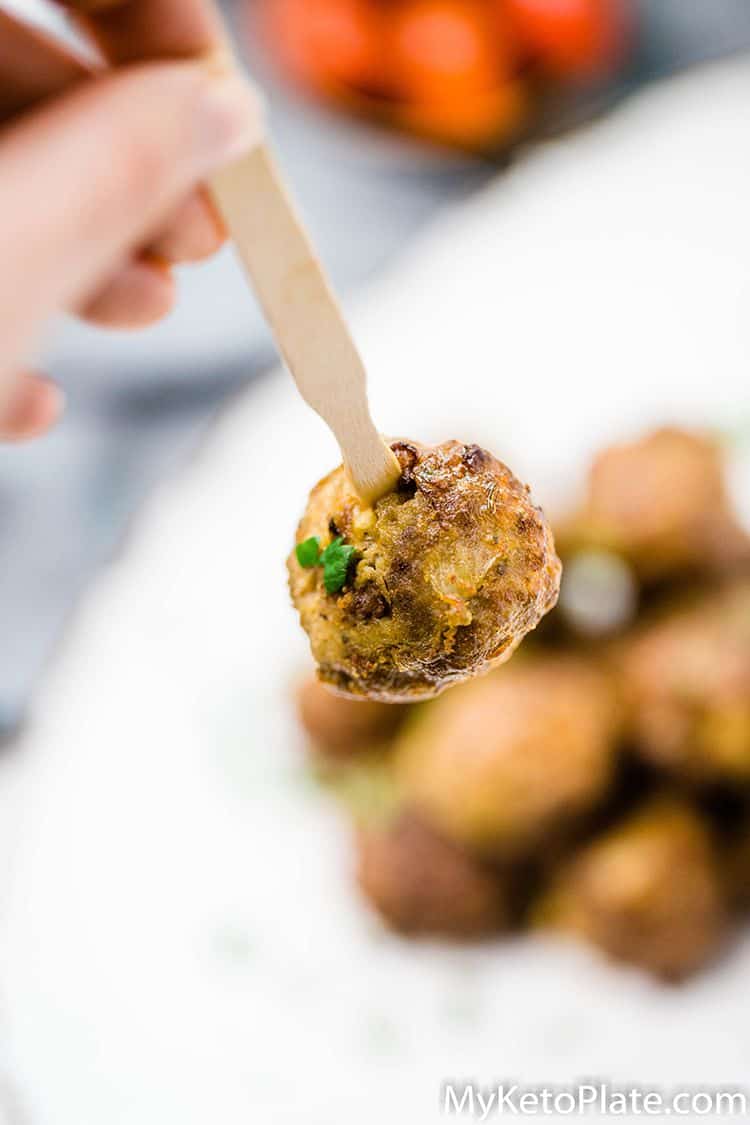 She started making meatballs without breadcrumbs to reduce the carbs since I told her I wanted a low-carb version. She was very receptive and immediately transformed the recipe.
Each meatball has around 0.5g of carbs. That's insane, right? The macros are calculated for one meatball, and you can eat as many as you want.
Feel free to serve them with marinara sauce, swedish creamy gravy, barbecue sauce, and more.
Are Meatballs Keto-Friendly?
Regular meatballs made with breadcrumbs and wheat flour are not keto-friendly since they are too high in carbs.
But you can still enjoy them by making this recipe that is made using a different binder that is naturally low-carb.
Why Are You Going To Love This Recipe
They are extremely easy and quick to make.
You can make these meatballs ahead of time.
There are 3 different methods for cooking these meatballs.
This recipe is versatile. You can add your favorite cheese or vegetables to the mixture.
Made without breadcrumbs.
Ingredients For These Keto Meatballs
To make these delicious keto meatballs, you only need a few common ingredients:
Ground Beef (80-85% lean) – You can use a combo of ground beef and Italian sausage for even more flavor.
Yellow Onion – I love onions and find them a great addition to this recipe. You can either chop it or grate it.
Garlic Cloves – Use freshly minced garlic or replace it with garlic powder to taste.
Fresh Parsley and Basil – Fresh herbs are the best!
Large Eggs – Eggs help the meat mixture stay together while cooking.
Parmesan Cheese – To enhance the flavor, I recommend using freshly shredded parmesan.
Seasonings: Italian seasoning, red pepper flakes, salt, and pepper.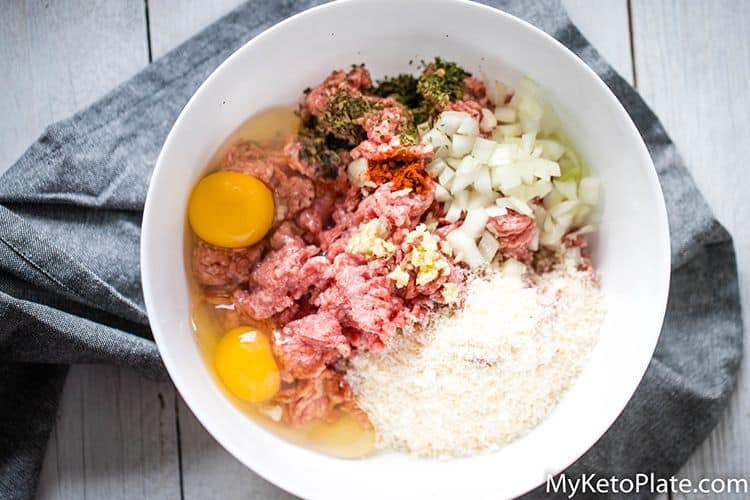 How To Make These Keto Meatballs
Since meatballs are such a versatile recipe and perfect for sauces, sandwiches, and casseroles, I make big batches and freeze them to have on hand for busy days. Here is everything you need to do to prepare these delicious meatballs:
Gather all the ingredients.
Add the ground meat, onion, parmesan, eggs, seasonings, and the rest of the ingredients to a mixing bowl.
Use your hands or a silicone spatula to mix all the ingredients. Over-mixing makes tough and dry meatballs.
Form meatballs. The meatballs must have the same size to cook evenly.
Cook using your favorite method. In the recipe card below, I provide instructions on cooking meatballs in the oven, air fryer, and pan. You'll know the meatballs are ready when a meat thermometer reads 160°F.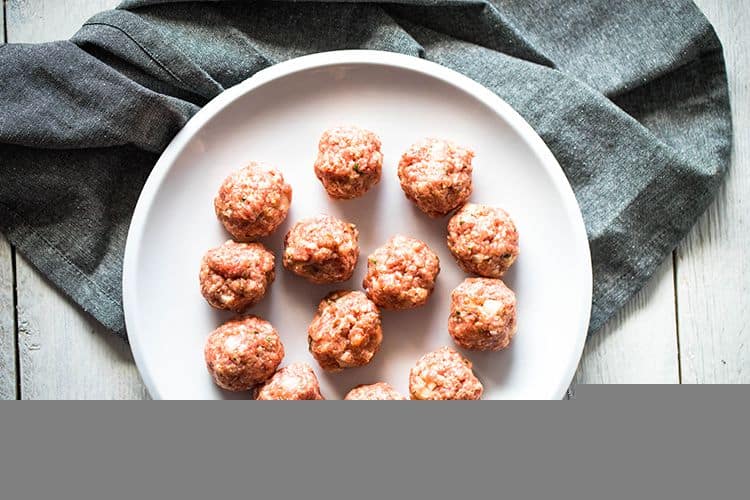 This gluten-free, low-carb meatballs recipe makes about 20 meatballs. To make more, double or triple the ingredients, and you'll have enough meatballs to feed a crowd.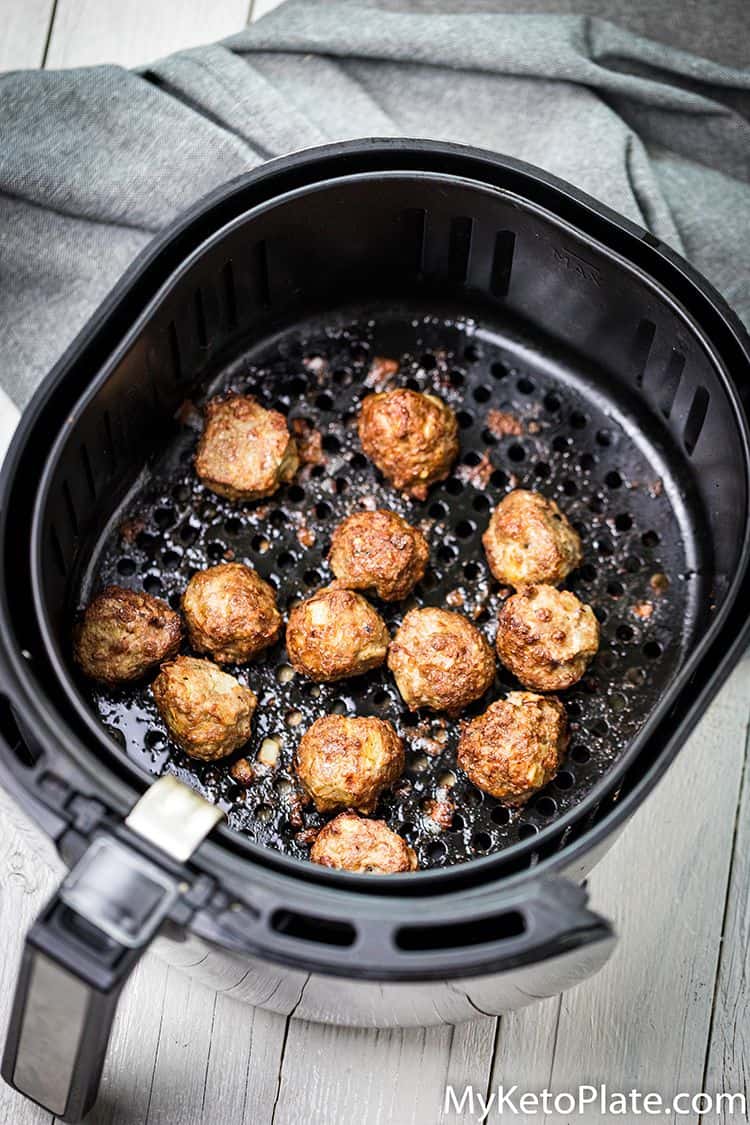 Tips For Making The Best Keto Meatballs
You can change the spices according to personal taste. For example, you can replace parsley with oregano.
You can add some shredded zucchini to make a fine composition and give a special sweetness.
Add 1-2 teaspoons of almond flour if the mixture is too soft.
You can give the shape you want to the meatballs. You can make them smaller or larger, depending on your preference. If you don't have much patience and make the meatballs bigger, you can flatten them with the palm of your hand. In this way, they will fry better!
Storing Ideas
Fridge: These meatballs can be easily stored in the fridge in an airtight container for up to five days.
Freezer: You can also freeze the leftovers. You have to let them cool, then transfer them to a clean baking sheet and freeze them for 1 hour. Transfer the meatballs to a ziptop bag or freezer container once they've hardened in the freezer. Place them back in the freezer, then store the meatballs for up to 3 months.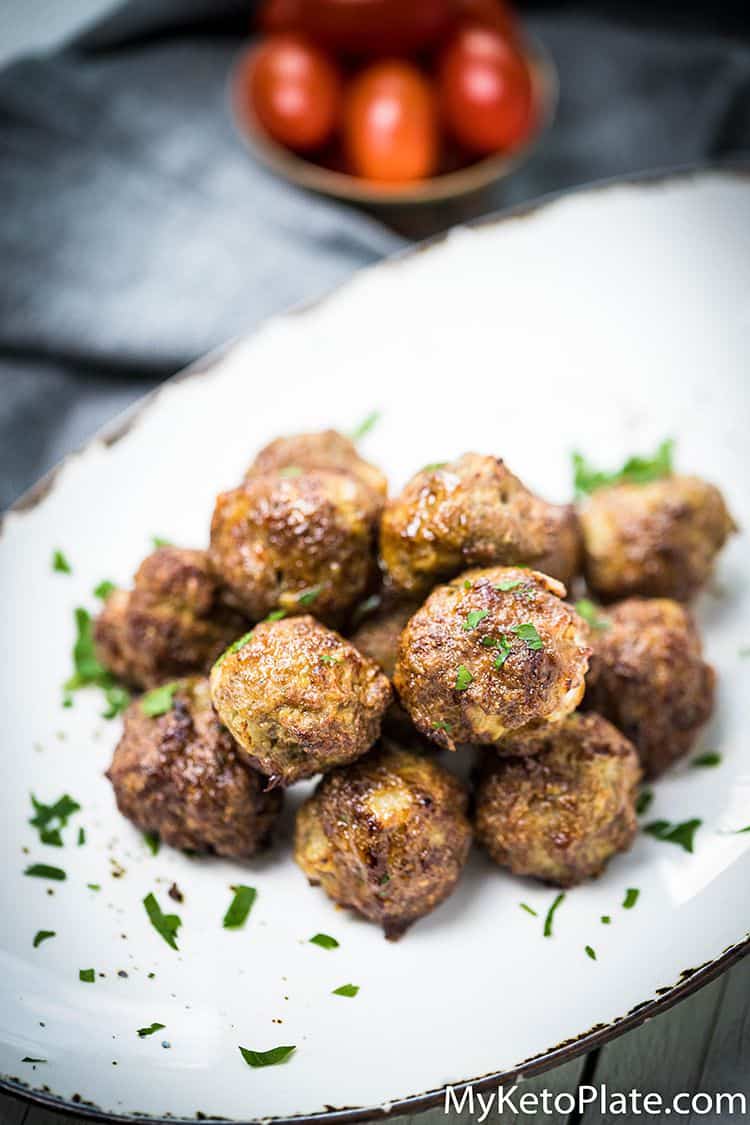 Frequently Asked Questions
How Can I Serve These Keto Meatballs?
I like to eat these meatballs simple as they are once they are done, but you can also serve them with your favorite side dish like:
Can I Make These Meatballs Dairy-Free?
Sure, if you are not a fan of parmesan cheese or follow a dairy-free diet, you can make this recipe using keto breadcrumbs instead of parmesan cheese.
Can I Make This Recipe Ahead Of Time?
Sure, these gluten-free meatballs are great for making in advance. Just prepare the meatballs as we did in this recipe, then freeze them on a baking dish lined with parchment paper.
Next, place the frozen meatballs in a freezer bag and store them for up to two months in the freezer.
How To Check If My Meatballs Are Ready?
To see if your meatballs are ready, you can use an internal thermometer to check if the meatballs have reached 165 degrees.
More Easy Recipes For You to Try: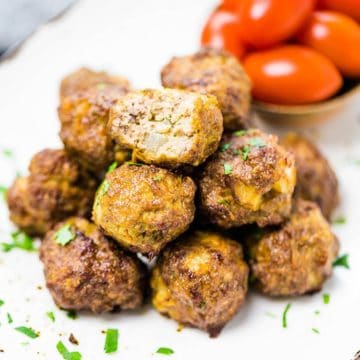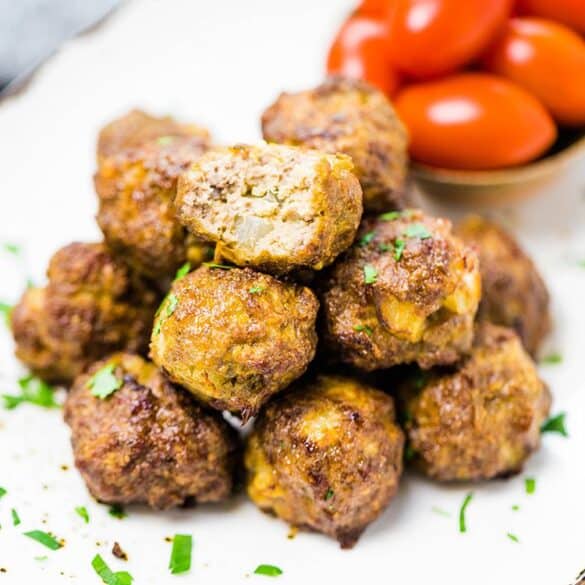 Easy Keto Meatballs Recipe
---
Description
This simple recipe makes the best meatballs that can be cooked any way you like. These homemade keto meatballs are flavorful, tender, and juicy. It's a classic recipe that's a breeze to whip up, perfect for a weeknight dinner or a quick snack.
Ingredients
1

pound

ground beef

80-85% lean

¼

cup

yellow onion

finely minced

2

garlic cloves

minced

2

tablespoons

parsley

chopped

1

tablespoon

finely chopped fresh basil

2

eggs

½

cup

parmesan cheese

grated

salt and pepper

½

teaspoon

crushed red pepper flakes

½

teaspoon

Italian seasoning
Instructions
In a large mixing bowl, add beef, onion, garlic, parsley, basil, eggs, and parmesan cheese. Season with salt, pepper, red pepper flakes, and Italian Seasoning.

Using your fingertips gently break the meat up until all ingredients are well combined.
Air Fryer Method
Spray the air-fryer basket with olive oil cooking spray.

Add meatballs to air fryer basket, making sure they don't touch too much or overcrowd the basket (work in batches if needed).

Cook in the air fryer for 13 minutes at 350°F, removing basket after 8 minutes to quickly rotate meatballs.
Oven Method
Preheat oven to 400°F/200°C. Spray a baking sheet with cooking spray and place meatballs evenly spaced.

Bake for 15-20 minutes until they are golden brown.
Fried Meatballs
To fry meatballs, pour about ¾ cup oil into a non-stick skillet over medium heat.

Cook meatballs in 2-3 batches until golden brown, occasionally turning, about 6 minutes.

Transfer to paper towels to drain the excess fat.

Serve warm, topped with Raos's Marinara Sauce and mozzarella. Garnish with parsley and enjoy!
Nutrition Facts
Amount per serving.
How do we calculate the nutrition info?
These nutrition facts listed are determined using nutrition information from the USDA Food Database. Our nutrition facts are accurate, but if you are using different products, please make your calculations. Net carb count is calculated by subtracting both fiber and sugar alcohols because they don't raise blood sugar.