This cauliflower risotto is extremely creamy, just like traditional risotto, delicious, and easy to make in just 20 minutes. It pairs perfectly with any protein making a complete meal.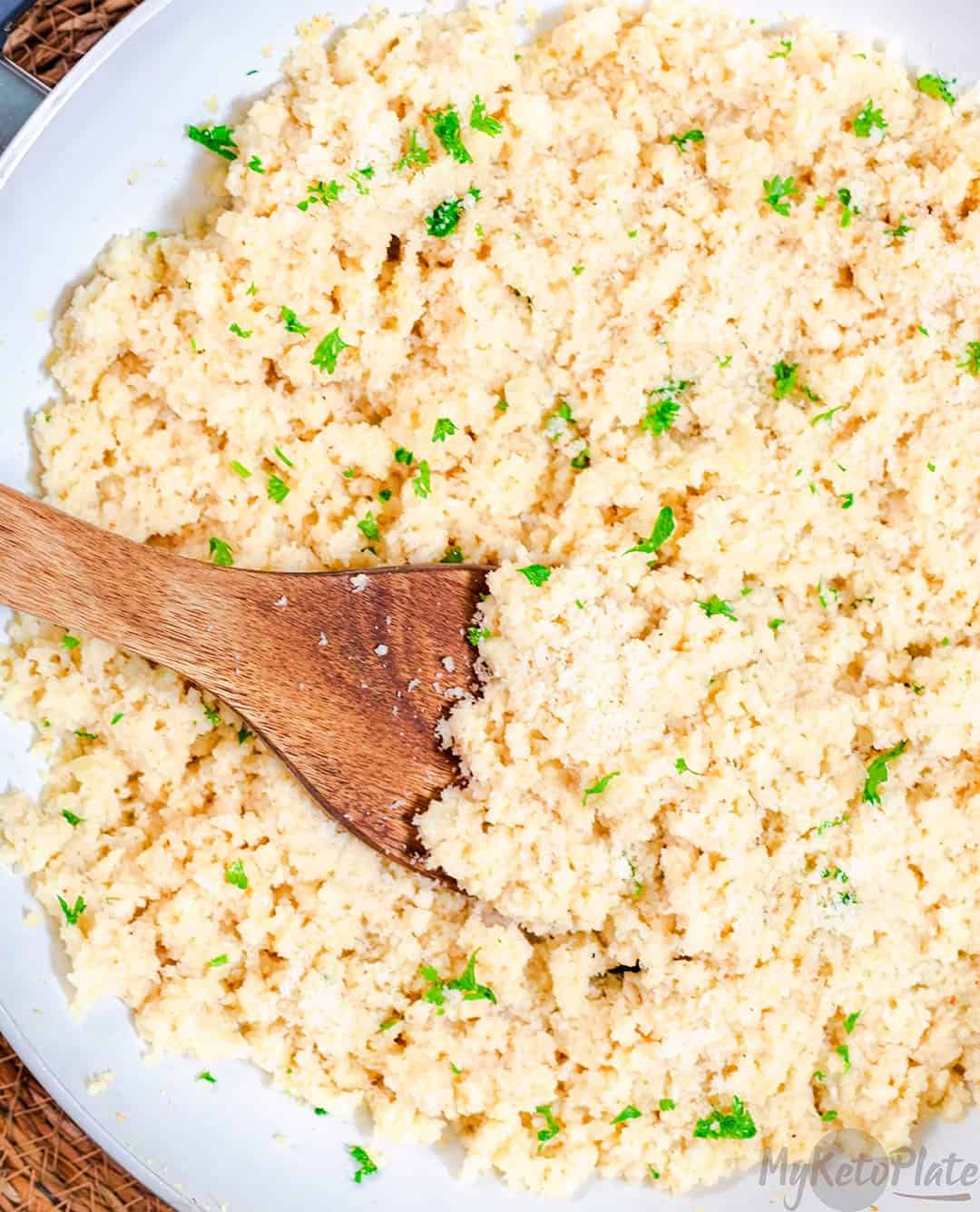 I love cauliflower and use it in many recipes like this cauliflower pizza crust, cauliflower rice, or mashed cauliflower. 
Is it possible to make risotto without rice? Yes, this easy cauliflower risotto recipe is made with cauliflower rice instead of white rice.
I'd dare to say it's even better than the real thing. No blood sugar spikes for me!
Keto Cauliflower rice is the perfect side dish for chicken, seafood, or steak – rich, decadent, and delectable!
What Is Risotto?
This traditional Italian Rice dish is usually made with Arborio rice cooked in chicken broth until super creamy. Some methods use butter, garlic onion, parmesan cheese, and white wine. It's usually served as a first course, and there are so many variations: mushroom risotto, shrimp, truffle, etc.
Is Risotto Keto Friendly?
No, regular risotto is not keto because it's made with rice which is high in carbs. Due to its high net carb content, the risotto should be avoided while on a ketogenic diet.
To maintain ketosis, it's critical to keep your daily net carb intake between 20 and 30 grams.
Why Are You Going To Love This Cauliflower Rice Recipe
It's creamy and delicious
Perfect for holidays, special occasions, or for whenever you crave a treat
Tastes like the original recipe but with fewer carbs.
The best cauliflower risotto recipe on the internet
It can be a meal on its own, but you can pair it with creamy mushroom chicken thighs, garlic butter shrimp, lobster, scallops, or baked salmon.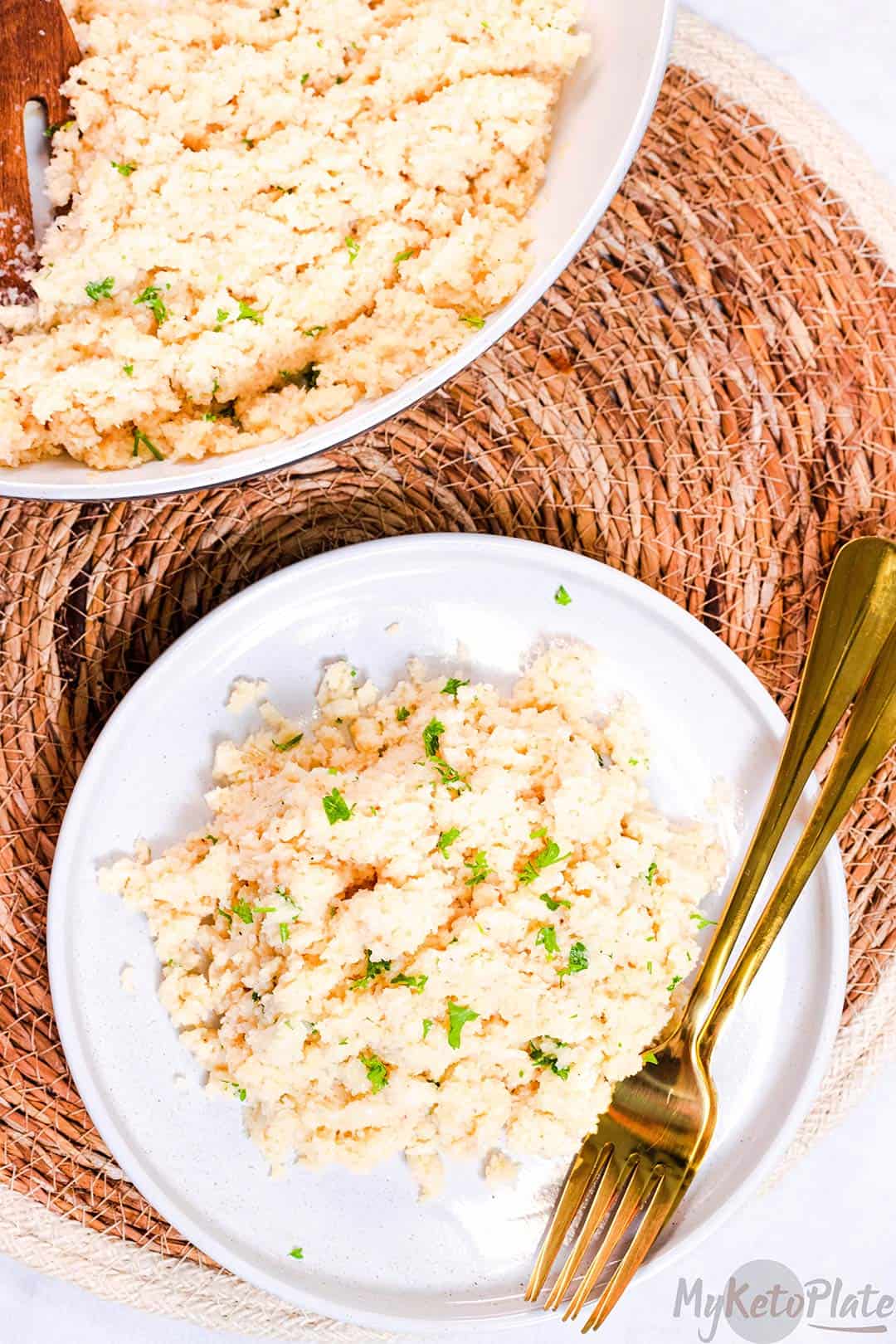 Cauliflower Risotto Ingredients
Besides the fact it tastes like the traditional risotto, this cauliflower rice risotto is made with simple and easy ingredients that are also naturally low carb. Here is everything you will need: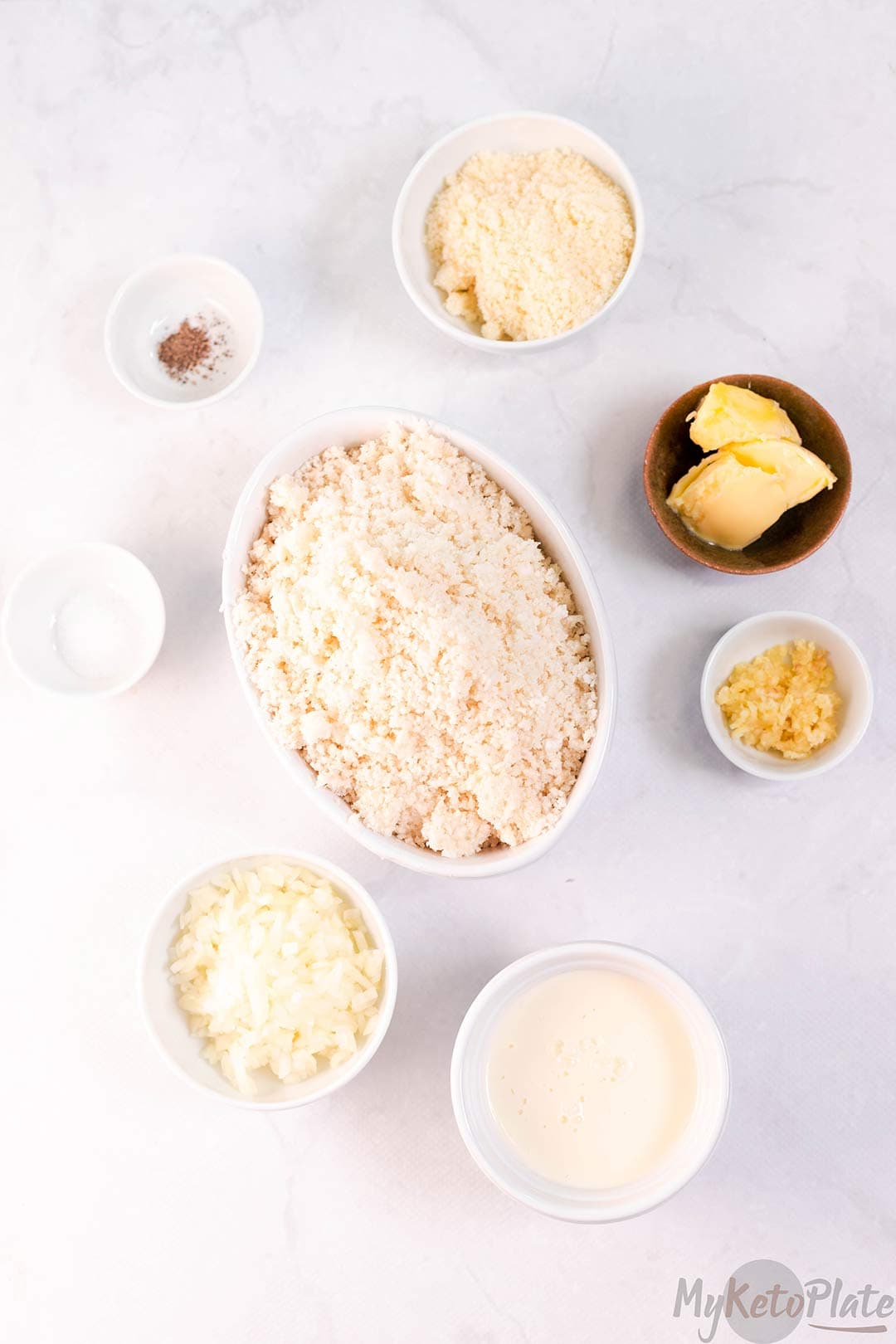 Cauliflower Rice – This is the main ingredient in this recipe; you can use either fresh or frozen. You can find below instructions for how to make fresh cauliflower rice.
Butter – you can also use olive oil for sauteeing the garlic and onion.
Onion – you can use any onion you like. Shallot will also work well.
Garlic – for the best flavor, use fresh minced garlic.
Heavy Cream – add creaminess to the cauliflower risotto.
Parmesan Cheese – substitute with Pecorino Romano cheese, but it's much saltier, so you'll have to use less salt.
Salt&Pepper – to taste.
Parsley – to garnish.
How To Make Cauliflower Risotto
This creamy cauliflower risotto recipe is loaded with parmesan cheese flavor and is ready in under 10 minutes from start to finish. Here's how to make it:
Start by making the cauliflower rice or use pre-riced cauliflower to save time.
Place a medium skillet over medium heat. Add the butter and onion and cook until the onion is tender. Add in the garlic and cook for another minute.
Add the cauliflower rice and chicken broth and cook until almost tender.
Stir in the heavy cream, parmesan, salt, and pepper to taste.
Lower the heat so the rice and cheese do not stick, and cook until the cheese melts.
Garnish with fresh chopped parsley, and enjoy.
Tips And Variations
Make sure to lower the heat once you add the parmesan cheese and heavy cream to avoid sticking to the pan.
You can add extra ingredients to your risotto, like broccoli or mushrooms.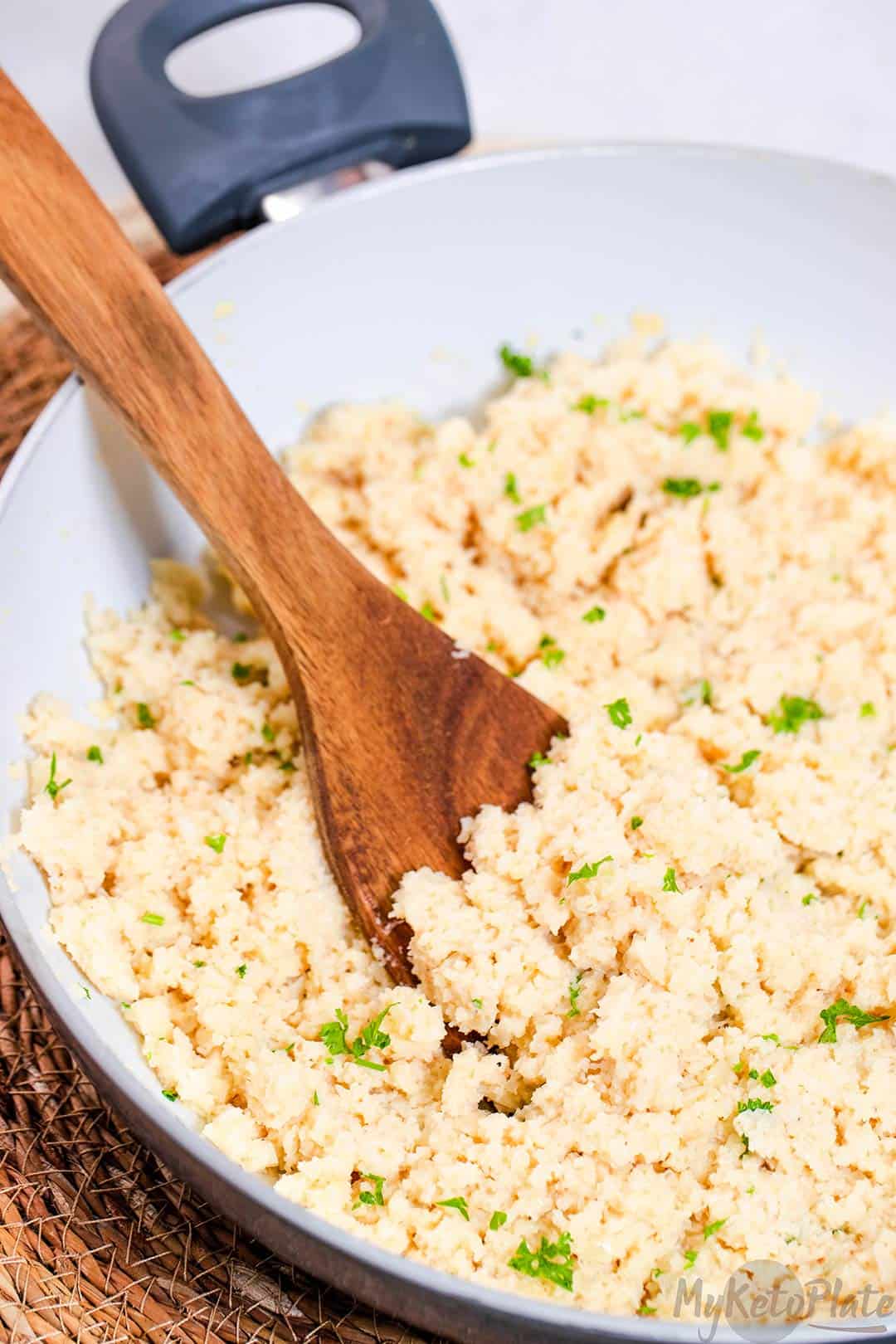 Serving Ideas
This Cauliflower Risotto can be enjoyed simply on its own, but it can also be paired with many dishes like:
How To Store Cauliflower Risotto?
Store creamy cauliflower risotto leftovers in an airtight container in the fridge for up to one week.
To store for longer, freeze risotto cauliflower rice. Transfer to a freezer-safe bag or container and store for up to 3 months. Allow to thaw overnight in the fridge and reheat on medium heat until warmed through.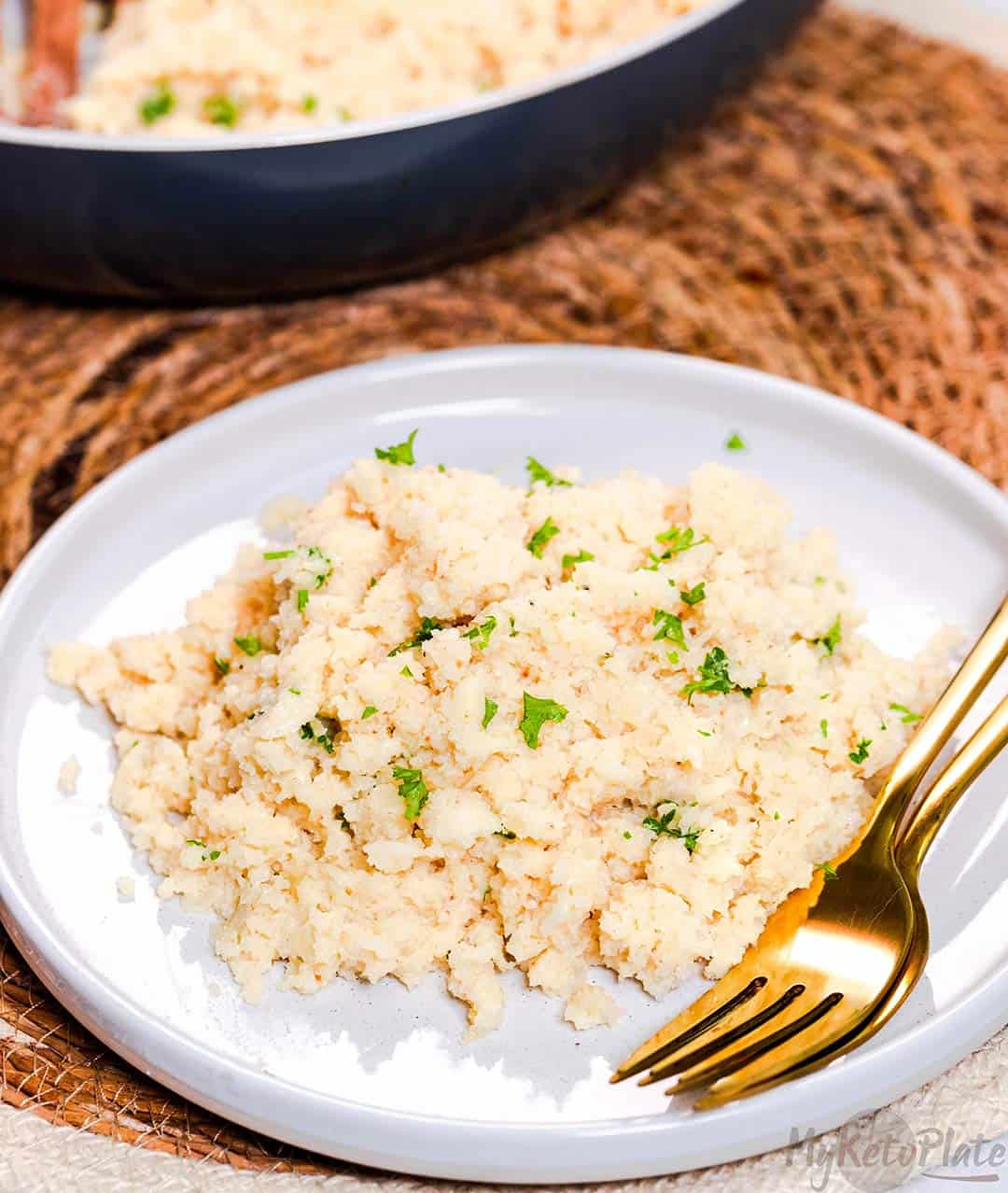 Frequently Asked Questions
What Is Cauliflower Risotto?
Cauliflower risotto is the perfect culinary invention that helps you enjoy the creamy and delicious taste of risotto without worrying about carbohydrates because it is made using cauliflower. So, in short, cauliflower risotto is a considerably healthier and tasty version of traditional risotto.
Risotto Vs. Rice
The main difference between rice and risotto is that while risotto is a sort of food created with special rice and contains numerous ingredients that make it very delicious and creamy, rice is a grain cooked by being boiled.
Can I Make This Recipe With Frozen Rice Cauliflower?
Of course, this is a much easier option when you don't have much time to make cauliflower rice.
How To Make My Own Cauliflower Rice At Home?
It's extremely easy to make cauliflower rice at home. You have two options: either you choose to use a box grater, or you can chop your cauliflower into florets, then place it in a food processor and process for 20-30 seconds.
How To Reheat Cauliflower Risotto
If you want to reheat the leftovers of cauliflower risotto, use a low heat method like a microwave or let it reheat in the oven in a dish covered with aluminum foil.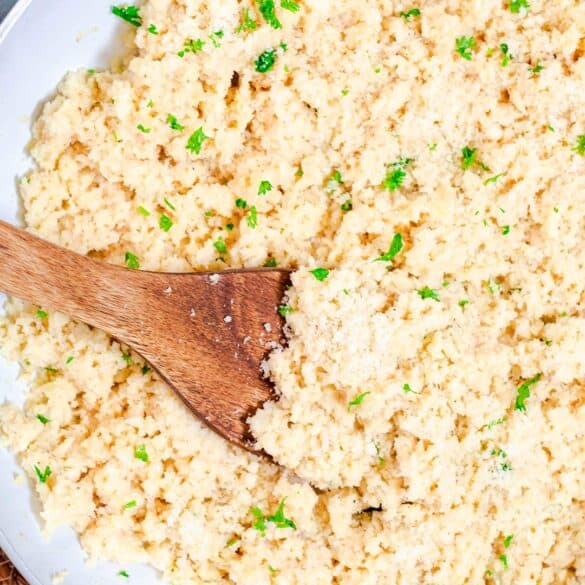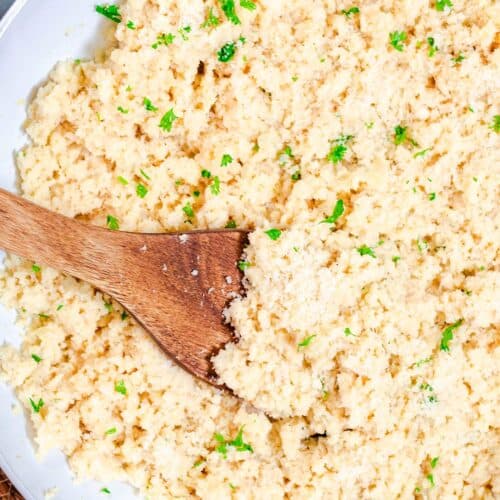 Description
This cauliflower risotto is extremely creamy, just like traditional risotto, delicious, and easy to make in just 20 minutes. It pairs perfectly with any protein making a complete meal.
Ingredients
16

ounces

riced cauliflower

fresh or frozen

1/4

cup

butter

1

medium onion

minced

1/2

cup

chicken broth

2

garlic cloves

minced

½

cup

heavy cream

1

cup

Parmesan cheese

shredded

¼

cup

dry white wine

optional

½

tsp

salt

½

tsp

black pepper

2

tbsp

fresh parsley

to garnish
Instructions
Place a pan over medium heat. Melt the butter, and cook the onion for 3-4 minutes until translucent.

Stir in the garlic and saute for 60 seconds until fragrant.

Add the cauliflower rice and chicken broth. Bring to a simmer and stir occasionally. Cook for 5-7 minutes until the cauliflower is tender.

Reduce the heat and stir in the heavy cream, Parmesan, white wine, salt, and pepper to taste. Continue cooking for 2-3 minutes until the cheese is melted and the rice looks creamy.

Taste and season with salt and pepper. Garnish with fresh parsley, and enjoy.
Nutrition Facts
Amount per serving.
How do we calculate the nutrition info?
These nutrition facts listed are determined using nutrition information from the USDA Food Database. Our nutrition facts are accurate, but if you are using different products, please make your calculations. Net carb count is calculated by subtracting both fiber and sugar alcohols because they don't raise blood sugar.