These Garlic Mushroom Pork Chops are the perfect dinner recipe for any busy day. Ready in under 30 minutes, it's the best one-pan pork chop keto recipe. The pork chops are seared to perfection, then smothered in a super creamy garlic-infused mushroom sauce.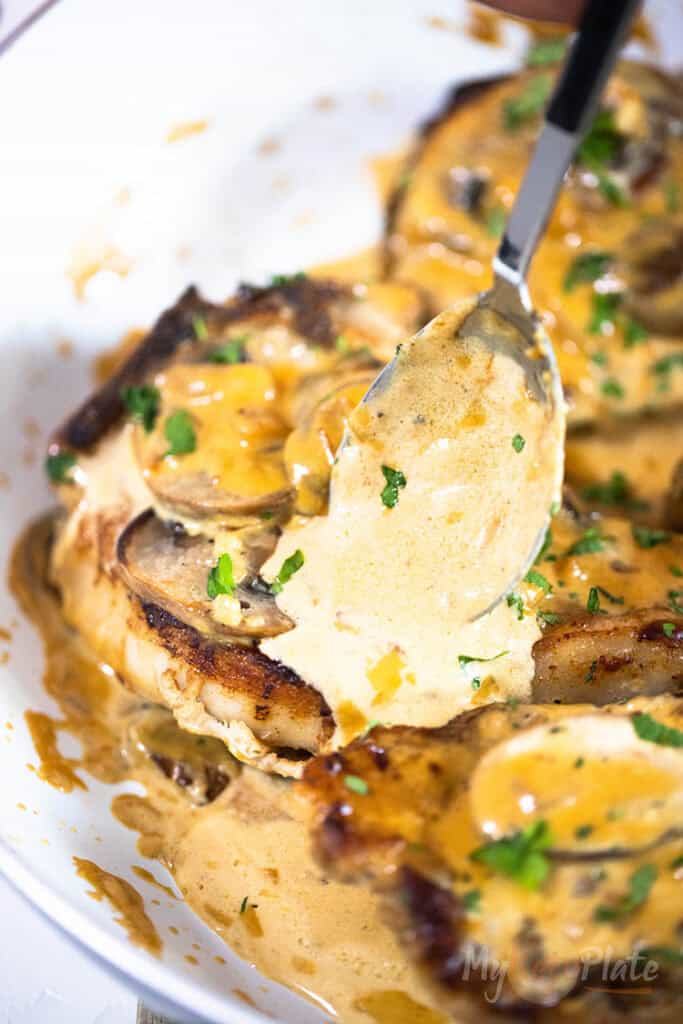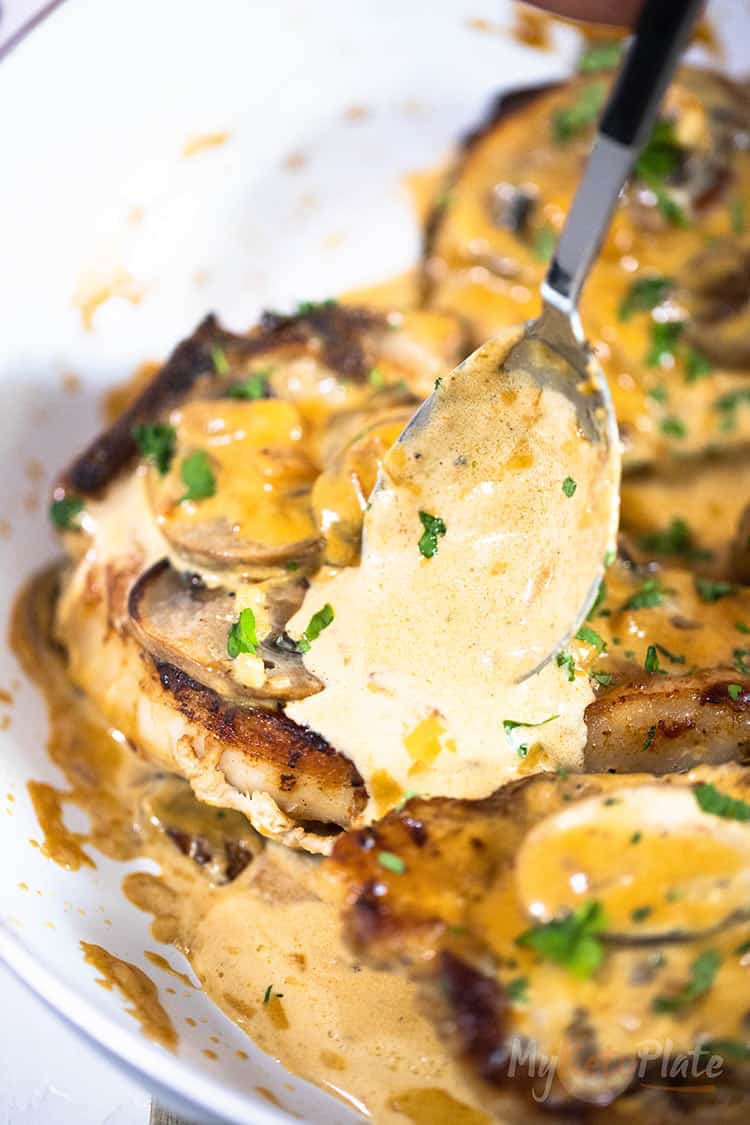 These pork chops are perfectly golden-brown and extremely juicy, and the mushroom gravy is well seasoned with thyme.
I love to serve this bone-in pork chops with a creamy sauce, mashed cauliflower, or steamed broccoli for the best low-carb restaurant-quality meal.
I can only imagine dipping a soft bun into that creamy mushroom sauce. I'm sure this pork recipe will become a favorite in your house.
Watch the short video below to see how easy it is to make this super creamy pork chops recipe!
Why Are You Going To Love This Recipe
You can make it ahead of time.
Super easy to make in only 30 minutes.
Made from naturally low-carb ingredients
It's a delicious one-pan meal.
Loaded with delicious flavor and a delicious creamy sauce.
Ingredients For Pan Seared Pork Chops With Creamy Garlic Mushroom Sauce
For this super creamy pork chop with garlic mushroom sauce, you'll need only a few easy-to-find ingredients that you probably already have in your kitchen. Here is a list of everything you need:
Pork Chops – I used bone-in pork chops, but you can also replace them with boneless ones. You will find below instructions on preparing this recipe using boneless pork chops.
Olive Oil – feel free to use any other vegetable oil.
Butter – you will need unsalted butter.
Mushrooms – you can either use white, brown, or cremini mushrooms.
Onion – you will need a finely chopped onion.
Heavy Whipping Cream – adds creaminess and flavor to the sauce.
Chicken Soup – feel free to replace it with vegetable broth.
Seasonings – I used thyme, pepper, salt, and pepper. But you can add your favorite seasoning as well.
Garlic Cloves – you can also use garlic powder, but fresh garlic will give an intense flavor.
Fresh Parsley – used to garnish.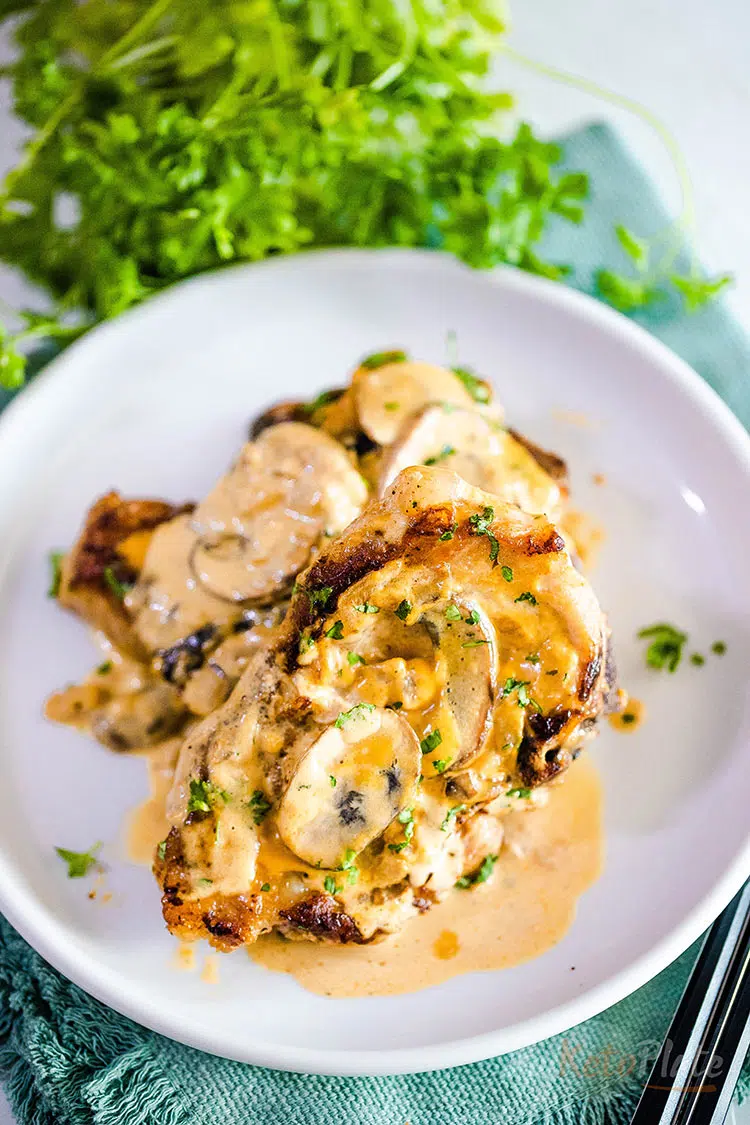 How to Make Pork Chops with Mushroom Sauce
Another reason why I love this recipe it's because it is so easy to prepare without needing any cooking skills. Here is what you'll have to do:
Heat a skillet over medium-high heat and sear the pork chops in olive oil and butter on both sides. Remember to season the chops with salt, pepper, and paprika.
Once the pork chops are cooked on both sides, remove them from the heat and keep them warm.
In the same pan, sauté the onions until fragrant and translucent, then add garlic.
Add the mushrooms and sauté for a few more minutes.
Pour in reduced-sodium chicken soup and whipping cream. Mix and simmer for a few minutes until the sauce thickens. Taste and season with dried thyme.
Return the chops, cover with the creamy mushroom sauce, reduce the heat to low, and simmer for a few minutes until the meat is cooked and the sauce is incredibly creamy.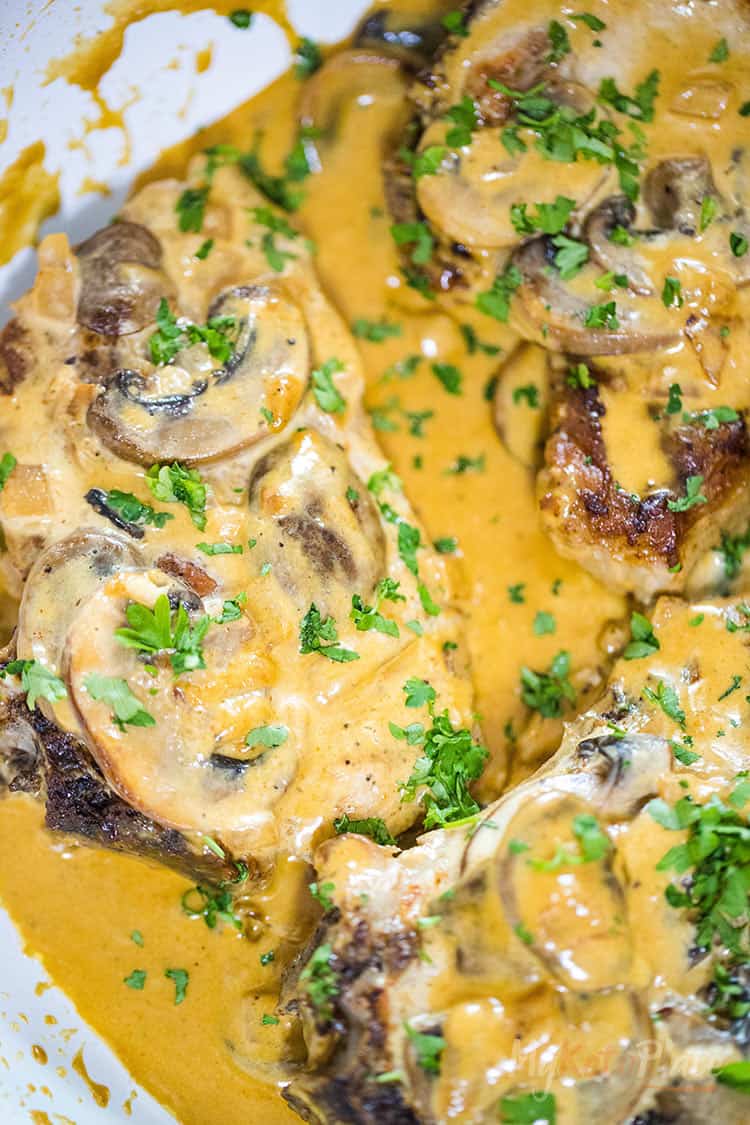 Storing Leftovers
Fridge: It's best to keep leftovers in an airtight container for up to 3 days in the refrigerator.
Freezer: you can also freeze these pork chops in freezer-safe bags for 3 months.
Serving Ideas
This recipe is incredibly delicious served as it is, but you can choose a few sides that pair perfectly:
Cooked Spinach
Steamed Asparagus
Oven Roasted Broccoli
Brussel Sprouts
A Green Salad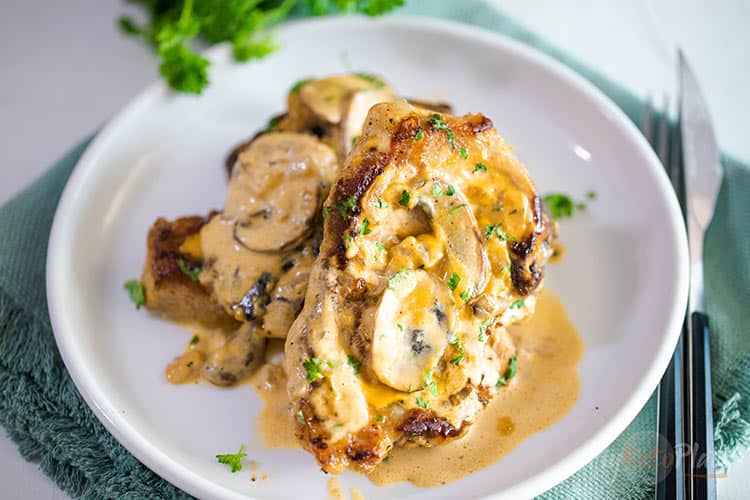 How To Substitute For Boneless Pork Chops?
This recipe is perfect for boneless pork chops too. If you want to use boneless pork chops, reduce the cooking time to about 2-3 minutes per side. This depends on how thick your meat is.
You'll know the pork is cooked through and safe to the east if a meat thermometer inserted in the thickest part reads 145F.
What Type Of Mushrooms Should I Use For This Recipe?
Feel free to use any mushrooms you want. White, brown, cremini, and portobello mushrooms are great for this recipe. Sliced mushrooms from cans can also be used.
Are Pork Chops Keto?
Yes, pork chops are completely keto-friendly and can be cooked in various ways, including the Instant Pot, a slow cooker, in the oven, on the and even grilled or baked.
Bone-in pork chops are a staple protein in our house, and I always choose the meat with the most fat. It's one of the most affordable meat choices and super flavorful if cooked right.
How To Choose The Perfect Pork Chops
When buying pork chops, make sure you are buying the freshest ones. To check that, you will have to poke them, and if they are fresh, they have to be firmer with a pinkish-reddish tint.
Dark spots on the fat or dark areas around the bones can identify older chops. Also, try to purchase your chops from a reliable butcher if possible.
How Many Carbs are in Keto Pork Chops Recipe?
Each recipe on my blog contains detailed nutritional facts in the recipe card below. I try to provide accurate information, but feel free to calculate your macros, especially if you're using different brands.
In this pork keto recipe, each serving comes with 5 g of carbs, and 2 g of fiber, so this meal is only 2g net carbs per serving. The serving is one piece of pork chop with about ¼ cup of sauce.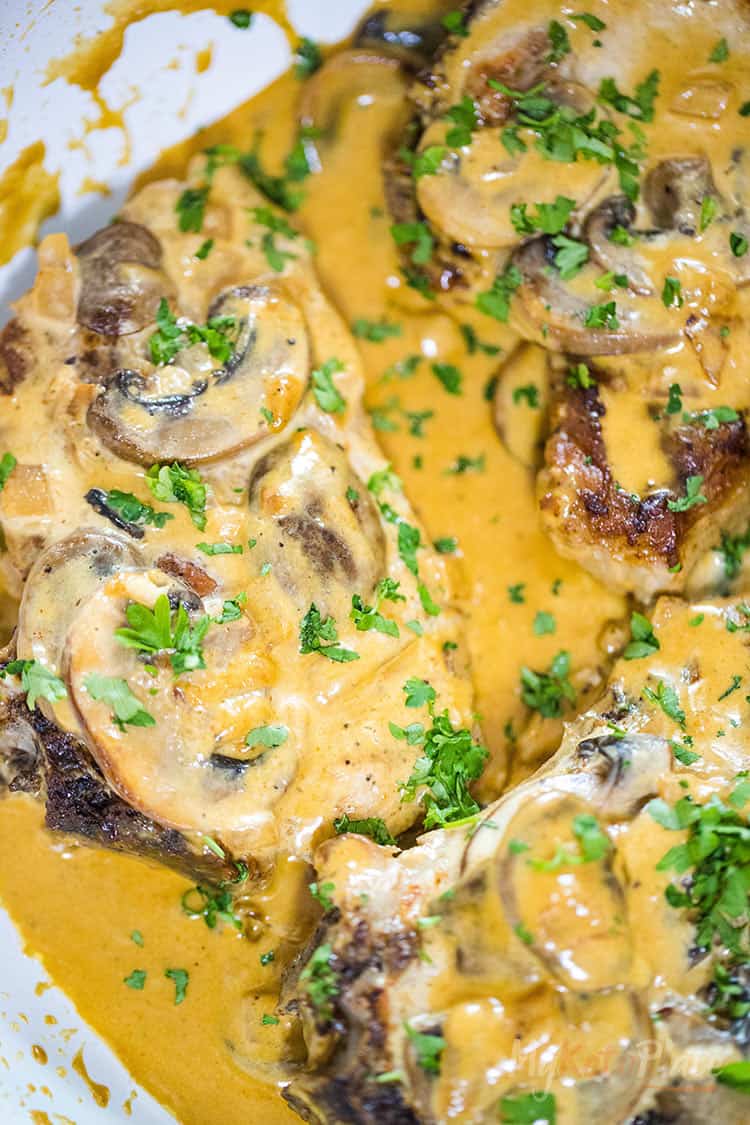 Other Keto-Friendly Recipes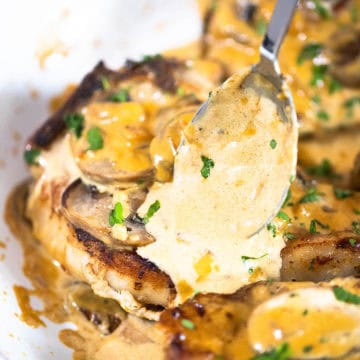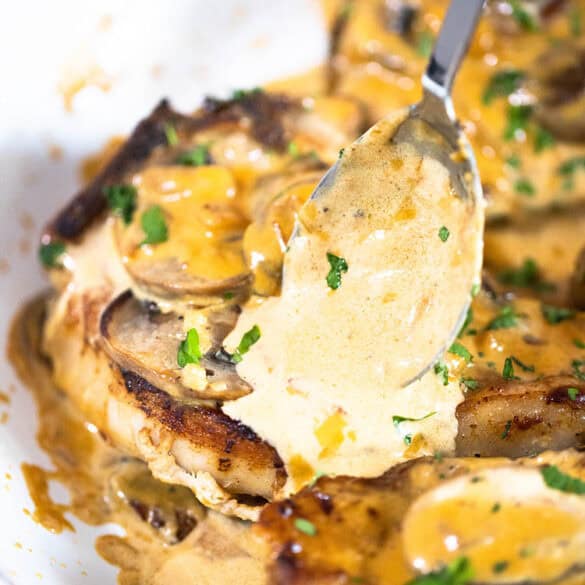 Pork Chops with Creamy Garlic Mushroom Sauce
---
Description
Garlic Mushroom Pork Chops is the perfect dinner recipe or for any busy day. Ready in under 30 minutes, it's the best one-pan pork chop keto recipe. The pork chops are seared to perfection then smothered is a super creamy garlic-infused mushroom sauce.
Ingredients
4-6

pork chops

about 1 inch thick

2

tbsp

olive oil

or avocado oil

2

tbsp

unsalted butter

2

cups

fresh mushrooms

½

medium onion

1

cup

heavy whipping cream

½

cup

chicken soup

low sodium

1

tsp

thyme

fresh or dried

2-3

garlic cloves

minced

½

tsp

salt

to taste

¼

tsp

pepper

to taste

2

tbsp

fresh parsley

chopped
Instructions
Season pork chops with salt, pepper, and paprika. Heat 1 tbsp butter and olive oil in a large pan. Sear pork chops for 4-5 minutes per side until golden brown. Transfer to a plate and keep warm. Set aside.

In the same pan, add butter and add onion until slightly golden. slice mushrooms cook until lightly brown

Add minced garlic and stir frequently.

Add whipping cream and ½ cup chicken soup. Simmer until cream begins to thicken for about 2-3 minutes. Season with thyme.

Add pork chops and cover with sauce.

Reduce the heat, cover the skillet with a lid and simmer for 5-8 minutes until the pork chops are tender and infused with all the flavors.

Garnish with freshly chopped parsley and enjoy!
Nutrition Facts
Amount per serving.
How do we calculate the nutrition info?
These nutrition facts listed are determined using nutrition information from the USDA Food Database. Our nutrition facts are accurate, but if you are using different products, please make your calculations. Net carb count is calculated by subtracting both fiber and sugar alcohols because they don't raise blood sugar.