These keto mozzarella sticks are ultra crispy, gooey, and melty. It's possible to make the best low carb keto mozzarella sticks recipe at home with just a few ingredients. The perfect low carb appetizer or snack that turns out fantastic every time!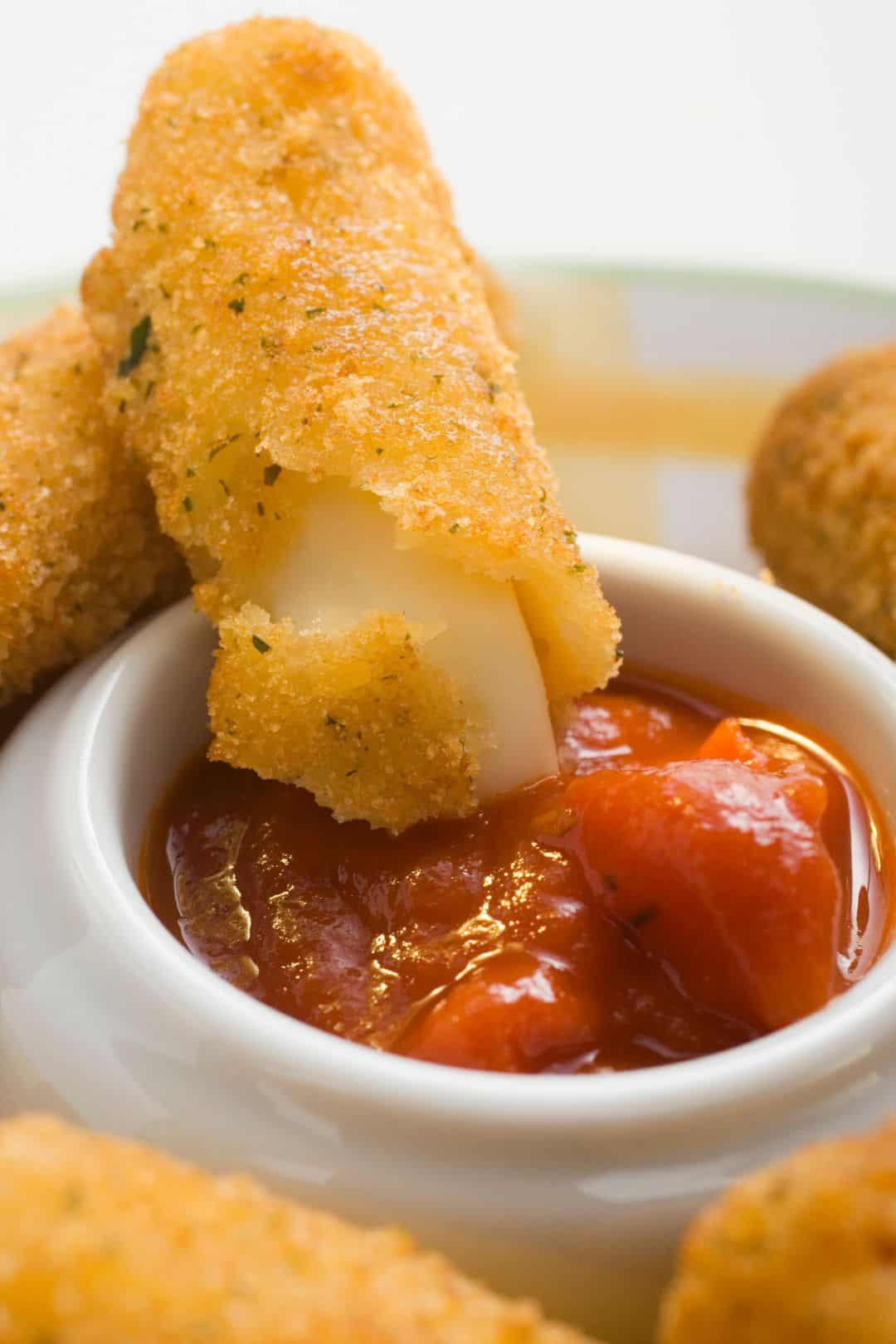 Super easy to customize, these keto mozzarella cheese sticks can be fried, baked, or cooked in the air fryer.
Growing up, I was always a huge fan of mozzarella sticks, and there was no party or sleepover without frozen mozzarella sticks.
Ever since I started my journey with keto, I really miss fried restaurant foods. So, I had to recreate these gooey wonders and make a healthy mozzarella sticks recipe.
Low carb mozzarella sticks are just as crunchy and delicious as the high-carb version but with a few low carb modifications.
So yes, you can make homemade keto mozzarella sticks at restaurant quality without a deep fryer.
Why This Mozzarella Sticks Keto Recipe Is the Best
Easy, delicious, and satisfying
Crunchy just like regular cheese sticks but with fewer carbs
Only 6 ingredients needed.
Perfect as a keto appetizer or snack
Are Mozzarella Sticks Keto?
No, regular mozzarella sticks are not keto-friendly because the classic appetizer recipe features sticks of mozzarella cheese coated in a breadcrumb mixture that are deep fried. The breadcrumb coating is high in carbs, and it's not compatible with a keto plan.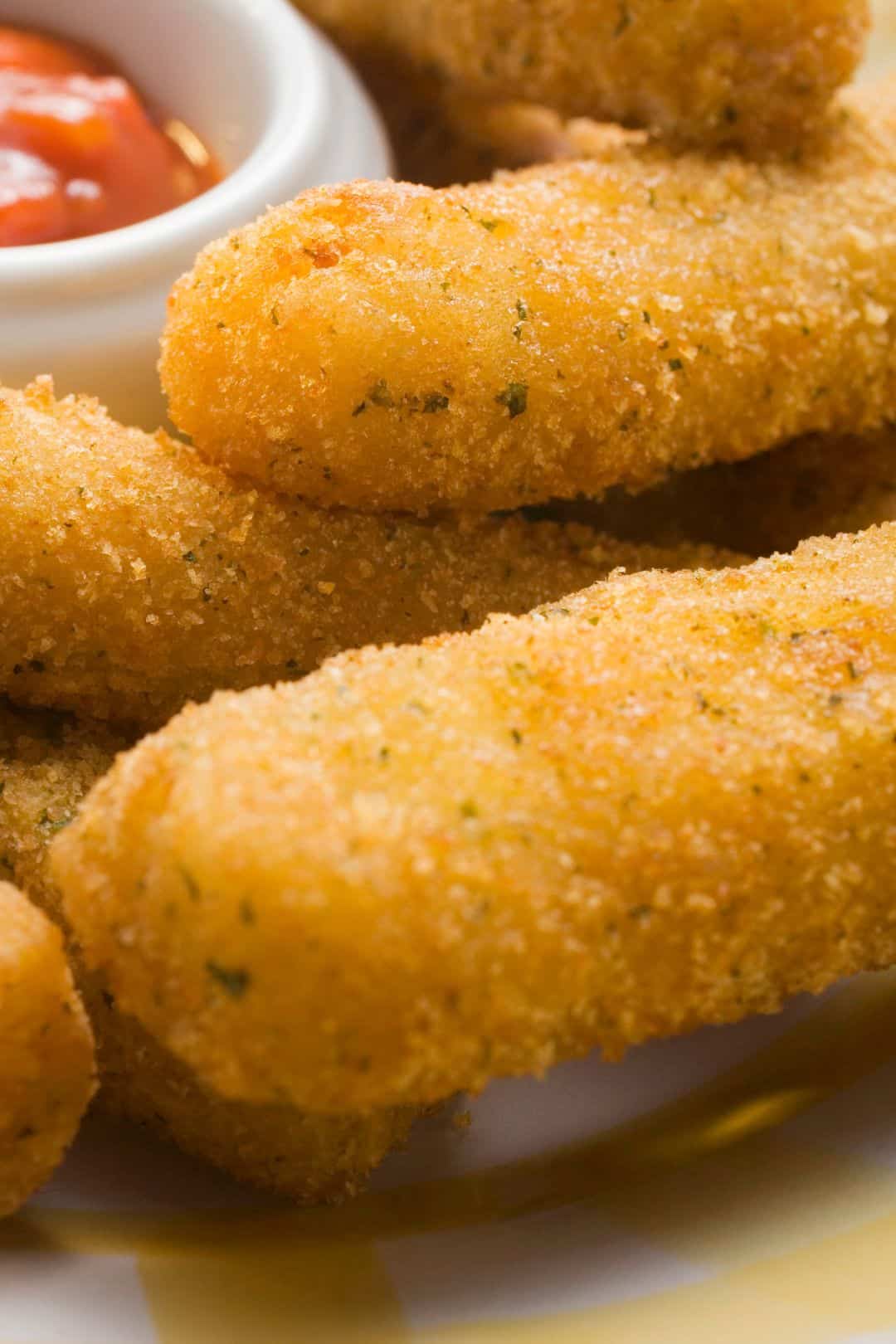 Ingredients You'll Need
It's likely you already have all the ingredients to make keto mozzarella sticks in your home, as most of them are super common. Here is a note on the ingredients:
Mozzarella Cheese – choose low-moisture part-skim mozzarella cheese or string cheese.
Almond Flour – to make the almond flour breading for the cheese sticks. For a nut-free version, replace it with pork rinds.
Eggs – Help the keto breadcrumbs stick to the string cheese.
Pork Rinds – used in place of the traditional Italian seasoned bread crumbs to make that crispy texture.
Seasonings – I used Italian seasoning and garlic powder for that specific taste.
Salt and pepper – to taste.
How To Make Keto Mozzarella Sticks
To make easy keto mozzarella sticks without bread crumbs, we have to make a mixture that's similar in texture but has way less carbs, and it's grain-free.
Start by cutting each piece of mozzarella cheese in half crosswise. Line a plate or baking sheet with parchment paper and set aside.
In a shallow dish, combine almond flour, pork rinds, and seasoning to create the keto breadcrumbs to coat the cheese.
Bread the cheese sticks first in the egg and then in the almond flour mixture.
Freeze the coated cheese sticks for 2 hours or overnight. This step prevents the cheese from melting during cooking.
Cook frozen mozzarella sticks in your favorite way until golden brown. I fried mine in a few tablespoons of oil until crispy, but the oven-baked version is just as delicious.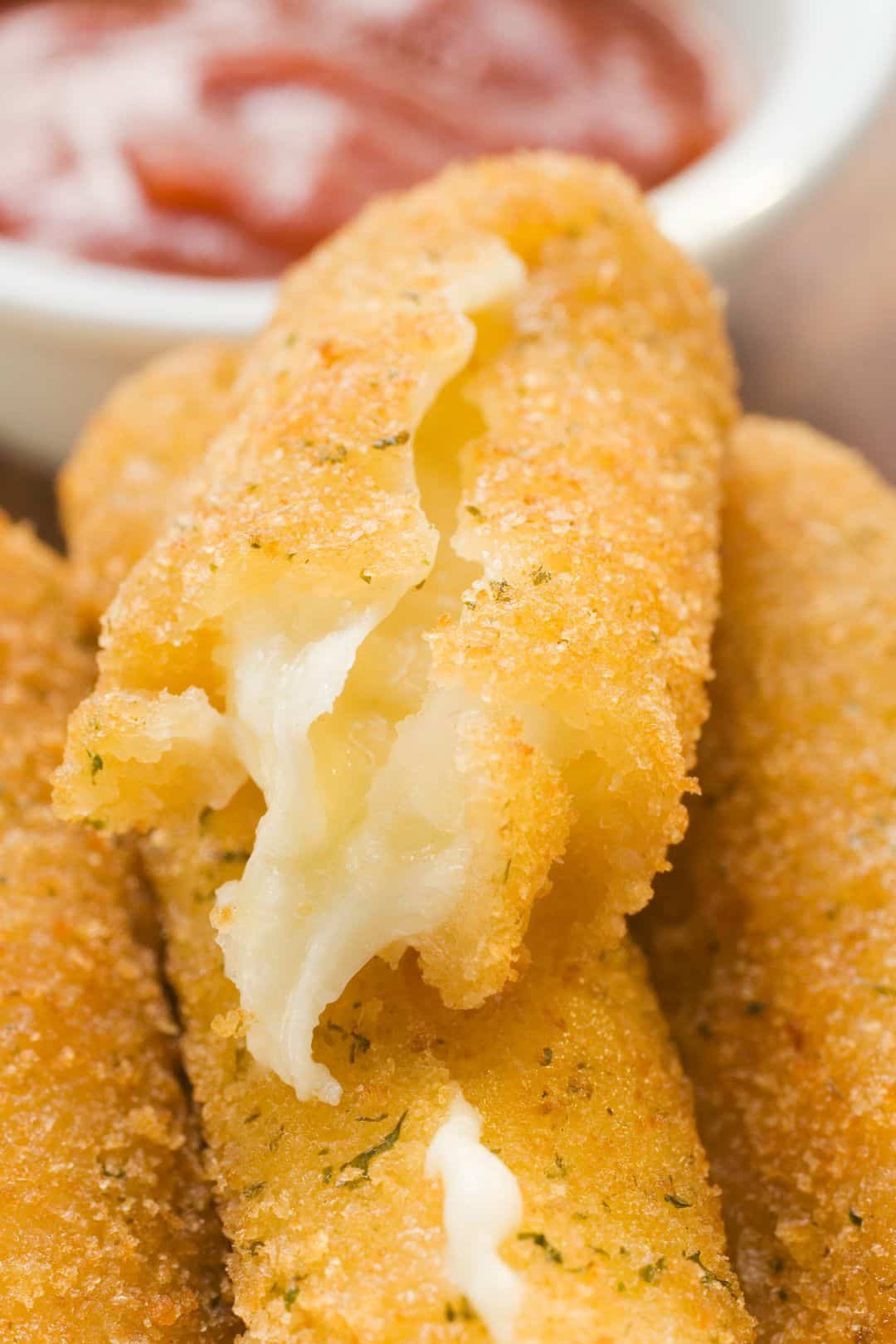 Tips and Variations For the Best Keto Cheese Sticks
Consider a double layer coating – It's essential to use a double coating to prevent the cheese from leaking while adding extra crunch.
For even more flavor, add your favorite seasonings, such as thyme or rosemary.
You can make this recipe with a block of mozzarella cheese instead of string cheese. Just cut the cheese into 4-inch by 1/2-inch strings.
Use one hand for the egg bowl and one to dredge the cheese into the dry mixture. This keeps the breading from getting clumpy.
Storing and Freezing Instructions
Fridge – store cooked mozzarella sticks in an airtight container in the refrigerator for 3-4 days.
Freezer – transfer leftover cooked mozzarella sticks to a ziplock, bake and freeze for up to 2 months.
Make Ahead
As cheese sticks need to be frozen before cooking to prevent leaking, these keto fried mozzarella sticks are the best appetizer to make ahead of time. Prep the sticks a few days ahead, and cook when ready to serve.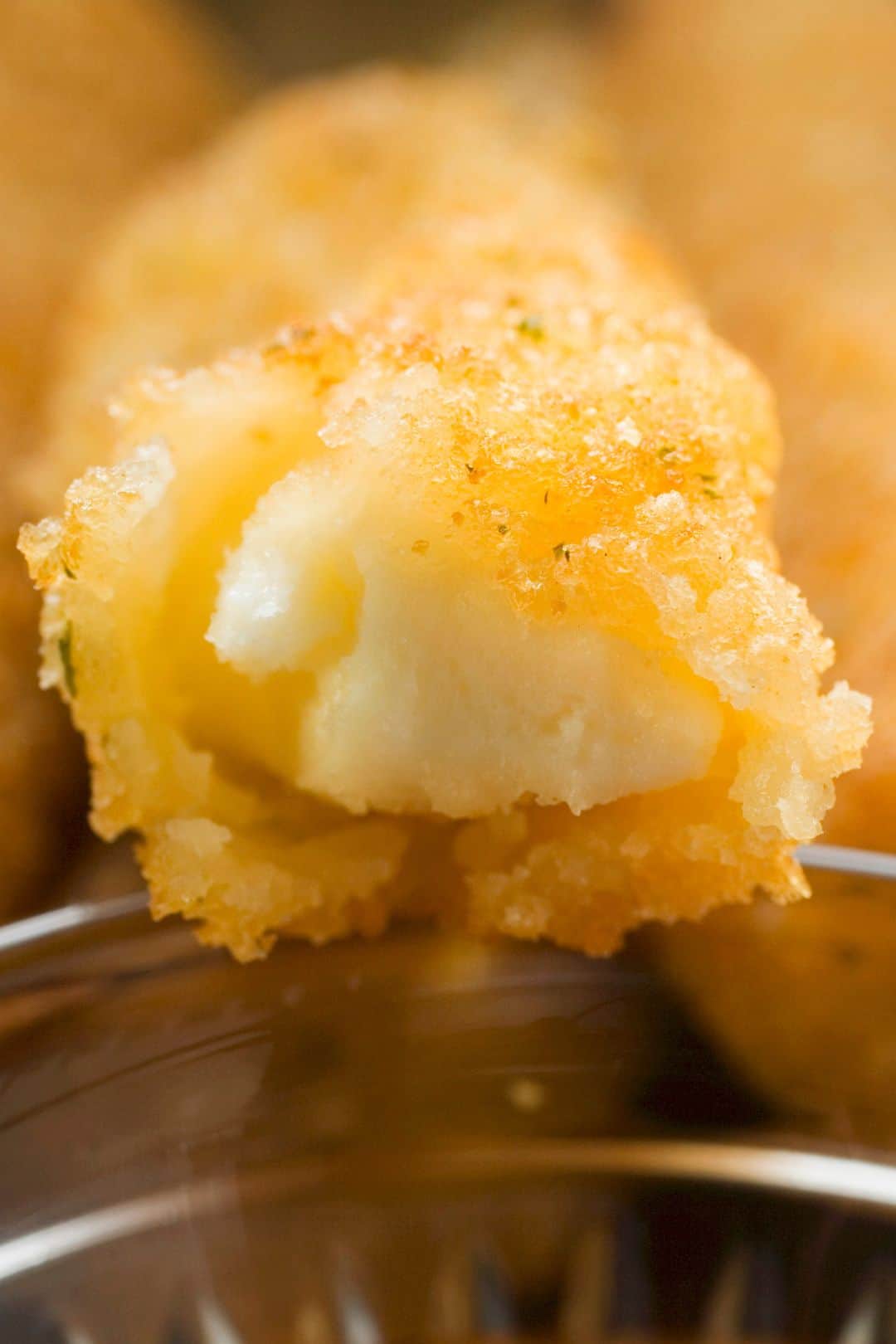 How To Serve Keto Mozzarella Sticks
They are usually served with marinara sauce, and this way, it tastes just like pizza. Another great dipping sauce is Aioli, keto ranch dressing, chipotle mayo, remoulade or a side of roasted vegetables.
Can I Bake Mozzarella Sticks?
Yes, you can bake them if you prefer healthy mozzarella sticks. Preheat the oven to 440 degrees F and place coated cheese sticks on a baking sheet lined with parchment paper. Bake for 8 minutes or until the cheese is melted and the coating looks crispy.
How To Make Mozzarella Sticks in An Air Fryer?
To make keto air fryer mozzarella sticks, grease your air fryer basket using a non-stick cooking spray. Place the mozzarella sticks into an air fryer basket in a single layer. Air fry at 400F for 8-10 minutes.
How To Reheat?
Reheat keto mozzarella sticks with pork rinds in the preheated oven at 400F for 10 minutes until warmed through.
More Keto Snacks Recipes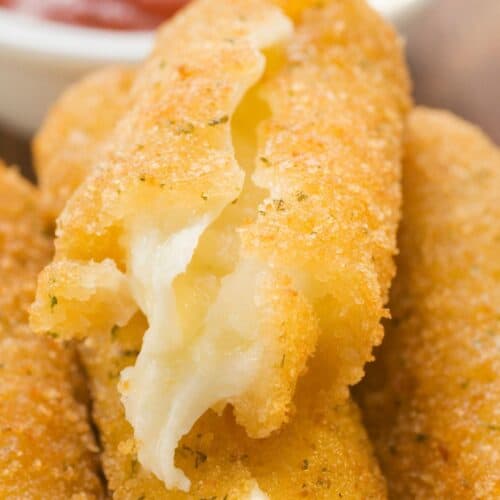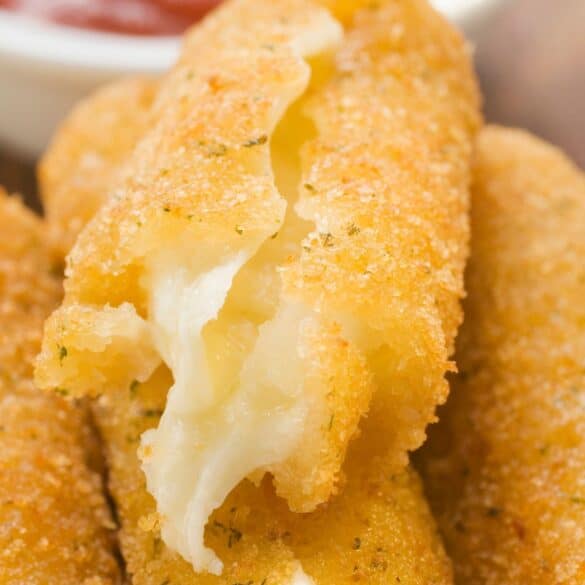 Description
These keto mozzarella sticks are ultra crispy, gooey, and melty. It's possible to make the best low carb keto mozzarella sticks recipe at home with just a few ingredients. It's the perfect low carb appetizer or snack that turns out fantastic every time.
Ingredients
16

mozzarella sticks

sliced in half crosswise

2

large eggs

beaten

1/2

cup

almond flour

2

cups

pork rinds

crushed

1/2

tsp

garlic powder

2

tsp

Italian seasoning

salt and pepper

to taste

oil

for frying

1

cup

marinara sauce
Instructions
In a shallow bowl, combine the almond flour, crushed pork rinds, garlic powder, Italian seasoning, salt, and pepper. You can also add all the ingredients for the crust to a food processor and blend until it turns into a fine powder.

In a different bowl, whisk the egg.

Dip each cheese stick in the egg, and then in the almond flour mixture until well coated. Gently press the mixture to ensure it sticks.

Place the coated mozzarella sticks on a plate lined with parchment paper and repeat with all the cheese strings.

Freeze the mozzarella sticks for at least 2 hours.

Heat oil in a non-stick pan over medium heat. Fry the mozzarella sticks in batches for 2-3 minutes on each side or until golden brown.

Transfer the mozzarella sticks to paper towels to drain.

Serve immediately with marinara sauce.
Nutrition Facts
Amount per serving.
How do we calculate the nutrition info?
These nutrition facts listed are determined using nutrition information from the USDA Food Database. Our nutrition facts are accurate, but if you are using different products, please make your calculations. Net carb count is calculated by subtracting both fiber and sugar alcohols because they don't raise blood sugar.