This is the best keto chicken nuggets recipe you'll ever make! Ready in just 30 minutes, enjoy low carb chicken nuggets that need just a few ingredients and spices. Plus, these baked chicken nuggets are super crispy and beautifully golden without being fried in oil.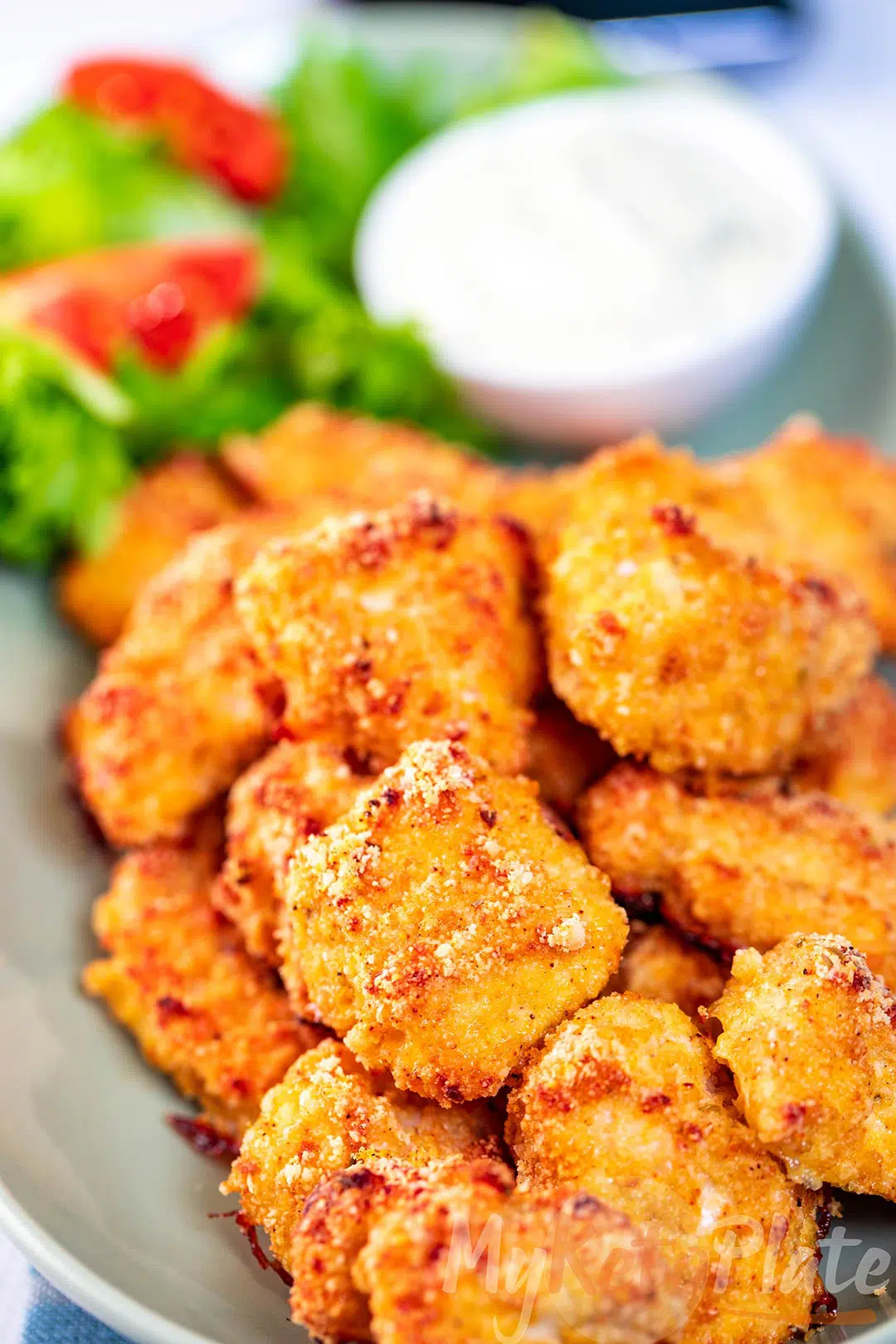 If you're craving fast food on a keto diet just like me, these baked chicken nuggets are totally going to satisfy them! Each serving of 5 homemade chicken nuggets has only 3grams net carbs! The coating is perfectly spiced, and the meat is extremely juicy,
It takes just 30 minutes from start to finish, so making homemade keto nuggets it's extremely easy. Honestly, they are a family favorite recipe and we make it super often. Even the kids love them!
Are Regular Nuggets Keto-Friendly?
Regular Chicken Nuggets aren't suitable for a keto diet. Usually, chicken nuggets are made with a panko (breadcrumbs) crust that is high in carbs. Six pieces of chicken nuggets have about 15 grams of carbohydrates, so that's high for a ketogenic diet. This way, our daily carbohydrate allowance is quickly consumed if you top it off with a dipping sauce.
But, don't worry. This is a chicken nuggets recipe that's made using grain-free keto ingredients is super low in carbs and just as delicious!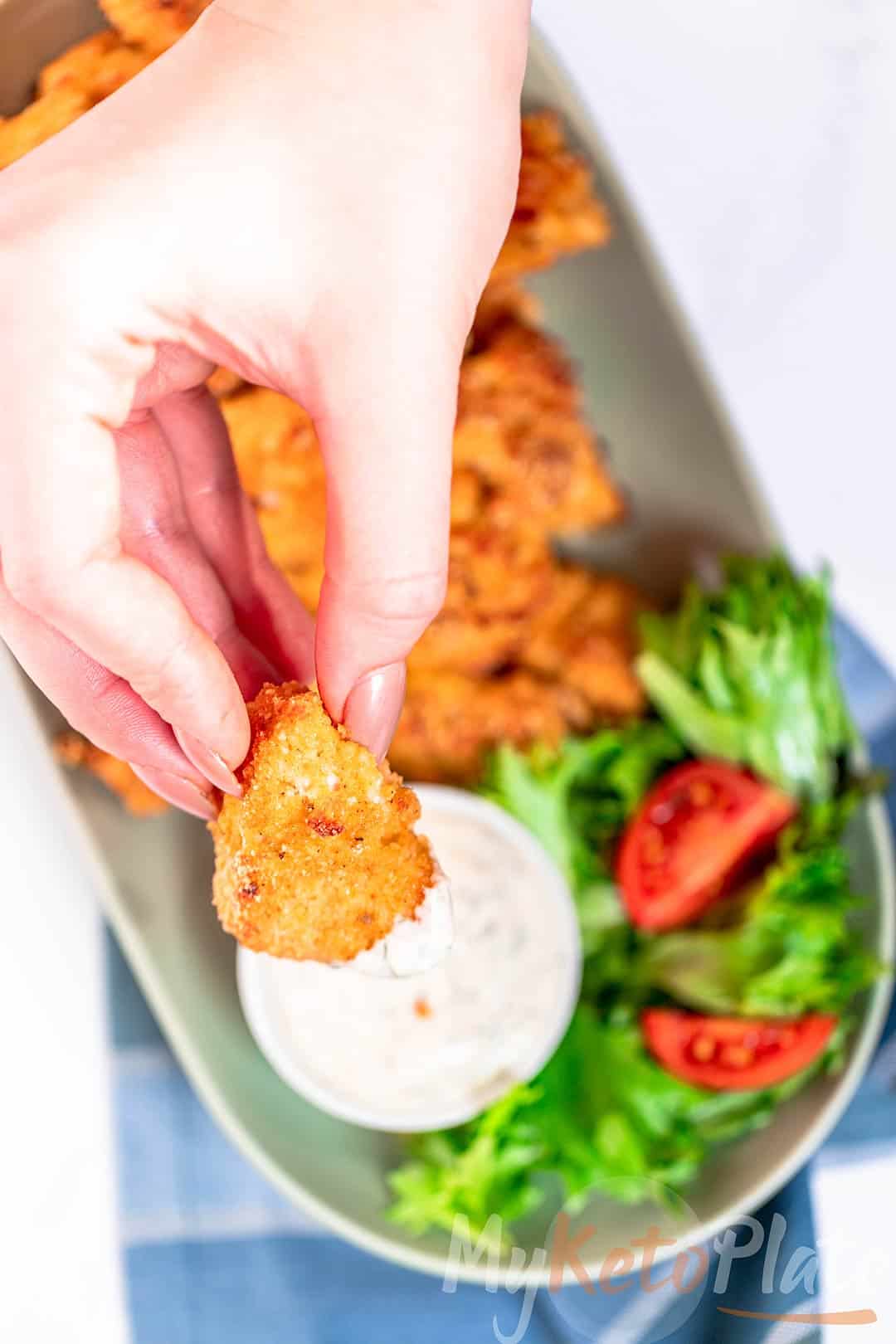 Why Are You Going To Love This Recipe
Extra crispy on the outside and juicy on
Super easy to make, keto-baked chicken nuggets.
It's a gluten-free, keto, and low-carb recipe.
It's a healthier version.
Taste exactly like McDonald's chicken nuggets.
Keto Chicken Nuggets
Watch the video below to see how EASY it is to make the best keto chicken nuggets!
Ingredients in Keto Chicken Nuggets
This is an easy, cheap, quick recipe that will satisfy the whole family's taste. Here are the few ingredients you need to make these chicken nuggets: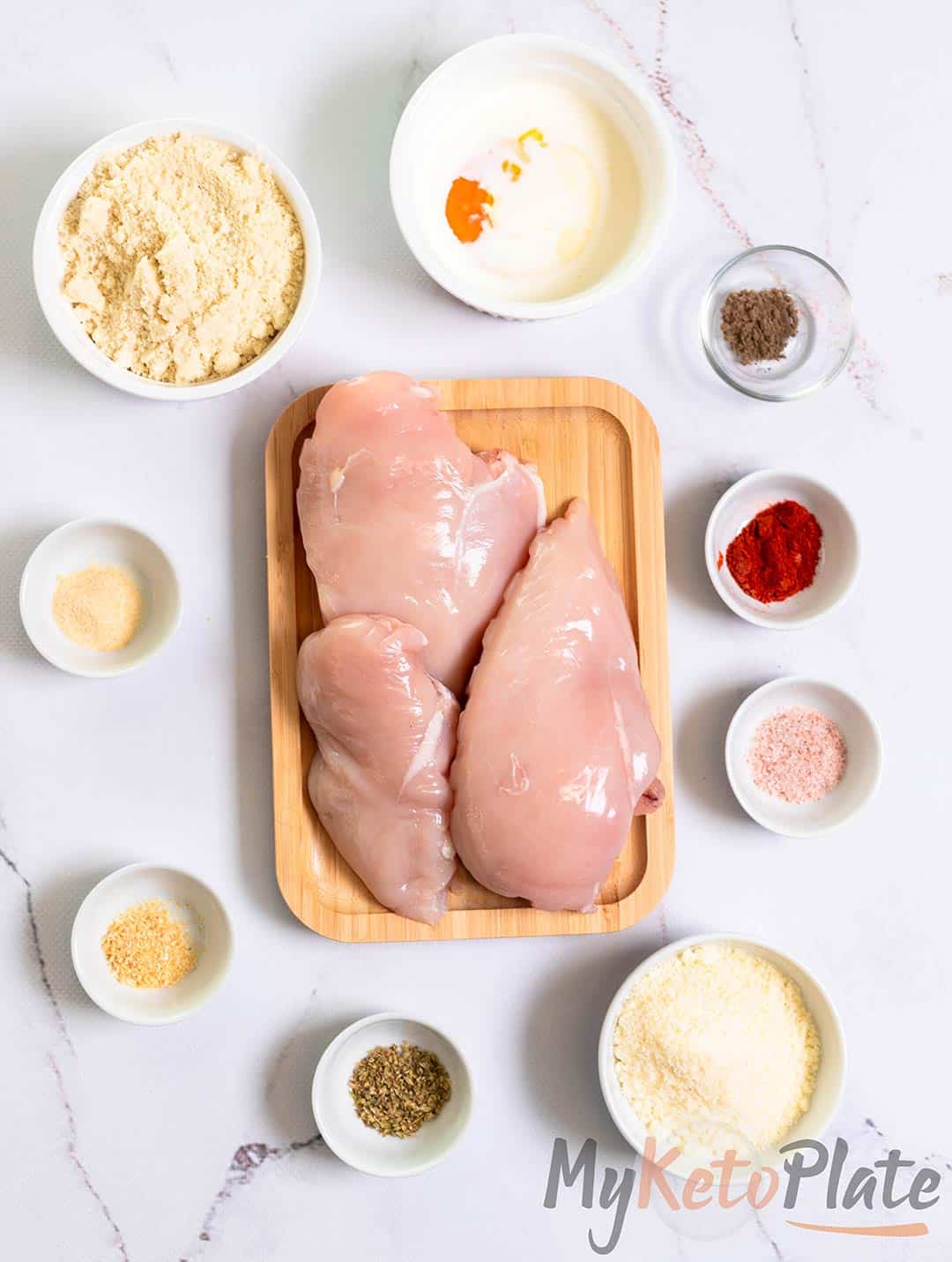 Chicken Breast- I use skinless, boneless chicken breast cut into 1-inch cubes. Make sure that the chicken pieces are the same size to cook evenly. It can also be replaced with boneless chicken thighs or turkey breast.
Almond Flour- to make a keto coating for our nuggets, I chose almond flour as a base. You can also use crushed pork rinds, unflavored protein powder, or coconut flour.
Parmesan Cheese– use either freshly grated or pre-grated. Parmesan helps the chicken become super crispy and flavorful.
Egg – This ingredient is used to make the coating stick to the chicken.
Heavy Cream- If you want a dairy-free recipe, you can use coconut cream instead of heavy cream.
Chicken Seasonings– I used a mixture of garlic powder, onion powder, thyme, cayenne pepper, salt, and pepper to make these chicken nuggets extra flavorful.
How To Make Keto Chicken Nuggets
These oven-baked keto chicken nuggets are fast, low carb, and can be made ahead of time! They taste just like being fried in oil!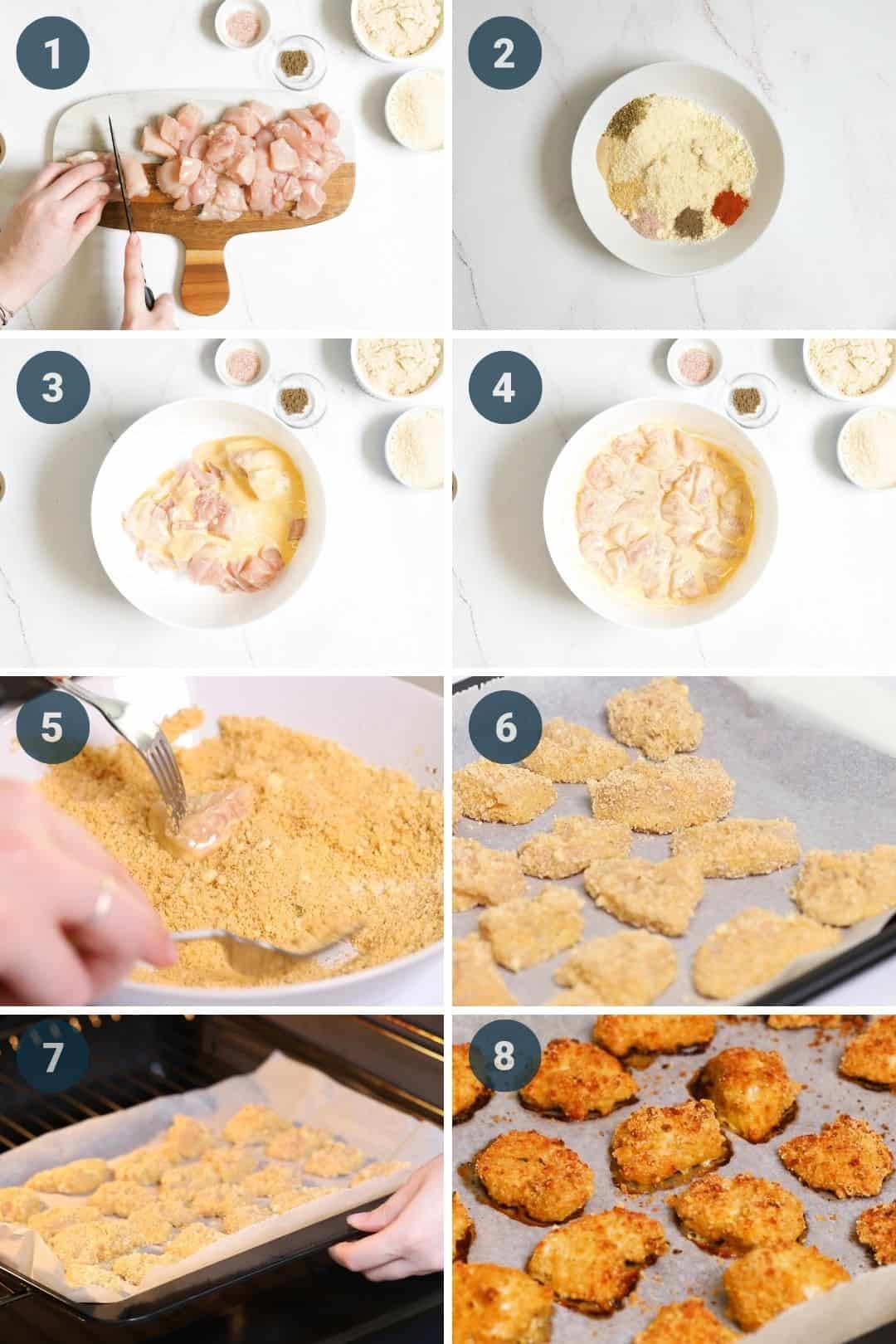 Start by cutting the chicken breast into 1-inch pieces. It's important that the chicken breast pieces are the same size so that they cook evenly.
Coat the chicken pieces– First, dip them into the egg mixture, then coat in the almond flour and parmesan mix.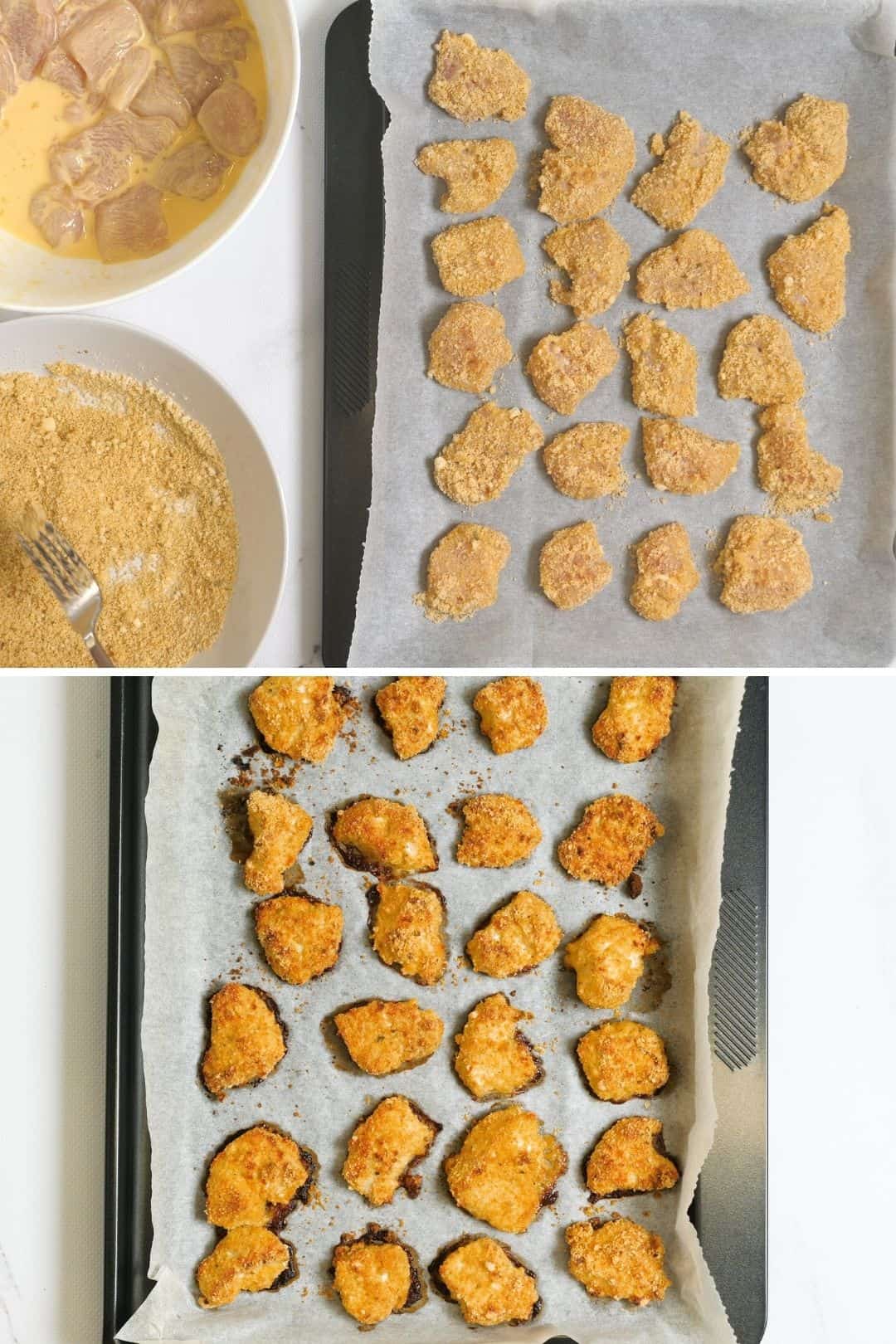 Bake the chicken nuggets for about 20 minutes or until crispy.
Tips For Making The Best Keto Chicken Nuggets
Make sure that you don't overbake these chicken nuggets.
Before adding the chicken to the dry mixture, make sure each piece is well coated in the egg mixture.
Cut the chicken breast in similar sizes.
Spray the chicken nuggets with olive oil or avocado oil before baking them.
How To Store Baked Chicken Nuggets
Fridge: Place the leftovers in an airtight container and store them for up to three days.
Freezer: After they are completely cooled, you can put them in a freezer bag or an airtight container and freeze them for up to two months. Grab a serving and place it in the air fryer whenever you need a serving of chicken nuggets.
Reheating Instructions: These keto chicken nuggets may be reheated in the oven or toaster oven until crispy. If you want them extra crunchy, cook them in the skillet for a few minutes longer.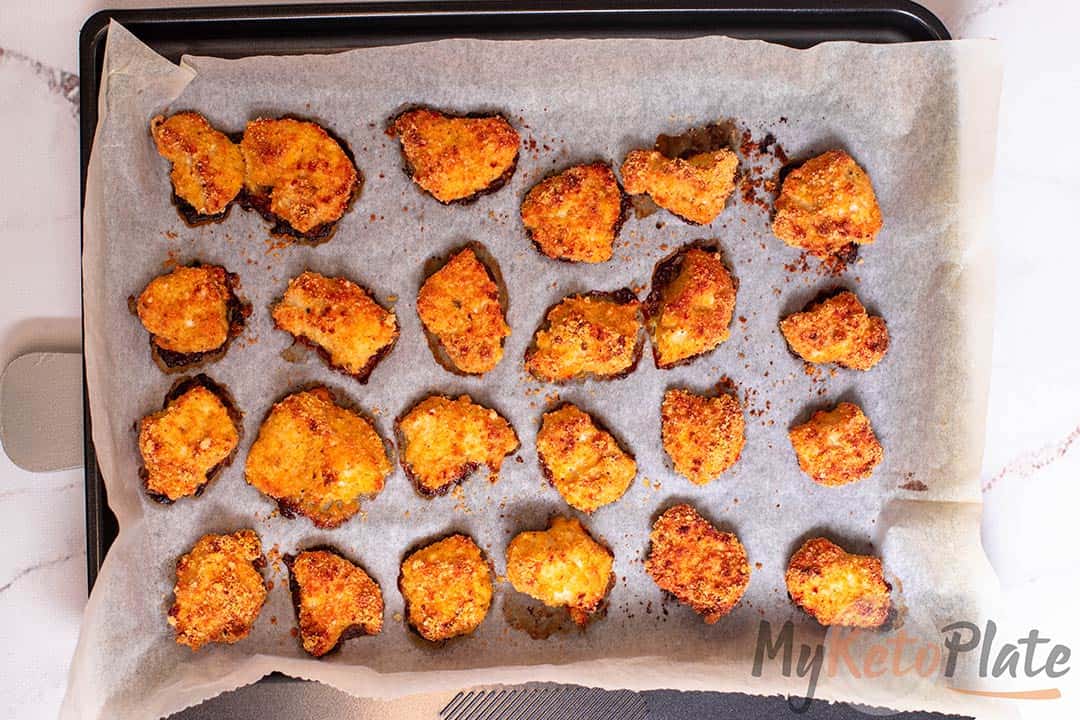 Can I Fry these Chicken Nuggets?
Yes. To make keto fried chicken nuggets, add about 1/2 cup of vegetable oil to a large skillet. Cook for about 4-5 minutes per side or until beautifully golden.
Serving Suggestions
These delicious nuggets can be served as a snack or an appetizer, or you can serve them as a main dish with your favorite side dish, such as:
your favorite dipping sauce
some keto french fries for a perfect combo.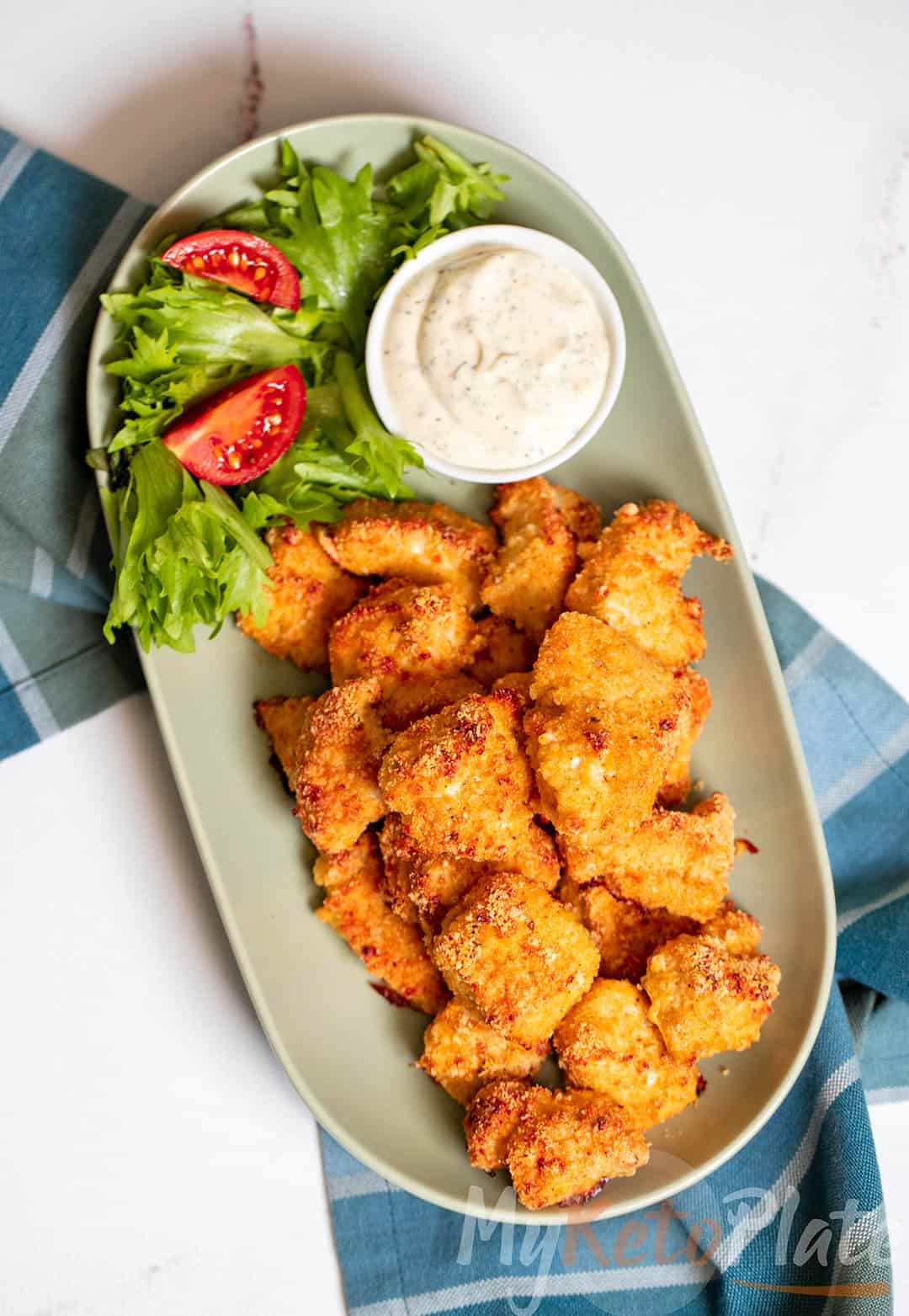 Can I Make Keto Chicken Nuggets In an Air Fryer?
One of the best things about this recipe is that it can be baked in the air fryers after following the initial steps on the recipe card.
More Keto Chicken Recipes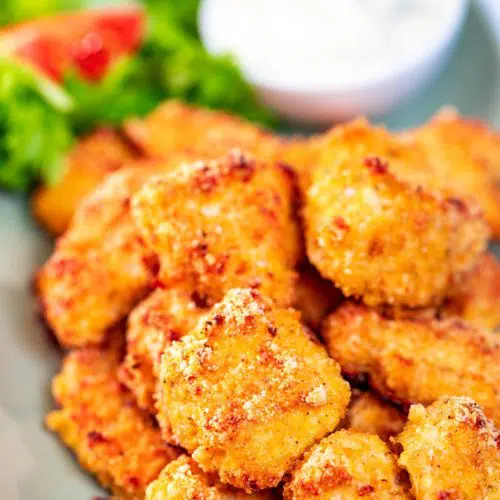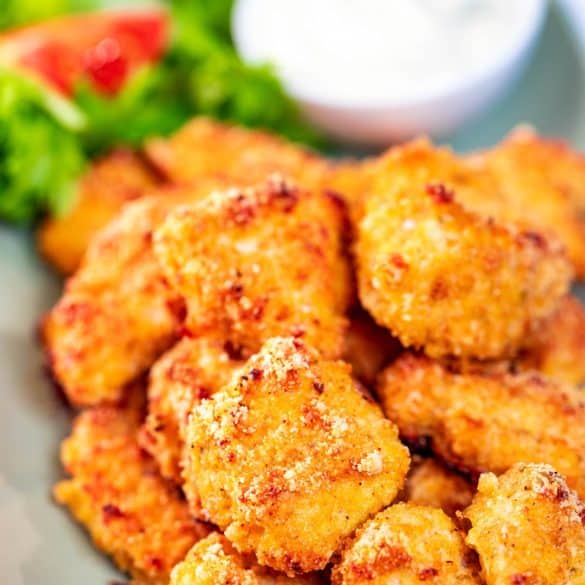 Crispy Baked Keto Chicken Nuggets
---
Description
This is the best keto chicken nuggets recipe you'll ever make! Ready in just 30 minutes, enjoy low carb chicken nuggets that need just a few ingredients and spices. Plus, these baked chicken nuggets are super crispy and beautifully golden without being fried in oil.
Ingredients
1 1/2

lbs

Chicken Breast

cut into 1– inch chunks

1

cup

almond flour

superfine

¼

cup

Grated Parmesan

½

tsp

garlic powder

½

tsp

onion powder

½

tsp

dried thyme

¼

tsp

cayenne pepper

optional

½

tsp

Pepper

½

tsp

salt

1

large Egg

2

tbsp

Heavy Cream
Instructions
Preheat oven to 400°F/ 205°C. Line a large baking sheet with parchment paper and lightly spray with non-stick cooking spray.

Whisk the egg and heavy cream.

Into a large bowl, add the chicken pieces and pour the egg mixture. Mix to coat evenly.

Combine the almond flour, grated parmesan, and all the spices into a separate shallow bowl or plate.

Coat each chicken piece into the beaten egg, then into the almond flour mixture. Toss to coat.

Place the coated chicken onto the prepared baking tray into a single layer.

Bake in preheated oven for 18-20 minutes, flipping halfway through cooking time. The chicken is cooked when the internal temperature is 165F.

Serve with your favorite dipping sauce or sugar-free ketchup.
Notes
This recipe makes about 40 keto chicken nuggets, and the macros are calculated for a serving of 5 chicken nuggets.
Nutrition Facts
Amount per serving.
How do we calculate the nutrition info?
These nutrition facts listed are determined using nutrition information from the USDA Food Database. Our nutrition facts are accurate, but if you are using different products, please make your calculations. Net carb count is calculated by subtracting both fiber and sugar alcohols because they don't raise blood sugar.