This keto egg salad tastes amazing, it's perfect for breakfast on a low carb bread toast or for lunch in a lettuce wrap. It's extremely easy to make with simple ingredients, very creamy and so delicious. An egg salad that's ready in just 10 minutes will instantly become a staple in your kitchen.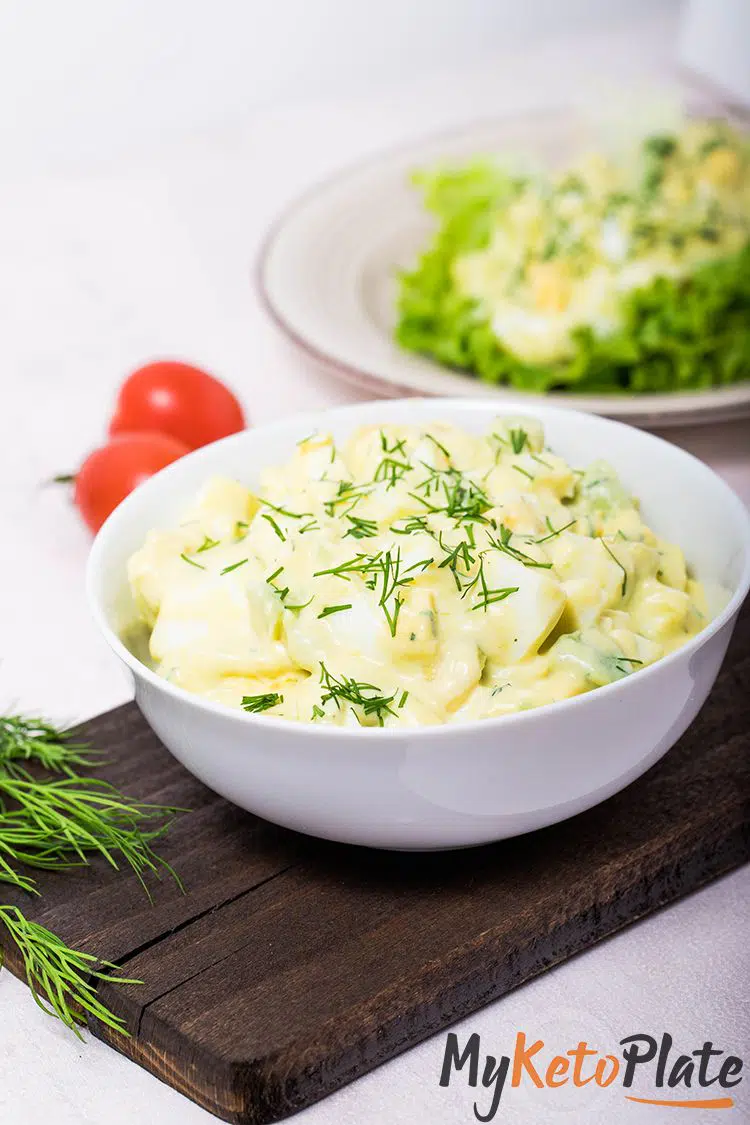 This is one of those gluten-free, low carb, paleo, and Whole30 recipes that can be easily customized to your dietary needs. You can use a homemade mayo or get the healthiest mayonnaise on the market: Avocado Mayonnaise by Primal Kitchen.
Are Eggs Keto?
Eggs are almost the healthiest foods on the planet because they are extremely nutritious. Despite the misinformation spread all over the media, whole eggs, especially the yolks should be consumed to get all the nutrients.
One large egg(50g) has 71.5 calories, 6.3g protein, and almost 0g carbs. So, eggs are the perfect food to eat on a keto diet because it's nutrient-dense and super low in carbs.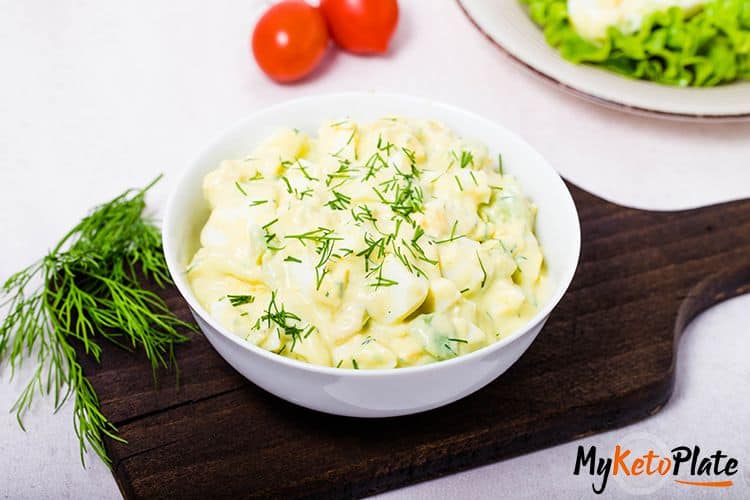 Keto Egg Salad Ingredients
I love to keep my egg salad simple and only add avocado for extra creaminess. I am a huge fan of dill, and I always add it to the egg salad, but you can substitute it with parsley or chives.
Ripe Avocado
Hard-Boiled Eggs
Homemade Mayonnaise or Avocado Mayo
Dijon Mustard
Lemon Juice
Dill
Salt and pepper, to taste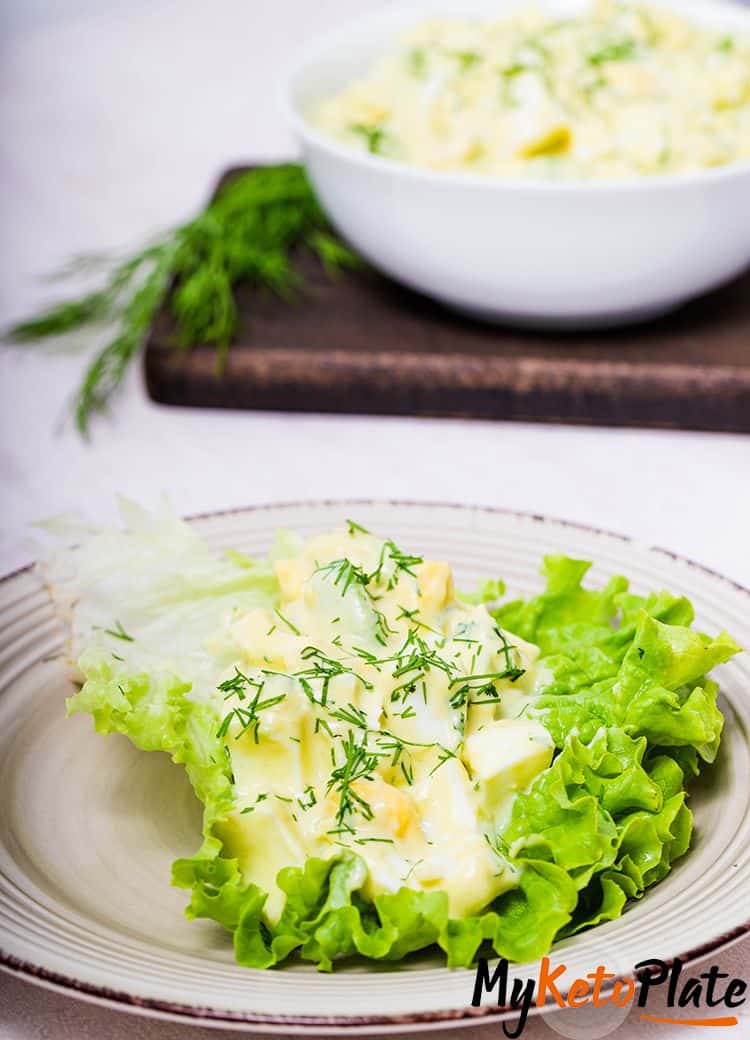 How to Make Keto Egg Salad?
Making keto egg salad is effortless. Here's everything you need to do:
Boil six eggs and let them cool down. You can boil and peel the eggs in advance, refrigerate them until you need to make the salad.
Chop the eggs and avocado into bite-size pieces and throw them into a medium bowl.
Add the mayonnaise, mustard, dill or chives, salt, and pepper
Mix the salad well to combine and DEVOUR!
To keep things light, use Greek yogurt instead of mayonnaise and mash the avocado instead of chopping it. The salad will still be creamy and delicious.
How To Store Keto Egg Salad?
Store the leftover keto egg salad in an airtight glass container in the refrigerator for 3 to 5 days. Do not keep this salad at room temperature for the reason that bacteria grows faster at a higher temperature.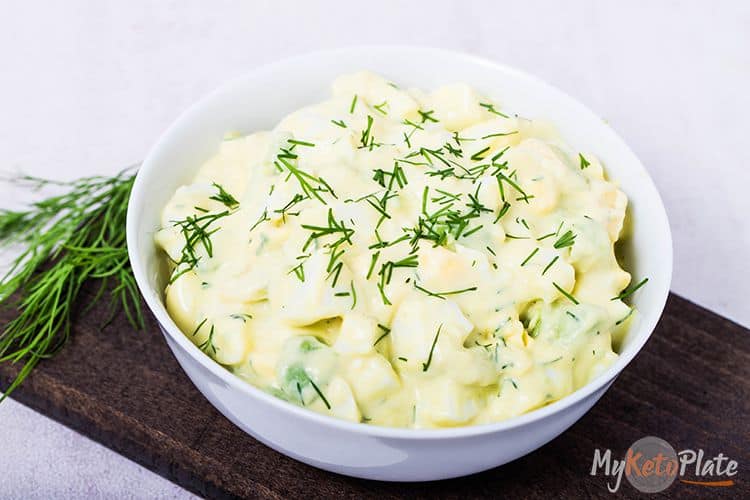 Keto Egg Salad Variations
Pickles: Add diced pickles or relish
Freshly diced Celery
Lean protein: chicken breast, cooked shrimp, ham or bacon
Tomatoes or cherry tomatoes
Green Olives
I'd love to hear how you make your favorite egg salad!
What to Serve Low Carb Egg Salad on?
It's extremely easy to make healthy egg salad. I love that it's full of nutrients and flavor, filling, and has tons of healthy fats and protein.
Serve it on top of a low carb bagel or a keto bread slices to make a delicious sandwich. It's that easy!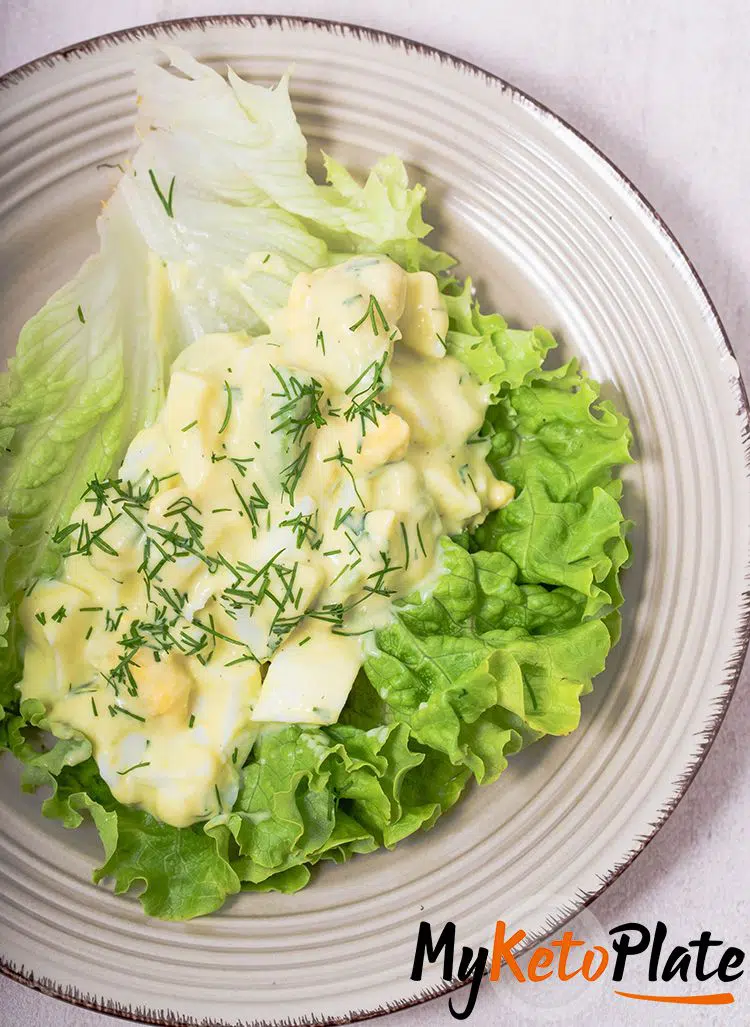 How to Cook Perfect Boiled Eggs?
Boiling eggs sounds like such an easy task but sometimes can be so problematic. They are either not cooked enough, too hard or the peel just won't come off.
There are a few factors you need to consider when cooking eggs such as initial egg temperature, egg size, the kind of pot you're using to boil eggs, room temperature, and even altitude.
To boil perfect eggs for egg salad with avocado, place the eggs on the bottom of a saucepan, leaving enough space between them. Fill the pot with cold water, just to cover the eggs. Bring the water to a boil, cover the pan with a lid and remove it from heat. Set a timer to 10 minutes and after the time is over transfer the eggs to ice water to stop the cooking process immediately.
Other Recipes You Might Like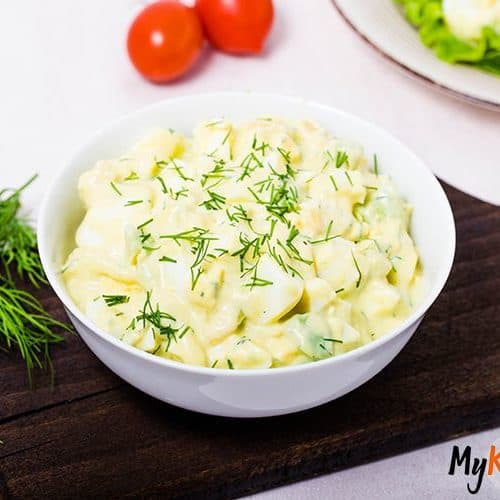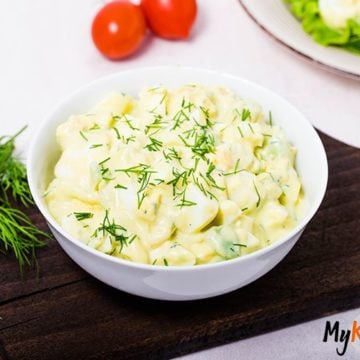 Description
This keto egg salad tastes amazing and it's perfect for breakfast on a low carb bread toast or for lunch in a lettuce wrap. It's extremely easy to make with simple ingredients, very creamy and so delicious. It will instantly become a staple in your kitchen.
Ingredients
1

medium Avocado

ripe

6

Hard Boiled Eggs

large

1/3

Cup

Mayonnaise

1

Tsp

Dijon Mustard

1

tsp

of lemon juice

1/8

Tsp

Dill

optional

1/2

tsp

salt

1/4

tsp

pepper
Instructions
Peel the hard boiled eggs, chop them and transfer to a medium bowl.

Cut the avocado in half and remove the pit. Scoop out the avocado using a spoon and chop it into small pieces. Add the avocado to the bowl.

Season with salt and pepper and add mayonnaise, Dijon mustard, and lemon juice. Mix well to combine.

Serve it right away or refrigerate until you want to eat it.
Nutrition Facts
Amount per serving.
How do we calculate the nutrition info?
These nutrition facts listed are determined using nutrition information from the USDA Food Database. Our nutrition facts are accurate, but if you are using different products, please make your calculations. Net carb count is calculated by subtracting both fiber and sugar alcohols because they don't raise blood sugar.