Learn how to make the best cauliflower rice recipe using 3 ingredients and 10 minutes of prep. It's a light and delicious low-carb side dish that's the best substitute for regular rice in soup, burritos, bowls, and more.
This rice made from cauliflower is the perfect replacement for regular rice. Once you try it, you will see that it has almost the same texture and taste as regular white rice but with fewer carbs.
It can be enjoyed with many dishes as a side dish, or you can use it to prepare a delicious cauliflower risotto.
So make this recipe if you are looking for an easy and quick-to-make side dish, and you won't regrate it. Besides the fact that it is extremely delicious, this cauliflower rice is also dairy-free and grain-free.
The best way to get more vegetables into your daily meal plan.
Why Are You Going To Love This Recipe
Super easy to make in only 10 minutes.
You can make it ahead of time.
It pairs great with many main dishes.
Has only 7g net carbs per serving.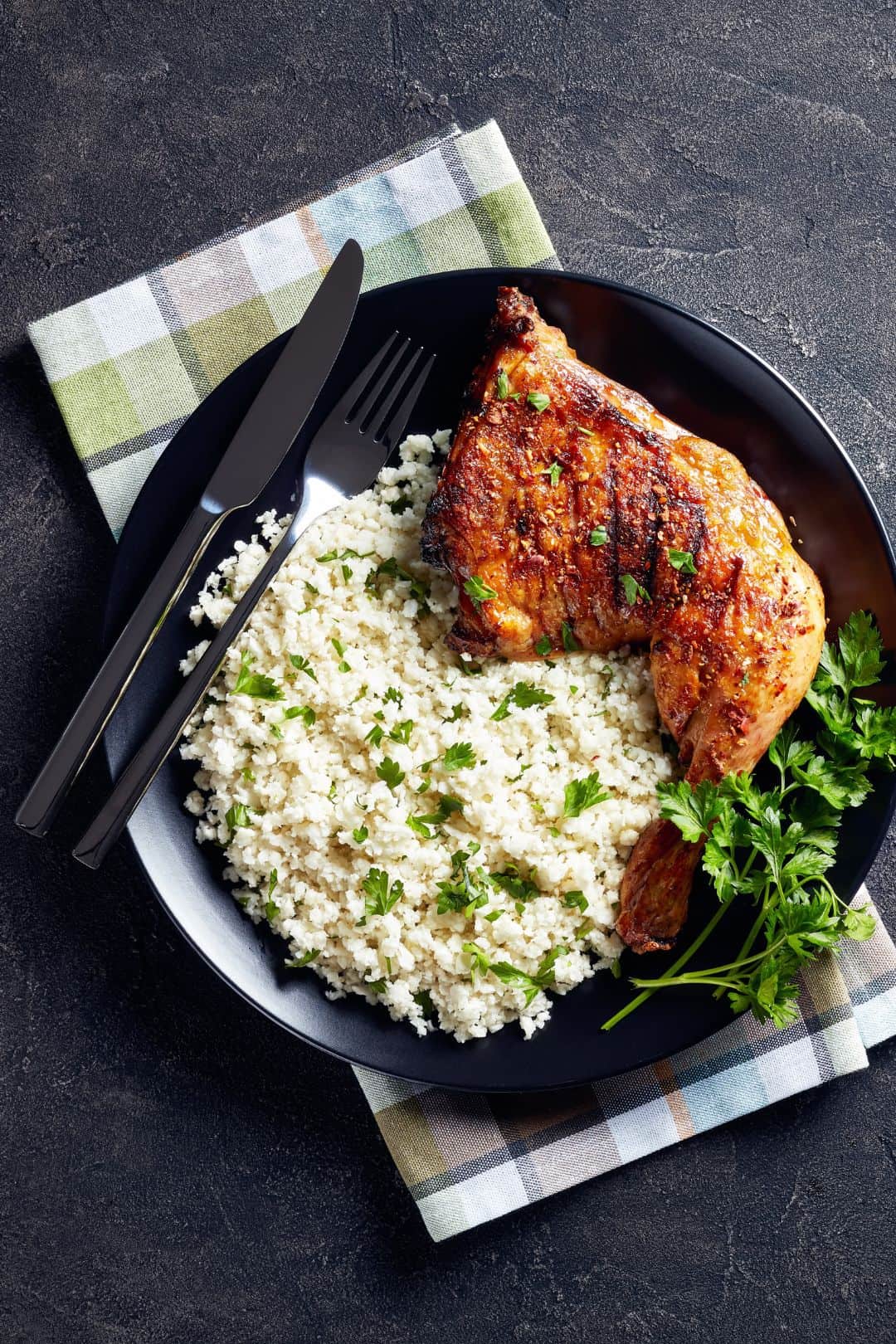 Ingredients For This Cauliflower Rice
You will need only 3 ingredients you probably already have in your kitchen to create this delicious and easy side dish. Here is everything you will need:
Cauliflower –you will need a medium-sized cauliflower head with no blemishes or brown patches.
Olive Oil – you can use any vegetable oil you like.
Salt&Peper – to taste, but you can also add your favorite seasonings like paprika or garlic powder.
How To Make Easy Cauliflower Rice
Enjoying rice on a keto diet was never easier than now. Ready in 10 minutes, this keto cauliflower rice is easy to make without needing any cooking skills. Here is everything you have to do:
Start by cleaning your cauliflower, then cut it into small pieces.
Place your cauliflower pieces in a food processor and pulse until it has the right consistency of rice.
Add the olive oil to a pan over medium heat and cook the cauliflower rice for about 5 minutes.
Season with salt and pepper, and enjoy.
Recipe Variations
You can make this cauliflower rice even tastier by adding different ingredients. Here are some ideas:
Add some crumbled bacon for extra flavor and crispiness.
You can add some shredded parmesan cheese for a cheesy flavor.
You can add your favorite vegetables like broccoli or mushrooms.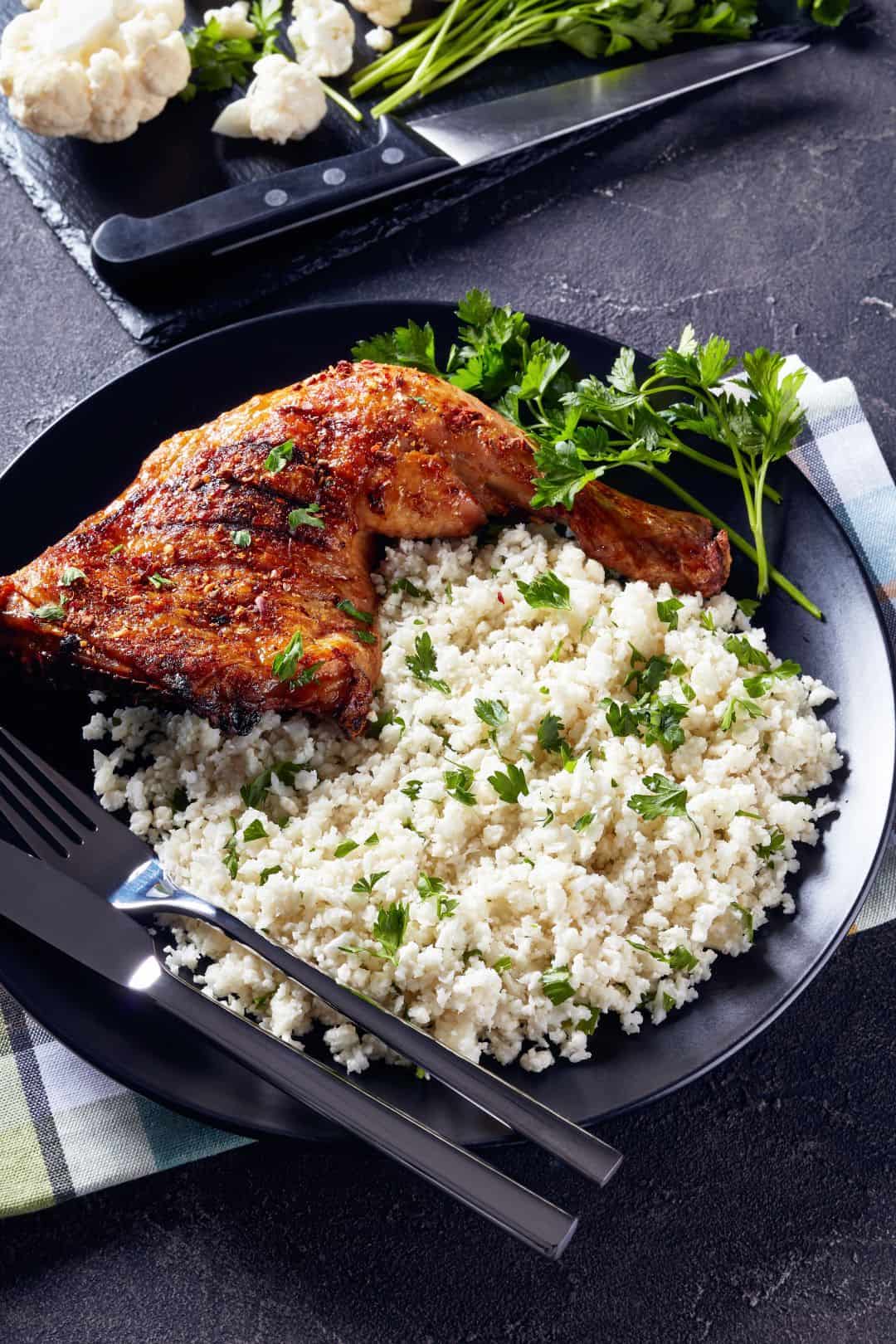 Serving Ideas
This cauliflower rice is a great side dish recipe that can be paired with many main dishes. Here are some great ideas
Storing Ideas
Fridge: You can store this cauliflower rice in an airtight container in the fridge for up to one week.
Freezer: This cauliflower rice can also be stored in the freezer. Transfer the leftovers to a freezer-safe bag or container and store them for up to 3 months. Then, allow to thaw overnight in the fridge and reheat on medium heat in a pan.
Frequently Asked Questions
How To Choose The Cauliflower?
Look for cauliflower with florets that are tightly packed, creamy white, and free of imperfections like blemishes, browning, or moist patches. You should also take a close look at the leaves. They need to be lively and fresh, which signifies that the cauliflower was just picked.
Can I Make Cauliflower Rice Without A Food Processor?
If you don't have a food processor, you can still make cauliflower rice using a box grater. First, grate the cauliflower pieces using a cheese grater.  The result will be the same—small, white bits about the size of rice—but it will require a little more work.
Is Cauliflower Keto-Friendly?
Sure, cauliflower is one of the best keto-friendly ingredients, and it can be used to create many interesting and delicious recipes. It's low in calories, and it provides a lot of health benefits.
More Cauliflower Recipes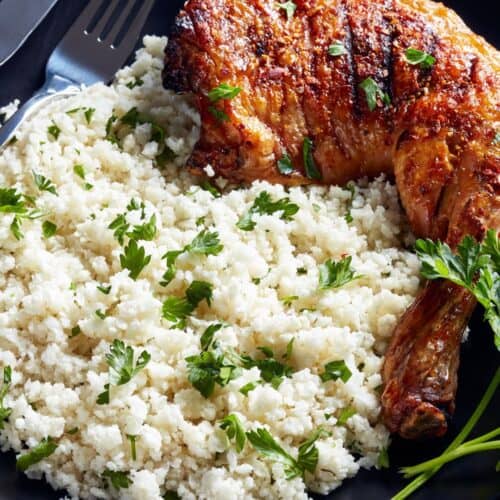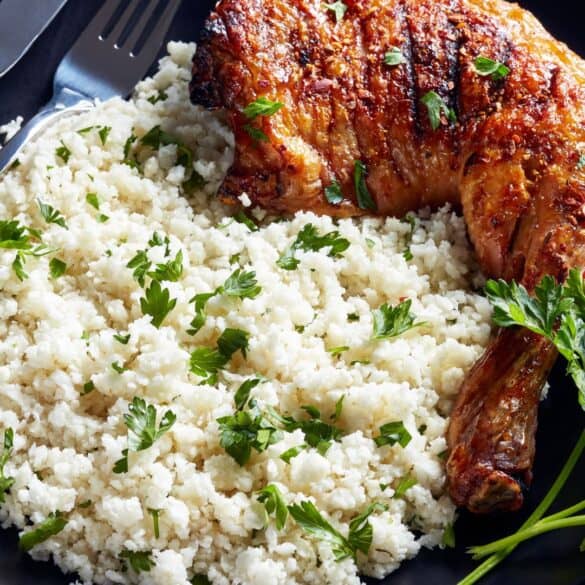 Description
Learn how to make the best cauliflower rice using 3 ingredients and 10 minutes of prep. It's a light and delicious low-carb side dish that's the best substitute for regular rice in soup, burritos, bowls, and more.
Ingredients
1

medium-head cauliflower

1

tbsp

olive oil

1

tsp

salt

1/2

tsp

pepper
Instructions
Start by chopping the cauliflower into big chunks or small pieces.

Next, grate the cauliflower into small pieces, like white rice.

Add the olive oil to a large pan over medium-high heat and cook the cauliflower for 8 minutes, stiring occasionally.

Season to taste with salt and pepper.

Enjoy!
Nutrition Facts
Amount per serving.
How do we calculate the nutrition info?
These nutrition facts listed are determined using nutrition information from the USDA Food Database. Our nutrition facts are accurate, but if you are using different products, please make your calculations. Net carb count is calculated by subtracting both fiber and sugar alcohols because they don't raise blood sugar.