These zucchini noodles are the best pasta substitute that you can prepare so easily. Ready in under 30 minutes, these gluten-free noodles are fresh and vibrant and can be enjoyed with many sauces like bolognese to help you with the pasta cravings but in a healthier way.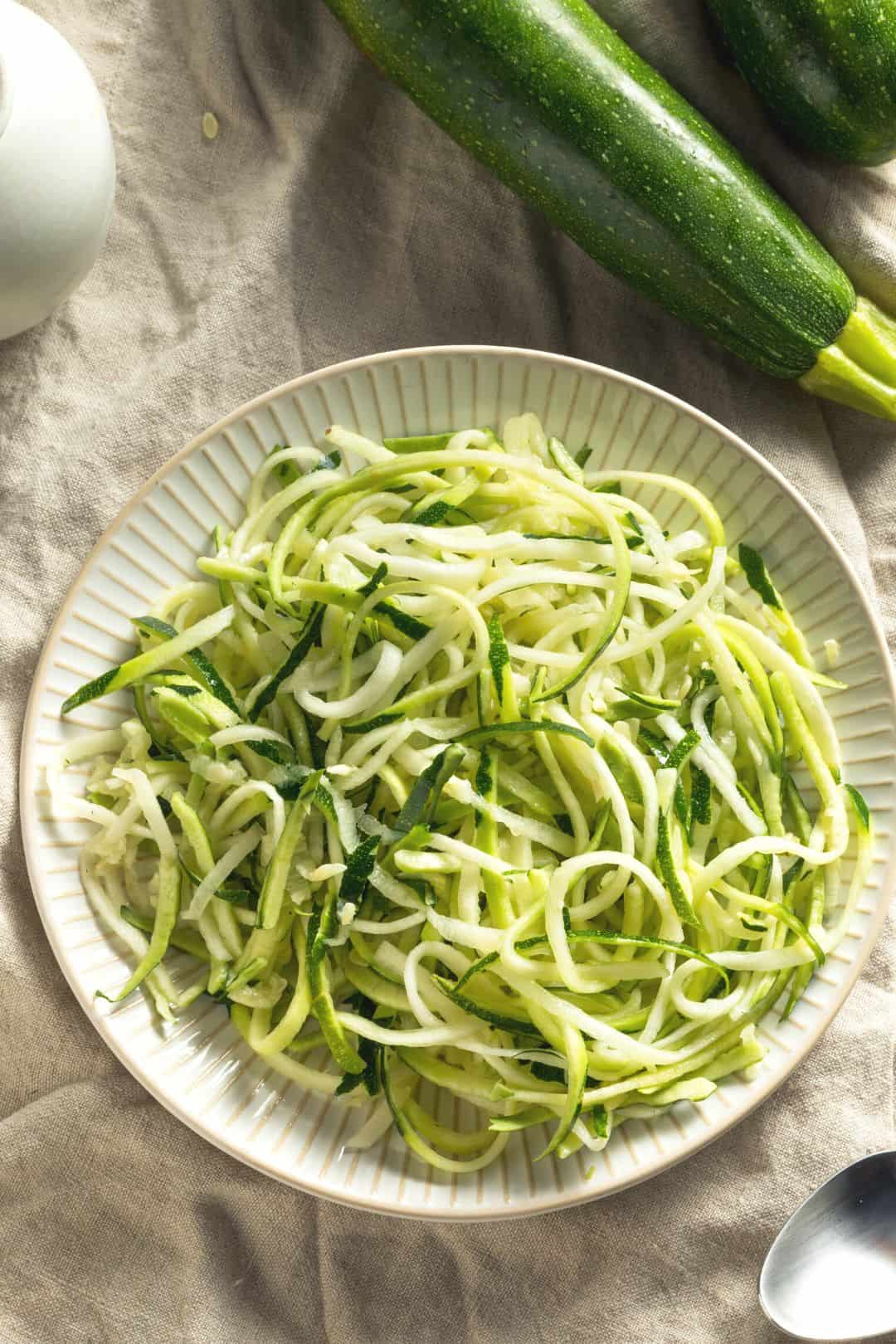 You will be surprised to find out how easy and simple it is to make zoodles at home. In addition, zoodles can be prepared faster than ordinary noodles that need to be boiled in water.
So if you are on a keto or gluten-free diet, these zucchini noodles are the best solution for many recipes that call for pasta. So read this article to learn how to prepare the best zucchini noodles and to create the best gluten-free recipes you have ever tried.
So if you are craving spaghetti, fettuccine, or pappardelle, this article teaches you how to prepare them from zucchini avoiding all those carbs.
Just think about a plate of zucchini noodles topped with a delicious bolognese sauce and parmesan cheese. Sounds great, right?
What Are Zucchini Noodles?
Zucchini Noodles or Zoodles are long tiny pieces of zucchini vegetable noodles peeled or 'spiralized.' These Zucchini Noodles are great for any diet, such as low-carb, keto, or gluten-free.
They are an easy way to add extra vegetables to your family's diet; besides, you can make your spaghetti pasta night healthier and more delicious.
Why Are You Going To Love These Zucchini Noodles
Extremely easy to make.
They are a healthy and naturally low-carb substitute for pasta.
Ready in under 30 minutes.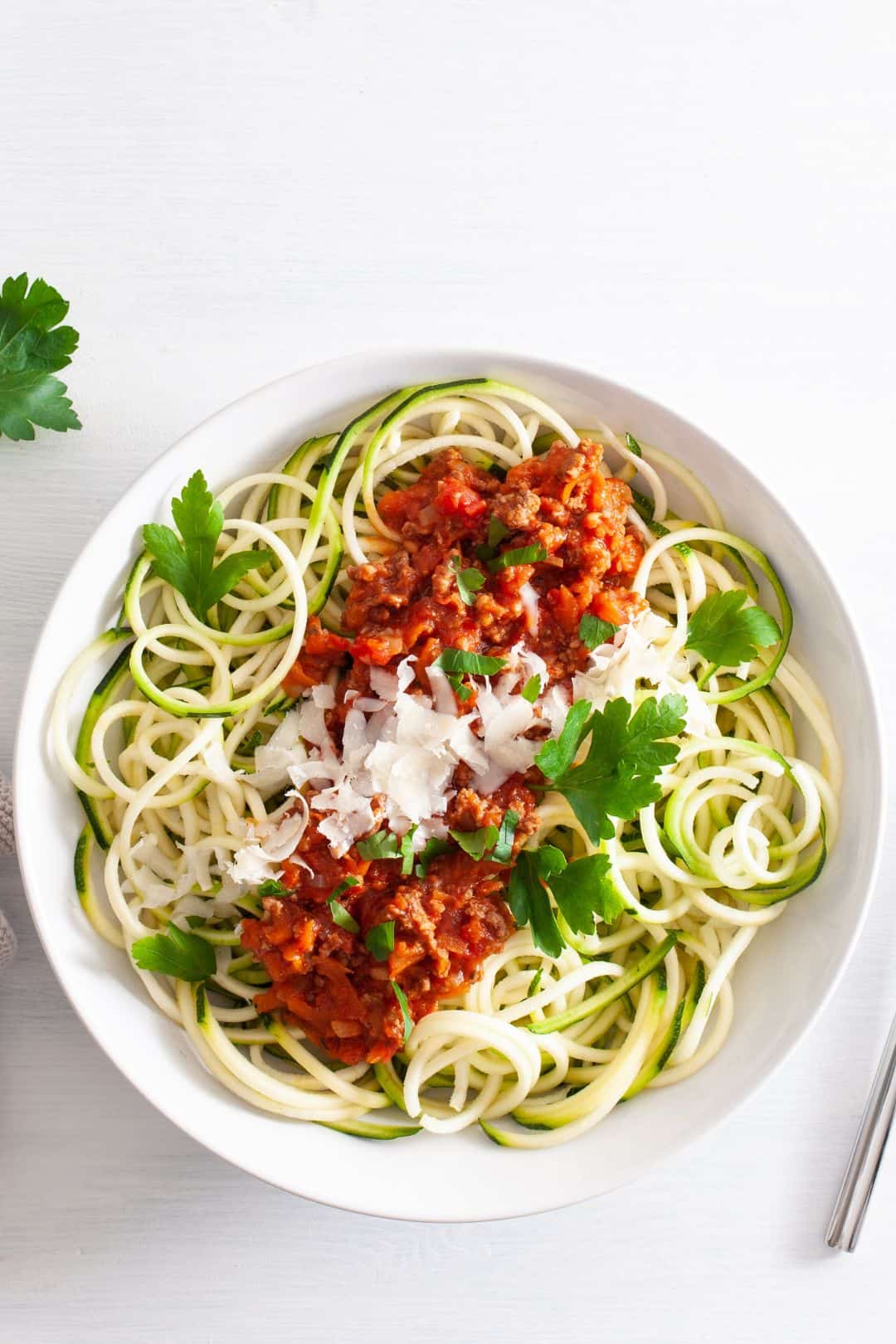 Zucchini Noodles Ingredients
What is the best part about this recipe? You will need only 4 easy ingredients to prepare it. Here is everything you will need:
Zucchini – choose fresh Zucchini that has a green and rich color.
Butter – use unsalted butter for cooking these zucchini noodles for an intense buttery flavor.
Salt&Pepper – to taste. Feel free to add your favorite seasonings, like garlic or onion powder.
How To Prepare The Best Zucchini Noodles
These zucchini noodles are one of the best recipes I have ever tried, and the best part is that they taste extremely delicious. Here is everything you have to do:
Make The Zucchini Noodles
You will need a spiralizer to make these zucchini noodles, but you can also use a basic everyday peeler, which you probably already have in your pantry.
I like to use a spiralizer because it's simpler and more enjoyable. But if you don't have any and don't want to add another gadget to your kitchen, make your veggie noodles using a peeler. It works fine.
Using a peeler. If you choose to use a peeler for your zucchini noodles, first, you need to decide if you leave the peel on. Then all you have to do is wash the Zucchini well and shave the entire length of it, creating a nice pile of zoodles.
Using a spiralizer. For this simpler method, you must follow your spiralizer's direction.
Using a knife. This is the most difficult and time-consuming method, but it will also work if this is your final solution. Cut the zucchini using a sharp knife into slices length-wise. Then cut them into thick strands. 
Cook The Zucchini Noodles
If you like your zoodles to be more soft and tender, or if you prefer them warm, there are some methods for preparing them:
How To Prepare Zucchini Noodles In Microwave – just put them in the Microwave and cook for 40-60 seconds.
How To Bake Zucchini Noodles – Put zucchini noodles on a baking sheet and bake them for 15 minutes or until it's as tender as you want at 350 degrees.
How To Sautee Zucchini Noodles – In a pan over medium heat, add the butter and the zucchini noodles. Season them with salt and pepper and cook for 1-2 minutes or until they are cooked as you like.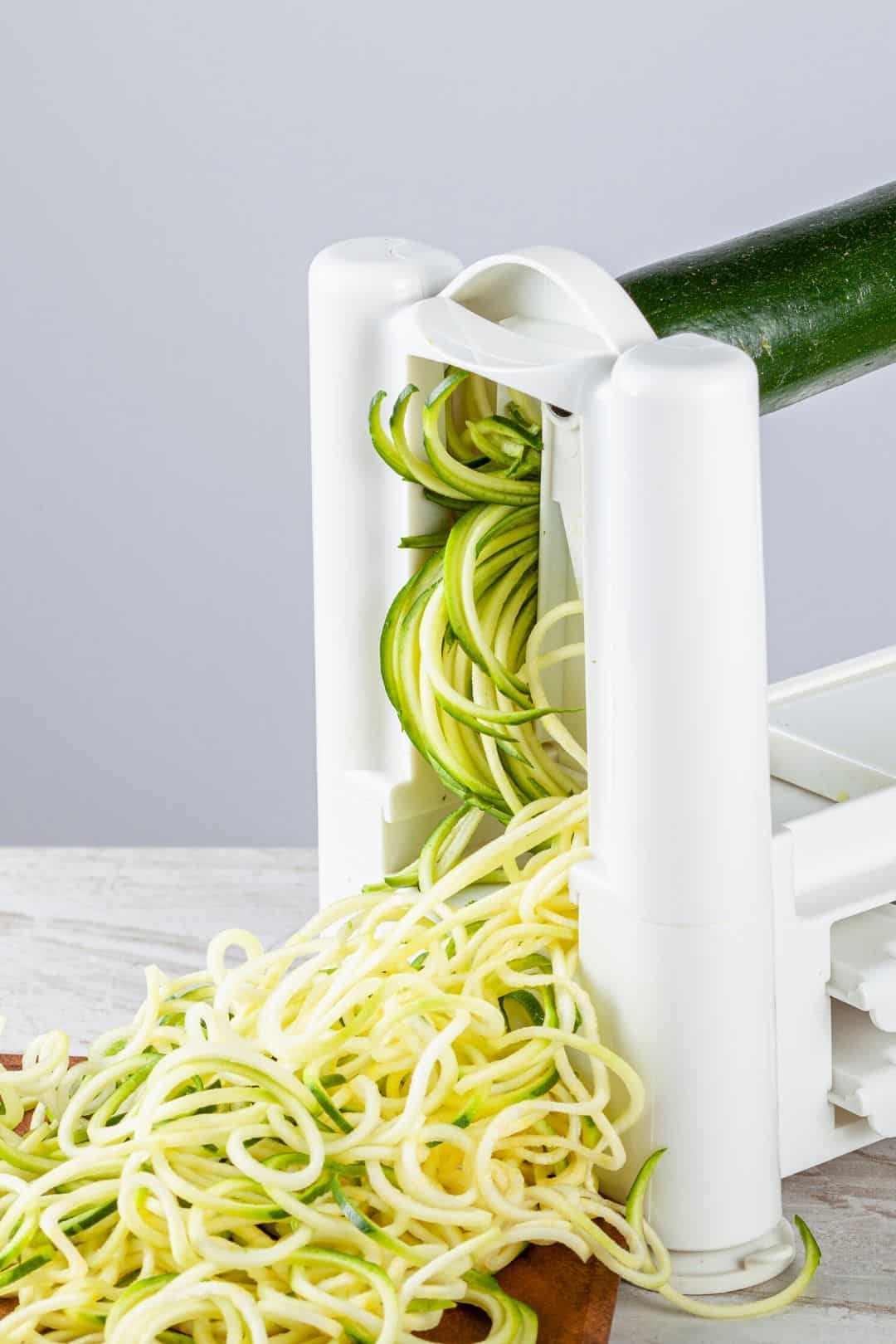 Tips For Making The Best Zucchini Noodles
If you make zucchini noodles with a peeler, a bigger zucchini will be easier to handle. And the smallest ones are easier to make with a spiralizer.
If you bake the zucchini noodles in the oven, ensure the zucchini is evenly distributed and not overcrowded.
To get rid of moisture, pat the zoodles dry using paper towels.
Storing Ideas
Fridge: You can store the leftover noodles in the refrigerator in an airtight container for about five days.
Freezer: It's not a good idea to freeze zucchini noodles. You'll end up with watery noodles instead of wonderfully firm ones once they've thawed.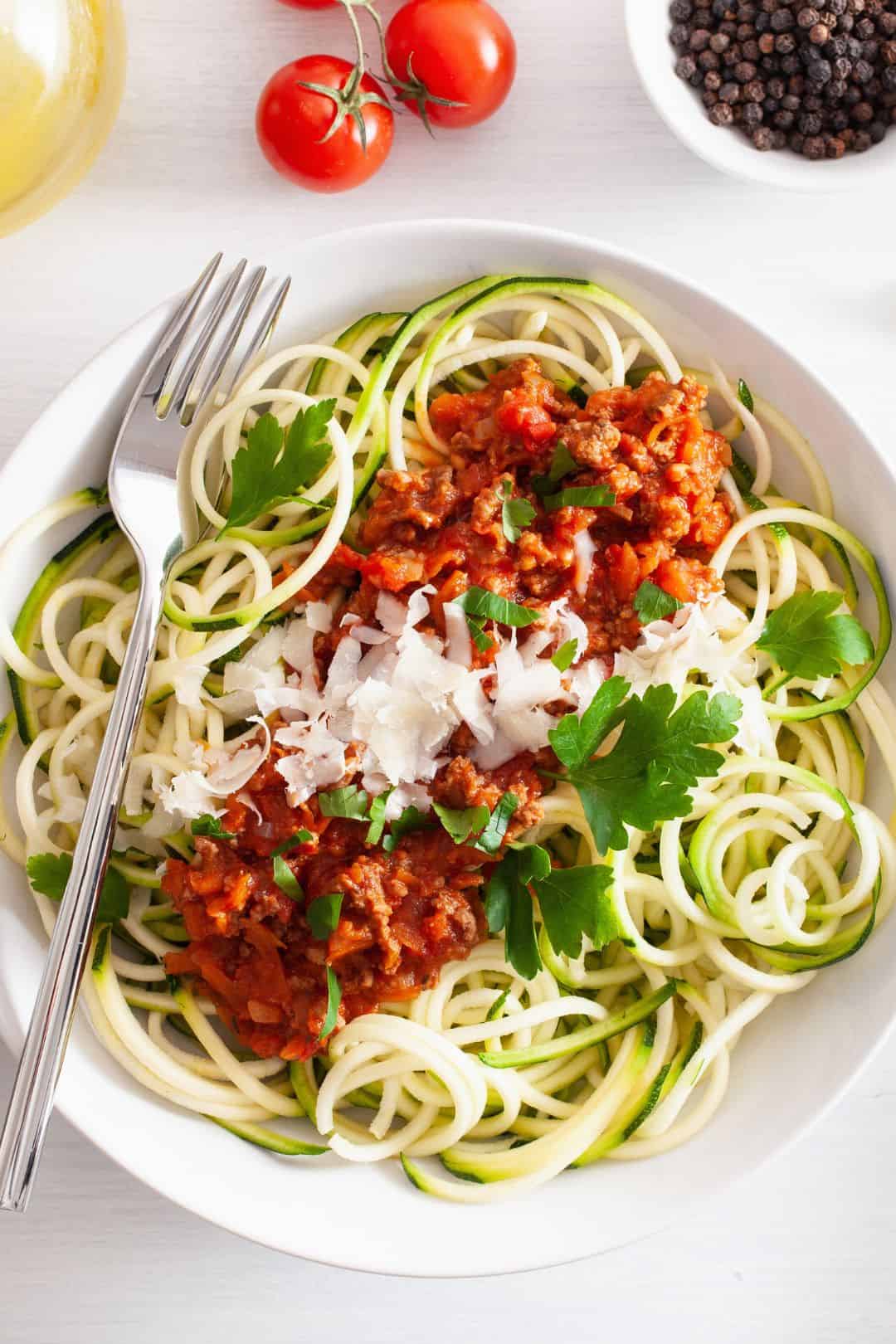 How To Use These Zucchini Noodles
Let's look at some additional recipes now that you know how to make zucchini noodles to eat with spaghetti sauce. Here are some delicious recipes that pair great with these zucchini noodles:
What Should I Do If My Zucchini Noodles Are Too Watery?
Here is what you have to do if your noodles are too watery:
Pat your noodles between paper towels after spiralizing or peeling. If you're making a large quantity, place some paper towels on a baking sheet, distribute your zoodles on top, and then press paper towels on top.
Season with salt and set aside for 15 minutes.
Once you've pressed into the paper towels one more time, your zoodles are ready to cook.
How To Choose The Perfect Zucchini?
Choosing the correct zucchini is essential, especially if you want to create zucchini noodles. Here are a few things that must be taken into account:
Look for a zucchini that is medium in size. Larger zucchinis are typically too watery to make zoodles with. They're also less delicious than tiny Zucchini.
The skin should be smooth and green. There should be no imperfections on the skin.
If you want to keep zucchinis longer, search for zucchinis with stems.
Health Benefits Of Eating Zucchini
Did you know, guys, that zucchini is considered a fruit? No, I'm not kidding. This delicious vegetable is essentially a fruit. Of course, you should eat it as a vegetable, but it's still a fruit. Isn't it true that they are becoming more interesting?
So let's talk about their health benefits:
They are low in calories. One cup of fresh Zucchini has almost 20 calories. And about 4g of carbs.
Zucchini contains an important quantity of vitamins;
They are high in antioxidants;
Contain a high amount of fiber and potassium.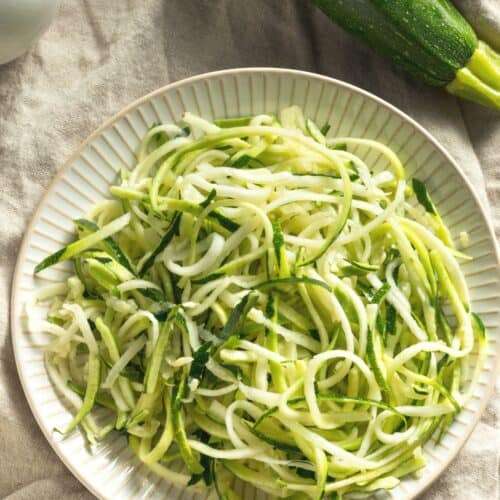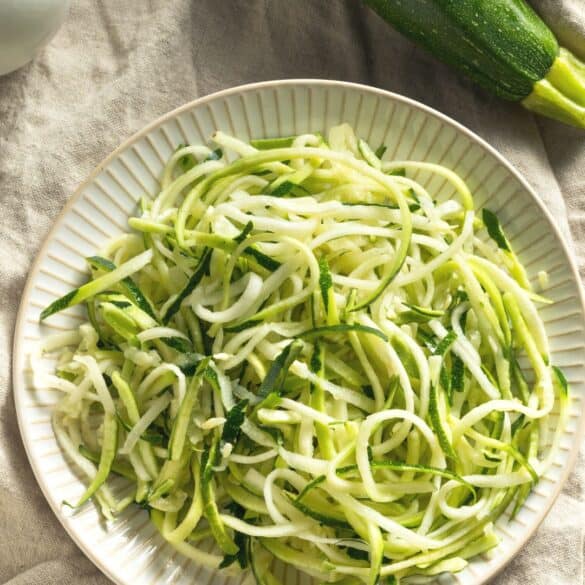 Description
These zucchini noodles are the best pasta substitute that you can prepare so easily. Ready in under 30 minutes, these gluten-free noodles are fresh and vibrant and can be enjoyed with many sauces like bolognese to help you with the pasta cravings but in a healthier way.
Ingredients
4

medium Zucchini

2

tbsp

unsalted butter

Sea salt

Black pepper
Instructions
Start by making zucchini noodles with a spiralizer. Read the post above for other methods of making them if you do not have a spiralizer.
COOK ZUCCHINI NOODLES IN THE MICROWAVE:
Add the zucchini noodles to a plate, microwave them for 3 minutes, and serve them with your favorite sauce.
COOK ZUCCHINI NOODLES IN THE OVEN:
Preheat the oven to 350 F/180 C).

Add the zucchini on a baking sheet in a thin layer.

Sprinkle with sea salt and toss until well combined.

Bake for about 15 minutes or until tender.

After you remove them from the oven, pat the zoodles dry with paper towels.

Mix them with melted butter, black pepper, and salt to taste.
COOK ZUCCHINI NOODLES ON THE STOVE:
Melt the butter in a large pan over medium-high heat.

Add the zucchini noodles, season with salt and pepper, and cook them for 3 minutes until tender.

Serve with your favorite sauce, and enjoy.
Nutrition Facts
Amount per serving.
How do we calculate the nutrition info?
These nutrition facts listed are determined using nutrition information from the USDA Food Database. Our nutrition facts are accurate, but if you are using different products, please make your calculations. Net carb count is calculated by subtracting both fiber and sugar alcohols because they don't raise blood sugar.