Ready in only 30 minutes, these cheesy chicken fritters are the best gluten-free and low-carb snack recipes that are super easy to make using only a few healthy ingredients.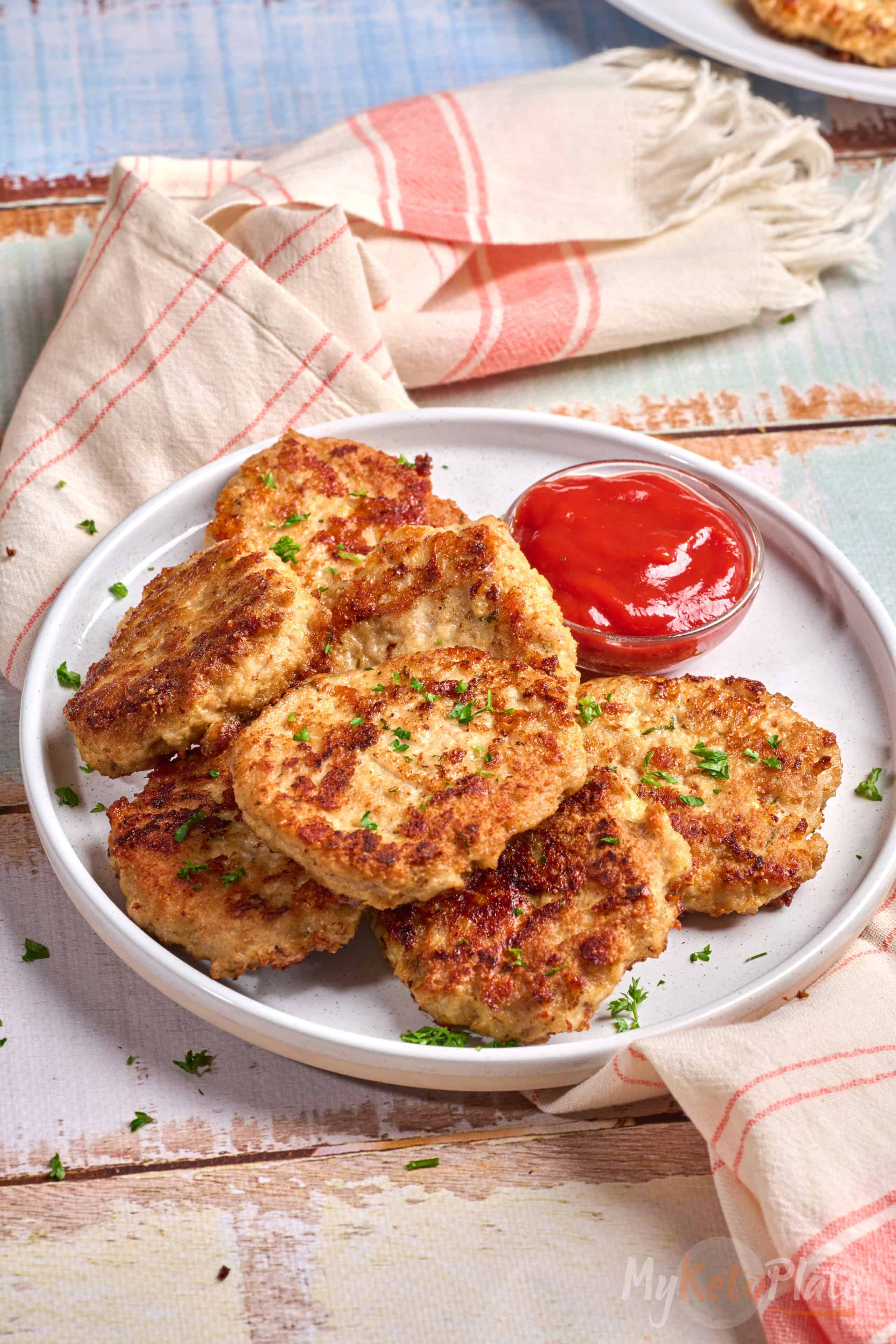 So make this recipe and prepare yourself for a cheesy and flavorful culinary treat. Moist, tender, and crispy on the outside, this gluten-free fritters recipe is absolutely delicious and super versatile since you can serve them for any occasion.
Whether you enjoy them as an appetizer, a snack, or a main course, these cheesy chicken fritters will satisfy your cravings and leave you wanting more.
So what are you waiting for? Start making this recipe and gather your friends to enjoy the flavor of these cheesy goodnesses in less than 40 minutes.
With only 10 minutes of prep and 3 grams of net carbs per serving, these healthy chicken fritters are a family favorite since they are full of flavor and also perfect for a meal-prep to enjoy on those busy days.
What Are Fritters?
Known for their crispy exterior and moist interior, fritters are a type of fried food usually made by combining various ingredients to create a mixture with a batter texture, which is then deep-fried until crispy and golden brown.
They can be savory or sweet and are popular in many cuisines worldwide. But let's be serious: who doesn't love the goodness of a deep-fried fritter enjoyed with their favorite dipping sauce? I mean, everything is better once it's fried.
Fritters can be enjoyed as appetizers, snacks, or even as part of a main course. Some of the most popular fritters recipes include zucchini fritters, apple fritters, corn fritters, and, of course, chicken fritters.
Why Are You Going To Love This Cheesy Chicken Fritters Recipe
Super easy to make using naturally low-carb ingredients.
Ready in just 30 minutes from start to finish.
Perfect for meal prep.
You will need only one bowl to prep them.
A versatile recipe. These cheesy chicken fritters can be enjoyed in various ways, making them suitable for different occasions.
It's a customizable recipe. Feel free to add your favorite seasonings or herbs.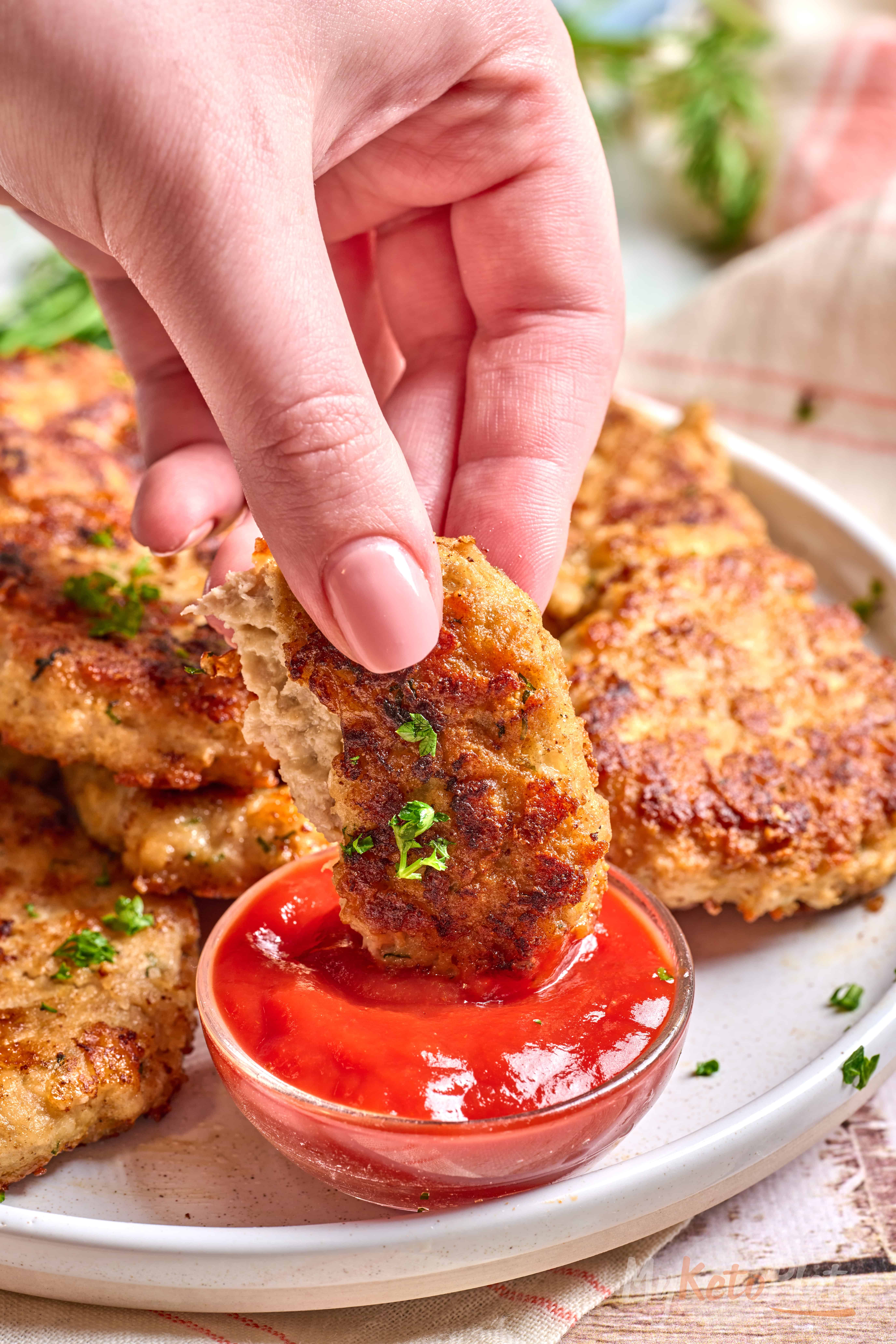 Ingredients For Chicken Fritters
You will need only a few healthy ingredients that you probably already have in your pantry to create these fried chicken meatballs. Here is a list of everything you will need:
Ground Chicken – this is the main ingredient for this recipe, so make sure you use 93-96% lean ground chicken to avoid extra fat.
Eggs – you will need 2 large eggs at room temperature for this recipe to help bind everything together and help the fritters hold their shape during frying.
Almond Flour – this is the best gluten-free alternative for wheat flour in this recipe that contributes to the fritters' overall texture.
Mozzarella Cheese – this is the star of these cheesy chicken fritters. Once fried, the cheese melts, creating a delightful gooey texture.
Garlic Powder – you can also use 2 minced garlic cloves for this recipe for an intense flavor.
Fresh Dill – I love adding fresh herbs to this fritter's recipe for a refreshing and delicious flavor. You can also use dried dill or your favorite herbs.
Salt&Pepper – used to enhance all the flavor in this recipe.
Olive Oil – is used to cook the chicken fritters. Feel free to replace it with any other vegetable oil.
How To Make These Cheesy Chicken Fritters
This simple chicken fritters recipe is so easy to make from start to finish in just 30 minutes without needing any cooking skills! Here's how to make the best gluten cheesy chicken fritters:
Prepare The Fritters Mixture.
Add the ground chicken, almond flour, eggs, shredded mozzarella, fresh dill, garlic powder, salt, and pepper to a large bowl and mix until well combined using a silicone spatula or a wooden spoon.
Cook The Chicken Fritters
Add the olive oil to a large non-stick pan over medium-low heat. Once heated, use an ice cream spoon to scoop into the chicken mixture, transfer it to the pan and flatten using a spoon to create a fritter-like shape.
Fry the fritters for about 6 minutes on each side until golden brown, flipping them occasionally.
Transfer them to a plate and enjoy with your favorite dipping sauce.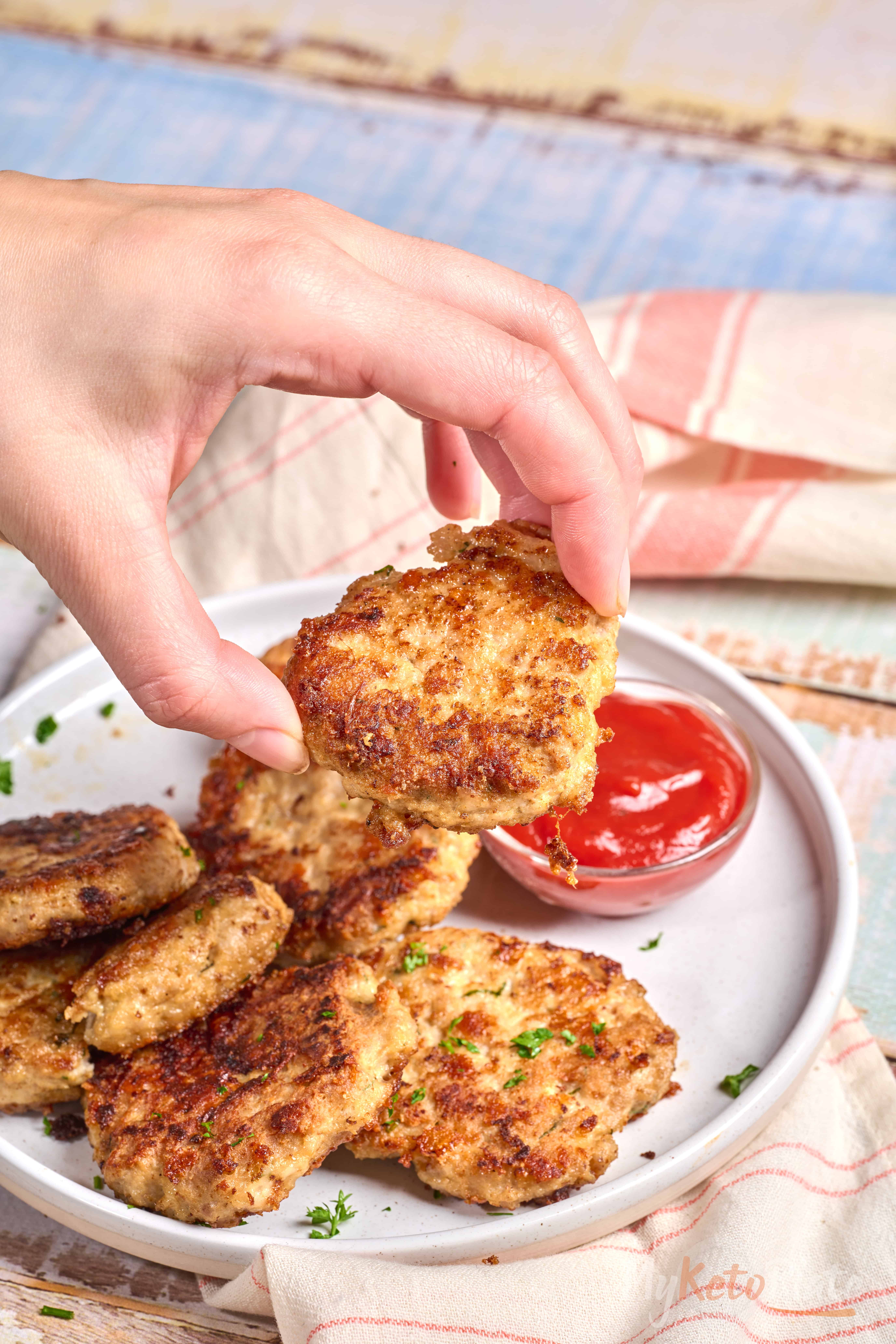 Tips For Making The Best Chicken Fritters
Cook the fritters on medium-low heat. This is an important step to consider if you want to obtain that perfect golden-brown exterior with a moist and juicy interior. Otherwise, if you use a high temperature, your fritters will brown on the exterior, while the interior won't get well cooked.
Ensure the oil is heated before adding the fritter mixture; otherwise, it will stick to the pan.
Don't overcrowd the pan. Even these fritters are super quick to make; you should take some patience while cooking them and do it in batches to ensure they cook evenly.
Use freshly shredded cheese since it melts better and has a more intense flavor.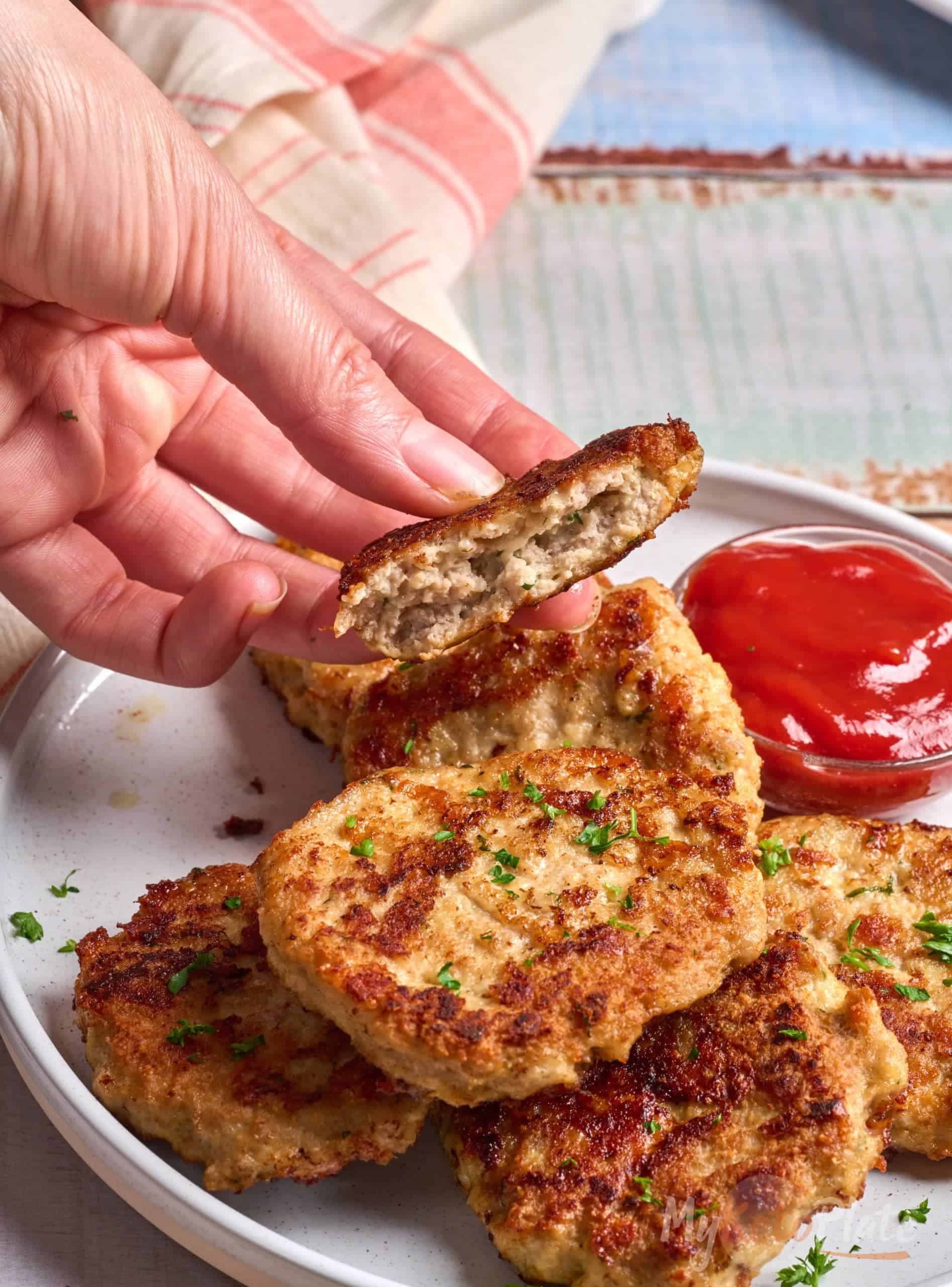 Recipe Variations
You can add 1/4 cup of shredded parmesan cheese to the mixture for extra flavor.
Add one tbsp of red pepper chili flakes if you want to make some spicy chicken fritters.
Feel free to add some grated zucchini to the mixture for a veggie twist.
You can use fresh chives or fresh parsley instead of dill.
Serving Ideas
You can enjoy them in your favorite dipping sauce.
Make a complete meal by enjoying them with some cauliflower rice or cauliflower mashed potatoes.
Make a sugar-free tomato sauce and create an Italian chicken meatballs recipe.
Enjoy them with some tzatziki sauce for a Greek twist.
Storing Leftovers
Fridge: you can store these low-carb cheesy chicken fritters in an airtight container in the fridge for up to 5 days.
Freeze: these gluten-free fritters can also be frozen for up to 2 months in a freezer-safe bag or an airtight container.
Frequently Asked Questions
Are Fritters Keto-Friendly?
Regular fritter recipes are made with breadcrumbs and wheat flour, which makes them too high in carbs for a keto diet.
But you can still enjoy some delicious keto cheesy chicken fritters by making this recipe that calls for a gluten-free binder(almond flour).
Can I Make This Recipe Ahead Of Time?
Sure, this is another thing about these crispy cheesy chicken fritters recipes. Just prepare the mixture as I did, transfer it to an airtight container, and fry the fritters right before serving them.
Can I Make These Fritters In The Oven?
Yes, you can also make baked chicken fritters by using this recipe. Place the chicken fritters into a baking dish lined with parchment paper and bake them in the oven at 400F/ 200C for 20 minutes.
What Are The Best Gluten-Free Binders?
If you are following a keto diet, you may need to know that many binder options will help make the best chicken fritters without worrying about the carbs. Here are some great ideas:
Almond Flour
Coconut Flour
Shredded Parmesan Cheese
Pork Rinds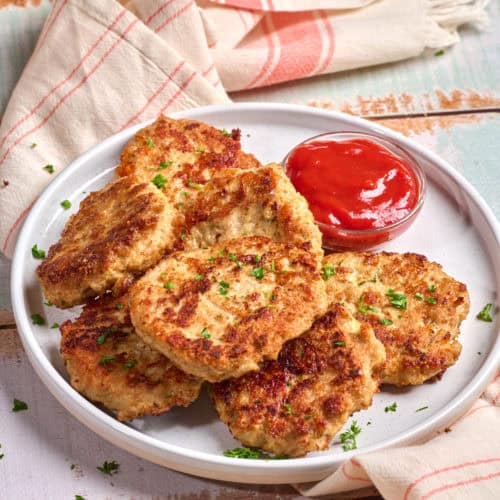 Description
Ready in only 30 minutes, these cheesy chicken fritters are the best gluten-free and low-carb snack recipes that are super easy to make using only a few healthy ingredients.
Ingredients
1.5

lb

ground chicken

2

medium eggs

1/3

cup

almond flour

1

cup

shredded mozzarella cheese

1

tsp

garlic powder

2

tbsp

fresh dill

1/2

tsp

salt

1/4

tsp

pepper to taste

3

Tbsp

olive oil
Instructions
Wash and finely chop the dill. Then add all the ingredients to a large bowl and mix them with a silicone spatula until well combined.

Heat the olive oil in a large non-stick pan over medium-low heat.

Scoop into the chicken mixture using an ice cream scoop, then transfer it to the pan and flatten it to create a fritter-like shape.

Fry the fritters for about 6 minutes on each side until golden brown.

Transfer them to a plate and enjoy with your favorite dipping sauce.
Nutrition Facts
Amount per serving.
How do we calculate the nutrition info?
These nutrition facts listed are determined using nutrition information from the USDA Food Database. Our nutrition facts are accurate, but if you are using different products, please make your calculations. Net carb count is calculated by subtracting both fiber and sugar alcohols because they don't raise blood sugar.