Discover the ultimate crowd-pleaser keto appetizer with these delectable stuffed mushrooms made from earthy mushrooms, savory fillings, and a touch of culinary magic.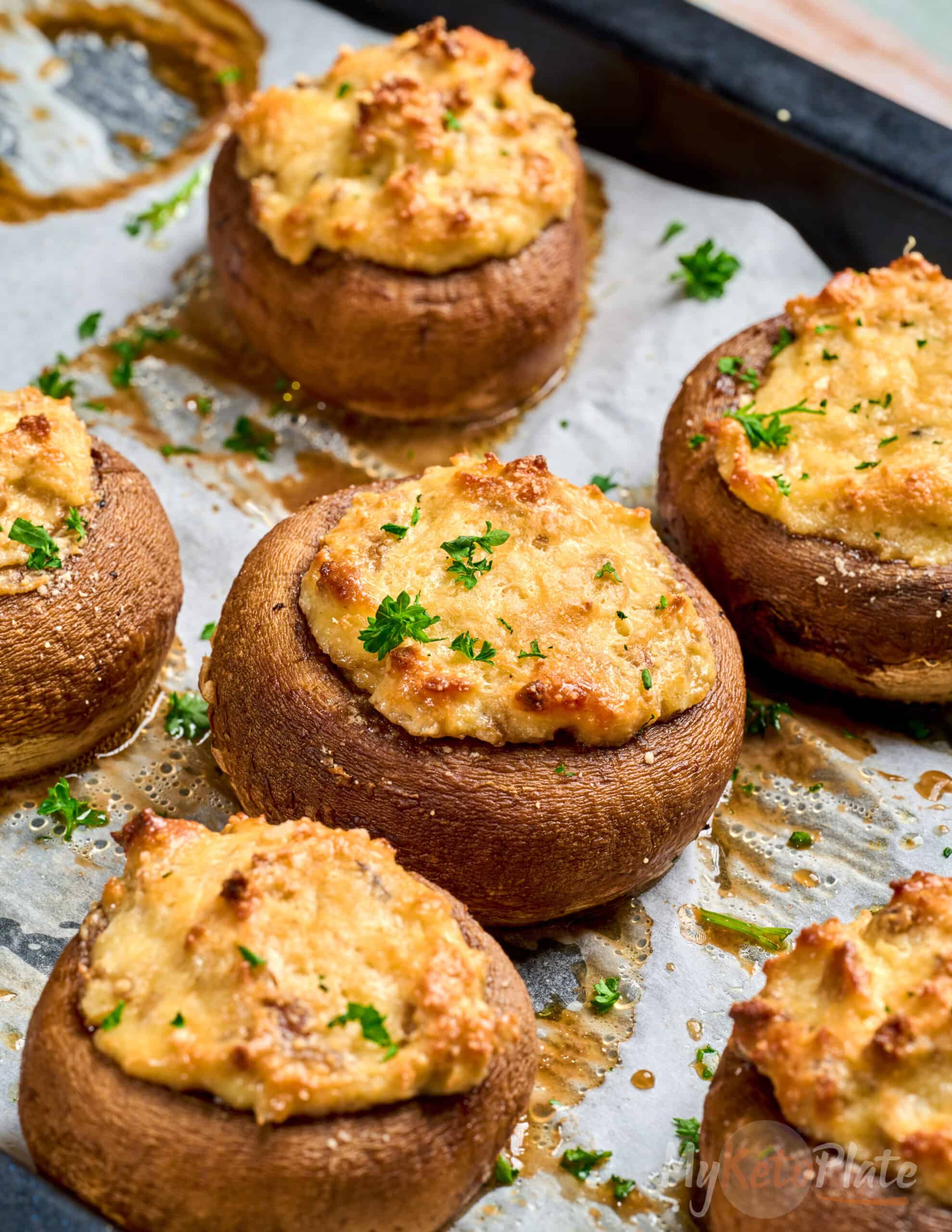 Trust me; you will love this recipe since it's super easy to make and also perfect for a quick snack. I mean, just imagine some soft and juicy mushrooms stuffed with a cheesy garlic filling.
So make this recipe and prepare to impress your guests and family with one of the best appetizers they have ever tried.
We love cooking with mushrooms since they are such a versatile ingredient that can be cooked in various ways, from side dishes to main dishes and stuffing mixtures for chicken breast.
Why Are You Going To Love This Stuffed Mushrooms Recipe
They are super easy to make in such a short time.
It's a versatile recipe. Feel free to add your favorite veggies or cheese to the stuffing.
Loaded with delicious flavors. Everyone will love this delicious combination of earthy mushrooms and savory filling made from cheese and spices.
It's a budget-friendly recipe. Made from inexpensive ingredients, this recipe can be enjoyed by everyone.
Perfect for meal prep.
Ingredients You'll Need
To make these delicious and juicy keto-stuffed mushrooms, you'll only need a few ingredients that are easy to find. So here is all you need: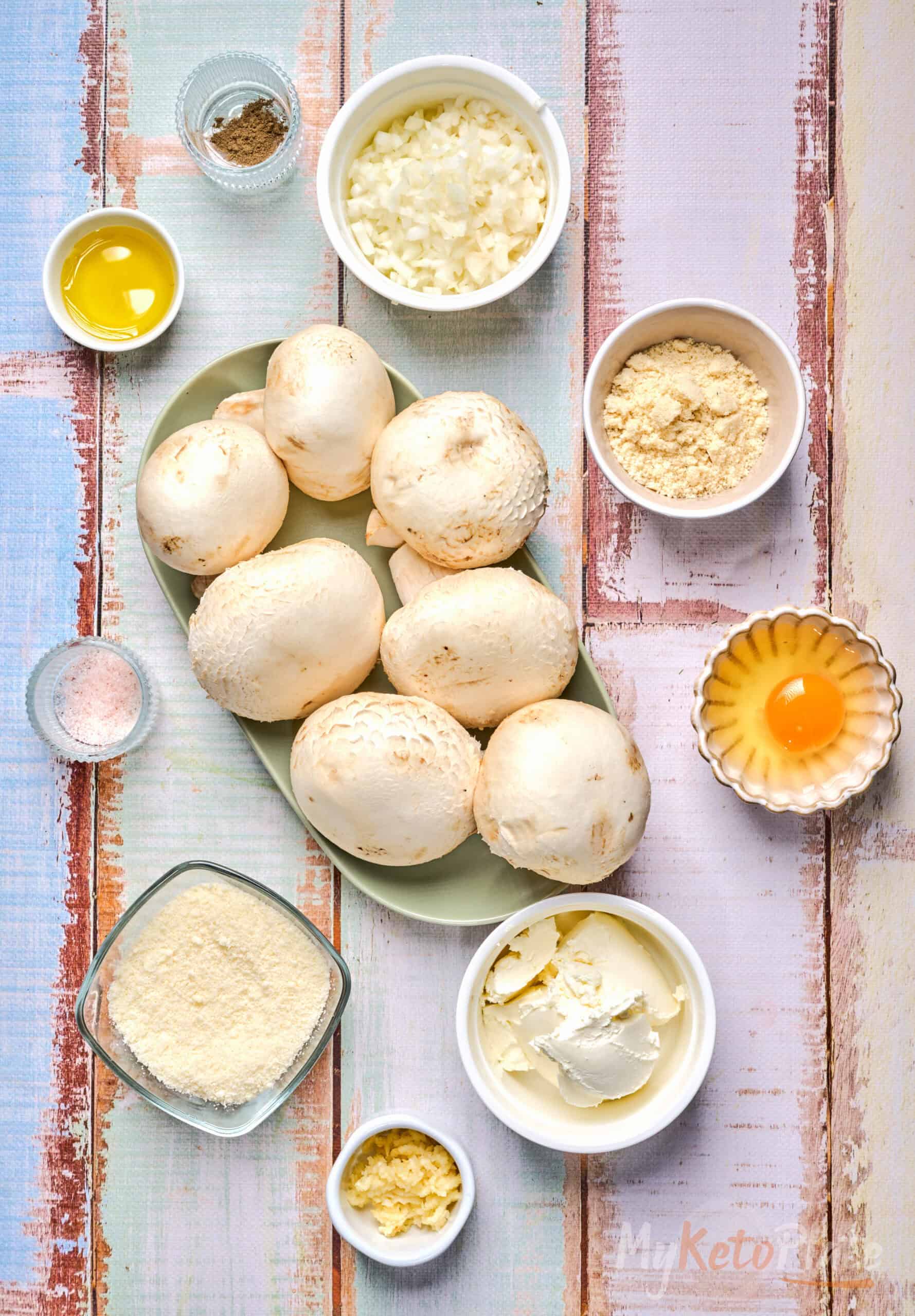 Mushrooms – I used medium white mushrooms, but you can also use cremini mushrooms (also called baby bella mushrooms) and portobello mushrooms.
Olive Oil – used to sautee the onion and brush the mushrooms. You can also replace it with any other vegetable oil.
Onion- Make sure that you chop it finely.
Garlic Cloves – you'll need fresh minced garlic for an intense garlicky flavor.
Cream Cheese – make sure that you are using softened cream cheese to ensure it combines well.
Egg – used to bind everything together.
Breadcrumbs – use our keto breadcrumbs recipe to avoid extra carbs from regular ones.
Parmesan Cheese – is used to garnish, but you can add some to the filling.
Pepper – to taste.
How To Make Stuffed Mushrooms Recipe
Although they look impressive and impress everyone on your dinner table, these stuffed mushrooms are super easy to prepare by following a few simple steps. Here is everything you need to do:
Preparing The Mushrooms
Prepare the mushrooms by giving them a quick rinse under cold water, then gently pat them dry with a paper towel to remove any excess water. Set the mushrooms aside while you prepare the stuffing.
Making The Creamy Stuffing Mixture
Remove the mushroom stems, creating a hollow cavity in each cap. Finely chop the stems and set them aside.
Heat olive oil in a large skillet over medium-high heat. Add diced onion and cook for about 3 minutes until tender. Then, add the chopped mushroom stems and minced garlic. Stir until well combined and cook for an additional 5 minutes until soft and fragrant.
Transfer the mixture to a bowl and let it cool for a few minutes.
Once the stuffing mixture has cooled slightly, add softened cream cheese, bread crumbs, grated Parmesan cheese, an egg, and a dash of pepper. Mix everything together thoroughly until all the ingredients are well combined.
Stuffing The Mushrooms
Now it's time to stuff the mushrooms. Arrange the mushroom caps on the prepared baking sheet, ensuring they are evenly spaced. Generously fill each mushroom cap with the prepared stuffing mixture, gently pressing it in.
Sprinkle each stuffed mushroom with a generous amount of grated Parmesan cheese, allowing it to create a delicious golden crust during baking.
Baking Stuffed Mushrooms 
Place the baking sheet with the stuffed mushrooms in the preheated oven and bake for approximately 20 minutes, or until the mushrooms are tender and the tops are golden brown and slightly crispy.
Once the stuffed mushrooms are baked to perfection, remove them from the oven and garnish with fresh chopped parsley for a burst of color and added freshness.
Serve these mouthwatering stuffed mushrooms as an appetizer, side dish, or even as a main course. They make a delightful addition to any meal or gathering and are sure to be enjoyed by all!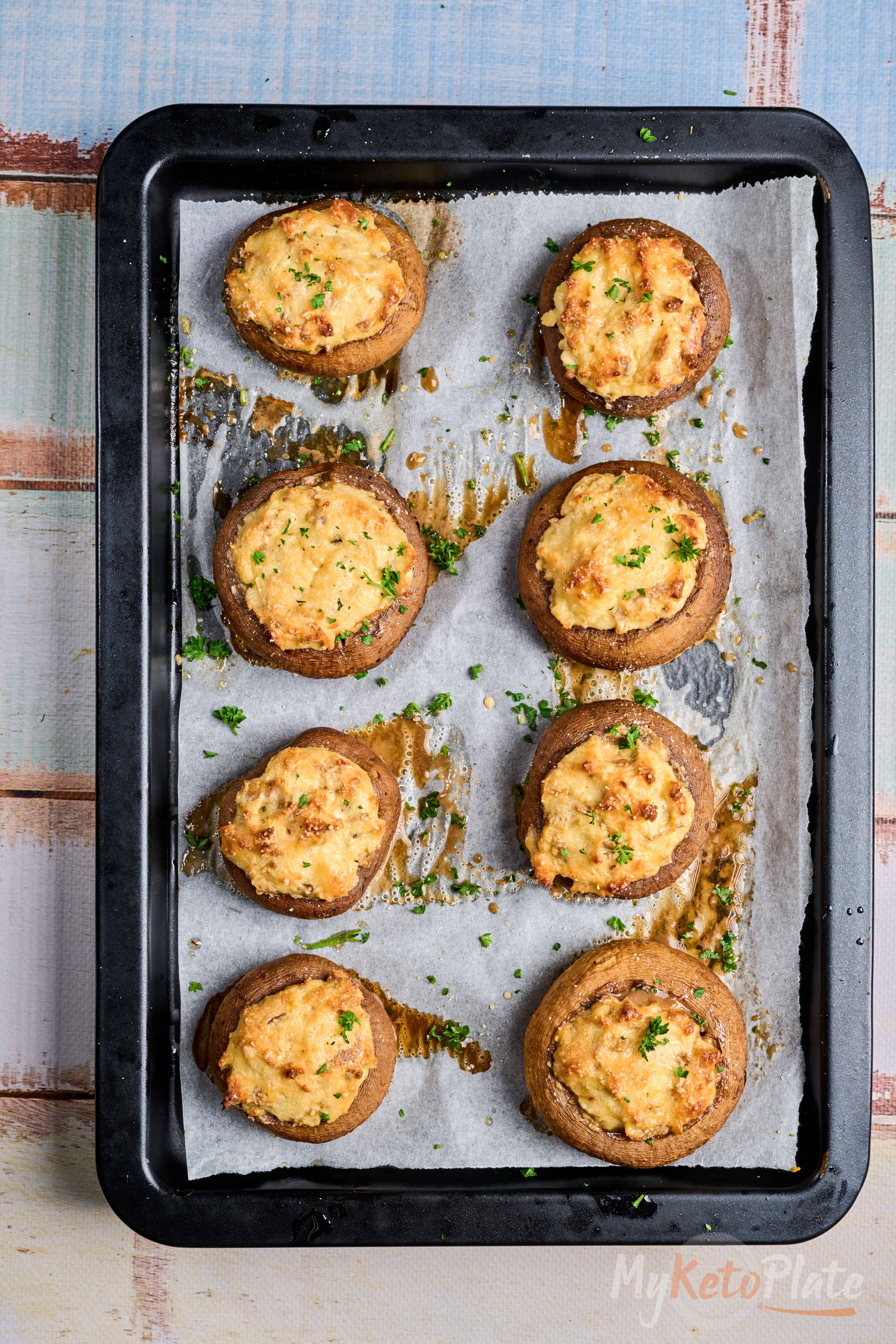 Tips For Making The Best Stuffed Mushrooms Recipe
Make sure you use larger mushrooms for this recipe since they are easier to stuff.
Clean the mushrooms properly. Before stuffing the mushrooms, make sure that you gently wipe the mushroom caps with a damp paper towel to remove any excess water.
Don't overstuff the mushrooms. Avoid overstuffing the mushrooms to ensure they cook evenly and don't overflow during baking.
Season generously: Don't be afraid to season the filling mixture with herbs, spices, or even a touch of hot sauce to add depth and complexity to the flavors.
Keep an eye on the cooking time. We all know that mushrooms cook relatively quickly, so keep an eye on the baking time closely.
Recipe Variations
Add some crumbled bacon to the filling for extra flavor and a crunchy texture.
Top the stuffed mushrooms with your favorite cheeses such as Gruyere, brie, mozzarella cheese, or a combo of cheeses.
You can add 2 tbsp of fresh chopped parsley or cilantro to the filling mixture.
Storing Ideas
Fridge: you can store the stuffed mushroom leftovers in an airtight container in the fridge for up to 5 days.
Freezer: another great option for storing these leftovers is freezing them. Just place any leftovers in an airtight container and freeze for up to one month. When ready to eat, reheat in the oven or microwave for about 5 minutes.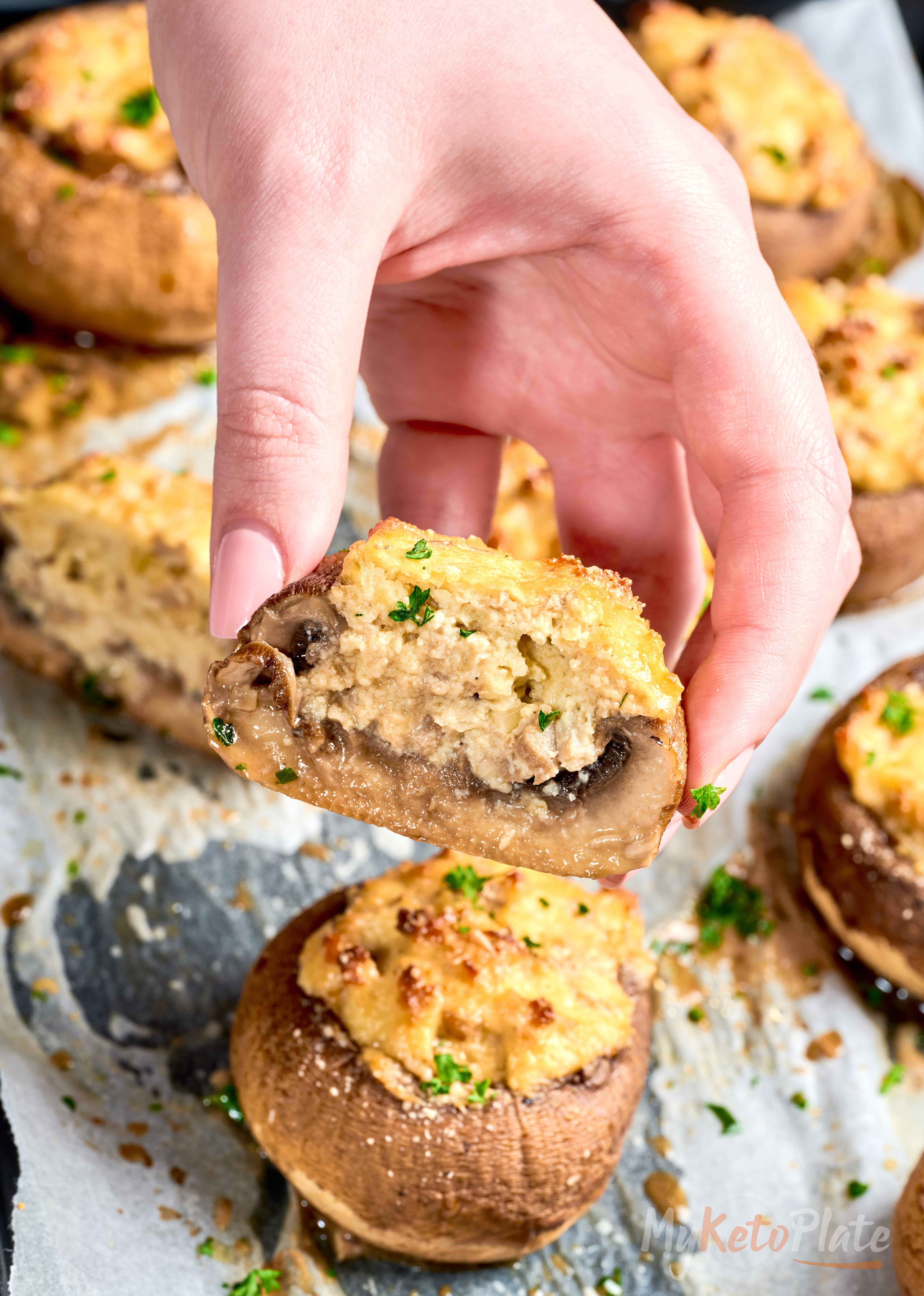 Serving Suggestions
Many people say they can enjoy these mushrooms as simply as they are, but you may need to know that you can use them as a side dish to create a complete meal. Here are some delicious ideas:
Frequently Asked Questions
Can I Make This Recipe Ahead Of Time?
Sure, you can prepare the stuffing in advance and store it in the fridge. Then stuff and bake the mushrooms when ready to enjoy them.
Can I Make Grilled Stuffed Mushrooms?
Absolutely!! This is a great way to cook the mushrooms, especially on those hot summer days at bbq parties. First, prepare and stuff the mushrooms as we did in this recipe, then cook them on the grill for about 15 minutes.
More Mushroom Recipes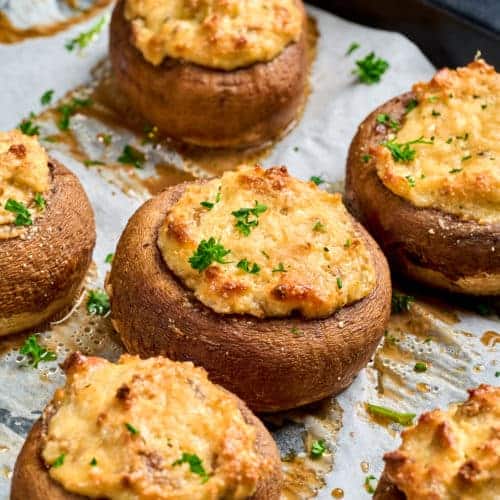 Description
Discover the ultimate crowd-pleaser keto appetizer with these delectable stuffed mushrooms made from earthy mushrooms, savory fillings, and a touch of culinary magic.
Ingredients
16

oz

medium-sized white mushrooms

3

tbsp

olive oil to toss mushrooms

1

medium onion

finely chopped

3

garlic cloves

4

oz

cream cheese

1

large egg

1/4

cup

almond flour

or breadcrumbs

1/2

cup

fresh grated Parmesan cheese

salt and pepper

to taste

2

tbsp

fresh grated Parmesan cheese

for topping
Instructions
Preheat the oven to 400°F and line a baking sheet with parchment paper.

Rinse the mushrooms quickly under cold water, then pat dry them and set aside.

Remove the mushroom stems, then finely chop them.

Heat 2 tbsp of olive oil in a large skillet, add the onion, and cook for 3 minutes until tender.

Add the chopped mushroom stems and minced garlic. Stir until well combined and cook for 5 more minutes until soft.

Transfer the mixture to a bowl and let it cool for a few minutes.

After the mushroom mixture is cooled, add the rest of the ingredients and mix until well combined.

Arrange the mushrooms on the baking sheet and generously fill each one with the prepared filling mixture.

Sprinkle each mushroom with parmesan cheese and bake them for 20 minutes.

Garnish with fresh chopped parsley, and enjoy.
Nutrition Facts
Amount per serving.
How do we calculate the nutrition info?
These nutrition facts listed are determined using nutrition information from the USDA Food Database. Our nutrition facts are accurate, but if you are using different products, please make your calculations. Net carb count is calculated by subtracting both fiber and sugar alcohols because they don't raise blood sugar.