Learn how to cook the best Salmon Steak with a super creamy mustard sauce. It's such an easy grilled salmon steak recipe loaded with high-quality protein and tons of flavors, then smothered in a creamy mustard sauce.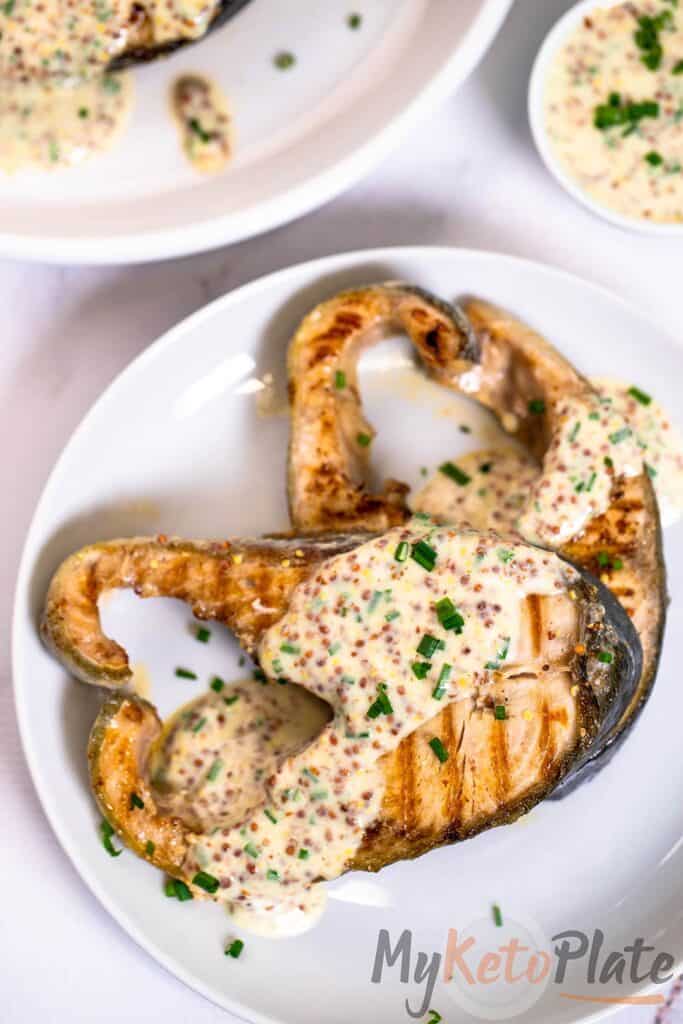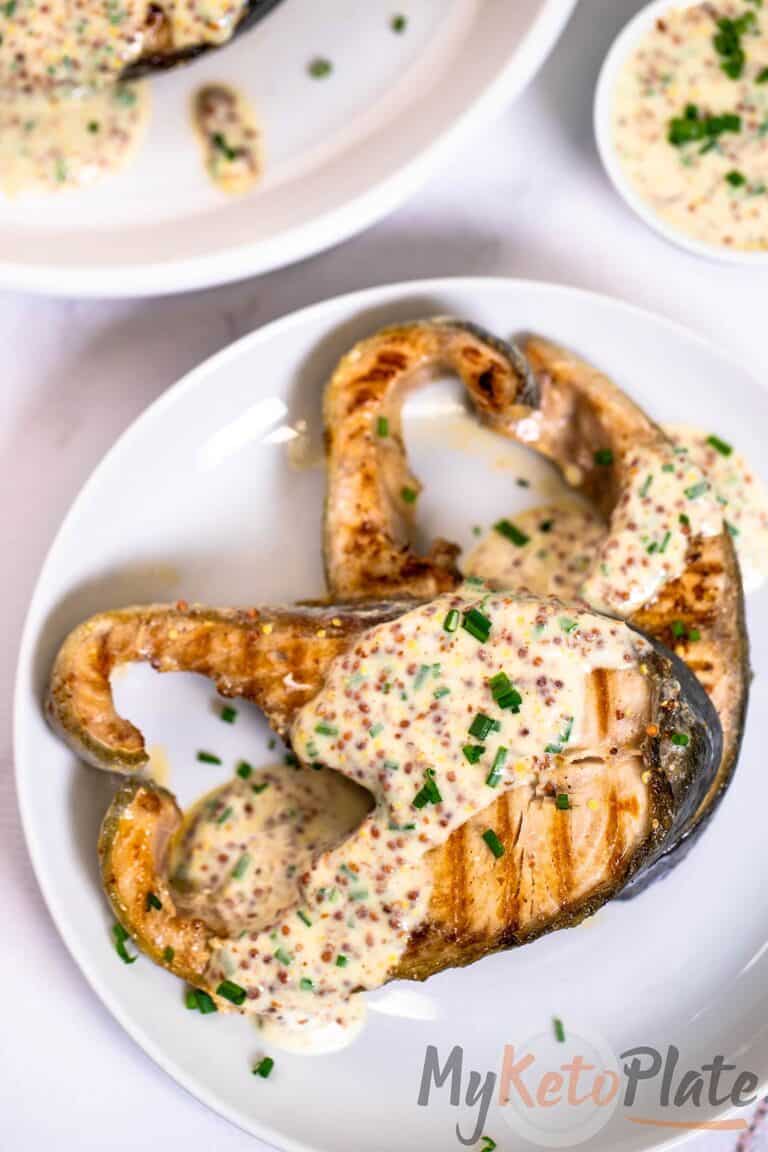 Make a restaurant-quality salmon recipe in just 15 minutes from scratch. We love oven baked salmon, but grilled salmon is also delicious.
Salmon is one of our favorite proteins to prepare because it's flavorful, healthy, and easy to cook.
This is by far one of the best ways to enjoy salmon steaks. Pair with a side of roasted vegetables, and you'll have a healthy dinner ready for those busy weeknights.
How To Choose The Right Salmon
You're more likely to find a variety of salmon options at the grocery store, whether it's wild or farmed, fresh, frozen, or smoked. Here are some tips on how to pick the greatest salmon:
Fresh salmon should look bright and juicy, not brownish, and have a sea-like scent rather than a fishy one.
Frozen salmon – If it's vacuum-sealed and the label claims it was flash-frozen immediately after harvest, it can taste fresher than the fish behind the counter.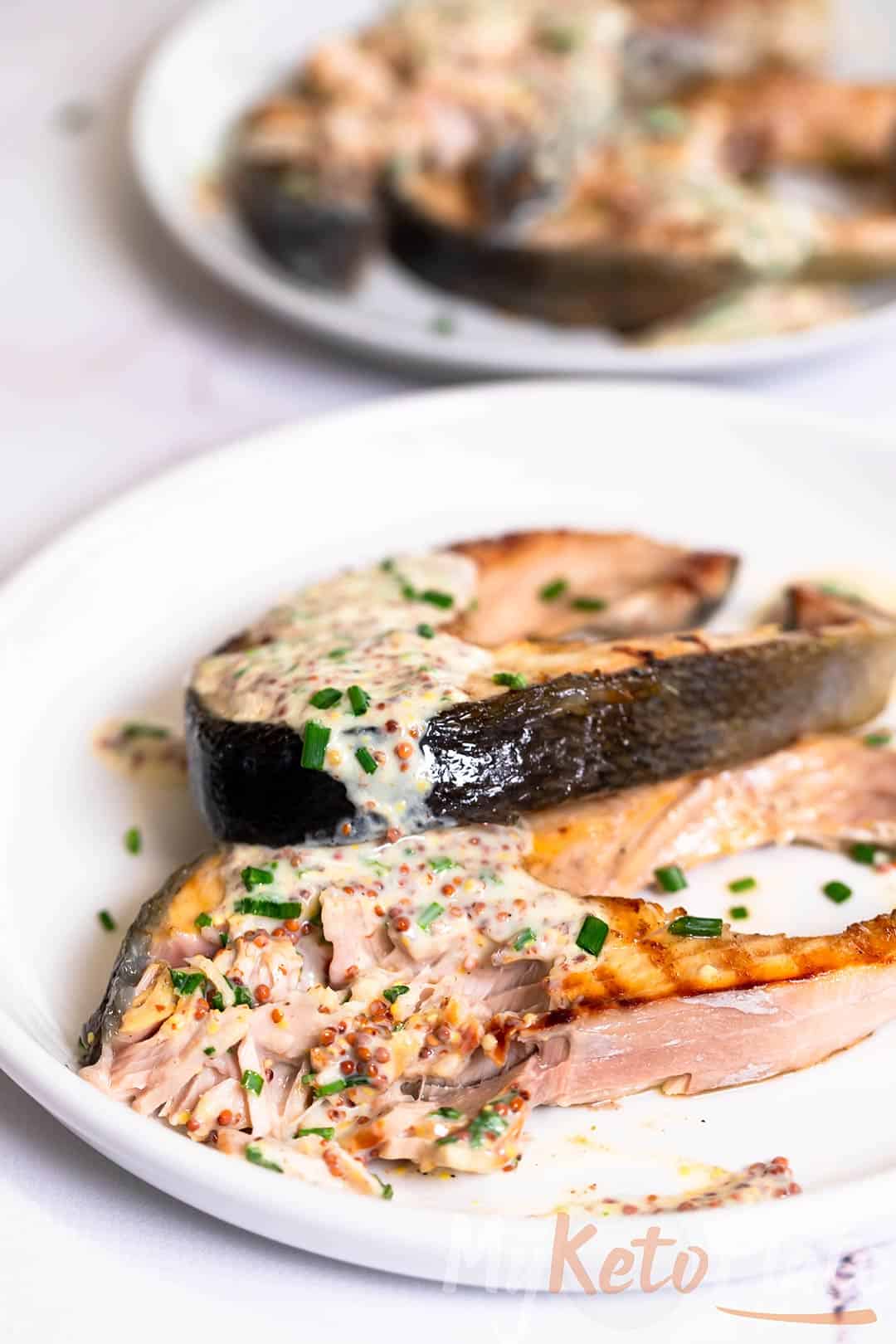 Why Are You Going To Love This Grilled Salmon Recipe
Quick-to-make in less than 15 minutes.
Salmon is a great source of high-quality protein and omega-3 fatty acids, making it a nutritious and healthy choice for a meal.
The mustard sauce elevates this recipe by adding incredible flavor and texture.
The salmon steaks can be served with various sides, such as grilled vegetables, a salad, or rice.
See how easy it's to make the best grilled salmon steak by watching this step-by-step video:
Ingredients For Grilled Salmon Steak
You will need a few ingredients to make this delicious grilled salmon steaks recipe. Here is everything you need: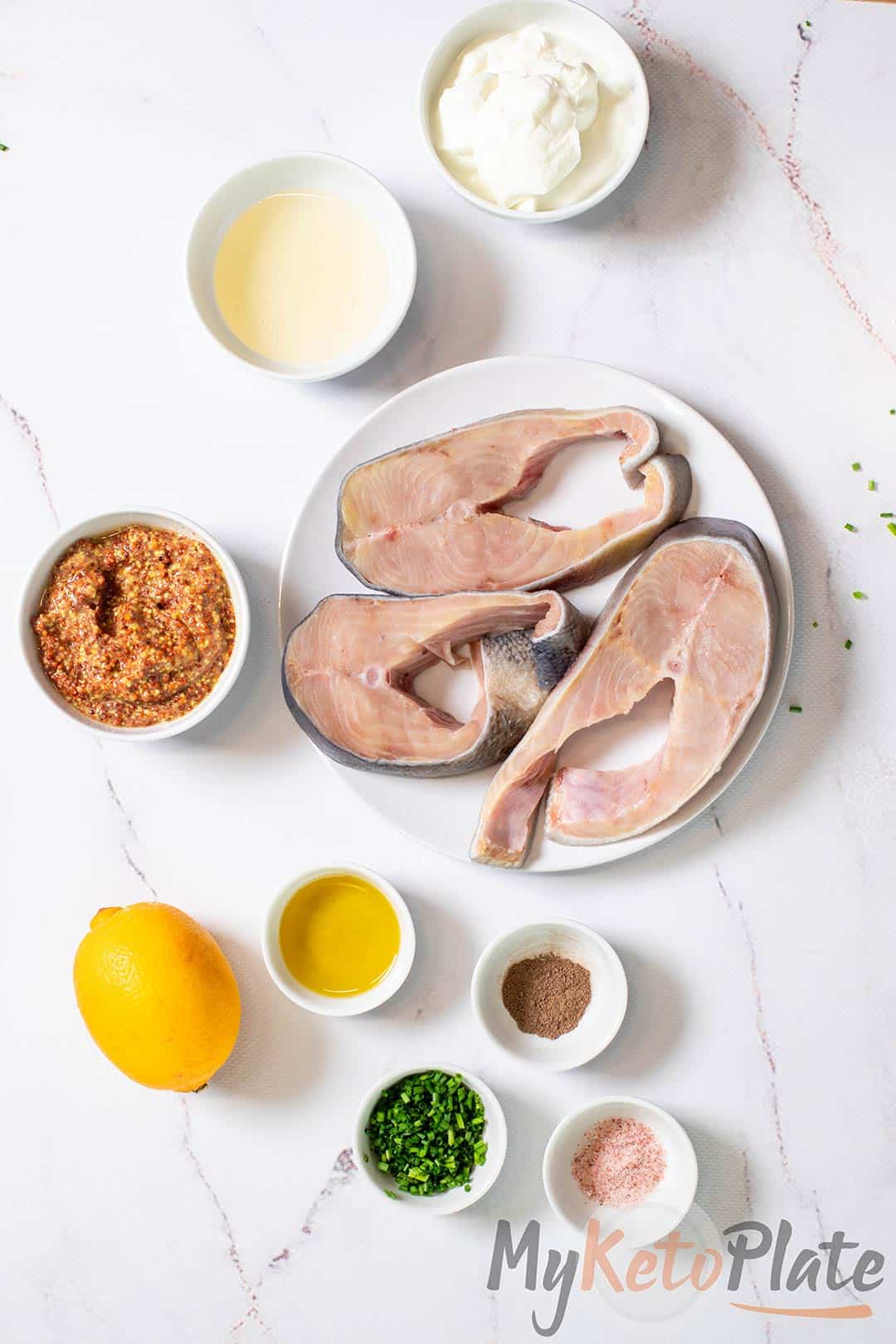 Salmon Steaks – I recommend choosing wild caught salmon if possible. Look for salmon steaks that are bright in color and have a fresh, mild odor. If the fish has a strong, unpleasant fishy smell, it is likely, not fresh. If you're using frozen salmon, allow it to defrost before grilling.
Olive Oil – for more flavor, replace the oil with grass-fed butter. Compound butter is also another way to add more taste to your fish.
Stone-Ground Mustard – this type of mustard adds texture and a different flavor to the sauce.
Greek Yogurt – the creamy base for the sauce that adds the right tangy flavor and creaminess.
Chives – finely chopped to add freshness to the dish.
Honey – you can use keto honey or sugar-free syrup to balance out the flavors.
Lemon Juice – add a bright, tangy taste to the sauce.
Salt&Pepper – to taste.
How To Cook Salmon Steaks
It's super easy to grill salmon steaks once you gather all the ingredients. I chose to use a grill pan, but you can pan-sear the salmon steaks without sacrificing the taste. Let's see how to make grilled salmon steaks:
Prepare the salmon steaks – Pat dry the salmon steaks and place them aside on a plate. Season each salmon steak with salt and pepper.
Cook the Salmon – Add the oil or butter to a grill pan, and grill on each side for 5-6 minutes or until the salmon flakes easily.
Make the Mustard Sauce – Combine all the ingredients into a small bowl. Refrigerate until ready to serve.
Serve the salmon steaks with a generous amount of mustard sauce, and garnish with some freshly chopped chives.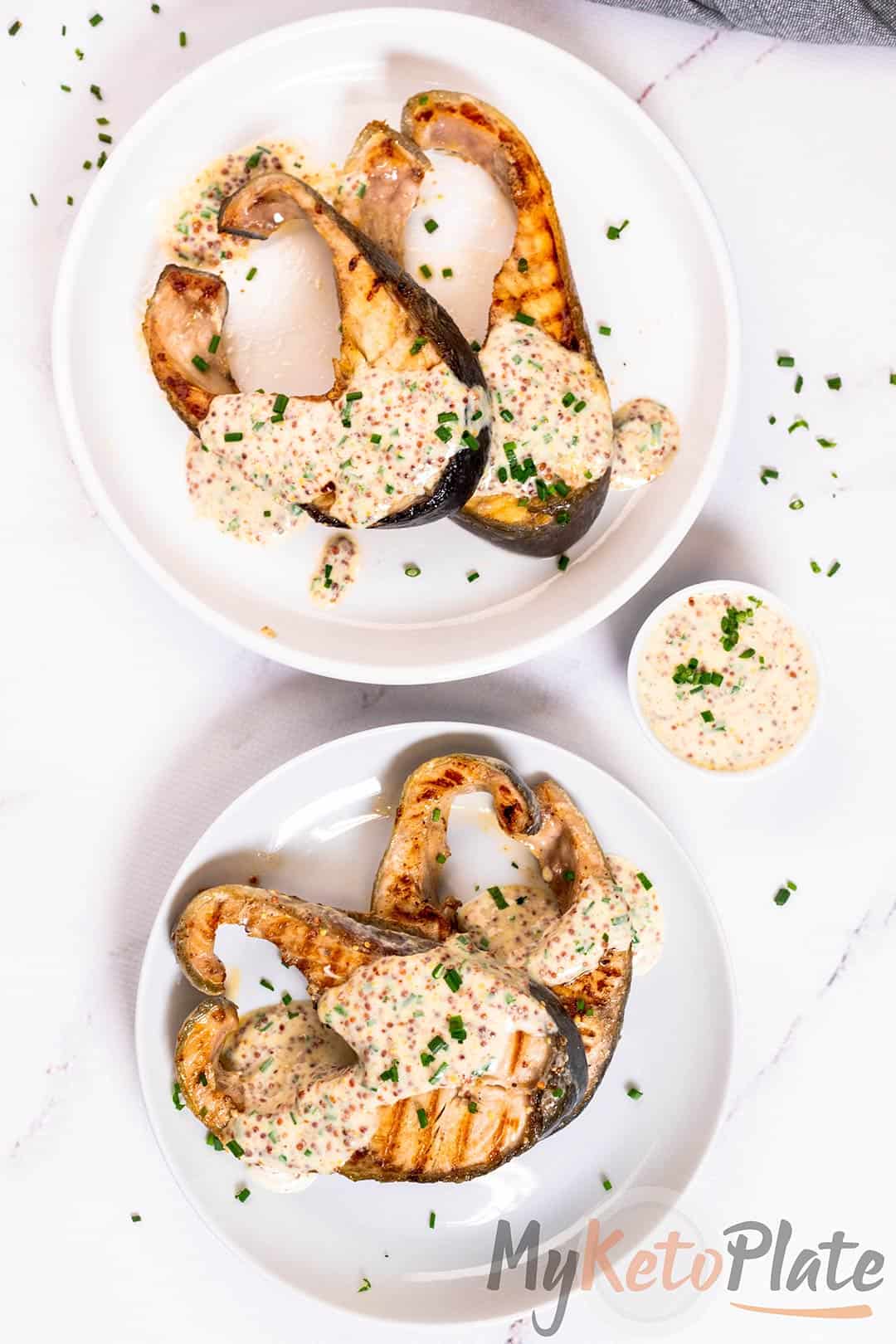 Tips For Making The Best Grilled Salmon Steaks
Be sure to pat dry the salmon steaks before placing them on the grill. If there's too much moisture, it may stick to the grill.
The cooking time will depend on the thickness of the fillet. So make sure that you check the fish while grilling to prevent overcooking.
Recipe Variations
You can customize the mustard sauce to your liking using your favorite greens like dried dill, oregano, or rosemary.
For even more flavor, you can marinate the salmon pieces.
You can add some shredded parmesan cheese to your sauce.
Can I Make This Recipe Ahead Of Time?
Sure. Cook the salmon, place it in an airtight container in the fridge, then make the sauce and store it until you want to use it (the longer this sauce stays in the fridge, the more delicious it will be).
How To Serve
When I first cooked this salmon, I ate it as simple as with the sauce because I was amazed by this delicious combination. But when I make it for my guests, I also make some side dishes that pair perfectly with this recipe:
You can serve it with some cauliflower mashed potatoes.
Roasted vegetables such as broccoli or zucchini.
How Can I Store Salmon Steaks
Fridge: you can store the leftovers in the fridge in an airtight container for up to four days.
Freezer: if you have any leftovers and don't plan to eat right away, you can store them in the freezer for up to two weeks.
More Seafood Recipes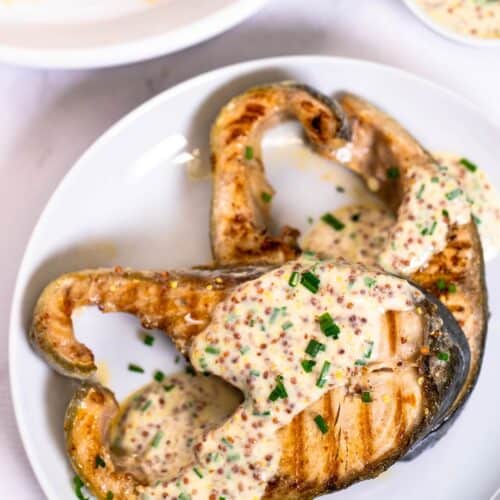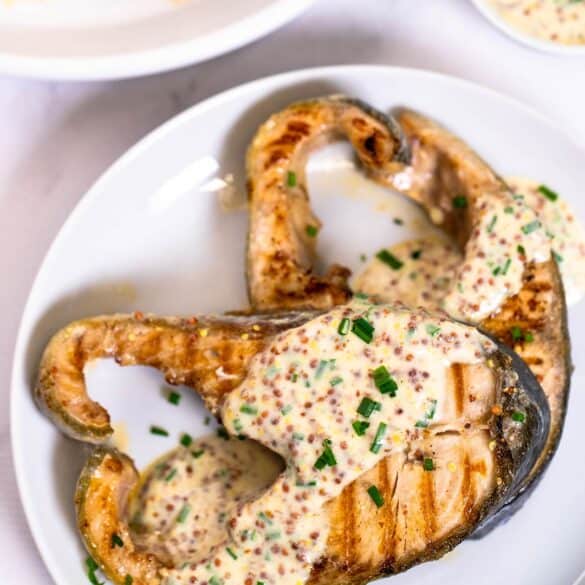 Grilled Salmon Steak with Creamy Mustard Sauce
---
Description
Learn how to cook the best Salmon Steaks with a super creamy mustard sauce. It's such an easy grilled salmon steaks recipe loaded with high-quality protein and tons of flavors, then smothered in a creamy mustard sauce.
Ingredients
Salmon Steaks
4

salmon steaks

1

tbsp

olive oil

or butter

salt and pepper

to taste
Creamy Mustard Sauce
4

tbsp

stone-ground mustard

1

cup

Greek yogurt

or sour cream

4

tbsp

chives

finely chopped

2

tbsp

honey I used this keto honey substitute

4

tbsp

fresh lemon juice

2

tsp

minced garlic

optional

salt and pepper

to taste
Instructions
Make the sauce. In a medium mixing bowl, whish Greek Yogurt, mustard, chives, honey, lemon juice, minced garlic (if using). Season to taste with salt and pepper. Set aside.

Prepare the salmon steaks. Pat dry the salmon steaks with a clean paper towel. Season on both sides with salt and pepper.

Grill. Place a large non-stick pan or skillet on medium heat. Add the oil, and cook the salmon steaks. Pan sear the salmon for 5-6 minutes (depending on the thickness) on each side until crispy and golden.

Assemble. Transfer the cooked salmon to a serving plate, and top with a generous amount of creamy mustard sauce. Serve immediately.
Nutrition Facts
Amount per serving.
How do we calculate the nutrition info?
These nutrition facts listed are determined using nutrition information from the USDA Food Database. Our nutrition facts are accurate, but if you are using different products, please make your calculations. Net carb count is calculated by subtracting both fiber and sugar alcohols because they don't raise blood sugar.