You can whip up a scrumptious side dish of crispy air fryer cauliflower using only a few basic ingredients. This recipe guarantees a roasted flavor with crunchy edges, and it takes just 10 minutes from prep to plate, making it a nutritious and easy option for any meal.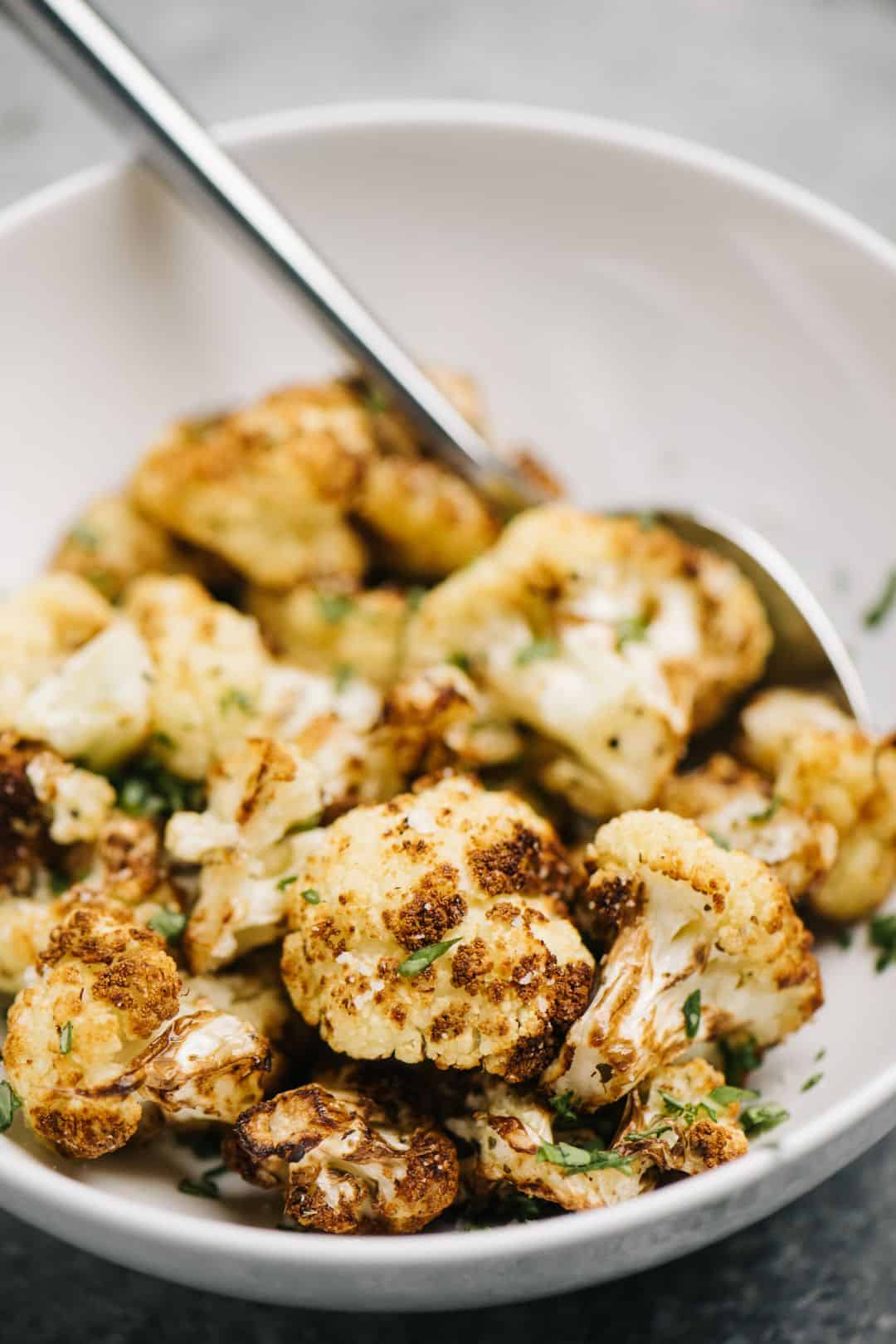 Cauliflower is one of my favorite vegetables because it's extremely versatile, and it can be used to create many delicious recipes like cauliflower pizza crust and cauliflower risotto.
One of the best things about cauliflower is that it's incredibly easy to prepare, making it a perfect addition to your weeknight meals.
Air fryer cauliflower is a delicious and healthy alternative to traditional fried cauliflower. It's crispy on the outside and tender on the inside, and it's a perfect side dish or snack.
If you don't own an air fryer, don't worry! You can still enjoy delicious and crispy cauliflower by roasting it in the oven. Just toss the cauliflower florets with olive oil, salt, and pepper, then spread them out on a baking sheet. Roast until the cauliflower is golden brown and fork tender.
Why Are You Going To Love This Recipe
It's super easy and quick to make.
Ready in 15 minutes.
You can make it ahead of time.
It can be paired with many recipes.
It's a delicious way to include vegetables in your meal plan.
Contain only 7g net carbs per serving.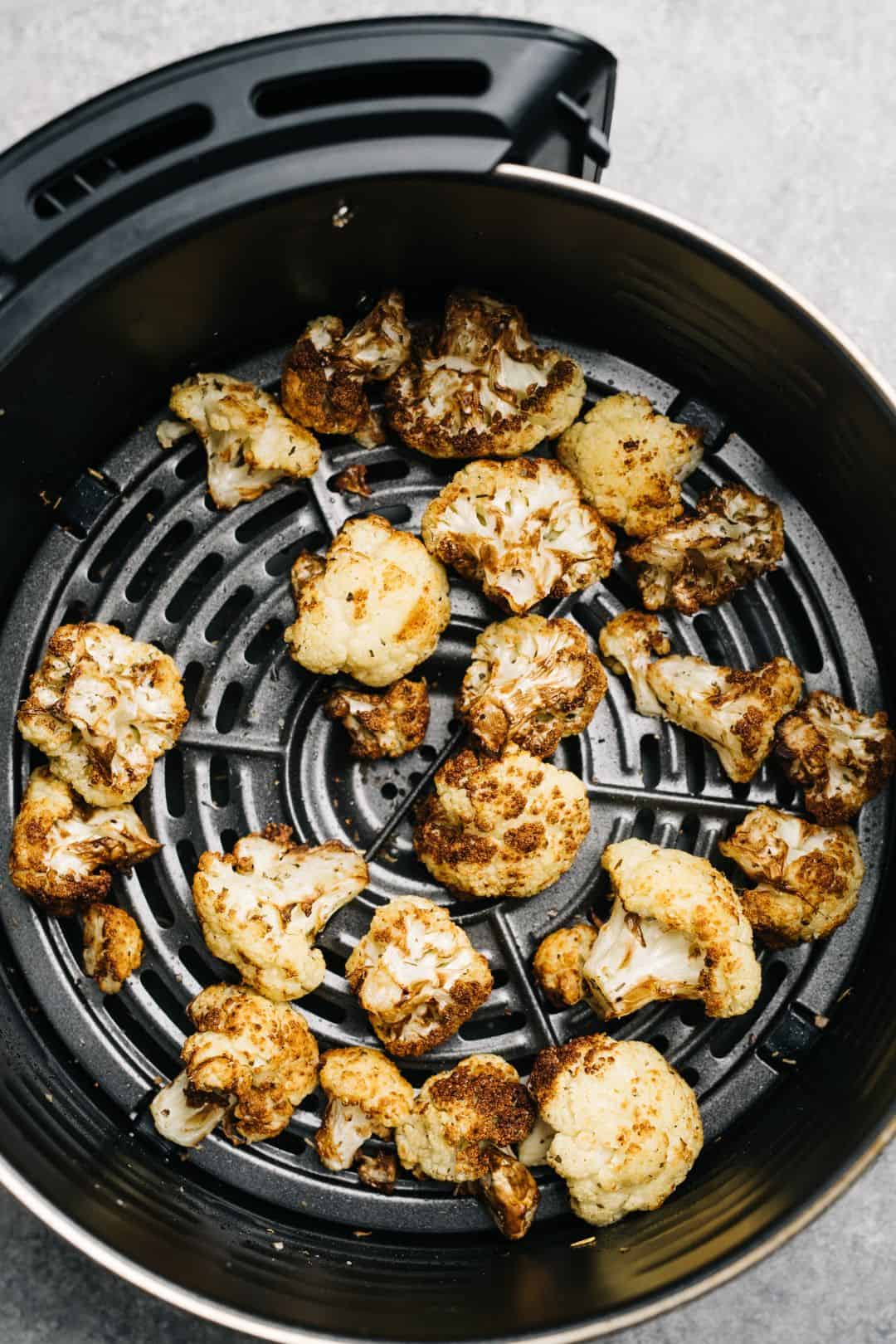 Ingredients You'll Need
You will need only a few super easy ingredients to create this delicious air fryer cauliflower recipe. Here is a list of everything you will need:
Cauliflower – make sure you choose a fresh cauliflower with no brown spots.
Olive Oil – you can use any other type of vegetable oil that you want.
Paprika – you can use smoked paprika if you want a more intense flavor.
Garlic Powder – if you are not a fan of garlic, you can replace it with the same amount of onion powder or skip it.
Salt&Pepper – to taste.
How To Make This Air Fryer Cauliflower
Making a side dish was never easier. Once you will how easy it is to make this air fryer cauliflower, you will want to make it over and over again. Here is everything you have to do:
Cutting the Cauliflower
Remove the leaves: First, remove any leaves or green parts at the base of the cauliflower.
Cut off the stem: Cut off the stem at the base of the cauliflower so that it sits flat on the cutting board.
Cut into quarters: Cut the cauliflower into quarters by slicing it from the top to the base.
Cut out the core: Use a paring knife to cut out the core from each quarter of the cauliflower.
Cut into florets: Use your hands or a knife to break or cut the cauliflower into bite-sized florets. You can also slice the cauliflower into thin slices if you prefer.
How To Season Cauliflower
Add the cauliflower florets to a large mixing bowl and drizzle with olive oil. Tossing cauliflower with olive oil, smoked paprika salt, and pepper is a classic and simple way to bring out its natural flavor. Adding garlic and herbs like rosemary or thyme to your cauliflower can give it a delicious savory flavor.
Air Fry Cauliflower
Air fry the cauliflower at 400F/ 200C for 10-12 minutes, shaking the basket every 5 minutes to ensure even cooking. Cook until the cauliflower is tender and the coating is golden brown and crispy.
Once the cauliflower is cooked, remove it from the air fryer and serve it hot with your favorite sauces.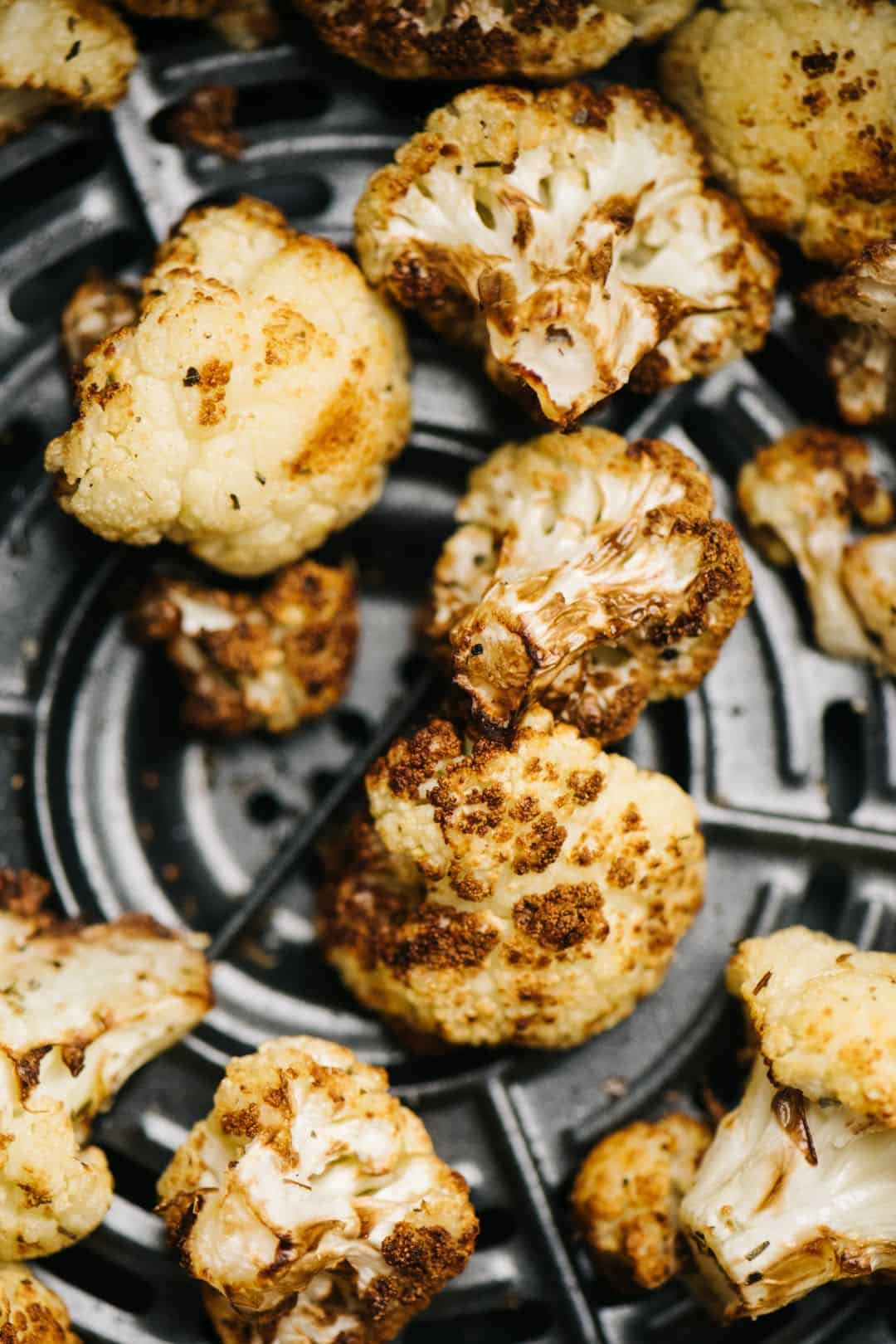 Tips For Making The Best Air Fryer Cauliflower
To ensure that the cauliflower cooks evenly and gets crispy edges, be careful not to overcrowd the air fryer basket.
Cut your cauliflower florets to the same size to ensure they are evenly cooked.
Shake the basket regularly: To help the cauliflower cook evenly, be sure to shake the air fryer basket every few minutes. This will ensure that all sides of the cauliflower get crispy and browned.
Use your favorite seasoning blend, and don't be afraid to experiment with different flavors.
Sprinkle some shredded parmesan cheese over the cauliflower florets for 2 minutes before it's ready.
You can add some chopped parsley or chives over the cauliflower florets.
Serving Ideas
Another great thing about this recipe is the fact that it pairs perfectly with many recipes. Here are some great ideas:
Storing Ideas
Fridge: You can store this air fryer cauliflower in an airtight container in the fridge for up to 5 days.
Freezer: You can also freeze this air fryer cauliflower. Place the cauliflower florets on a cookie sheet and freeze them for about 20 minutes when they have cooled. After that, transfer them to a plastic bag and freeze them for up to three months.
Frequently Asked Questions
Is Cauliflower Healthy?
Besides tasting amazing, cauliflower is a tasty and healthy vegetable that looks and tastes amazing when cooked and prepared correctly. Everyone will be impressed, including your family and dinner guests.
Can I Make This Recipe Using Frozen Cauliflower?
Sure, you can use frozen cauliflower for this recipe, and you don't have to thaw it first. Although if you use fresh cauliflower, you will get the best results.
Is Cauliflower Keto-Friendly?
Yes, cauliflower is a keto-friendly vegetable. It's low in carbs and high in fiber, making it a perfect choice for those following a keto diet. In fact, one cup of raw cauliflower contains only 3 grams of net carbs, which is the total carbs minus the fiber.
More Cauliflower Recipes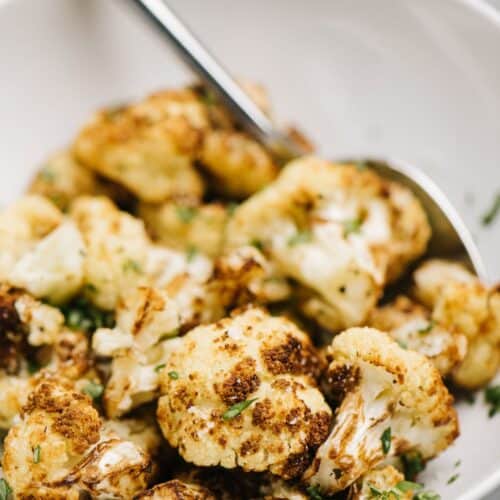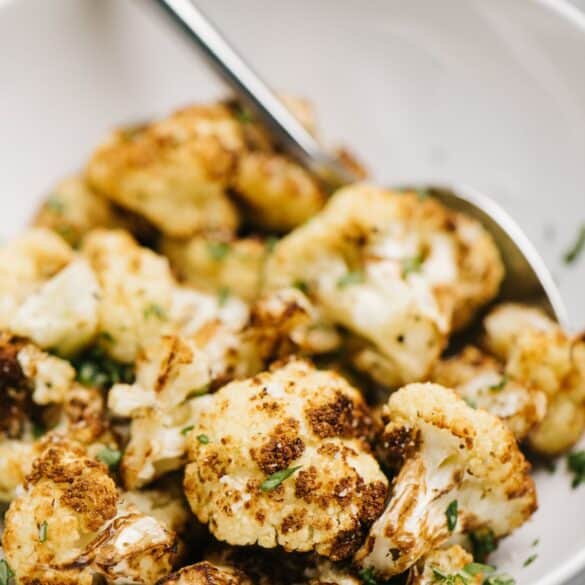 Description
You can whip up a scrumptious side dish of crispy air fryer cauliflower using only a few basic ingredients. This recipe guarantees a roasted flavor with crunchy edges, and it takes just 10 minutes from prep to plate, making it a nutritious and easy option for any meal.
Ingredients
1

head cauliflower

3

tbsp

olive oil

1

tsp

garlic powder

1/2

tsp

smoked paprika

1

tbsp

lemon juice

1/2

tsp

sea salt

1/4

tsp

black pepper
Instructions
Preheat the air fryer to 400F/200C.

Add the cauliflower florets to a large bowl. Drizzle with olive oil and lemon juice. Season with smoked paprika, garlic powder, sea salt, and black pepper and mix to coat.

Add cauliflower to the air fryer basket in a single layer. Roast them in the air fryer for 10 minutes, shaking the basket halfway through, until browned on the edges.
Nutrition Facts
Amount per serving.
How do we calculate the nutrition info?
These nutrition facts listed are determined using nutrition information from the USDA Food Database. Our nutrition facts are accurate, but if you are using different products, please make your calculations. Net carb count is calculated by subtracting both fiber and sugar alcohols because they don't raise blood sugar.