Ready in under 15 minutes and made with 5 ingredients, this air fryer cauliflower is the easiest keto side dish you will ever try and pairs perfectly with many main dishes.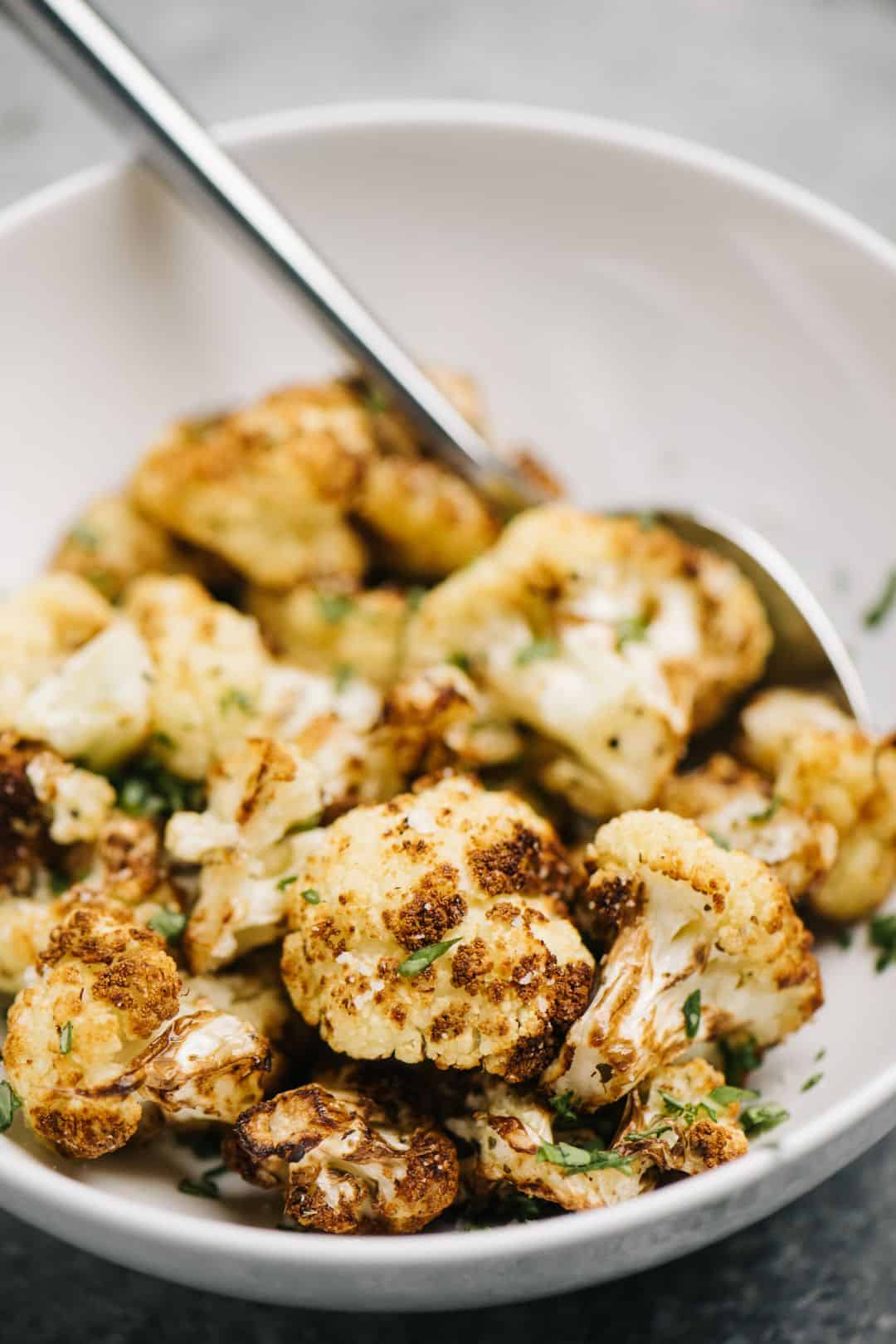 Cauliflower is one of my favorite vegetables because it's extremely versatile, and it can be used to create many delicious recipes like cauliflower pizza crust and cauliflower risotto.
I think that that's the easiest way to cook cauliflower. Just think about it: this recipe is made using only naturally low-carb ingredients, baked in the air fryer, and goes well with almost anything.
Is Cauliflower Keto-Friendly?
Yes, cauliflower fits into the keto diet and replaces meals high in carbohydrates like rice and potatoes.
Why Are You Going To Love This Recipe
It's super easy and quick to make.
Ready in 15 minutes.
You can make it ahead of time.
It can be paired with many recipes.
It's a delicious way to include vegetables in your meal plan.
Contain only 7g net carbs per serving.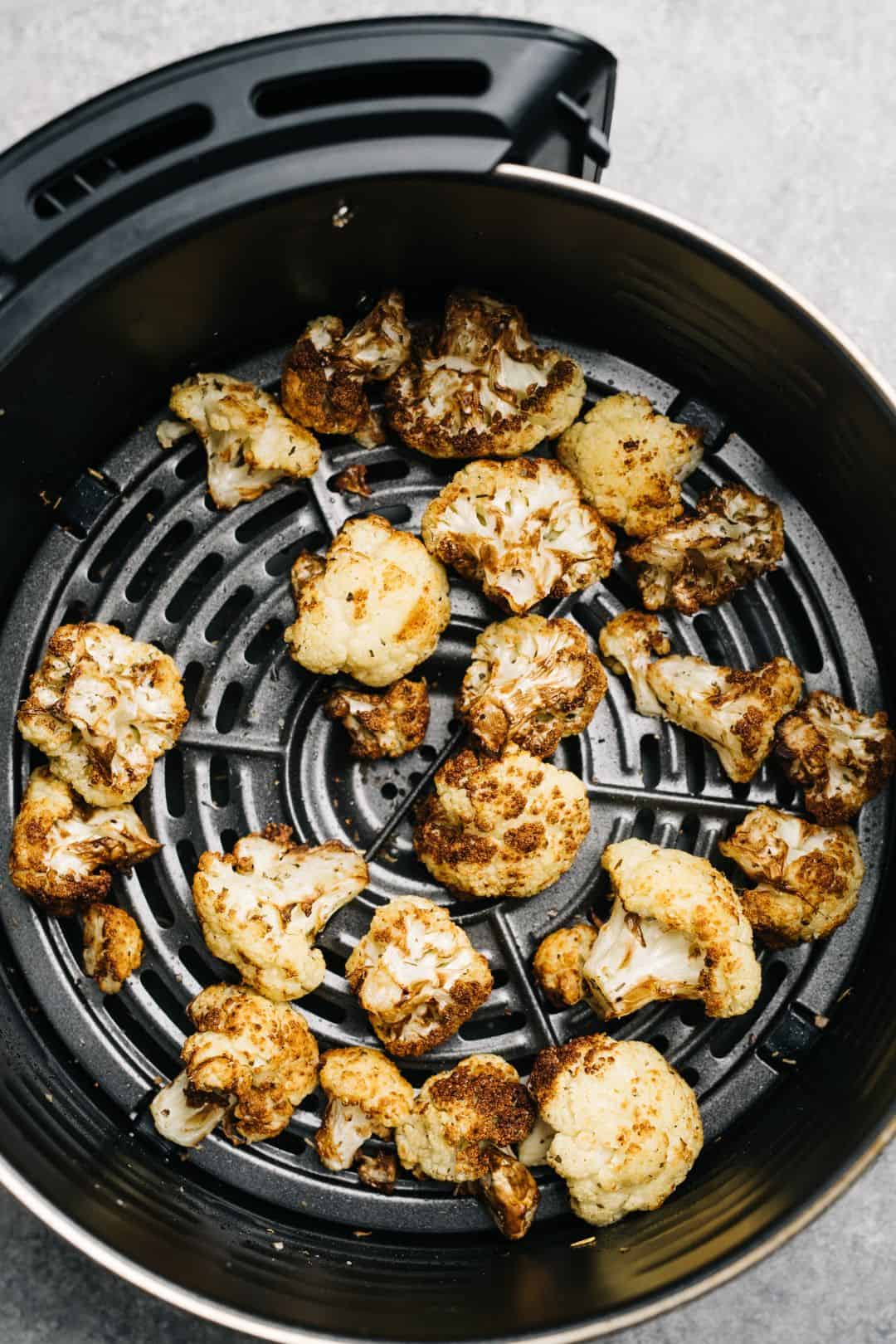 Ingredients For This Air Fryer Cauliflower
You will need only a few super easy ingredients to create this delicious air fryer cauliflower recipe. Here is a list of everything you will need:
Cauliflower – make sure you choose a fresh cauliflower with no brown spots.
Olive Oil – you can use any other type of vegetable oil that you want.
Paprika – you can use smoked paprika if you want a more intense flavor.
Garlic Powder – if you are not a fan of garlic, you can replace it with the same amount of onion powder or skip it.
Salt&Pepper – to taste.
How To Make This Air Fryer Cauliflower
Making a side dish was never easier. Once you will how easy it is to make this air fryer cauliflower, you will want to make it over and over again. Here is everything you have to do:
Start by washing and cutting your cauliflower florets.
Add the cauliflower to a mixing bowl, add the rest of the ingredients and mix until well combined.
Add the cauliflower florets into the air fryer basket in a single layer and cook for 10 minutes.
Remove them from the air fryer and enjoy.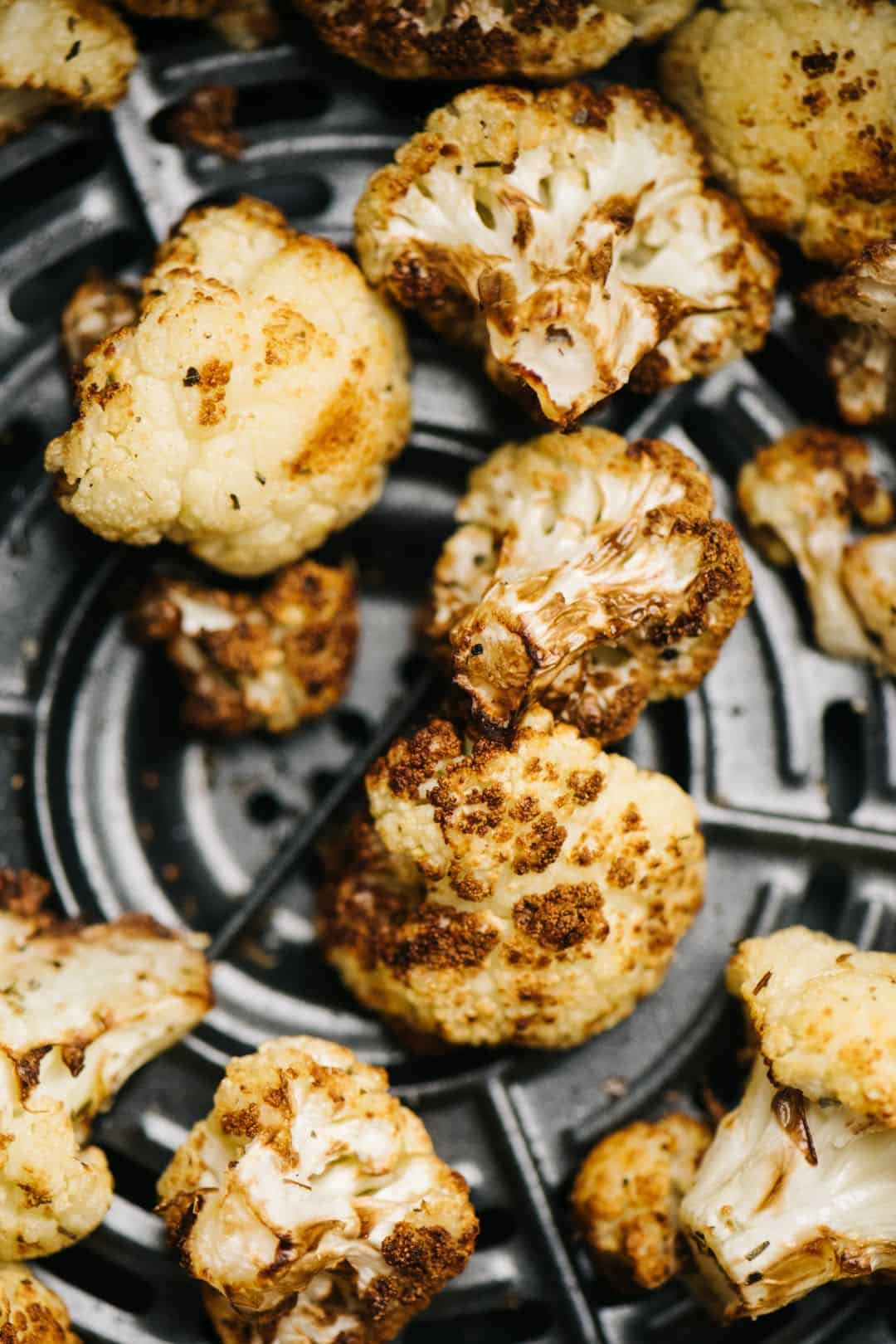 Tips&Variations For Making The Best Air Fryer Cauliflower
To ensure that the cauliflower cooks evenly and gets crispy edges, be careful not to overcrowd the air fryer basket.
Cut your cauliflower florets to the same size to ensure they are evenly cooked.
Sprinkle some shredded parmesan cheese over the cauliflower florets for 2 minutes before it's ready.
You can add some chopped parsley or chives over the cauliflower florets.
Serving Ideas
Another great thing about this recipe is the fact that it pairs perfectly with many recipes. Here are some great ideas:
Storing Ideas
Fridge: You can store this air fryer cauliflower in an airtight container in the fridge for up to 5 days.
Freezer: You can also freeze this air fryer cauliflower. Place the cauliflower florets on a cookie sheet and freeze them for about 20 minutes when they have cooled. After that, transfer them to a plastic bag and freeze them for up to three months.
Frequently Asked Questions
Is Cauliflower Healthy?
Besides tasting amazing, cauliflower is a tasty and healthy vegetable that looks and tastes amazing when cooked and prepared correctly. Everyone will be impressed, including your family and dinner guests.
How To Cut Cauliflower?
Cut the leaves, then use a sharp knife to trim the cauliflower's stem. Now you can break the florets with your fingers or cut them.
Can I Make This Recipe Using Frozen Cauliflower?
Sure, you can use frozen cauliflower for this recipe, and you don't have to thaw it first. Although if you use fresh cauliflower, you will get the best results.
More Cauliflower Recipes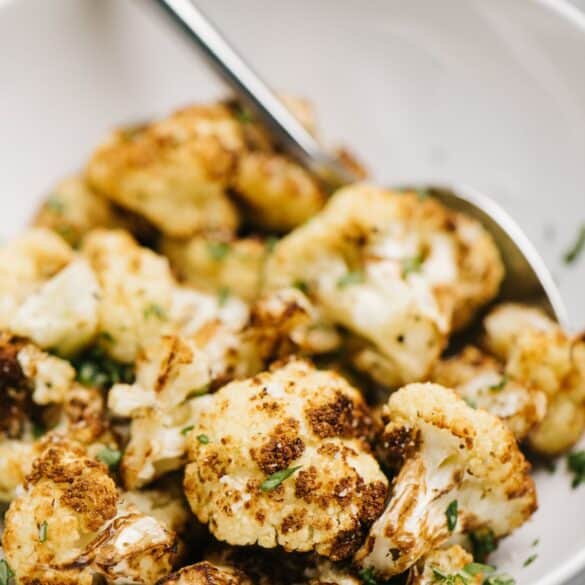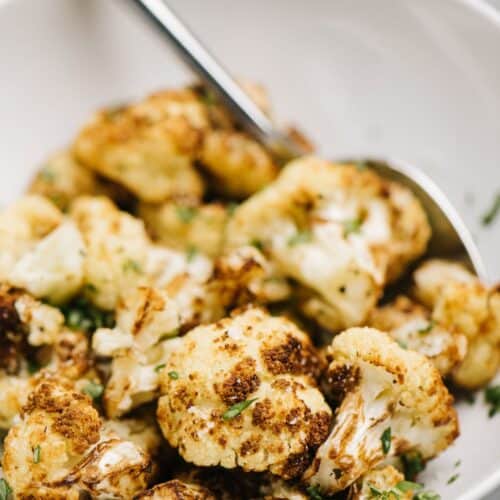 Description
Ready in under 15 minutes and made with 5 ingredients, this air fryer cauliflower is the easiest keto side dish you will ever try and pairs perfectly with many main dishes
Ingredients
1

head cauliflower

3

tbsp

olive oil

2

tsp

lemon juice

3/4

tsp

smoked paprika

1/2

tsp

garlic powder

1/2

tsp

sea salt

1/4

tsp

black pepper
Instructions
Preheat the air fryer to 380 degrees F/193 degrees C.

Prepare your cauliflower florets.

Add the cauliflower florets to a large bowl. Drizzle with olive oil and lemon juice. Season with smoked paprika, garlic powder, sea salt, and black pepper and mix to coat.

Add cauliflower to the air fryer basket in a single layer. Cook them in the air fryer for 10 minutes, shaking the basket halfway through, until browned on the edges.
Nutrition Facts
Amount per serving.
How do we calculate the nutrition info?
These nutrition facts listed are determined using nutrition information from the USDA Food Database. Our nutrition facts are accurate, but if you are using different products, please make your calculations. Net carb count is calculated by subtracting both fiber and sugar alcohols because they don't raise blood sugar.