Learn how to make this creamy, zesty Keto Tzatziki Sauce that has the perfect balance of cucumber freshness and a hint of garlic. And the best part? It's super easy to make from scratch in just 10 minutes! Whether you're drizzling it over your grilled meats, using it as a salad dressing, or simply dipping in some low-carb veggies, this Tzatziki Sauce is super versatile and delicious.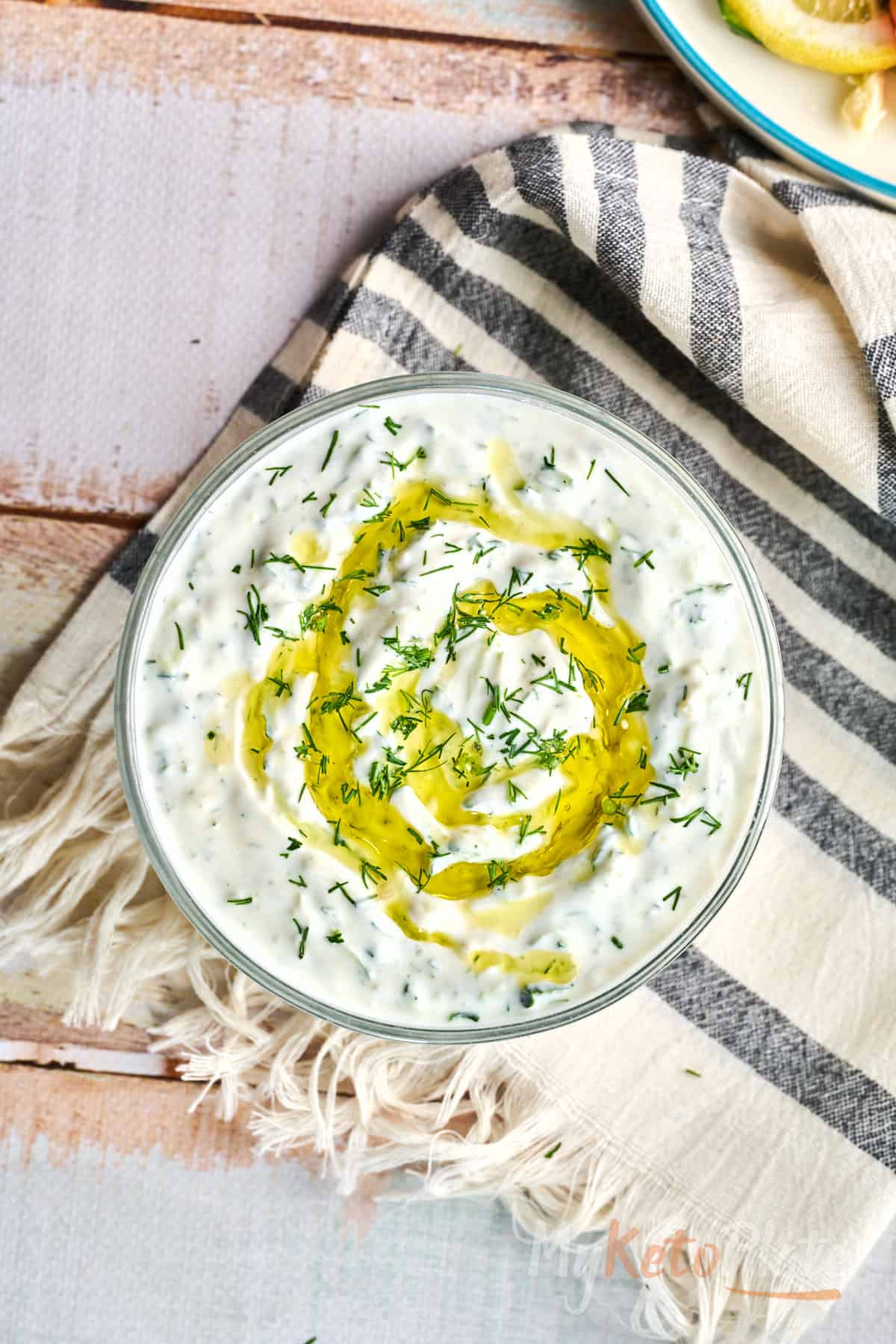 Whether you're a keto enthusiast seeking the perfect complement for grilled dishes or a Mediterranean food lover aiming for a healthier twist, our Tzatziki Sauce is a game changer. Learn how to create this creamy delight. You'll get tips for ideal pairings and storage to make sure you get the most out of every delicious spoonful.
Loaded with flavors of tangy Greek Yogurt, refreshing cucumber, aromatic garlic, and fragrant dill, this low-carb sauce is perfect for grilled meats, fresh veggies, or even as a dip for your favorite keto-friendly crackers.
So say goodbye to store-bought tzatziki sauces loaded with hidden sugars, and hello to our homemade keto version! Made from wholesome ingredients, our flavorful tzatziki sauce it's low in carbs and high in flavor and the perfect side dish for any keto dishes.
Why Are You Going To Love This Recipe
It's extremely easy to make in only 10 minutes.
Made from naturally low-carb ingredients.
You can make it ahead of time since the flavors will develop while stored in the fridge.
Require only a few ingredients that you can find in any grocery store.
Perfect for grilling dishes.
Taste like authentic Greek sauce but with fewer carbs.
What Is Tzatziki Sauce?
Known for its creamy and tangy flavor, tzatziki sauce is a traditional Greek condiment made from a base of thick Greek Yogurt combined with grated cucumber, garlic, lemon juice, and fresh herbs such as dill or mint.
With a refreshing taste and a smooth, creamy texture, tzatziki sauce is commonly used as a dip for various dishes or as a condiment in Greek and Mediterranean cuisine.
Is Tzatziki Sauce Keto?
Yes, tzatziki sauce can be enjoyed while following a keto diet since it's made with naturally low-carb ingredients that are low in carbs. However, if you choose to buy it from the store, read its label carefully since it may contain added sugars and other high in carbs ingredients.
Ingredients For Easy Tzatziki Sauce
If you crave the authentic flavors of Keto Greek tzatziki sauce and want to learn how to prepare it at home, you've come to the right place. This keto Greek tzatziki sauce is extremely easy to make, using only a few inexpensive ingredients. Here is everything you need:
Greek Yogurt – try using full-fat Greek Yogurt to obtain a luscious, velvety texture and rich taste.
Olive Oil – is used to add richness and flavor to the sauce.
Lemon Juice – used to give the sauce a mild acidity and tangy flavor that completes perfectly with the rest of the ingredients.
Dill – use fresh chopped dill for this recipe for a refreshing flavor.
Garlic – fresh minced garlic is required for this recipe since, once stored in the fridge, its aroma will intensify and give a special taste to the sauce.
Salt- to taste and enhance all the flavors.
Cucumber – freshly shredded cucumbers add a refreshing and special flavor to this sauce. You can pell them or leave them as we did.
How To Make Tzatziki Sauce
This homemade tzatziki sauce is extremely easy to make it without needing any cooking skills. Here is everything you have to do:
Cucumber Prep: First, give your cucumbers a good rinse. Grate them finely, and don't forget to squeeze out any extra moisture.
Get Other Ingredients Ready: Next, get chopping! Dice up the dill and give your garlic a good smashing.
Combine & Stir: In a bowl, toss everything together. Mix well until all the ingredients are well incorporated. Lastly, spoon your sauce into an airtight container and pop it in the fridge for about 30 minutes. This little chill time lets those flavors really meld together.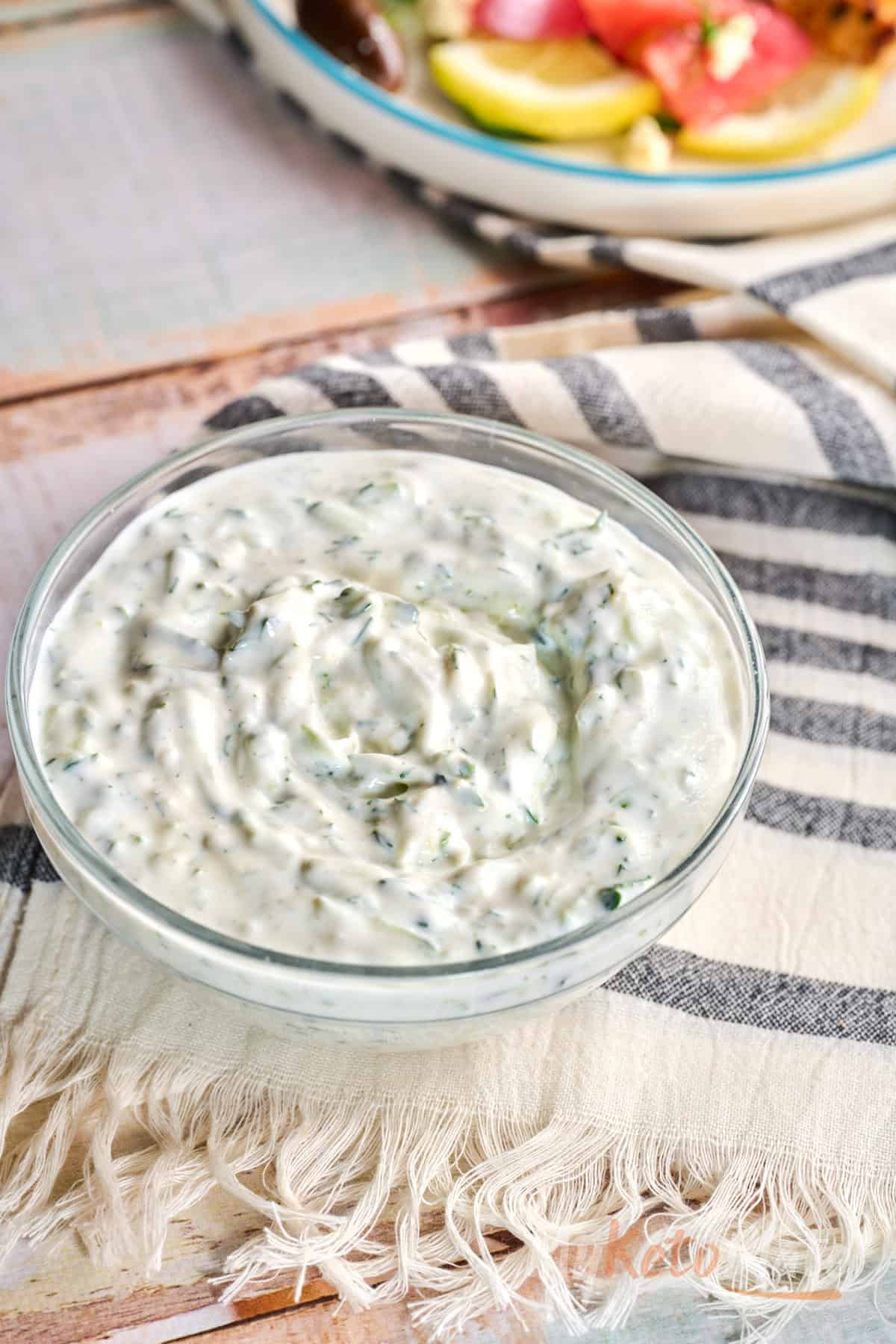 Tips For Making The Best Low Carb Tzatziki Sauce
Use high-quality ingredients like fresh cucumbers, fresh herbs, and a good brand of Greek Yogurt.
Grate the cucumbers using the large holes of the grater to create longer strands for a nice crunchy texture.
Don't forget to strain the cucumbers to ensure your sauce has a thicker and creamier consistency.
Mince the garlic cloves finely to distribute the flavor evenly throughout the sauce.
While the dill and garlic measurements are guides, adjust according to your preference. Some may like a more garlicky flavor, while others might prefer a milder taste.
Recipe Variations
Dairy-Free/Vegan Version: To make your Tzatziki dairy-free or vegan, simply swap out the Greek yogurt for a dairy-free yogurt alternative. There are several options available in the market, such as coconut yogurt, almond yogurt, or soy yogurt. Ensure the one you choose has a thicker consistency similar to Greek yogurt for best results.
Mint: Alongside dill, add a handful of fresh mint leaves. It adds a refreshing layer of flavor, perfect for those hot summer days.
Spicy: If you love a little heat, mix in a pinch of red pepper flakes or a dash of cayenne pepper.
Lemon Zest: Add the zest of one lemon to intensify the citrusy undertone of your sauce.
Creamier Consistency: For an even creamier texture, mix in a dollop of sour cream.
Cucumber-Free: If you're out of cucumbers or prefer to skip them, you can use zucchini as an alternative. Make sure to strain well to remove excess water.
Storing Ideas
Refrigerate: Always store your Tzatziki Sauce in an airtight container in the refrigerator. It can last up to a week, but remember that fresher is always better in terms of flavor.
No Freezing: Freezing is not recommended for Tzatziki Sauce. The yogurt base may separate and lose its creamy texture upon thawing.
What to Serve with Tzatziki Sauce?
Another great thing about this Keto Greek tzatziki sauce is that it pairs perfectly with many dishes and is also amazing as a veggie dip. Here are my favorite dishes to enjoy with this sauce: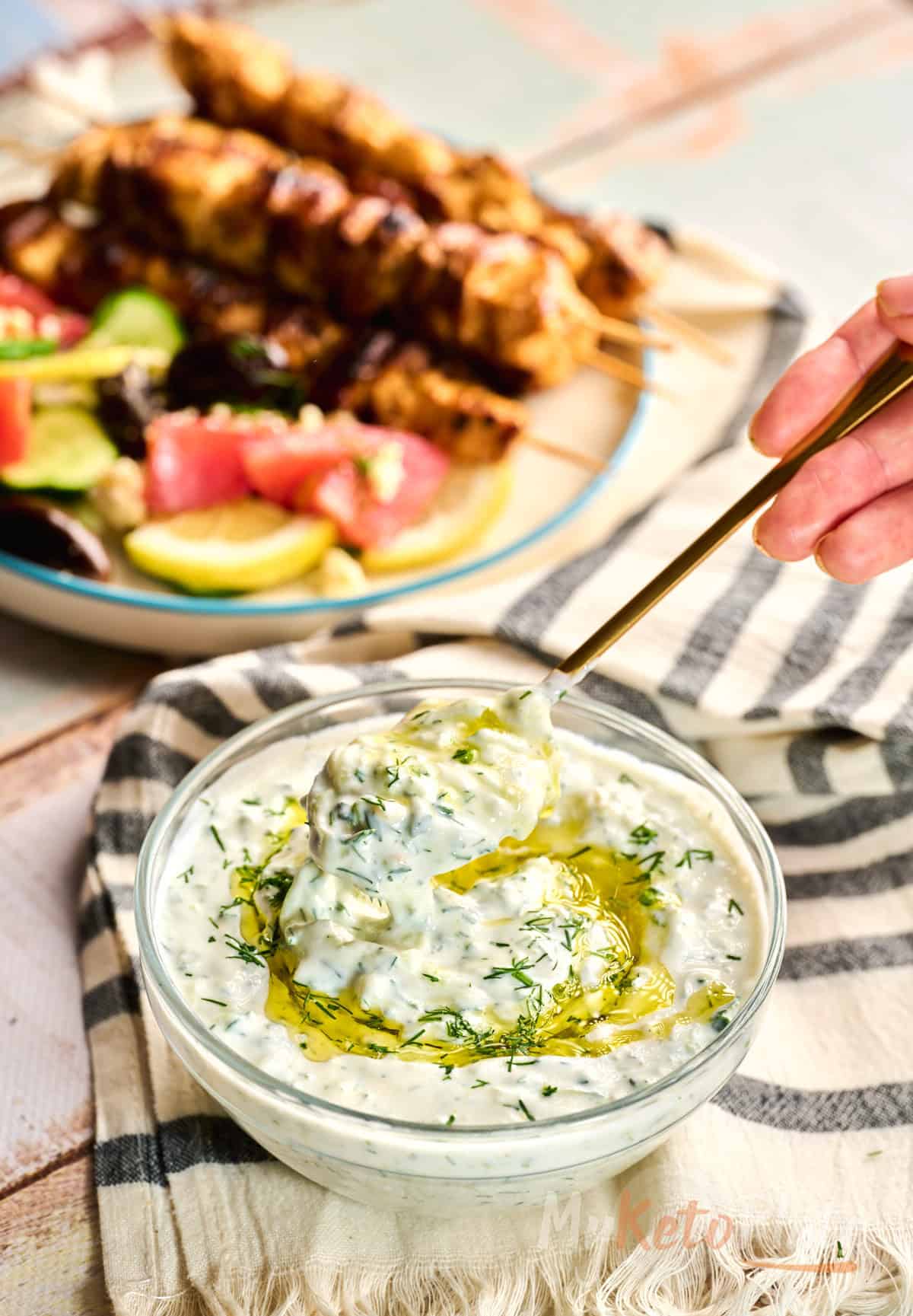 Frequently Asked Questions
Can I Make This Keto Greek Tzatziki Sauce Ahead Of Time?
Yes, indeed! In fact, this homemade sauce often tastes even better after it's been allowed to chill in the fridge for a while. Simply prepare the sauce and let it rest in the fridge for a bit. The flavors will meld beautifully, enhancing the overall taste.
Can You Freeze Tzatziki Sauce?
Freezing Greek tzatziki sauce isn't recommended. The yogurt tends to separate upon thawing, which can affect the texture and consistency of the sauce.
What Type Of Cucumber Is The Best For This Recipe?
The choice is really up to you! Some folks prefer cucumbers with seeds, while others opt to remove them. Having tried both ways, each version yields a delightful sauce, both equally delicious.
Is It Necessary To Peel The Cucumber For This Tzatziki Recipe?
No, peeling isn't necessary. In fact, the skin of the cucumber is rich in vitamins and adds a nice texture to the sauce. Including it not only boosts nutrition but also enhances the overall appeal of the dish.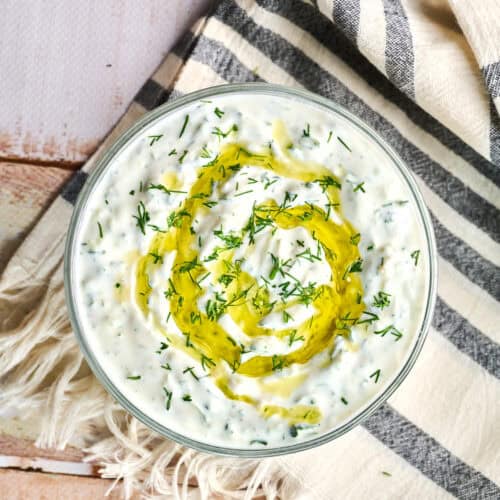 Description
Learn how to make this creamy, zesty Keto Tzatziki Sauce that has the perfect balance of cucumber freshness and a hint of garlic. And the best part? It's super easy to make from scratch in just 10 minutes! Whether you're drizzling it over your grilled meats, using it as a salad dressing, or simply dipping in some low-carb veggies, this Tzatziki Sauce is super versatile and delicious.
Ingredients
1 1/2

cups

cucumber

1

cup

greek yogurt full-fat one

1

tbsp

olive oil

2

tsp

lemon juice

2

tsp

fresh dill

2

garlic cloves

minced

1/2

tsp

Sea salt
Instructions
Grate the cucumbers, then squeeze the excess water into a bowl.

Chop the fresh dill finely and minced the garlic.

Add all the ingredients to a large bowl and mix them using a whisker or a silicone spatula.

Let the sauce rest for 30 minutes to enhance the flavors. Enjoy!
Nutrition Facts
Amount per serving.
How do we calculate the nutrition info?
These nutrition facts listed are determined using nutrition information from the USDA Food Database. Our nutrition facts are accurate, but if you are using different products, please make your calculations. Net carb count is calculated by subtracting both fiber and sugar alcohols because they don't raise blood sugar.