Learn how to make the best coleslaw salad that's made from freshly shredded vegetables, perfectly mixed with a creamy and flavorful dressing. Coleslaw is a beloved side dish, perfect for picnics or BBQs, and the best part is that it can be prepared ahead of time!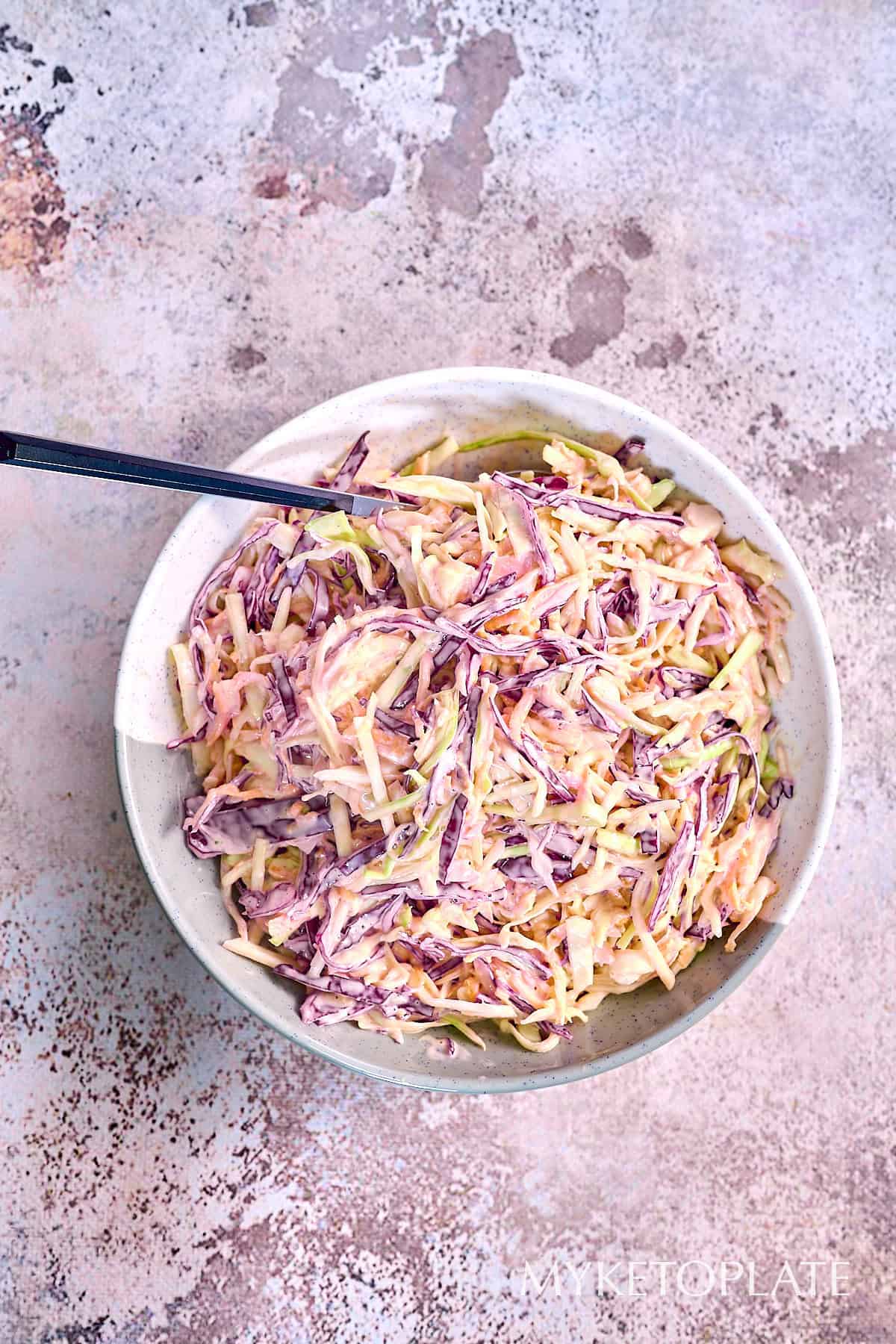 Perfect as a side dish or an ingredient in sandwiches, this recipe for homemade coleslaw can be customized to suit your preferences and requires only 5 minutes of prep.
Besides being extremely delicious, this easy coleslaw recipe is versatile and can be served as a side to barbecued meats, sandwiches, and burger.
This coleslaw recipe is one of my favorite side dish salad recipes since it's packed with fresh and delicious flavor, and it's ready in only 15 minutes from start to finish without needing any cooking skills.
Whether you enjoy it as a side dish or use it as an ingredient for recipes, this coleslaw salad will impress everyone with its bright, vibrant colors and crisp, crunchy texture.
What Is Coleslaw Salad?
Coleslaw salad it's a dish made from shredded cabbage and carrots mixed with a delicious creamy dressing made from mayonnaise, vinegar, and seasonings. Some variations of this recipe can also include other ingredients such as onion or bell peppers.
This coleslaw salad is often served as a side dish or in sandwiches, burgers, or tacos.
The most popular version includes mayonnaise-based dressings like Miracle Whip or Thousand Island. This salad has been around for centuries and varies from region to region, with different ingredients added in. Some variations include apples, bell peppers, raisins, walnuts, celery seeds, parsley leaves, vinegar, and sugar.
My favorite way to make coleslaw is by combining the vegetables with either a creamy mayonnaise-based dressing or tangy vinegar-based one. I also like adding fresh herbs like dill weed which gives it an extra layer of flavor. If you're looking for something more exciting than basic coleslaw, then why not add in some diced jalapenos, crispy bacon bits, or pickles? There are so many ways to customize this classic summer dish!
Why Are You Going To Love This Cole Slaw Recipe
You can make it ahead of time.
Super easy to make in just a few minutes.
Has a crunchy texture that is perfect for sandwiches and burgers.
It's a customizable recipe; you can add your favorite seasonings and ingredients.
Perfect for summer on picnics and barbecues.
Loaded with delicious flavors.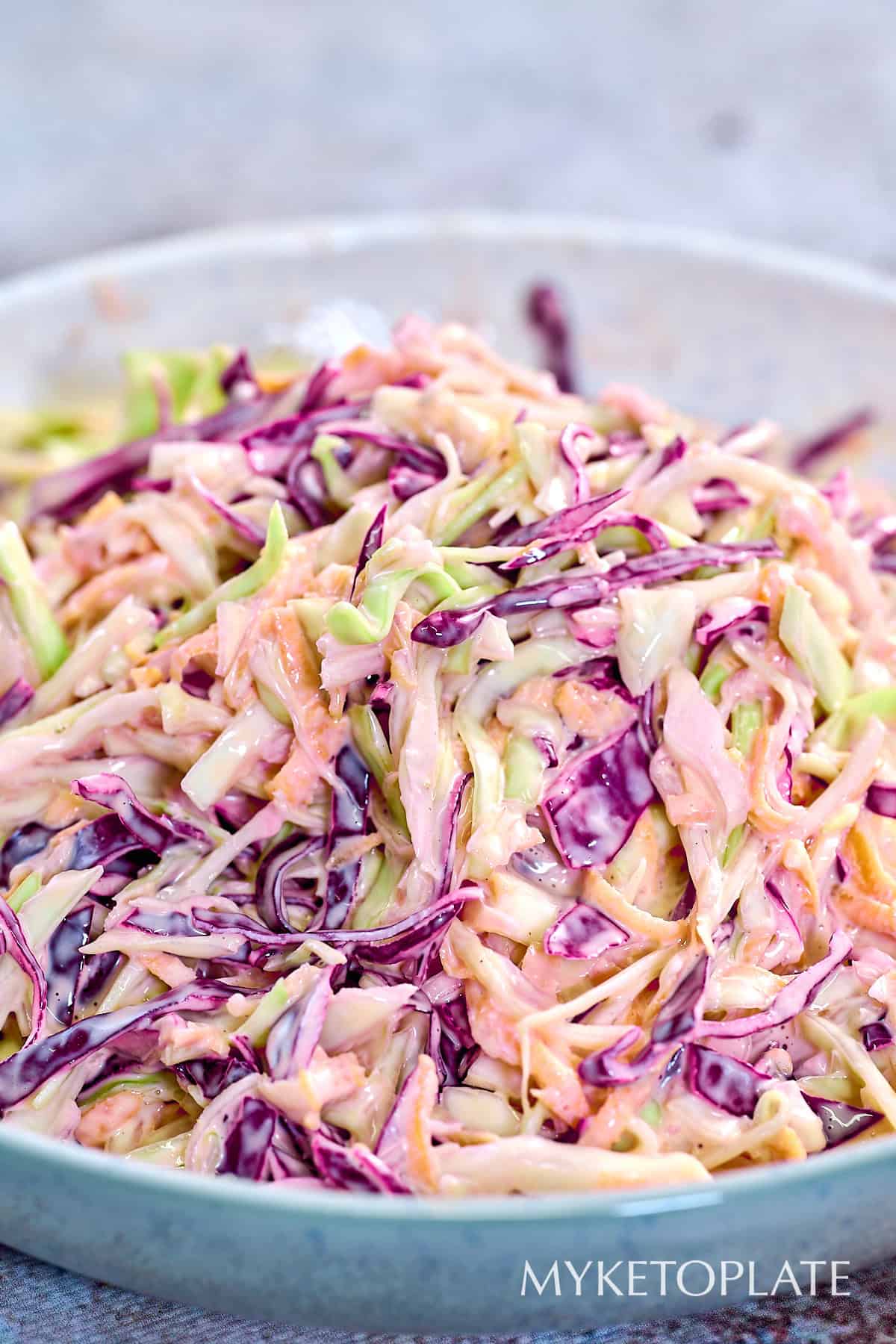 What is the Best Cabbage to Use?
When it comes to making coleslaw, I personally love using a combination of red and green cabbage. It not only adds a burst of vibrant colors but also enhances the overall appearance of the dish. However, you can certainly use just one variety if you prefer. Consider trying green cabbage, red cabbage, savoy cabbage, or Napa cabbage to achieve different flavor profiles and textures.
If you're looking to add a unique twist to your coleslaw, why not try using broccoli? Give it a go and enjoy the refreshing and crunchy qualities of broccoli in your slaw.
Experimenting with different cabbage varieties and alternative ingredients like broccoli can bring exciting variations to your coleslaw repertoire. Have fun exploring these options and discovering your favorite combinations!
Ingredients For Coleslaw Salad Recipe
This recipe for homemade coleslaw salad is made from only a few easy-to-find ingredients that you can find in almost any store. Here is a list of everything you will need: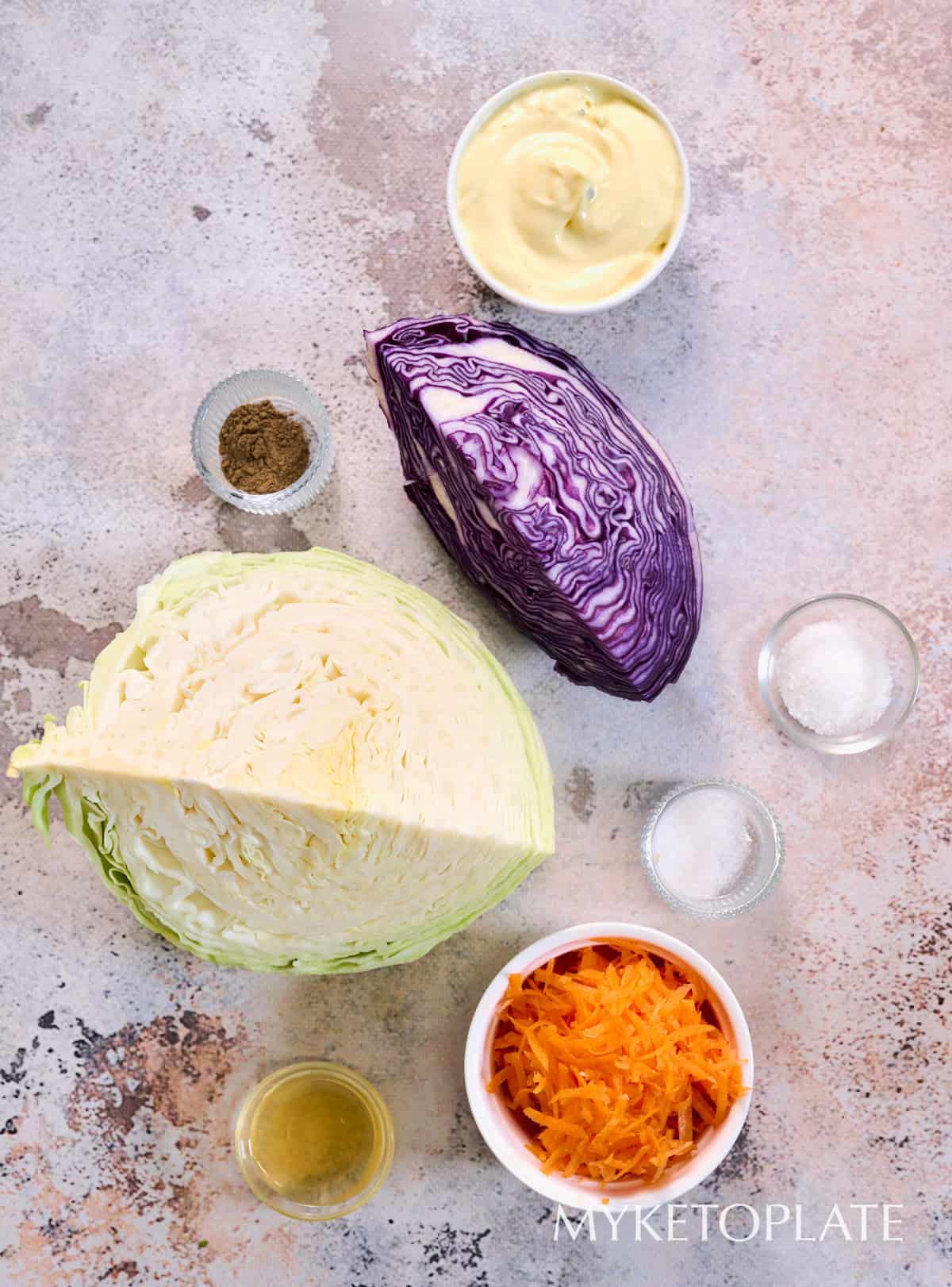 Cabbage – I used a combination of red and green cabbage, but coleslaw mix is a perfect option too.
Carrots – provide a sweet and crunchy texture to the salad.
For The Coleslaw Dressing
Mayonnaise – adds a creamy texture to the dressing and helps combine all the ingredients.
Vinegar – add tanginess and balance the sweetness of the mayonnaise and sweetener.
Sweetener – balance the acidity and all the flavors from the dressing.
Salt&Pepper – to taste.
Dill – fresh chopped dill for an intense, delicious flavor.
How To Make Coleslaw Salad Recipe
Once you see how easy it's to prepare this coleslaw salad recipe will want to make it over and over again when you need a quick and refreshing side dish. Here are the instructions that you need to follow:
Make The Dressing
Add the mayonnaise, vinegar, sweetener, chopped dill, salt, and pepper to a bowl and mix using a whisker until well combined.
How to Cut Cabbage for Coleslaw
Before proceeding, make sure to remove any damaged or bruised outer leaves from the cabbage.
Begin by cutting the cabbage into quarters, and then carefully remove the core. Next, slice the cabbage quarters into thin shreds. You have a few options for achieving this: you can hand shred using a knife, utilize a mandoline slicer, or make use of the shredding attachment on your food processor.
Peel and grate the carrots using either a box grater or a food processor attachment.
Mix The Coleslaw Salad
Add the shredded cabbage and carrots to a bowl, then add the dressing.
Finally, mix everything together until all ingredients are well combined and coat evenly throughout the salad. With that done, your delicious coleslaw is ready to be enjoyed!
You can also refrigerate for at least 1 hour before serving to help the flavors develop.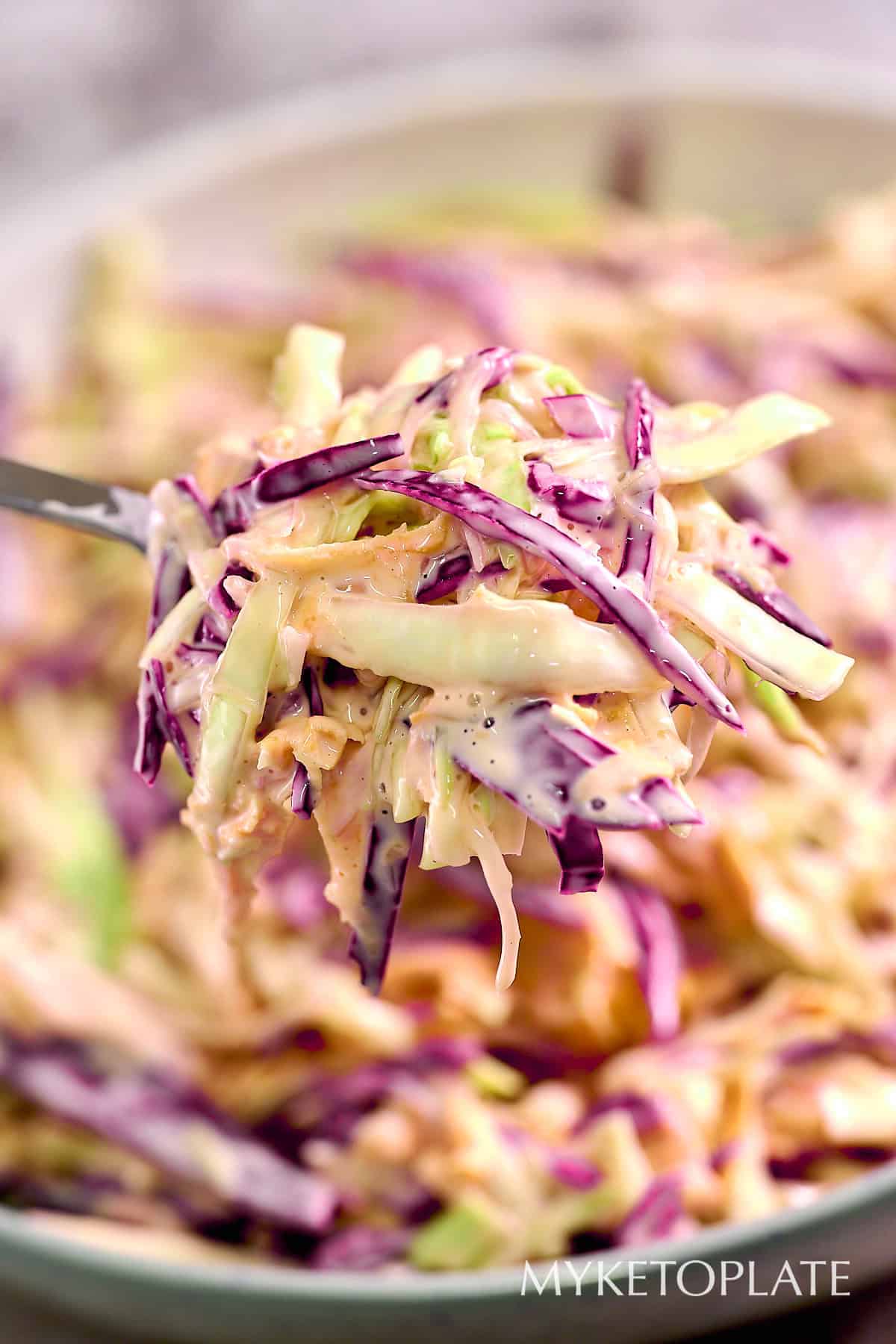 Tips For Making The Best Coleslaw Salad Recipe
Use high-quality mayonnaise for the best results and a creamy texture.
You can make the dressing in advance and allow it to chill in the fridge to enhance all the flavors.
You can also shred the cabbage using a food processor.
Let the coleslaw salad chill in the fridge before serving it to develop all the flavors.
Use fresh cabbage and carrots to provide a crunchy texture.
Recipe Variations
You can make spicy coleslaw by adding one teaspoon of red pepper chilly flakes.
Experiment with seasonings such as celery seeds, garlic, and dried herbs.
Add extra crunchy to the salad by adding some chopped almonds or keto croutons. 
Try substituting mayonnaise with Greek yogurt, avocado, tahini, or hummus for an interesting twist on the dressing.
Include dried fruits like raisins and cranberries for added sweetness.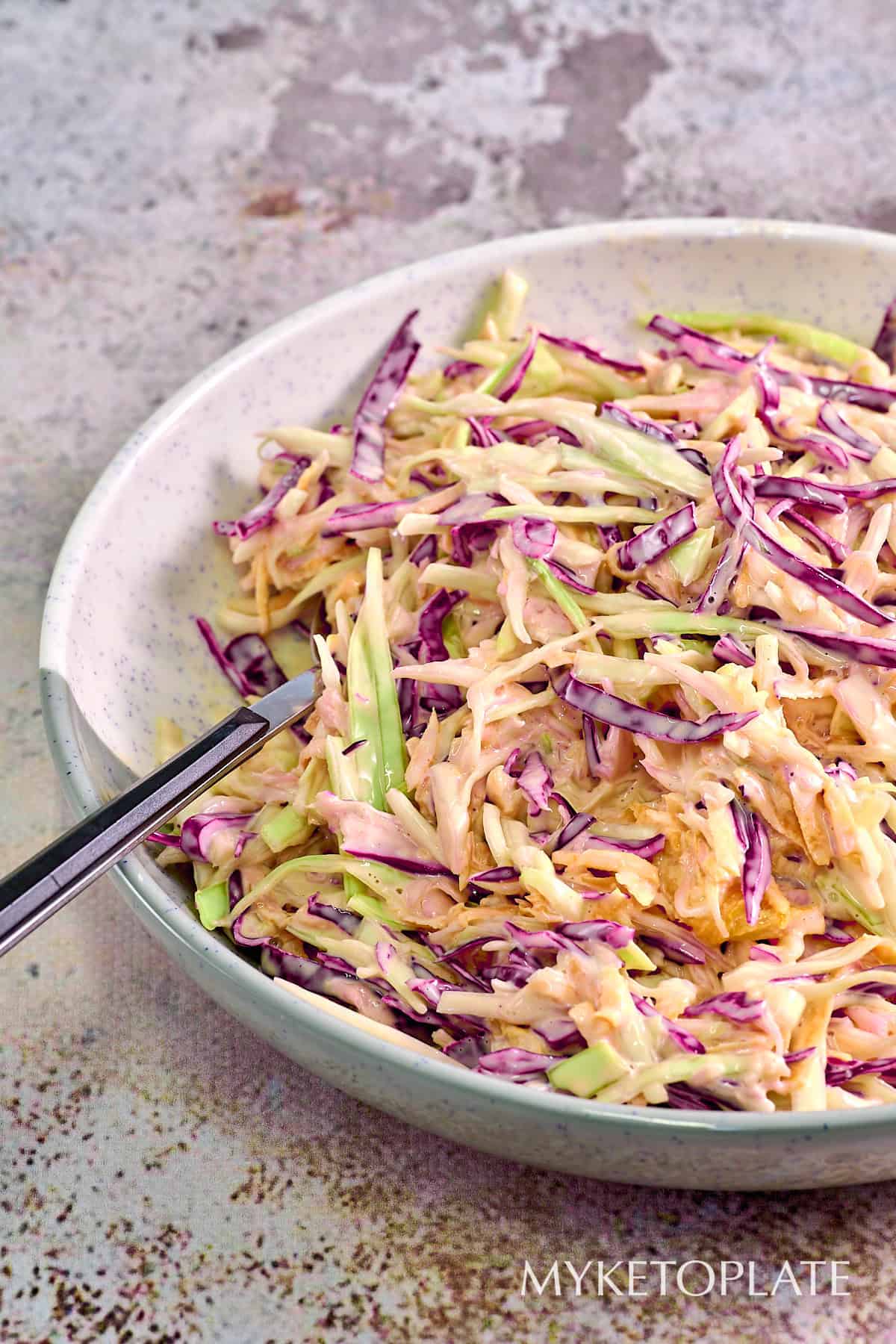 Storing Ideas
Fridge – if there are any coleslaw salad leftovers, you can store them in an airtight container in the fridge for up to 3 days and no more because they will become a mess the more you keep them.
Making The Salad Ahead Of Time
The first step is to mix together all the ingredients for the dressing up to two days before you plan to serve it. Once everything is well blended, cover with plastic wrap and store in the refrigerator until ready to use. The second step is to shred the vegetables – do this one day prior so they are nice and crunchy right before serving. Finally, combine the shredded veggies with the prepared dressing and let sit overnight in an airtight container in the fridge. This will allow all the flavors to meld together nicely without becoming soggy.
Serving Suggestions
Side Dish: Coleslaw is a classic side dish that pairs well with various main courses. Serve it with meats, such as air fryer BBQ wings, barbecue ribs, burgers, or backed chicken breast. It also complements seafood dishes like fish tacos or air fryer shrimp.
Sandwich Topping: Use coleslaw as a delicious and crunchy topping for sandwiches and sliders. It adds a refreshing contrast of flavors and textures. Try it on pulled pork sandwiches, grilled chicken sandwiches, or even as a topping for hot dogs.
Burger Topping: It provides a satisfying crunch and a burst of flavor.
Wrap or Taco Filling: Try it in a grilled chicken wrap or as a topping for fish tacos.
Picnic or Potluck Dish: Coleslaw is a popular choice for outdoor gatherings, picnics, or potluck parties. Its refreshing nature and easy-to-transport nature make it a crowd-pleaser.
Light Lunch: Enjoy coleslaw as a light and refreshing lunch option on its own. Add some protein, such as grilled chicken or shrimp, for a more substantial meal. It's a great choice for those looking for a low-carb or keto-friendly option.
Frequently Asked Question
Can I Freeze Coleslaw Salad?
Freezing coleslaw salad is not recommended as it can significantly alter the texture and quality of the salad. The high water content in cabbage and other vegetables used in coleslaw can cause them to become mushy and lose their crispness when frozen and thawed. Additionally, the mayonnaise-based dressing can separate and become watery upon freezing.
Is Coleslaw Salad Keto-Friendly?
Not all recipes for coleslaw salad are keto-friendly since they are made with sugar and other ingredients that are too high in carbs. However, you can make a keto version of this recipe by replacing some ingredients with keto and low-carb ones.
More Salad Recipes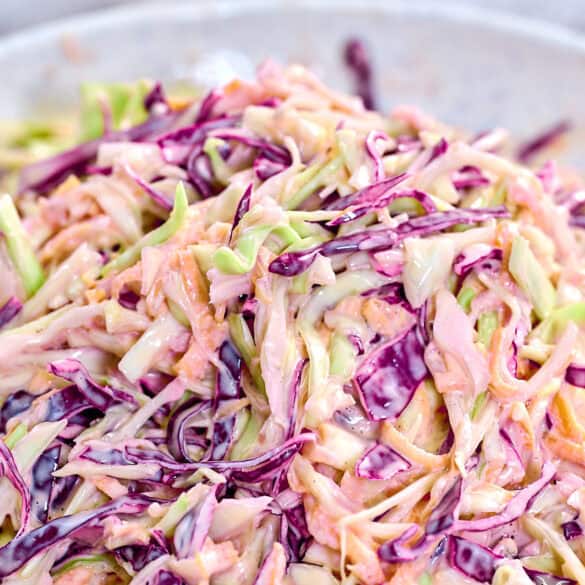 Description
Learn how to make the best coleslaw salad that's made from freshly shredded vegetables, perfectly mixed with a creamy and flavorful dressing. Coleslaw is a beloved side dish, perfect for picnics or BBQs, and the best part is that it can be prepared ahead of time!
Ingredients
3

cups

green cabbage

finely shredded

2

cups

purple cabbage

finely shredded

1

cup

carrot

finely shredded
For The Dressing
½

cup

mayonnaise

1

tbsp

apple cider vinegar

1/2

tsp

celery seeds

2

tsp

sweetener

1/4

tsp

salt

or more to taste

1/4

tsp

pepper

or more to taste

fresh dill

optional
Instructions
Start by making the dressing. Add all the ingredients for the dressing to a bowl and mix using a whisker until well combined.

Thinly shred the cabbage and carrots using a mandoline or a sharp knife.

Add the shredded cabbage and carrots to a bowl, then add the dressing.

Mix with a silicone spatula until well combined.

Keep refrigerated for at least 1 hour before serving to help the flavors develop.
Nutrition Facts
Amount per serving.
How do we calculate the nutrition info?
These nutrition facts listed are determined using nutrition information from the USDA Food Database. Our nutrition facts are accurate, but if you are using different products, please make your calculations. Net carb count is calculated by subtracting both fiber and sugar alcohols because they don't raise blood sugar.