If you're craving pizza, try this crustless pizza that's quick and easy to make. The ultimate low carb comfort food, a one pan dinner that takes 20 minutes to make from scratch.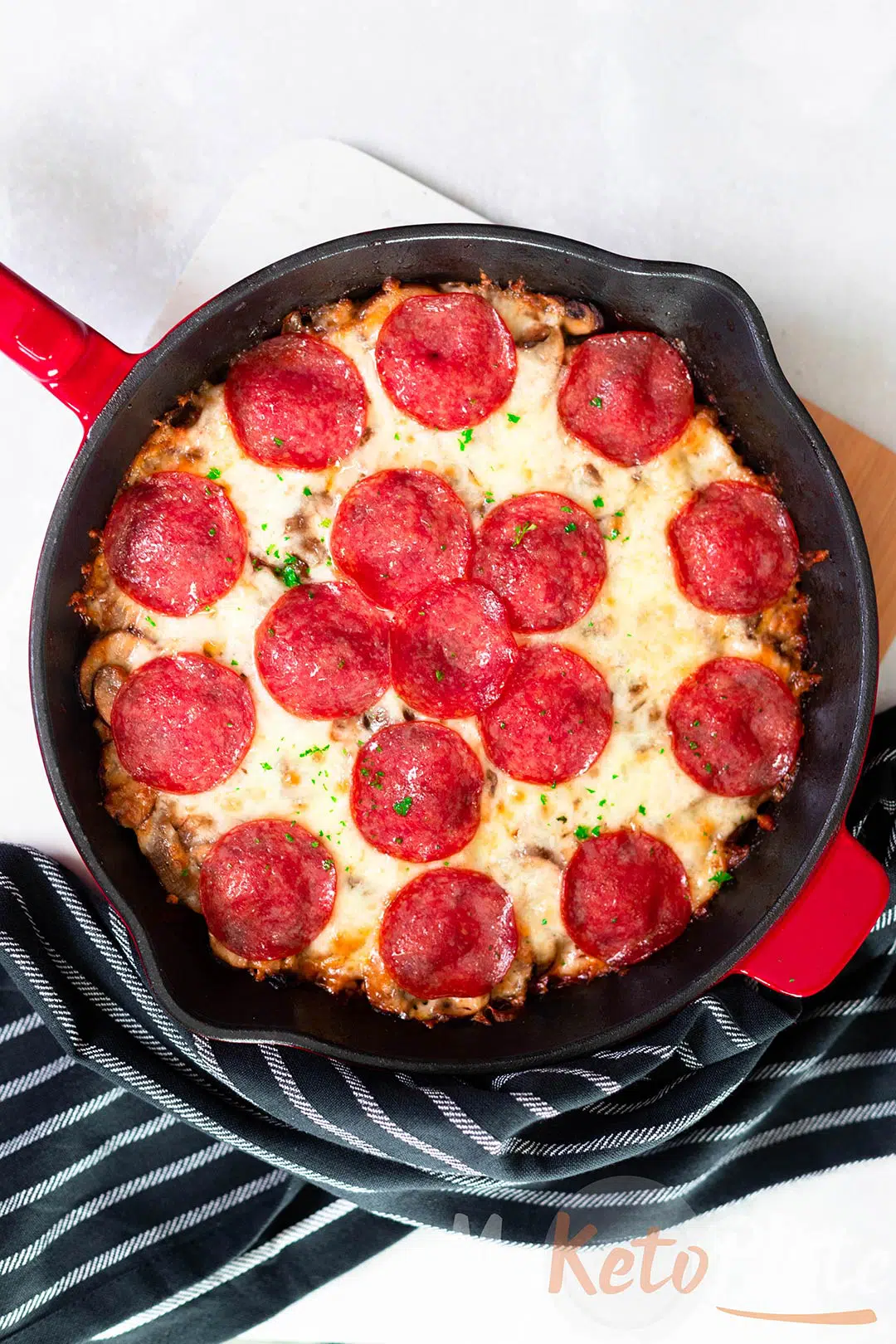 Is there anyone in this world who doesn't absolutely love pizza? I'm sure there are some exceptions, but for most of us, pizza is one of the best choices when it comes to a quick meal.
I shared my favorite keto pizza with fathead dough, and so many of you tried it and actually liked it. So, why another pizza recipe? Well, this is a special low carb crustless pizza recipe that's perfect for meat lovers. You don't have to make a crust, no cauliflower is involved, and cooks super fast in the oven. Great for those busy weeknights!
This skillet pizza without crust is naturally low carbs, quick to make, and loaded with protein. Topped with plenty of cheese, tomato sauce, and pepperoni slices, this crustless pizza is great for pizza night.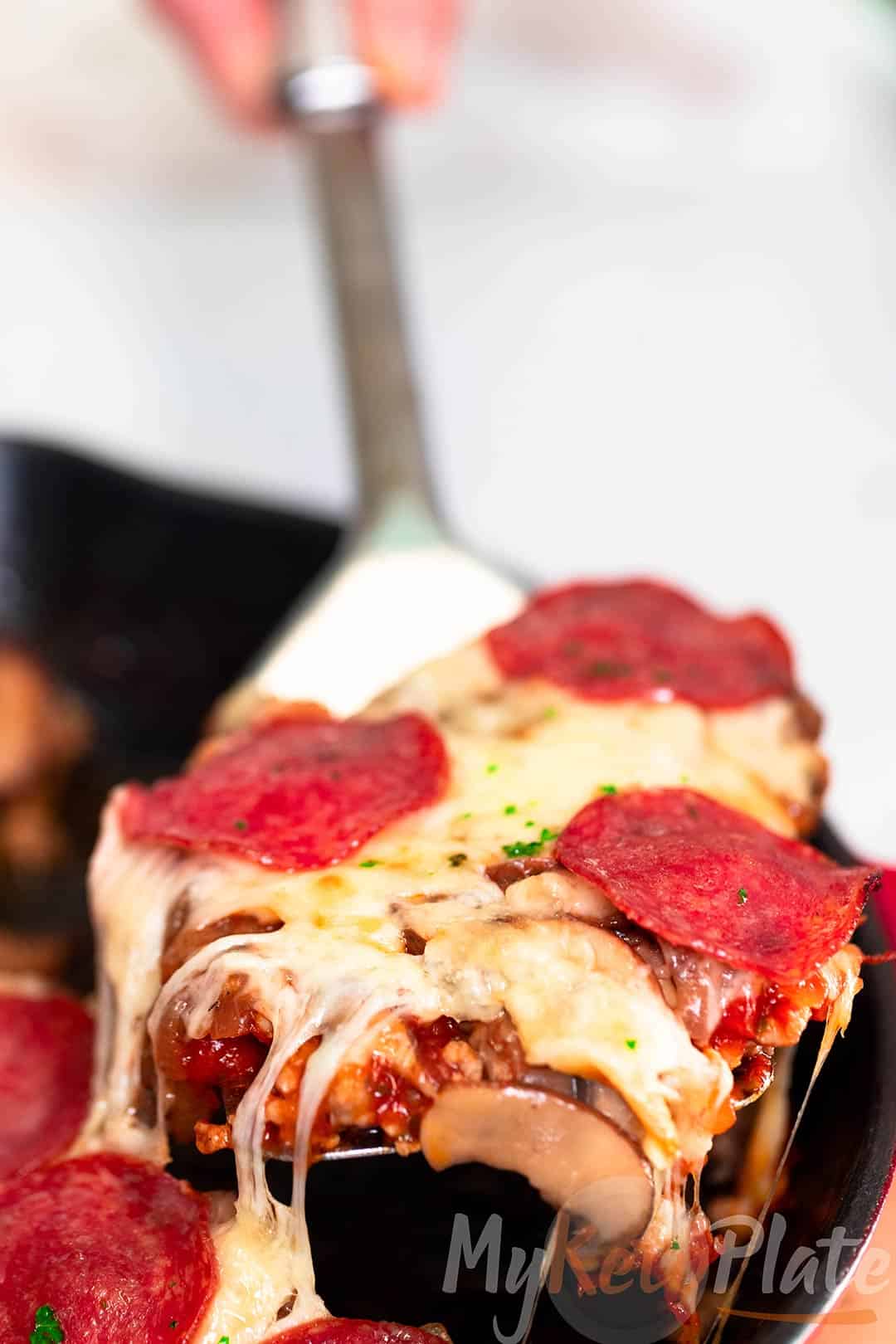 What Is Crustless Pizza?
A crustless pizza is a pizza without crust with a ground sausage base that's cooked and then topped with the best toppings to satisfy those cravings without the extra carbs. Since we're not making a pizza crust, this pizza skilled is way easier to make in just 20 minutes.
Is This Crustless Pizza Keto-Friendly?
Sure, crustless pizza is keto-friendly. This crustless deep dish pizza uses Italian sausage to create a delicious base instead of a traditional pizza crust to reduce the carbs. So, you can freely indulge in this crustless pizza!
Watch this quick step-by-step video to see exactly how easy it is to make the best crustless pizza recipe!
Why Are You Going To Love This Crustless Pizza Recipe
Naturally low carb and keto-friendly.
Super customizable- Add your favorite toppings.
You can make it ahead of time.
Easy to make in only 20 minutes.
Ingredients For This Crustless Pizza
Another great thing about this recipe is that it doesn't need fancy ingredients. Here are all the ingredients you'll need: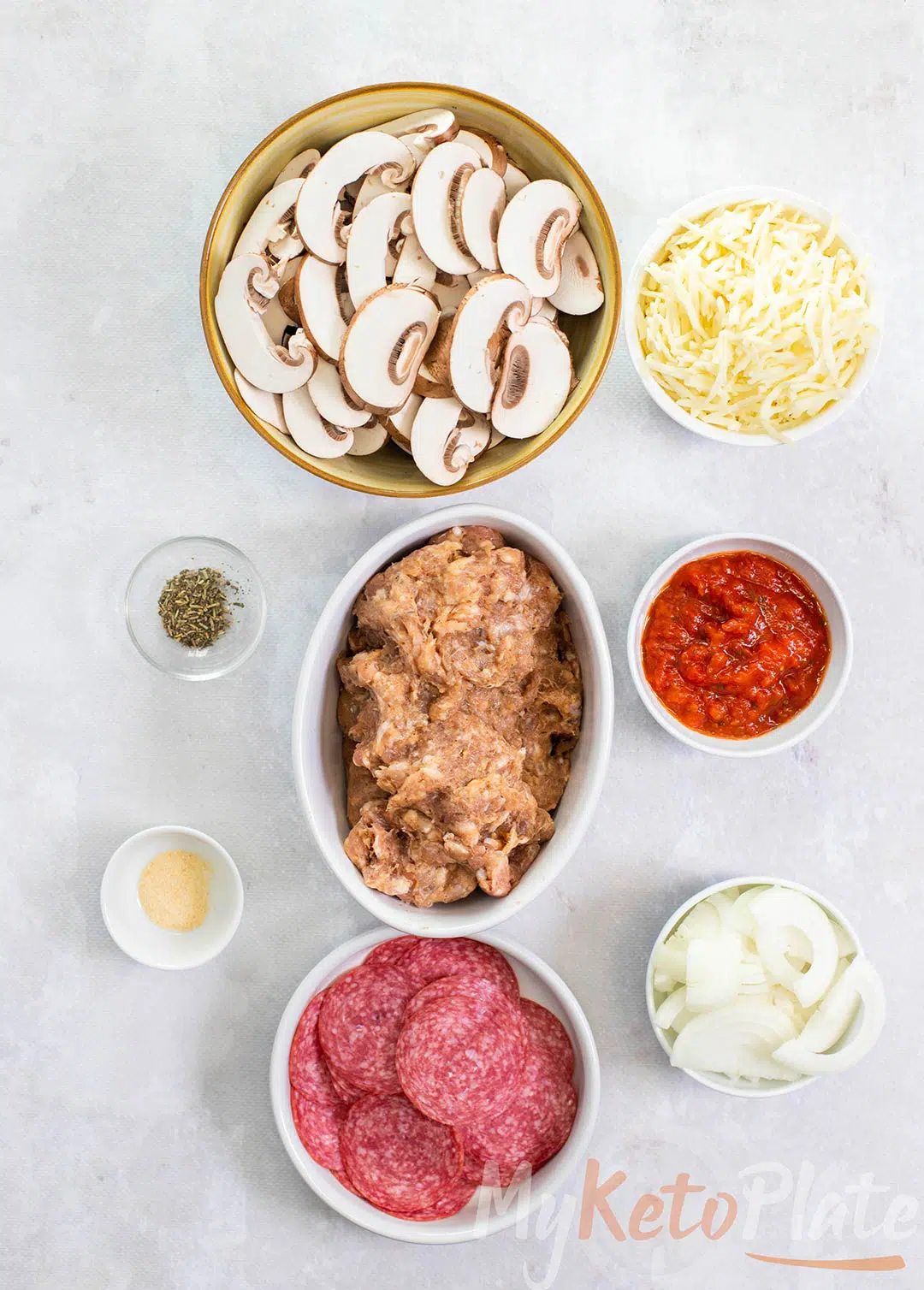 Italian Sausage- You may use any brand of sausage you like, but make sure to read the label to ensure there isn't any added sugar. You can also use ground turkey, chicken, or ground pork. Make sure to season the ground meat properly with your favorite seasonings.
Garlic Powder- you can also use fresh garlic, but I used garlic powder since the italian sausage is already seasoned.
Italian Seasoning – This is my favorite pizza seasoning, but you may use whatever you choose.
Mushrooms – I used baby bella mushrooms, but you can use your favorite mushrooms. You can also use red bell pepper slices.
Onion – either you are using red or yellow, both types are great for this recipe.
Pizza Sauce- you can make keto pizza sauce at home, but any store-bought sugar-free pizza sauce works fantastic.
Basil – fresh basil to garnish.
Mozzarella cheese- My favorite cheese for pizza is mozzarella, as it gets super melty and delicious. You can also use provolone Cheese, Cheddar Cheese, Pepper Jack, or Smoked Gouda.
Pepperoni- thinly sliced pepperoni is my favorite.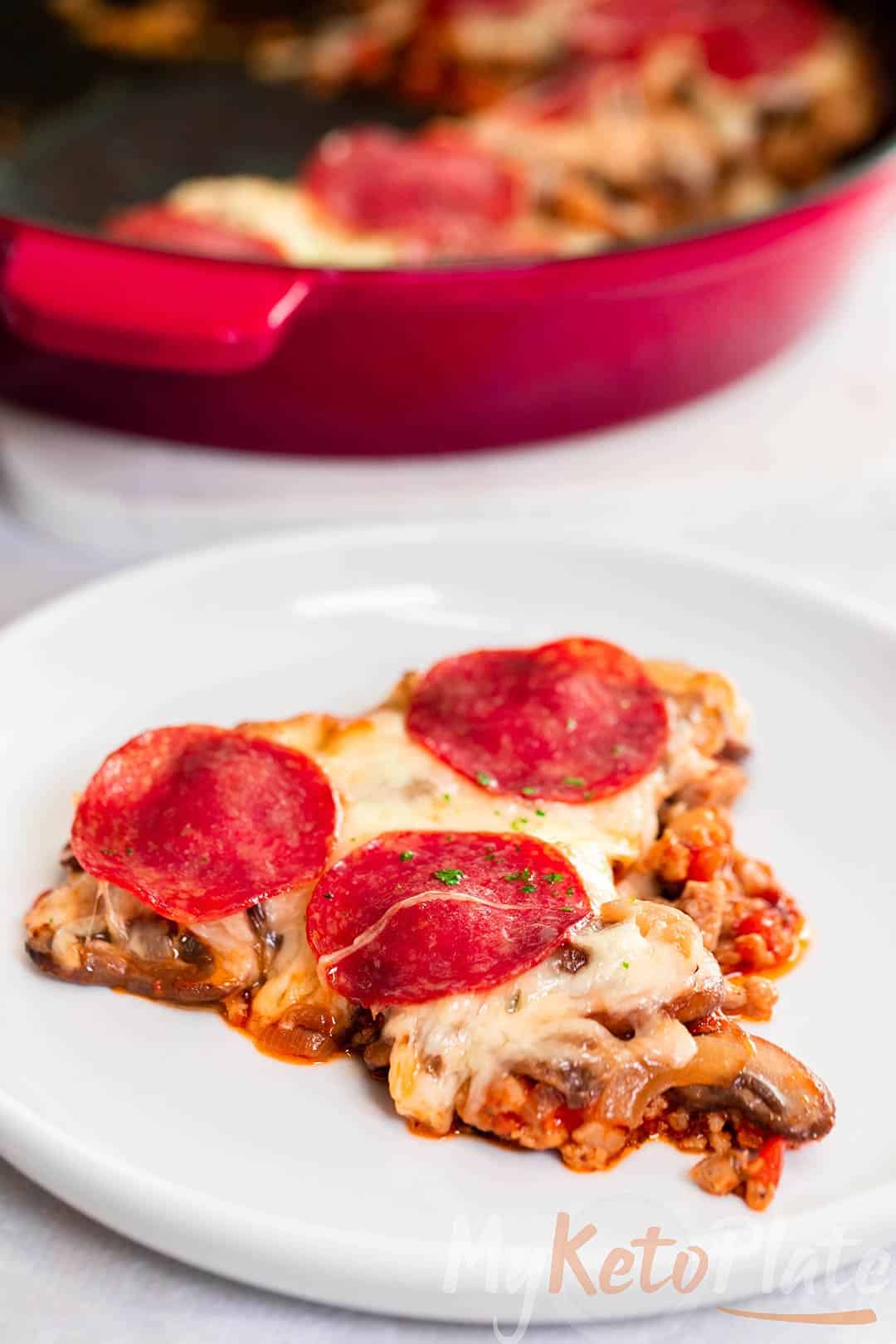 How To Make Crustless Pizza
If you love sausage and pizza, this easy keto recipe is perfect for you. Here's how to make a crustless pizza:
Cook the vegetables- Start by cooking the mushrooms and onion until tender over medium heat. Remove from the heat and keep warm.
Brown the sausage over medium-high heat. Using a spatula, break apart and cook until no longer pink. Drain as much grease as possible.
Assemble the crustless pizza– Spread the tomato sauce all over the cooked sausage, top with mushrooms and onions. Sprinkle mozzarella cheese, and top with pepperoni slices.
Bake in the preheated oven for about 10 minutes or until the cheese is super melty.
What Are the Best Toppings For Crustless Pizza?
I love to keep things simple, but the options for toppings are endless. Here are just a few ideas:
black olives
green peppers
spinach
roasted vegetables
mushrooms
pineapple
sausage
different types of cheese
chicken breast
arugula
bacon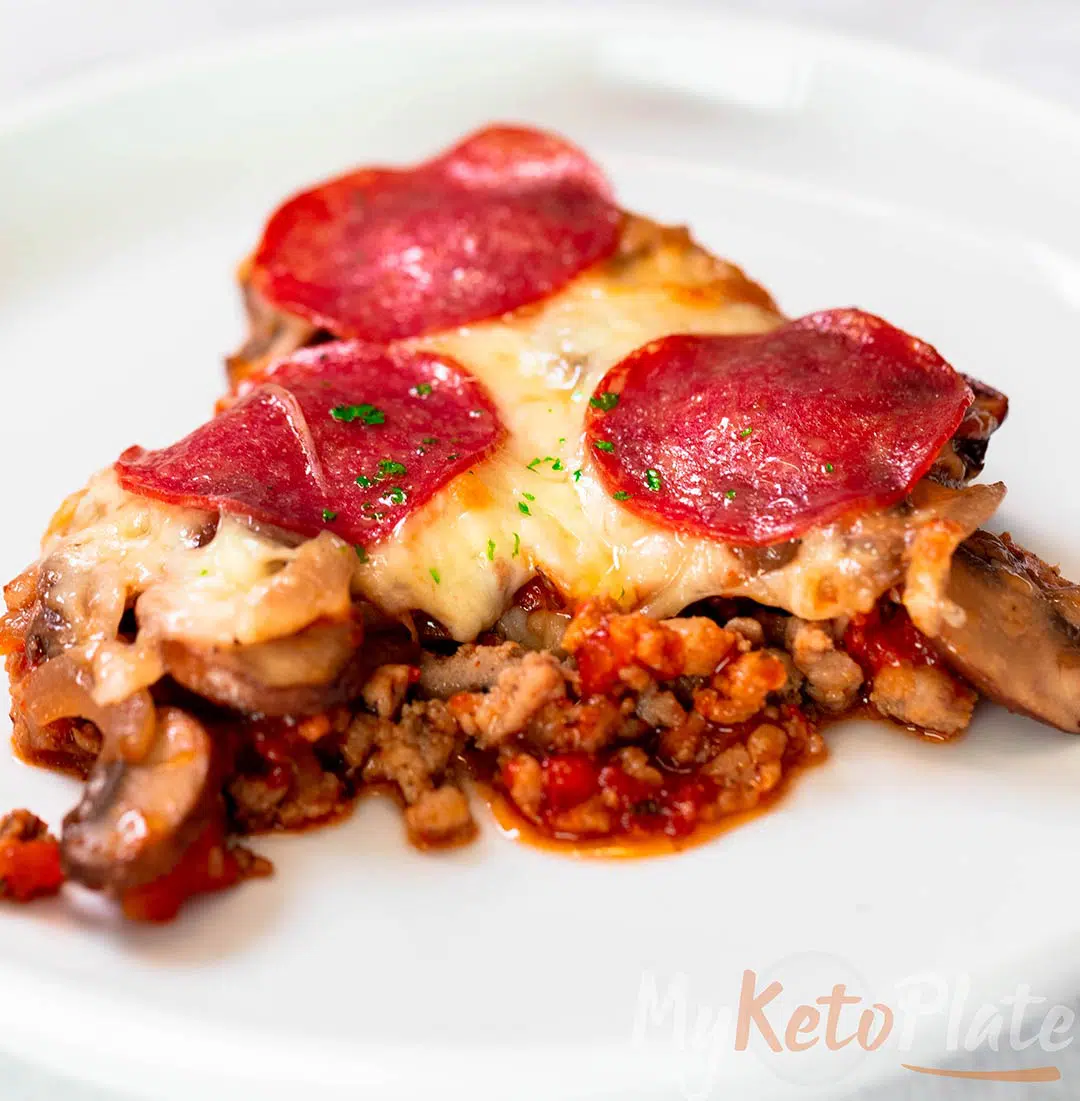 Can I Make This Recipe Ahead Of Time?
Sure, actually, this is a great thing about this recipe. First, prepare all the ingredients and assemble them just like we did in this recipe, then cover them in plastic foil and store it in the fridge.
When ready to enjoy, just bake it in the oven until the cheese melts and has a golden crust.
How To Serve
You can serve this crustless pizza as it is, topped with more pizza sauce, or with a side of leafy green salad. Zoodles or a strawberry spinach salad would also pair great with this no crust pizza.
How To Store
Fridge: You can store the leftover in an airtight container in the fridge for seven days.
Freezer: Allow the pizza to cool completely, then transfer to an airtight container and freeze for up to 3 months.
Reheating
It's super easy to reheat crustless pizza leftovers.
Microwave for 60-90 seconds.
Oven– 10 minutes at 350F.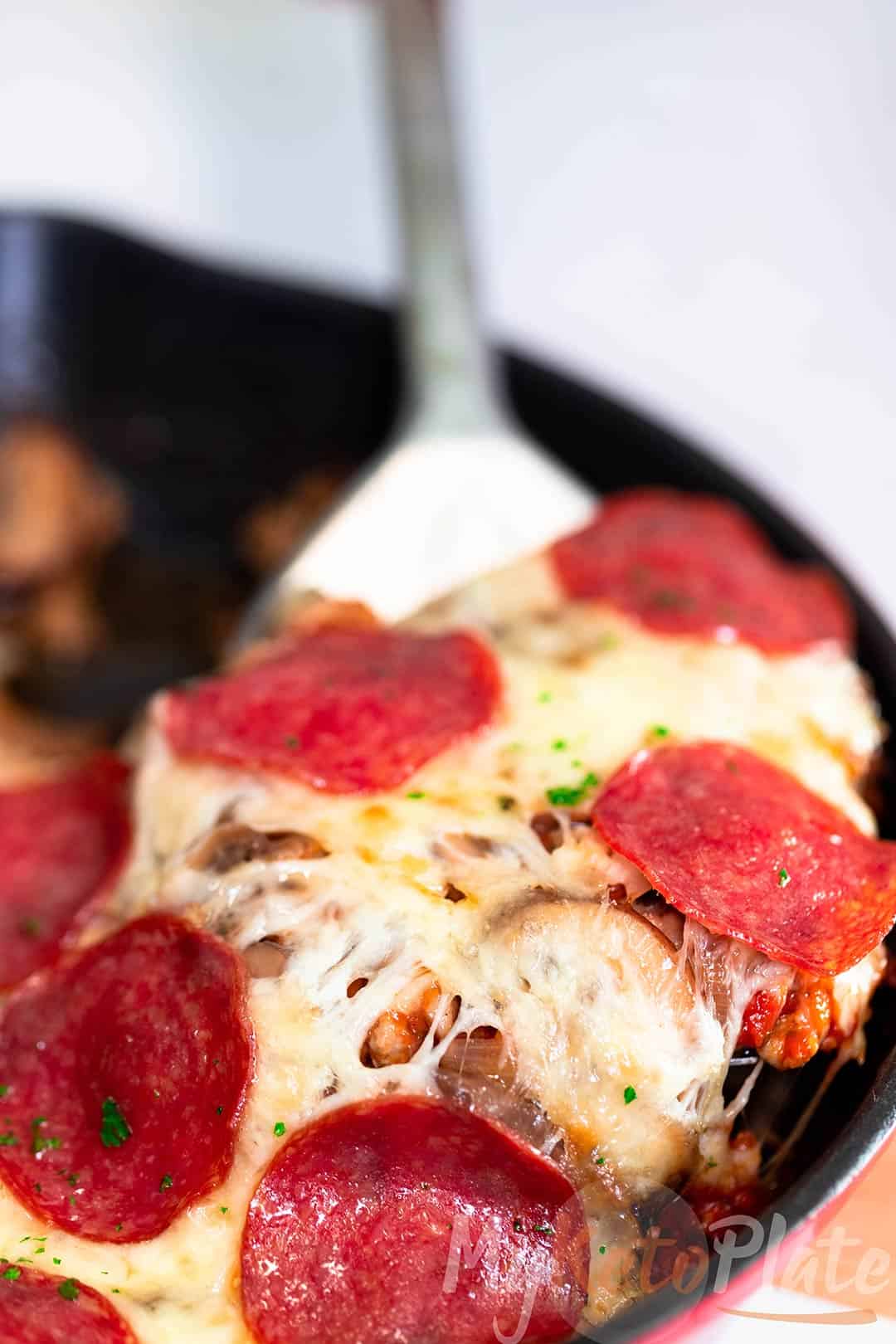 How Many Servings?
This recipe makes around 5 generous servings. However, depending on your hunger levels, this recipe can be divided into 4 servings.
Can I Order Crustless Pizza?
There are a few pizza chains that offer crustless pizza or cauliflower pizza. You have to ask as you might be lucky, and they thought about the keto fans and introduced a keto-friendly pizza on the menu.
More Delicious Recipes You'll Love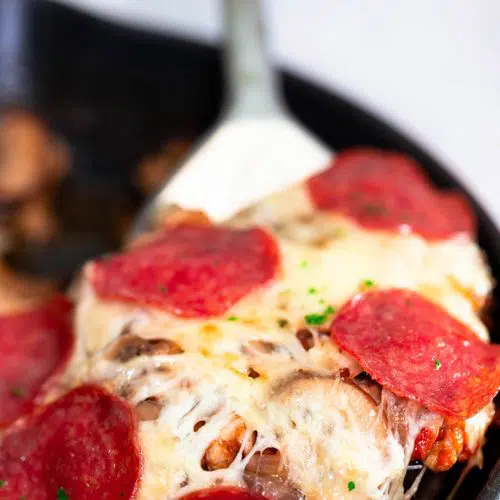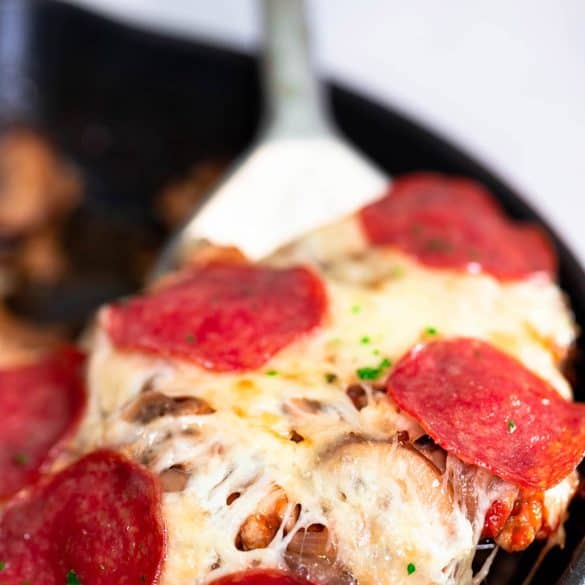 The Best Crustless Pizza Recipe
---
Description
If you're craving pizza, try this crustless pizza that's quick and easy to make. The ultimate low carb comfort food, a one pan dinner that takes 20 minutes to make from scratch.
Ingredients
1

pound

ground Italian Sausage

or any ground meat you like

16-20

pepperoni slices

1 ½

cups

mushrooms

sliced

½

cup

onions

sliced

1

cup

Marinara Sauce

1 ½

cup

mozzarella cheese

shredded

½

tsp

Italian seasoning

½

tsp

garlic powder

fresh basil

to garnish
Instructions
Preheat the oven to 400F/200C.

In an oven-safe 10-inch skillet, add one tablespoon of olive oil. Cook the onions and mushrooms until tender.

Brown the Italian sausage until no longer pink. Season with garlic powder and Italian seasoning if needed. Drain any excess fat.

Top the sausage with sauce, cooked onions, mushrooms, mozzarella cheese, and pepperoni slices.

Bake in the preheated oven for 10 minutes.
Notes
The serving size is 1/6 of the crustless pizza.
If you're looking for a zero carb pizza, skip the onions and mushrooms to greatly reduce the carb count.
Nutrition Facts
Amount per serving.
How do we calculate the nutrition info?
These nutrition facts listed are determined using nutrition information from the USDA Food Database. Our nutrition facts are accurate, but if you are using different products, please make your calculations. Net carb count is calculated by subtracting both fiber and sugar alcohols because they don't raise blood sugar.