Made with only 7 ingredients and ready in 20 minutes, these delicious homemade keto tortilla chips are the perfect snack. Super crispy and crunchy, enjoy low carb nacho chips with just 3g net carbs per serving.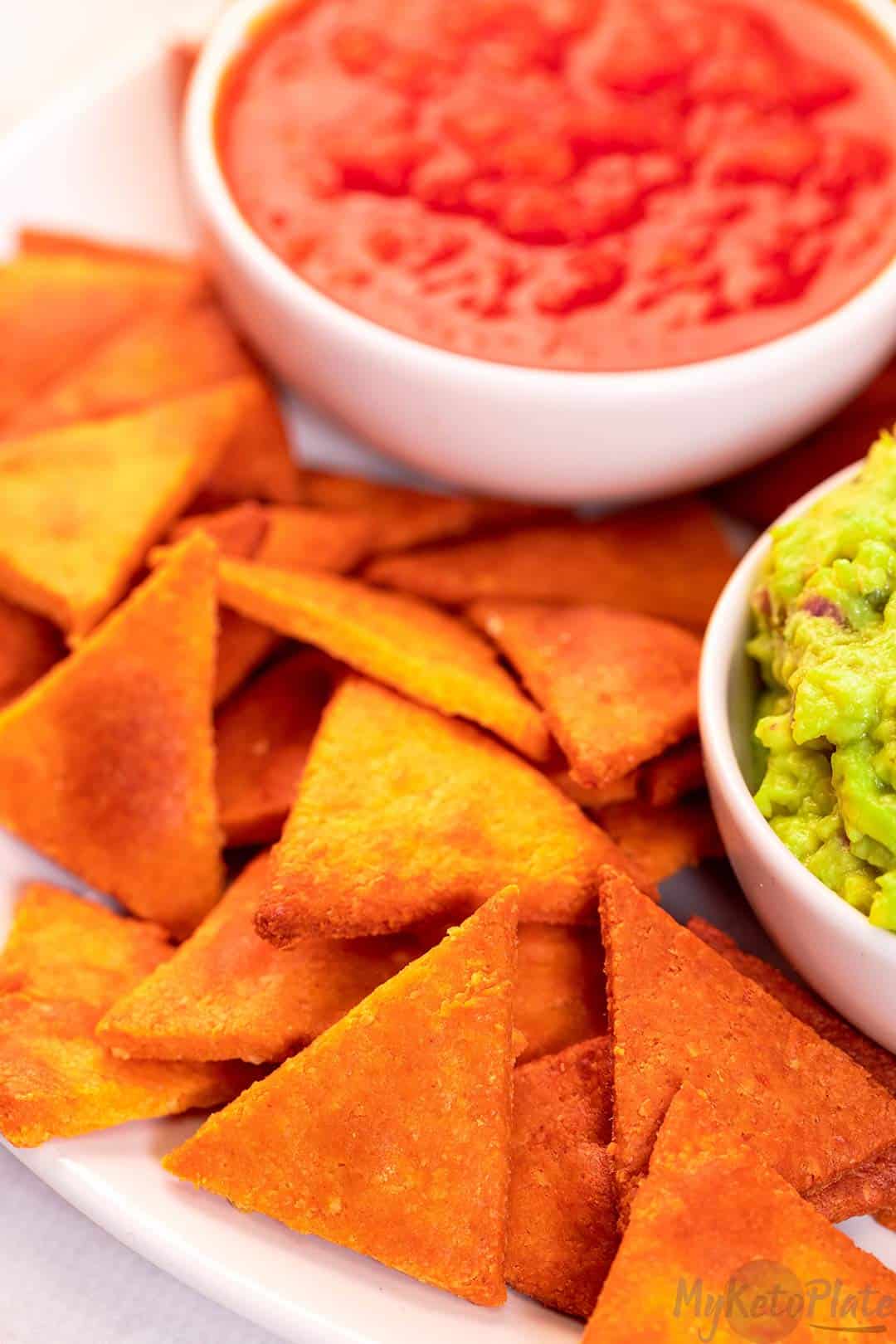 They have an irresistible cheesy flavor and can be served with your favorite dipping sauce.
So try these crispy low carb keto tortilla chips if you are looking for a keto alternative to regular tortilla chips that are high in carbs.
My thing is that I believe that any recipe can be made in a keto way and tortilla chips were a real challenge.
However, I managed to develop the best recipe to satisfy my chips cravings, and this keto friendly nacho recipe is super similar both in texture and flavor.
Just like my cheese chips and keto crackers, these keto tortilla chips are easy to make and super crispy.
Some recipes use low carb tortilla or pita bread to make keto approved nachos, but in my opinion, they aren't even close to the real deal.
Why Are You Going To Love This Keto Tortila Chips Recipe
Loaded with the classic corn flavor minus the carbs.
Easy to make in just 20 minutes
Super crispy and crunchy
The best keto snack or appetizer
Only 3g net carbs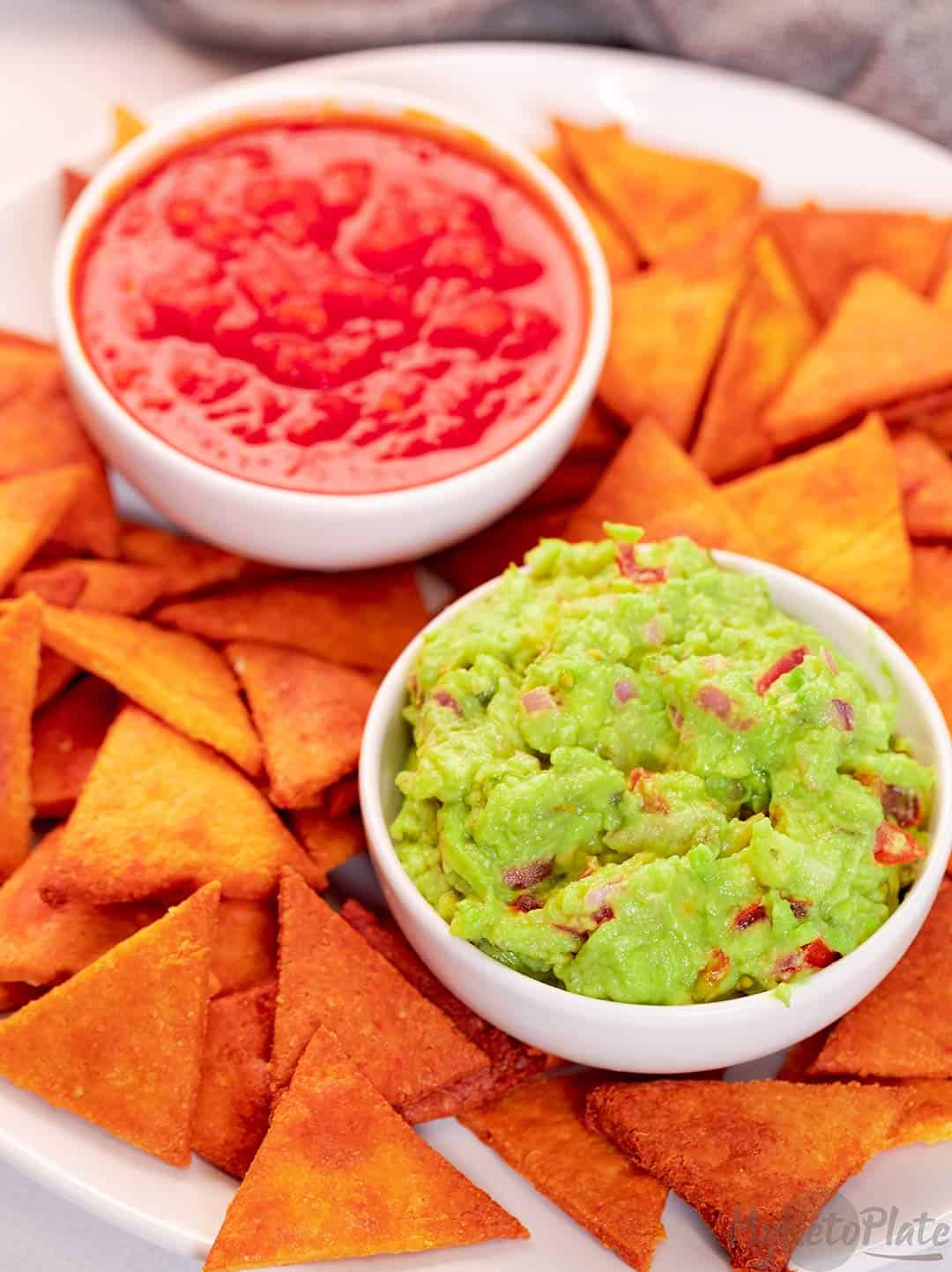 Are Tortilla Chips Keto-Friendly?
No, traditional tortilla chips are not keto-friendly because they are made with corn and wheat flour and other ingredients that are too high in carbs.
But fortunately, you can make your keto tortilla chips at home with just a handful of low-carb ingredients.
Keto Tortilla Chips Ingredients
It's super easy to make low carb tortilla chips from scratch at home, and you probably have most of these ingredients in your pantry. Here's a note on the ingredients: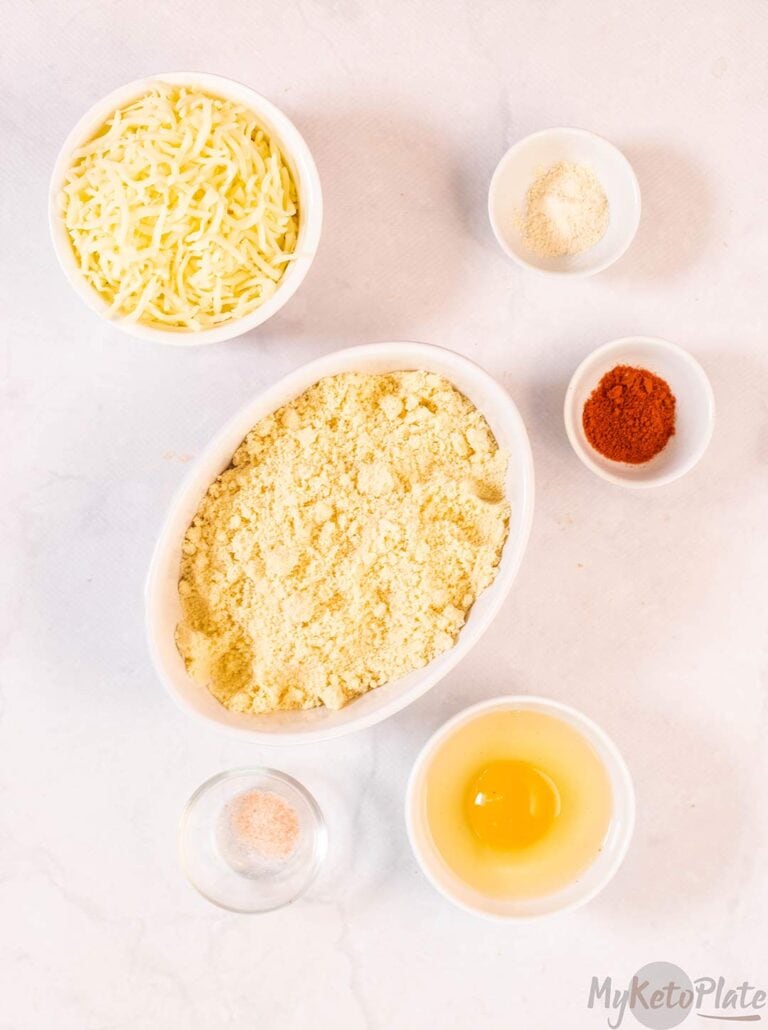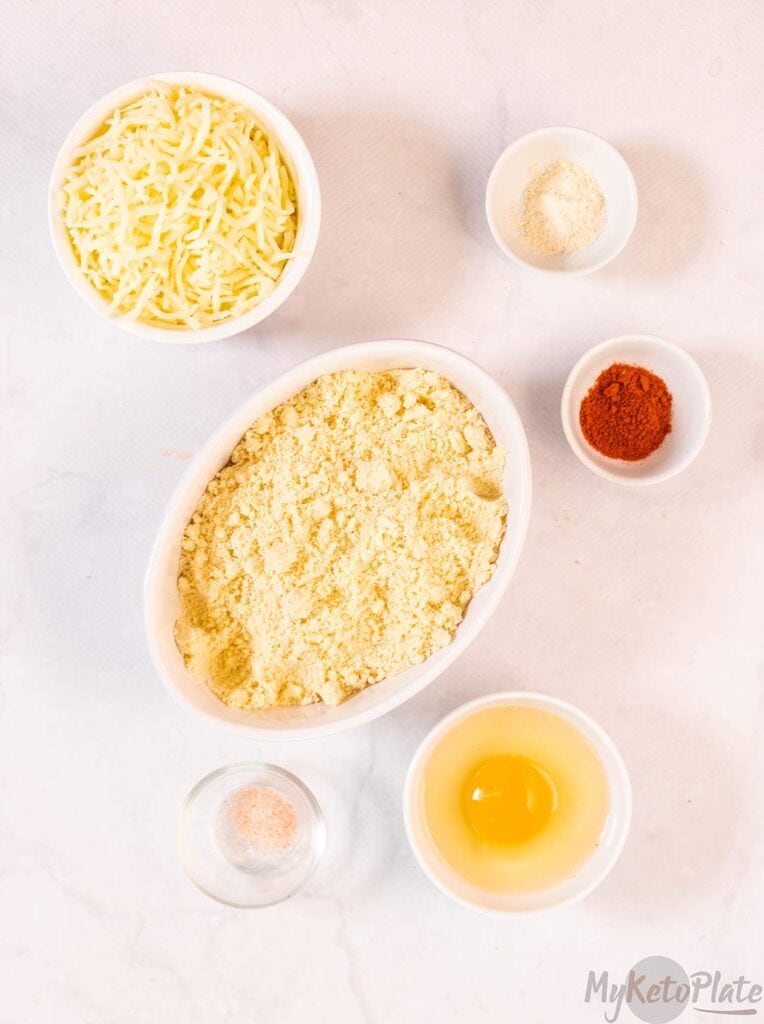 Almond Flour – choose a superfine blanched almond flour for the best texture. Almond meal can have a gritty texture.
Mozzarella Cheese – use low moisture mozzarella cheese for the fathead dough. Cheddar cheese is also a great option. 
Egg – this ingredient helps everything to bind together. Use room temperature egg to avoid eggy flavor. 
Corn Extract – an essential ingredient that helps replicate the flavor of corn without adding extra carbs. It's the same extract I used to make my keto cornbread recipe. 
Spices – garlic powder and chili powder for the best flavor.
Salt – to taste.
How To Make Keto Tortilla Chips
Once you see how easy it is to make keto tortilla chips, you'll make them super often. Here's how to make the best crispy and crunchy keto tortilla chips you have ever tried:
Make the dough: Start by adding the shredded mozzarella cheese to a microwave-safe bowl and microwave it for two minutes until it is fully melted.
Remove the melted mozzarella cheese from the microwave, add all the ingredients, and mix until the dough is formed.
Roll the dough: To avoid the dough from sticking to your rolling pin, roll the fathead dough between two pieces of baking paper.
Cut into triangles: Using a sharp knife, cut the dough into small triangle shapes.
Bake the tortilla chips for 10 minutes until golden brown and crispy.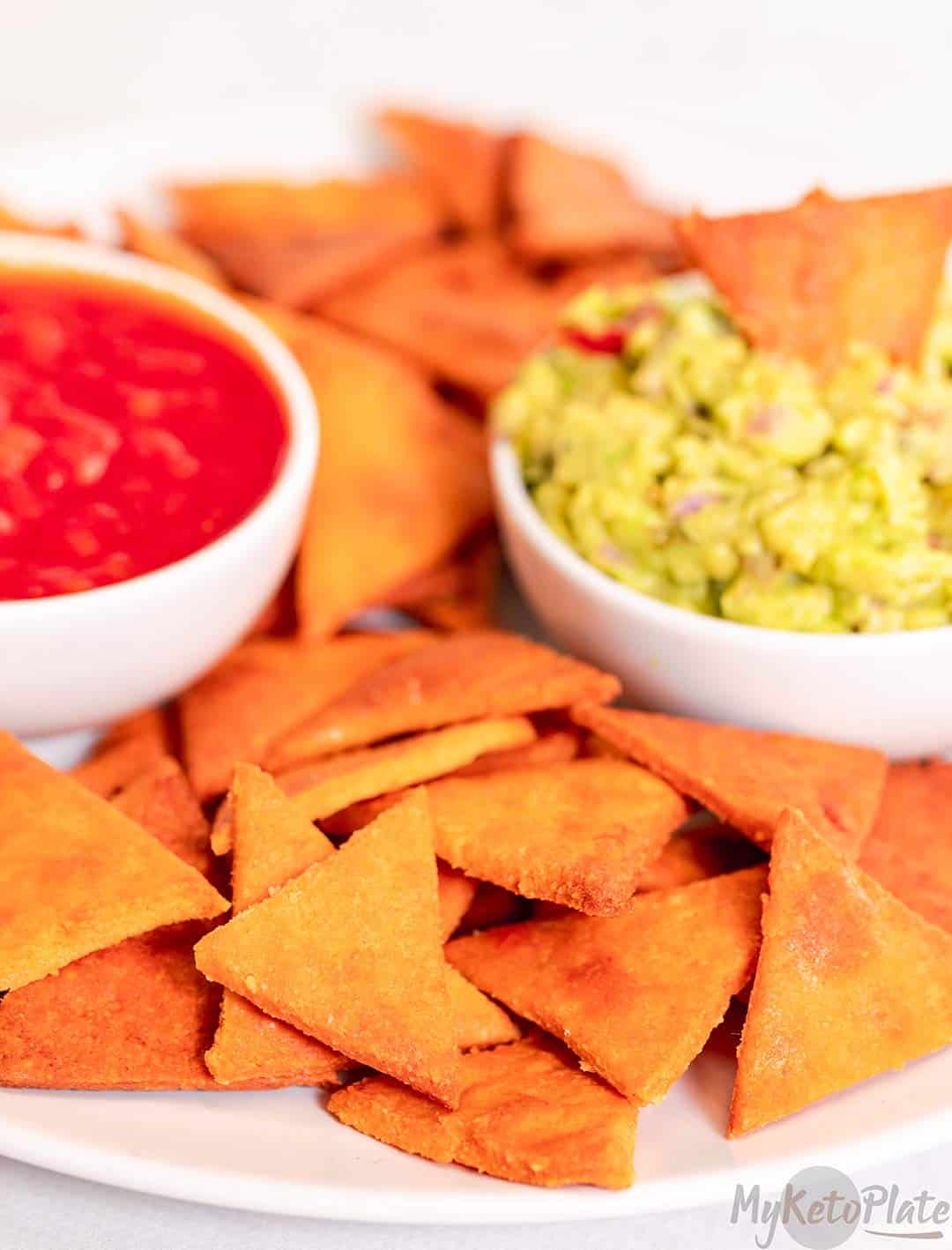 Tips For Making The Best Low Carb Tortilla Chips
As the tortilla chips bake, keep an eye on them because they tend to burn quicker than traditional chips.
If the dough is not mixing together, microwave it for 30 seconds to soften and knead again.
Use pre-shredded mozzarella that doesn't contain other starches typically added to shredded cheeses to keep the shreds from sticking together.
Roll the dough as thin as possible to obtain the crispiest keto tortilla chips.
Storing Ideas
Room temperature – You can store these keto tortilla chips in a plastic bag at room temperature for up to ten days.
Fridge– Place the low carb tortilla chips in an airtight container and store them in the fridge for up to 2 weeks.
Freezer – these keto tortilla chips are not freezer-friendly because once you thaw them, their texture will totally change.
If you're keto cheese chips soften when stored in the fridge or freezer, reheat them in the oven at 220F for 10-15 minutes.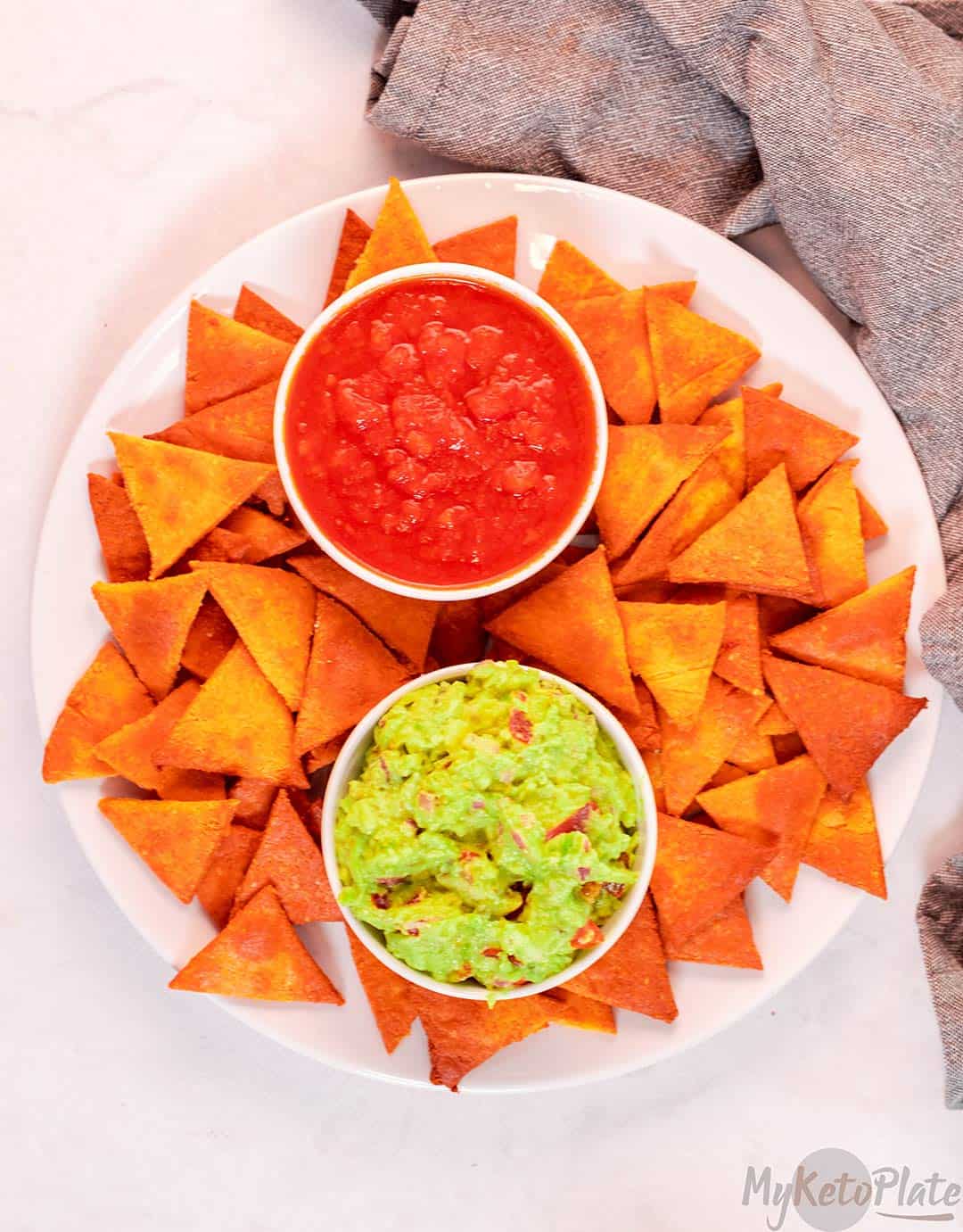 Serving Ideas
Although I like to eat these keto tortilla chips as simple as they are, you can pair them with many delicious dipping sauces. Here are some great ideas:
You can make delicious guacamole and salsa.
Make a cheddar cheese sauce.
You can serve them with salads.
A topping for soups.
Frequently Asked Questions
Are Tortilla Chips Healthy?
Since tortilla chips are often deep-fried and dusted with kosher salt, they are not a healthy snack. However, this homemade version is healthier than anything you can get from the grocery store and requires a few basic ingredients, making it a better choice for a snack.
Can I Make These Keto Tortilla Chips In An Air Fryer?
Yes, this is another fantastic and simple method for making tortilla chips.
Just follow the instructions above and air fry for 15 minutes at 400 degrees in a single layer.
Can I Make Flavored Keto Tortilla Chips?
Definitely, you can make these keto tortilla chips according to your taste. So feel free to add some smoked paprika for an intense smoky flavor, some hot sauce for a spicy flavor, onion powder, cumin, or anything you like.
Can I Use Coconut Flour Instead Of Almond Flour?
Almond flour and coconut flour have different proprieties, and the coconut flour absorbs liquids more quickly than almond flour. I don't recommend swapping the flour because you will have to change the amount of the rest of the ingredients.
More Keto Snacks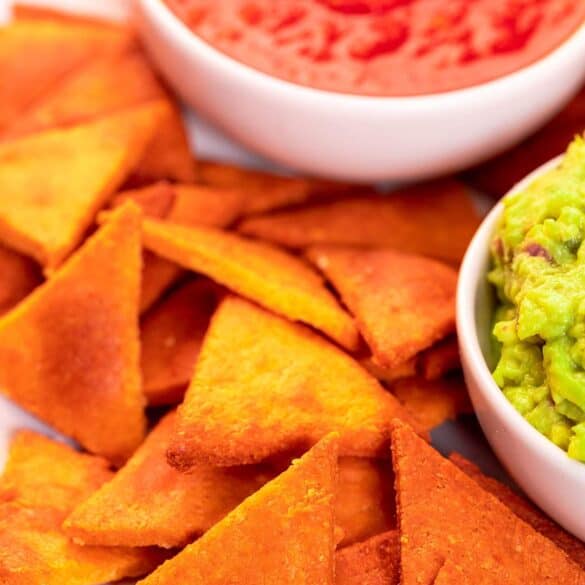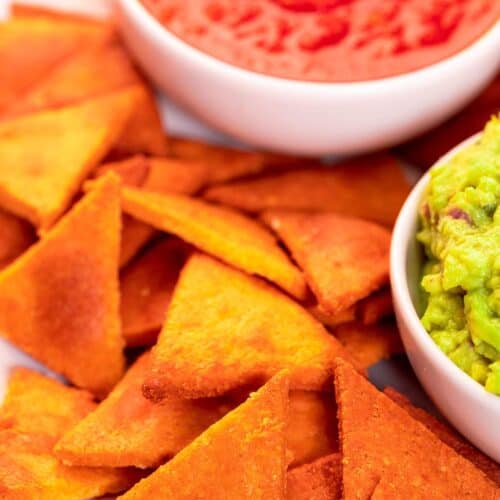 Description
Made with only 7 ingredients and ready in 20 minutes, these delicious homemade keto tortilla chips are the perfect snack. Super crispy and crunchy, enjoy low carb nacho chips with just 3g net carbs per serving.
Instructions
Preheat the oven to 350F/ 180C. Line a baking sheet with parchment paper and set aside.

In a large bowl, add the almond flour, chili powder, garlic powder, and salt.

In a microwave-safe bowl, add the mozzarella and microwave for 60 seconds until it's melted.

Add the melted mozzarella, egg, and corn extract over the almond flour.

Knead using your hands until a thick dough forms, and all the ingredients are well incorporated.

Place the ball of dough on a large piece of parchment paper and top with the second piece of paper. Use a rolling pin and roll out the dough until 1/6 inch thick.

Use a sharp knife or pizza cutter to cut the dough into triangles.

Bake for 10-12 minutes in the oven until golden and crispy.

Remove from the oven and allow to cool completely before serving.
Nutrition Facts
Amount per serving.
How do we calculate the nutrition info?
These nutrition facts listed are determined using nutrition information from the USDA Food Database. Our nutrition facts are accurate, but if you are using different products, please make your calculations. Net carb count is calculated by subtracting both fiber and sugar alcohols because they don't raise blood sugar.