Learn how to make the best sugar-free keto gummies using only 4 ingredients. They taste just like classic gummy bears but only 4g net carbs per serving.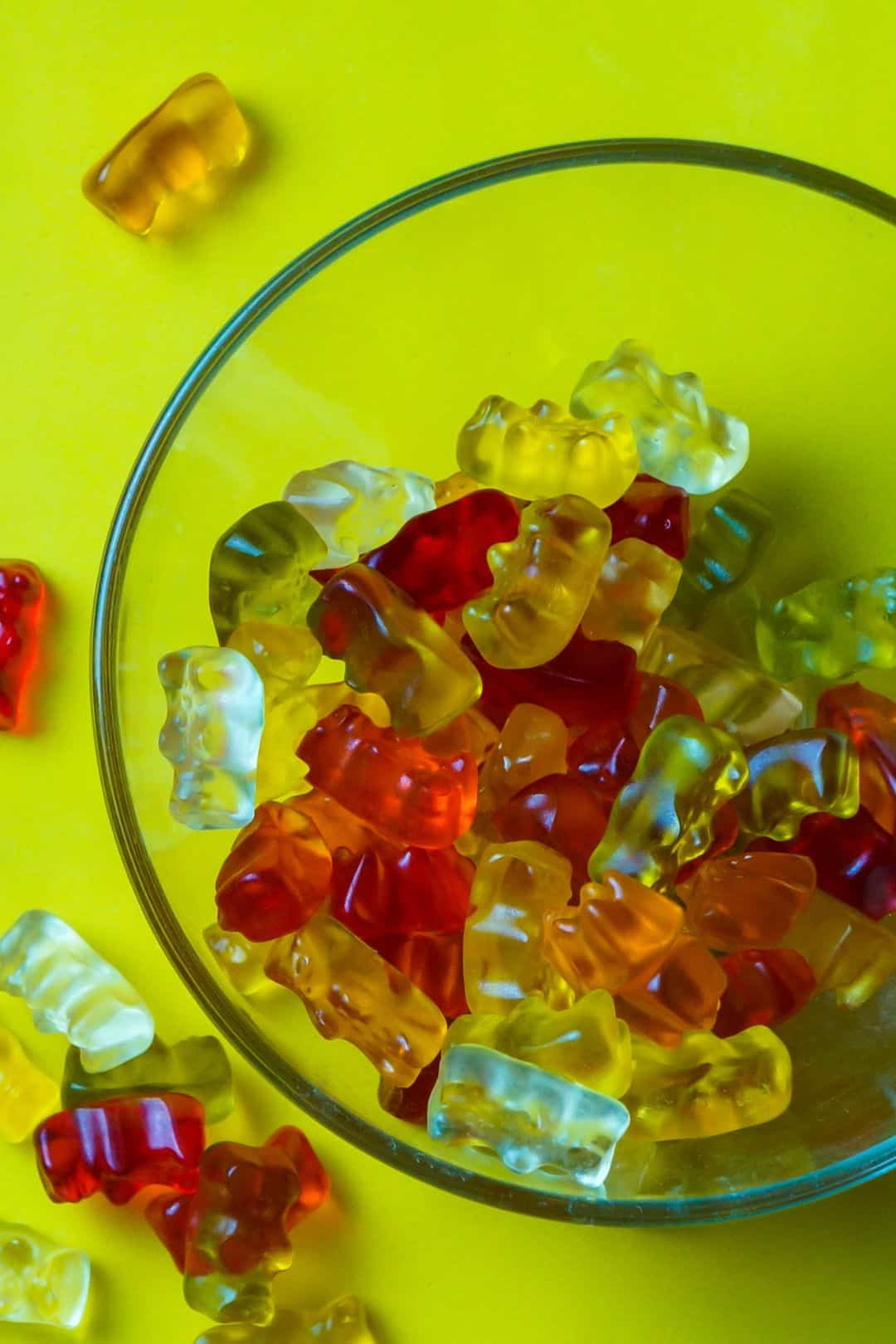 Just think about some delicious homemade sugar free gummies that are low in calories, packed with vitamins, colorful, and can be made in any shape you like.
Once you try this recipe, it will be hard to believe how chewy and delicious these keto gummies are. They have a great taste and are naturally colored with fresh strawberries.
For many of us, gummies are a series of childhood memories. And today, I decided to try a homemade gummy bear recipe that is made with naturally low-carb ingredients and contains fewer carbs than those from the store.
These sugar-free gummies are a healthy alternative to commercial sweets, just like keto marshmallows or chocolate fudge.
They are easy to make in just a few minutes and are soft, perfectly chewy and loaded with flavor.
Are Gummies Keto-Friendly?
Regular gummies found in stores are not keto-friendly because they are made using a lot of sugar and other high in carbs ingredients.
But fortunately, you can make a keto version of them by replacing some ingredients with naturally low-carb ones. And you will be surprised to see that the results are more delicious than those from the store.
Why Are You Going To Love These Keto Gummies
Has a naturally fruity flavor.
They are super easy to prepare.
They can be enjoyed by adults and kids also.
Contain only 4g net carbs per serving.
You can make them ahead of time.
They are great as a cure for a sweet craving.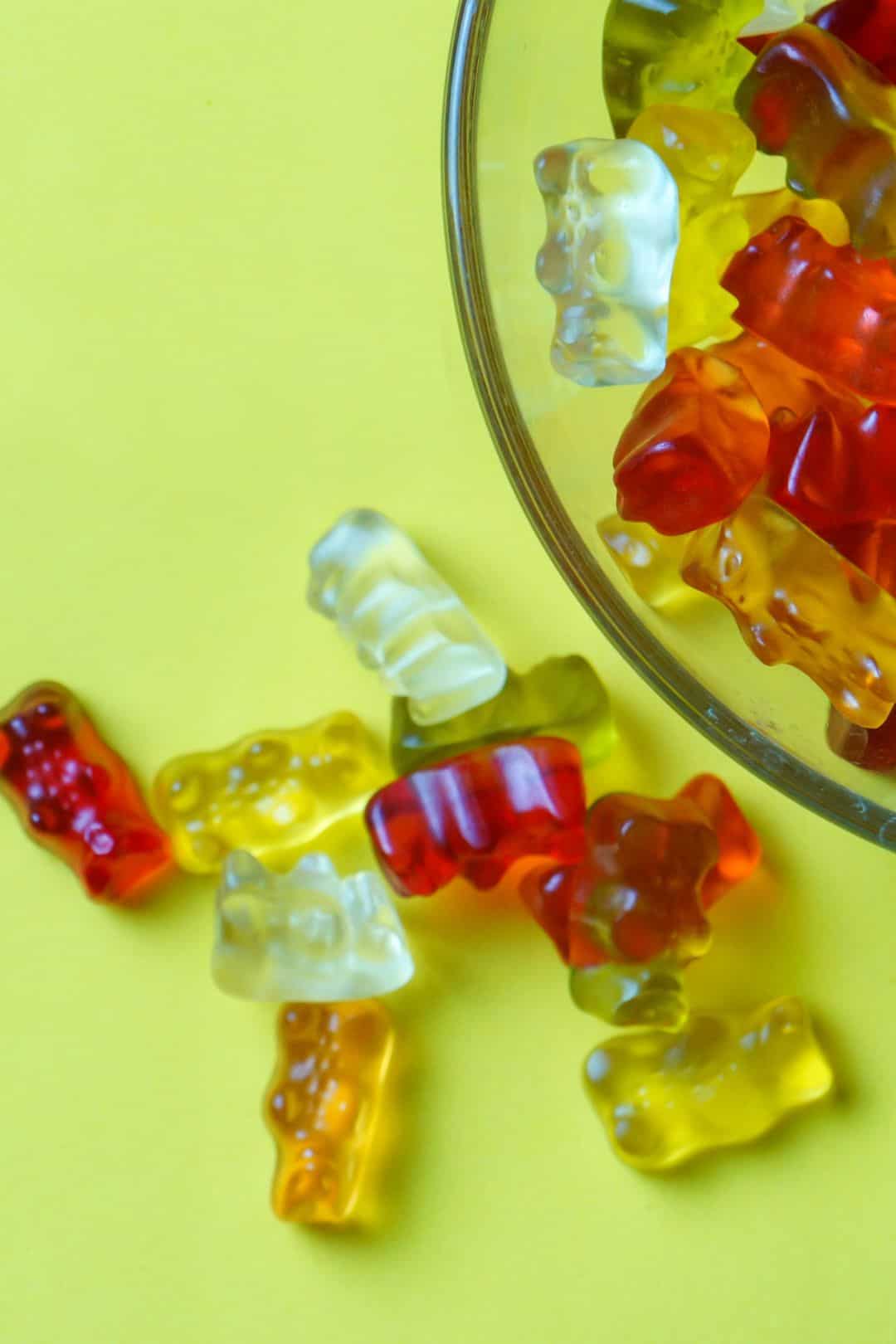 Ingredients For These Keto Gummies
You will need only 4 easy ingredients you probably already have in your pantry to create these delicious keto gummies. Here is a list of everything you will need:
Water – is used to create the strawberry juice and to hydrate the gelatin powder.
Strawberries – you will need juicy fresh, and ripe strawberries to obtain a sweet and delicious flavor. Replace with blueberries or raspberries for a different flavor.
Sweetener – feel free to use any low-carb sweetener like monk fruit or allulose. Just make sure that it is powdered to mix well.
Gelatin Powder – use unflavored gelatin powder to obtain that chewy texture.
How To Make Keto Gummies
Once you see how easy it is to prepare these delicious sugar-free gummies, you will never want to buy them from the store. Here is everything you have to do:
Prepare the strawberry sauce. Start by adding strawberries to a medium pot along with 1/4 cup of water. Bring to a simmer while stirring and mashing the strawberries.
Simmer them for 5 minutes until slightly thick.
Meanwhile, hydrate the gelatin. Add the gelatin powder to the bowl, pour the rest of the water over it and whisk until well combined. Set aside for 5 minutes.
Pour the strawberry mixture over a sieve with fine holes coated with a jelly bag. To extract the juice from the strawberries, press them with the back of a spoon.
Pour the strawberry juice back into the pan over medium heat, add the sweetener, and mix until well combined. 
Turn the heat to low, add the hydrated gelatin, and mix. Cook the mixture for 2 minutes until the gelatin is dissolved.
Fill silicone gummy bear molds with the strawberry mixture.
Refrigerate the keto gummies for about 2 hours; then, you can enjoy them.
Recipe Variations and Tips
You can make these sugar-free gummies using blueberries, raspberries, or blackberries as well.
You can make them into worms or heart shapes if you want.
You can use a toothpick to pop air bubbles that you press into the gummy candy molds.
To make it simple to shift your silicone molds without spilling anything, arrange them on a baking sheet.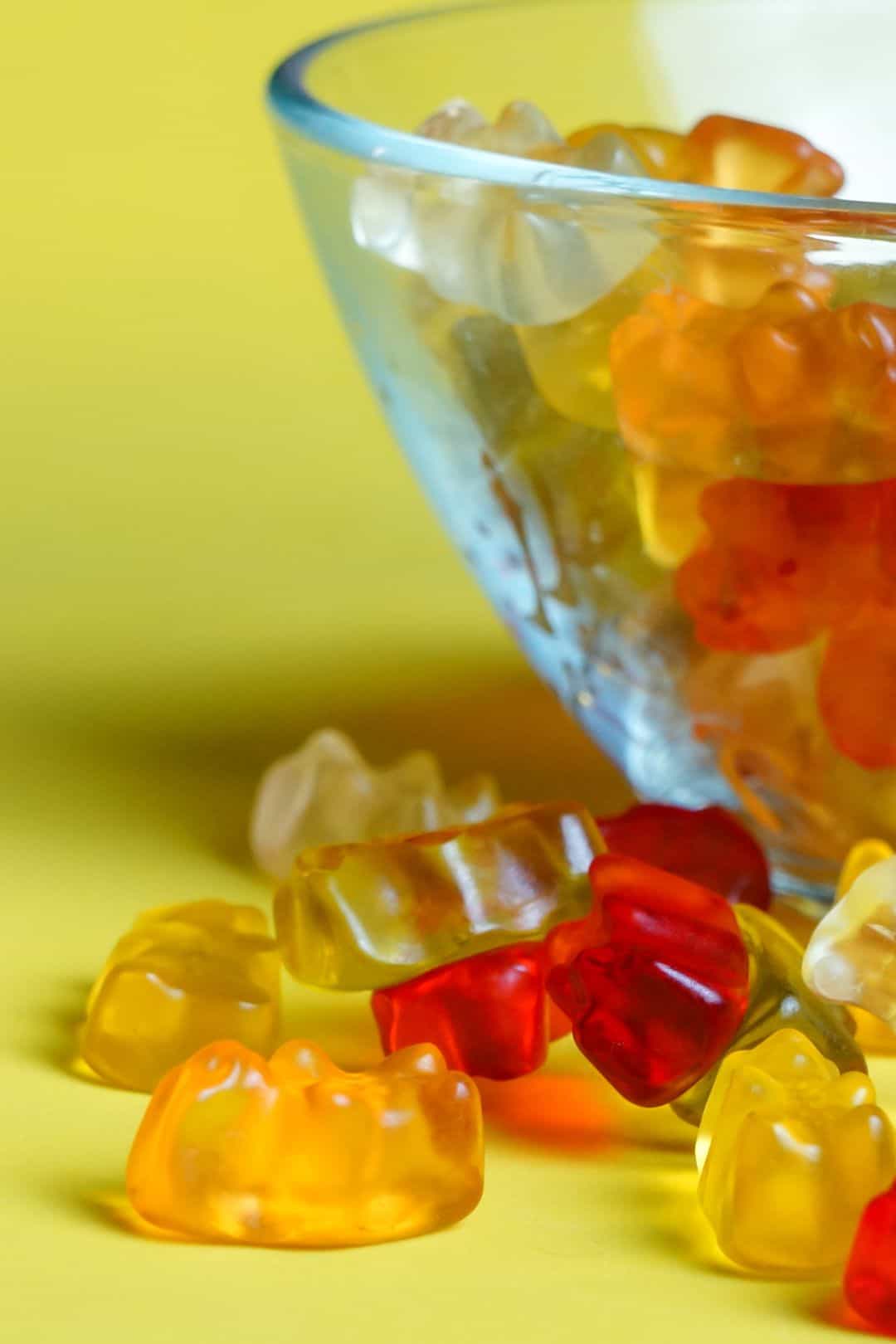 Storing Ideas
You can store these sugar-free gummies in the fridge in an airtight container for up to 7 days.
Frequently Asked Questions
What Are Gummies?
Gummies are candy made from gelatin powder, flavorings, sugar, and colorings that can be molded into different shapes, making them one of the most adaptable desserts ever.
Can I Make This Recipe With Other Fruits?
Sure, feel free to make this recipe using your favorite fruits like blackberries, raspberries, or lime.
Can We Store These Gummies At Room Temperature?
These keto gummies can not be stored at room temperature because they are made with fresh strawberries and natural ingredients.
Can We Freeze These Keto Gummies?
Sure, if you want to freeze the gummy bears, transfer them to a baking dish lined with parchment paper and freeze them. Then you can transfer the gummies to a freezer-safe bag and store them in the freezer for up to one month.
More Keto Desserts To Try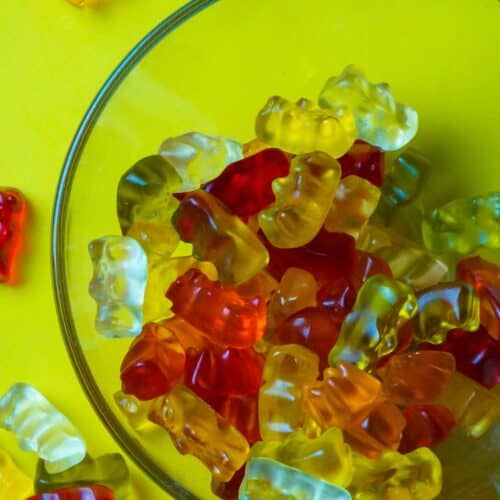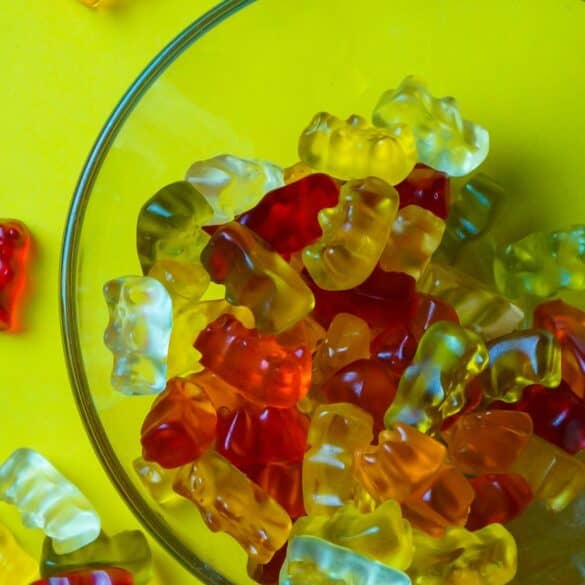 Description
Learn how to make the best sugar-free keto gummies that are made using only 4 ingredients and have just 4g net carbs per serving.
Ingredients
3/4

cup

Water

12

oz

Strawberries

quartered

1/3

cup

Sweetener

2

tbsp

Unflavored gelatin powder
Instructions
Add 1/4 cup water and quartered strawberries to a saucepan. Bring them to a boil, stirring and mashing the strawberries to soften them.

Reduce the heat to medium and simmer the mixture for 5-7 minutes.

Meanwhile, pour the rest of the water into a bowl and sprinkle the gelatin powder over it. Whisk everything, then let the mixture bloom for about 5 minutes.

Once the berries are soft, pour the mixture over a sieve and strain using a spoon or spatula to push the juice into the bowl.

Once you obtain 3/4 cup of juice, add it to a saucepan over medium-high heat with the sweetener and mix to dissolve.

Reduce the heat to low. Add in the bloomed gelatin and mix for about 2 minutes until the gelatin dissolves.

Turn off the heat and fill the silicone gummy beat molds with the liquid. You can do that using a dropper.

Transfer the molds to the fridge and let the gummy set for at least 2 hours.

Remove the molds from the fridge and pop out the bears.

Store them in the refrigerator and enjoy.
Nutrition Facts
Amount per serving.
How do we calculate the nutrition info?
These nutrition facts listed are determined using nutrition information from the USDA Food Database. Our nutrition facts are accurate, but if you are using different products, please make your calculations. Net carb count is calculated by subtracting both fiber and sugar alcohols because they don't raise blood sugar.