This keto cornbread is a super simple and quick recipe perfect for soups and chili. Learn how to make the best almond flour cornbread without corn that tastes exactly just like a traditional one.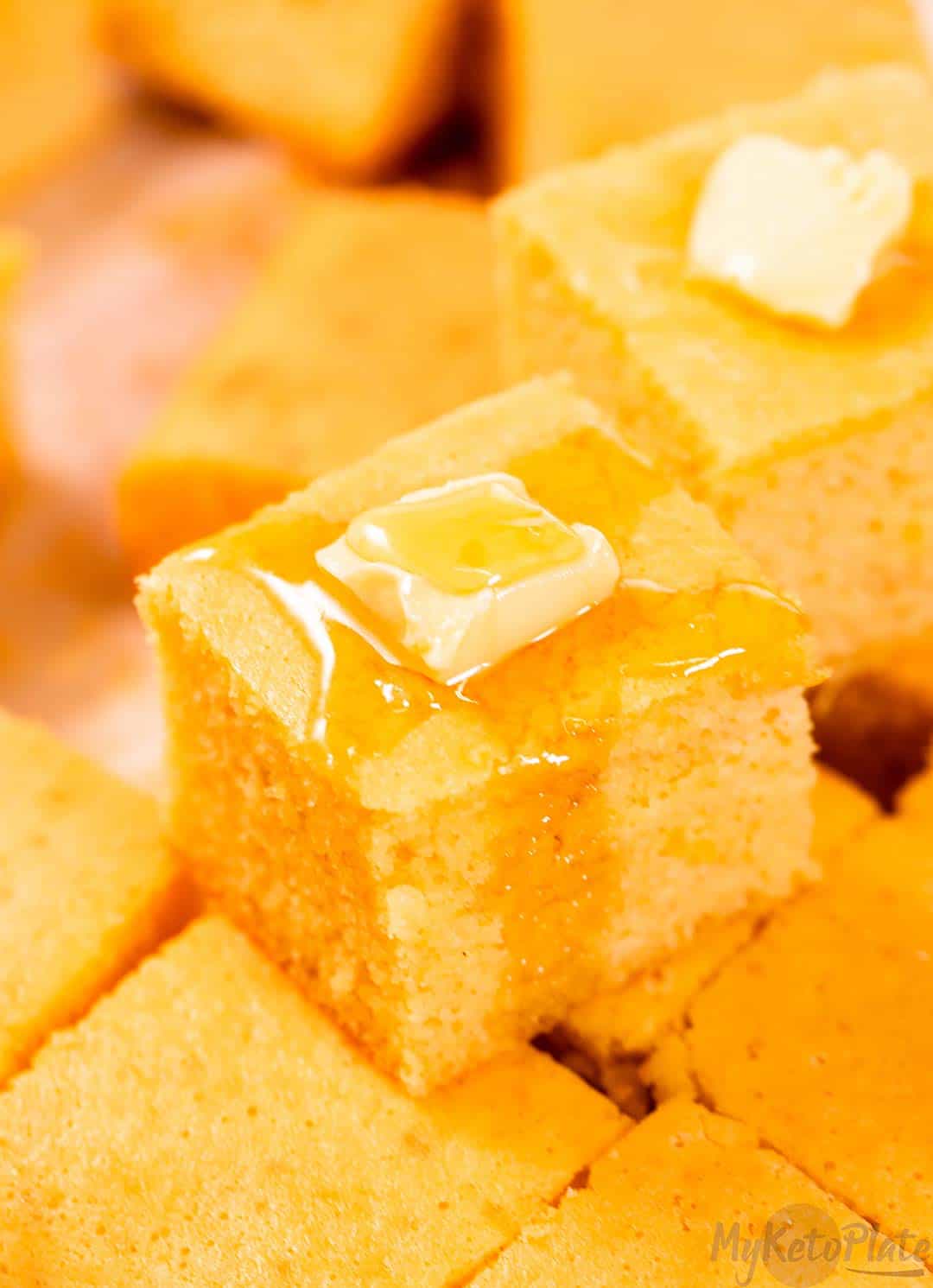 After extensive testing, I discovered the perfect low carb almond flour cornbread recipe that's soft, buttery, and moist. It's delicious served sweet or savory, contains no corn, and has less than 2g net carbs per serving.
Made with just a few simple ingredients, this easy keto cornbread is the best alternative to the classic southern cornbread. Fill your house with the smell of homemade cornbread that's just as delicious, thanks to a special secret ingredient.
Although this bread doesn't contain cornmeal since it isn't low-carb or keto-friendly, it still has the most incredible flavor.
Keto Cornbread Recipe Video
Why Are You Going To Love This Keto Cornbread Recipe
Super easy to make
Only 2g net carbs per serving.
Fluffy, moist, and tender
Perfect for serving with keto soups or keto chili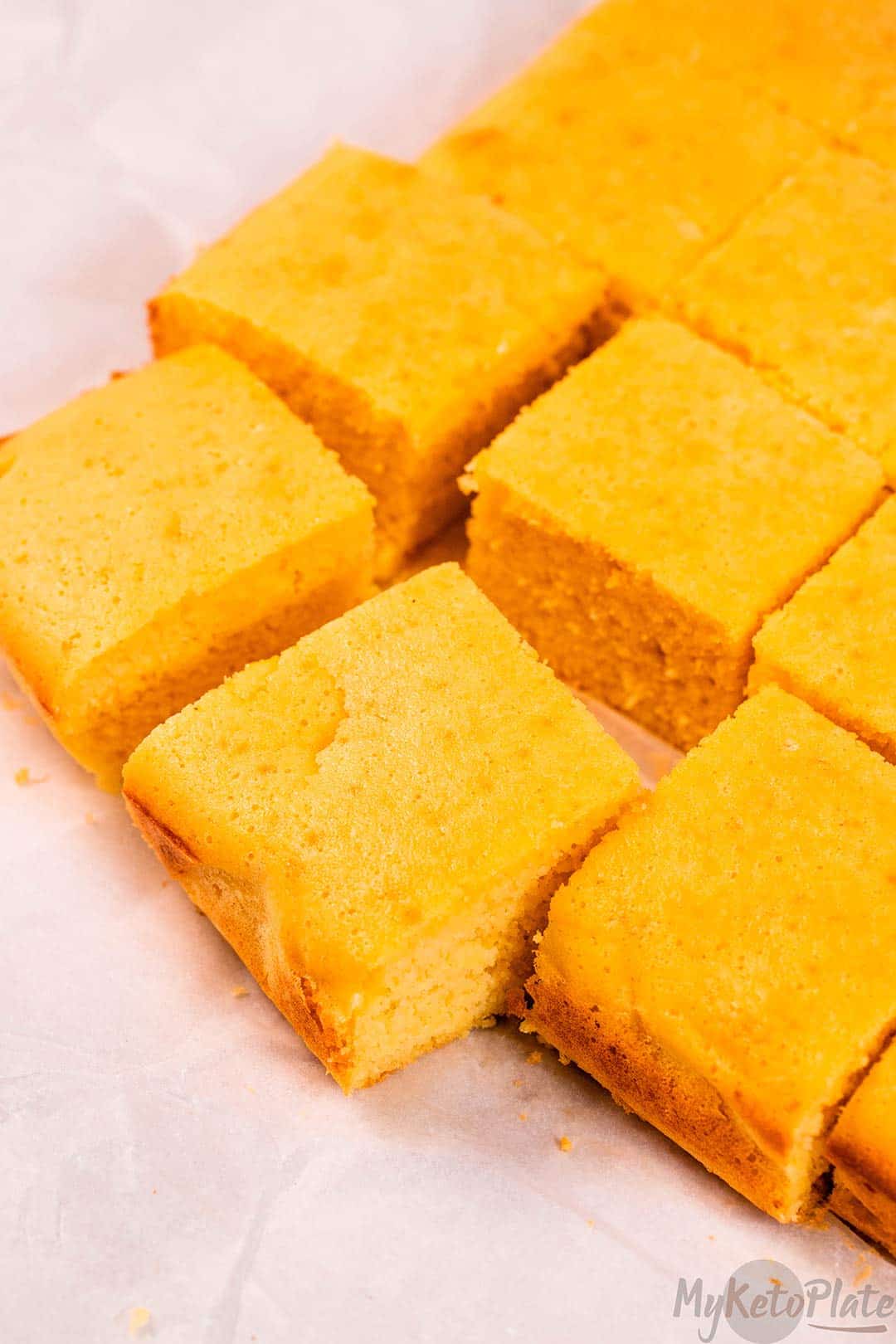 Is Cornbread Keto Friendly?
Traditional cornbread, made with sugar, corn flour, and wheat flour, is not keto-friendly because all the ingredients are too high in carbs.
But fortunately, with some adjustments to the ingredients, you can make a delicious keto cornbread that tastes exactly like the traditional one.
To make low carb cornbread, we'll need corn extract to replicate the traditional corn flavor minus the carbs.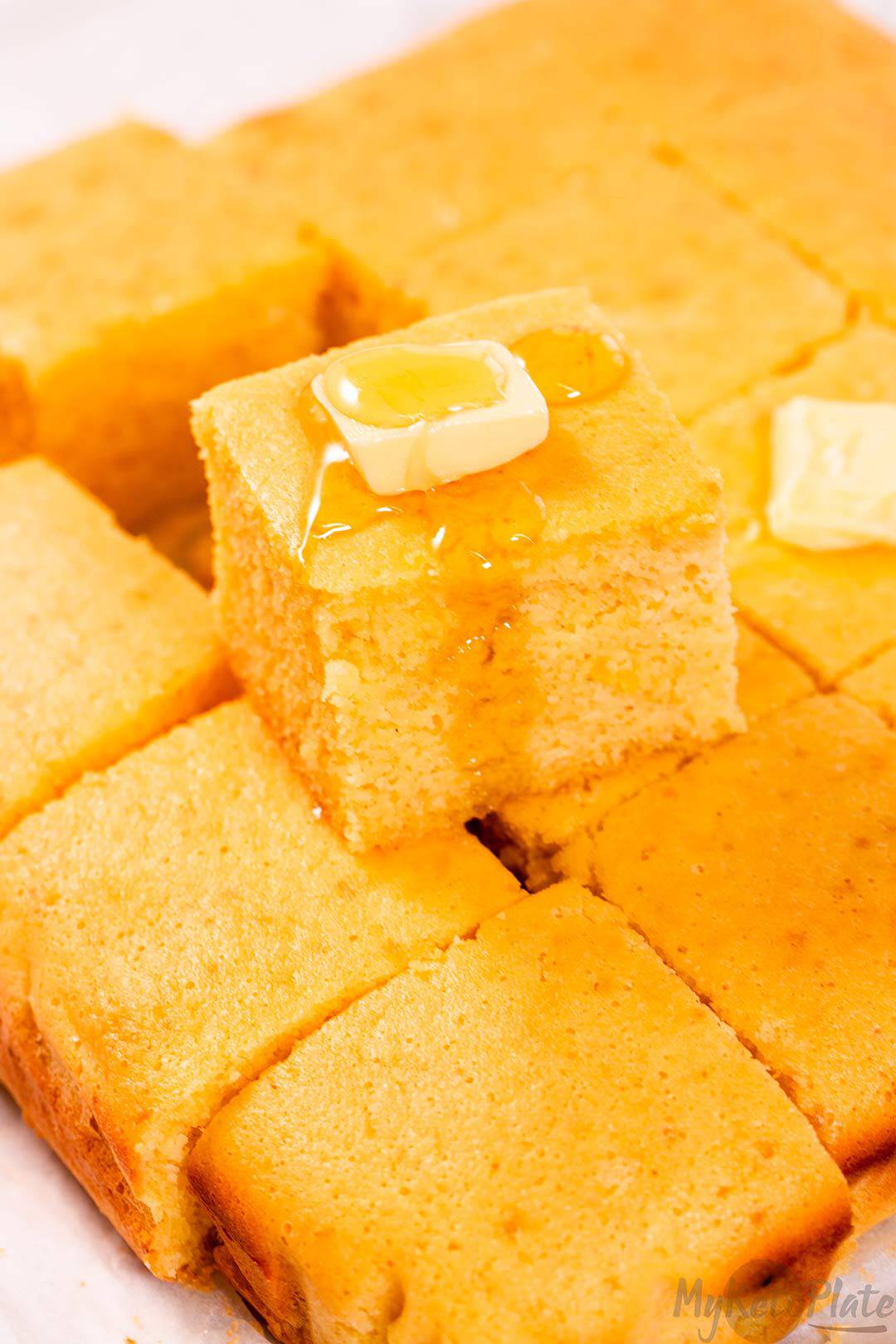 Keto Cornbread Ingredients
You will need only a few ingredients to make this delicious keto cornbread. Here is everything you will need: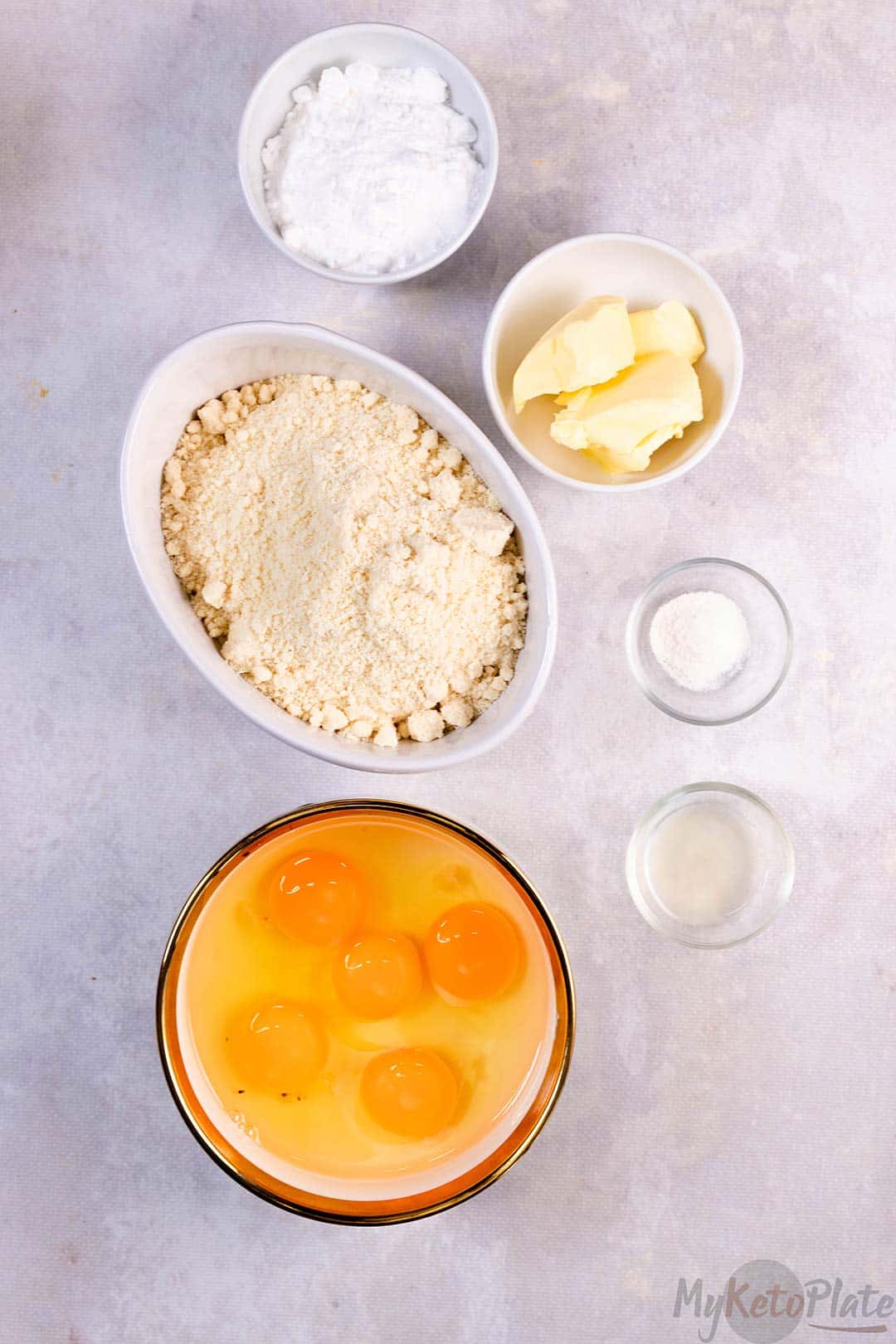 Almond Flour – This recipe doesn't require using extra-fine almond flour like most of my keto recipes. Almond meal is perfect.
Sweetener – use your favorite granulated sweetener, such as Erythritol or Monk fruit.
Eggs – use room temperature large eggs to avoid that eggy taste.
Butter – use unsalted butter to add a lovely buttery flavor.
Baking Powder – helps the bread rise beautifully and become fluffy.
Sweet Corn Extract – for the best corn flavor but with fewer carbs.
How To Make Keto Cornbread
Just follow the next steps to make the best gluten-free cornbread that is incredibly fluffy and delicious.
Start by preheating the oven, then line a baking dish with parchment paper. You can also use a cast iron skillet to make this almond flour cornbread recipe.
Add the eggs, melted butter, sweet corn extract, and sweetener to a mixing bowl and combine them until frothy.
Mix in the almond flour and baking powder until there are no visible lumps.
Pour the batter into the prepared baking dish and bake it for about 20-25 minutes or until the top is golden.
Remove the cornbread from the oven and let it cool for a few minutes.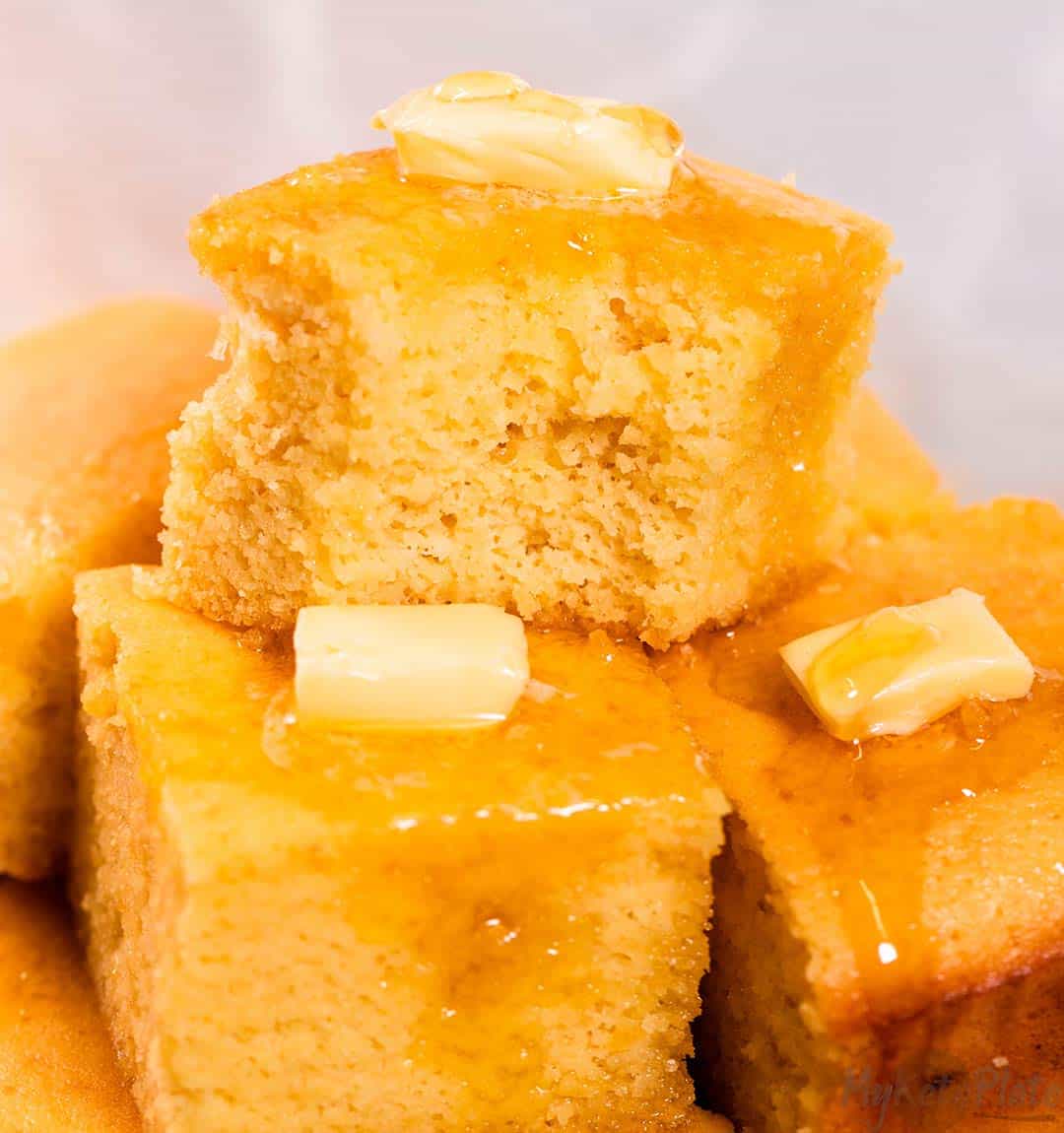 Add-Ins Ideas
Although this cornbread is delicious, as simple as it is, you can play with the ingredients and make it your way. Here are some great ideas for add-ins:
Cheddar Cheese
Herbs
Jalapeno
Bacon
Zucchini
How To Store Low Carb Almond Flour Cornbread
Fridge – You can store your leftover cornbread in an airtight container in the fridge for up to one week.
Freezer – You can also store this keto cornbread in the freezer wrapped in plastic for up to one month.
Reheat in the microwave or the oven until warm.
How To Serve Keto Cornbread
The traditional way to serve cornbread is either simple, with a little butter, or with grilled meat, chili, or soup, resulting in a very satisfying dish.
Frequently Asked Questions
What Is Cornbread?
Cornbread is a quick and easy-to-make bread of American cuisine used mainly with barbecue, chili, soups, and vegetables. It can be either sweet or savory and is typically topped with butter.
Can I Use This Recipe To Make Muffins?
Without a doubt, make the batter according to the directions in this recipe, then pour it into a silicone muffin pan that has been greased with non-stick spray. Bake the muffins for 20 minutes, or until they are golden brown.
Can I Use Coconut Flour Instead Of Almond Flour?
No, I don't recommend using coconut flour to make low carb corn bread since these two types of flour have distinctive proprieties, and the recipe will totally change.
More Keto Bread Recipes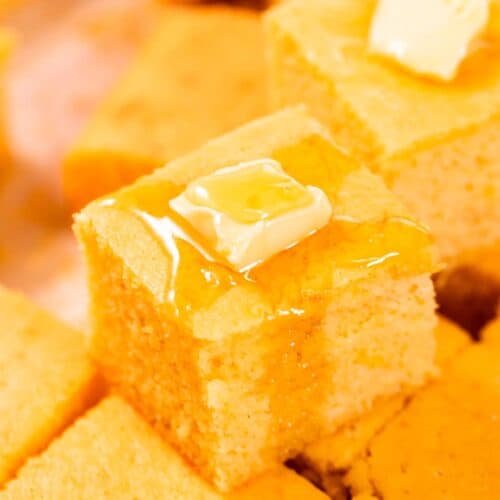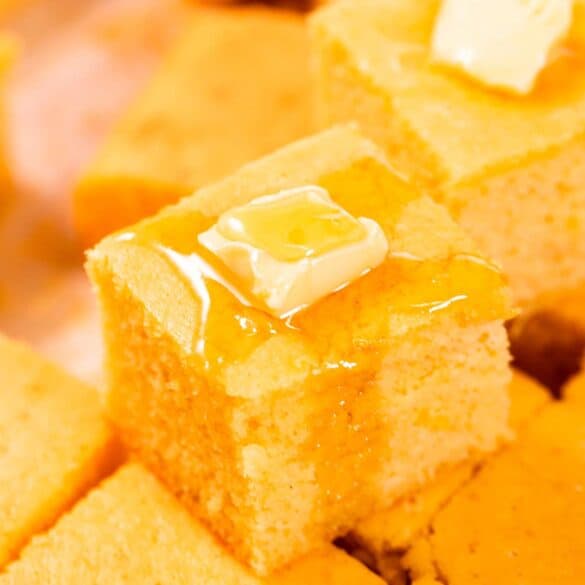 Description
This keto cornbread is a super simple and quick recipe perfect for soups and chili. Learn how to make the best almond flour cornbread without corn that tastes exactly just like a traditional one.
Instructions
Preheat the oven to 350°F / 180°C and line an 8×8 inch baking dish with parchment paper. Set aside.

In a large mixing bowl, add the eggs, melted butter, granulated sweetener, and sweet corn extract. Whisk well to combine.

Add the almond flour and baking powder. Stir until the mixture is slightly thick.

Pour the mixture into the prepared pan and bake for 20-25 minutes o until the top is golden brown and a toothpick inserted comes out clean.

Remove from the oven and serve warm.
Nutrition Facts
Amount per serving.
How do we calculate the nutrition info?
These nutrition facts listed are determined using nutrition information from the USDA Food Database. Our nutrition facts are accurate, but if you are using different products, please make your calculations. Net carb count is calculated by subtracting both fiber and sugar alcohols because they don't raise blood sugar.