Ready in 30 minutes and made with only 3 main ingredients, these flaxseed crackers are super easy to make and are perfect as a snack served with your favorite toppings.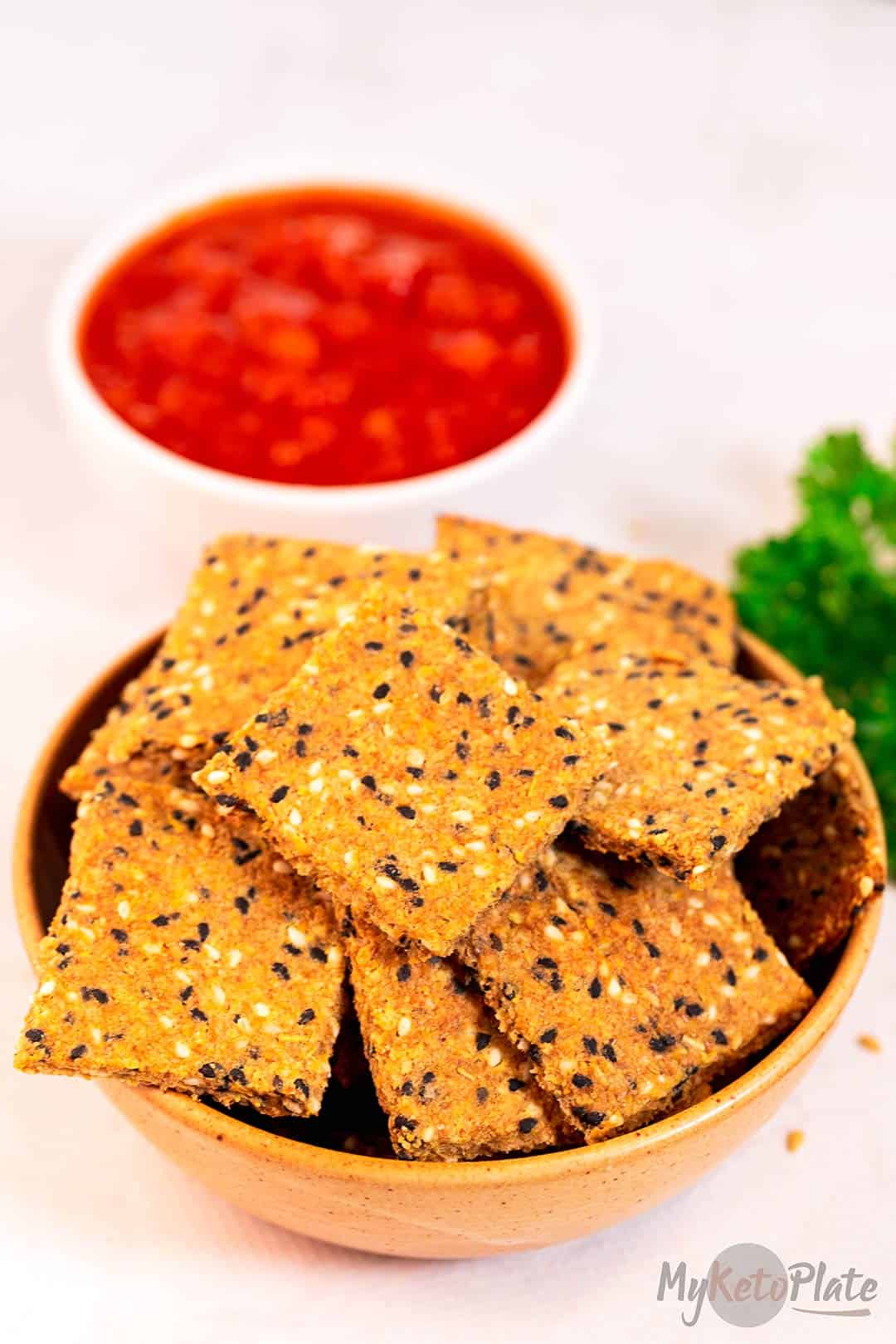 These low carb flax seed crackers are extra crispy and perfectly flavored with garlic and Italian seasoning. Super customizable, learn how to make the best flax crackers at home that are naturally gluten-free and vegan.
If you're looking for delicious seed crackers, you've come to the right place. I made a double batch to have enough snacks for the entire week. They are great as a substitute for potato chips because they are so simple to make and versatile.
When it comes to preparing snacks for movie night, I make my keto tortilla chips, cheese chips, keto crackers, and these flax seed crackers.
What Are Flaxseed Crackers?
Flaxseed crackers are a great gluten-free staple to keep on hand while following a low carb diet because they're perfect for a keto diet. Flax crackers are the best substitute for regular crackers because they are loaded with fiber but are also super crispy.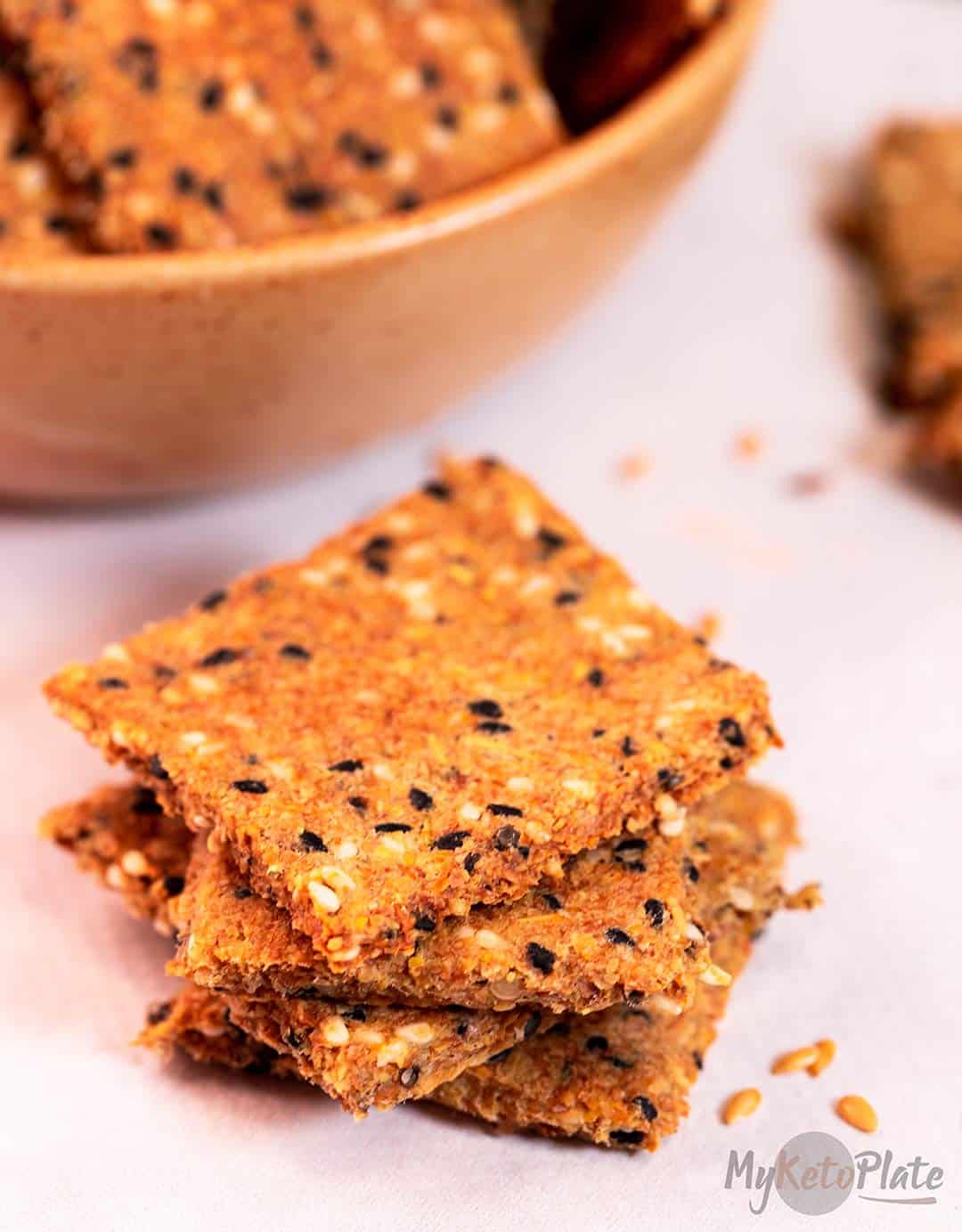 Why Are You Going To Love This Flax Seed Crackers Recipe
Perfect for making ahead
Ready in just 30 minutes
Super crispy, crunchy, and flavorful
Loaded with fiber
Only 1g net carbs per serving
Flaxseed Crackers Ingredients
These delicious flaxseed crackers require only 7 ingredients that are easy to find. Here is a list with everything you will need:
Flaxseed Meal – you can choose to buy a golden flaxseed meal from the store, or you can grind your flax at home. Golden flaxseed meal has a neutral flavor, but you can also use brown flaxseed meal instead.
Garlic Powder – gives flavor to the crackers.
Salt – to taste.
Sesame Seeds – you can also use one type of sesame seeds.
Seasonings – I used my favorite spices such as garlic powder, Italian seasoning, and salt. Feel free to substitute with other herbs and spices.
Water – helps all the ingredients bind together into a dough.
How To Make Flaxseed Crackers
You will love these delicious flaxseed crackers once you see how easy they are to prepare. Here is everything you have to do:
Start by mixing all the dry ingredients until well combined.
Then pour the water and knead with your hands until the batter is formed.
Form a dough ball and place it between two pieces of parchment paper.
Roll your dough with a rolling pin until it is 2-4 mm thick; I prefer my crackers thick.
Cut the rolled dough into rectangles or squares using a pizza cutter.
Transfer the piece of parchment paper with the crackers to a baking sheet and bake for 25 minutes.
Once the crackers with flaxseed look golden brown, remove them from the oven and let them cool at room temperature.
Break them apart and enjoy them with your favorite toppings.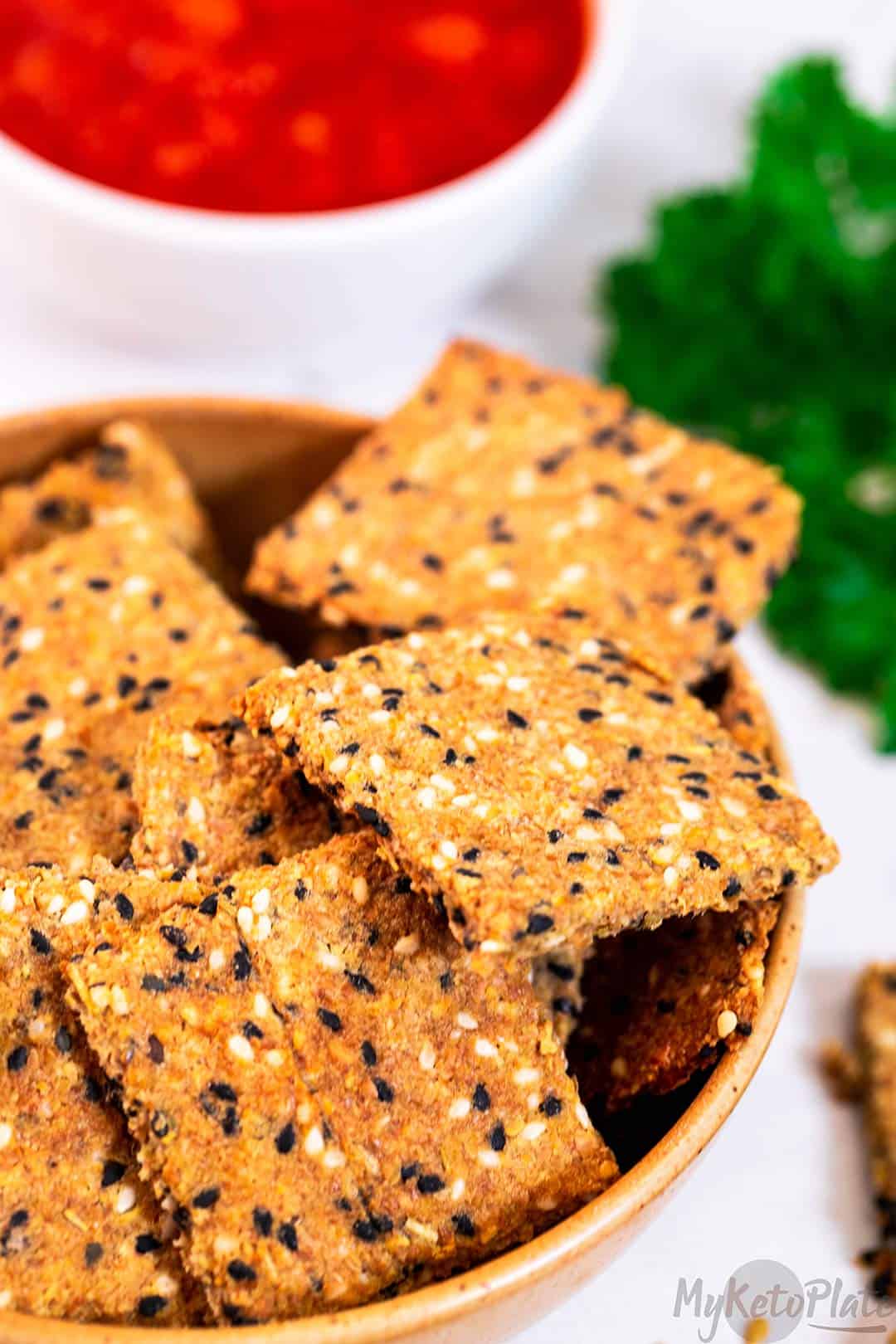 Storing Ideas
Room Temperature – These flax crackers can be easily stored in a zip lock bag or an airtight container on the counter for up to one week.
Freezer – You can also store these flaxseed crackers in the freezer in a freezer-safe bag for up to 2 weeks.
Frequently Asked Questions
What is Flaxseed?
Flaxseed is a plant-based ingredient that contains fiber, antioxidants, and healthy fats. In addition, its mildness, nutty taste, and crispy texture may enhance the flavor and texture of almost any recipe.
Is Flaxseed Healthy?
Yes, flaxseeds are healthy since they are rich in protein, fiber, and omega-3 fatty acids. They also contain a class of minerals known as lignans, which have phytoestrogens and potent antioxidant effects.
Is Flaxseed Keto-Friendly?
Due to their low net carbohydrate content and high level of beneficial fats, flax seeds are fantastic for the keto diet.
Flaxseed is a fantastic ingredient for many keto dishes, including smoothies, baked goods, and protein drinks, since it has just 0.4% net carbs per 30g.
Are These Flaxseed Crackers Keto-Friendly?
Not all flaxseed crackers are keto friendly because some can be made using ingredients high in carbs like wheat flour. So if you don't have time to make your flaxseed crackers at home, check the labels before buying them from the store.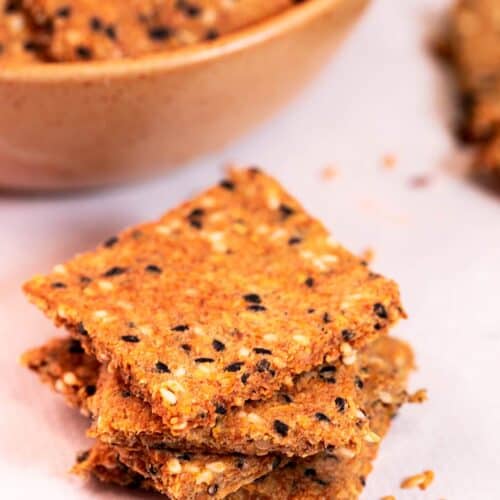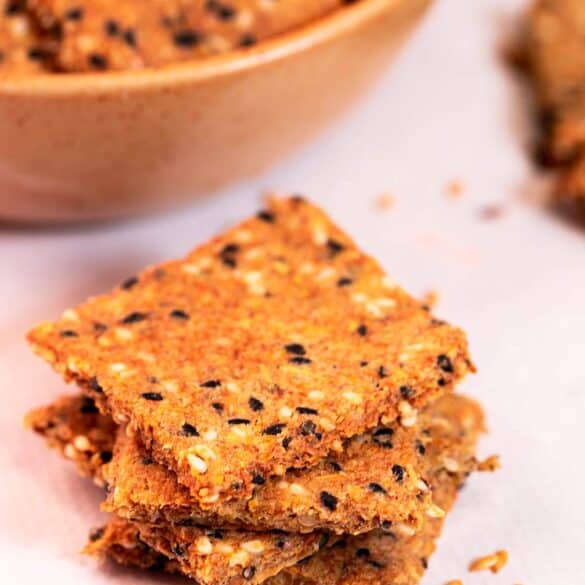 Description
Ready in 30 minutes and made with only 3 main ingredients, these flaxseed crackers are super easy to make and are perfect as a snack served with your favorite toppings.
Ingredients
1

cup

golden flaxseed meal

2

tsp

chia seeds

or black sesame seeds

2

tbsp

sesame seeds

1

tsp

garlic powder

1

tsp

Italian seasoning

½

cup

water

½

tsp

salt
Instructions
Preheat the oven to 350°F/ 180°C and line a baking sheet with parchment paper.

Add flaxseed meal, chia seeds, sesame seeds, garlic powder, Italian seasoning, and salt to a large bowl. Stir to combine.

Pour the water and stir well using a spatula until a dough forms. You can knead the dough for 1-2 minutes. If the dough looks too sticky, stir in more flaxseed flour.

Place the dough on a piece of parchment paper and top with a second piece of paper. Roll out the dough into a thin rectangle.

Peel off the top piece of parchment paper and cut the dough into squares.

Bake in the preheated oven for 22-25 minutes or until crispy and golden brown. Depending on how thin or thick the crackers are, it may take less or more to cook.

Remove from the oven and allow to cool completely before breaking apart.
Nutrition Facts
Amount per serving.
How do we calculate the nutrition info?
These nutrition facts listed are determined using nutrition information from the USDA Food Database. Our nutrition facts are accurate, but if you are using different products, please make your calculations. Net carb count is calculated by subtracting both fiber and sugar alcohols because they don't raise blood sugar.