Learn how to make the best air fryer bacon that's perfectly crispy and evenly cooked in only 10 minutes. Crunchy with an intense flavor, this bacon can completely change any recipe it's used in.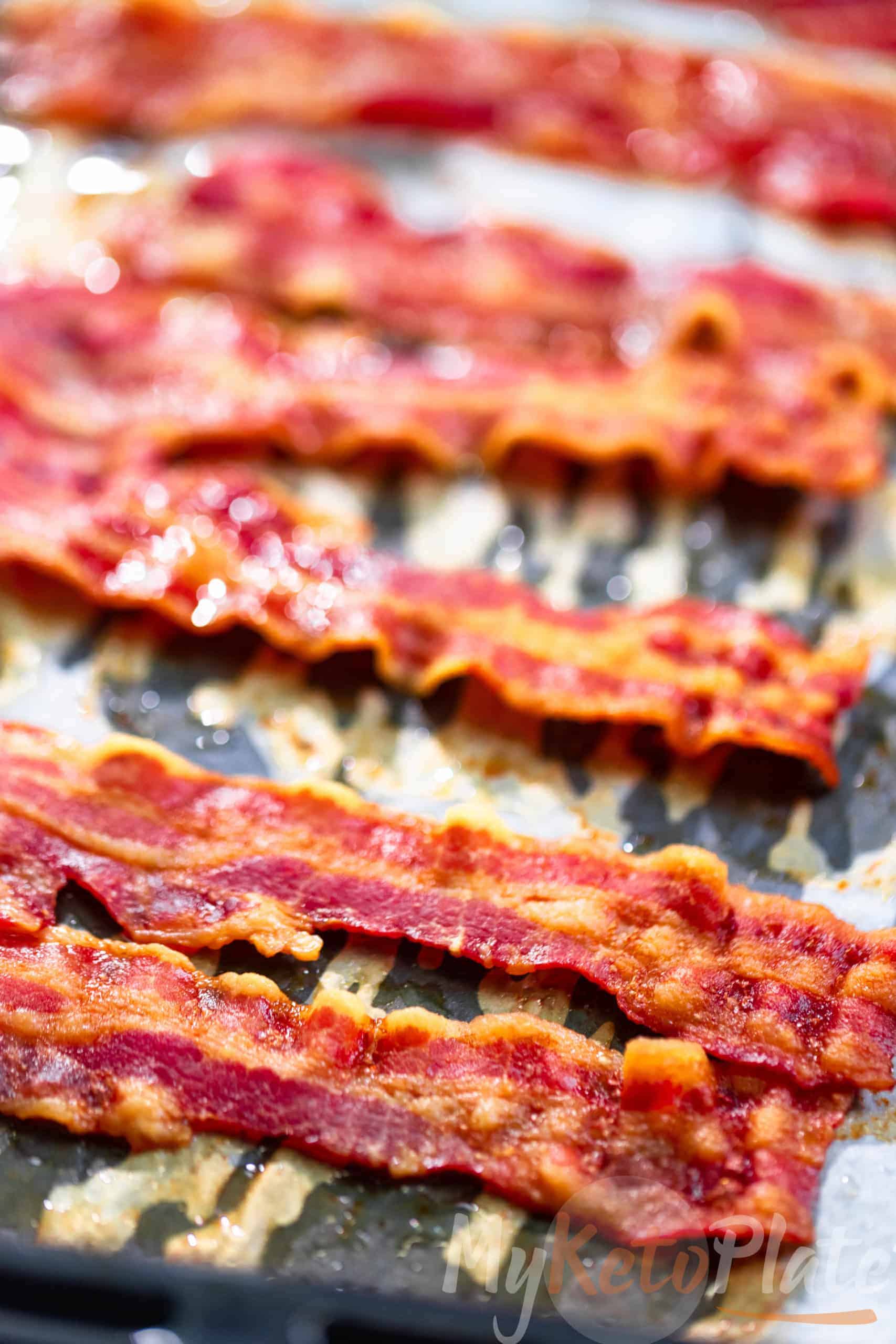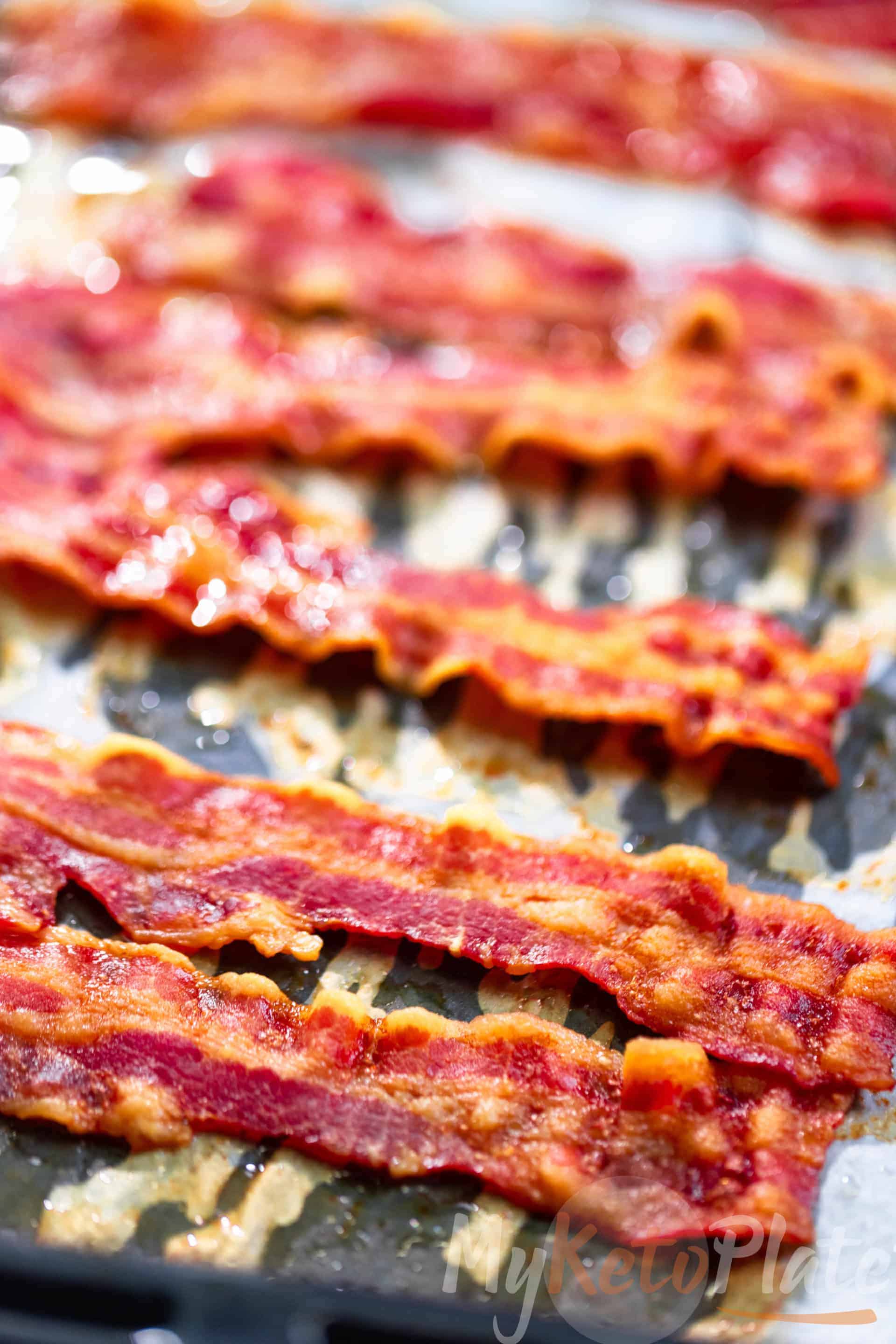 How many times did you ever crave that perfectly-fried bacon you see on all culinary sites, magazines, and movies? So if you tried to fry it in the pan and the result was unpleasant, don't worry because we are here to show you how to make the best crispest bacon you have ever tried.
Bacon is very delicious in any form, but the crispy one is even better and can be a delicious snack at work or when watching a movie. In addition, it is very delicious and easy to prepare. Although most people tend to cook it in the pan, you will discover that bacon is much more delicious and healthier cooked in the air fryer.
Why You Should Try This Recipe
Extremely easy to make.
Ready in only 10 minutes.
No flipping is needed.
You can make it ahead of time.
You won't make a mess at all. Won't splash hot grease on you.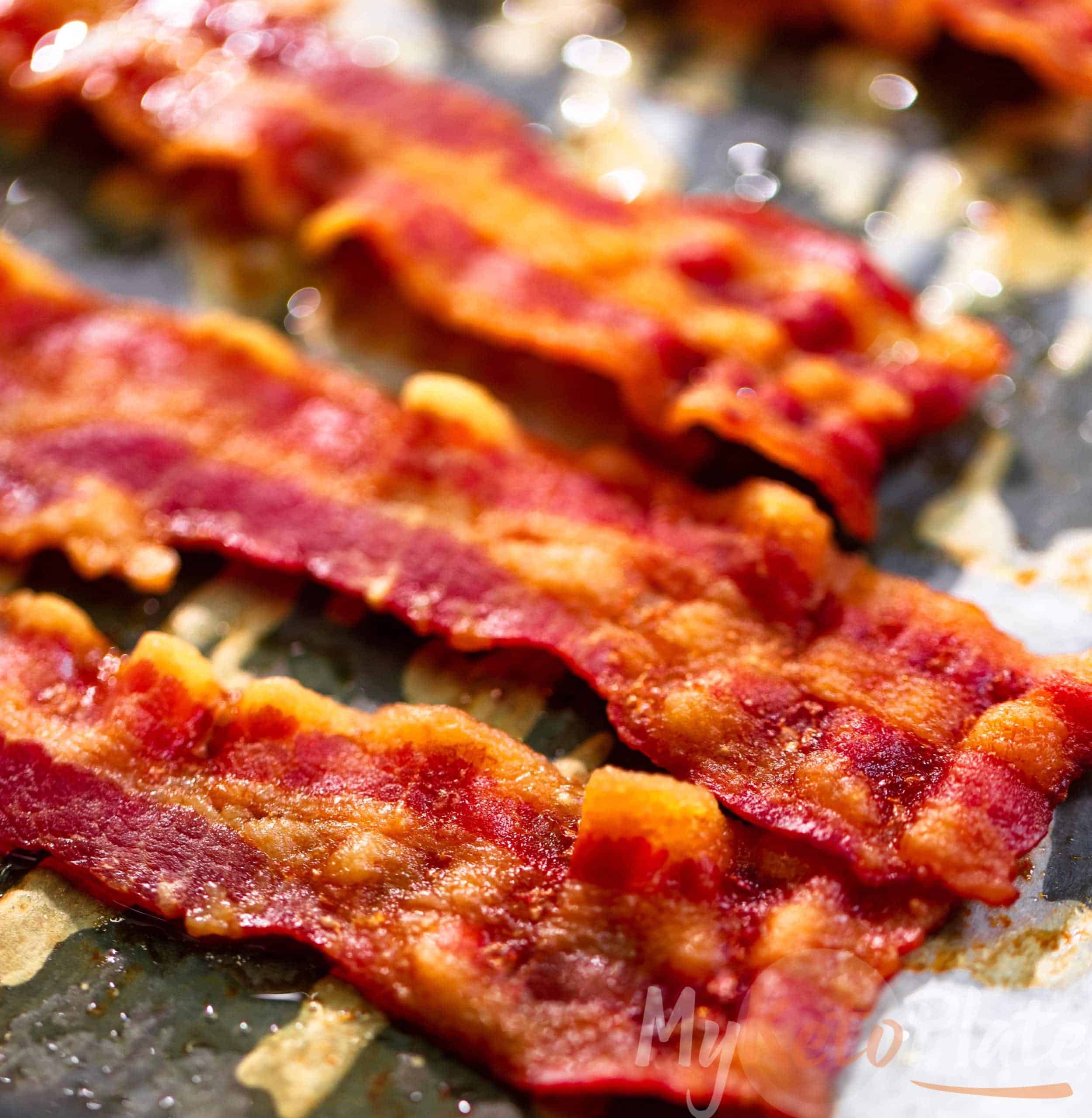 How To Cook Bacon In An Air Fryer
Once you see how easy it is to make this crispy bacon at home, you will never want to buy it from the store. Here is everything you have to do:
Put the bacon slices in the air fryer basket. You can cut the slices in half if they are too long to fit in the basket.
Then, air fried the bacon at 350° F for 8 to 10 minutes, depending on how you prefer your bacon.
Put some paper towels on a plate, then put your bacon to remove any extra bacon oil.
Now all you have to do is enjoy it.
Tips For Making The Best Air Fryer Bacon
If you want to obtain perfectly crispy bacon, cook the bacon in a single layer.
Buy quality bacon with the right amount of meat-to-fat ratio.
To reduce smoke, add about a 1/4 cup of water to the bottom of the air fryer.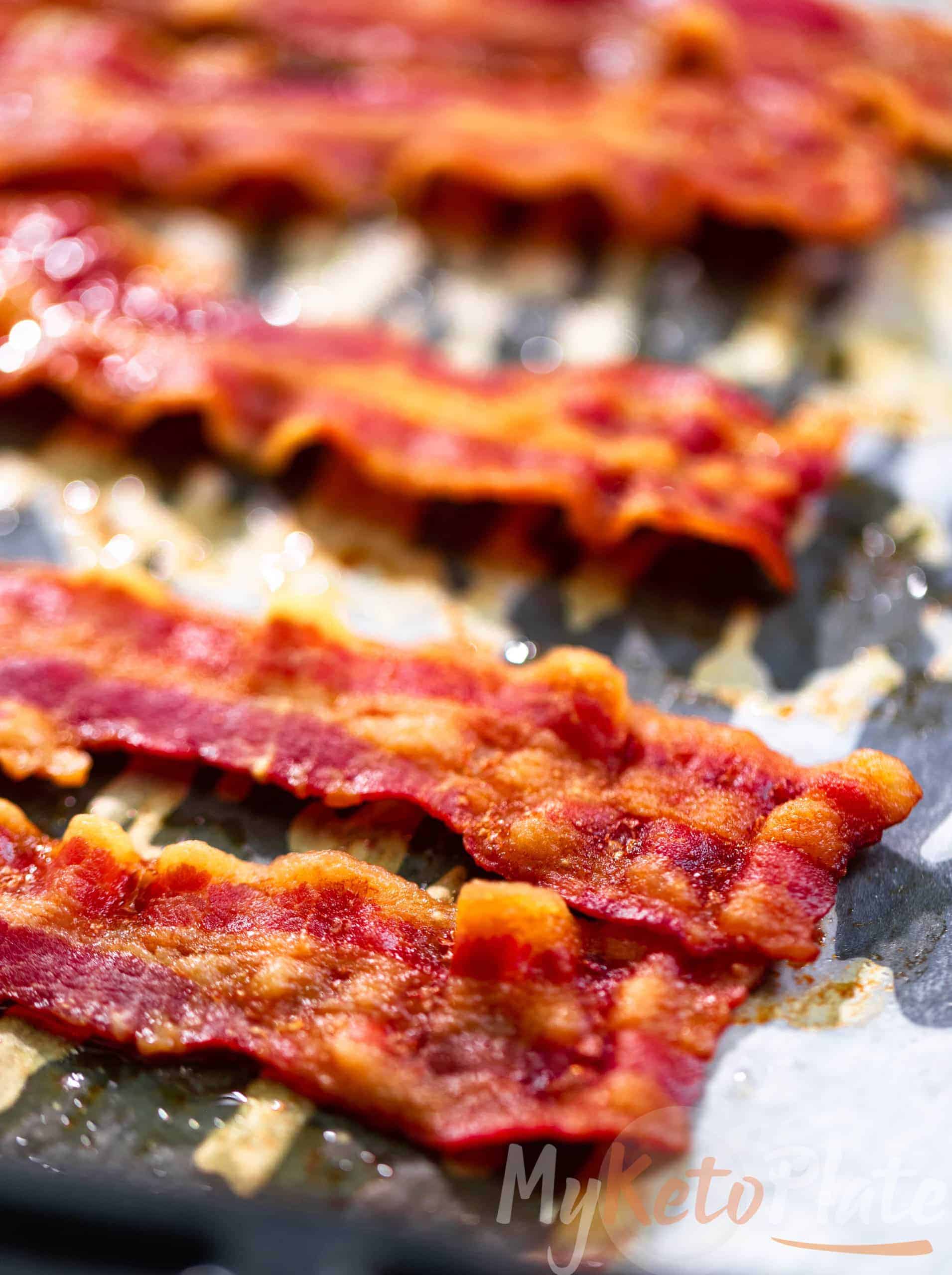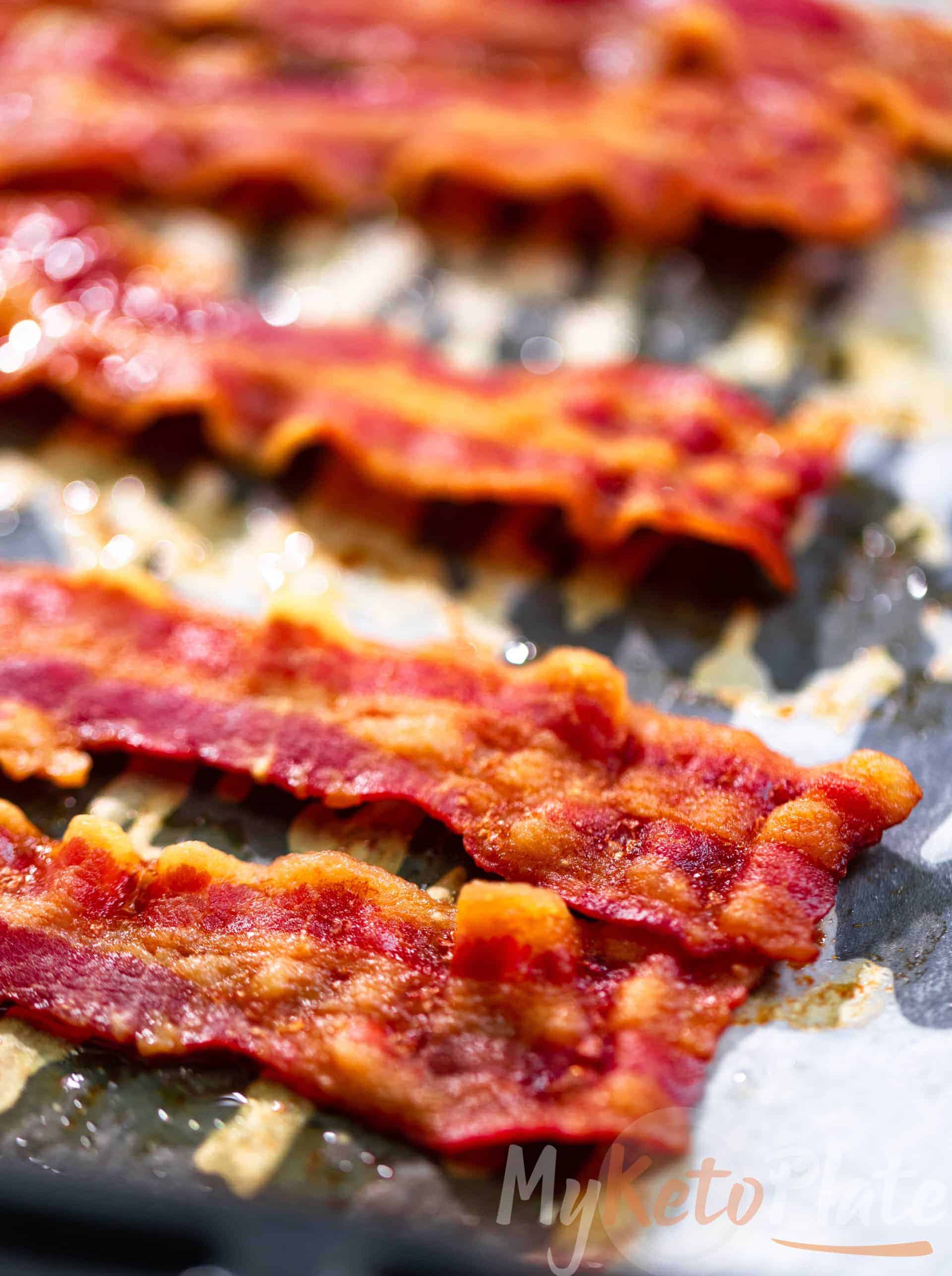 How Long To Cook Bacon In Air Fryer
The cooking time of the bacon in the air fryer depends on many other characteristics; here are a few examples:
The bacon's thickness. It will take longer to cook bacon with thick cuts than with thin ones.
Those you prefer. If you prefer your extra bacon crispy and well done, cook it for a longer period. You should air-fried it for fewer minutes if you prefer it softer and chewier.
Serving Ideas
We all know that bacon is an extremely versatile ingredient, so here are some great ideas to enjoy it:
In the morning, at breakfast. It's perfect with some scrambled eggs or with a waffle.
You can crumble it and add it as a topping to your favorite soup or casserole.
You can use it as an ingredient for your sandwich.
Store in an airtight container and enjoy it as a movie snack.
Storing Ideas
Fridge – you can store it in an airtight container in the fridge for up to five days once it is completely cooled.
Freezer – this air fryer bacon can also be frozen. First, let it be completely cool, put it in a freezer-safe bag and squeeze out as much air as possible before sealing. You can store it for up to three months.
Frequently Asked Questions
Is Bacon Ok For Keto Diet?
Bacon is definitely one of the best food to eat while following a ketogenic diet because it is low in carbohydrates and high in fat and protein.
Although most packaged bacon is fairly low in carbohydrates, it's always a good idea to read the labels before buying it because some types of bacon can be cured in sugar.
What Is An Air Fryer?
An air fryer is a kitchen tool that uses convection to cook food by swirling hot air around it. The convection oven has been scaled down for this appliance.
Can I Use Turkey Bacon?
Sure, you can use your favorite type of bacon you like.
Should I Spray The Air Fryer Basket?
Before adding the bacon, there is no need to grease the basket.
Recipes with Crispy Bacon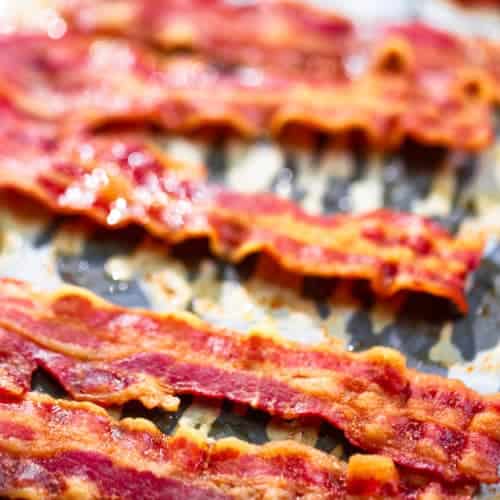 Description
Learn how to make the best air fryer bacon that's perfectly crispy and evenly cooked in only 10 minutes. Crunchy with an intense flavor, bacon can completely change any recipe it's used in.
Ingredients
12

slices

Bacon

or as many strips and thickness as you like
Instructions
Arrange the bacon slices in a single layer in the air fryer basket. (You can cut the slices in half if needed to fit more.)

Air fry them at 350˚F for 8-10 minutes, or until the bacon is browned and desired crispness is achieved.

Remove the bacon slices from the air fryer and arrange them on a paper towel-lined plate.

Enjoy!!
Nutrition Facts
Amount per serving.
How do we calculate the nutrition info?
These nutrition facts listed are determined using nutrition information from the USDA Food Database. Our nutrition facts are accurate, but if you are using different products, please make your calculations. Net carb count is calculated by subtracting both fiber and sugar alcohols because they don't raise blood sugar.