This air fryer sweet potato fries recipe is so simple and delicious that you'll definitely consider making a double batch. Perfectly caramelized on the outside but tender on the inside, all made without tons of oil in your air fryer.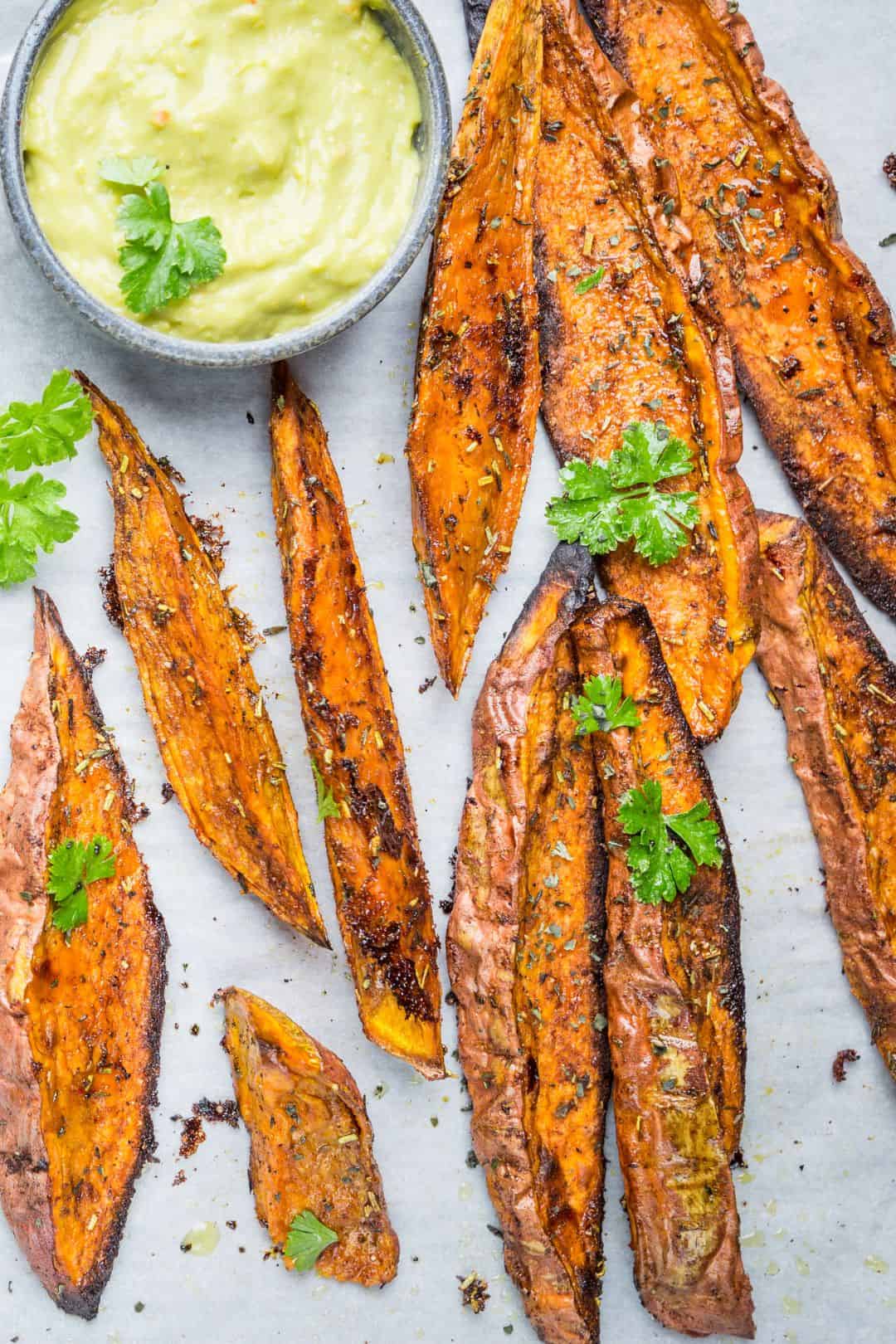 This recipe for crispy and delicious air fryer sweet potatoes is a quick and easy recipe for a delicious side dish or snack that is great to enjoy with many main dishes. It's a healthy air fryer recipe that shows you how to quickly prepare sweet potatoes that the whole family loves.
Healthy and delicious, sweet potato fries make a great plant-based alternative to traditional fries. Learn how to make sweet potato fries at home here.
Trust me when I tell you that you will love these crispy on the outside and creamy on the inside air fryer sweet potatoes. They are super tasty and easy to make, so you will want to make them over and over again as a side dish or quick snack.
Why Are You Going To Love This Air Fryer Sweet Potato Fries Recipe
They are ready in only 20 minutes.
Perfectly seasoned, crispy, and easy to make.
Serve them as a side dish or snack.
Healthier than regular french fries made with far less oil than regular fries/
Ingredients For These Air Fryer Sweet Potato Fries
You will need only 5 ingredients, one of the easiest and most delicious side dishes I have ever tried. Here is a list of everything you will need:
Sweet Potatoes – use larger sweet potatoes to cut them easily.
Olive Oil – feel free to use any vegetable oil that you like. Just a drizzle of oil to make these fries super crispy.
Salt&Pepper – sprinkle to taste.
Garlic Powder – gives extra flavor to these sweet potato fries. You can also add onion powder for an intense flavor.
Paprika – you can also use smoked paprika for a smoky flavor.
How To Make These Air Fryer Sweet Potato Fries
You will love this recipe as much as we do once you see how easy it is to prepare. Here is everything you have to do:
Wash and chop your sweet potatoes in the same size. I don't recommend peeling your potatoes as the skin keeps them crispy as they cook in the air fryer.
Add them to a bowl, then add the rest of the ingredients and toss until well combined.
Transfer the sweet potatoes to an air fryer basket in a single layer and cook for 15 minutes, flipping halfway.
Remove them from the air fryer and serve them according to your taste.
Tips For Making The Best Air Fryer Sweet Potato Fries
You can cut the potatoes thinner if you want to enjoy the crispest sweet potato fries.
Make sure you don't overcrowd the air fryer basket; otherwise, they will not cook evenly. Work in batches, and make sure to spread the sweet potatoes in a single layer.
Don't add too much oil because they will turn out soggy.
To avoid soggy fries, pat dry your sweet potatoes using paper towels before adding the spices and oil.
Air fry until the desired level of crispiness. Different brands of air fryers might have different heat levels, so I recommend checking from minute 10 and adjusting the timing until just perfect.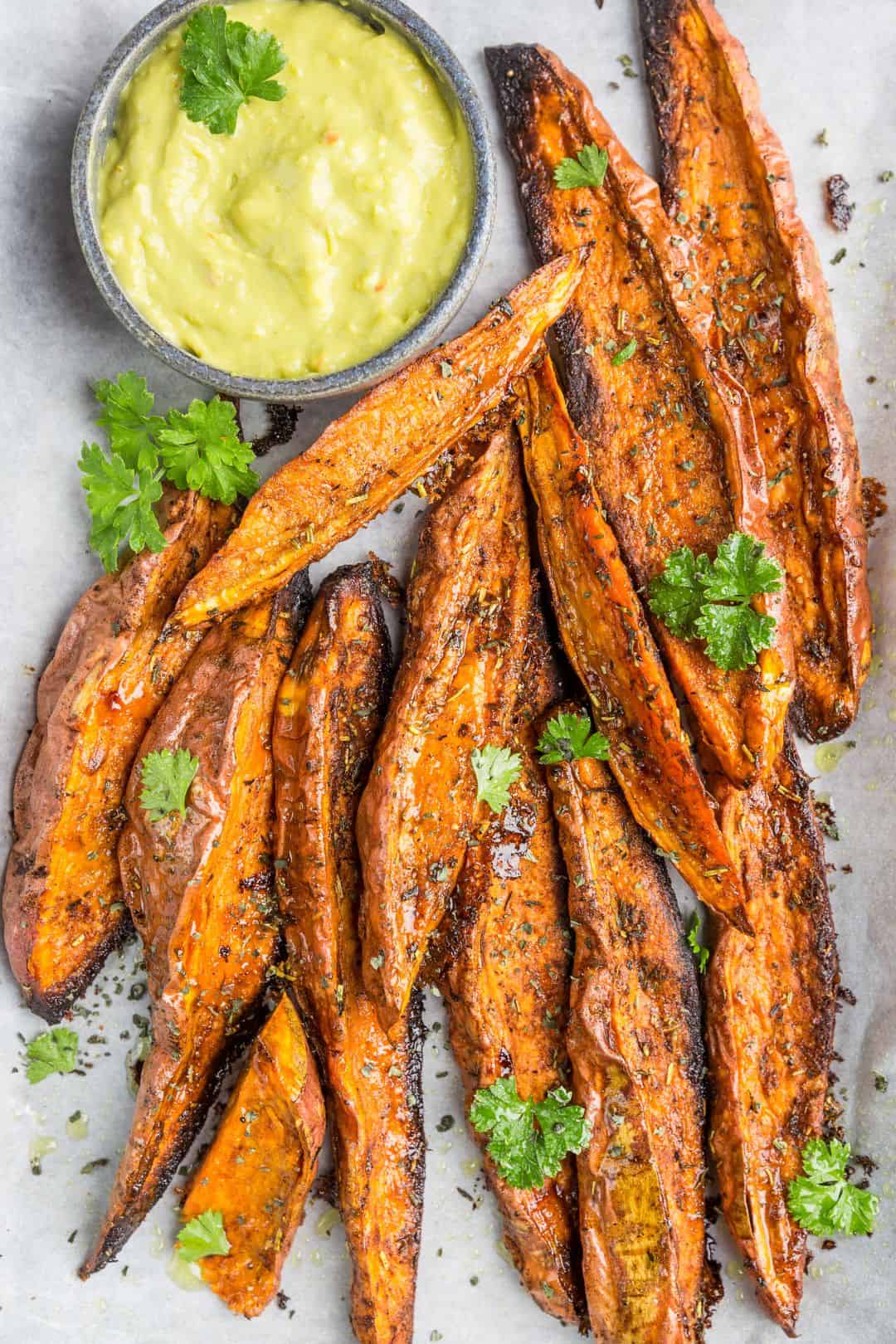 Storing Ideas
Fridge – These air fryer sweet potato leftovers can be stored in the fridge in an airtight container for up to 3 days.
Freezer – I don't recommend freezing these air fryer potatoes because it will change their texture and flavor.
Air fry the sweet potatoes for 5 minutes to reheat them.
Serving Ideas
I like eating them with my favorite dipping sauce since they taste like french fries, but you can also serve them as a side dish. Here are some excellent ideas:
Of course, these air fryer sweet potato fries are a delicious side dish for:
Frequently Asked Questions
Are Sweet Potatoes Healthy?
Sure, sweet potatoes have a lot of health benefits since they are a rich source of vitamins and minerals. They also have a low glycemic index due to the high amount of vitamin A, vitamin C, and E, and they bring many benefits to the skin, hair, and nails.
Do I Need To Peel My Sweet Potatoes?
It is not necessary, because it's only up to you. You can leave the skin on because it contains nutrients like fiber and antioxidants that are good for your health.
Can I Make This Recipe With Frozen Sweet Potatoes?
Sure, this recipe is the same as delicious, even if you are using frozen sweet potatoes. Put them in the air fryer basket at 400 degrees F and cook them for 20 minutes.
Can I Make This Recipe Without Olive Oil?
Sure, but you will need to know that if you skip olive oil, the texture of the sweet potato fries will change a bit, and the seasonings may not stick so well to the fries.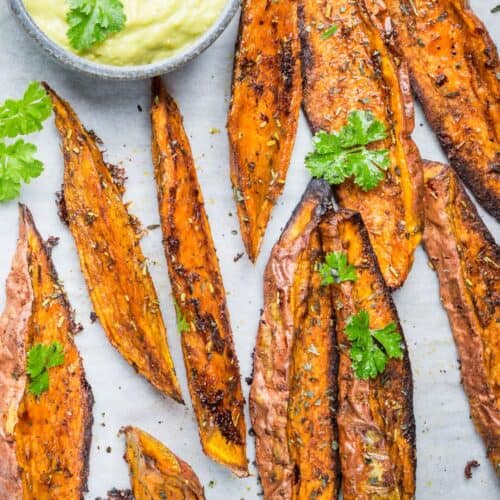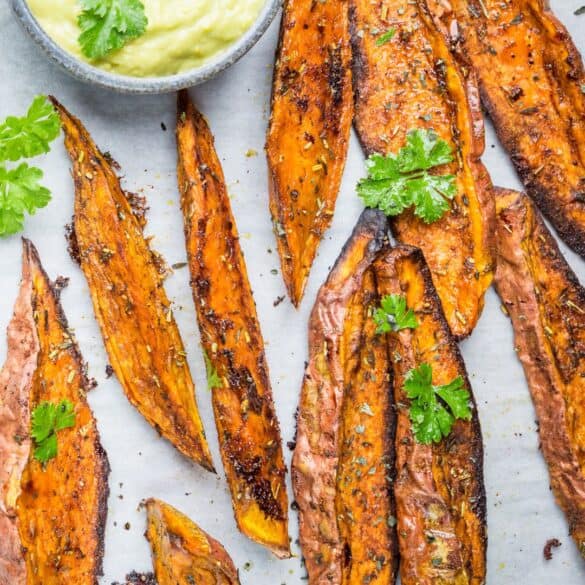 Air Fryer Sweet Potato Fries Recipe (Easy, Delicious, And Healthy)
---
Description
Made from 5 ingredients and ready in only 20 minutes, this recipe for air fryer sweet potato fries is so simple and delicious that you'll want to prepare it over and over again anytime you need a quick side dish.
Ingredients
1

lb

sweet potatoes

1 ½

tbsp

olive oil

¼

tsp

garlic powder

¼

tsp

paprika

salt and pepper

to taste
Instructions
Cut the sweet potatoes into ¼-inch-thick slices, ensuring they are the same size.

Place the sweet potato slices to a large mixing bowl and season with salt, pepper, garlic powder, and paprika. Drizzle olive oil and toss to combine.

Transfer sweet potato fries to an air fryer basket and cook at 375F for about 12-15 minutes, flipping halfway.

Once they are done, remove the fries from the air fryer and garnish with fresh parsley or grated parmesan if desired.
Nutrition Facts
Amount per serving.
How do we calculate the nutrition info?
These nutrition facts listed are determined using nutrition information from the USDA Food Database. Our nutrition facts are accurate, but if you are using different products, please make your calculations. Net carb count is calculated by subtracting both fiber and sugar alcohols because they don't raise blood sugar.